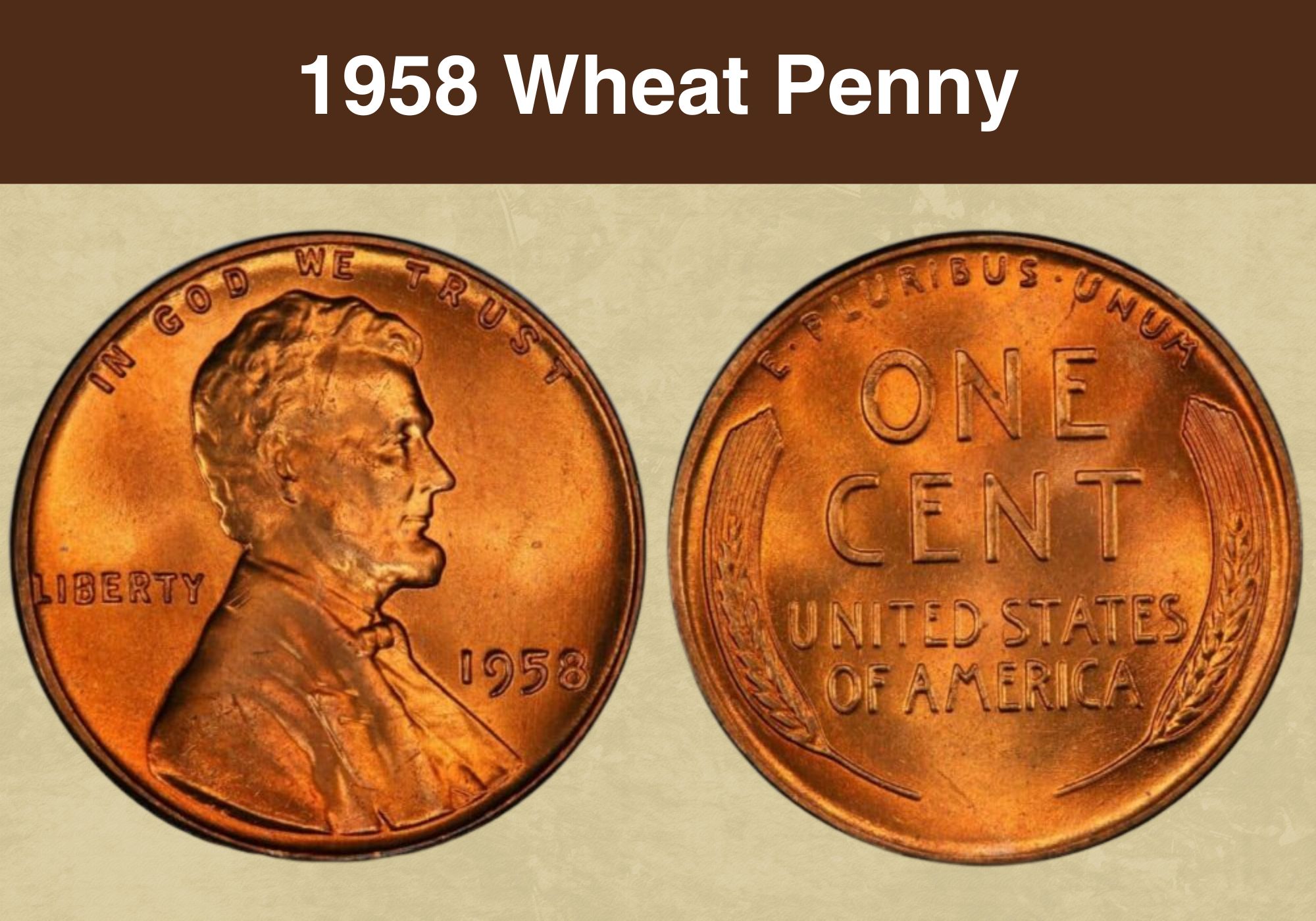 The long history of Lincoln pennies makes these coins highly collectible. Interestingly, you can still find them in circulation even though they are over a hundred years old. The 1958 Wheat penny value is affected by several factors, including their condition, visible damage, signs of wear, and availability on the coin market.
1958 Wheat Penny Value Chart

Condition
1958 No Mint Mark penny
1958 D penny
1958 DDO penny
Fine
$0.06
$0.06
/
Very fine
$0.11
$0.11
/
Extra fine
$0.14
$0.14
/
AU
$0.17
$0.17
/
MS 60
$0.34
$0.34
$137,743
MS 63
$1.16
$1.16
$224,831
PR 63
$9.36
/
/
History of the 1958 Wheat Penny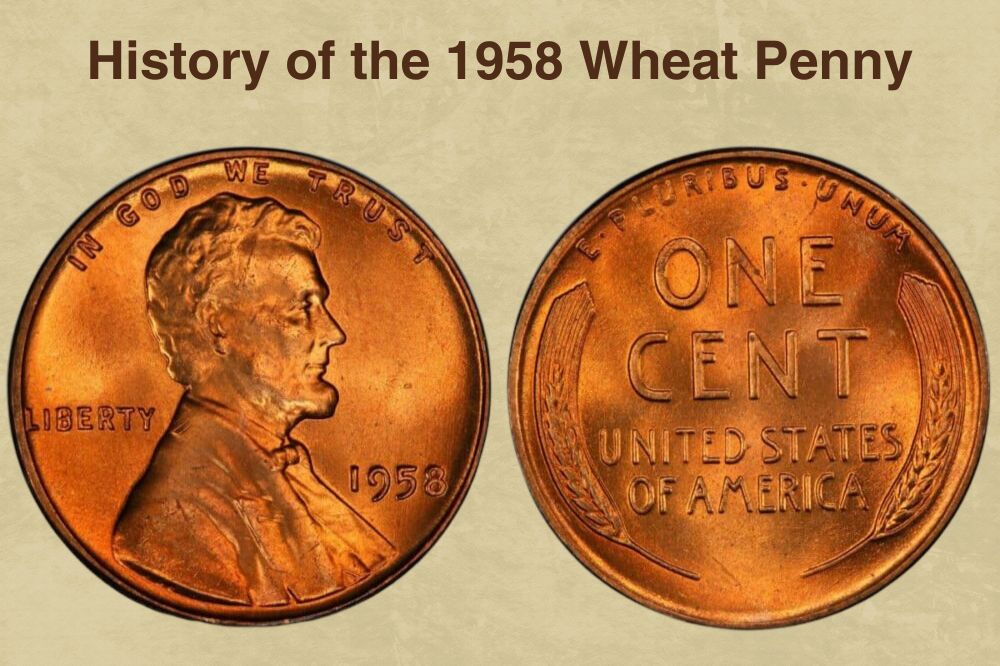 The Lincoln penny was first minted in 1909 to commemorate the 100th anniversary of Abraham Lincoln's birth. It is known as the first coin to have a real person on it, making it a unique part of the US Mint's history. Before the appearance of this penny, coins usually featured symbolic figures such as Lady Liberty or imaginary Indian chiefs.
While the obverse depicted Lincoln's portrait, the reverse featured wheat stalks, which is why this coin was also known as the Wheat penny. The simple display of these stalks paid homage to America's agricultural roots.
The Lincoln wheat pennies were minted from 1909 to 1958, and their design was the work of sculptor Victor David Brenner. The first coins contained the artist's initials, VDB, which found their place on the lower rim between the wheat stalks.
However, the US Mint quickly removed them from the penny reverse. There are several unconfirmed theories about the reasons for that decision, but the public generally accepted the explanation that the letters were too sizable.
1958 Wheat Penny Value Types

Location
Year
Minted
Philadelphia
1958 No Mint Mark penny
252,525,000
Philadelphia
1958 penny (proof)
875,652
Denver
1958 D penny
800,953,300
Total
/
1,054,353,952
The Lincoln penny underwent numerous design and composition changes over the years. For instance, the US Mint re-designed the reverse to mark the 150th anniversary of the President's birth in 1959. The new design included the Lincoln Memorial, which author was Frank Gasparro.
The penny composition also changed over the years. The significant influence on these changes was the copper value on the stock market. The increase in the copper price led the US Mint to replace 95% of the copper in pennies with 97.5% zinc and reduce the percentage of copper to a minimum.
Also read: 12 Most Valuable Lincoln Penny Worth Money
Features of the 1958 Wheat Penny
The Lincoln penny's composition and appearance have changed over 100 years of minting. However, President Lincoln's profile has always had its place on the obverse, no matter how often these pennies' design was changed.
The obverse of the 1958 Wheat Penny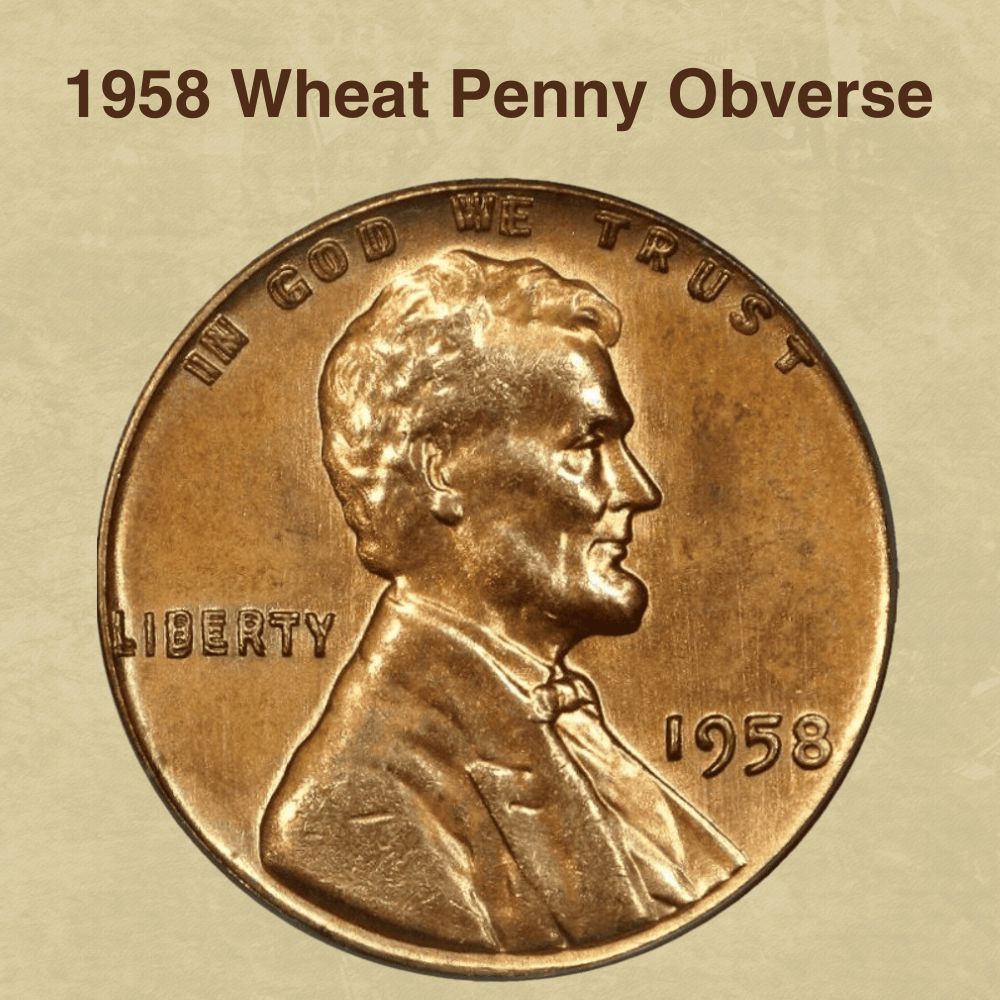 One of these coins' design features is its simplicity. The President Abraham Lincoln bust dominates the obverse. His profile facing right is in the coin center and shows Lincoln in the elegant suit characteristic of the time.
You can read the phrase IN GOD WE TRUST on the top rim and above the President's head. The word LIBERTY is on the left behind his shoulder, while the minting year is on the right near the bottom rim. Above the minting year, you can see the mint mark if it exists.
The reverse of the 1958 Wheat Penny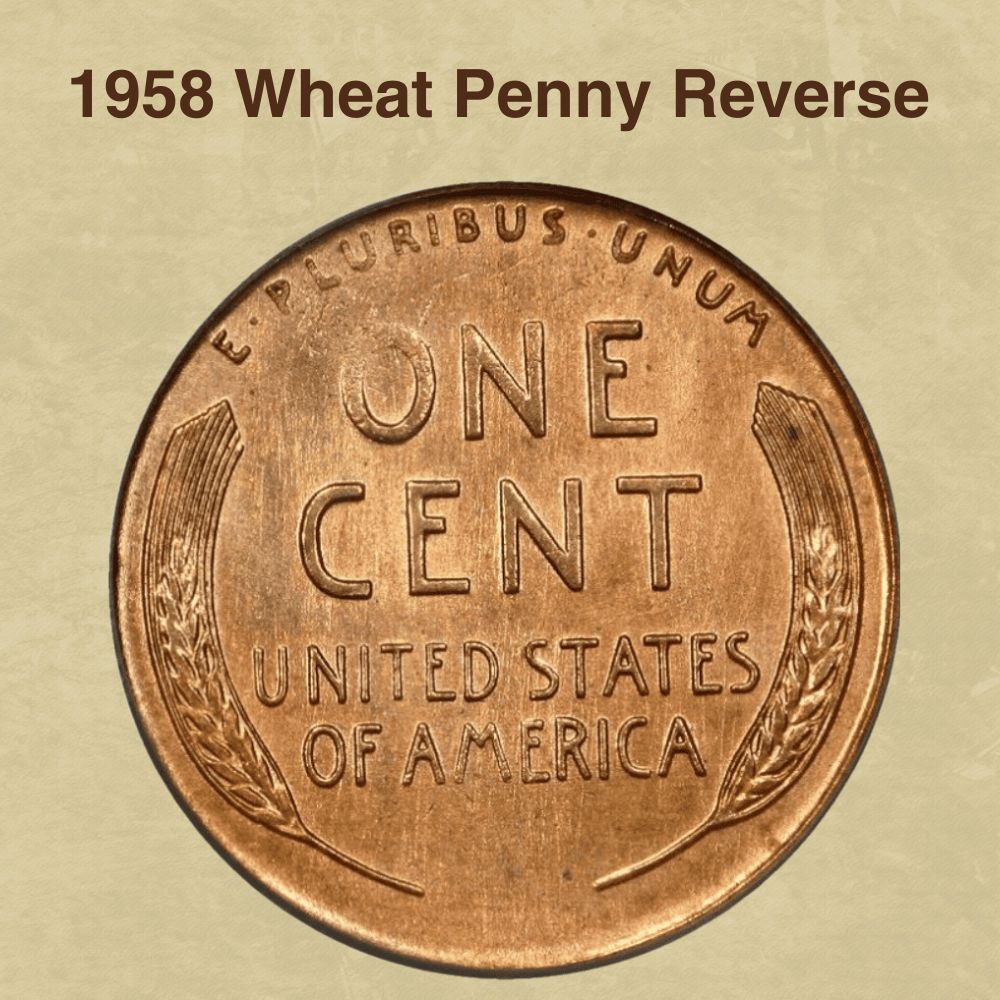 The central part of the penny reverse shows the denomination ONE CENT. Immediately below it, you can see the inscription UNITED STATES OF AMERICA, while on the upper rim is the Latin motto. On both sides of the central composition, two wheat stalks curl along the side rim.
1958 Wheat Penny Details

Face value
One cent ($0.01)
Shape
Round
Compound
95% copper and 5% alloy tin and zinc
Coin diameter
0.75 inches (19.05 mm)
Coin weight
0.11 ounces (3.11 g)
Edge
Plain
Coin thickness
0.06 inches (1.52 mm)
Other features of the 1958 Wheat Penny
The Wheat penny from 1959 has 95% copper in its composition, and the remaining five percent is an alloy of zinc and tin. This coin is round with a plain edge and has a standard diameter of 0.75 inches (19.05 mm). It weighs 0.11 ounces (3.11 g) while its thickness is 0.06 inches (1.52 mm), like in pennies from other years.
Also read: 13 Most Valuable Wheat Penny Worth Money
1958 Wheat Penny Value Guides
Two mints struck 1,054,353,952 Lincoln pennies in 1958. While the Denver mint was in charge of coins from a regular strike, Philadelphia minted proofs and regular pieces.
1958 No mint mark Wheat Penny value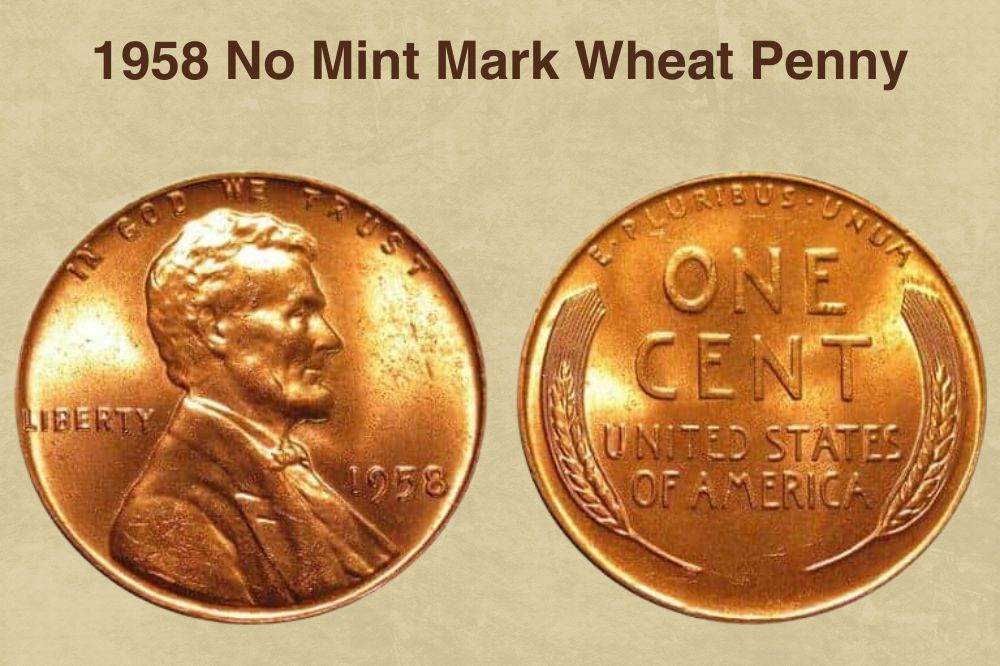 In 1958, the Philadelphia mint struck 252,525,000 pennies without the mint mark. Such an abundant circulation enabled easy availability on the coin market and a very affordable price. Therefore, pennies from circulation have an almost insignificant value ranging from $0.02 to $0.07.
The value of uncirculated pieces is also relatively low, and you can find specimens graded from MS 60 to MS 64 for $0.1 to $0.4. On the other hand, it is necessary to set aside a little more for higher-rated coins.
For instance, the MS 65 brown penny costs $1.5, while you need to pay $8 for the MS 66 one. The MS 67 cents of the same color are the most valuable, and their price is about $35.
Red-brown pennies have a slightly higher value, and you can get one for $0.35 to $45, depending on grade ranking. Finally, red cents from 1958 cost the most. Depending on the preservation level, their price is:
Penny in MS 63 grade – $0.55
Penny in MS 64 grade – $1.25
Penny in MS 65 grade – $8
Penny in MS 66 grade – $24
The most expensive are MS 67-ranked coins. Collectors are often prepared to pay $335 for such pieces at auctions.
1958 Wheat Penny value (proof)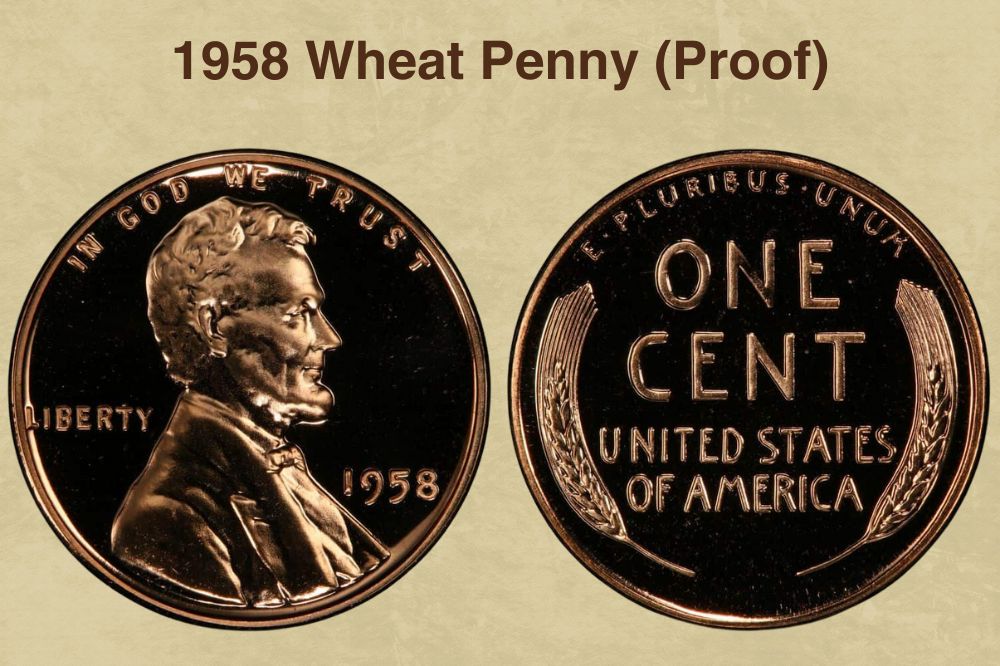 In addition to regular coins, the Philadelphia mint minted 875,652 proof pennies in 1958. They are always collectible, and their value is often significant. However, proofs minted in 1958 typically reach modest prices.
Depending on the quality, you can buy the 1958 PR brown cent for $0.6 to $10. Red-brown coins are a bit more expensive, costing $0.70 per penny in the PR 60 rank to $15 for a piece in the PR 67 grade.
Proof pennies with red toning are often worth $1 to $40. On the other hand, you need to set aside $200 for the 1958 PR 69 graded red cent.
1958 D Wheat Penny Value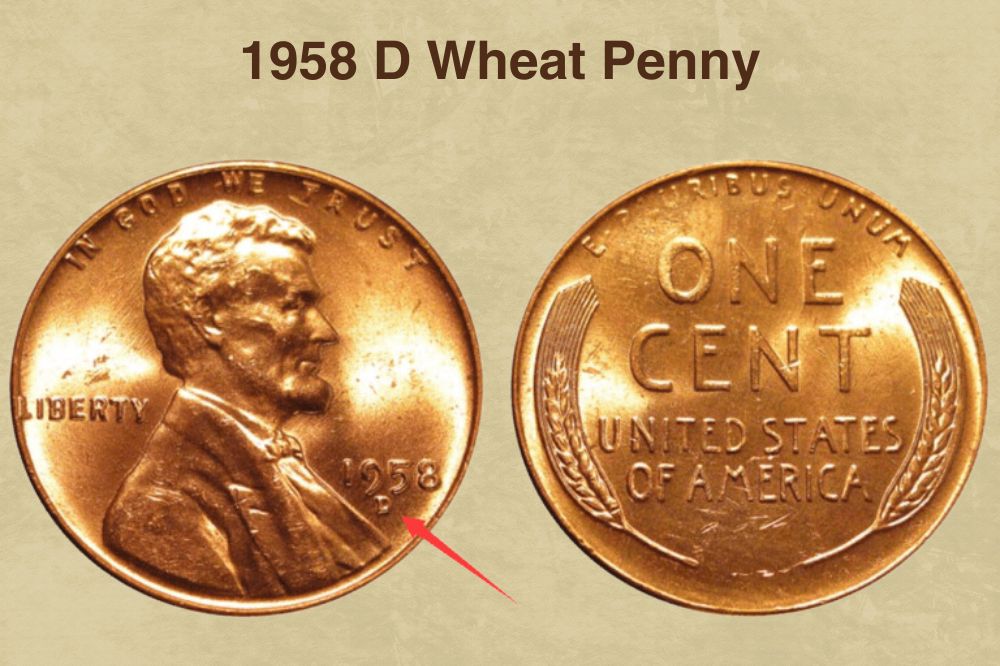 With 800,953,000 pennies, the Denver mint struck the highest part of the total mintage in 1958. That is why these coins with the mint mark D are common and have no significant value.
The price of pieces from circulation in average condition is typically from $0.02 to $0.06. On the other hand, specimens in the mint state graded MS 60 to MS 64 cost $0.10 to $0.40. A higher rating logically increases the price so that:
The 1958 MS 65 D BN penny is worth $1.5
The 1958 MS 66 D BN penny is worth $8
The 1958 MS 67 D BN penny is worth $35
The 1958 red-brown coins are slightly more expensive. Their value primarily depends on their quality, and you can count on the following prices:
MS 63 D RB – $0.35
MS 64 D RB – $0.5
MS 65 D RB – $3
MS 66 D RB – $10
MS 67 D RB – $45
Most collectors prefer adding red pennies to their collections, which raises these coins' value a bit. For these reasons, you should pay $0.55 to $18 for such pennies of different appearance and preservation levels. Only pieces in MS 67 grade are worth more. Experts assess their market price to be about $180.
Also read: 17 Most Valuable Indian Head Penny Worth Money
1958 Wheat Penny Grading
During grading, experts estimate the coins' prices based on their appearance, condition, and preservation. They pay particular attention to possible signs of wear, visible damage, breakages, and errors.
Finally, evaluators check the presence of the original luster on the coin surface, indicating whether the specimen is from circulation or is in the mint state.
Rare 1958 Wheat Penny Errors List
When you consider that no minting process can be perfect, it is realistic to expect the appearance of numerous errors in the 1958 cent series. Since such pieces are collectible, they can have incredibly high values. Let's see.
DDO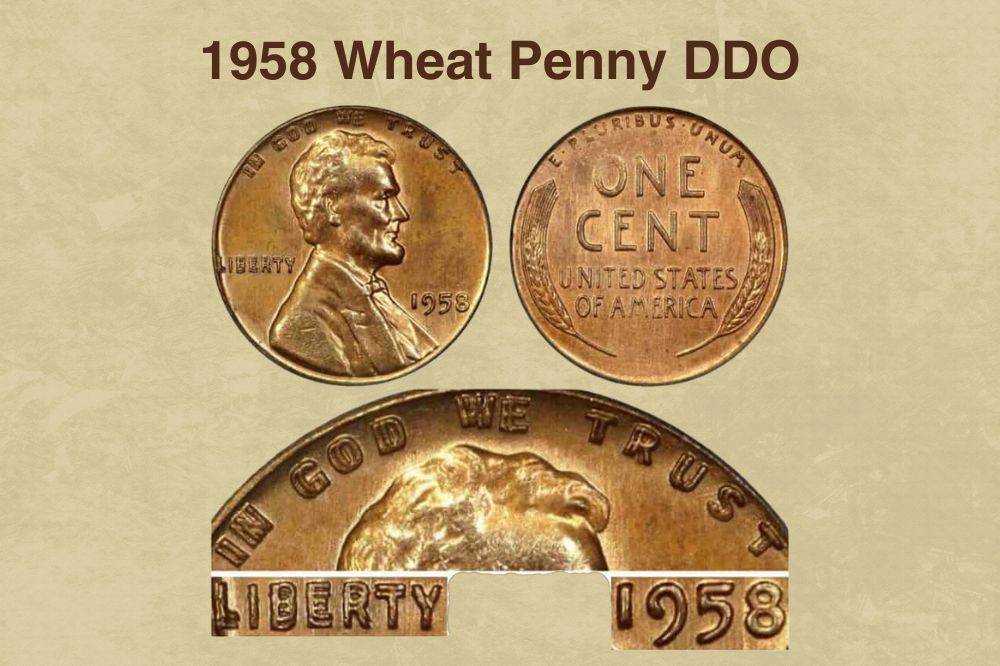 DDO is one of the most well-known and frequent errors among pennies. However, the 1958 cent with this error is one of the rarest such specimens. So far, only three such coins are known to exist. The doubling is visible on the inscriptions LIBERTY, IN GOD WE TRUST, and the minting date.
Expectedly, their value is high, and one red penni minted in 1958 fetched an incredible $336,000 at auction in 2018. Additionally, it was reported that one red penny in MS 66 grade was sold at an auction in January 2023 for a remarkable $1.136 million. It was the first cent to sell for over a million dollars in the history of numismatics.
Off-center
This error occurs when the die hitting the coin is improperly centered. The result is a penny with the design moved to one side and a missing part. The deficiency can be from 5% to 95%.
These coins' value depends on what percentage of the design is missing, and you can find them ranging from $5 to $100. For instance, one specimen from 1958 with a 20% off-center strike is known to have sold for $30 at an auction.
Clipped planchet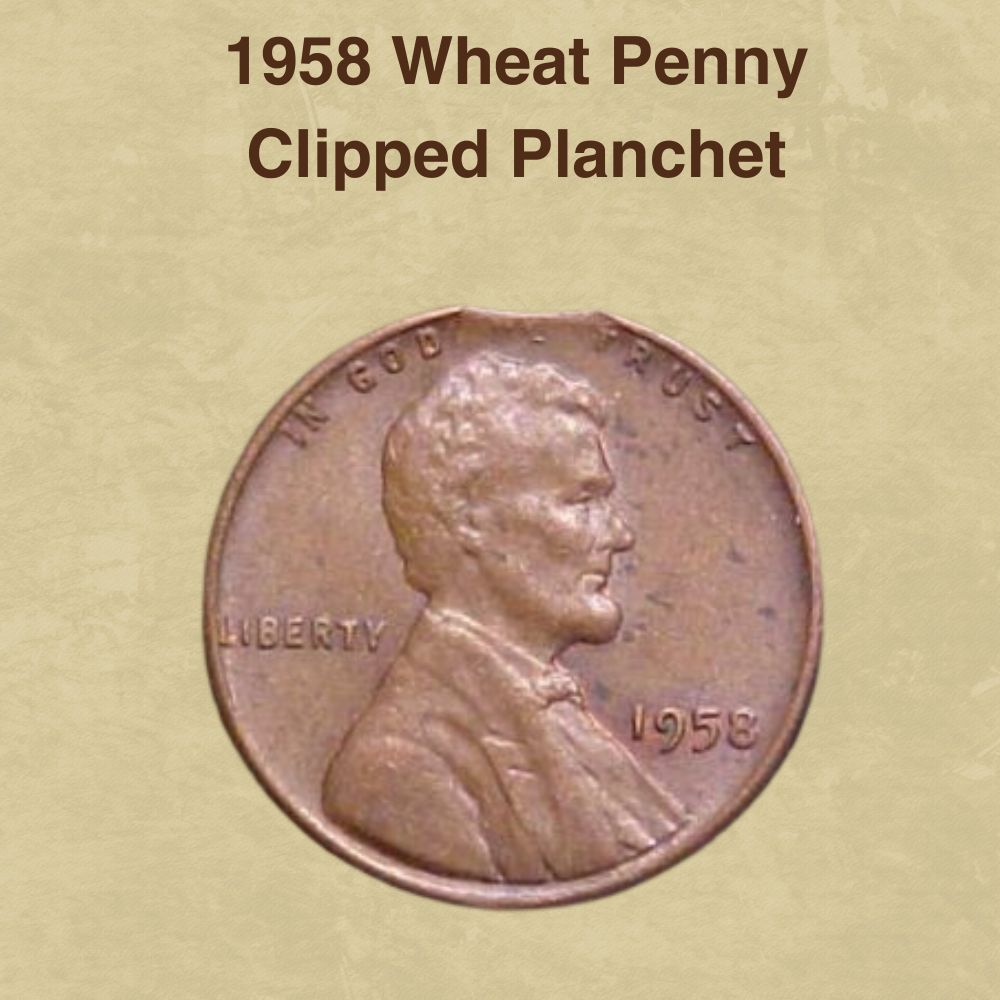 This error results in an improperly cut planchet, so the coin edge part is usually missing. These pieces' value is not significant, and you can find them for a price of two to about six dollars.
Penny struck on a silver dime planchet
In this case, a penny was struck on the dime planchet because of an accidental replacement. You can sell such a coin for several thousand dollars.
Penny overstruck on Cuba Centavo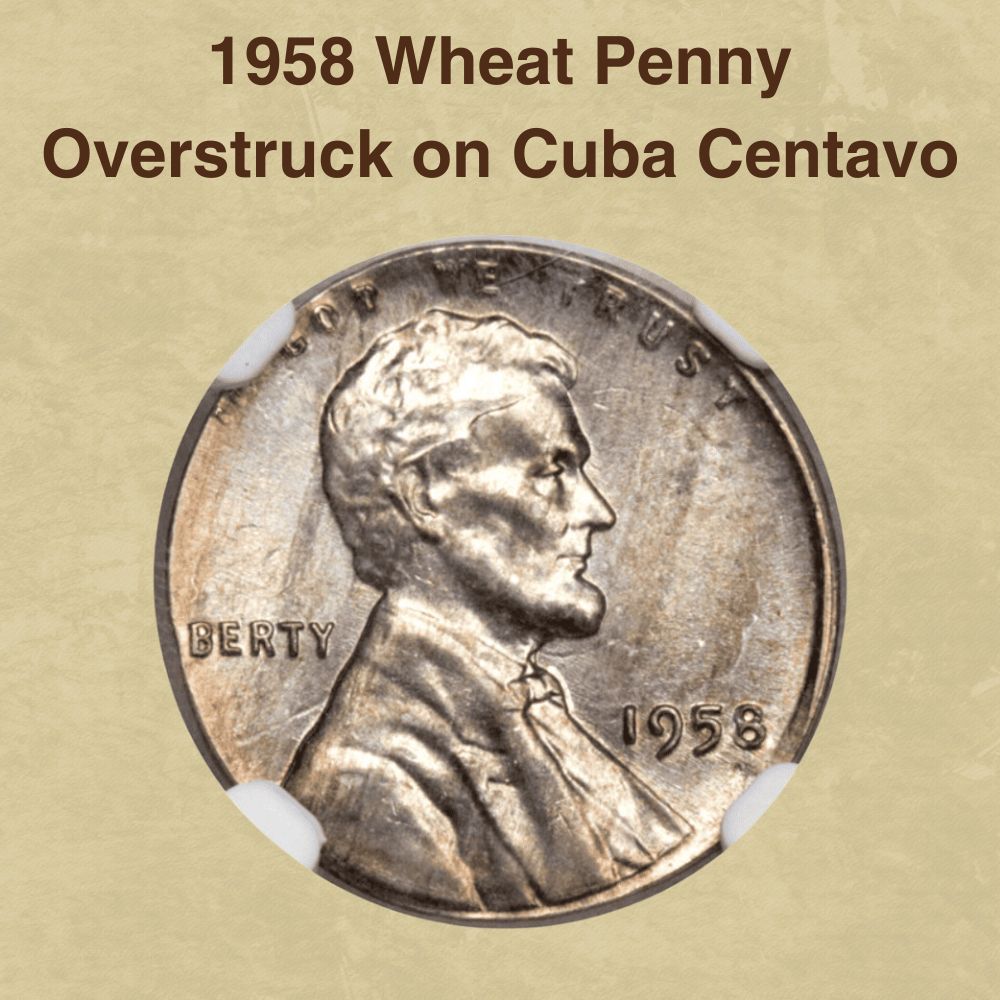 These specimens look like ordinary pennies but are slightly smaller, while a significant part of the letters is cut off. They also deviate from the standard weight. If you have a cent weighing 0.09 ounces (2.45 g) instead of a standardized 0.11 ounces (3.11 g), you can sell it for a few thousand dollars.
Re-punched mint mark
When the mint mark is struck twice on a coin by mistake, the result is a coin with this error. All such pieces came from the Denver mint, and their current value ranges from $7 to $12.
Also read: 11 Most Valuable Wheat Penny Errors
FAQ about the 1958 Wheat Penny
What makes a 1958 Wheat Penny rare?
The Wheat penny had a mintage of over a billion coins in 1958. Therefore, these specimens are not rare nowadays, and you can still find them in circulation. On the other hand, the 1958 DDO Wheat penny belongs to scarce coins because only three exist.
Which 1958 Wheat Penny are the most expensive?
The red DDO 1958 MS 64 penny cost $336,000 in 2018
The red 1958 MS 67+ RD penny cost $9,000 in 2019
The red 1958 PR 65 penny cost $5,759 in 2006
The red 1958 D MS 67+ penny cost $3,360 in 2019
The brown 1958 MS 64 penny cost $2,990 in 2007
The brown 1958 D Genuine penny cost $1,599 in 2020
The red-brown 1958 D MS 67+ penny cost $660 in 2021
The red-brown 1958 MS 65 penny cost $200 in 2018
The red-brown DDO 1958 MS 65 penny cost $17 in 2023
How much are the 1958 Wheat Penny from Philadelphia worth?
Circulated pennies from 1958 in average condition can be found for $0.06, while a specimen in Extra Fine grade is $0.14. However, you can expect pieces in the mint state to cost from $0.34 to $1.16.
What is the priciest coin with wheat stalks?
Pennies are over 100 years old coins, so they arouse great interest among collectors. As you might expect, those with earlier dates can fetch incredibly high amounts. The most expensive coin is the 1943 D MS 64 brown penny sold for $840,000 in 2021.