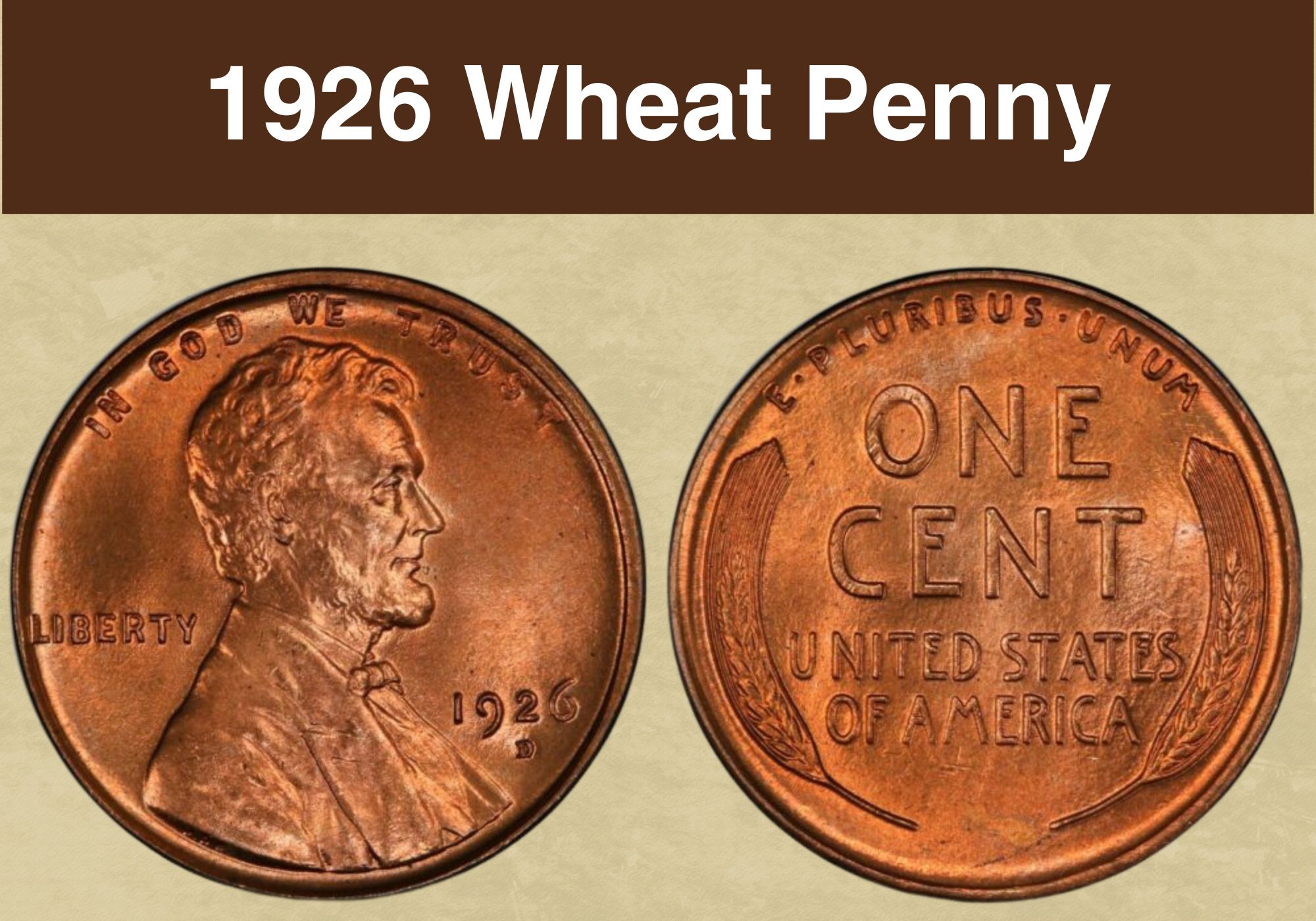 Since Lincoln pennies (cents) are one of the longest-standing American coinage that still exists, you can expect them to be collectible. On the other hand, high mintage makes these coins affordable, including the earliest issues.
The 1926 Wheat penny value is relatively modest for almost 100-year-old specimens. On the other hand, ten cents for lower-graded coins are still ten times the price of their face value. Like most collectors, you are probably interested in a semi-key Wheat penny minted this year. Let's take a look.
1926 Wheat penny value Chart

Condition
1926 No Mint Mark penny
1926 D penny
1926 S penny
Good
$0.28
$1.75
$11
Very good
$0.34
$2.05
$14
Fine
$0.46
$3.98
$17
Very fine
$0.57
$8.87
$23
Extra fine
$2.33
$17
$52
AU
$5.84
$40
$85
MS 60
$11
$144
$251
MS 63
$14
$193
$572
History of the 1926 Wheat Penny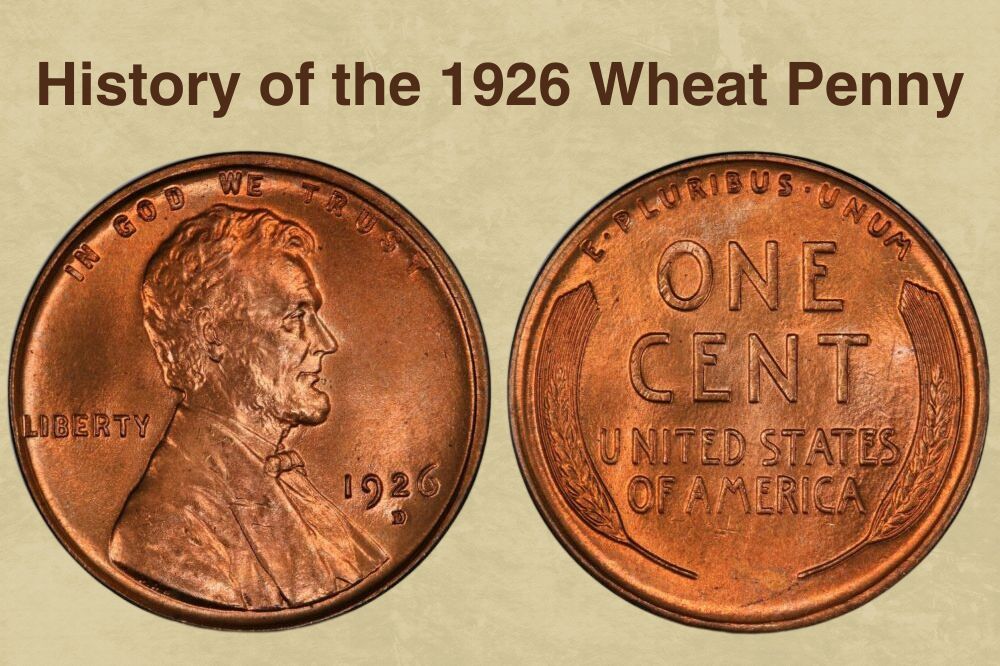 The first American pennies occurred in 1787. They became the lowest face-value coinage in 1857, after the half-cent abolition. The Lincoln pennies became the first American coins showing a genuine person in history.
Victor Brenner designed these cents after President Theodore Roosevelt decided to beautify the American coinage appearance. Since 1909 was the year when the US celebrated 100 years after the assassinated President's birth, it was the right moment for such a precedent.
1926 Wheat Penny Types

Location
Year
Minted
Philadelphia
1926 no mint mark penny
157,088,000
San Francisco
1926 S penny
4,550,000
Denver
1926 D penny
28,020,000
Total
/
185,658,000
The Lincoln portrait was based on an existing Saint-Gaudens sculpture. As for the reverse, the original idea was to use tree branches to frame the composition. After the Mint Director asked for a more American design, Brenner replaced them with wheat stalks.
Also read: 12 Most Valuable Lincoln Penny Worth Money
Features of the 1926 Wheat Penny
The 1926 Wheat pennies are a part of the long-lasting series of coins with Lincoln's profile on the obverse. Victor David Brenner created these one-cent specimens to honor the assassinated 16th President, and the first coins appeared in circulation in 1909. After several changes in the reverse design, weight, and composition, these lovely coins are still in use.
The obverse of the 1926 Wheat Penny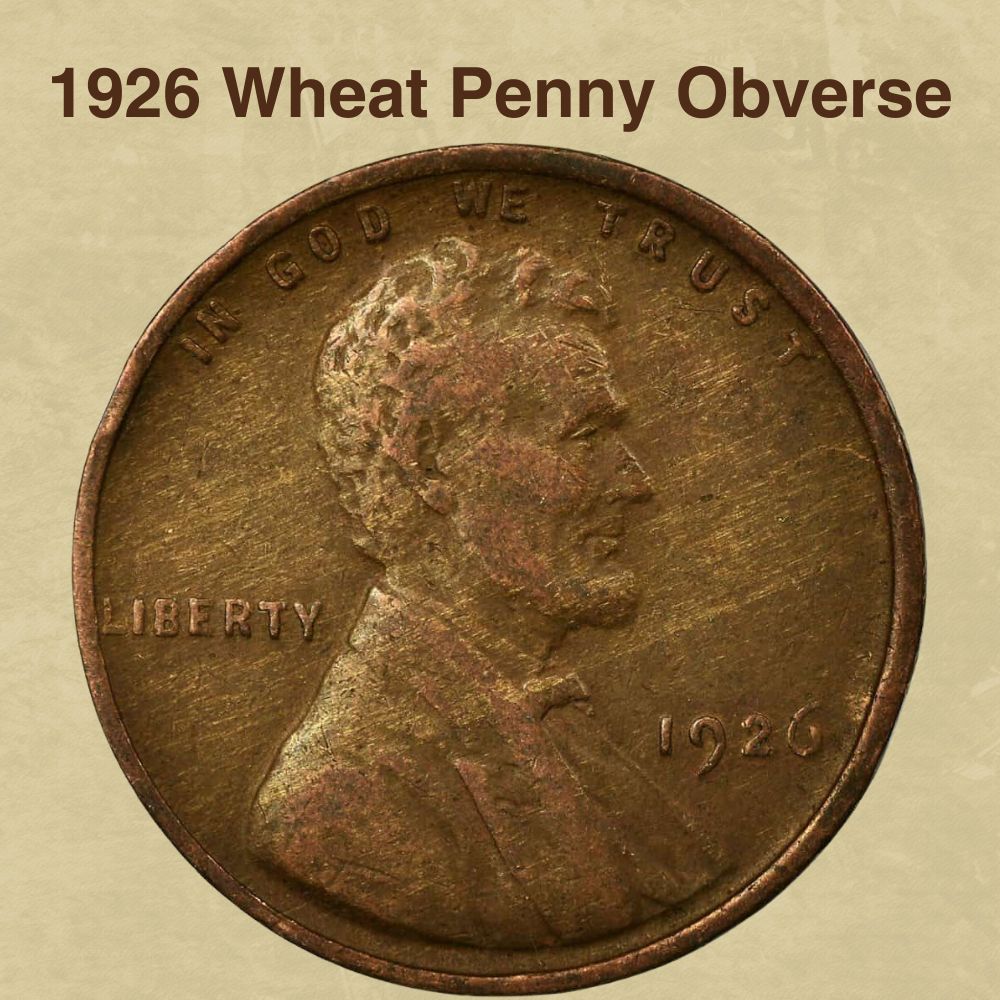 As the name suggests, the 1926 penny features Lincoln's bust in the center. He is faced right with the date and mint mark (when it exists) in front. The left side is reserved for the inscription LIBERTY.
Since the designer's initials were restored in 1918, you can find them under Lincoln's shoulder. Finally, there is IN GOD WE TRUST motto, placed above the President's head.
The reverse of the 1926 Wheat Penny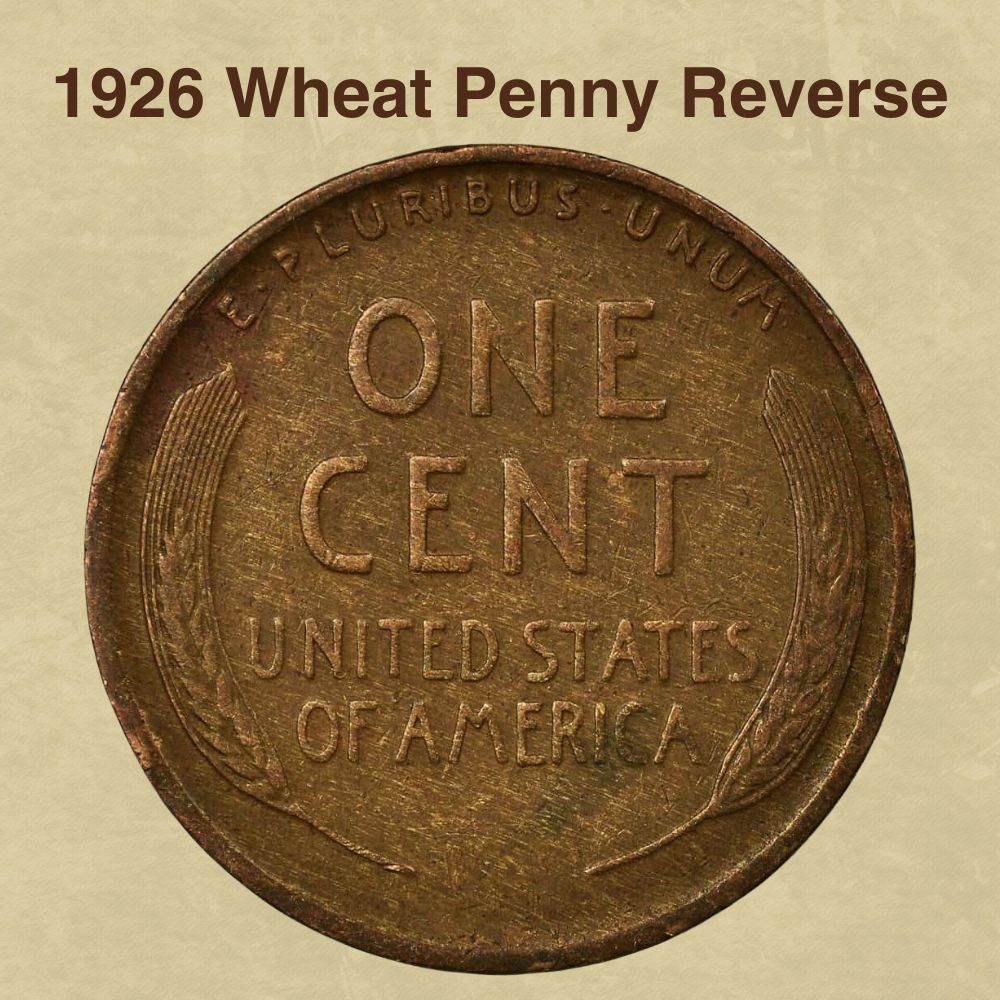 All Wheat pennies have a simple reverse design, and the situation is the same with those minted in 1926. You can see two wheat ears along the left and right sides and two inscriptions in four lines between them:
ONE
CENT
UNITED STATES
OF AMERICA
The slogan E · PLURIBUS · UNUM is required on American coins by law, and you can see it above the central composition.
1926 Wheat Penny Details

Face value
One cent ($0.01)
Coin diameter
19.05 mm (1.75 inches)
Shape
Round
Compound
An alloy of 95% copper with the remainder zinc or tin
Coin thickness
1 mm (0.03937 inches)
Coin weight
3.11 g (0.10970 ounces)
Edge
Plain
Other features of the 1926 Wheat Penny
The plain-edged 1926 penny with wheat reverse is a one-cent coin made of a copper alloy containing 95% of this metal. You can expect it to weigh precisely 3.11 g (0.10970 ounces), with a diameter of 19.05 mm (0.75 inches) and thickness of 1.52 mm (0.0598 inches).
Also read: 13 Most Valuable Wheat Penny Worth Money
1926 Wheat Penny Value Guides
Three mints produced 185,658,000 Lincoln pennies in 1926. Since this was one of the years without proof coins, all pennies you can find with this date are from regular strikes.
1926 No Mint Mark Wheat Penny Value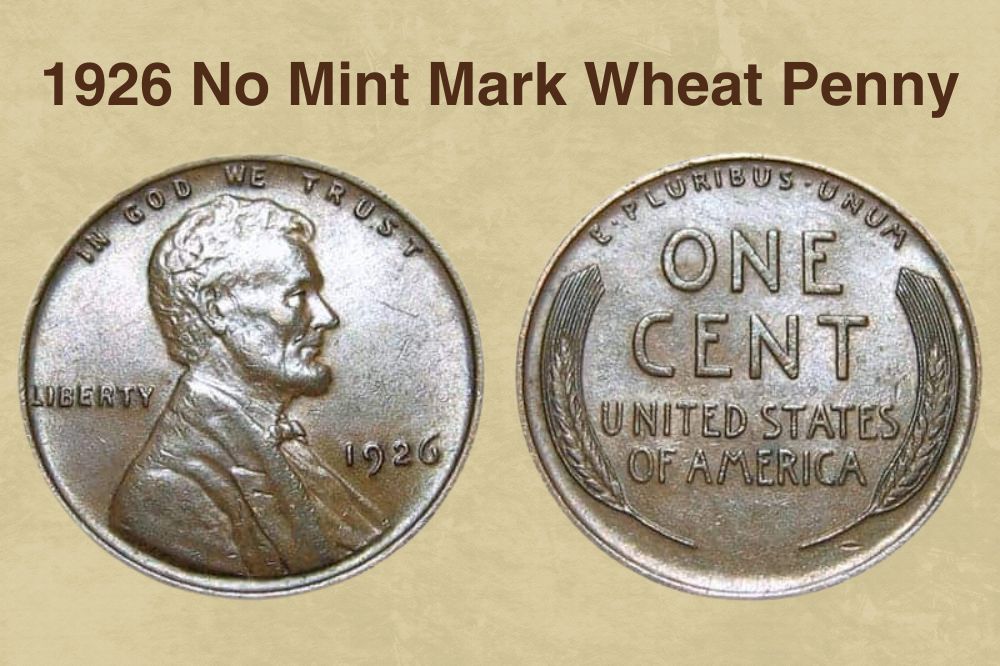 Not all 157,088,000 pennies minted in Philadelphia in 1926 survived the last century, but you can still find enough lovely pieces for your collection. Three existing variations of these coins are more or less collectible, depending on their color. They also have different price ranges.
For instance, you should pay $0.10 to $6 for the brown 1926 penny after it spent years in circulation. Those in the mint state are more valuable and typically cost $6 to $24, depending on assessed grade. The current auction record is significantly higher, $408.
The red-brown coins are better ranked, and their average price ranges from $9 to $45. Surprisingly, the auction record for such a toned coin is $2,300.
The most sought-after specimens are those with red toning. You can find them at $18 to $220, but the most expensive are those in MS 67 grade. Their average price range is from $650 to $780, but auctions can bring surprises. The best-paid red 1926 MS 63 Lincoln penny was sold at $7,475 in 2010.
1926 D Wheat Penny Value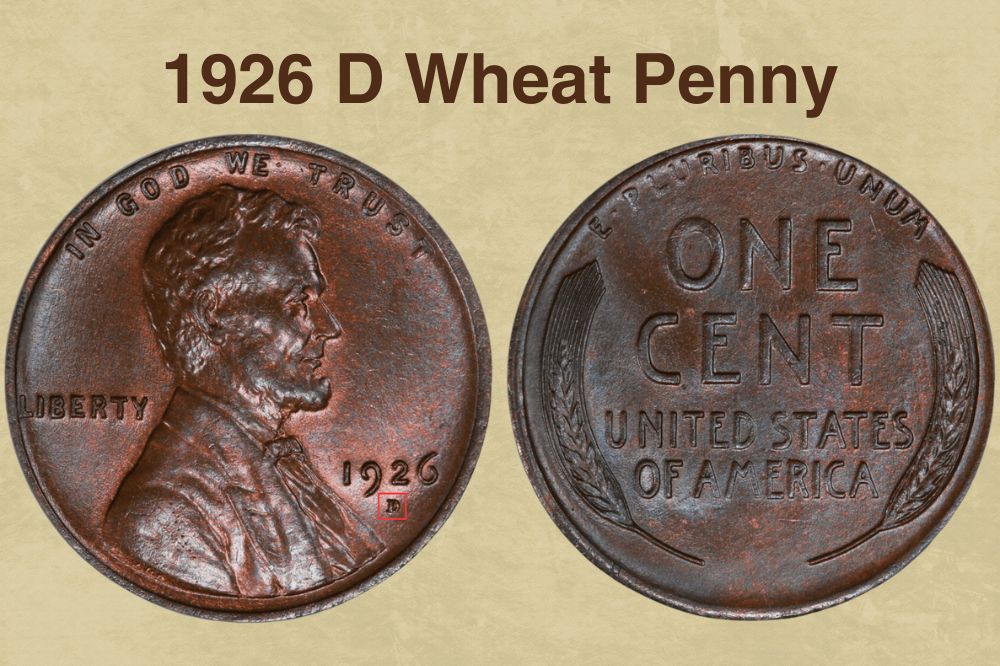 The Denver mint had the second-highest mintage in 1926 of 28,020,000 pennies with the letter D struck under the date. Most circulated brown coins are worth $1 to $65, while those in the mint state cost $85 to $600. The auction record for one brown penny from this year is $1,923.
The 1926 D red-brown pennies are more valuable, with an average price range of $126 to $840 for coins in MS 62 to MS 65 grade. The 1926 D MS 65 RB cent became the highest-cost specimen after one collector bought it for $1,058.
Red pennies minted in 1926 can be surprisingly expensive. Their prices depend on their condition, and you can sell one for:
MS 62 – $250 to $300
MS 63 – $335 to $402
MS 64 – $550 to $700
MS 65 – $2,500 to $4,000
The estimated price for the 1926 red cent in MS 66 grade is $12,000 to $18,500, but the best price at an auction went to a scarce specimen with MS 66+ rating. It was sold at $38,400 in 2021.
1926 S Wheat Penny Value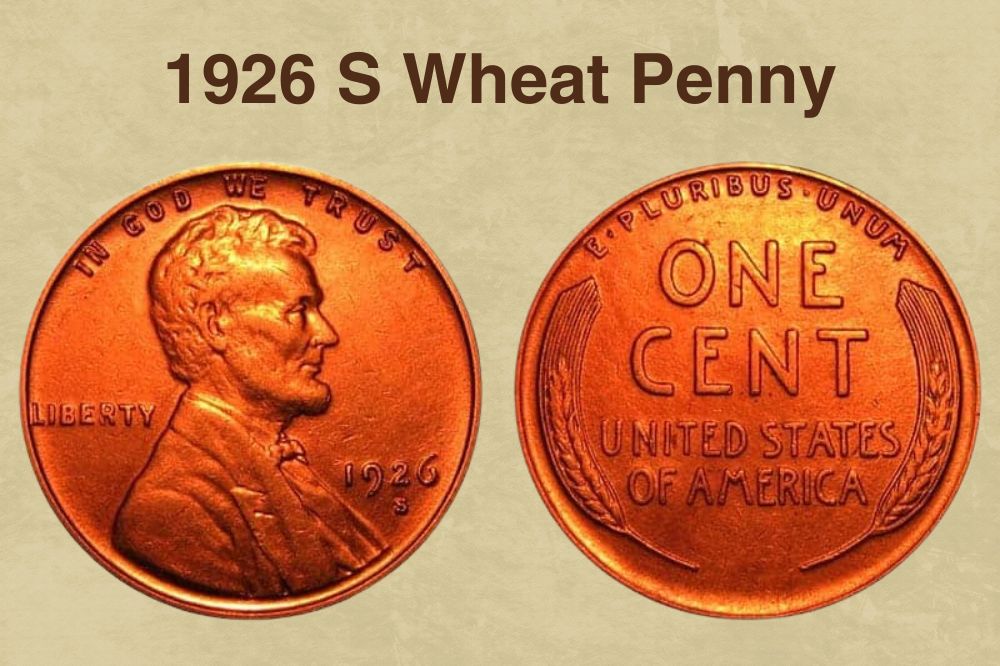 The lowest 1926 penny mintage of 4,550,000 coins were issued in the San Francisco mint, making these coins semi-keys in the series. Nowadays, you can mostly find brown and red-brown coins on the market but be prepared that they are pricey.
For instance, the assessed price range for circulated brown specimens is $8 to $155, but those in the mint state can reach the following prices:
MS 60 – $200 to $240
MS 61 – $260 to $312
MS 62 – $330 to $396
MS 63 – $425 to $510
MS 64 – $550 to $660
MS 65 – $2,750 to $3,300
Expectedly, the 1926 MS 66 penny is estimated at the highest value of $10,000 to $12,500. The auction record from 2000 is $21,275. The 1926 S red-brown pennies are collectible coins that can be worth at least $450. Better-ranked pieces can cost more, for instance:
MS 63 penny – $750 to $900
MS 64 penny – $1,100 to $1,320
MS 65 penny – $8,000 to $12,000
MS 66 penny – $25,000 to $30,000
For now, the 1926 S MS 65 RB penny holds the record price of $14,400, while no better-graded specimen appeared at an auction.
The 1926 S red cents rarely appear on the market, so you can guess they are expensive. However, nothing prepared one owner for the auction record of $149,500. This particular scarce red coin in MS 65 grade reached this sum on January 5, 2006.
Also read: 17 Most Valuable Indian Head Penny Worth Money
1926 Wheat Penny Grading Guides
Since the 1926 Wheat pennies are almost a century old coins, your best decision is to have your specimen professionally graded. The reference company can precisely determine your cent quality based on the Sheldon grading scale.
Rare 1926 Wheat Penny Errors List
To the delight of collectors who like to add error coins to their collections, the 1926 penny set is full of imperfectly minted coins. Even though most errors are minor and visible only under a magnifying glass, the process of looking for one makes collecting exciting.
Clipped planchet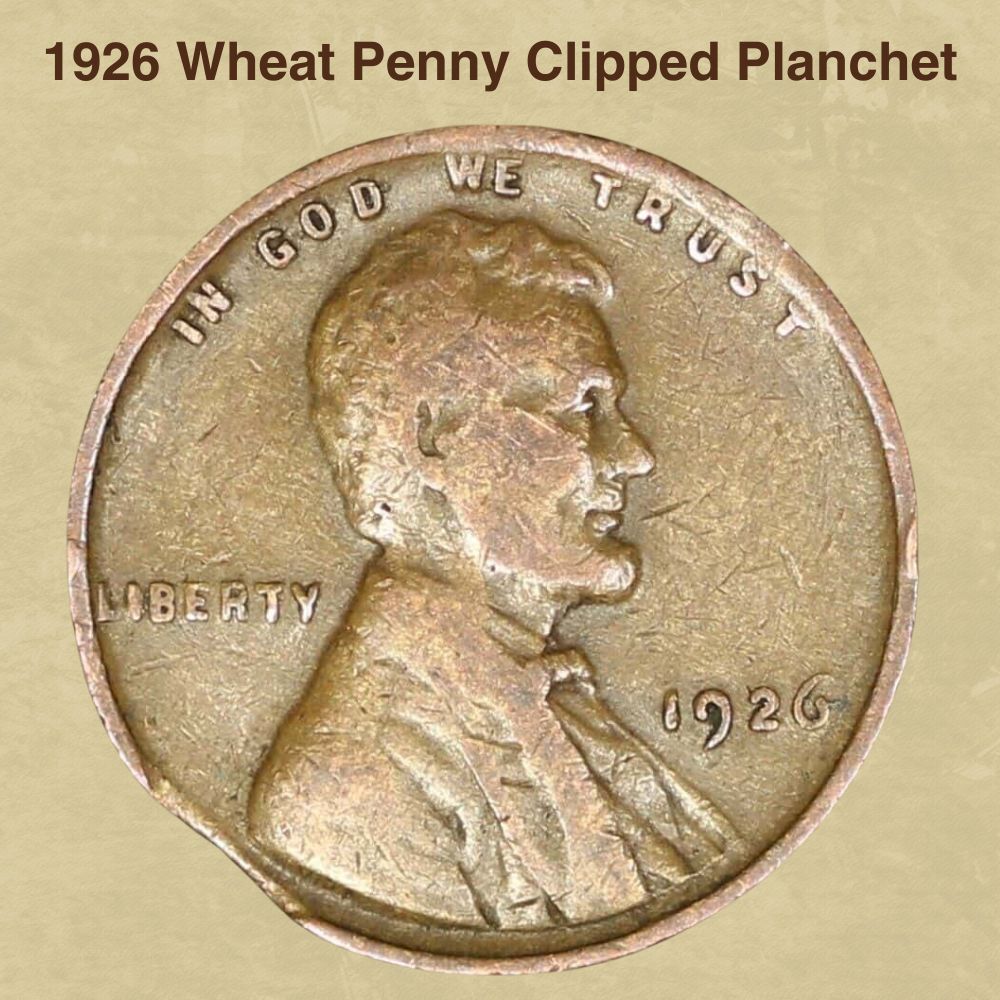 Irregularity during minting can result in a clipped planchet, resulting in coins with a cut piece. Such pennies are often worth a few hundreds of dollars.
Doubled die obverse
The 1926 DDO pennies have a visible duplicate on the image and/or lettering. Pieces with doubling on Lincoln's eyelid cost about 75 to 150 dollars.
BIE error
The BIE error is common in the Lincoln penny series, and you can find it among 1926 cents, as well. It occurs because of a cracked die that leaves an I-shaped line between two central letters in the word LIBERTY.
Since coins with minor imperfections are widespread, they cost approximately $5. Only rare specimens in perfect condition with a better-visible line can reach $15.
Off-center
Off-center error pennies can look weird, but many collectors like them. Those minted in 1926 with this error type cost $25 to $50 when the off-center is about 10%. Those with approximately 50% off-center potentially cost a few hundred dollars.
Re-punched mint mark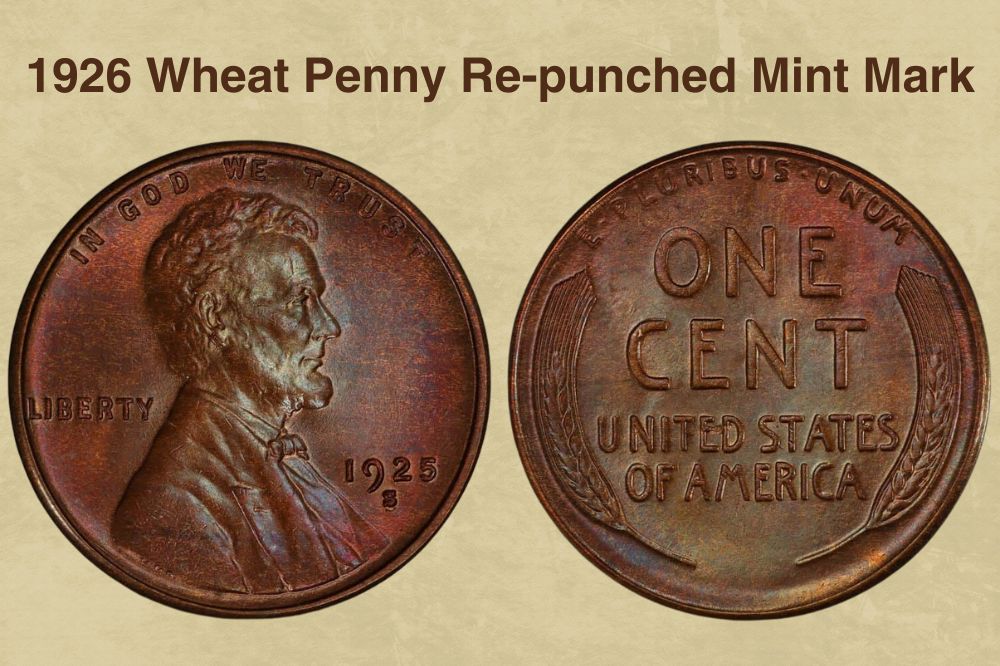 The 1926 pennies with one of two possible mint marks sometimes come with this error. The RPM error results from the double strike when the mint mark is improperly placed during the first attempt. Their price range is from $7 to $15.
Broad strike
Most 1926 Wheat cents were struck carelessly in the past, so you can often come across specimens minted without an adequately attached collar. Such coins are broader and thinner than expected. Some collectors are prepared to pay $150 for one.
Also read: 11 Most Valuable Wheat Penny Errors
FAQ about the 1926 Pennies with the Wheat Reverse
What makes a 1926 penny with the wheat reverse rare?
The most significant advantage of the 1926 pennies is their age. Each of these almost one-century-old coins is worth more than its face value, but the most sought-after are those with the S mint mark. They are relatively scarce and in a group of semi-key coins.
Which 1926 pennies with the wheat reverse are worth a lot of money?
The auction record of $149,500 went to the 1926 S MS 65 RD Lincoln penny on January 5, 2006
The auction record of $38,400 went to the 1926 D MS 66+ RD Lincoln penny on March 31, 2021
The auction record of $21,275 went to the 1926 S MS 65 BN Lincoln penny on October 1, 2000
The auction record of $14,400 went to the 1926 S MS 65 RB Lincoln penny on December 18, 2022
The auction record of $7,475 went to the 1926 MS 63 RD Lincoln penny on January 6, 2010
The auction record of $2,300 went to the 1926 MS 64 RB Lincoln penny on January 8, 2003
The auction record of $1,923 went to the 1926 D MS 66 BN Lincoln penny on March 21, 2021
The auction record of $1,058 went to the 1926 D MS 65 RB Lincoln penny on February 22, 2013
The auction record of $408 went to the 1926 MS 64 BN Lincoln penny on June 10, 2020
How much are the 1926 pennies with the wheat reverse worth?
The 1926 penny prices depend on each coin's appearance, preservation, and color. Most circulated brown pieces cost $0.10 to $6, while those in the mint state have an estimated price range from $6 to $24. Red-brown pennies cost $9 to $45, but the most sought-after red coins are assessed at $18 to $780, depending on grade.
What are the priciest pennies with the wheat reverse?
The most expensive Wheat reverse pennies ever sold are from regular strikes. It is about two war coins made of steel and one error cent.
1944 S steel penny in MS 66 grade sold at $408,000
Red DDO error 1958 penny in MS 64 grade sold at $336,000
1944 steel penny in MS 64 grade sold at $180,000
Proof pennies with Wheat reverse are a bit more affordable than regular coins, and their auction records are the following:
1909 VDB penny in PR 67+ grade – $258,500
1914 penny in PR 68 grade – $126,500
1952 penny in PR 68 grade (DCAM) – $64,625