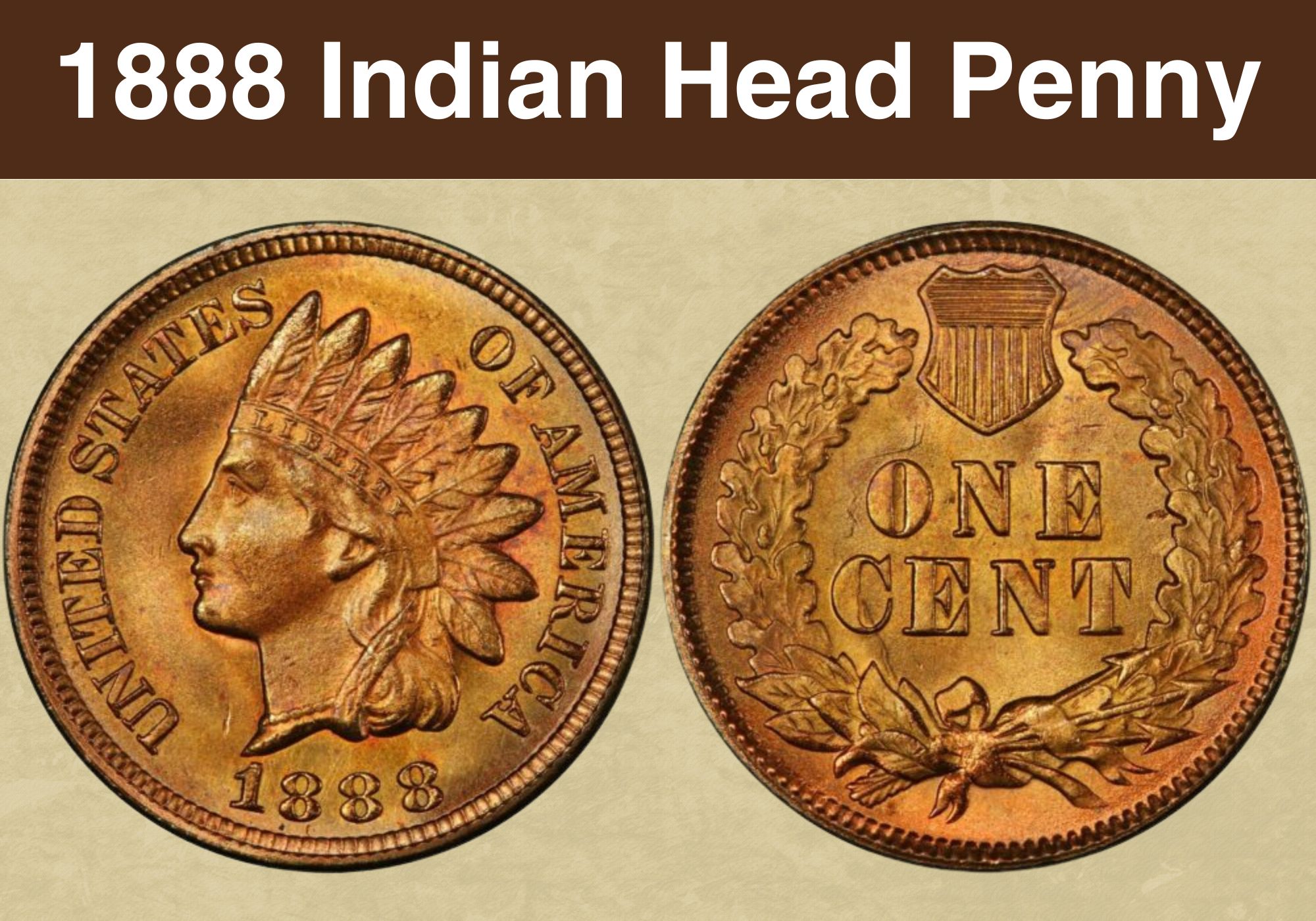 The 1888 Indian Head Penny is famous because it has several important mint mistakes that make it far more valuable. But even flawless Indian Head Cents can be pricy because they're antiques, well over a hundred years old. These classic coins make lucrative investments and are equally treasured by non-profit collectors. Let's learn the 1888 Indian Head Penny Value.
1888 Indian Head Penny Value Chart (Business Strike)

Coin
MS 60
MS 63
MS 65
MS 66
MS 66+
MS 67
1888 Indian Head Penny (Brown)
$120
$215
$600
–
–
–
1888 Indian Head Penny (Red-Brown)
$120
$315
$1,300
$2,250
–
–
1888 Indian Head Penny (Red)
$100
$325
$1,800
$10,500
$12,500
$28,500
1888 Indian Head Penny Value Chart (Proof)

Coin
PR/PF 60
PR/PF 62+
PR/PF 63+
PR/PF 65
PR/PF 66
PR/PF67
1888 Proof Indian Head Penny (Brown)
$135
$265
$360
$775
$1,200
$2,650
1888 Proof Indian Head Penny (Red-Brown)
$175
$325
$375
$800
$2,800
–
1888 Proof Indian Head Penny (Red)
$250
$340
$650
$3,350
$8,750
–
1888 Proof Indian Head Penny (Cameo)
–
–
$2,450
$7,000
$11,500
–
History of the 1888 Indian Head Penny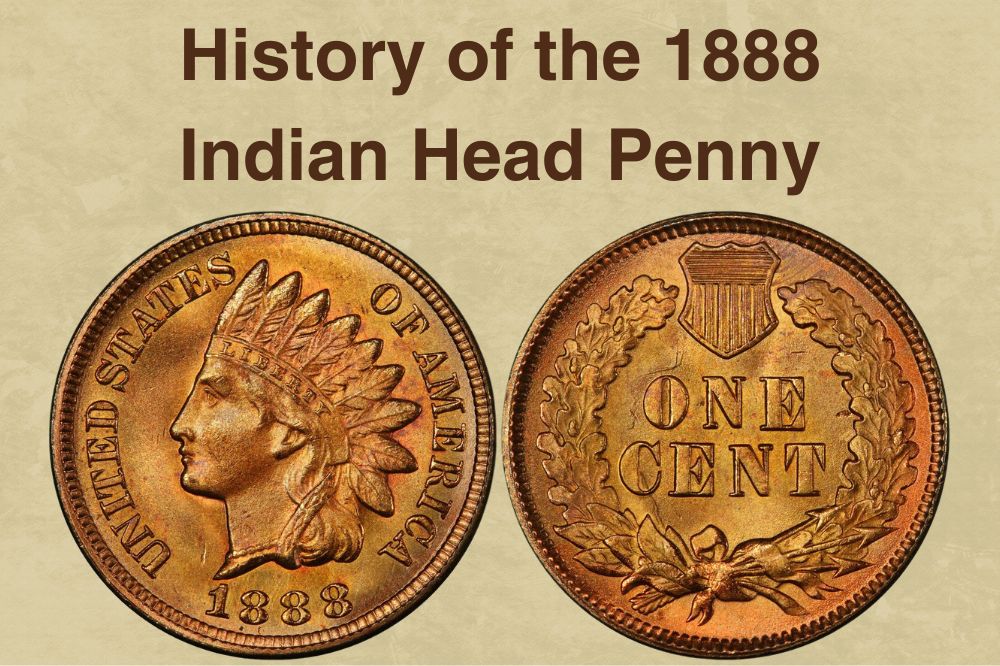 Industrial coin-minting technology hasn't changed that much over the centuries. We still use the same techniques, though we've introduced machines to make the process faster, cheaper, and more efficient. But the designs of coins adjust to the times, and as English sensibilities fell out of fashion, we wanted coins that appealed more to our American taste and identity.
That's how the Indian Head Penny came up, although today we'd call it a Native American Head Penny. When Chief Mint Engraver James Barton Longacre was asked for a concept, he proposed using Indigenous Americans as his subject. Until then, Phrygian caps had been a common freedom symbol on American currency. These hats were once worn by freed slaves.
The Story Behind the Feathered Headdress
Longacre acknowledged that yes, the uniform of emancipated labor was a sign of liberty, but it's better to use a signifier of the true American Spirit, which he felt was best embodied by Native Americans. And he seems to have gotten on well with Indigenous people. There's a rumor that the subject was a sketch of a Native American Chief who was visiting his office.
The specifics of this anecdote are iffy. For example, the story says Longacre's daughter Sarah tried on the chief's tiara and her dad drew her wearing it, a take that both denied. But there's always a little truth on the grapevine, and this at least confirms that Longacre was friendly with Native American residents. And he was genuine in his desire to honor them on a coin.
That said, rather than using an actual Native American (which happened later on the Pratt Coins, Buffalo Nickels, and Sacagawea Dollars), Longacre sculpted Lady Liberty wearing pearls, a Liberty headband, and a Native American Chief's headdress. He called it a feathered tiara to feminize it. But people still assumed it was an Indigenous man, hence the nickname.
Indigenous Inspiration for American Coins
The Indian Head Penny was the second Small Penny design. In 1856, we shrunk the penny from 28.5mm to 19.05mm in response to rising copper prices driven by the Gold Rush. This size reduction kept the melt value of the coin below its face value since the price spike made people hoard the coin. But the first Flying Eagle Cent was unpopular so we had to change it.
Earlier, Longacre had worked with Native American motifs for Indian Princess Gold $1 and $3 coins in 1854 and 1856. Some people called them Indian Head coins as well, but on those coins, Lady Liberty wore the female headdress of an Indigenous Princess. On pennies, the headdress was masculine. In all these cases, Lady Liberty was inspired by Crouching Venus.
Also read: 12 Most Valuable Lincoln Penny Worth Money
Features of the 1888 Indian Head Penny
When you're describing a coin in professional circles, you should refer to the heads side as the obverse, the tails side as the reverse, the thin side as the edge, and the raised border as the collar or rim. The images on the coin are devices while the words are legends or mottos and the backdrop is the field. The blank discs that are stamped to make coins are planchets.
The Obverse of the 1888 Indian Head Penny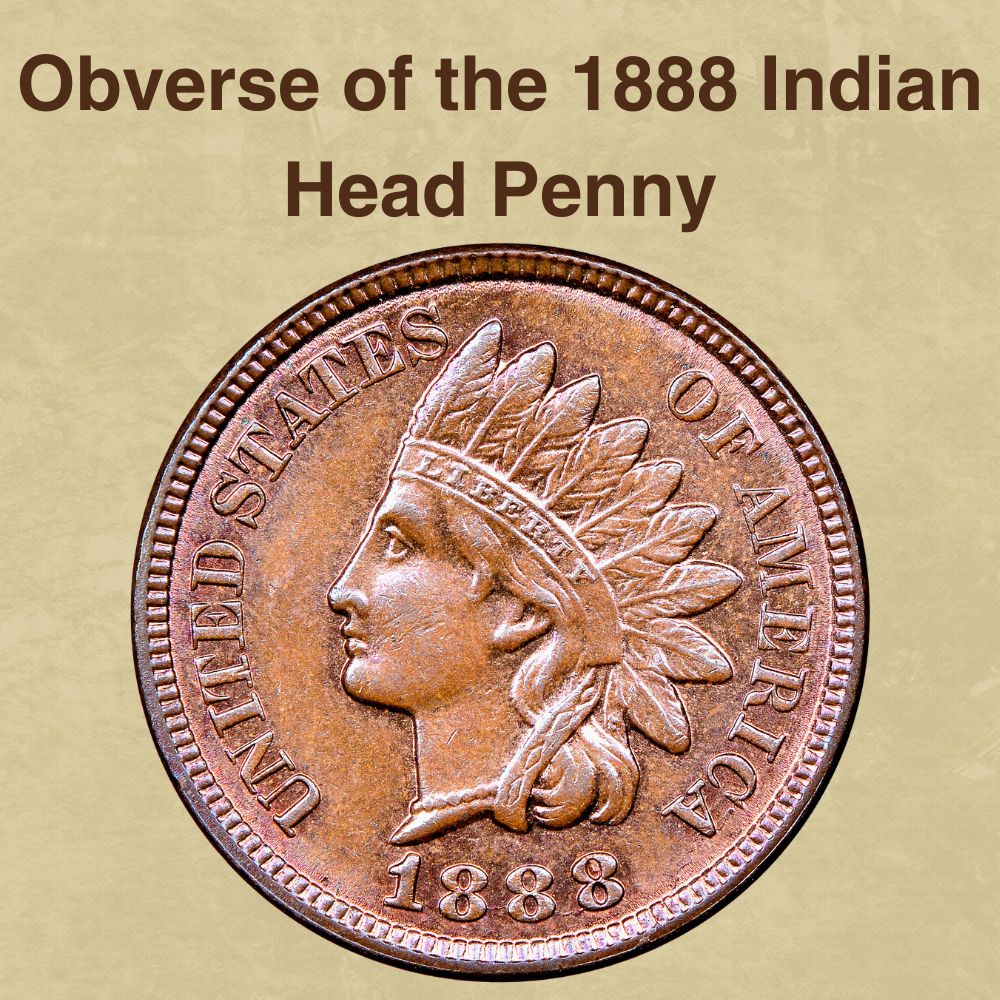 It showed Lady Liberty in pearls and a male Native American's feathered tiara. The legend Liberty is on her headband. A sideways L for Longacre is hidden in her hair, next to the last feather. United States is in front of her face, Of America is behind her, and the date is under her neck. The coin has no reeds, but it has denticles or beading to help maintain coin shape.
The Reverse of the 1888 Indian Head Penny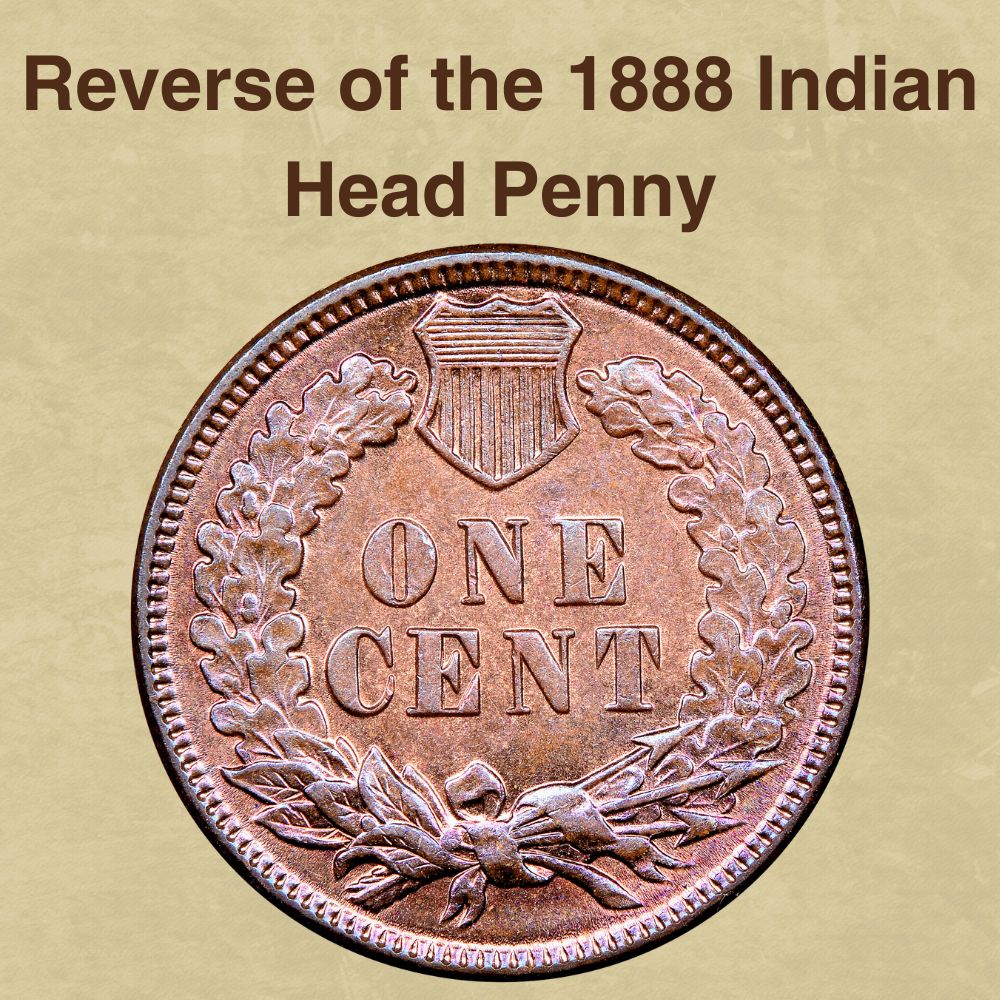 It shows a wreath made of oak at the top and laurel at the bottom. The wreath is tied with a ribbon that also holds three arrows for the first three Union States. A shield sits between the upper tips of the wreath. The space in the middle of the wreath shows the denomination, One Cent. The back of the coin has beading or denticles as well. They make coins last longer.
Other Features of the 1888 Indian Head Penny
1888 Indian Head Pennies were 95% Copper and 5% Tin, Zinc, or both. Like all pennies, they're colour-graded as BN or BRN for brown, RD for red-brown, or RD for red. Red coins are the most expensive. 1888 Indian Head Cents were 19.05mm across, 1.52mm thick, and weighed 3.11g or 48 grains. Their edges were plain or smooth, meaning they had no reeds.
Also read: 13 Most Valuable Wheat Penny Worth Money
1888 Indian Head Penny Value Guides
In 1888, Indian Head Pennies were only struck in Philadelphia and they had no mint marks. The proof coins were struck there as well. Proof coins are specially minted for collectors but their primary function is to exemplify the ideal coin. That's why they send a few proof coins to the archives. Proof coins are made using special high-quality dies that are pickled in acid.
The acid-wash gives the coin device, wording, numbering, and rim a frosted finish while the field has watery, mirror-like reflectivity. This part gets shiny by scrubbing it with horsehair brushes. Proof planchets get special treatment as well. They're tumbled with 6mm stainless steel beads for extra shine, then rinsed in soap and cream of tartar, just like all other coins.
Today, proof coins get their frost from computerized lasers. But back in the acid-pickling days, the texture would fade slightly every time the die hit a blank. That meant the first 50 to 100 coins had the strongest contrast between the device and the field. These were graded as Deep Cameo or Ultra Cameo. The next hundred or so would be categorized as Cameo coins.
1888 Indian Head Penny Value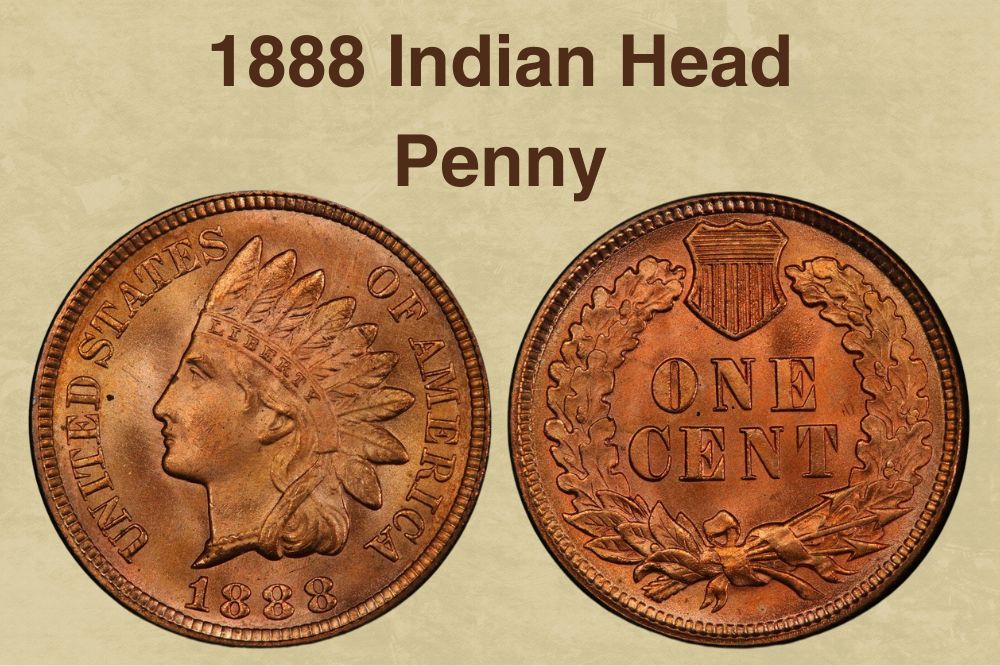 The Philadelphia Mint made 37,489,832 Pennies in 1888. These were business strikes or regular strikes for public circulation. They were intended for use in everyday transactions. Since it's an old coin, even low grades can be valuable. A damaged XF Details sold for $932 on eBay in 2019. And a Gem Brilliant Uncirculated (about MS 65 BN) was $4,600 in 1999.
You're more likely to bump into a brown coin than a red one, and about fifteen MS 65 BNs have been submitted to PCGS. In October 2023, their value is estimated at $600 while an MS 60 BN is $120. Moving onto reddish-brown coins, an MS 66 RB sold for $1,880 in January 2017. PCGS has seen three of these coins so they're worth $2,250 in October 2023.
And over fifty MS 65 RBs have been sent to PCGS so they're estimated at $1,300 in October 2023. But an MS 67 RD sold for $63,250 in July 2003. It's still the highest-known grade and the two samples are now worth $28,500. Over thirty coins are known in MS 65 RD so they go for $1,800. As for MS 60 RD Indian Head Pennies, they're worth $100 in October 2023.
1888 Proof Indian Head Penny Value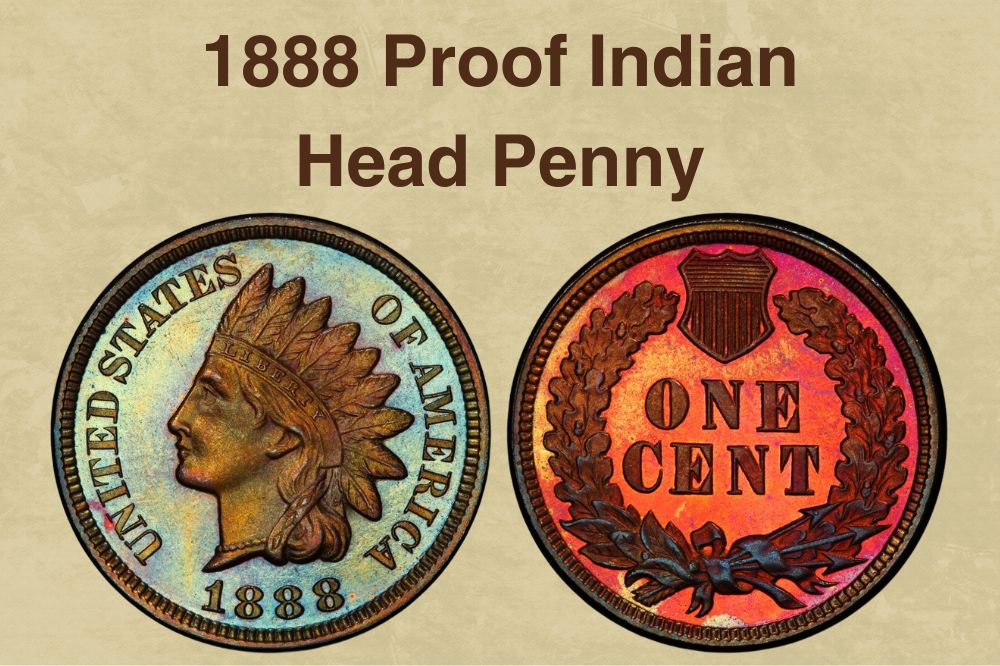 The 1888 Proof Indian Head Pennies were mirror-like, but proof coins can also be matte (aka satin finish or sandblasted proofs). The mint also makes reverse proofs on occasion. In 1888, they made 4,582 Proofs in Philadelphia without mint marks. A PR 67 BN was $3,300 in 1997 but PCGS has received more than a hundred so they're worth $450 in October 2023.
And the two PR 67 BNs are worth $2,650 in 2023. Meanwhile, a PR 66 RB sold for $3,966 in November 2012. Four have shown up at PCGS so their price is $2,800 in October 2023. And one PR 66+ has been submitted. PCGS estimates its value as $3,500 in 2023. A PR 66 RD is worth a whole lot more, selling for $15,275 in 2014. PCGS has received four of these coins.
Their estimated price in October 2023 is $8,750. A PR 60 RD is $250 and a PR 65 RD is $3,350. As for cameo coins, a PR 66 CAM was $18,400 in January 2003. Two decades later, only two coins are known so their value is $11,500 in October 2023. A PR 65 CAM fetches a decent $7,000 while a PR 63 CAM is $2,000 in 2023. No PR 60 CAMs have popped up yet.
Also read: 17 Most Valuable Indian Head Penny Worth Money
1888 Indian Head Penny Grading
We refer to pennies as copper coins because the earliest ones were 100% copper. But by 1856, pennies were 12% nickel, and from 1864, they were 5% zinc and tin. This means the pennies range in color from gilded brass to dull brown, hence the BN, RB, and RD ratings. Outside of that, Indian Head Pennies are typically graded from 1 to 70 on the Sheldon Scale.
Rare 1888 Indian Head Penny Errors List
Mint errors add value to a coin, raising its price to hundreds or even thousands of dollars. And the earliest errors – verified within 30 days of a coin's release – are called first-strike or FS errors. On 1888 Indian Head Cents, the top FS errors were RPDs and MPDs. Let's look at these famously flawed mint treasures as we dig deeper into 1888 Indian Head Penny Errors.
1888 Indian Penny 8/7 Overdate – FS-301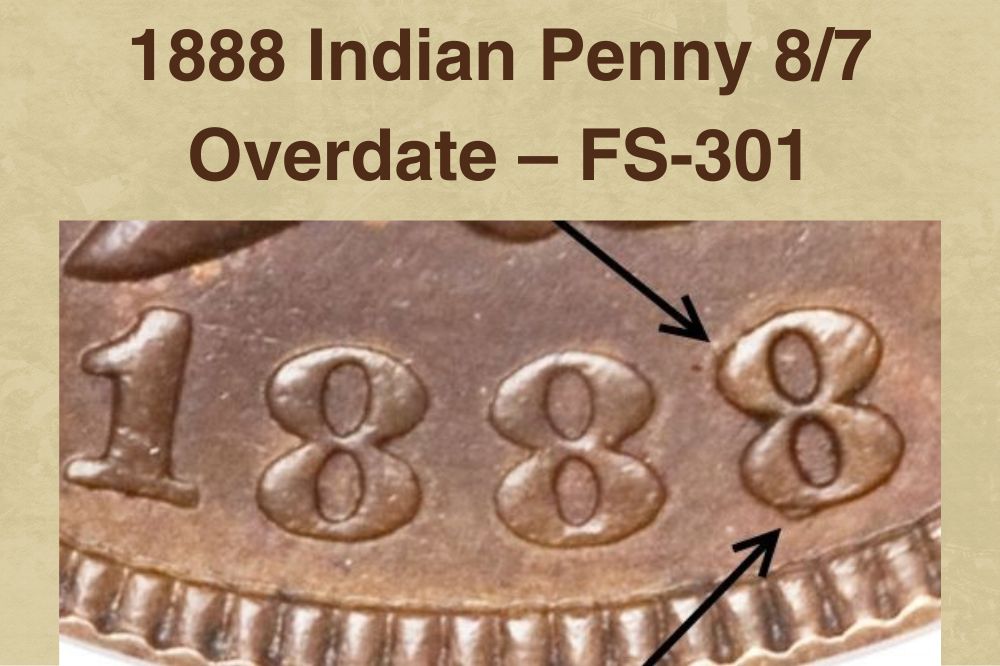 An overdate is when one mint date is struck on top of another. In this case, it was 1888 over 1887 so you can see traces of the 7 peeking out below the last 8. It's a variety, which means the mistake happened on the die and was copied on every coin it made. An AU 58 BN was $43,200 in 2021, an MS 63 BN was $74,750 in 2007, and an MS 64 RB was $72,000 in 2019.
1888 Indian Head Penny RPD – FS-302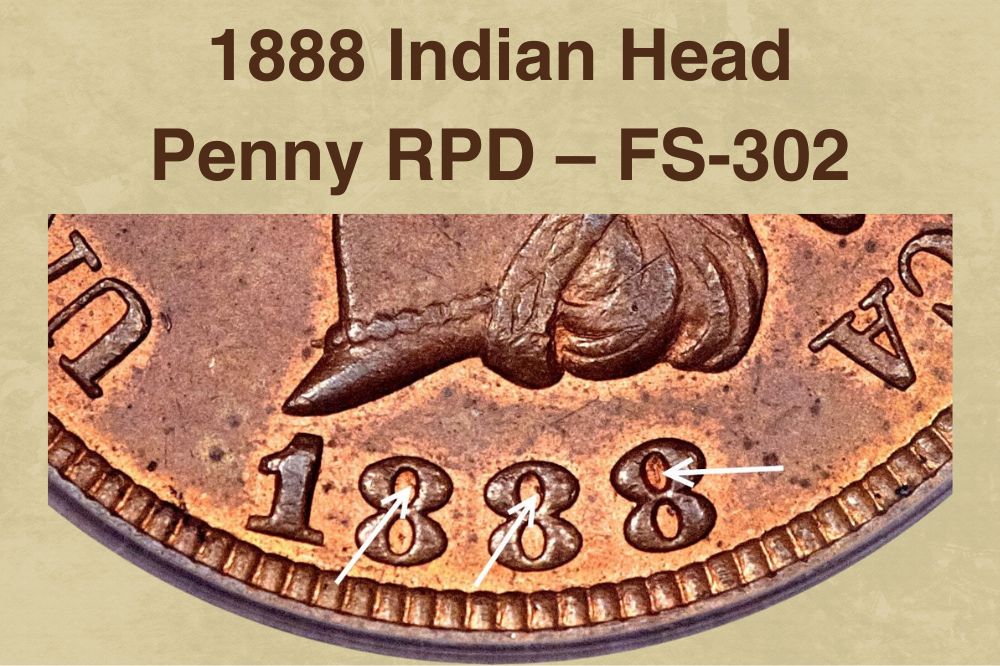 RPD means re-punched date. Unlike an overdate, it's when the same date is stamped twice. It happened at the die stage, meaning the die moved slightly between hub strikes, causing the second date to land on a slightly different spot. This error was then copied on all the coins that flawed die made. An MS 64 BN was $9,200 in 2009. An MS 63 RB was $2,530 in 2011.
1888 Indian Head Penny MPD – FS-303 to FS-305
MPD means misplaced date, and the 1888 Indian Head Penny had three variants numbered FS-303, FS-304, and FS-305. The difference was in the severity and positioning of the 1 and 8. Just like the previous errors, it happened at the die stage and got transferred onto multiple coins. An FS-303 graded G 4 was $380 in 2013. An FS-305 in MS 64 BN was $325 in 2016.
Also read: 11 Most Valuable Wheat Penny Errors
1888 Indian Head Penny FAQ
How Much is an 1888 Indian Head Penny Worth?
The highest-known grade for 1888 Indian Head Pennies is MS 67 RD. It sold for $63,250 in 2003 but is down to $28,500 today. Meanwhile, an 1888 Proof Indian Head Cent graded PR 66 RD was worth $15,275 in 2014 but dropped to $8,750 in 2023. A PR 66 CAM is $11,500.