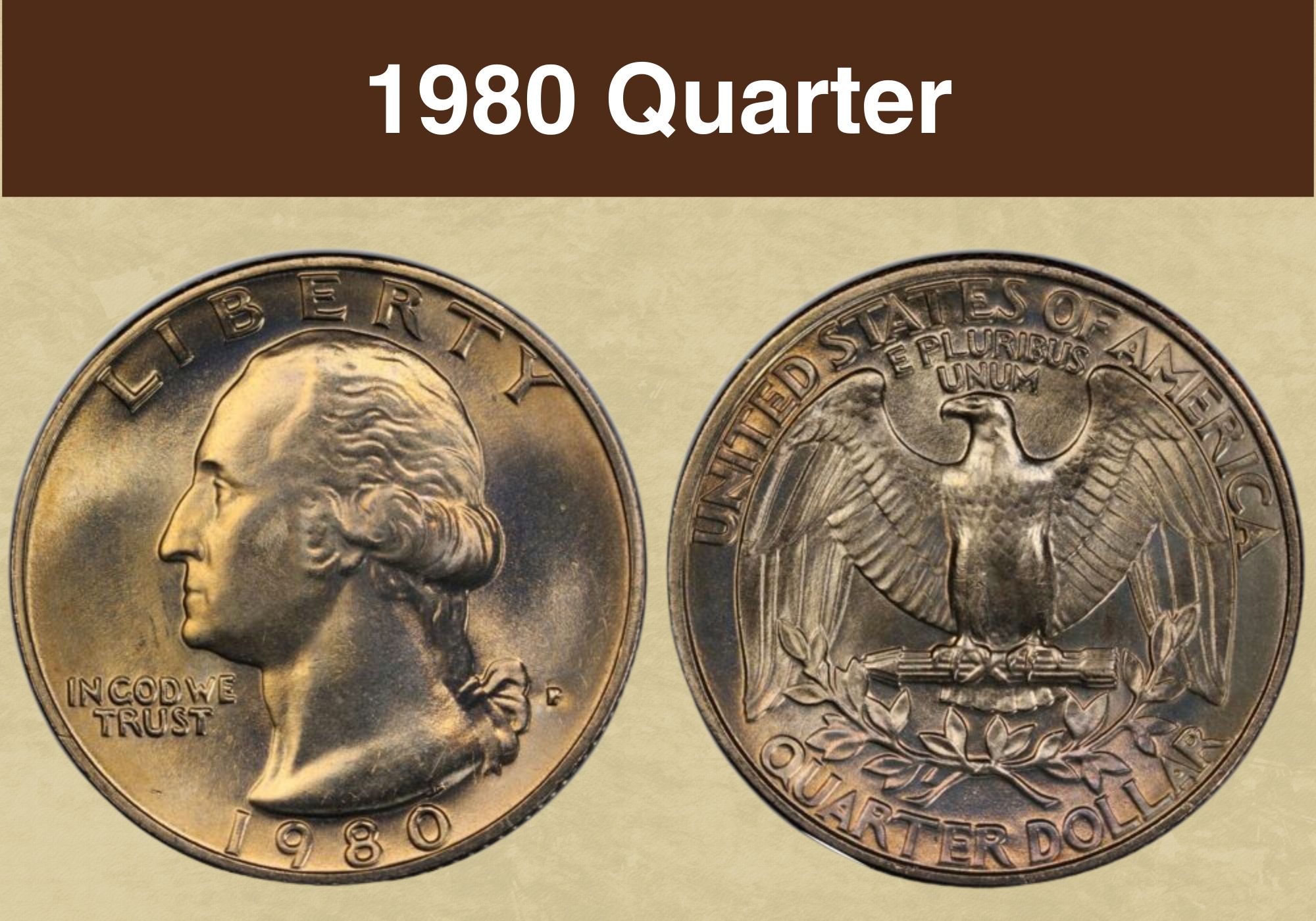 If you have a 25-cent coin from 1980, it's known as a Washington quarter. But could it be valuable?
That's what we're going to investigate! We'll look at the range in the 1980 quarter value, and we'll discover the factors that determine how much an individual coin is worth. We'll learn more about the history of the Washington quarter too.
Ready to find out more about this interesting coin? Then step this way!
1980 Quarter Value Chart

Mint mark
MS60
MS63
MS65
MS68
1980 P Quarter Value
$1
$6
$20
$10,000
1980 D Quarter Value
$1
$2
$20
n/a
PR60
PR65
PR68
PR70
1980 S Proof Quarter, Deep Cameo Value
$2
$6
$8
$36
History of the 1980 Quarter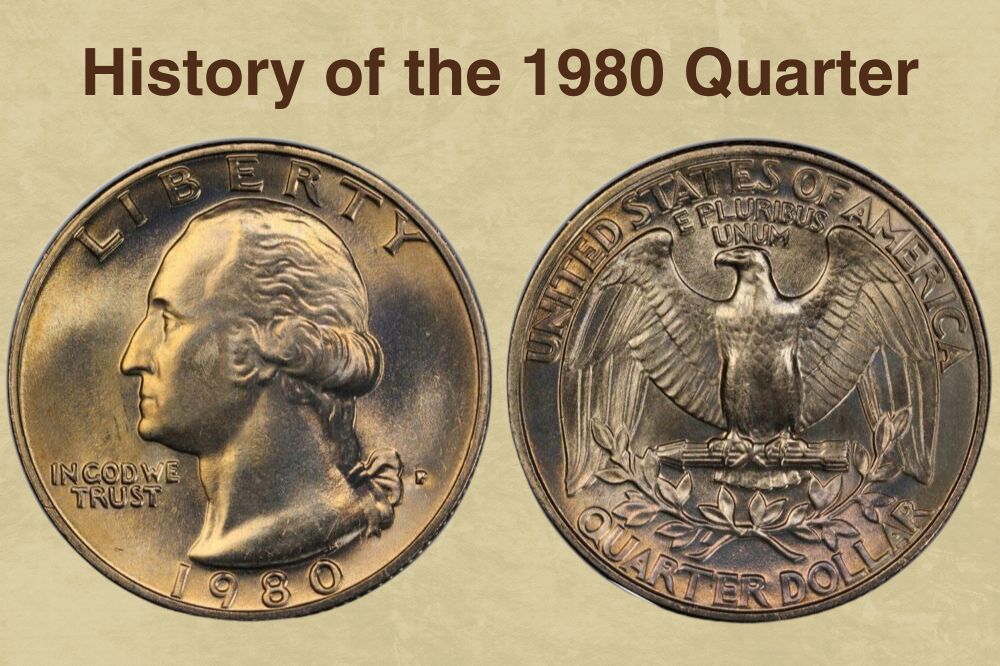 1980 was a special year in the history of US coins. It was the first time that the Mint facility in Philadelphia was allowed to add its own mint mark to coins.
Until then, it had been the only facility not to have a mark. That was because it was also the first, so there was no need to distinguish its early coins from those produced elsewhere.
As new Mint facilities opened, each took its own mark – O for New Orleans, D for Denver, CC for Carson City, W for West Point, and S for San Francisco. The absence of a mint mark became itself a way to identify coins that had been struck in Philadelphia.
But in 1980, Philadelphia finally got its "P". And it was allowed to add it to every coin struck there, except for the cent.
The 1980 quarters were the latest in the series known as Washington quarters. These were first issued in 1932 and were so named because of the portrait of George Washington on the obverse.
The first Washington quarters were made of 90 per cent silver, but rising silver prices brought that to an end. From 1964 onwards, the core of the coin was made of copper, while the silver color was achieved with a cupronickel cladding.
There was a brief return to silver in 1976, with some silver quarters struck to mark the bicentenary of American Independence. But the following year saw a return to the standard clad quarters, and it was this recipe that continued to be used in 1980.
The copper and nickel combination was harder than silver, which necessitated minor changes to the design. The relief of Washington's portrait was lowered to ensure a clean strike.
Washington quarters continue to be issued to this day. The most recent coins feature prominent US women on the reverse, while the obverse features a different portrait of Washington by the artist Laura Gardin Fraser.
Also read: Top 13 Most Valuable State Quarters Worth Money
Features of the 1980 Quarter
The Obverse of the 1980 Quarter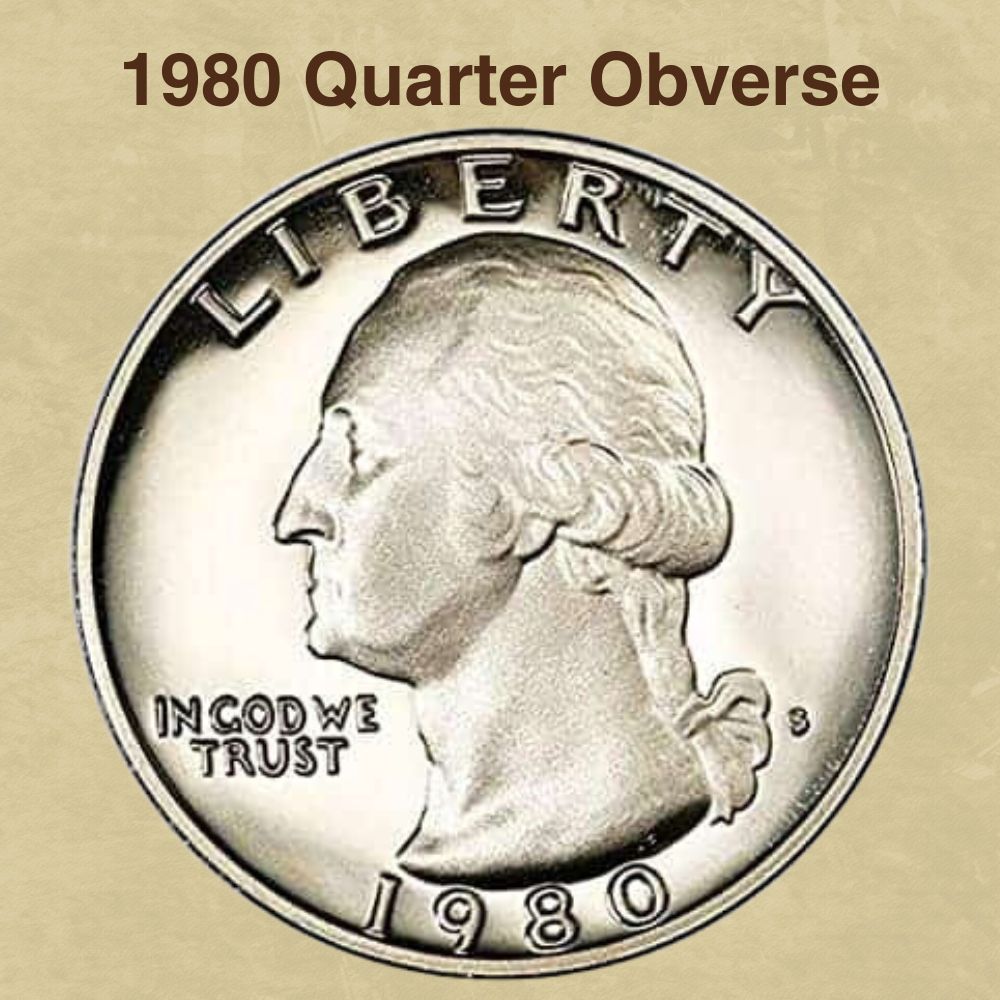 The obverse, or "heads" side, of the 1980 quarter has a familiar image. It is the portrait of the nation's first president, George Washington. And it's the work of a sculptor named John Flanagan.
The choice of Flanagan's portrait has been the subject of controversy through the years.
It had originally been intended to honor Washington with a half dollar coin on the bicentenary of his birth.
That coin would have been struck for a single year, and would have been part of the bicentenary celebrations. A committee had been set up to oversee these, and recommended a portrait of Washington by the artist Laura Gardin Fraser to appear on the coin.
But it was then decided that the Washington quarter would be a permanent addition to the nation's coinage. As such, the decision on the design now fell to the Treasury Secretary, Andrew W. Mellon.
The committee wrote to Mellon recommending Fraser's portrait – but he preferred the portrait by Flanagan.
Mellon stepped down from the role before the coin was issued, and the committee tried to get his successor, Ogden L. Mills, to think again. But Mills declined, and it was Flanagan's portrait that appeared on the new coins.
Both Flanagan's and Fraser's portraits were based on the same source material: a bust of Washington by the French sculptor, Antoine Houdon. Flanagan's image shows Washington in profile, facing left as the coin is viewed. He sports a roll of hair that didn't appear on Houdon's sculpture.
Above Washington's portrait, the word "LIBERTY" arches across the top of the coin. The motto "IN GOD WE TRUST" appears to the left of the portrait, while the date is at the bottom.
The mint mark appears to the right of the image. Coins in Denver are marked with a "D", those in Philadelphia with a "P", and those from San Francisco with an "S".
The Reverse of the 1980 Quarter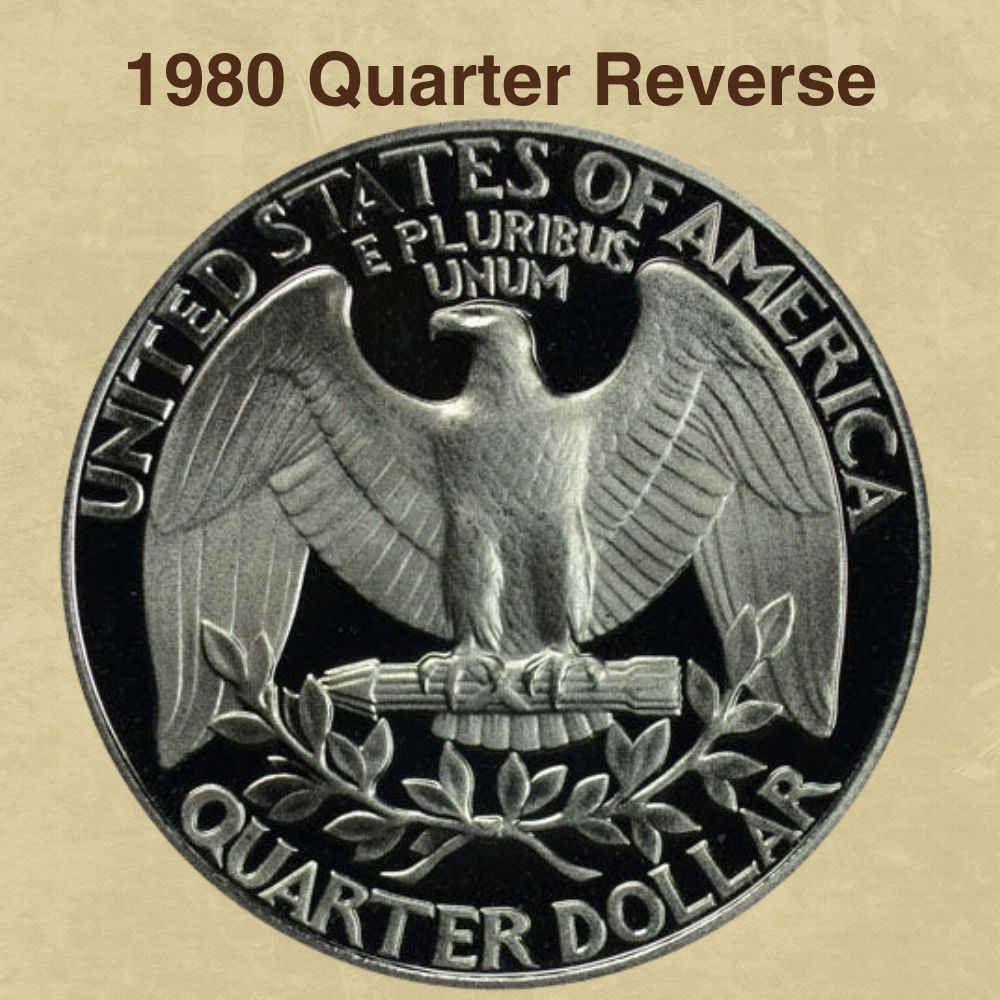 The reverse of the 1980 quarter depicts an eagle with outstretched wings. This design too was the work of John Flanagan.
The representation is stylized rather than strictly accurate, and some observers questioned what species of bird was shown. The New York Times took the matter to an ornithologist, who confirmed that it was indeed a bald eagle, traditional symbol of the USA.
Above the bird's head is the Latin motto "E PLURIBUS UNUM". This means "From the many, one" and refers to the country's creation from the union of individual states.
At the very top of the coin, running parallel with the edge, are the words "UNITED STATES OF AMERICA". And at the bottom, parallel with the lower coin edge, is the denomination, written as "QUARTER DOLLAR".
Other Features of the 1980 Quarter
The quarter of 1980 may be silver in color, but unlike earlier mintages, it isn't made with real silver. The color comes from nickel, which is mixed with copper to form the cladding for the coin.
The result is a coin that's slightly lighter – 5.67 grams compared to 5.75 grams for silver quarters. The dimensions, however, are the same. Both types have a diameter of 24.3 millimeters.
1980 was the first year in which all quarters carried a mint mark, no matter where they were struck. Philadelphia, which had long gone without a mark, was authorized to mark its coins with a "P" for the first time.
This YouTube video from Treasure Town shows a 1980 Philadelphia quarter in detail, including that brand new mint mark.
1980 Quarter Grading
| # | Grade |
| --- | --- |
| 1 | Basal State-1 |
| 2 | Fair |
| 3 | Very Fair |
| 4, 5, 6 | Good |
| 7, 8, 10 | Very Good |
| 12, 15 | Fine |
| 20, 30 | Very Fine |
| 40 | Extremely Fine |
| 50 | About Uncirculated |
| 60 | Mint State |
| 65 | Mint State |
| 70 | Mint State |
Please check our grading guides to know your coin scale, It's the necessary step to know the exact value of your coin.
Check out now: How to Grade Washington Quarter?
1980 Quarter Value Guides
1980 P Quarter Value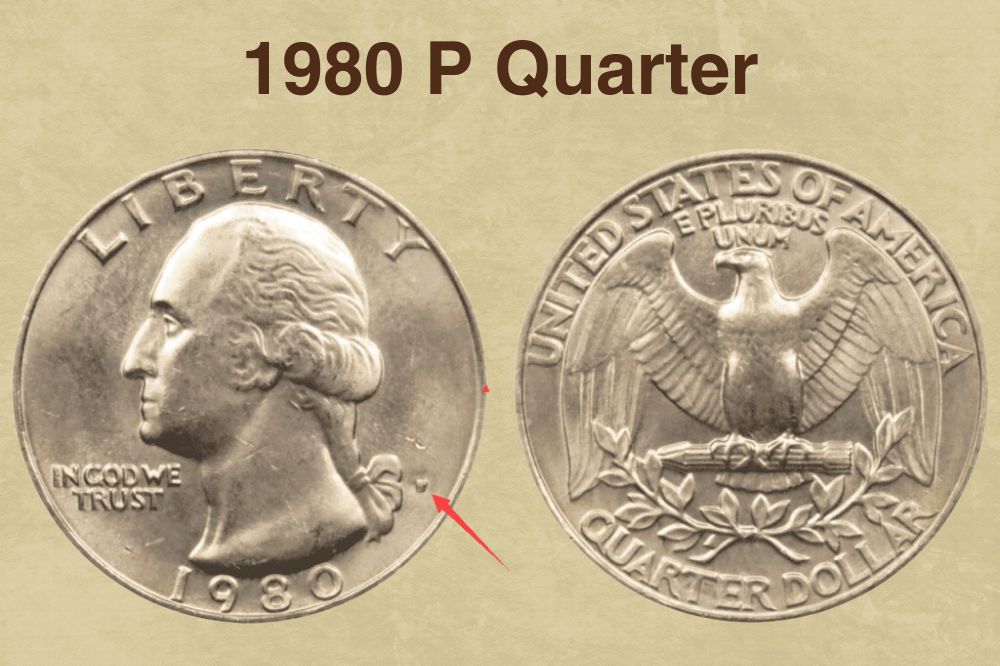 The Philadelphia quarter from 1980 is a great coin for anyone interested in the Philadelphia Mint facility. It was the first time a "P" mint mark appeared on the quarter.
Even so, coins in circulated condition will generally not be worth more than their face value. That's because there are so many of them. Almost 636 million were produced, and the PCGS, a coin grading agency, estimates that well over 225 million survive to this day.
In mint state, though, they are worth holding onto. At the lowest uncirculated grade, MS60, a 1980 P quarter is worth about a dollar. The value rises modestly from there, and a gem MS66 coin can be yours for less than a hundred dollars.
But availability drops sharply at MS67 – and prices rise the same way. A coin at that grade is worth $210. An increase of half a point in the grading, and the value rises to $1,150.
Only one example has been graded higher by the PCGS. That's been certified as MS68, and is worth a cool $10,000.
1980 D Quarter Value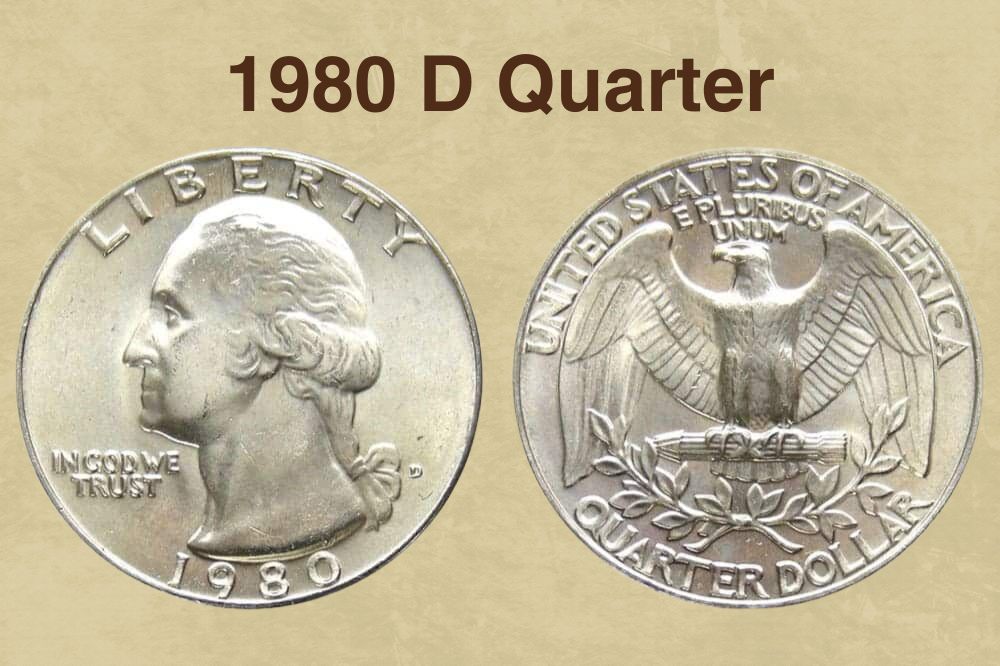 If your 1980 quarter is marked with a "D" on the obverse, it was one of more than 518 million produced in Denver that year. Today, around 181 million of them remain, so they're not rare.
But if you have a coin that's never been circulated, it will be worth more than its face value. At lower mint state grades, prices are roughly the same as Philadelphia quarters. An MS60 example is worth around a dollar, and a gem MS65 around $20.
The big jump in value for the Denver quarter comes at MS67. While an MS66+ example is worth about $65, that extra half point delivers a value of $340.
The PCGS has certified only one coin finer, which makes that $340 sound like good value. The MS67+ best-in-class example is valued at a relatively modest $3,600.
1980 S Proof Quarter Value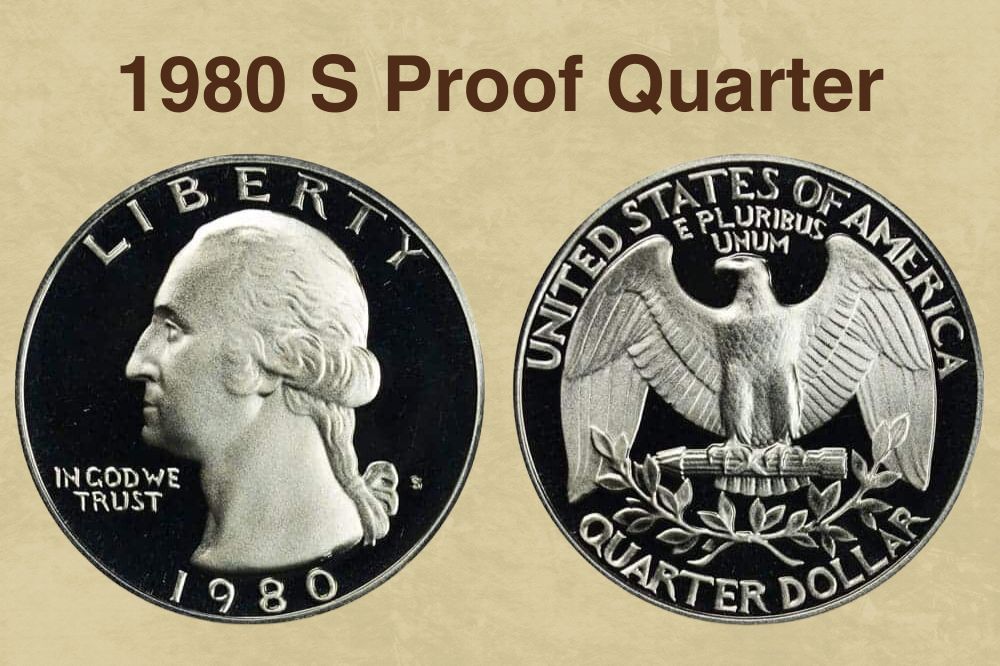 Once upon a time, proof coins were real rarities. They were struck mainly for coin archives. But as coin collecting took off as a hobby, the Mint saw the opportunity to market proofs at collectors.
In 1980, it was the job of the San Francisco Mint facility to produce proof quarters. It made well over 3.5 million of them. And by definition, they're attractive coins, with a clean strike and highly polished planchets.
But because they were always aimed at the collecting market, survival rates are high. And most coins remain in very good condition. It's that ready availability that keeps a lid on prices.
1980 proof quarters are available in grades from PR60 upwards. They're all classed as "deep cameos" too, the highest possible rating. It means they have an appealing contrast between the reflective flat parts of the coin and frosting on the raised parts.
A deep cameo graded PR60 is worth only around $2. And even a perfect PR70 is valued at less than $40.
So finding one of these coins won't make your fortune. But the good news is, it's possible to add a beautiful coin to your collection without spending too much money.
Also read: Top 16 Most Valuable Modern Quarters Worth Money
Rare 1980 Quarter Errors List
1980 D Quarter Struck on a 5 Cent Planchet
Very occasionally, coins are struck on something other than the correct planchet. And that happened to one 1980 quarter struck in Denver. It was somehow struck on a planchet intended for a nickel.
It was in uncirculated condition, graded MS61 by the coin grading agency ANACS. It sold at auction for $180.
1980 P Quarter Double Die Obverse
Double die errors occur as a result of a problem during the process known as hubbing. This is when the die is struck by the hub to imprint the design. If there's any movement between strikes, parts of the image will be doubled. That doubling is then transferred to the coins struck by the finished die.
Amongst the 1980 quarters struck in Philadelphia are a number that have doubling on the obverse. It's evident throughout the text – particularly on the "R" of "DOLLAR", the top of the date, and the tops of the letters of "IN GOD WE TRUST".
The value again depends on the condition of the coin. An example graded AU50 is worth around $25, rising to $50 at MS63 and $75 at MS65.
This YouTube video from Couch Collectibles takes a closer look at a range of Mint errors amongst 1980 quarters.
Also read: 17 Most Valuable Quarter Errors Worth Money
Where to Sell Your 1980 Quarter ?
Now that you know the value of your coins, do you know where to sell those coins online easily? Don't worry, I've compiled a list of these sites, including their introduction, pros, and cons.
Check out now: Best Places To Sell Coins Online (Pros & Cons)
FAQs
How much is a 1980 quarter worth today?
A number of different factors affect the value of a 1980 quarter. The most important of those is the mint mark and condition.
A coin with the "S" mint mark is a proof, and even in the best possible grades they're easy to find. So while they're worth more than their face value, even the best is worth less than fifty bucks.
The finest possible examples of P and D quarters, however, are considerably rarer. And that means they are much more valuable. The best example of a 1980 P quarter is graded MS68 and is worth an amazing $10,000.
But values for mint state coins with these mint marks start at just a couple of dollars. So if you're thinking of spending big money on a coin to add to your collection, get one that's been independently graded by an agency like the PCGS or NGC.
The final factor that influences value is whether or not a coin has a Mint error. These are rare and collectible – but some types of error can be hard to distinguish from later damage.
How much is a 1980 S proof quarter worth?
The 1980 S proof quarter is a good-looking coin – but it isn't particularly valuable. More than 3.5 million of them were struck in San Francisco. And today, the PCGS estimates that around 2.9 million survive in gem grades – PR65 and higher.
That means you can get your hands on a perfect example without spending a fortune. The PCGS has certified over 1,300 coins at the top level of PR70. And they're all deep cameos into the bargain.
Because there are so many of them, the value is modest. They're worth only around $36.