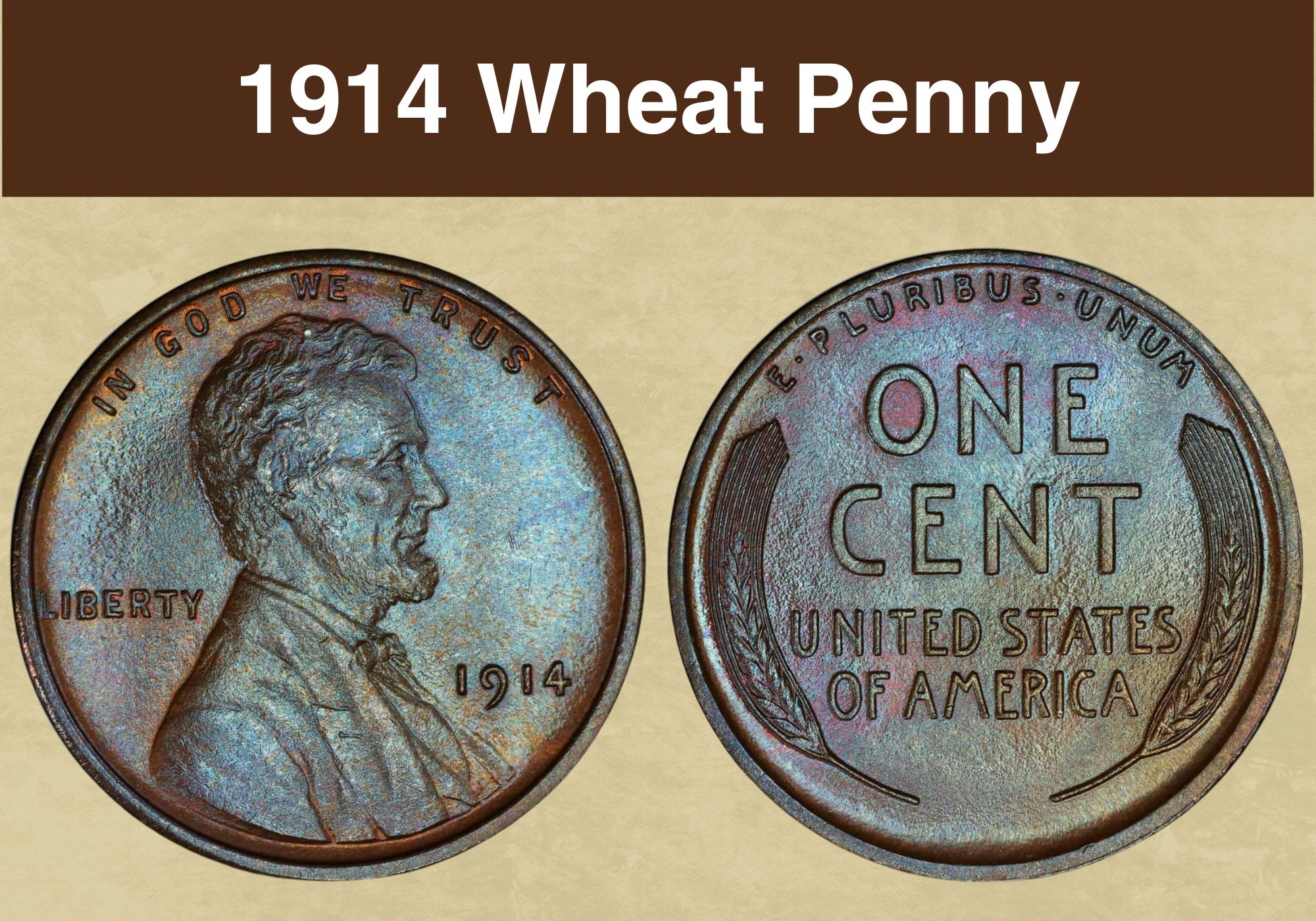 Lincoln cents have been minted since 1909 and are still used today. In that time, there have been some significant design changes. From 1909 to 1958, the coin featured two feat wheat stalks on the reverse, and these cents are affectionately known as wheat pennies.
The 1914 Wheat Penny is an important part of that series and has a few varieties that can be worth huge amounts. Here we'll look closer into the 1914 Wheat Penny value while looking at the variations and errors of this beautiful coin. Let's get started!
1914 Wheat Penny Value Chart
| | | | | |
| --- | --- | --- | --- | --- |
| Coin Grade | MS/PR60 | MS63/PR66 | MS65/PR67 | MS66/PR68 |
| 1914 No Mint Mark Wheat Penny | $50 | $600 | $1,400 | $6,000 |
| 1914 D Wheat Penny | $1,500 | $3,000 | $10,000 | $50,000 |
| 1914 S Wheat Penny | $200 | $750 | $7,500 | $30,000 |
| 1914 No Mint Mark Proof Wheat Penny | $300 | $500 | $7,000 | $60,000 |
1914 Wheat Penny Grading
With the grading of the Wheat Penny, there are three things you need to consider. These are the type, grade, and color. The type is denoted by either 'MS' for circulated coins that have been kept in 'Mint State' or 'PR,' which are coins made for collectors or archiving.
The grade is on a scale from 1 to 70, with 70 being perfect condition. Then you have the colors. 'BN' is for brown coins, 'BR' is for brown-red, and the most sought-after coins are 'RD' red coins.
| # | Grade |
| --- | --- |
| 1 | Basal State-1 |
| 2 | Fair |
| 3 | Very Fair |
| 4, 5, 6 | Good |
| 7, 8, 10 | Very Good |
| 12, 15 | Fine |
| 20, 30 | Very Fine |
| 40 | Extremely Fine |
| 50 | About Uncirculated |
| 60 | Mint State |
| 65 | Mint State |
| 70 | Mint State |
Please check our grading guides to know your coin scale, It's the necessary step to know the exact value of your coin.
Check out now: How to Grade Lincoln Wheat Penny?
1914 Wheat Penny Value By Mink Mark
The wheat penny has an important place in the history of US currency. Also known as the Lincoln Cent, it's much loved by collectors due to its design, history, and affordability. If you want a place to begin your collecting journey, the wheat penny is a great place to start.
The 1914 Wheat Penny is particularly special. It was mainly produced in Philadelphia, but two other mints (Denver and San Francisco) also produced the coin. However, they did so in much lower quantities, meaning they can be quite rare.
The rarity of some 1914 Wheat Pennies can drive prices extremely high. If you're interested to know more, let's take a closer look at these varieties.
1914 No Mint Mark Wheat Penny Value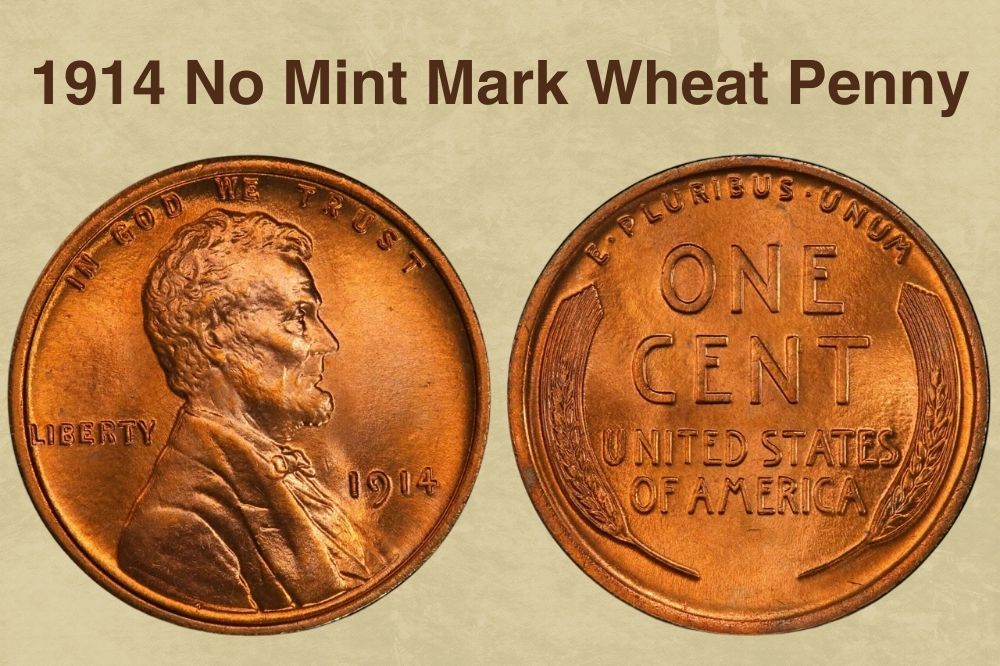 A little over 80 million 1914 Wheat Pennies were made, but the overwhelming majority of those were struck in Philadelphia. The famous mint struck 75,238,432 coins, and therefore they are still readily available today.
Philadelphia was the first mint in America, so they never felt the need to use a mint mark. This continued even as other mints were built. It was only in 1980 that they started marking their coins with a 'P.' So, if you find a 1914 cent without a mint mark, you know it was made in Philly.
In the coin world, rare equals valuable, but 1914 No Mint Mark Wheat Penny isn't rare. If you have one of these in your possession, then it's unlikely to be worth more than a dollar unless it has been kept in perfect condition.
While the coin itself isn't rare, examples in grades 65 or above are. Due to this, you can still expect to receive approximately $6,000 for an MS66 coin. The record sale price was set in 2005, with an MS66 coin going for $48,300.
While the grade is important, it's crucial to note that color is too. If you want to sell your coins for the highest prices, then it needs to be red. This color is not only the most beautiful you'll find on a 1914 Wheat Penny, but also the rarest.
You'll often see letters after a coin grade. These are either 'RD' for red, 'RB' for red/brown, or 'BR' for brown. As we mentioned, red coins are the most valuable, followed by red/brown, with brown coins having the lowest value.
1914 D Wheat Penny Value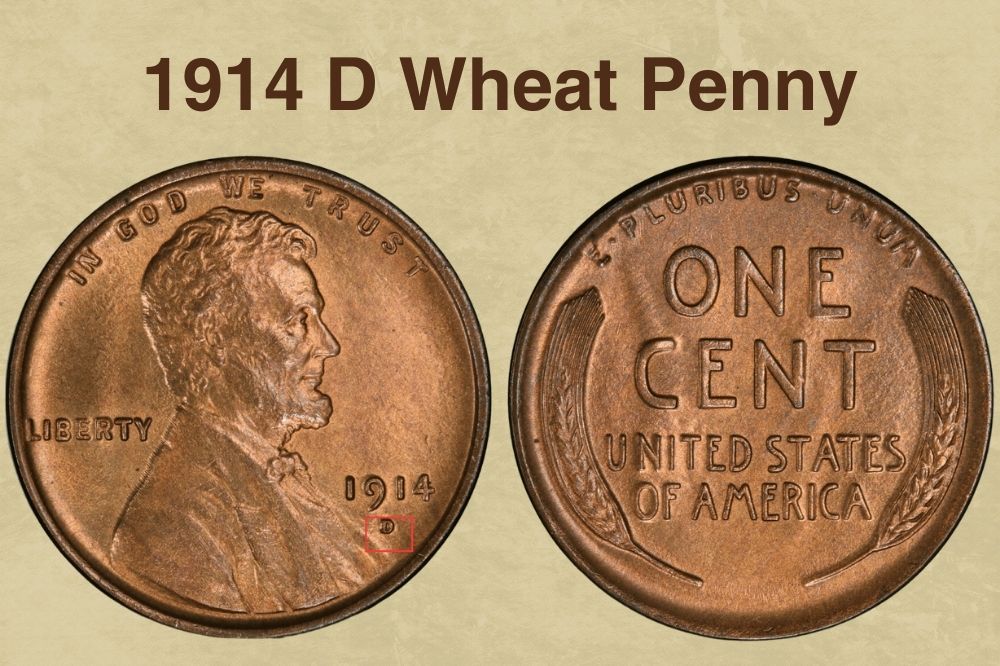 The 1914 D Wheat Penny is one of the most famous coins in the collecting world, and the reason is simple. For regular business strike coins meant for circulation, the 1,193,000 made by Denver is incredibly low. It means these coins are exceptionally rare in higher grades.
But it goes further than that. It's not the lowest mintage of all Lincoln Cents, but it seems as though there wasn't much appetite for collecting these coins on its release. The result is that it's thought the 1914 D Wheat Penny has the lowest surviving population of any coin from the series.
If you have one of these coins, it's most likely worth a decent amount, even if it's not in exceptional condition. Coins are rated on a scale of 1 to 70, but even at a 4 grade, these coins can be worth around $150.
You can probably sense just how quickly these prices can escalate. The Philadelphia coin we just looked at in Very Fine (grade 40) condition would be valued at around $5. In the same condition, you could probably sell a Denver coin for $750.
Before that though, is a word of warning. Due to these exceptional prices, there is a significant quantity of fakes out there. These are easy for an expert to spot, and we have more detail about them below in our errors section. But in short, whether you're buying or selling, make sure your D coin is authenticated.
Back to the coin, we've talked about lower grades but what about higher grading? That's where things get really exciting. You can sell an MS60 D coin for around $1,500, which is what most other coins sell for in MS66 condition.
If you have an MS66 1914 D Wheat Penny, then you could be sitting on a life-changing amount of money. On average, these coins sell for $50,000, but they can be much more. A red MS66 coin sold in 2018 for a mind-blowing $158,625.
1914 S Wheat Penny Value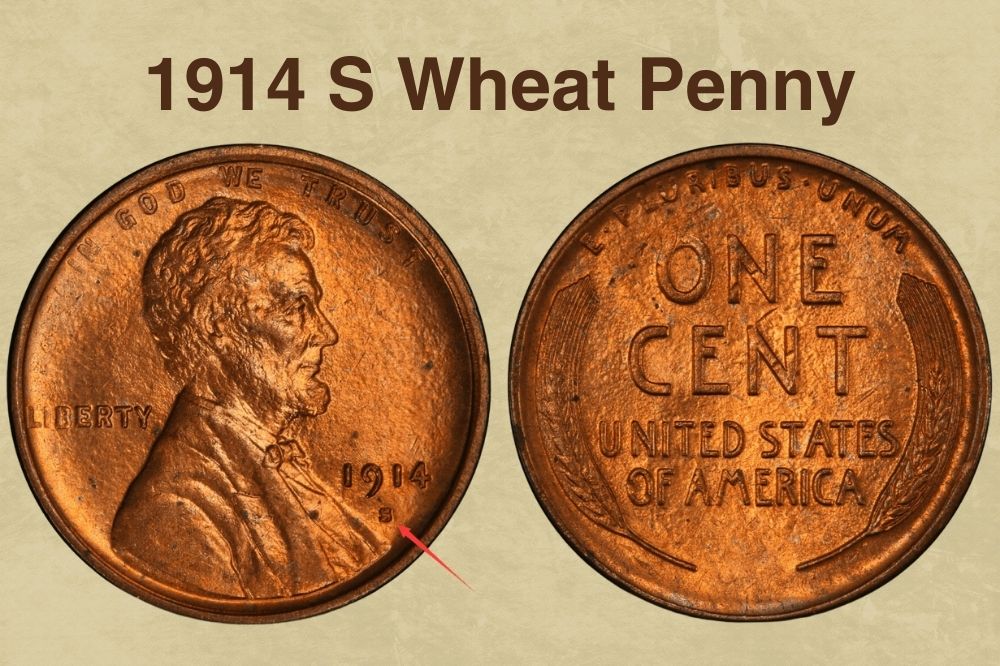 If it wasn't for the 'D' coin, the 1914 S Wheat Penny would be seen as one of the most desired coins of the Lincoln Cent series. San Francisco only made 4,137,000 of these coins, which also makes it quite rare.
While not having the same incredible prices as Denver, you can still expect a good-condition coin to sell for around $20, with very fine coins going for $40. Once you get to the MS60 level, those prices can jump to the $200 mark.
For MS65, the approximate sale price would be $7,500, which as you can see in the table above, is way above the expected cost of a Philadelphia coin from the same grade.
The record sale price of a 1914 S Wheat Penny is incredibly impressive too. While not quite matching Denver, an 'S' coin still managed to sell for $105,800. As you can expect, this was a beautiful red coin at an MS66 grade.
Also read: 13 Most Valuable Wheat Penny Worth Money
1914 No Mint Mark Proof Wheat Penny Value
In 1914 proof coins were made to test the dies and for archiving. As they were the first coins minted, they have a particularly beautiful appearance. The flat part of the coin (called the field) usually has a mirror-like appearance which contrasts against the frosted appearance of the coin's details.
Only 1,365 of these coins were made. While you may think that is incredibly low, even compared to Denver, there are a few important things to know. Firstly, these coins are expected to be in perfect condition when struck and secondly, they were never meant for circulation.
Due to that, the chance of these coins surviving in perfect condition is much, much higher than with regular coins. The end result is that there are probably fewer Denver coins in perfect condition than proof pennies.
Even though all that is true, 1914 No Mint Mark Proof Wheat Penny can still be sold for very high prices. Even in lower levels of mint states, you're looking at estimates of at least a few hundred dollars.
A PR67 will usually sell for over $7,000, and there are extremely few coins in a grade of PR68. One such coin sold for $126,500 in 2008. It's hard to estimate what the same coin would be worth if it was put back on the market today.
Also read: 12 Most Valuable Lincoln Penny Worth Money
Rare 1914 Wheat Penny Error List
As far as 1914 Wheat Penny errors go, there aren't many to mention. It was a year of a few coinage errors, but there are a few notable things to mention. Let's take a look!
1. Die Break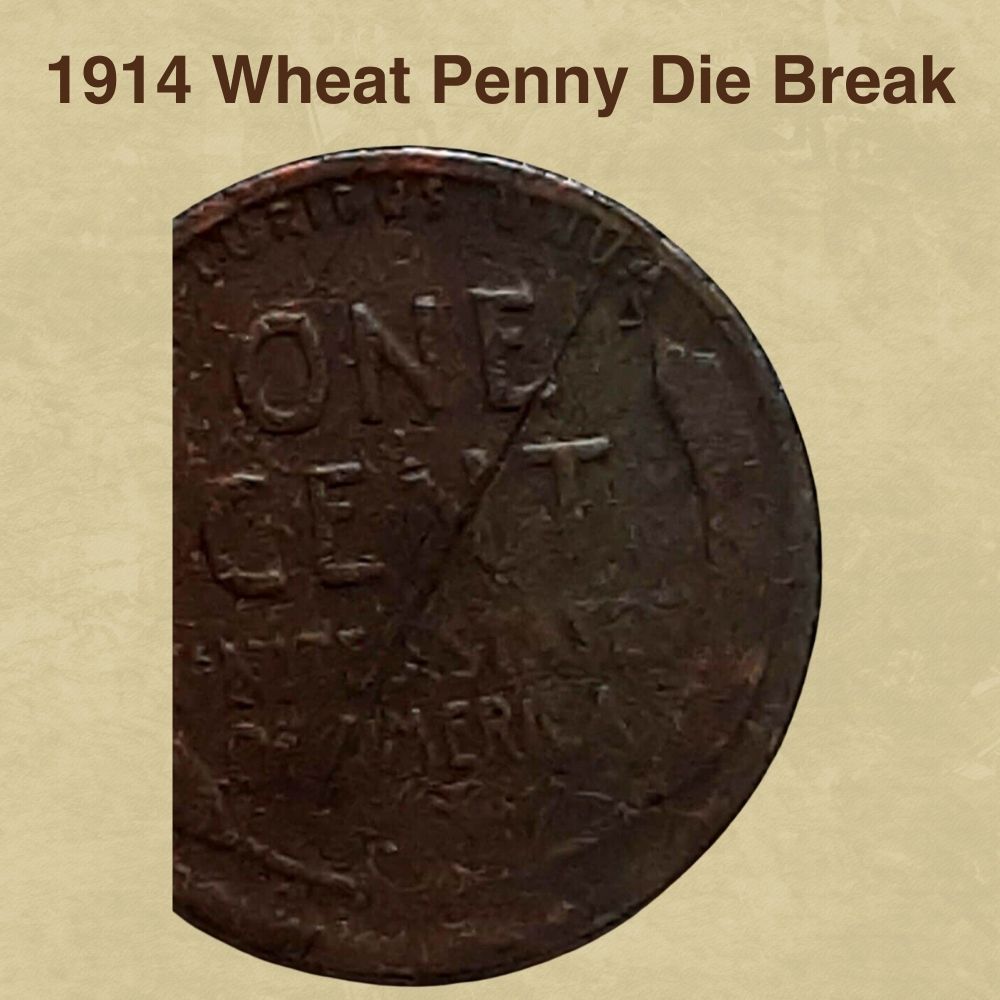 The die is the name given to the tool that strikes the coin and gives it its image. These dies are made to be extremely strong, but sometimes they break. When they do, they will no longer be able to strike the coin properly.
This can sometimes be hard to spot, as sometimes the break is minor, such as a crack. If you think you may have an error coin, it's best to have it authenticated.
2. Fake Mint Mark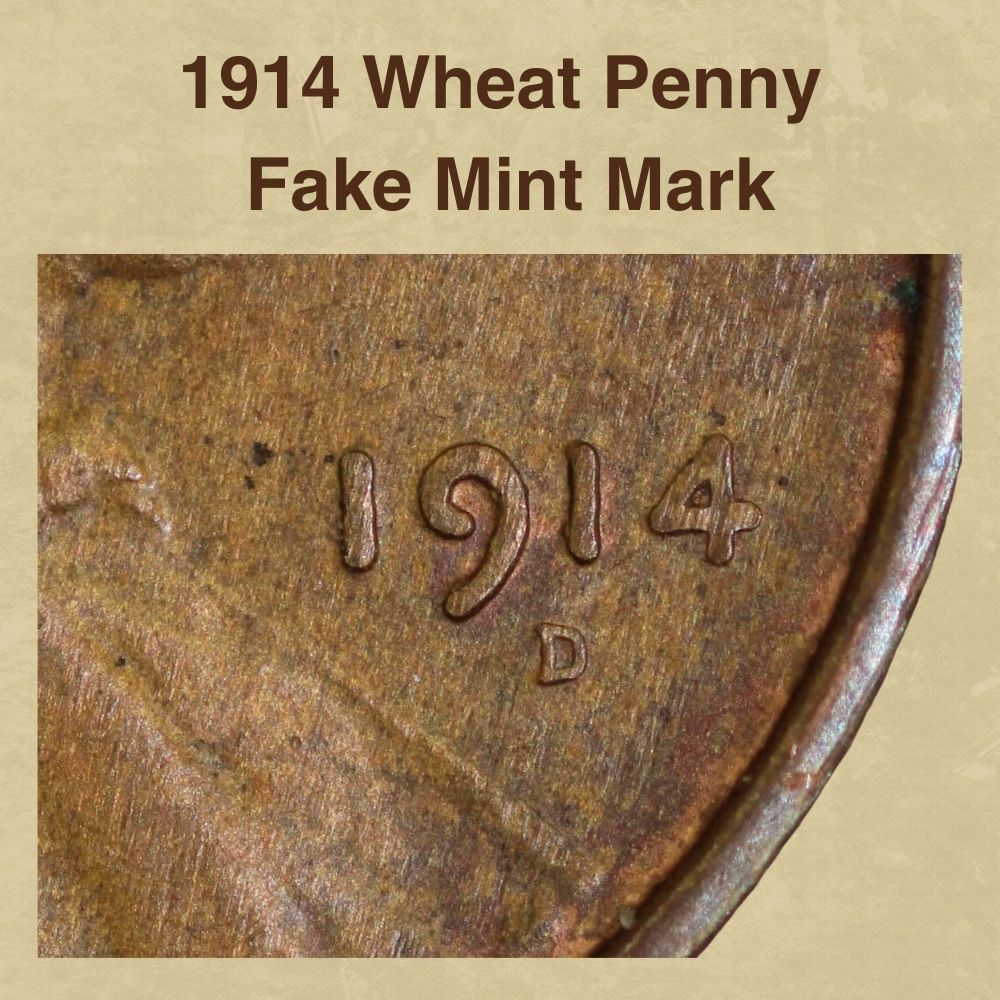 While not a production error, it's important to be wary of a fake mint mark. The 1914 D Wheat Penny can be an extremely valuable coin, and therefore it's at risk of being fake. There are two ways this can be done.
The first is by adding the 'D' to a no-mint mark coin. It is usually easy to spot this as the details may be weak, it can be in the slightly wrong position or doesn't have the right font.
The second is when a counterfeiter finds a 1944 D Wheat Penny. Here you can remove the left side of the first '4' to make it look like one. Therefore, they change the 1944 date to 1914. This is easy to spot, as there will be a large gap between the middle two numbers.
How do you protect against this? Firstly, if you own a 1914 D Wheat Penny, then it's best to have it authenticated before you sell it. And if you want to buy a 1914 D Wheat Penny, then ensure it has been authenticated before you purchase.
3. Chipped Coin
Another common coin error is chipped coins. This is when to coin gets struck but then doesn't escape quickly enough out of the collar. Due to this, the coins can get chipped, or clipped. This is when a small chunk has been taken out of the coin.
Also read: 17 Most Valuable Indian Head Penny Worth Money
Where to Sell Your 1914 Wheat Penny ?
Now that you know the value of your coins, do you know where to sell those coins online easily? Don't worry, I've compiled a list of these sites, including their introduction, pros, and cons.
Check out now: Best Places To Sell Coins Online (Pros & Cons)
1914 Wheat Penny Value – FAQs
1. How much is a 1914 pennies worth?
That depends on the condition, scarcity, and color. With over 80 million of these struck, finding them in the worn condition is still easy. The bad news is that your regular old 1914 penny probably isn't worth much at all.
The good news comes if you have a coin in the higher grading levels. A mint state 1914 Wheat Penny can often be worth a few hundred of dollars, but if you have a beautiful red D coin in near-perfect condition, this may be worth over $100,000.
2. Is a 1914 penny rare?
The answer to that depends on the type of penny you have. With over 80 million coins made, a 1914 penny wouldn't be seen as rare on its own. That being said, Denver and San Francisco didn't produce many of these coins, which makes them rarer.
For your coin to be considered rare, it needs to be in the very highest levels of mint state. Very few of these coins exist, and they can be highly valuable. But if you have a regularly worn 1914 penny, then that wouldn't be considered rare.
3. Why is the 1914 D penny so expensive?
The 1914 D Wheat Penny is so expensive because so few were made. Philadelphia made over 75 million wheat pennies in 1914, yet Denver made a little over a million. Finding these coins in MS65 grades and above has become very rare.
While those coins are difficult to obtain, for around $150, you can still pick yourself up a 1914 D Wheat Penny at a 'good' grade. With such a low mintage, this coin has become a much-loved piece by collectors.
4. What year pennies are worth keeping?
We'd say every year of the penny is worth keeping! It's great to build up a collection and see if you can get your hands on a wheat penny from every year. For some collectors, the condition of the coin is secondary to the joy of having a full set of coins.
Have no interest in collecting? If so, then there is probably no point in keeping hold of pennies unless they are in good condition, or better. Most coins need to be in exceptional condition to be worth anything significant.
Also read: 11 Most Valuable Wheat Penny Errors