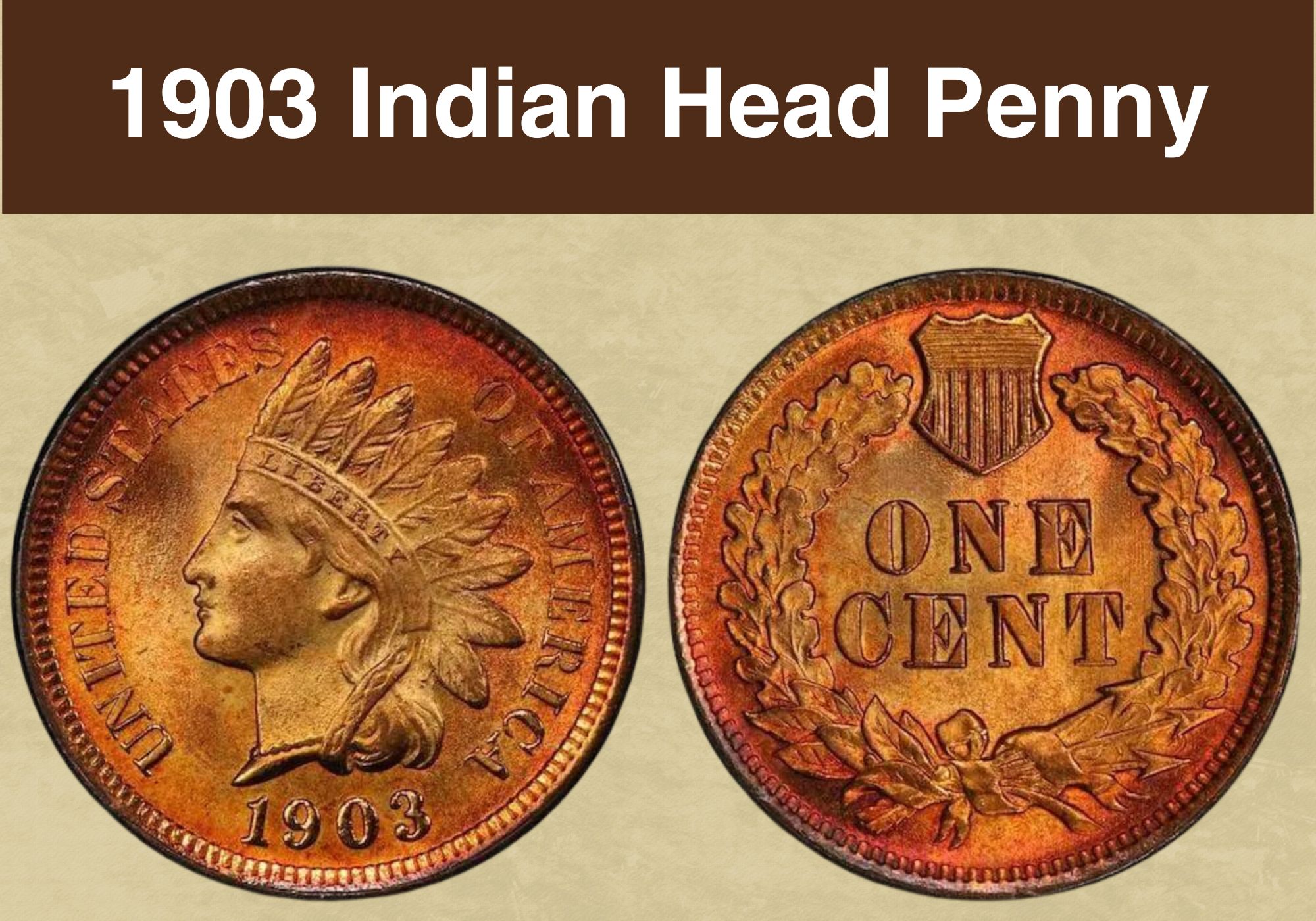 The Indian Head Penny is a somewhat puzzling coin. Despite your assumptions, it doesn't feature a Native American man. It shows Lady Liberty with pearls and a 'feathered tiara' that was usually worn by male chiefs. And it lasted 50 years before it was replaced by the Lincoln Cent. Let's learn more about the history and merits of the 1903 Indian Head Penny Value.
1903 Indian Head Penny Price Tables
1903 Indian Head Penny Value Charts (Business Strike)

Coin
MS 60
MS 63
MS 65
MS 66
MS 66+
MS 67+
1903 Indian Head Penny (Brown)
$55
$80
$150
$550
–
–
1903 Indian Head Penny (Red-Brown)
$50
$120
$300
$1,250
$2,115
–
1903 Indian Head Penny (Red)
$70
$165
$800
$1,800
$2,500
$20,000
1903 Proof Indian Head Penny Value Charts

Coin
PR/PF 60
PR/PF 62
PR/PF 64
PR/PF 66
PR/PF 67
PR/PF 68
1903 Indian Head Proof Penny (Brown)
$130
$170
$335
$1,350
–
–
1903 Indian Head Proof Penny (Red-Brown)
$150
$225
$525
$1,400
$7,500
–
1903 Indian Head Proof Penny (Red)
$175
$225
$650
$2,250
$7,750
$42,500
1903 Indian Head Proof Penny (Cameo)
–
–
$1,400
$4,250
$15,500
–
History of the 1903 Indian Head Penny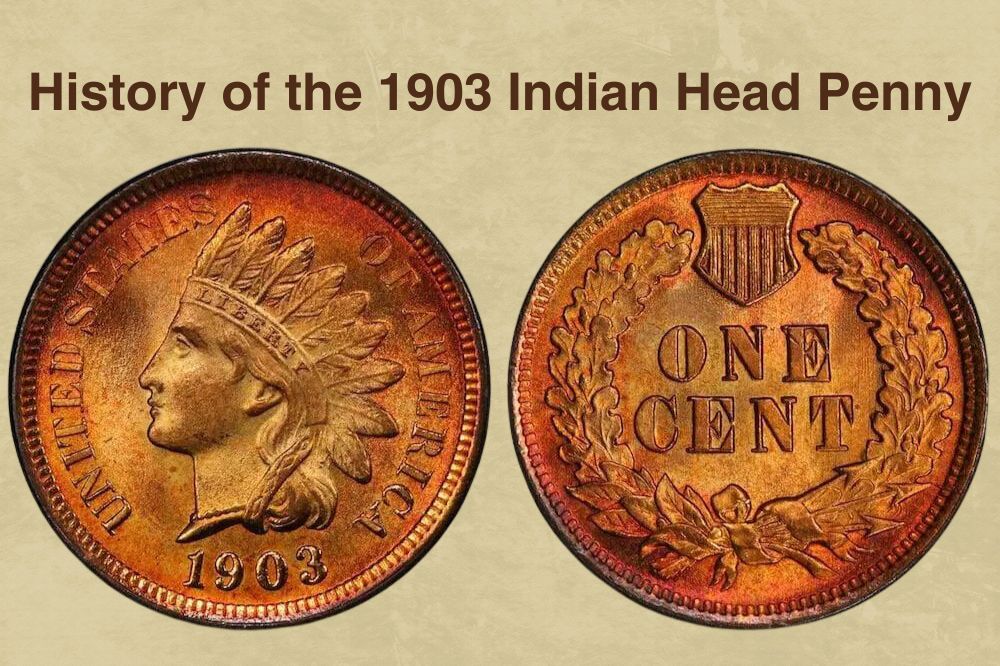 The Indian Head Cent aka Indian Head Penny was the second series of small cents. Earlier pennies were 28.5mm in diameter, but they were reduced to 19.05mm in 1856 when copper prices shot up. By reducing the physical dimensions of the coin, the US Mint kept its melt value below its face value. This remained the mint's most profitable coin until the 1980s.
But the first series of Small Cents (the Flying Eagle Penny) was harder to make because it had high relief on both sides. So within a few years, we switched to the Indian Head Penny in 1859 and continued minting it until 1909. Both coins were designed by James B. Longacre. He was the 4th Philadelphia Chief Mint Engraver from 1844 until 1869 when he died in office.
Longacre placed his initial on the coin somewhere around 1864. That was also when pennies changed from 88% copper and 12% nickel to 95% copper and 5% tin, zinc, or both. Pennies were only minted in Philadelphia at the time, so they had no mint marks. Also, for reference, circulating coins are made as business strikes, also known as regular strikes for everyday use.
Circulating Cents vs. Proof Pennies
But collectible coins are made as proofs or mint sets with specialized dies. They can be matte, mirror-like, or reverse proofs. We'll talk about that later in the article. For now, keep in mind that proof coins from 1903 were mirror-like. In 1909, they introduced Lincoln Cents that had matte proofs, and some business strike cents were minted in San Francisco for the first time.
But let's get back to Indian Head Cents. Longacre chose the feathered tiara because he felt this Native American headdress was a true symbol of the USA. Earlier coins had used the Phrygian Cap as a symbol of liberty, but Longacre associated it with the emancipated slaves that initially wore it. And the Mint Director, James Ross Snowden, had suggested Columbus.
Longacre convinced him that the public would reject the idea of a colonialist explorer on the coin. Some said Longacre's Lady Liberty looked like his daughter, Sarah. There was even a rumor and a cute anecdote claiming she posed as his model when she was 12. But they both denied this and Longacre insisted that he was inspired by the face of the Crouching Venus.
Also read: 12 Most Valuable Lincoln Penny Worth Money
Features of the 1903 Indian Head Penny
Some terms you may bump into when reading coin descriptions include obverse (the front or heads side), reverse (the back or tails side), and edge (the thin side). Some coins have raised ridges along the edge called reeds. They also have a raised border called a rim or collar. The images on a coin are devices and the backdrop is the field. The words are legends or mottos.
The Obverse of the 1903 Indian Head Penny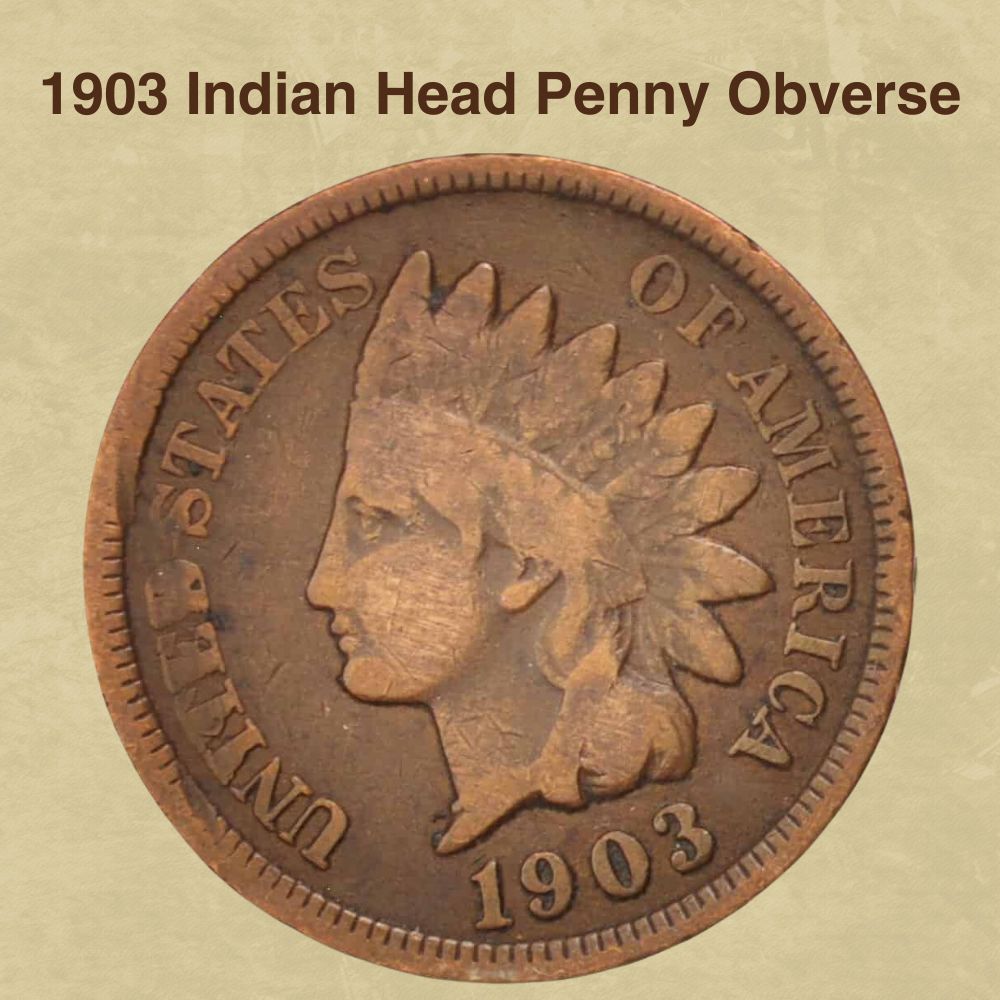 It shows a young version of Lady Liberty wearing pearls and a feather tiara. There's an L next to the back feather in her hair for designer James B. Longacre. Her headband reads Liberty, with United States in front of her face, Of America behind her head, and the date below her.
The Reverse of the 1903 Indian Head Penny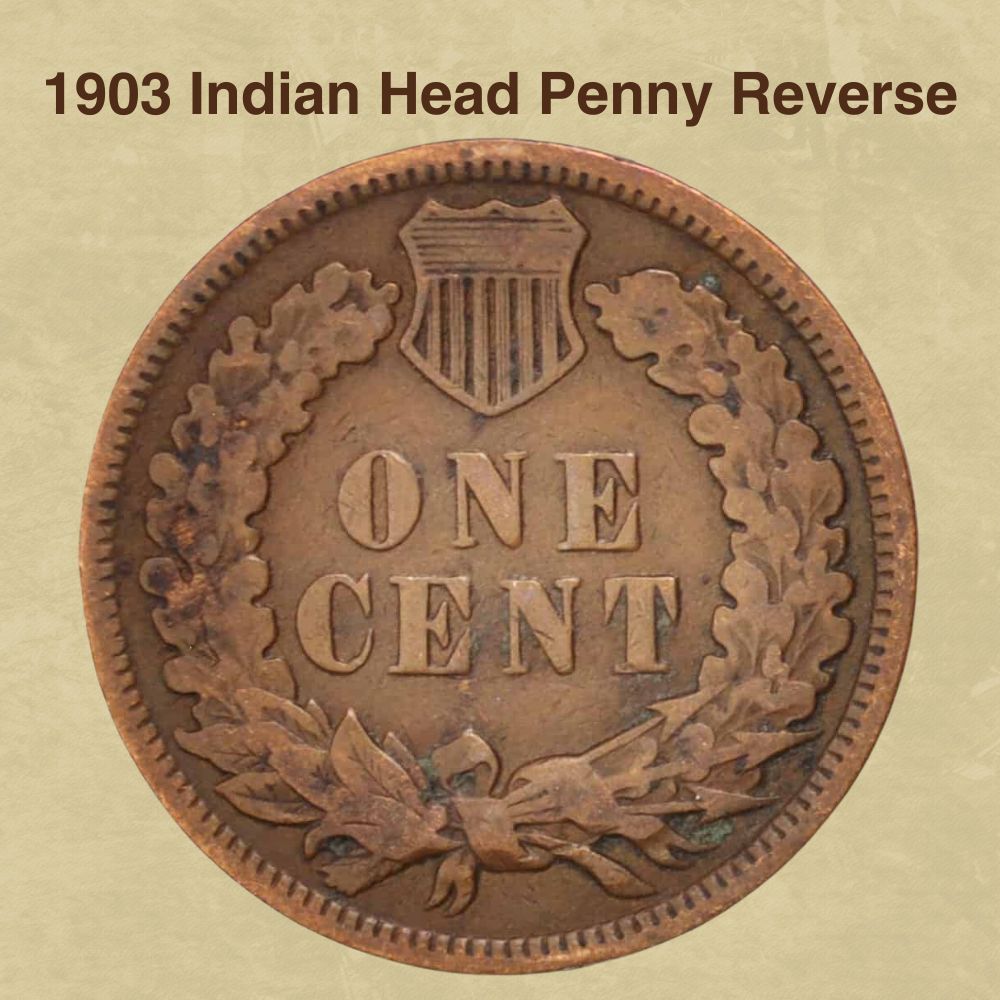 It shows a wreath made of oak at the top and laurel at the bottom. The wreath is tied with a ribbon that holds three arrows for the first three members of the Union. A striped shield sits at the top opening of the wreath. The middle of the coin spells the denomination, One Cent.
Other Features of the 1903 Indian Head Penny
This coin is 19.05mm in diameter and weighs 3.11g. It's 95% copper with the remainder in zinc, tin, or both. The coin has no reeds but it has denticles aka beading beside the front and back rims. The front design stayed constant but the back design changed from 1858 to 1859.
Also read: 13 Most Valuable Wheat Penny Worth Money
1903 Indian Head Penny Value Guides
Since 1903 Indian Head Pennies were only made in Philadelphia and had no mint marks, their coining location doesn't affect their value. But errors and condition make a difference. The date of sale influences prices as well. The demand is higher during anniversary years so you can make a better profit if you time things right. Let's compare confirmed sales records.
1903 Indian Head Penny Value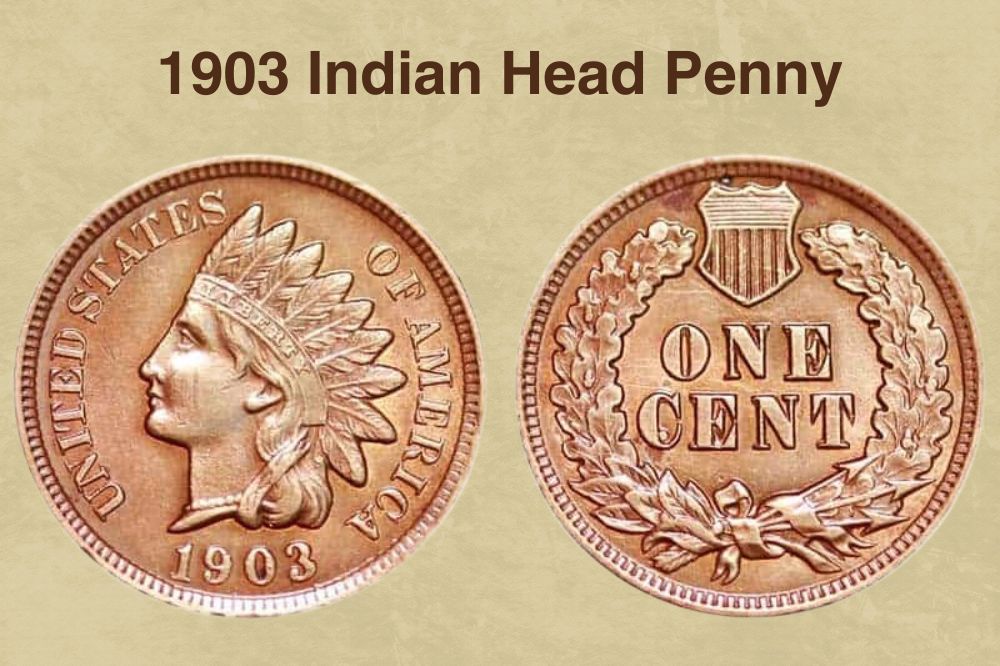 The Philadelphia Mint made 85,092,703 Indian Head Pennies in 1903. An MS 60 BN sold for $4,600 on 16th February 2001 but it's only worth $55 in September 2023. The highest known grade is MS 66 BN, and with three submissions, it's worth $550 in September 2023. But an MS 66+ RB sold for $2,115 on 27th July 2023. PCGS has only received one coin so far.
In the red zone, an MS 67 RD sold for $17,250 on 4th November 2004. Nearly 20 have shown up so their value is down to $8,500 in September 2023. However, since PCGS has only three coins graded MS 67+ RD, their estimated value in September 2023 is $20,000. The most recent sale for an MS 67+ RD was $15,000 in April 2021. An MS 67 RD was $9,000 in July 2023.
1903 Proof Indian Head Penny Value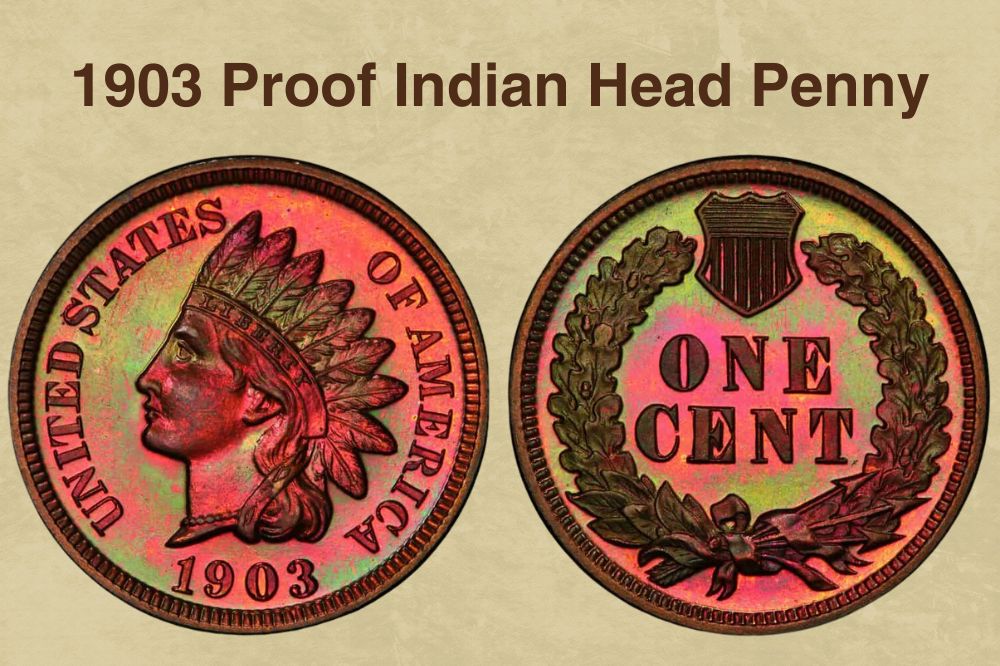 Proof pennies serve several functions. They present a sample of the perfect coin, and this goes into the archives. They also provide extra revenue for the mint since they're sold at premium prices. Typically, the blanks aka planchets are burnished before striking by tumbling them in a vat with 6mm stainless steel balls. This produces a mirror-like finish.
The shiny parts of proof dies are scrubbed with horsehair brushes to make them extra glossy. The textured parts are then pickled in acid or treated with computerized lasers to frost them. With acid-wash coins, the effect fades slightly every time the die hits a blank. The earliest 50 to 100 will have the harshest contrast between field and frost. They're graded Deep Cameo.
The next 50 to 100 may be graded Cameo. But on newer computer laser coins, the haze never fades and all coins are graded Deep Cameo aka Ultra Cameo. In 1903, the Philadelphia Mint made 1,790 Proof Indian Head Pennies. A PR 66 BN was $3,220 in 2006 but is only $1,350 today. But a PR 65 CAM was $1,920 on October 10th 2021 and a PR 67 CAM is now $15,500.
Also read: 17 Most Valuable Indian Head Penny Worth Money
1903 Indian Head Penny Grading
While all American coins have a little copper in them, pennies are the only copper-colored coins that are still in circulation. So in addition to their Sheldon Scale grades from 1 to 70, they have color grades too. The highest is RD for red, then RB for reddish-brown, and lastly BN or BRN for brown. Proofs that aren't DCAM or CAM are also rated as RD, RB, or BN/BRN.
Rare 1903 Indian Head Penny Errors List
Mint mistakes can drastically raise the resale value of a coin. And the most expensive ones are First Strike Errors, meaning they were spotted, confirmed, verified, and recorded within 30 days of the coin's initial release. These mint errors are listed using FS numbers. The best-known first strike 1903 Indian Head Penny Errors include repunched and misplaced dates.
1903 Indian Head Penny Broadstruck Error
A broadstrike happens when the rim or collar is deformed, making the coin flatter at that spot. Older coins used three-piece collar moulds which would sometimes separate too soon. This would make the metal spill out of that section since it had nothing to retain its shape and thickness. Even in a low grade like VG 8 BN, a broadstrike can sell for roughly $55.
1903 Indian Head Penny Curved Clip
Blanks come to the mint as a coiled planchet sheet that gets fed into a blanking machine. It flattens the metal and punches it into discs of the right size. The leftover metal is full of holes so it's recycled. But sometimes, it's accidentally re-used as-is so the resulting coins have clips where the holes used to be. This damaged coin was graded AU Details so it wasn't expensive.
1903 Indian Head Penny Double Strike Error
For beginners, a double strike and a doubled die may seem similar. In both cases, the second strike lands on a slightly different spot. But doubled dies aka hub doubling happen at the hub stage and get copied to all coins the die makes, creating a variety. Conversely, a double strike is on just one coin. This one flipped before doubling, was graded VG 8, and sold for $275.
1903 Indian Head Penny Double Struck 65% Off-Center
In the previous coin, the coin flipped before double striking so the back ribbon partially overstruck the front date. But on this coin, the whole penny moved before the second strike. It had started exiting the mint so the next strike created a parallel design with an overlapping off-center effect that deformed the coin. Graded MS 62 BN, this penny sold for over $900.
1903 Indian Head Penny 10% Off-Center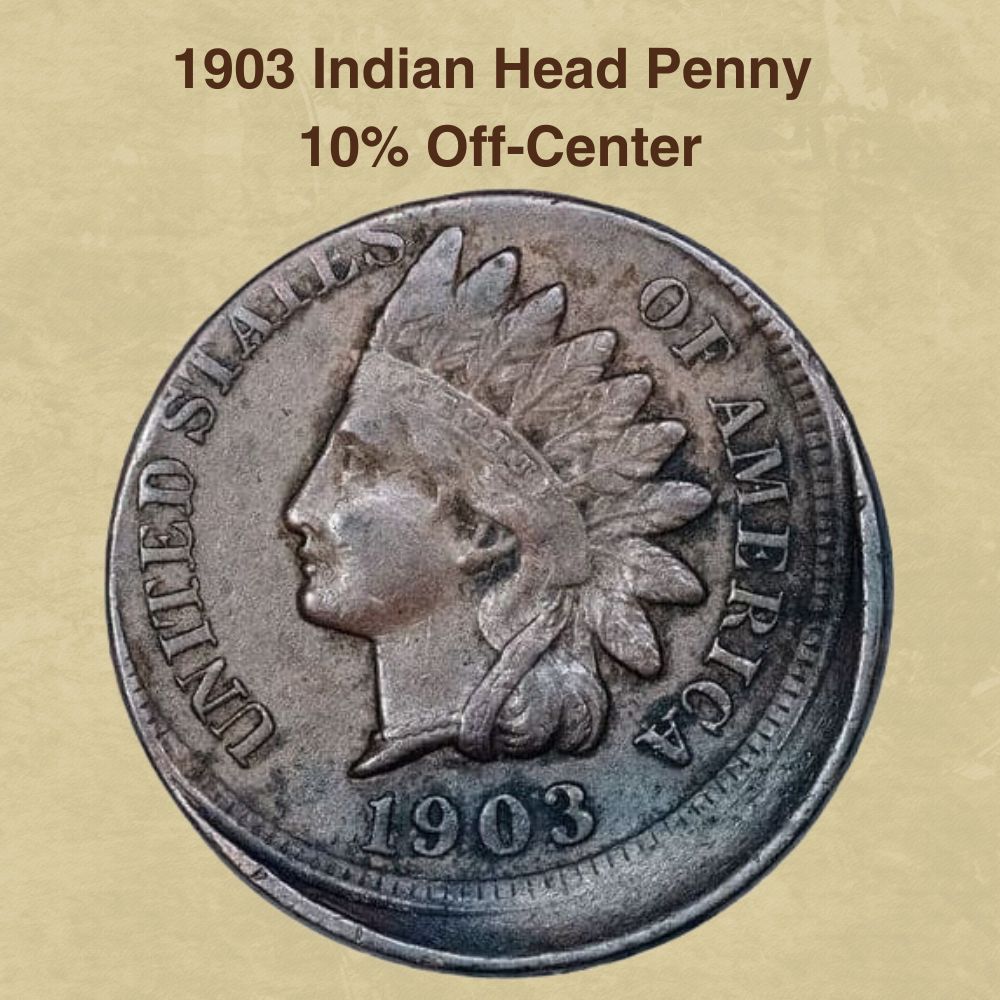 For a coin to be correctly struck, it has to sit dead center between the dies. But if it moves, part of the coin might stay empty. One coin had a 10% misalignment on the right. In AU 55 BN, it sold for $250. Another coin that had a 35% misalignment on its southern obverse was graded AU 58 and sold for $380. Finally, an MS 64 BN that was 15% off-center sold for $490.
1903 Indian Head Penny MPD Error FS-301 and FS-302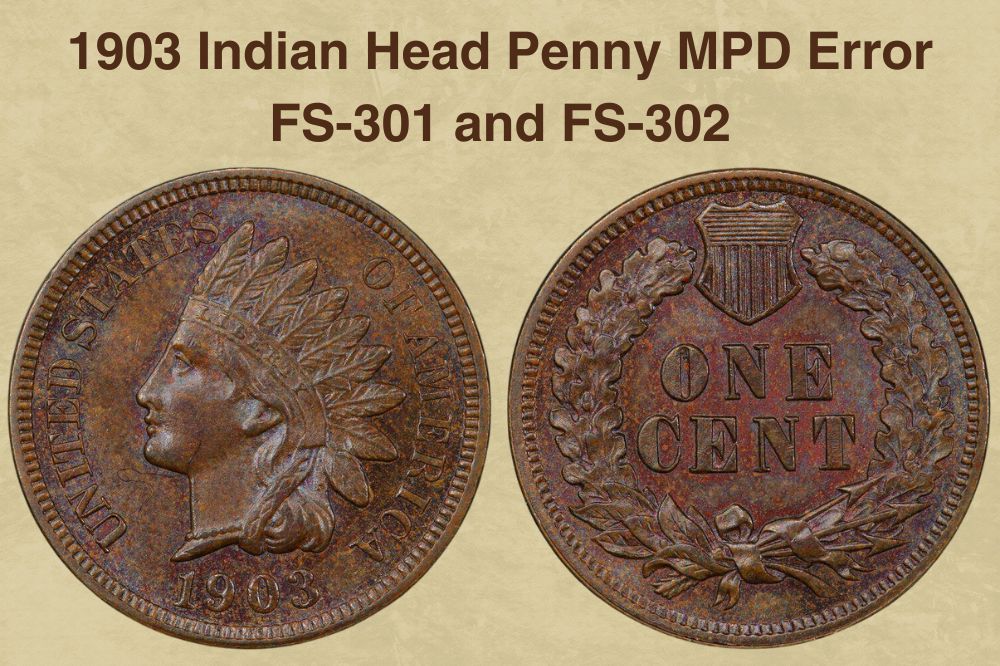 A misplaced date or MPD is when one of the digits on the date lands on the wrong part of the coin. Usually, an extra 1 from 1903 pokes out of Miss Liberty's neck. An F 12 BN FS-301 was $198 on 23rd June 2013 while an MS 64 BN FS-301 is worth $250 in September 2023. But an MS 63 RB FS-302 sold for $200 on 6th March 2019 and an MS 64 RB FS-302 is $285 today.
1903 Indian Head Penny RPD Error FS-303 and FS-304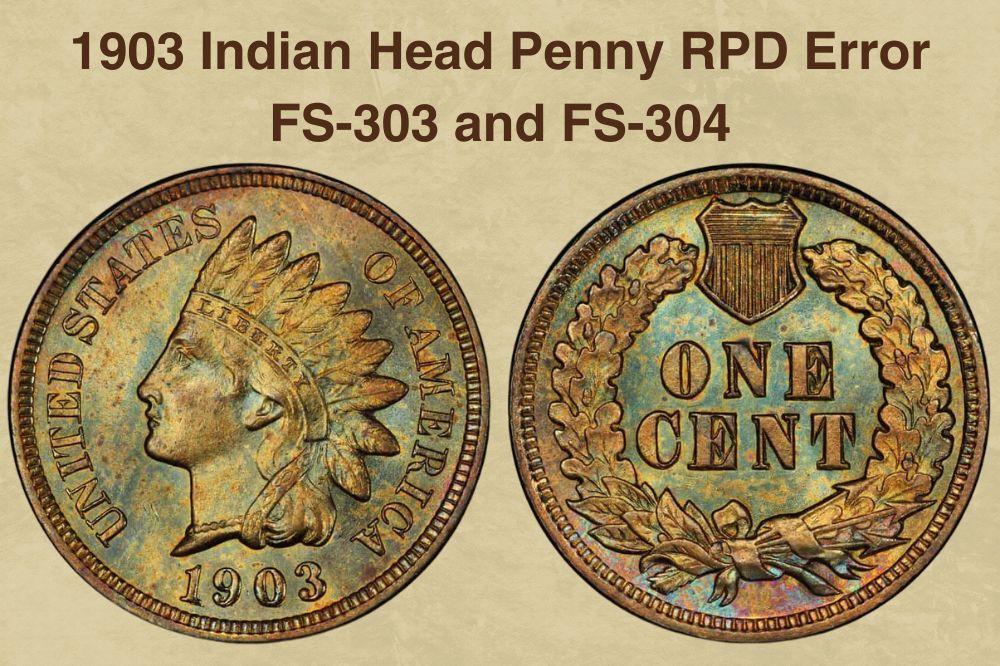 A repunched date of RPD is a kind of doubling error where one or more digits of the date are punched twice on the same coin. FS-303 prices are similar to MPDs, with MS 64 BN at $250 and MS 64 RB at $285. And a damaged coin graded Uncirculated Details was $160 on eBay. But FS-304 is pricier, with an AU 58 BN at $495 in 2014 and an MS 65 RD at $1,425 in 2018.
Also read: 11 Most Valuable Wheat Penny Errors
1903 Indian Head Penny FAQ
How Much Are 1903 Indian Head Pennies Worth?
Because these coins are over a hundred years old, they're true antiques, and that raises their value. As recently as 2021, a 1903 Penny graded MS 67+ RD sold for $15,000. And in 2023, PCGS estimates the price of a PR 68 RD as $42,500. But those are rare coins with only one or two known submissions. An MS 60 goes for $50 to $70 and a PR 60 is $130 to $175.