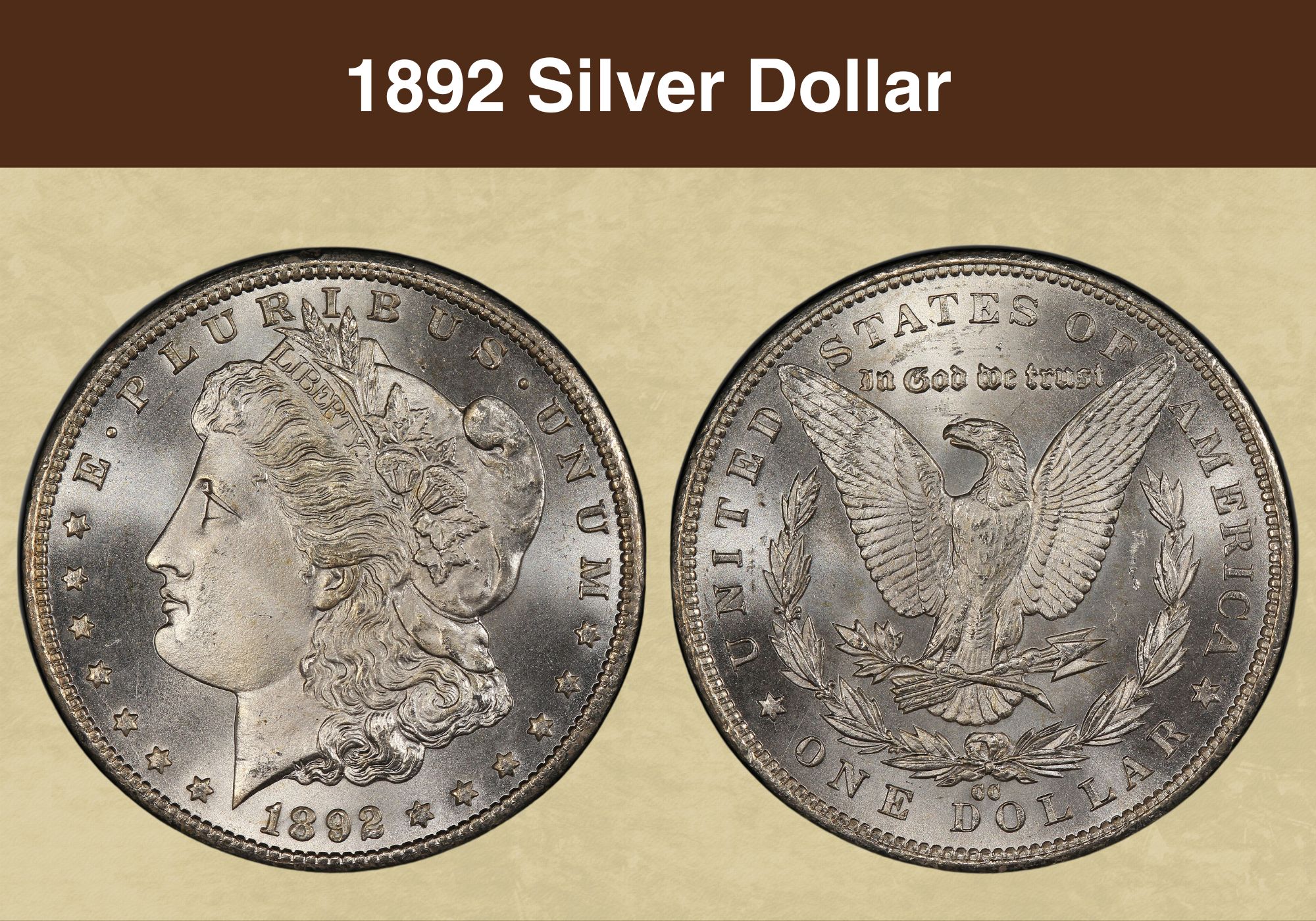 Today, the silver Morgan dollars are some of the most valuable vintage U.S. coins out there, not just because of their age, but also their high silver content.
While all of these silver coins will go above their face value from a century ago, there are key dates that have values even way beyond your imagination. One of these key dates is the 1892 silver dollar.
The 1892 silver dollar value is higher than most Morgan dollars because the mintage that year started to drop, making it rarer and grabbing the attention of collectors until today. Some of them with specific mint marks can cost up to almost $400,000!
If you own an 1892 silver dollar and want to learn more about its value, varieties, mint errors, and more, stick around and read on!
1892 Silver Dollar Value Chart

Mint Mark
Fine
AU58 About Uncirculated
MS62 Uncirculated
MS64 Choice Uncirculated
MS66 Gem Uncirculated
MS67 Superb Gem Uncirculated
1892 No Mint Mark Silver Dollar Value
$50
$165
$400
$1,000
$26,000
–
1892 "CC" Silver Dollar Value
$265
$1,250
$1,900
$3,000
$29,500
$90,000
1892 "O" Silver Dollar Value
$50
$180
$360
$900
$29,000
–
1892 "S" Silver Dollar Value
$90
$17,500
$64,000
$125,000
$280,000
$390,000
1892 No Mint Mark Silver Dollar Value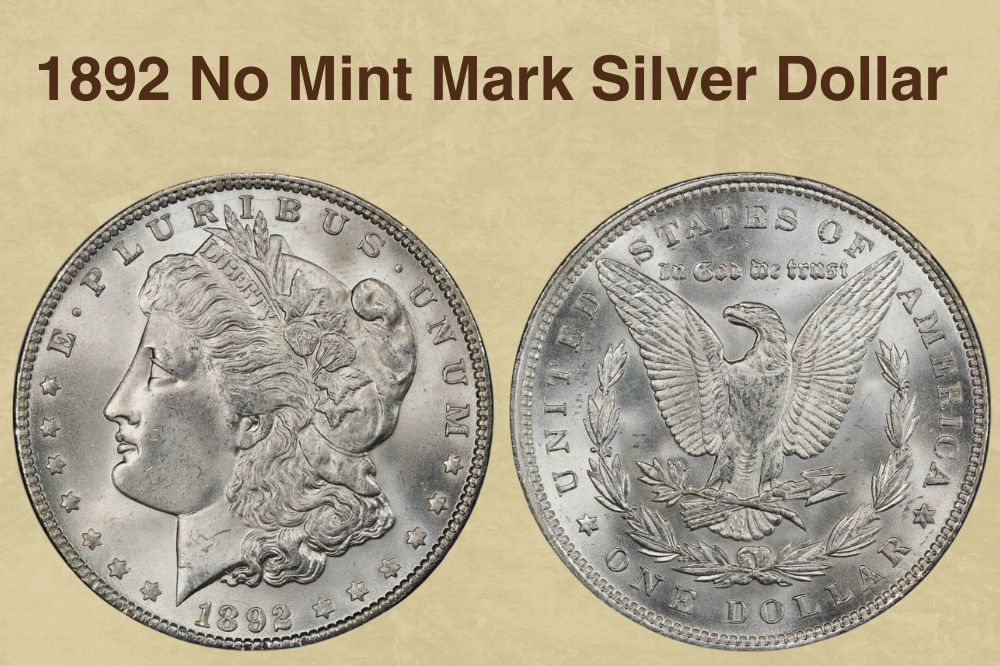 The silver Morgan dollar was designed by no other than George T. Morgan, a British mint employee who would later become the Chief Engraver of the U.S. Mint. He designed the famous coin in the 1870s, recruiting a schoolteacher named Anna W. Williams to pose as Miss Liberty.
The obverse of the coin shows Miss Liberty looking to the left with her chin up. She has wavy curls in her hair and a cap with the word "Liberty" on it. Around her portrait are the words "E pluribus unum" and the mintage date at the bottom, separated by some stars.
The coin's reverse shows an eagle with its wings spread while its talons are clutching onto a bundle of arrows and some olive branches. People were quick to point out that this eagle seemed thin and scrawny, earning the coin the nickname "buzzard dollar."
Around the rim of the reverse are the words "United States of America" and "One Dollar." If the coin has a mint mark, it will sit right above the "DO" in "Dollar."
You'll also find the initial "M" for Morgan on both the obverse and reverse. On the heads, it sits on Liberty's truncated neck, and on the tails, it's on the left loop of the ribbon tying some olive branches together.
What's funny about the Morgan dollar is that while it's one of the most coveted coins by numismatics today, it was pretty much ignored while the series ran. Little by little, it has become one of the most admired and sought-after coin series by any serious collector.
And one of the key dates any silver Morgan dollar lover chases after is the 1892 silver dollar. That year, the mintage numbers of the coin suddenly started to drop.
Although the Sherman Silver Purchase Act of 1890 allowed the Treasury to buy more silver, it also states that the Mints are required to make at least 2,000,000 one-dollar coins per month until 1891. The year after, the Mint cut down on production significantly, making the 1892 issues very rare.
In Philadelphia, just a little over one million silver dollars were minted in 1892. This is incredibly low, especially considering that the Philly Mint is considered the main U.S. Mint. As a result, the 1892 (P) silver dollars are a semi-key date with high prices. These coins had no mint marks.
Even in poor to average condition, an 1892 (P) silver dollar is valued today at $36.50—and it only goes up from there. It's worth $50 in fine condition and $70 in extremely fine condition. About-uncirculated coins cost anywhere between $90 and $165.
The value climbs to the thousands in mid-to-high mint-state grades. At MS64, an 1892 (P) silver dollar is valued at $1,000. One grade up from that at MS65, the coin will cost $3,750.
There's a huge jump in value when the condition goes up to MS66, where an 1892 (P) silver dollar will be worth a whopping $26,000. One MS66 coin had once been sold for almost $50,000 because of its razor-sharp strike and glimmering, frosty finish.
Philly also struck approximately 1,245 proof silver dollars that year. These coins were never released into circulation and were meant for sampling and archiving only. Because of their scarcity, they're worth anywhere between $1,050 and $32,500 today.
1892 CC Silver Dollar Value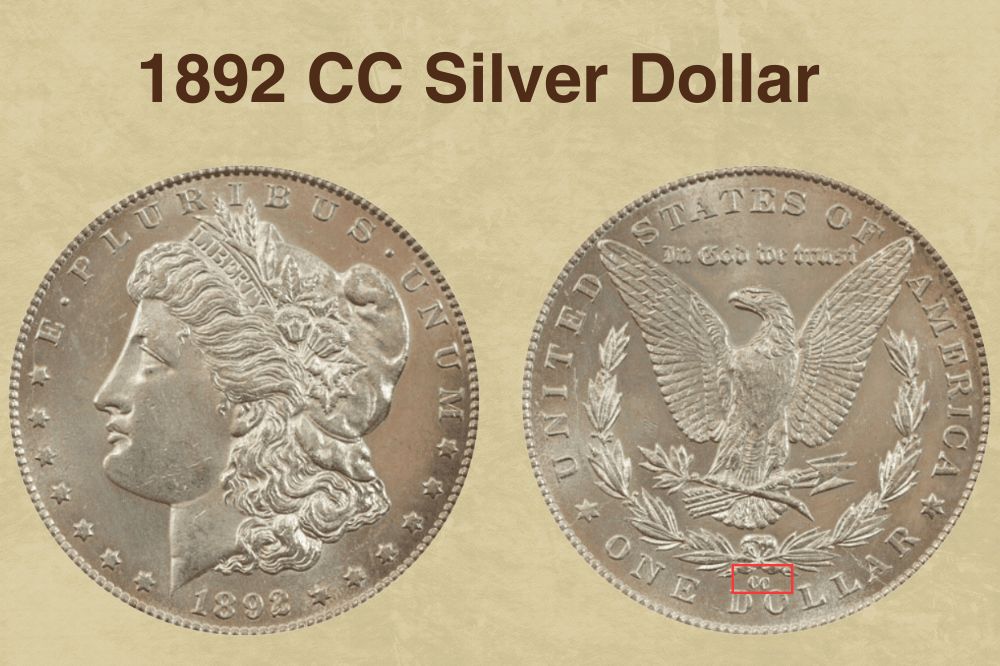 In Carson City, just shy of 1.4 million silver dollars were produced in 1892. What's interesting is that the majority of these coins were not released for public circulation right away.
Instead, these were sent to Washington and San Francisco first. The land transport caused bag marks on many of the coins, so finding an 1892 CC silver dollar gem is very challenging. It also makes these coins extremely rare and valuable.
Circulated 1892 CC silver dollars are more valuable than Philly-minted ones. In good and very good condition, they're valued at $160 and $195 apiece. Fine-condition coins will be worth $265. At the highest circulated grade of AU58, this coin costs approximately $1,250.
In mint condition, the 1892 CC silver dollar is most commonly found between grades MS62 and MS64. The numbers drop off significantly in higher mint-state grades, but the price increases exponentially.
An MS62 1892 CC silver dollar will be worth around $1,900 today, while an MS64 sits at about $3,000. Hard-to-find gems at MS65 and MS66 will cost hefty amounts of $6,500 and $29,500, respectively. But the cream of the crop is the near-perfect MS67 coin, which is now worth $90,000.
1892 O Silver Dollar Value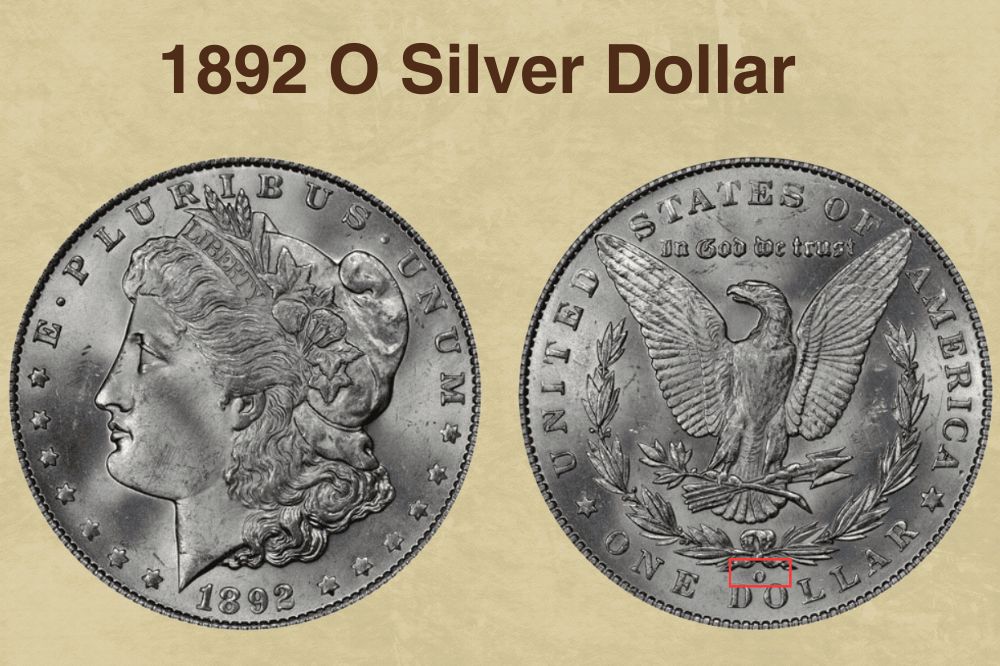 With a total of over 2.7 million silver dollars minted in 1892, New Orleans produced the most Morgan dollars that year out of any Mint.
Because there are relatively more of them to go around, these "O"-mint-mark coins are the least valuable in the 1892 run—although they're still incredibly more valuable than most other U.S. coins.
Although many of the 1892 O silver dollars were immediately put into circulation upon production, some of them were melted. That means they're still scarce and hard to find, especially in high mint-state grades.
In circulated conditions, the value of the 1892 O silver dollar is very similar to their Philly-minted cousins, although just a tad bit lower. A coin in fine condition can be sold today for $50, while an AU58 coin is worth $180.
In uncirculated conditions, the 1892 O silver dollars are most common in grades MS62, MS63, and MS64. These coins are worth $360, $525, and $900 apiece, respectively.
The population numbers start to drop off at MS65, which is when the price point hits the thousands at $5,500. Meanwhile, a difficult-to-find MS66 gem is valued today at a whopping $29,000.
An MS67 1892 O silver dollar is so rare that no estimate for its value exists today. But we do know that back in 2009, one of them that was rich in sea-green and dark brown tones and had a near-perfect, satiny finish sold for over $57,000.
1892 S Silver Dollar Value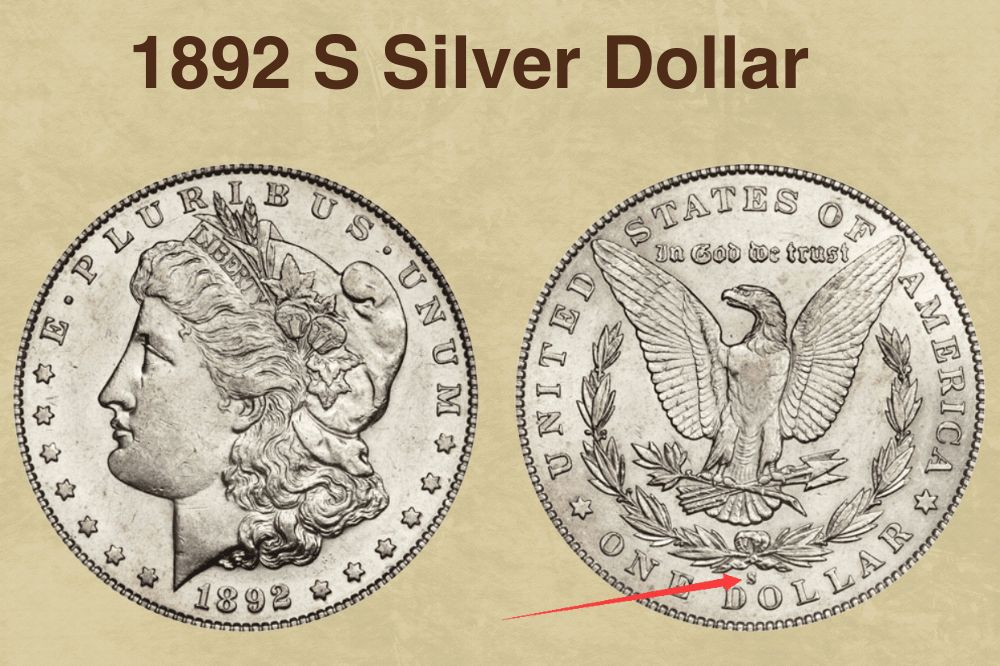 The 1892 S silver dollar is a key date in the entire Morgan Dollar series. Over 1.2 million of them were struck that year.
Even if the San Francisco Mint produced more silver dollars than the Philadelphia Mint that year, these coins are still rarer, and therefore, more valuable—sometimes even sitting at six-figure amounts!
These "S"-mint-mark coins are so coveted that even in circulated conditions, they already hit the thousand-dollar mark.
Fine and extremely fine pieces are worth around $90 and $400, respectively. But at a low about-uncirculated grade of AU50, these coins already reach $1,450 in value. At AU58, this price skyrockets to $17,500.
Mint-state 1892 S silver dollars are especially scarce because a huge majority of these coins were either immediately put in circulation or melted away. Gems are extremely rare, and if you happen to stumble upon one, you'll be happy to know that they hold immense value.
At MS65, the 1892 S silver dollars are valued today at $64,000. The price nearly doubles two grades up at MS64, which is worth $125,000. But even more shocking and heart-pounding are the prices for gems.
MS66 1892 S silver dollars sit at $280,000, and MS67 gems are worth $390,000. But the incredibly rare, almost-perfect MS68 1892 S silver dollar takes the cake, being valued at an insane amount of $750,000.
Also read: 12 Most Valuable One-Dollar Coin Worth Money
1892 Silver Dollar Grading
To assess your 1892 silver dollar, look at the high points of the coin, like Miss Liverty's ear and eye, as well as the eagle's breast on the reverse.
If these points are well-worn, you most likely have a circulated coin. If the strike is still sharp and bold with high, shiny luster, you probably have an uncirculated coin, which is way more valuable.
Accurately grading 1892 silver dollars is extremely important. If you're even one grade off the precise condition of your coin, you could lose out on thousands of dollars. So, even if you're confident in your coin-grading skills, it's still always best to have a professional grade your coin.
Want to improve your coin-grading skills to find out the true value of your 1892 silver dollar? Check out the guide below for grading Morgan dollars:
Also read: 14 Most Valuable Coins In Circulation
Rare 1892 Silver Dollar Error List
Because the mintage of the 1892 silver dollar is so low, errors are quite rare for the issue. For more, back in the 1800s, the Mints could afford to double-check most coins for errors before releasing them into circulation. So, it can be challenging to hunt down mint errors for these coins.
Let's dive into some of the mint errors that have been found in some 1892 silver dollars, shall we?
1892 Silver Dollar Doubled Ear Error
A doubled die coin is one created with a defective master die that has doubling on some of its design elements. As a result, a second image is stamped on the coin. This only occurs in some elements, like a few letters and numbers or part of someone's portrait.
On the 1892 silver dollar, a doubled die error usually manifests on Miss Liberty's ear, which makes it end up looking like there's a second ear on the portrait.
1892 Silver Dollar Misaligned Obverse Error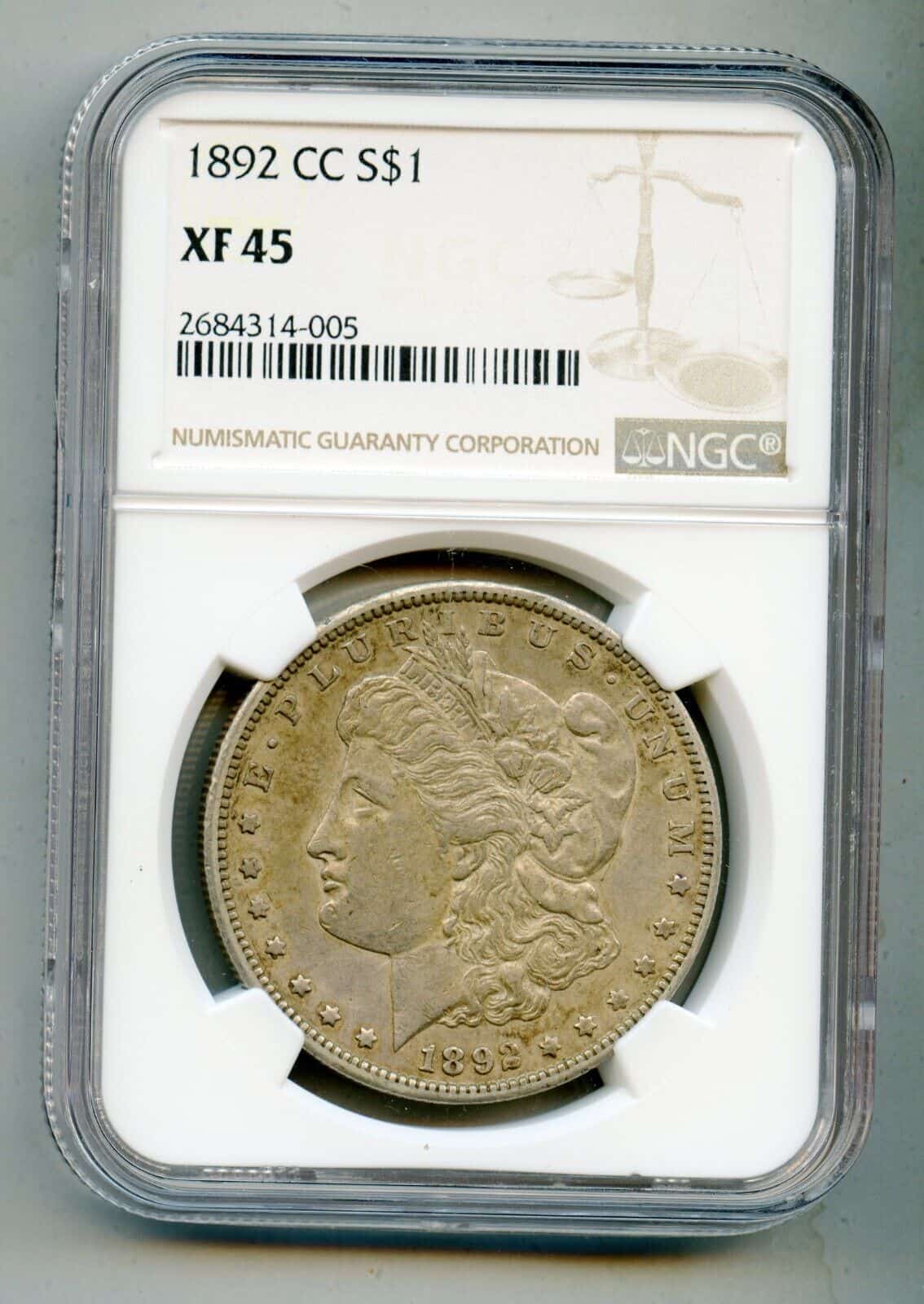 An 1892 silver dollar can also have a misaligned obverse error. This error happens when the die is not properly aligned with the coin collar. So, when it strikes the coin, it's off-center and is misaligned with the reverse.
This error was once found on an 1892 CC XF45 silver dollar. Even with its circulated condition, it still sold for over $500 at auction.
1892 Silver Dollar Partial Collar Error
This error occurs when the blank planchet sits askew on the collar. When the die comes down to strike the planchet, it's driven further into the collar, forcing it to expand outside the collar and die. This results in a coin that looks like it was stepped on.
An 1892 XF40 was once found with this error, and it sold for over $220 at auction.
Also read: Top 10 Most Valuable Morgan Silver Dollar Worth Money
1892 Silver Dollar FAQs
How rare is the 1892 S Morgan Silver Dollar?
1892 silver dollars minted in San Francisco are incredibly rare. This isn't just because of the low mintage, but the low survival rate of mint-state coins available today. It is estimated that less than 150 uncirculated coins from this issue remain today.
How much silver is in a 1892 silver dollar?
All 1892 silver dollars are made with 90% silver and 10% copper. The coins are always tied to the melt value of the silver. In April 2023, that sits at around $18.
How many 1892 Morgan dollars were minted?
In 1892, the mintage for silver Morgan dollars started to drop. Here are the exact mintages of the silver dollar in 1892 per U.S. Mint:
Philadelphia: 1,036,000
Carson City: 1,352,000
New Orleans: 2,744,000
San Francisco: 1,200,000
All in all, a total of 6,332,000 silver dollars were struck by the four U.S. Mints in 1892.