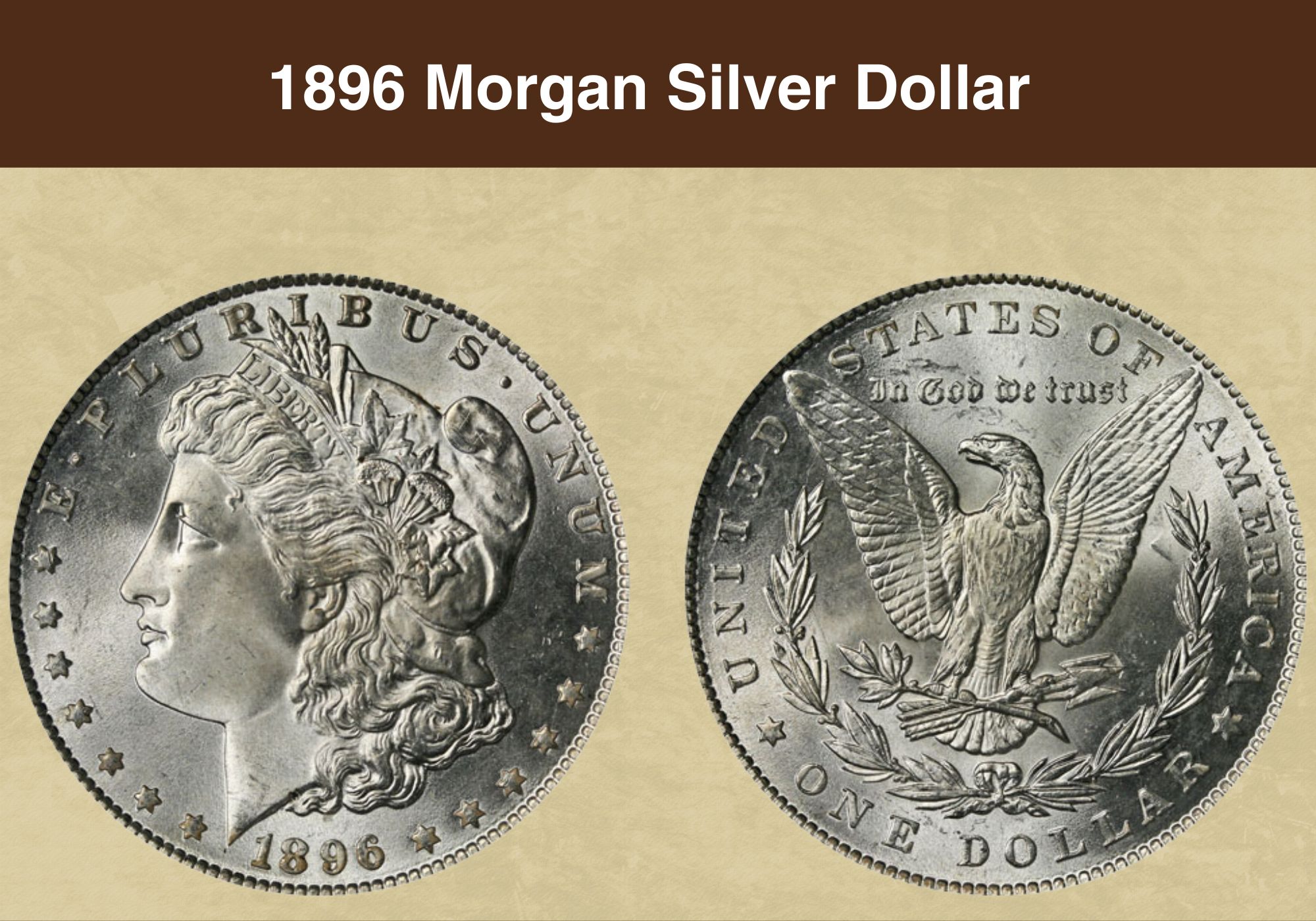 The Morgan dollar series is one of the most popular in American coinage history. Their minting lasted from 1878 to 1904, but you can also find pieces struck in 1921. The 1896 silver dollar value depends on numerous factors, but the mint mark is the primary thing to look for. Then, you should check your coin condition and possible error existence. Let's take a look.
1896 Morgan silver dollar value Chart

Condition
1896 No Mint Mark silver dollar
1896 O silver dollar
1896 S silver dollar
Good
$41
$41
$87
Very good
$46
$46
$111
Fine
$52
$52
$130
Very fine
$55
$58
$150
Extra fine
$58
$67
$498
AU
$63
$170
$874
Mint state 60
$74
$1,995
$3,161
Mint state 65
$268
$186,872
$12,849
Proof 63
$4,368
/
/
History of the 1896 Morgan Silver Dollar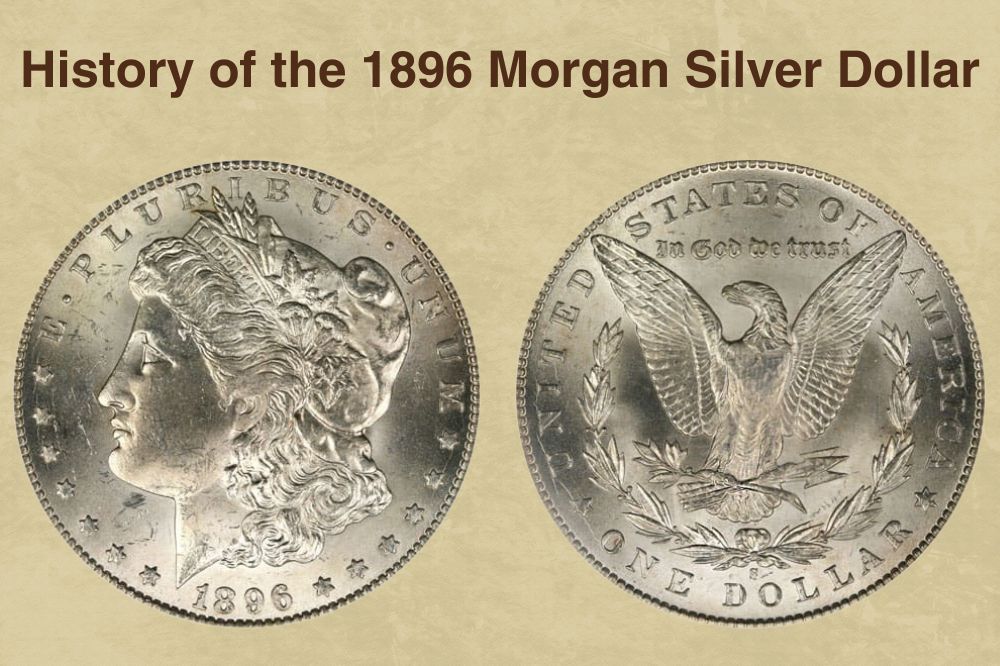 Once you decide to collect Morgan silver dollars, you should be prepared for the series that includes 95 types of coins minted from 1878 to 1921. In fact, their production ended in 1904, but the US Mint reissued them in 1921.
They appeared because the mining industry asked for the re-introduction of silver coins. The Bland-Allison Act required the US Mint to buy a monthly amount of silver worth two to four million, causing huge Morgan dollar mintages.
1896 Morgan silver dollar Types

Location
Year
Minted
Philadelphia
1896 No Mint Mark silver dollar
9,976,000
Philadelphia
1896 proof silver dollar
762
New Orleans
1896 O silver dollar
4,900,000
San Francisco
1896 S silver dollar
5,000,000
Total
/
19,876,762
In 1890, the Sherman Silver Purchase Act canceled it and obliged the US Mint to buy silver by weight. That resulted in inflation and the Panic of 1893.
This Act was repealed, and the Morgan dollar mintage was reduced from 1893 to 1895. Thanks to the economy recovering, coins with the 1896 minting date appeared in increased mintage.
Also read: 12 Most Valuable One-Dollar Coin Worth Money
Features of the 1896 Morgan Silver Dollar
George Morgan created this coin based on a living female model. He wanted a genuine American face on the dollar, and Anna Williams was a perfect option for this, thanks to her beautiful profile. The first silver Morgan coins with her image appeared in 1878.
The obverse of the silver 1896 Morgan dollar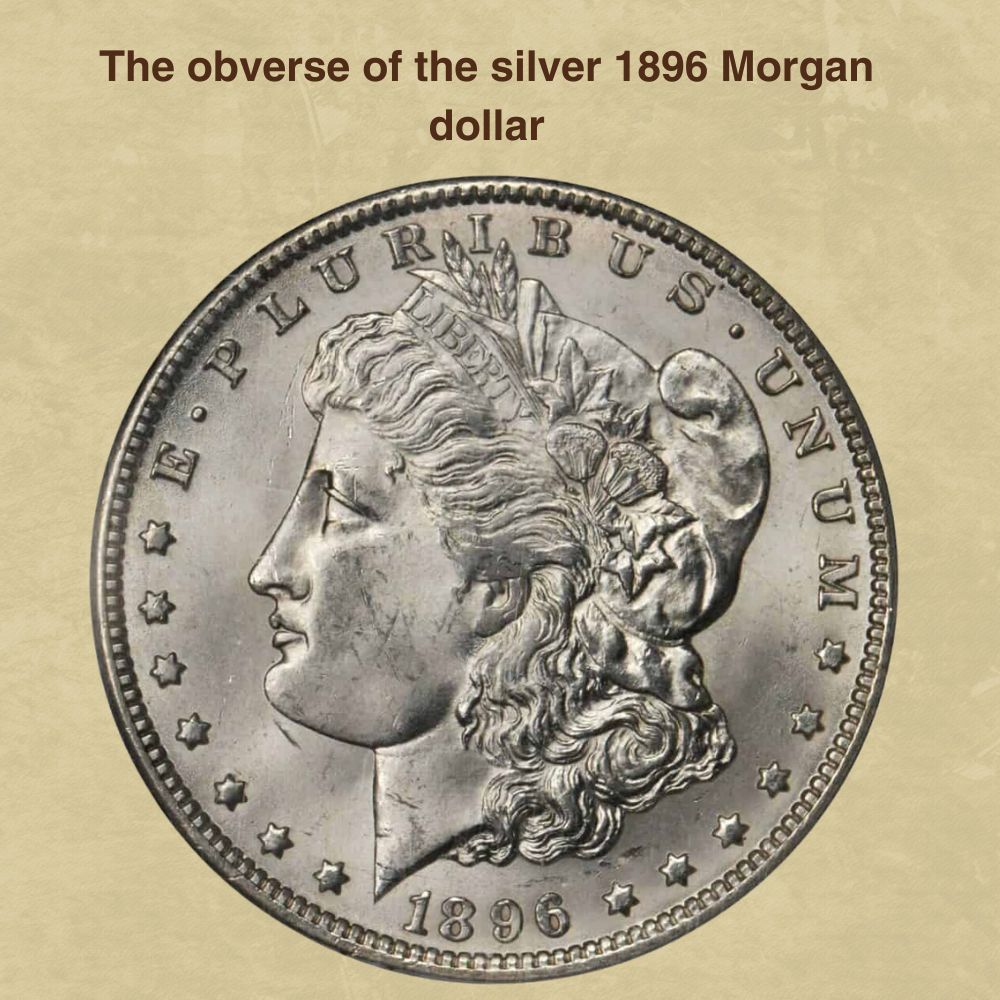 You can see Lady Liberty with an elegant Phrygian cap decorated with a crown showing the word LIBERTY. There are also leaves, wheat stalks, and flowers to make a portrait more appealing. Around her are 13 stars and two inscriptions, including:
✶✶✶✶✶✶✶ 1896 ✶✶✶✶✶✶ on the coin bottom
E PLURIBUS · UNUM on the top
A tiny M, representing a designer initial, is struck at the Lady Liberty's neck base.
The reverse of the silver 1896 Morgan dollar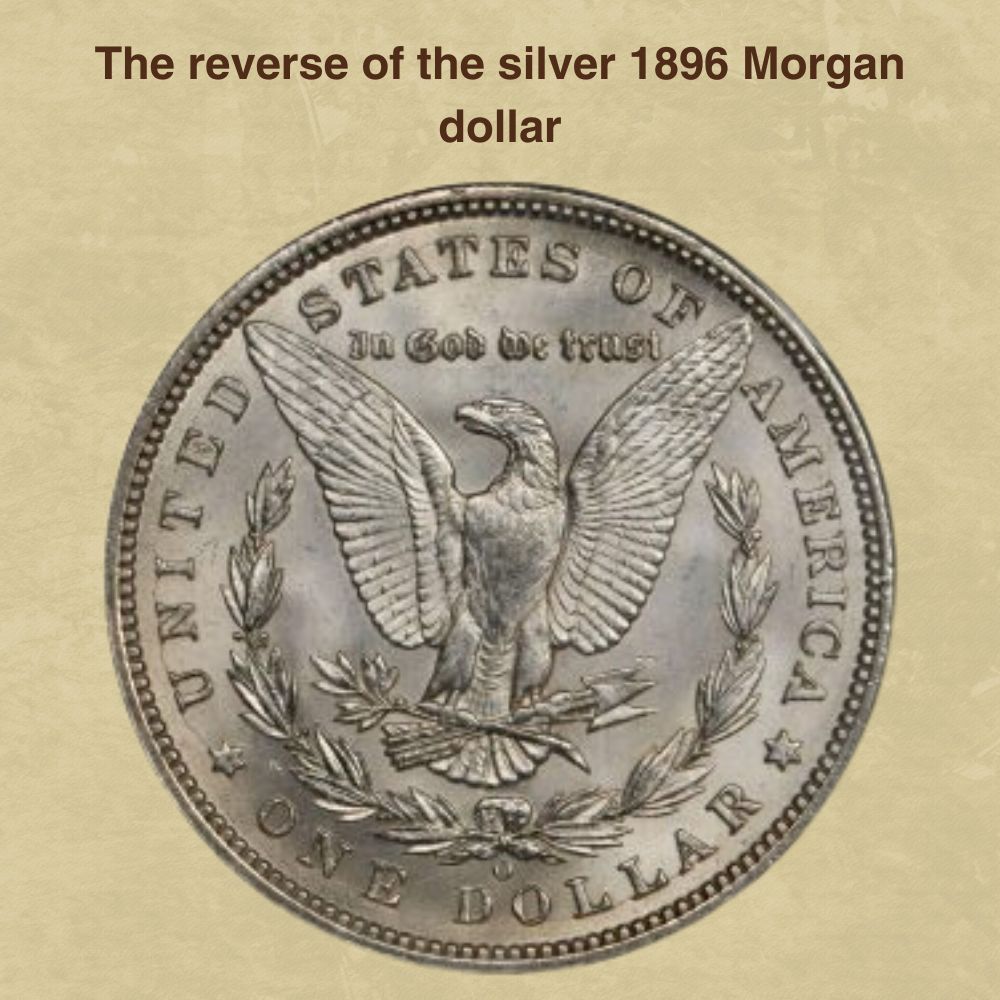 One bald American eagle occupies the Morgan coin reverse. It holds three arrows and an olive branch in its claws, while the laurel wreath is stretched under it. You can also see ✶ UNITED STATES OF AMERICA ✶ ONE DOLLAR along the coin rim, and IN GOD WE TRUST above the bird's head.
The second designer's initial, the letter M, is placed on the ribbon at the laurel wreath's center. The mint mark S or O is struck under the ribbon bow.
1896 Morgan silver dollar Details

Face value
One dollar ($1)
Shape
Round
Compound
90% silver and 10% copper
Coin thickness
0.09449 inches (2.40 mm)
Coin weight
0.8594 troy ounces (26.73 g)
Silver weight
0.77344 troy ounces (24.50 g)
Coin diameter
1.5 inches (38.11 mm)
Edge
Reeded
Other features of the 1896 Morgan silver dollar
The 1896 Morgan dollars are almost 130-year-old silver coins with a reeded edge to prevent fraud. Each piece comes with a diameter of 1.5 inches (38.11 mm) and a thickness of 0.09449 inches (2.40 mm).
Since each coin contains 90% silver, you can count on the silver weight of 0.77344 troy ounces (24.50 g). The entire coin weight, including copper share, is 0.8594 troy ounces (26.73 g).
Also read: 14 Most Valuable Coins In Circulation
1896 Morgan Silver Dollar Value Guides
The US Mint produced 19,876,762 Morgans in total. One mintage half came from Philadelphia, and these coins were without the mint mark. The other half were pieces from two other mints with the mint mark (O or S) on the reverse.
1896 No Mint Mark Morgan silver dollar Value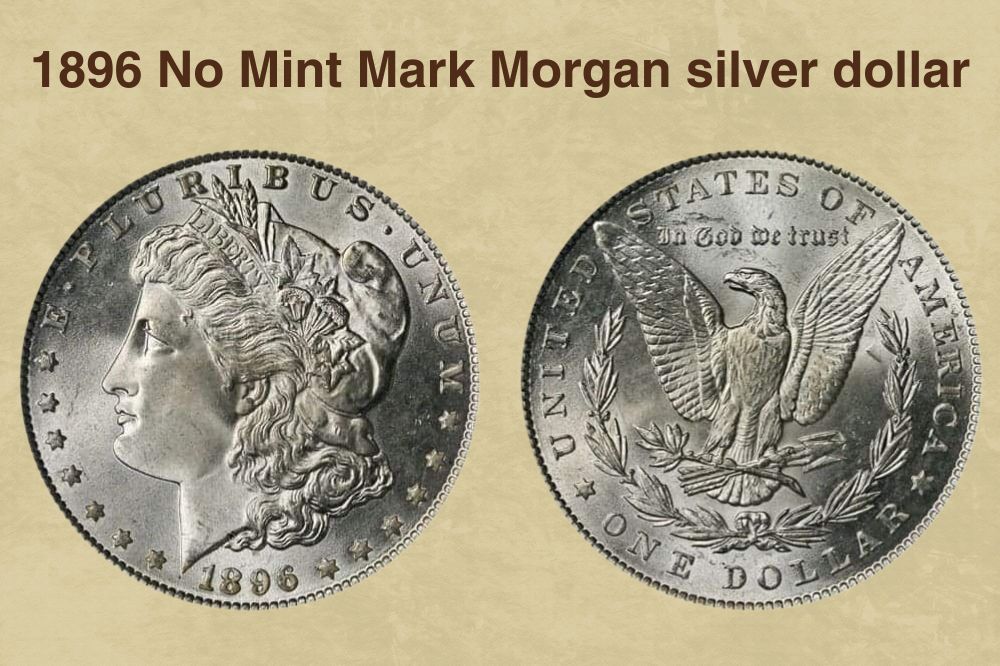 With 9,976,000 coins minted in 1896, the Philadelphia mint had the highest Morgan pieces mintage. Their price range on the current market is $30 to $61 for used specimens, while those in perfect condition can reach $53 to $1,600.
The best-rating pieces are estimated at $14,000 to $20,000, but one 1896 MS 68 Morgan dollar reached $30,550 at an auction in 2020.
You can also find 1896 PL silver dollars coming from this mint. Most cost less than $1,000, while those graded MS 67 have an estimated price of $10,000 to $15,000. Real gains are DMPL coins, and you can buy one for $100 to $5,000, depending on their grade.
1896 Morgan silver proof dollar Value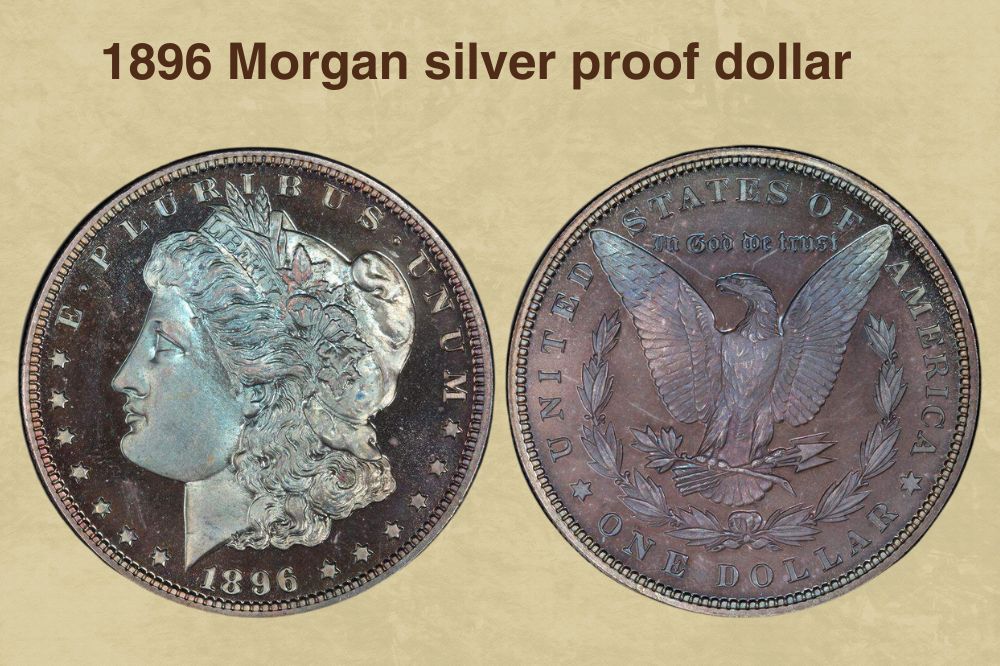 Besides regular coins, the Philadelphia mint released 762 Morgan proofs. They are expectedly costly, and you can purchase one in average condition for less than $1,000. On the other hand, pieces in PR 67 can quickly reach $9,600 to $20,000 at auctions.
Collectors who appreciate coins with cameo contrast can find an 1896 Morgan dollar for $2,400 to $43,200. The most valuable are pieces with DCAM quality. Their value ranges from $3,400 to $59,600, but the costliest specimen won an auction record in 2006 of $126,500.
1896 O Morgan silver dollar Value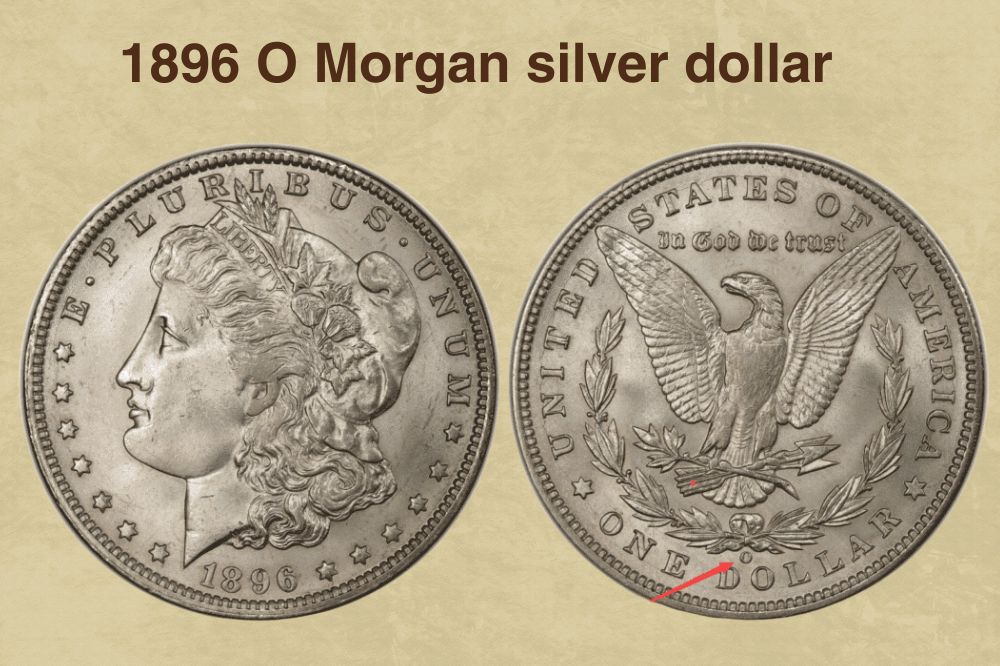 The New Orleans mint released 4,900,000 Morgan silver dollars in 1896. All came with the O mint mark on the coin reverse. Nowadays, you can find circulated specimens on the market relatively effortlessly at expected prices from $35 to $510.
As expected, perfectly preserved silver dollars minted this year can reach more money. Their estimated price ranges are:
$1,650 to $1,980 for MS 60-graded Morgan
$1,750 to $2,100 for MS 61-graded Morgan
$2,300 to $2,760 for MS 62-graded Morgan
$5,000 to $5,600 for MS 63-graded Morgan
$28,000 to $40,000 for MS 64-graded Morgan
The situation is entirely different with the best-rating pieces, and they can be worth a fortune. For instance, you should pay $175,000 to $210,000 for silver dollars minted this year in MS 65 grade.
Those rated MS 66 are even more expensive since their assessed price range is from $425,000 to $525,000. The costliest ever sold, 1896 O MS 66 Morgan dollar, reached more money than expected. One collector paid $528,000 to get it in 2020.
You can also have the 1896 O PL silver dollars at your disposal. Their prices go from $750 for those in AU condition to $9,000 for the MS 62-rating specimens.
Expectedly, the 1896 O DMPL silver Morgan dollars are more expensive. Those in About Uncirculated condition cost $6,500 to $7,800, while you should pay significantly more for best-preserved ones. Their estimated price ranges depend on their grade and are the following:
$8,500 to $9,200 (MS 60)
$11,000 to $13,200 (MS 61)
$14,000 to $16,800 (MS 62)
$26,000 to $31,200 (MS 63)
$38,000 to $45,600 (MS 64)
1896 S Morgan silver dollar Value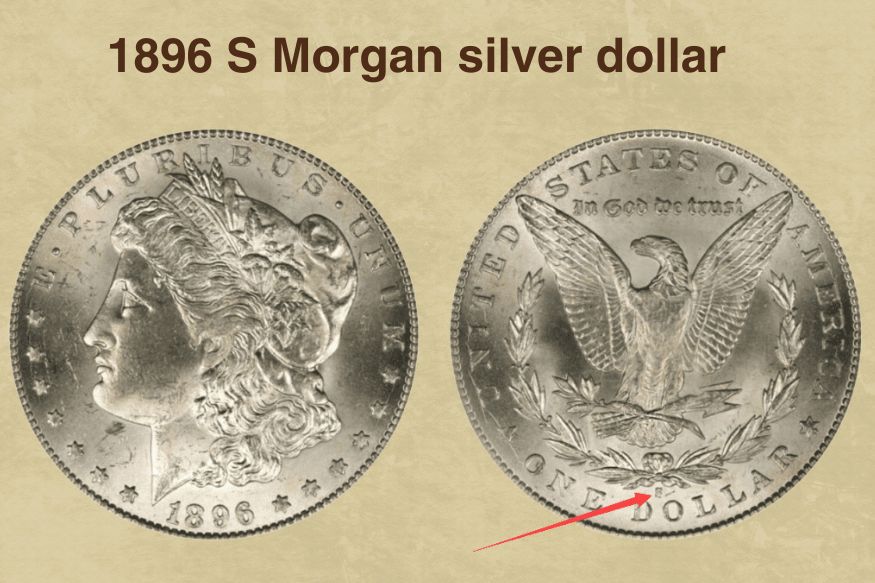 The San Francisco mint produced 5,000,000 silver dollars this year. Such relatively high mintage resulted in affordable prices for such old coins, and you can buy those in circulated condition for $40 to $2,300. Specimens in the mint state are costly, with an average price range of:
Morgan dollars in MS 60 grade cost $2,900 to $3,335
Morgan dollars in MS 61 grade cost $3,100 to $3,565
Morgan dollars in MS 62 grade cost $3,400 to $3,910
Morgan dollars in MS 63 grade cost $3,600 to $4,140
Morgan dollars in MS 64 grade cost $4,400 to $5,250
Morgan dollars in MS 65 grade cost $10,000 to $11,500
Morgan dollars in MS 66 grade cost $65,000 to $78,000
Morgan dollars in MS 67 grade cost $110,000 to $132,000
Morgan dollars in MS 69 grade cost $500,000 to $720,000
Interestingly, the most expensive coin from San Francisco reached exactly the same price as estimated. One collector bought the 1896 S MS 69 Morgan dollar for $720,000 in 2020.
The 1896 S PL silver dollars are valuable, and you need to set aside $4,500 to $130,000 per piece, depending on their appearance and preservation.
Also read: Top 10 Most Valuable Morgan Silver Dollar Worth Money
1896 Morgan Silver Dollar Grading
Evaluating the 1896 silver dollars is a subtle way to determine their value based on their look, quality, and damage. Experts check the mint mark first, then look for the amount of wear and possible errors. Finally, each coin gets a corresponding grade on a 1 to 70 grading scale as a circulated or uncirculated piece.
Rare 1896 Morgan Silver Dollar Errors List
The 1896 Morgan silver dollar set is not abundant with errors. However, you can find a few amusing coins most collectors find desirable. The collecting world is known for its affection for imperfection, so rare Morgan error coins released this year are an absolute pleasure for dedicated admirers.
Partial collar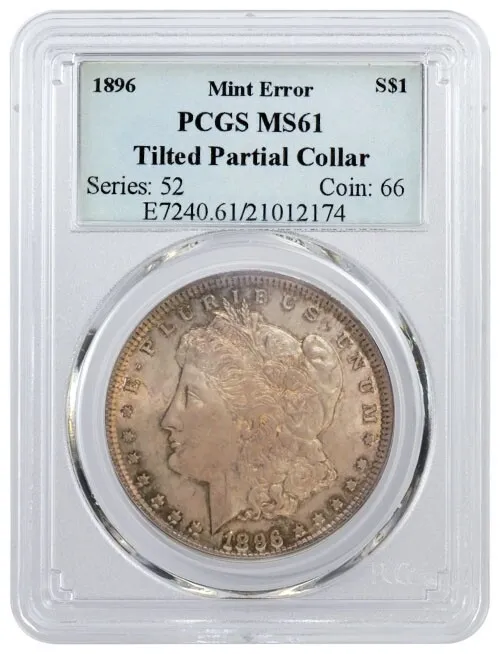 This error resulted from an incorrectly positioned blank in the collar die, causing the metal portion to spill over it. You can expect such an 1896 Morgan dollar to be worth about $100 to $300.
Lamination
Coins with peeled-off or cracked metal on the surface appeared because of the contamination. Silver dollars with such an imperfection on Liberty's cheek can cost about $70.
Strikethrough
Coins that were changed this way occurred when a foreign body got stuck inside the press. It left marks reminding of a thick line across Liberty's chin and neck on their surfaces while striking through.
Nowadays, this error can cost you $175. You can sometimes see Morgan dollars with the object pressed inside the coin. This error combines strikethrough and retaining.
Curved clip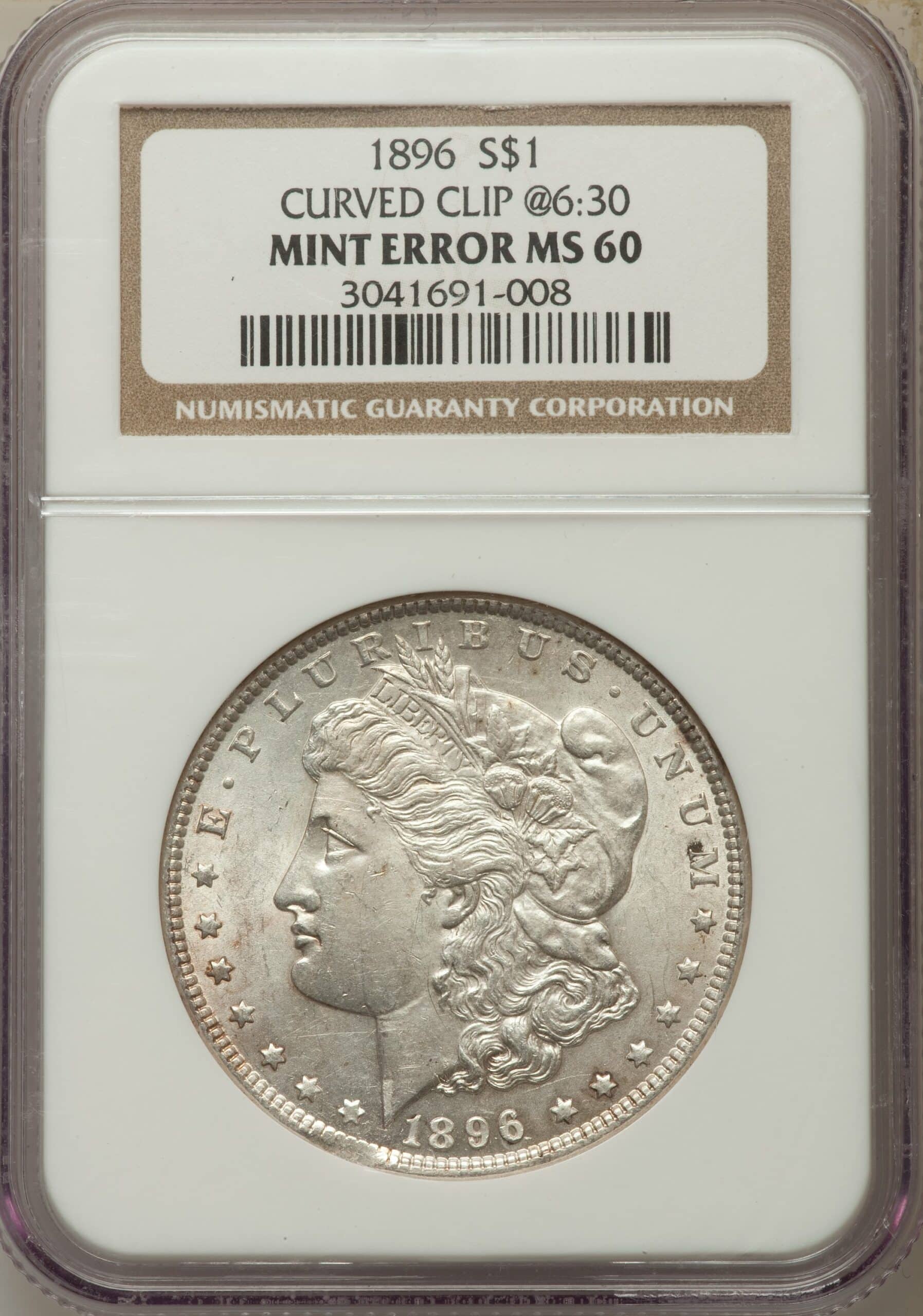 This error appeared when a blanking die overlapped an already punched hole in the metal strip because the planchet strip failed to move enough. The result was coins with a concave edge part worth about $70 to $80.
Micro O mint mark (counterfeited)
It is crucial to mention this error appeared among the 1896 O silver dollars. They were a sensational discovery a few years ago, but PCGS analysis disappointed collectors after finding common die markers across all the dates.
Unfortunately, all silver dollars with the Micro O mint mark produced in 1896, 1900, and 1902 were forgeries. Therefore, checking whether a reputable grading company has authenticated such unique coins is crucial before buying.
FAQ about the 1896 Morgan Silver Dollars
What makes 1896 Morgan Silver Dollar rare?
The Morgan dollars from 1896 are not particularly rare nowadays, despite a lower mintage of coins with the S or O mint mark. Besides, numerous pieces were melted over the years, making them scarce, particularly in the highest grades.
Therefore, you shouldn't be surprised to see one of these coins offered for hundreds of thousands of dollars at auctions.
Which 1896 Morgan silver dollars won auction records?
1896 S MS69 Morgan dollar – $720,000 in 2020
1896 O MS66 Morgan dollar – $528,000 in 2020
1896 PR69 Morgan dollar (DCAM) – $126,500 in 2006
1896 S MS66PL Morgan Dollar – $111,625 in 2016
1896 PR68+ Morgan Dollar (CAM) – $84,000 in 2022
1896 PR68 Morgan Dollar – $66,700 in 2005
1896 MS68 Morgan Dollar – $30,550 in 2020
1896 O MS64 Morgan Dollar (DMPL) – $25,300 in 2001
1896 PR66 Morgan Dollar (DMPL) – $21,275 in 2005
1896 MS67 Morgan Dollar (PL) – $13,513 in 2015
1896 O MS62 Morgan Dollar (PL) – $10,350 in 2008
How much the 1896 Morgan silver dollars cost?
Thanks to a high mintage, the 1896 silver Morgan dollars are of a modest price, considering their age and collectability. You can buy one of the circulated pieces for approximately $30 to $61.
On the other hand, perfect coins in different stages of the mint state are worth $53 to $1,600. Only those in MS 68 grade are expensive, ranging from $14,000 to $20,000.
What is the most valuable Morgan dollar?
The most expensive Morgan dollar ever sold is the 1889 CC MS 68 coin. One Stack's Bowers auction participant paid $881,250 for it. The costliest proof coin came from the same mint, but its price was significantly lower. The 1893 CC PR 66 silver dollar reached $323,125 at the same auction.