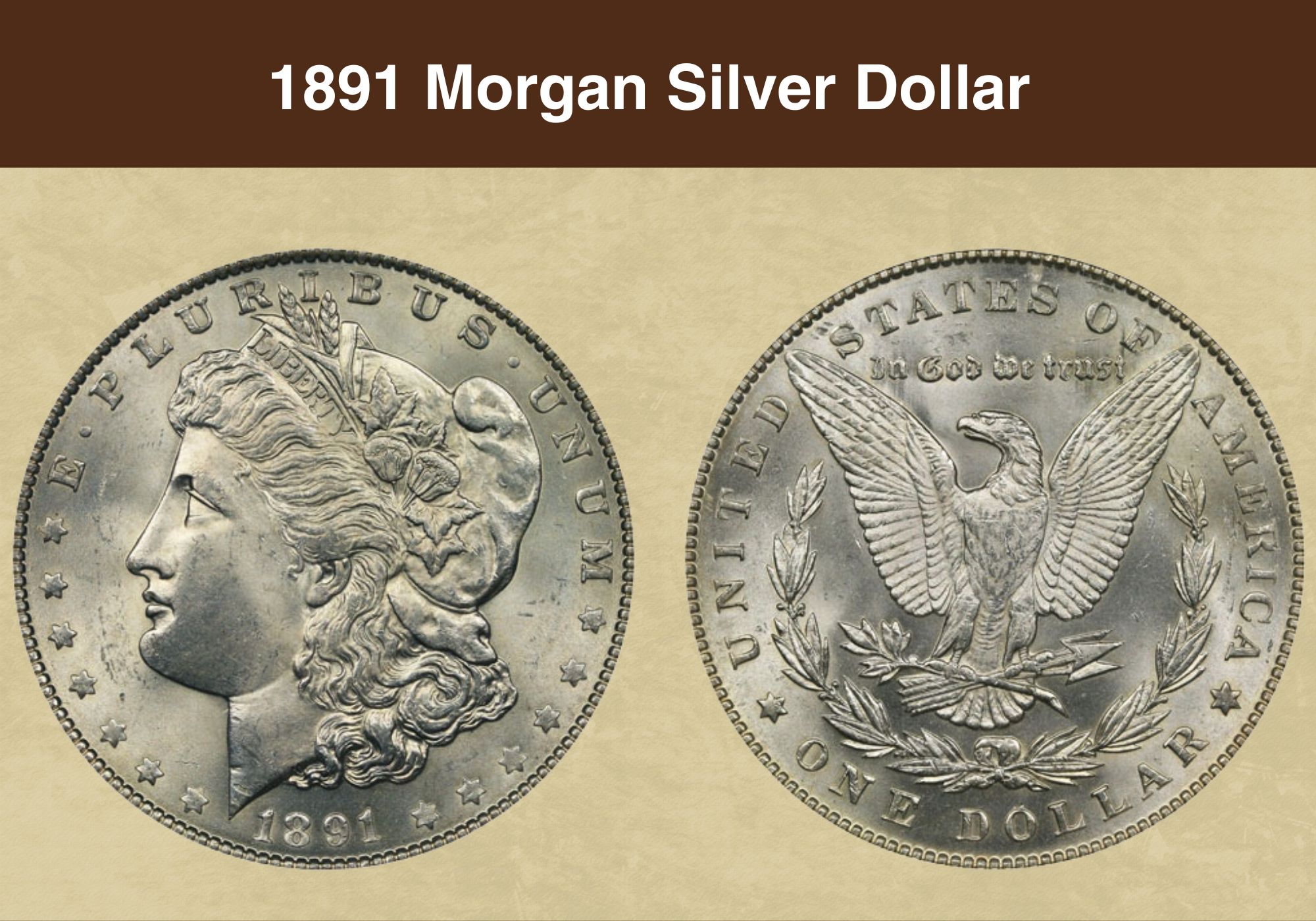 If you're interested in the 1891 silver dollar value, we've got all the information you need! We're going to explore the difference condition can make to the value of a coin. And we'll look at some of the rare and valuable Mint errors out there.
We'll discover more about the history and design of the 1891 silver dollar too. And we'll link to some great resources to help you value your coin.
Ready to get started? Then let's go!
1891 Silver Dollar Value Chart

Mint mark
XF45
MS60
MS65
MS67
1891 (P) No Mint Mark Silver Dollar Value
$46
$100

Prooflike: $225

Deep Mirror Prooflike: $500

$2,500

Prooflike: $525

Deep Mirror Prooflike: $27,500

$47,500

Prooflike: $7,500

1891 CC Silver Dollar Value
$360
$725

Prooflike: $800

Deep Mirror Prooflike: $900

$4,500

Prooflike: $7,500

Deep Mirror Prooflike: $65,000

$65,000
1891 O Silver Dollar Value
$44
$260

Prooflike: $350

Deep Mirror Prooflike: $1,150

$5,250

Prooflike: $13,500

Deep Mirror Prooflike: $55,000

n/a
1891 S Silver Dollar Value

$46
$160

Prooflike: $200

Deep Mirror Prooflike: $300

$1,600

Prooflike: $3,000

Deep Mirror Prooflike: $16,500

$17,500
PR55
PR60
PR65
PR68
1891 (P) No Mint Mark Proof Silver Dollar Value
$1,375
$2,200

Cameo: $2,600

$7,000

Cameo: $10,500

Deep Cameo: $20,000

$37,500

Cameo: $60,000

Deep Cameo: $75,000
History of the 1891 Silver Dollar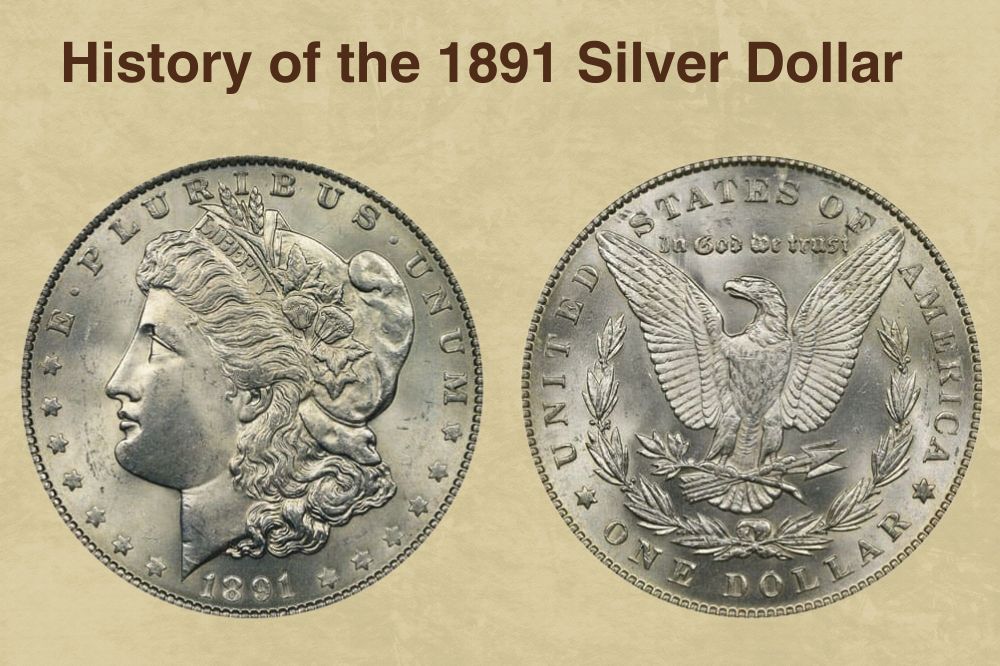 The silver dollars struck in 1891 are part of the series known as Morgan dollars. The first of those were issued in 1878, and they continued in an unbroken run until 1904. Their nickname comes from their designer, George T. Morgan, who was then the Assistant Engraver at the US Mint.
They were produced in large numbers for several years. Lobbying by the silver mining industry had resulted in a piece of legislation called the Bland-Allison Act. It was passed in 1878, and required the Treasury to purchase between 2 and 4 million dollars' worth of silver every month.
The legislation also required the Mint to convert all this silver into coins. So the task of creating vast numbers of Morgan dollars kept the Mint very busy.
Well over 20 million were struck in the first year of production, and numbers remained high each year until 1890. But then the law changed again.
The Sherman Silver Purchase Act required the Treasury to purchase even more silver – 4.5 million Troy ounces every month. But it placed a limit on the requirements for coin production. The Mint had to strike 2 million silver dollars per month – but only for the first two years.
The aim of the new law was to boost the circulation of silver coins, leading to inflation. This would push up the prices that farmers could charge for their produce, easing their financial difficulties.
But the measures seemed to work too well. Several major industrial companies went bust in 1893, and the resulting run on the banks became known as the Panic. President Grover Cleveland believed that rising inflation was to blame, and in November of that year, Congress repealed the Act.
The Treasury, however, still held large quantities of silver bullion. In 1898, Congress ordered the Mint to use it all up striking silver dollars. The Mint finally completed that task in 1904.
These days, however, far fewer Morgan dollars survive than you might expect. That's because of yet another piece of legislation – the Pittman Act.
That authorized millions of silver coins to be melted down to provide silver for the British government during the Second World War. German propaganda in India had convinced the population there that the British didn't have enough silver to back their currency.
The resulting run on British silver was threatening to derail the war effort. The Pittman Act provided relief, while requiring the Treasury to purchase silver from American mines to replace the coins. It's estimated that around 90 per cent of Morgan dollars were melted down as a result of the law.
Also read: 12 Most Valuable One-Dollar Coin Worth Money
Features of the 1891 Silver Dollar
Obverse of the 1891 Silver Dollar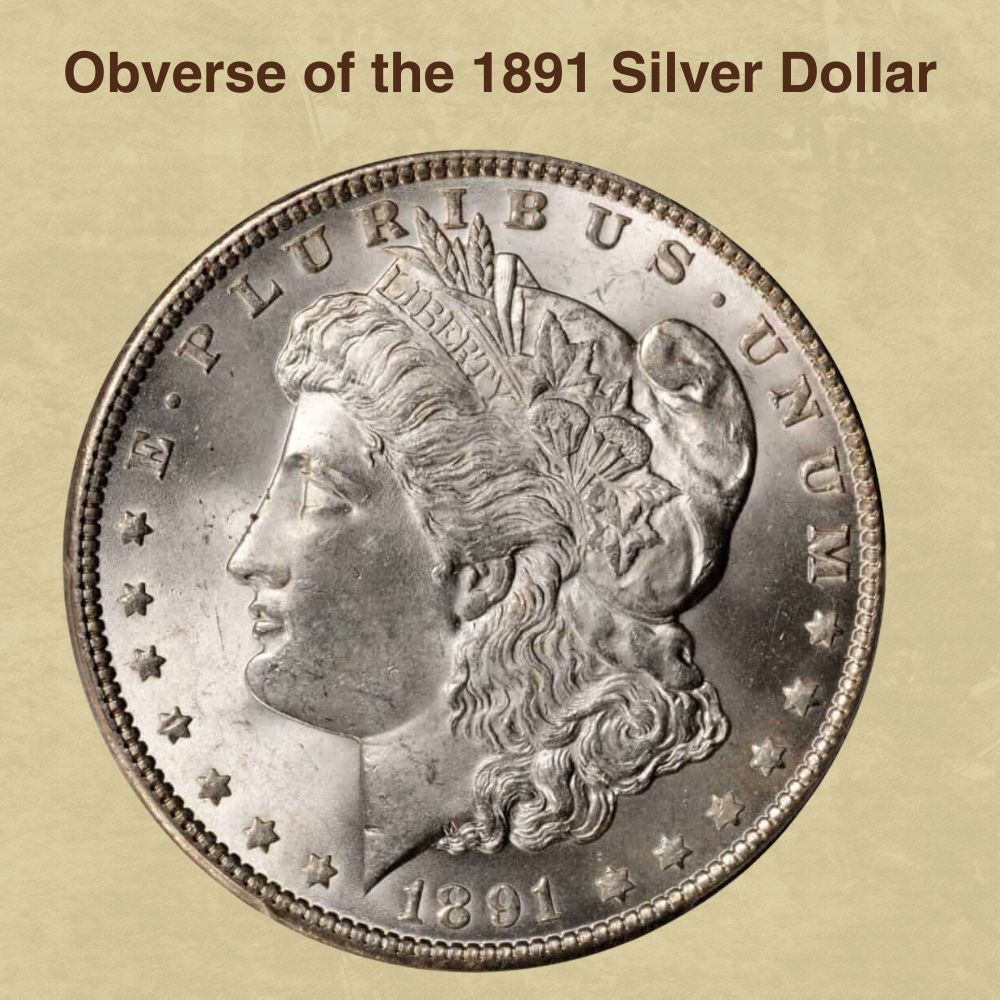 The obverse of the Morgan dollar carries the image of Lady Liberty. Liberty's image was the work of the US Mint's Assistant Engraver, George T. Morgan. But unlike earlier portraits, his Liberty was based on an American woman.
She was a teacher and philosopher by the name of Anna Willess Williams. She had been introduced to Morgan by their mutual friend, an artist called George Eakins. And she agreed to sit for the portrait of Liberty on the condition that her identity was never revealed.
Unfortunately for her, her name somehow became public. The resulting publicity was intense, and rumor has it that she not only lost her job, but her fiancé as a result.
The Morgan dollar shows Liberty in profile, facing to the left as the coin is viewed. Look closely, and you can just spot an "M" for Morgan on the base of her neck.
A band inscribed "Liberty" is around her hair, and above her arches the Latin motto "E PLURIBUS UNUM". The words mean "From the many, one" and refer to the creation of the USA as a union of states.
Stars, representing the states, circle the border of the design. The date appears at the bottom, curving parallel to the lower coin edge.
Reverse of the 1891 Silver Dollar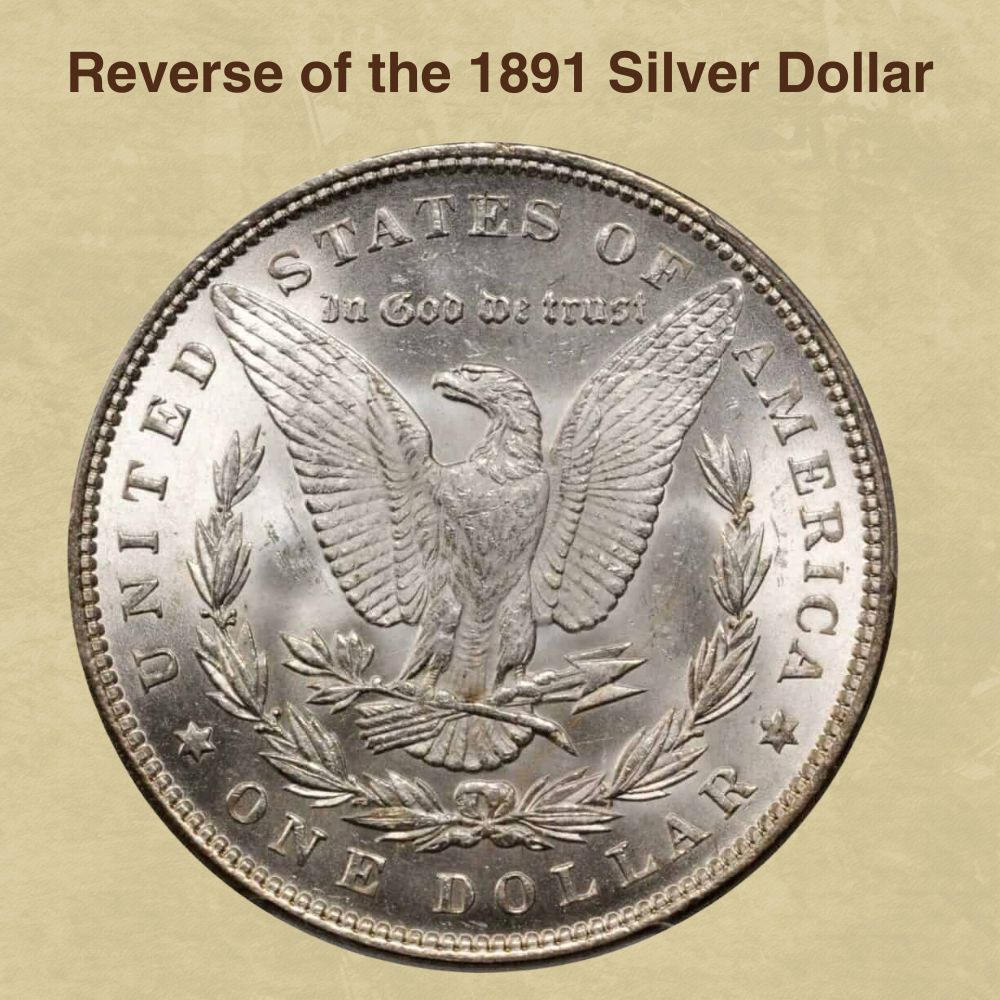 The design on the reverse was also the work of George Morgan. It depicts an eagle, the traditional symbol of the USA. Its wings are outstretched, and it holds a fletch of arrows and a sprig of olive in its talons.
Just above the eagle's head the motto "In God We Trust" is inscribed in gothic script. "UNITED STATES OF AMERICA" appears above it, while a laurel wreath tied with ribbon is below. The denomination, "ONE DOLLAR", is at the bottom.
If your coin was struck in Carson City, New Orleans or San Francisco, the reverse will also have a mint mark. Look at the area just above the "D" and "O" of "DOLLAR". It there's no letter, the coin was struck in Philadelphia.
Other Features of the 1891 Silver Dollar
The 1891 silver dollar also contains ten per cent copper. It measures 38.1 millimeters in diameter and weighs 26.73 grams.
If you turn it on its side, you'll see a series of grooves running parallel to the coin faces. These are known as "reeds", and they're left by the collar that holds the coin in place as it's struck.
They were originally introduced in the eighteenth century to detect fraud. The reeds made it possible to see immediately if any precious metal had been removed from the edge of the coin.
You can look at the Morgan dollar in detail in this YouTube video from CoinStudy.
Also read: 14 Most Valuable Coins In Circulation
1891 Silver Dollar Value Guides
1891 No Mint Mark Silver Dollar Value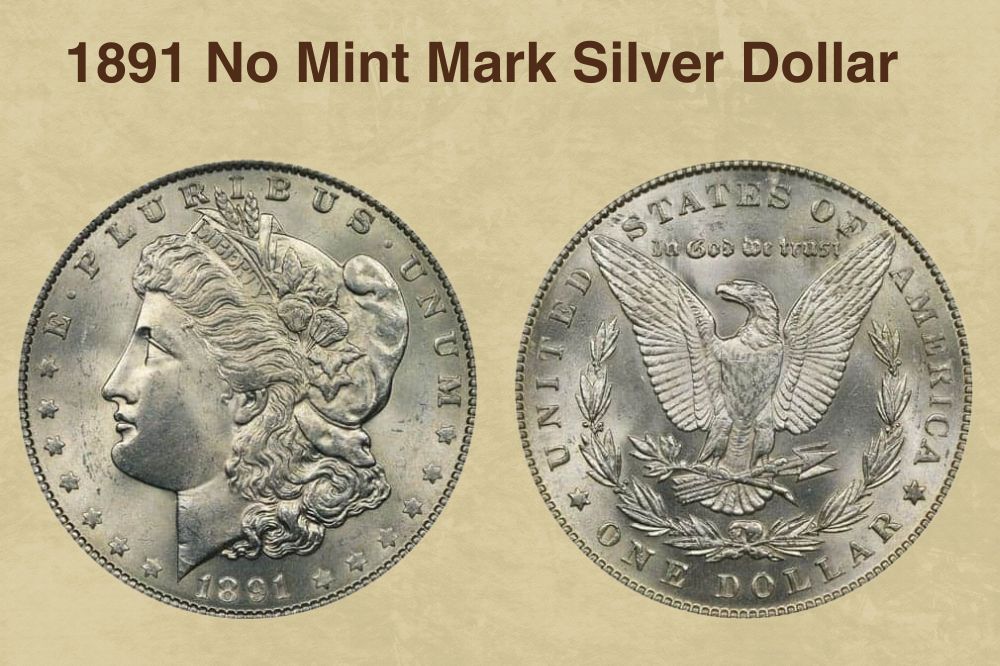 Coins without a mint mark were struck in Philadelphia, and almost 8.7 million of them were produced in 1891. The independent coin grading agency, the PCGS, estimates that one in ten of those survive today.
In most cases, the better the condition of the coin, the more valuable it will be. But there are exceptions. Some collectors specialize in Morgan dollars graded 1 or 2 – that's the very bottom of the coin grading scale. And those command a significant premium.
The 1891 silver dollars also include standard coins, those that have been designated "prooflike", and "deep mirror prooflike" coins. Those designations reflect a high quality strike and a polished planchet.
Prooflike coins are worth more than standard coins at the same grade. And deep mirror prooflike examples – sometimes shortened to DIMPL (pronounced "dimple") – are worth more again.
A standard 1891 no mint mark silver dollar graded 1 is worth about $100. That falls to $40 at grade 2 and $32 at 3, before rising again.
The grading scale runs to 70, with grades 60 and above used for mint state coins. An XF45 1891 no mint mark silver dollar is worth just under $50. But mint state coins are more valuable.
A standard MS60 example is worth $100, while a prooflike coin at the same grade is more than double that, and a DIMPL is worth over $500.
Values rise steeply from there.
You'll need to pay four figures for any DIMPL dollar graded MS62+ or above. The finest known DIMPL example from this mintage is graded MS66 and valued at $45,000.
1891 CC Mint Mark Silver Dollar Value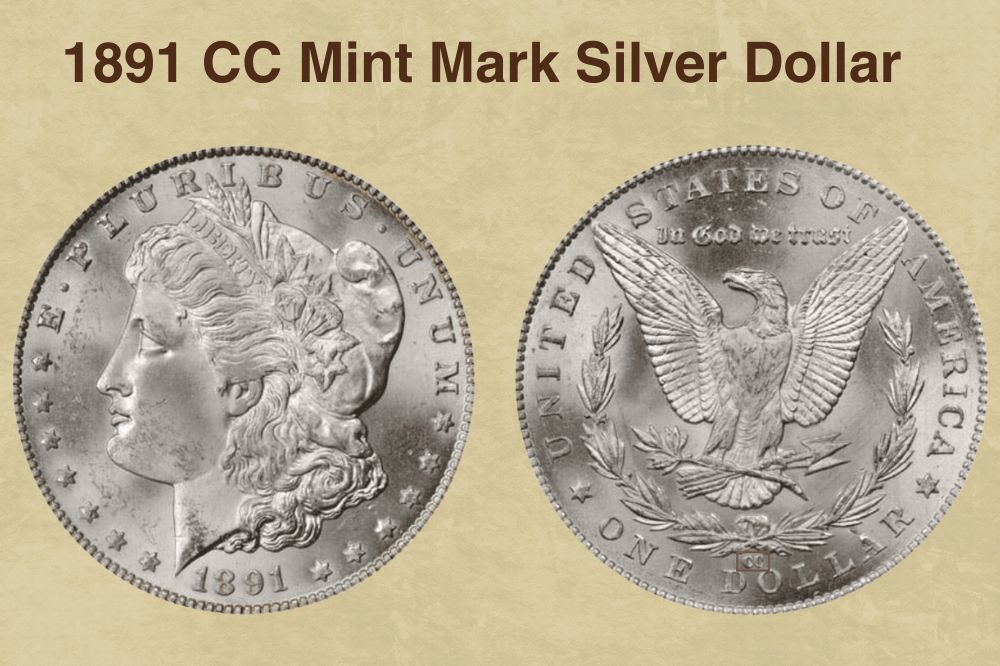 The frontier location of the Carson City Mint facility presented considerable logistical challenges for coin production. As a result, mintages were generally lower, and the CC mint mark is highly collectable.
Just 1.6 million silver dollars were struck there in 1891. Values for standard examples start at around $150 for coins graded 2, and rise to $460 at XF45.
Mint state coins start at $725 (MS60). The finest known standard coin is graded MS67 and valued at $65,000.
Prooflike examples range from $700 (AU58 – "about uncirculated") to $235,000 for the sole example at MS68. And for DIMPLs, the range is from $900 at MS60 to $65,000 at MS65.
1891 O Silver Dollar Value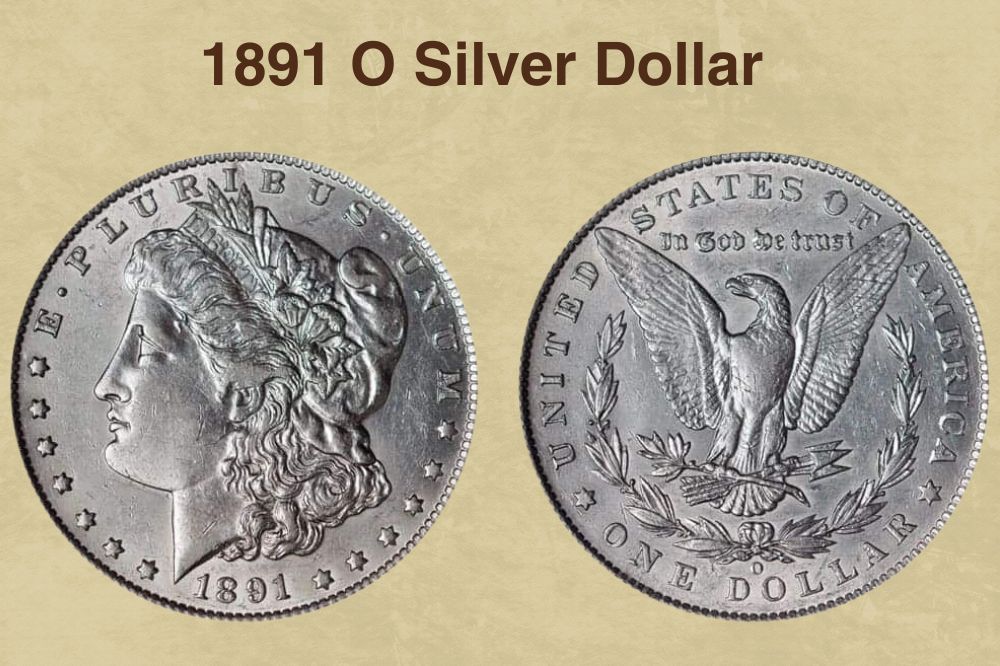 Around 800,000 of the 8 million silver dollars struck at New Orleans in 1891 are believed to still be in existence. Numbers for mint state coins are estimated at around 85,000, but fewer than 400 of those are gems, graded MS65 and above. And prooflike and DIMPL coins are few and far between.
Values start at around $30 for coins in the poorest condition. And the premium for coins valued 1 and 2 is no more than a couple of dollars.
An extremely fine XF45 1891 O dollar is valued by the PCGS at $45. Values jump at XF45+ (£70) and breach three figures at AU50. A mint state coin will be worth at least $260. And gem quality examples start at $5,250.
Best-in-class 1891 O dollars require deep pockets. Two coins are graded MS66, and they're each worth an eye-watering $125,000. The best prooflike examples are graded a point lower and are valued at $13,500. And the two finest DIMPL dollars, also MS65, are worth $55,000 apiece.
1891 S Silver Dollar Value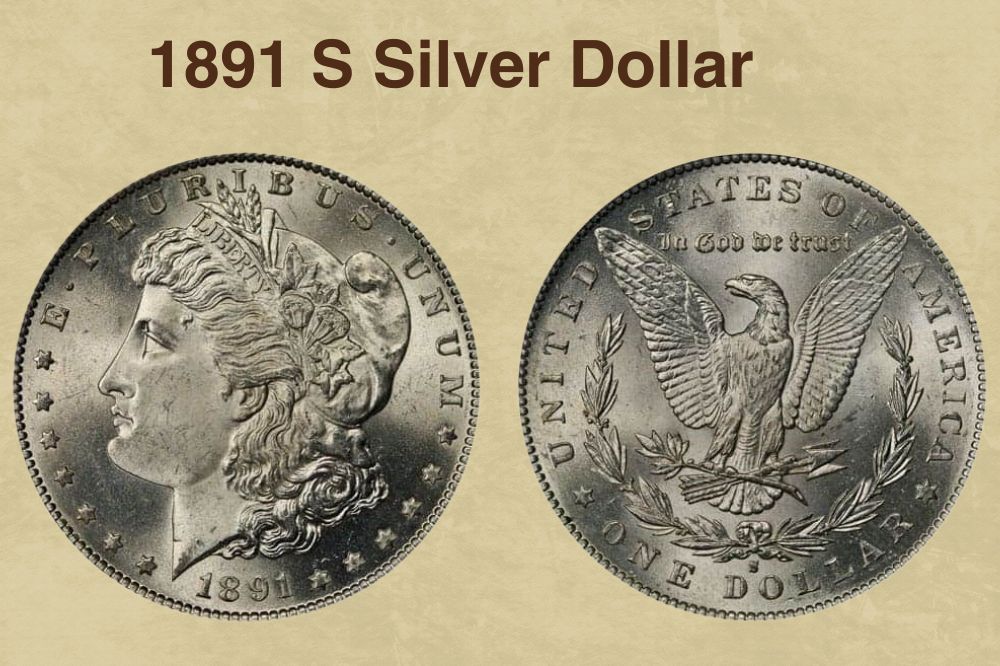 San Francisco dollars from 1891 can be identified by the "S" mint mark above the denomination.
Values start at around $35 for coins graded 3 or 4. An example graded 1 will set you back around $100, while one graded 2 is around half that.
Prices rise gradually through the circulated grades, peaking at $145 for a coin graded AU58+. Mint state examples start at $160, while a gem coin is worth at least ten times that.
The finest coin certified to date is a single example graded MS67+. The PCGS values that at a cool $33,500.
For prooflike and DIMPL coins, the highest grade is MS66. The former is valued at $10,000, and the latter at $37,500.
1891 (P) No Mint Mark Proof Silver Dollar Value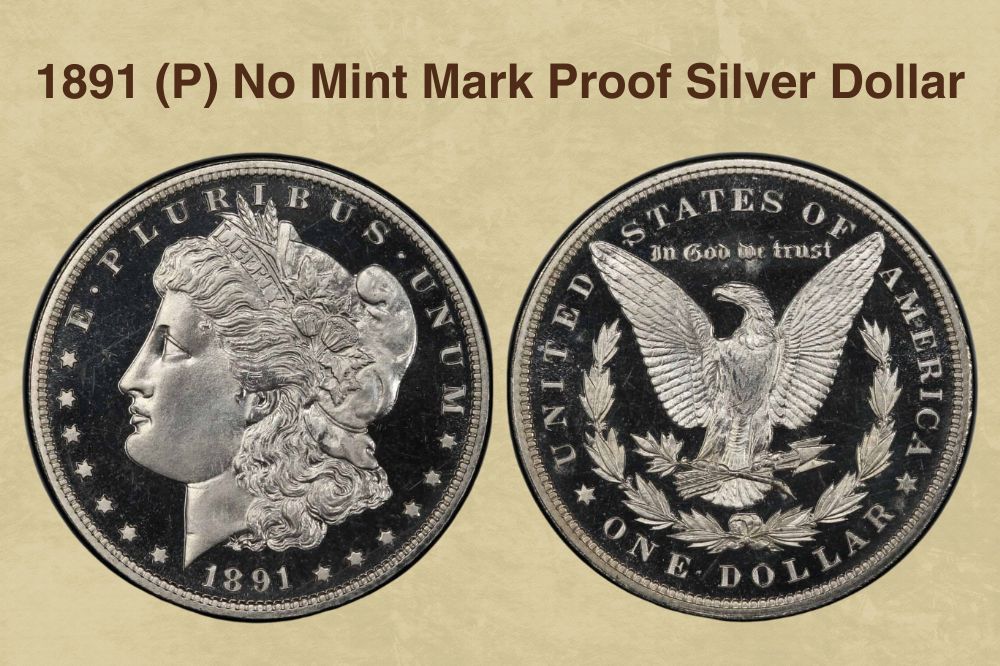 1891 saw the Philadelphia Mint facility produce both regular and proof silver dollars. The latter were minted in much smaller numbers – the total for the year was just 650 coins. That makes them very valuable.
Standard proofs start at $1,375 for coins graded AU55. That increases to $,200 at MS60, and $7,000 at MS65. Quality tops out at MS68, and a coin at that level is valued at $37,500.
Cameos start at $2,000 (MS60), rising to $10,500 at MS65. The finest are two coins graded MS68, each worth $60,000.
If you want a DIMPL coin, prices start at around $3,600 for an example graded MS61. Quality peaks at MS68, with a value of $75,000.
Also read: Top 10 Most Valuable Morgan Silver Dollar Worth Money
Rare 1891 Silver Dollar Errors List
1891 (P) No Mint Mark Silver Dollar, Doubled Ear and Mustache
Morgan dollars can be found in a number of different varieties, and the 1891 mintage is no exception. Amongst them is a variety known as the "doubled ear", coded VAM 2.
This doubling occurs because of an error during production of one of the dies used to strike the obverse design. Movement during the hubbing process resulted in a double line at the bottom of Liberty's earlobe. This was then transferred to the coins struck by the defective die.
Over time, the die developed a further crack that gave Liberty a mustachioed appearance. This error is coded VAM 2A, and is considerably rarer.
Values for the VAM 2A variety depend on the quality of the coin but start just north of $100. The finest example to have been certified so far is graded MS61 and worth around $3,500.
1891 CC Silver Dollar, Spitting Eagle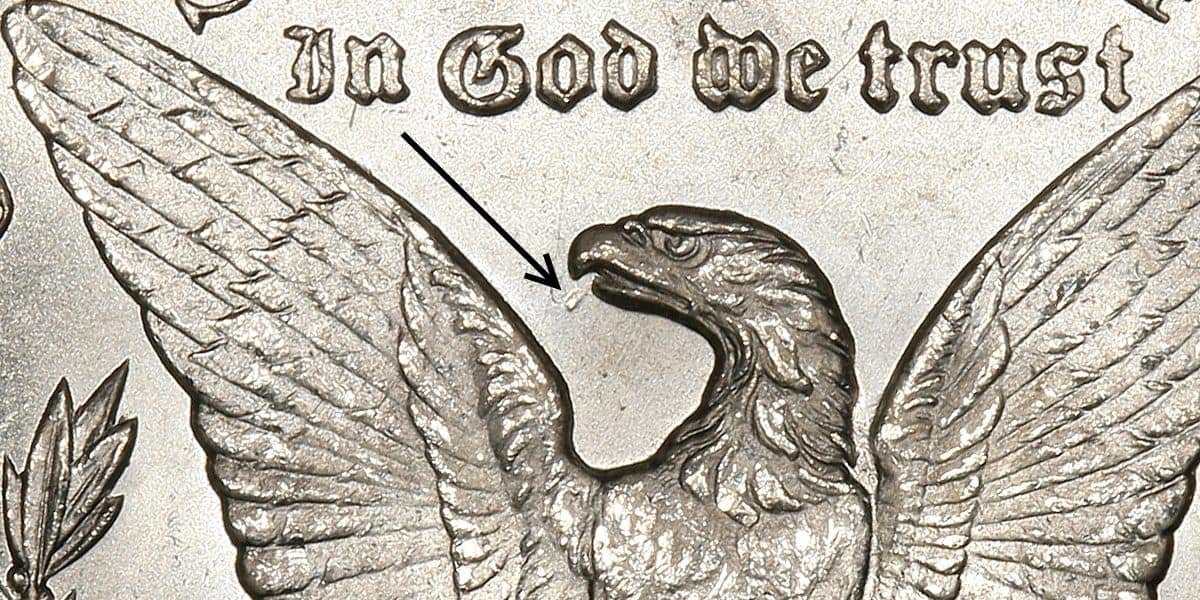 The Carson City Mint facility also produced a number of different varieties of 1891 dollars. Amongst the most distinctive is the one known as the "Spitting eagle". It gets its name from a mark on the die just to the side of the eagle's beak and is coded as VAM 3.
Values start at $160 for a coin graded 4. An uncirculated MS60 coin is worth around $800. And the finest known examples are two coins graded MS66+, valued by the PCGS at $45,000 each.
This YouTube video from Couch Collectibles looks at a number of different varieties amongst 1891 silver dollars.
FAQs
Where is the mint mark on a Morgan silver dollar?
If there is a mint mark, it will be on the reverse – the tails side of the coin. Look for a small letter just above the "D" and "O" of dollar.
If there's no letter, the coin was struck in Philadelphia, which didn't use mint marks at that time.
What makes an 1891 silver dollar rare?
Since around 90 per cent of 1891 silver dollars are believed to have been melted down, they are reasonably rare coins. But the rarest of all are proof coins, and those in the very finest condition. Coins with Mint errors are, by definition, rare too.
Prices for the rarest 1891 silver dollars can be tens of thousands of dollars. And the very finest New Orleans examples are worth an astonishing $125,000.