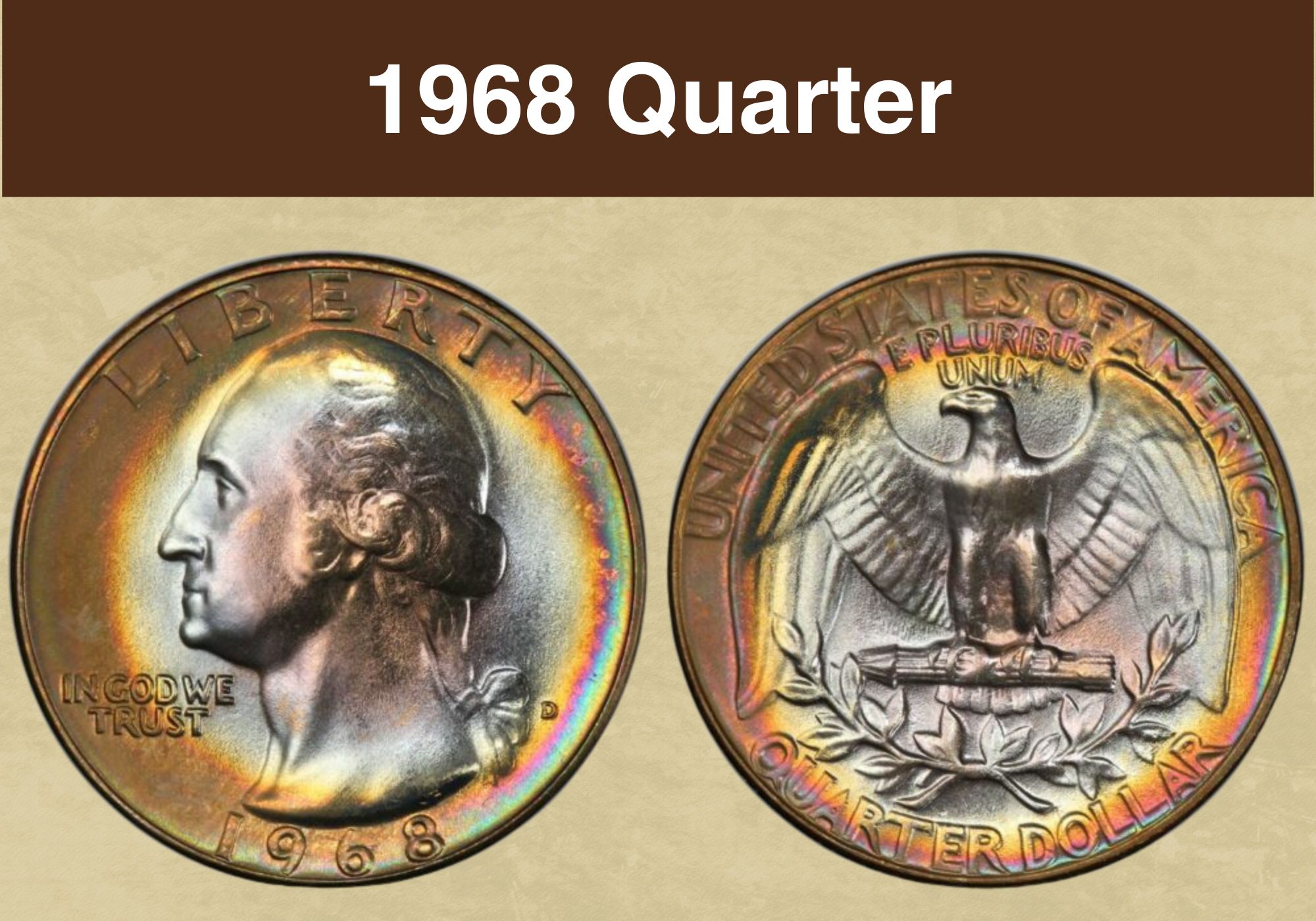 Are you considering selling your 1968 Washington quarter and want to know how much you can get for this old coin?
Do you plan to buy a 1968 quarter to add to your Washington coin collection?
Whatever your goal, you've come to the right place!
We wrote this guide to explain the 1968 quarter value. You will find out whether this relatively old coin is profitable and suitable for your collecting hobby.
Overall, Washington quarters are collectible, mostly for their historical value, given that the coins commemorate our country's first president, George Washington.
As you will discover, some 1968 Washington quarters can be worth hundreds or thousands of dollars depending on their condition. Some with errors can be worth a fortune if you know what to look for!
So, let's jump in and find out: how much is a 1968 quarter worth today?
1968 Quarter Value Chart

Mint Mark
Good
Fine
Extremely Fine
Uncirculated
1968 No-Mint Mark Quarter Value
$0.30
$0.30
$0.30
$3,750
1968-D Quarter Value
$0.30
$0.30
$0.30
$1,100
1968-S Proof Quarter Value
–
–
–
$35
The History of the 1968 Quarter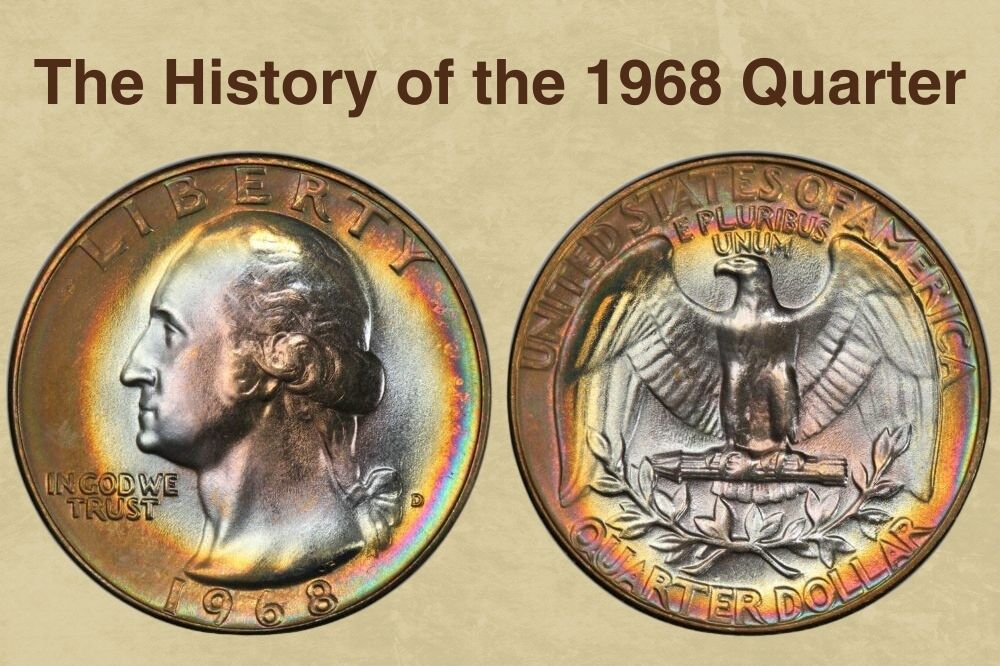 The Washington quarter was first struck in 1932 to commemorate George Washington's bicentennial birth anniversary.
Congress established a Bicentennial Committee to organize the celebrations, including making plans for a new coin in memory and honor of our country's first president.
The Committee proposed that the new Washington coin replace the Walking Liberty half dollar only for 1932. But Congress was adamant about permanently replacing the Standing Liberty quarter with a quarter depicting Washington's portrait on the obverse.
As part of the preparations, the Committee had engaged sculptor Lauren Fraser to design a commemorative presidential medal and thought she would also be a good choice for designing the new Washington quarter.
The Commission of Fine Arts supported Fraser's work, but Treasury Secretary Andrew Melon had the last say. Mellon rejected Fraser as the Committee and Commission's choice and instead held a new competition to find a designer.
In the end, Treasury chose John Flanagan as the designer for the Washington quarters. The Mint officially released the new quarters into circulation in August 1932.
The Washington quarters comprised 95 percent silver and only 5 percent, with this composition continuing until 1964, when the Mint began striking quarters in a copper-nickel alloy.
The coin's design has generally remained the same except for the dates 1975-1976, when all pieces showed the double date, 1776 to 1976, in celebration of the United States Bicentennial. Washington's bust on the obverse was reduced in size in 1999; these were small changes, but the coin's design, including those struck in 1968, are generally as in 1932.
Also read: Top 13 Most Valuable State Quarters Worth Money
The Features of the 1968 Quarter
In this section, we'll explore the unique features of the 1968 quarter. Knowing how your Washington quarter looks will help you identify the 1968 quarters worth good money.
The Obverse of the 1968 Quarter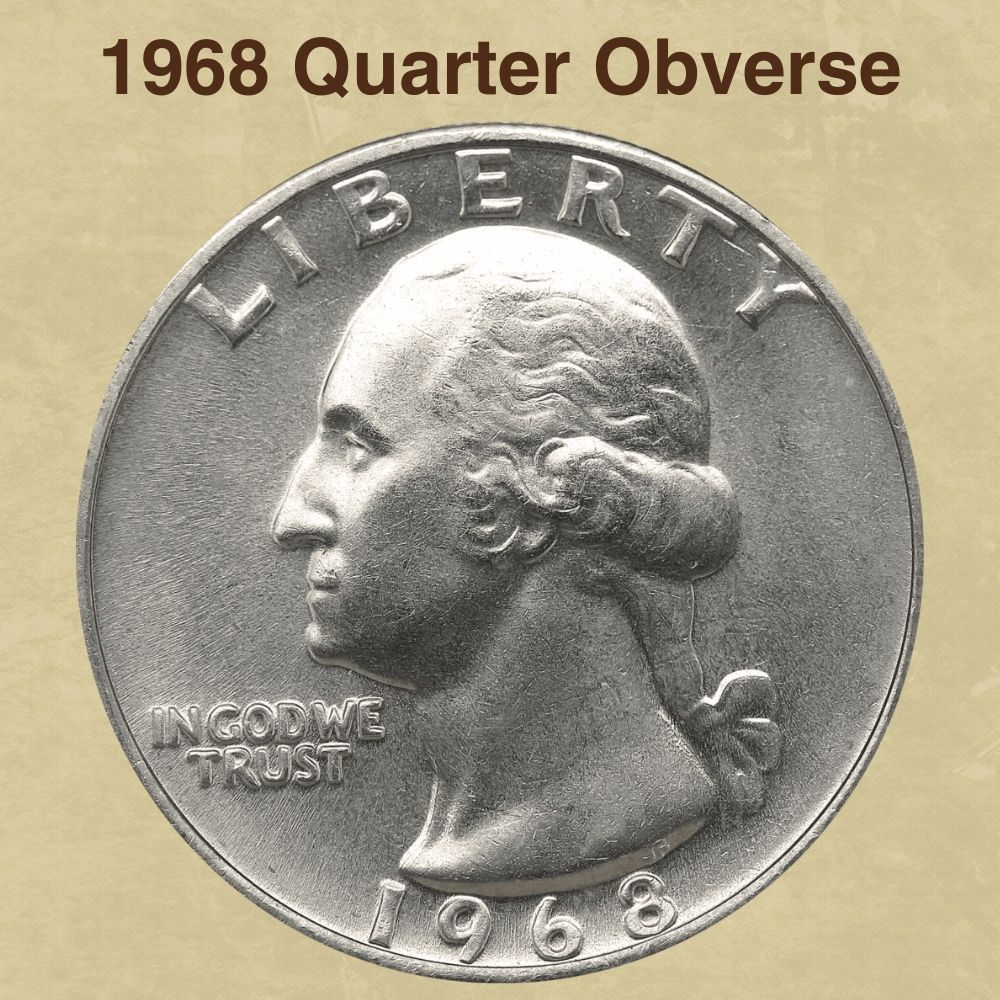 The obverse of the 1968 is quite simple, prominently featuring Washington's left-facing bust, in which he holds his hair in a low ponytail.
The word LIBERTY boldly appears at the top around the rim. Directly opposite, at the bottom, you will see the year date, 1968.
Our country's heavenly motto, IN GOD WE TRUST, is shown on the left, completing the features on the coin's obverse.
The Reverse of the 1968 Quarter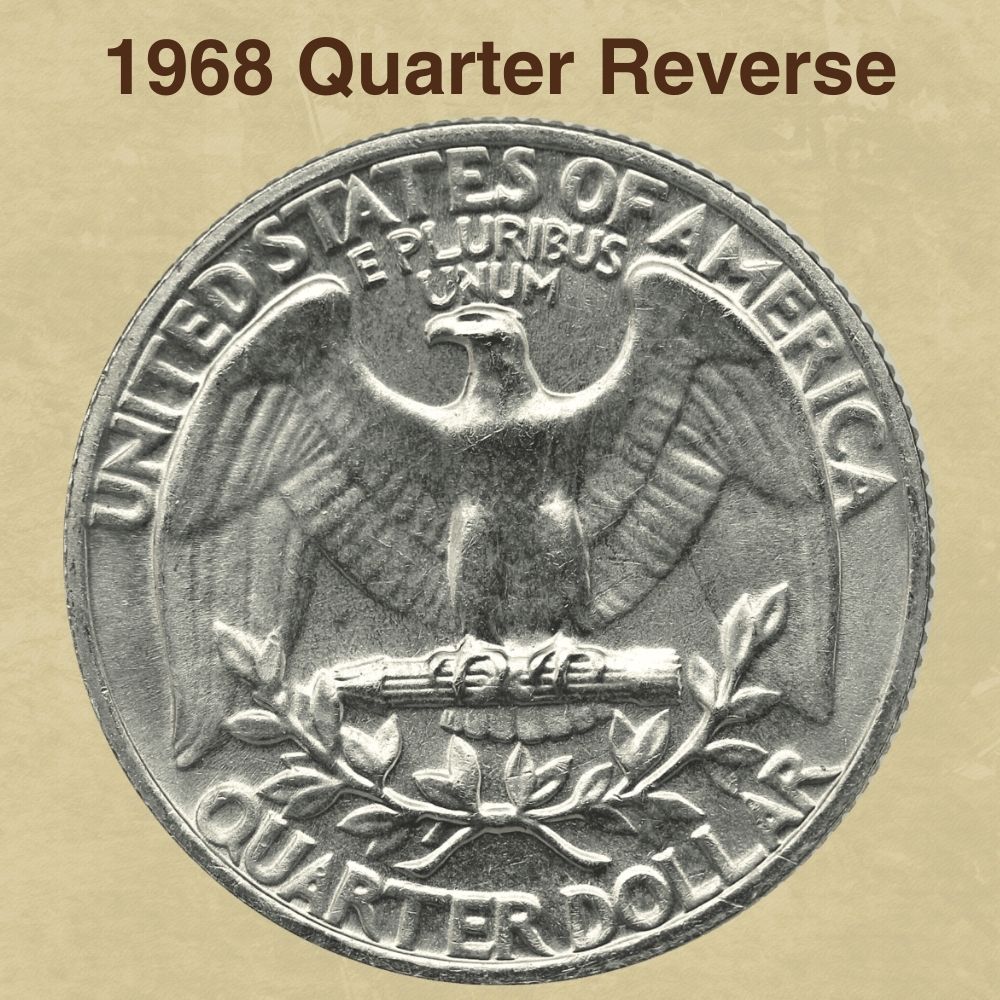 The reverse of the 1968 quarter is more detailed.
First, you will see a portrait of the balding eagle, America's national symbol, which takes up most of the coin's surface.
The bird has its wing majestically spread out and is perched on a bundle of arrows. The arrows represent readiness to defend the country's sovereignty.
Right underneath the eagle is an olive branch, symbolizing peace.
At the top, you will see the words UNITED STATES OF AMERICA imprinted along the inner rim. This is followed by the E PLURIBUS UNUM motto above the eagle's head.
The coin's denomination, QUARTER DOLLAR, appears at the bottom along the rim.
Other Features of the 1968 Quarter
The Washington quarters struck in 1968 comprise a copper core clad in 75% Copper and 25% Nickel.
This coin is relatively large, measuring 24.30 millimeters and weighing 5.67 grams. It has a reeded rim.
The 1968 quarter was minted in Philadelphia, Denver, and San Francisco, but only those from Denver have a mint mark. You will notice the mark D on the obverse, to the right, close to Washington's ponytail.
1968 Quarter Grading
Washington quarters, including those struck in 1968, are collectible and valuable, especially in gem condition. Circulated examples are typically very won, and you will get better value for money on uncirculated quarters.
Full mint luster is one of the first considerations when grading your 1968 quarter. Examine the coin under a single light source, checking that there are no breaks in the luster for the coin to qualify as uncirculated.
There are several high points to pay attention to. On the obverse, check for full luster at the top of Washington's head, curly hair around his ear, and the cheeks. An uncirculated quarter in mint state should have no signs of dulling, especially in the above spots.
On the reverse, inspect high points such as breast feathers, legs, and the wing's upper edges. These areas will have full luster coverage in an uncirculated quarter.
| # | Grade |
| --- | --- |
| 1 | Basal State-1 |
| 2 | Fair |
| 3 | Very Fair |
| 4, 5, 6 | Good |
| 7, 8, 10 | Very Good |
| 12, 15 | Fine |
| 20, 30 | Very Fine |
| 40 | Extremely Fine |
| 50 | About Uncirculated |
| 60 | Mint State |
| 65 | Mint State |
| 70 | Mint State |
Please check our grading guides to know your coin scale, It's the necessary step to know the exact value of your coin.
Check out now: How to Grade Washington Quarter?
1968 Quarter Value Guides
So, how much is a 1968 Washington quarter worth?
The value of your 1968 quarter will depend on factors such as the condition, mint mark, rarity, and error varieties.
Overall, 1968 quarters in uncirculated, gem condition are rare, but these coins are worth much more than circulated ones in or below average condition.
High mintages in this series, such as those from Philadelphia, tend to be worth less than their lower mintage counterparts from Denver and San Francisco.
There are three varieties of the 1968 quarter, and we will look at each value below. The varieties are the following:
1968 No-Mint Mark Quarter
1968-D Quarter
1968-S Proof Quarter
1968 No-Mint Mark Quarter Value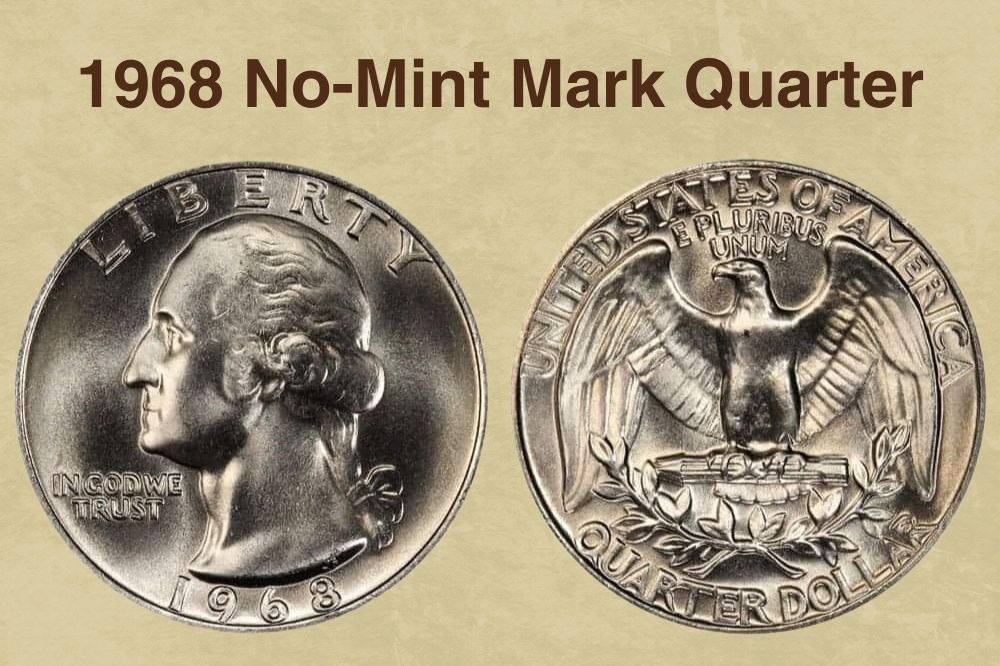 The mint in Philadelphia had the highest mintage, producing approximately 220,731,500 quarters in 1968. Due to the high mintage, you can easily find these relatively old coins in circulation, though most will be worn.
The high mintage also means the 1968 no-mint mark quarter is worth more or less its face value in circulated condition.
In particular, circulated 1968 no-mint mark quarters will fetch between $0.30 and $0.85, which is very pocket-friendly even for new collectors.
Low-grade mint state examples are equally affordable because they are widely available. For example, you can get one designated MS62 for only $4 and a brilliant MS66 for just $35.
Gem-quality 1968 no-mint mark Washington quarters are extremely rare and will typically fetch a fortune if you are lucky enough to come across one. One graded MS67 would bring in as much as $3,750.
An extremely rare 1968 quarter graded MS68 from Philadelphia was auctioned for a whopping $9,400 at a 2013 Heritage Auctions.
1968-D Quarter Value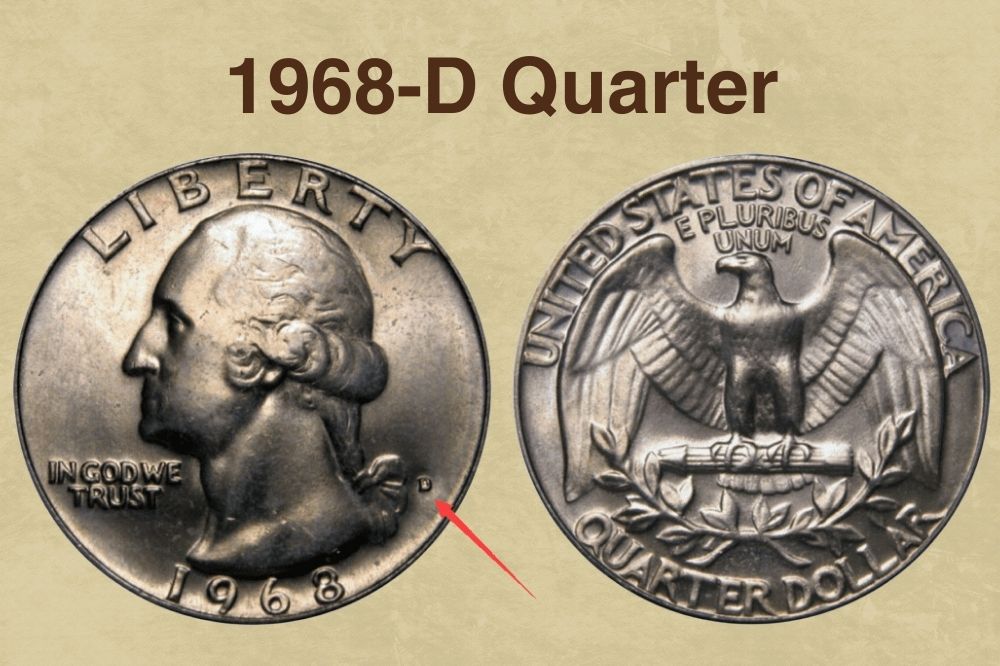 The Denver minting facility made about 101,534,000 quarters in 1968. Although these may seem like many coins, the 1968-D quarter has the lowest mintage for Washington quarters struck since 1965.
That said, this date is fairly common and affordable across all grades. Examples become scarce starting from MS65 onward.
According to the Professional Coin Grading Service (PCGS), there are only 200 surviving examples of MS67 quarters and less than a dozen MS68, none of which is finer.
Your 1968-D quarter is worth between $0.30 and $0.85 in circulated condition, like their Philadelphia counterparts. Examples designated mint state are very affordable, and you can acquire an MS65 quarter for only $10 and an MS67 for just $50.
As mentioned, gem-quality examples are extremely rare, with the few existing examples valued at a premium. For example, a 1968-D quarter-graded MS68 can fetch up to $1,100.
The most expensive example to date is a 1968-D quarter graded MS68. A collector parted with $8,813 at a 2013 Heritage Auction sale to acquire this beautiful and rare specimen.
1968-S Proof Quarter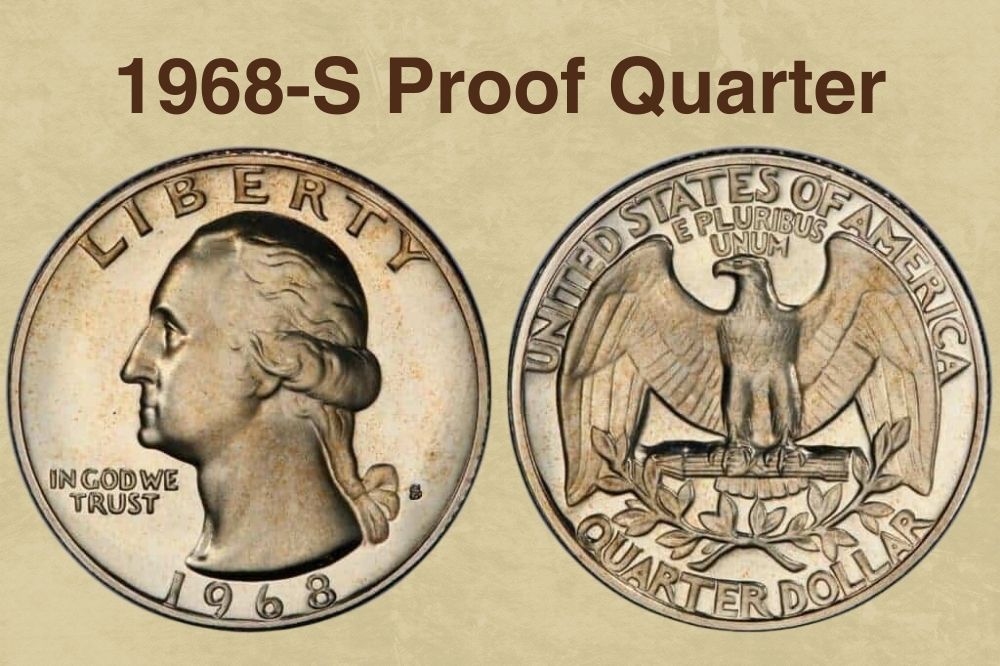 The San Francisco mint produced only proof coins made for collectors. About 3,041,506 1968-S proof quarters came from this facility.
Proof coins are made using special dies, producing high-luster coins with sharp details and frosted surfaces. Coming in Cameo and Deep Cameo surfaces, the 1968 proof quarters are an excellent addition to your collection.
It is worthwhile noting that this is the scarcest date in the 1960s Washington quarters series with PF68 and PF69 Deep Cameo examples, with fewer than a hundred and 50 existing specimens, respectively.
Interestingly, 1968-S proof quarters are accessible even to newbie collectors, with examples costing between $10 and $35.
Cameo and Deep Cameo 1968 proof quarters will definitely cost more. The most expensive specimen to date, graded PF69, was sold at a Heritage Auctions sale in 2007 for $2,875.
Also read: Top 16 Most Valuable Modern Quarters Worth Money
Rare 1968 Quarter Errors List
The 1968 quarters were generally well-struck, but a few errors are inevitable during the minting process. The upside is that some errors can increase the value of your Washington quarters. So, if you have an odd-looking coin, you might want to check if it is worth money.
Here are some common 1968 quarter errors to look out for:
1968 Filled-In Mint Mark Quarter Error
Coins with mint marks are already popular among collectors, so when there is an anomaly related to the mint mark, the chances are good that it will create a lot of buzz.
That's the case with the 1968 filled-in mint mark quarter error in which the small space in the D is filled in with the coin metal, so it appears like a raised dot.
Collectors will pay as much as $100 for the fill-in mint mark error on 1968 Washington quarters.
1968 Quarter Struck on A Silver Planchet Error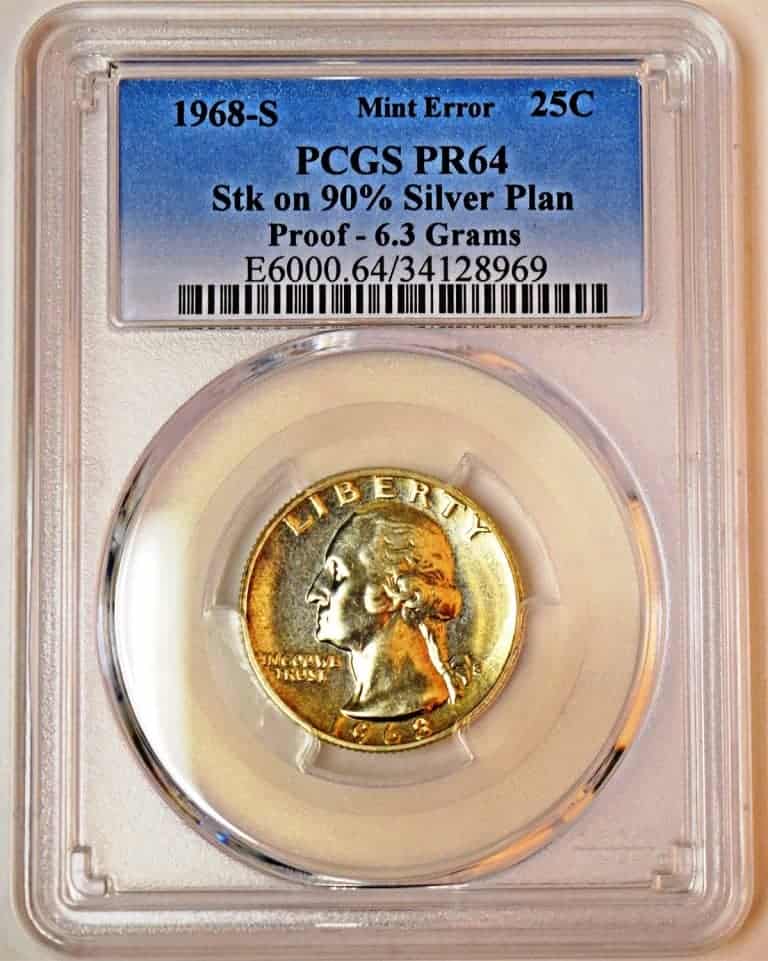 This is one of the most special and highly sought-after errors in the 1968 quarter series. The United States Mint stopped producing quarters using silver in 1965, instead shifting to a copper-nickel alloy.
So, when a 1968 quarter is struck on silver planchet, it is bound to pique collectors' interests. It is unclear how this error happened, but it is likely that a silver planchet left over in the hubs made its way to the collar and in between the dies and was struck using 1968 dies.
This error is rare, with only a few known examples existing. Unsurprisingly, collectors are willing to pay thousands of dollars for this error.
1968 Off-Center Quarter Error
Off-center errors occur when the design elements are struck away from the center, cutting some details off.
The value of an off-center error depends on the off percentage, with off-center strikes that are 50% or more being more valuable.
In the case of the 1968 quarter, the off-center error is more common among coins struck at the Philadelphia mint. The obverse design details, including Washington's portrait, date, and inscriptions, are about 50% off-center.
If you come across a 1968 quarter with an off-center strike, it might earn you up to $150.
1968 Doubled Die Error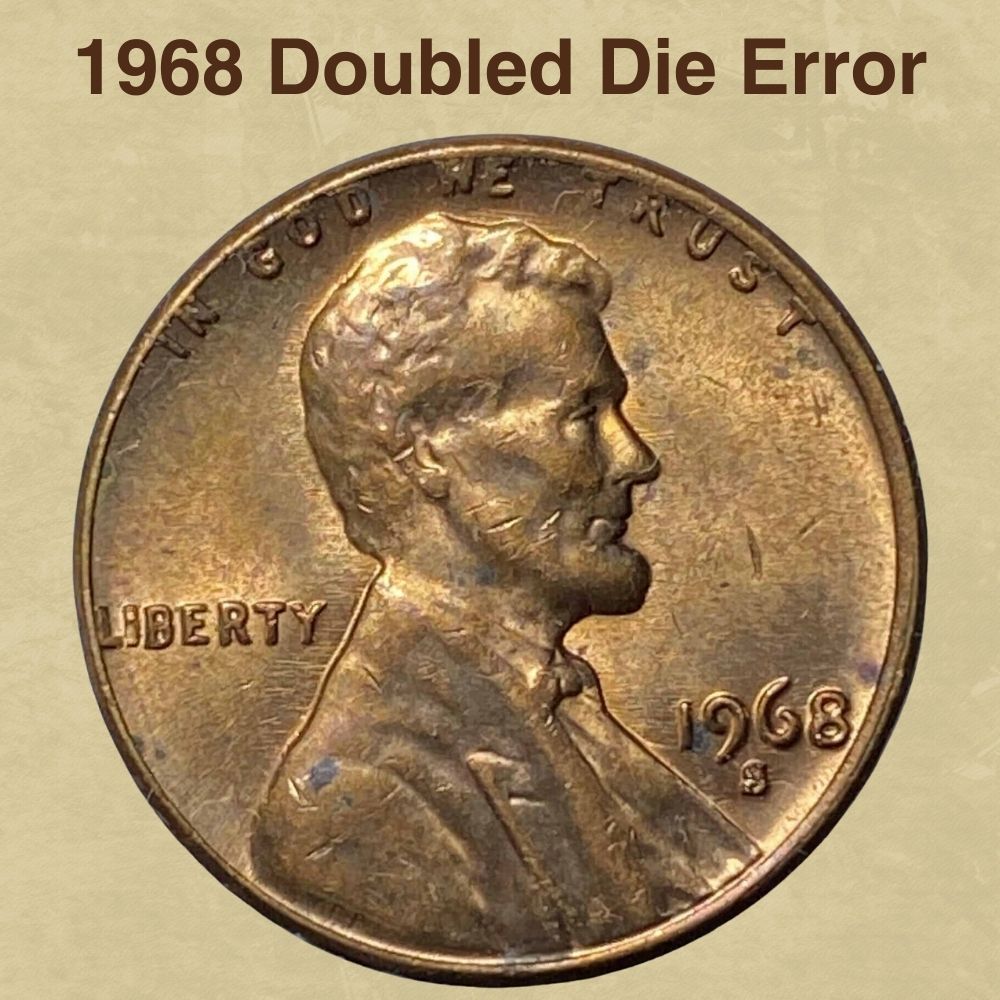 The doubled die is another error commonly seen in the 1968 Washington quarters.
This error occurs when a misaligned die strikes the planchet multiple times, doubling the design elements transferred to the planchet.
You will notice a doubling on the phrase IN GOD WE TRUST and the date on the obverse. On the reverse, doubling is also visible on the inscriptions and along the edges of the eagle's wings.
A 1968 doubled die quarter error is worth between $20 and $190, depending on the coin's condition.
Also read: 17 Most Valuable Quarter Errors Worth Money
Where to Sell Your 1968 Quarter ?
Now that you know the value of your coins, do you know where to sell those coins online easily? Don't worry, I've compiled a list of these sites, including their introduction, pros, and cons.
Check out now: Best Places To Sell Coins Online (Pros & Cons)
FAQ
Do all 1968 quarters have mint marks?
No. Although all three minting facilities—Philadelphia, Denver, and San Francisco produced quarters in 1968, only the coins from Denver have a mint mark. This mark appears on the obverse next to Washington's ponytail.
What is special about the 1968 quarter?
Despite being as collectible as other Washington quarters, there is nothing particularly special about the 1968 quarter. This date is readily available in all grades and is affordable to boot, even in mint state. That said, what stands out about this date is the S-on-D error, a big point of fascination among collectors.
Is the 1968 quarter made of silver?
Contrary to popular belief, especially among newbie collectors, the 1968 quarter is not made of silver. The Mint stopped using silver to make quarters in 1965; all other quarters struck after that year comprised a copper core with 75% copper and 25% nickel cladding.