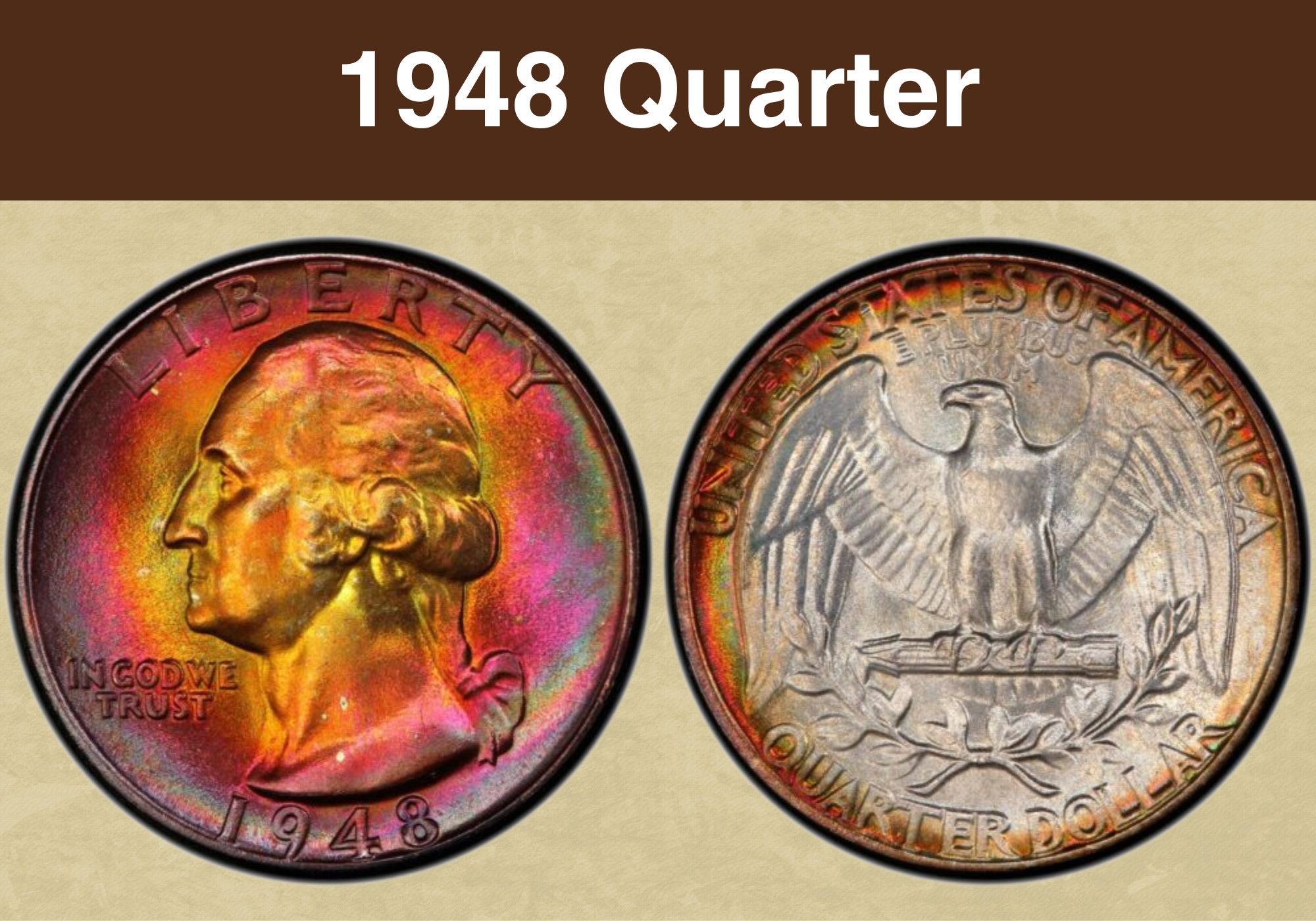 The first Washington quarters appeared in everyday circulation in 1932 as one-off coins with the purpose of marking an important date. It was two centuries after the first US President's birth.
Many collectors consider these specimens iconic, so you can expect the 1948 quarter value to be always higher than their official face value. Particularly costly are those from San Francisco in MS 68 grade. Let's take a look.
1948 quarter value Chart

Condition
1948 no mint mark quarter
1948 D quarter
1948 S quarter
Good
$8.76
$8.76
$8.76
Very good
$8.76
$8.76
$8.76
Fine
$8.76
$8.76
$8.76
Very fine
$8.76
$8.76
$8.76
Extra fine
$8.76
$8.76
$8.76
AU
$10.16
$10.16
$10.16
MS 60
$12
$16
$12
MS 65
$29
$54
$44
History of the 1948 Washington Quarter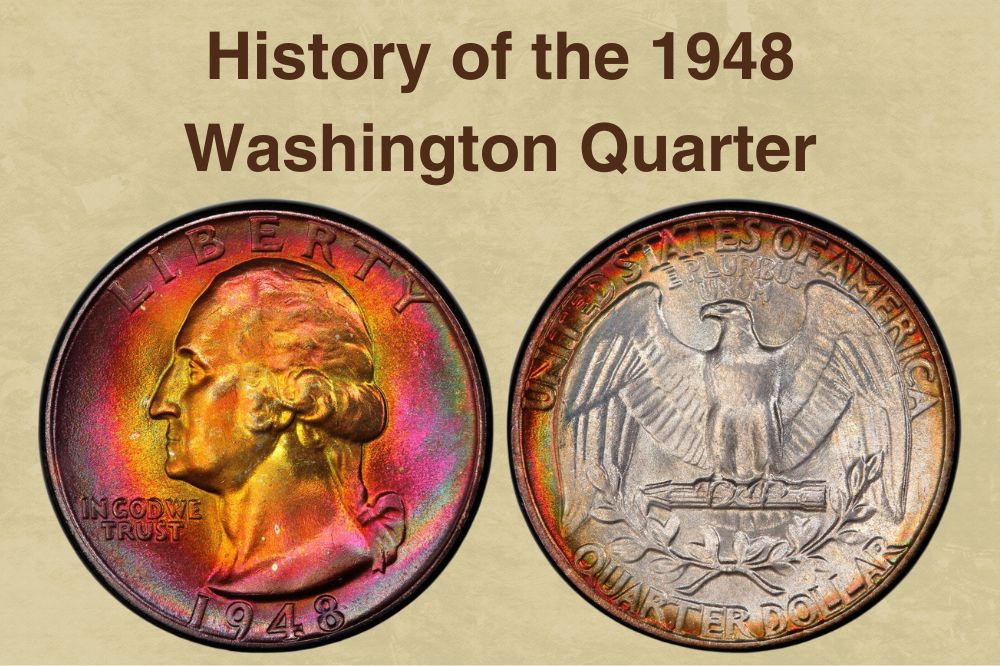 The Standing Liberty quarters went into history after the US Mint issued them from 1916 to 1930, and it was time for a new design. Officials decided to repeat the popularity of the Lincoln cent and surprise Americans with one more coin with the President on the obverse.
Since Washington was born on February 22, 1732, and his 200th birth anniversary came close, it was an excellent moment for silver commemorative coins. Despite the initial idea, new quarters came to stay as circulated pieces.
1948 quarter Types

Location
Year
Minted
Philadelphia
1948 quarter (No Mint mark)
35,196,000
San Francisco
1948 S quarter
15,960,000
Denver
1948 D quarter
16,766,800
Total
/
67,922,800
The US Mint started with silver quarters but replaced them with clad version in 1965. These clad coins were actual until 1998, when the State quarters' minting started and lasted until 2008.
Since then, several coin reverse designs have been changed. On the other hand, the Washington bust has stayed on the obverse until today with only a few improvements in appearance.
Also read: Top 13 Most Valuable State Quarters Worth Money
Features of the 1948 Washington Quarter
Crucial features of the 1948 Washington quarters include John Flanagan's obverse and reverse designs. Besides, there are coins' composition and standard measurements for each piece. Unlike modern coinage, all quarters minted from 1932 to 1965, including those from 1948, were made of silver.
The obverse of the 1948 Washington Quarter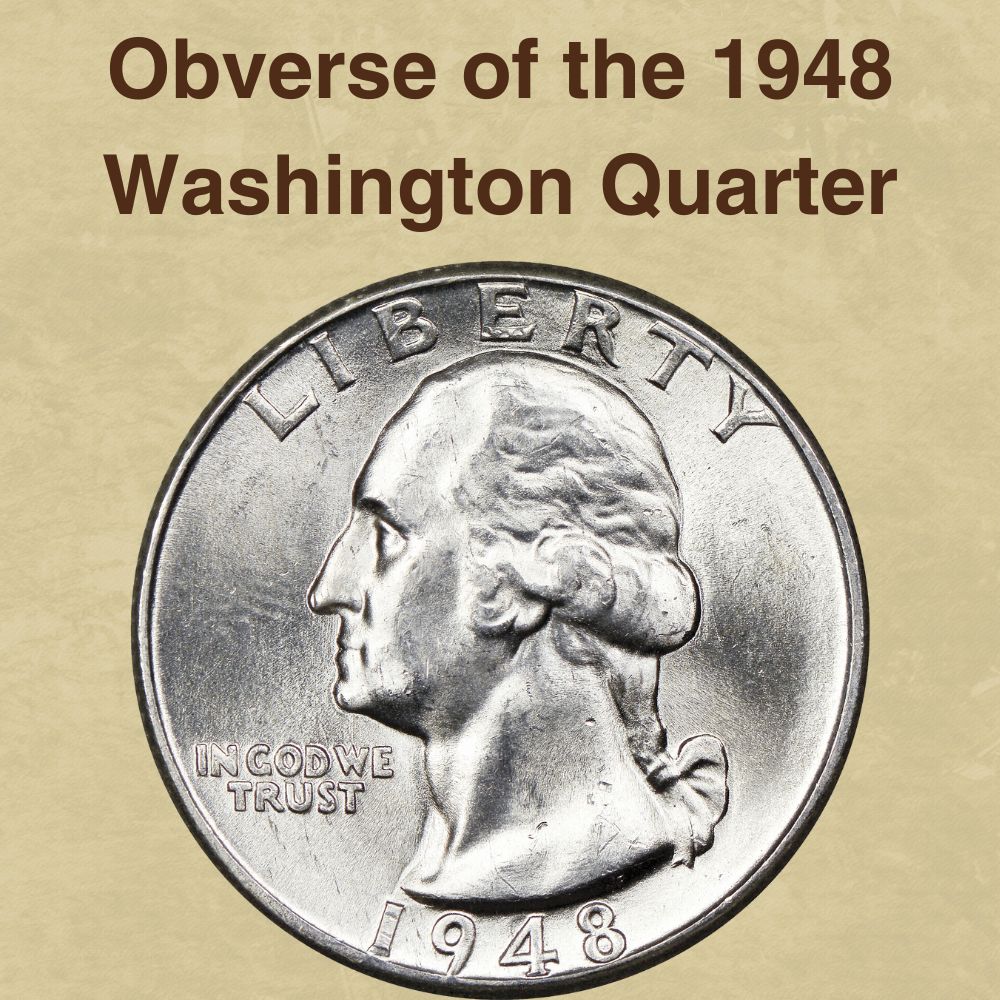 The 1948 quarters have a standard obverse look with George Washington in the central position, which is typical for this type of coin. The LIBERTY word occupies the edge and the date of the set's minting. Finally, a designer added – IN GOD WE TRUST in front of the President's neck.
The reverse of the 1948 Washington Quarter
An image of a proud eagle is on the 1948 quarter reverse. Its outstretched wings occupy most of the space, while a Latin motto broken in two rows and the full name of the US are engraved above.
The bottom coin half is reserved for arrows in eagle's claws, a wreath made of olive twigs, and a denomination. Quarters coming from two mints of three have a small letter under a bow, representing the mint mark.
1948 quarter Details

Face value
Twenty-five cents ($0.25)
Compound
90% silver
Silver weight
5.623 g (0.1808 troy ounces)
Coin weight
6.25 g (0.20094 troy ounces)
Shape
Round
Coin thickness
1.75 mm (0.06870 inches)
Edge
Reeded
Coin diameter
24.3 mm (0.95669 inches)
Other features of the 1948 Washington quarter
The 1948 quarters are silver coins with a face value of $0.25. Each piece weighs 6.25 g (0.20094 troy ounces). Since the compound is 90% silver, the precious metal share is 5.623 g (0.1808 troy ounces).
The remaining 10% is copper. You can expect these coins to have a diameter of 24.3 mm (0.95669 inches) while their thickness is 1.75 mm (0.06870 inches).
Also read: Top 16 Most Valuable Modern Quarters Worth Money
1948 Quarter Value Guides
The 1948 quarter mintage was precisely 67,922,800 coins produced in three mints. All pieces were from regular strikes since the US Mint didn't plan to issue proof coins for collectors from 1942 to 1950.
1948 No mint mark quarter Value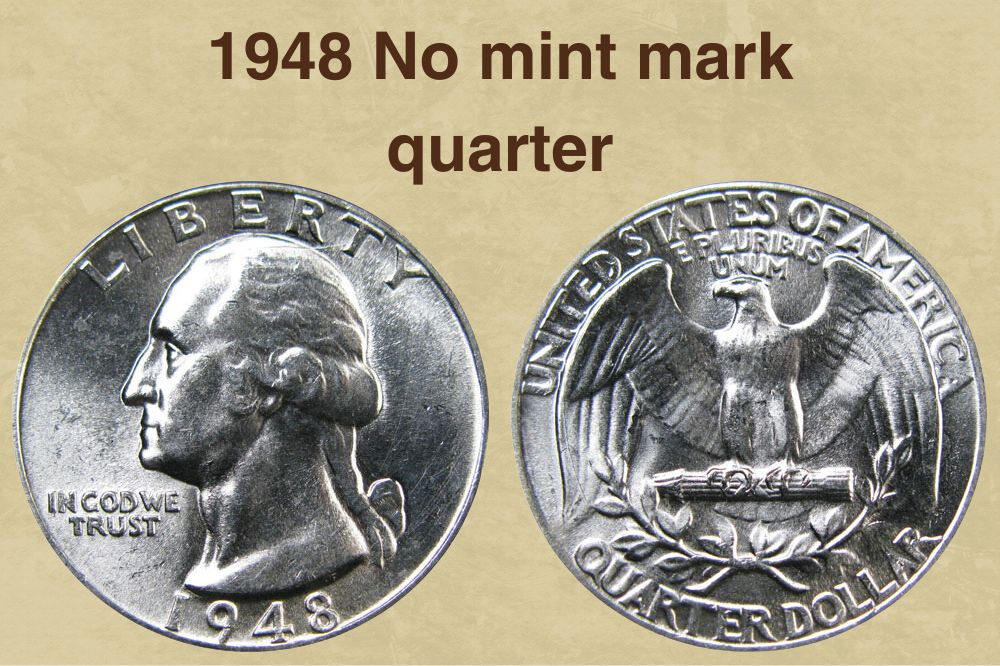 With 35,196,000 produced No Mint mark quarters, the Philadelphia mint had the highest mintage in 1948. The current value of circulated coins is from $5 to $6, while those that never spent time in circulation cost a bit more.
So, you can buy one coin in the mint state (MS 60 to MS 65) for $7 to $25, while those ranked MS 66 cost $40 to $50. Expectingly, the most expensive are quarters in MS 67 grade, with an estimated price range from $115 to $180.
The real surprise is the price of $43,200 paid for one 1948 Washington quarter with an MS 68+ rating. One collector made a decision to purchase this piece on March 31, 2021, at Stack's Bowers.
1948 D quarter value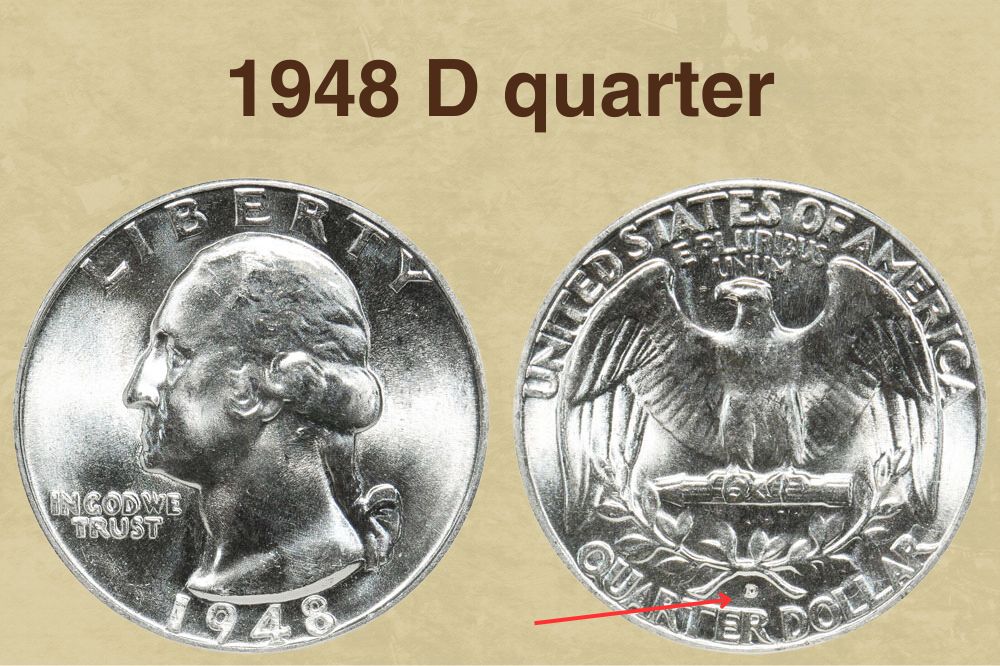 The mints in Denver and San Francisco had similar mintages in 1948, but the one in Denver produced a bit more quarters, 16,766,800. Most pieces used for everyday transactions are now available at $5 to $6.
However, you should set aside about $7 to $55 for most uncirculated specimens with the D mint mark from this set. Only the best-preserved coins cost more, and you can count on:
$240 to $360 for 1948 quarters in MS 67 grade
$3,000 to $3,600 for 1948 quarters in MS 68 grade
The auction record for one 1948 MS 67+ Washington quarter from Denver is a fantastic $8,050. This price was reached at Heritage Auctions on April 18, 2012.
1948 S quarter value
As is often the case, the San Francisco released into circulation the lowest number of coins in 1948. The total mintage was 15,960,000 quarters with the letter S on the reverse bottom.
You can now find one of these coins in circulated condition for $5 to $6, while the price of uncirculated pieces depends on their appearance and perfection level. Most quarters are in a group of MS 60 to MS 66-graded coins, and their average prices range from $7 to $85.
On the other hand, ultimately-preserved specimens are costly. For instance, you should count on approximately $160 to $250 for MS 67-rated quarters, while scarce specimens in MS 68 grade are worth $11,000 to $13,500. One of these coins won an auction record in 2013 after sold at $23,500.
Also read: 17 Most Valuable Quarter Errors Worth Money
1948 Washington Quarter Grading
A critical thing for each numismatist is to understand grading standards and the way to determine each coin's quality and consequential price. If you have the 1948 quarter and want to know how much money you can get for it, the first step is to determine its appearance.
Then, you should look for the mint mark's existence or absence, check the quality of your coin, and possible imperfections on its surface. Only then can you place your quarter in an adequate place on the Sheldon scale from 1 to 70, which determines its value.
Rare 1948 Quarter Errors List
You can recognize a few errors in the 1948 quarter set. However, it seems that coins minted in Denver that year are more collectible than those coming from the other two mints. Most quarters without the mint mark are of low appearance because of a lack of minting quality in the Philadelphia mint in 1948.
Re-punched mint mark
In old times, workers punched letters representing the mint mark with their hands. Each uncertain stroke resulted in a letter placed in the wrong direction or an inadequate place. In such cases, the practical way to correct such an imperfection was to re-punch the same sign once more.
A few 1948 quarters came to the market with this error. Since these pieces are rare, they are desirable for most collectors.
These sought-after coins can cost several hundred dollars, while the most expensive is one 1948 S/S RPM quarter ranked MS 64. It won the auction record of $4,000 on March 29, 2018.
Doubled die obverse
The most noticeable error among the 1948 quarters minted in San Francisco is the S Over S. It resulted from the flaw die with doubling on the surface. It leaves this impression on the planchet, leaving the letter S in the State's name with fuzzy edges. One owner offers his DDO error coin for $1,200 on eBay.
Off-center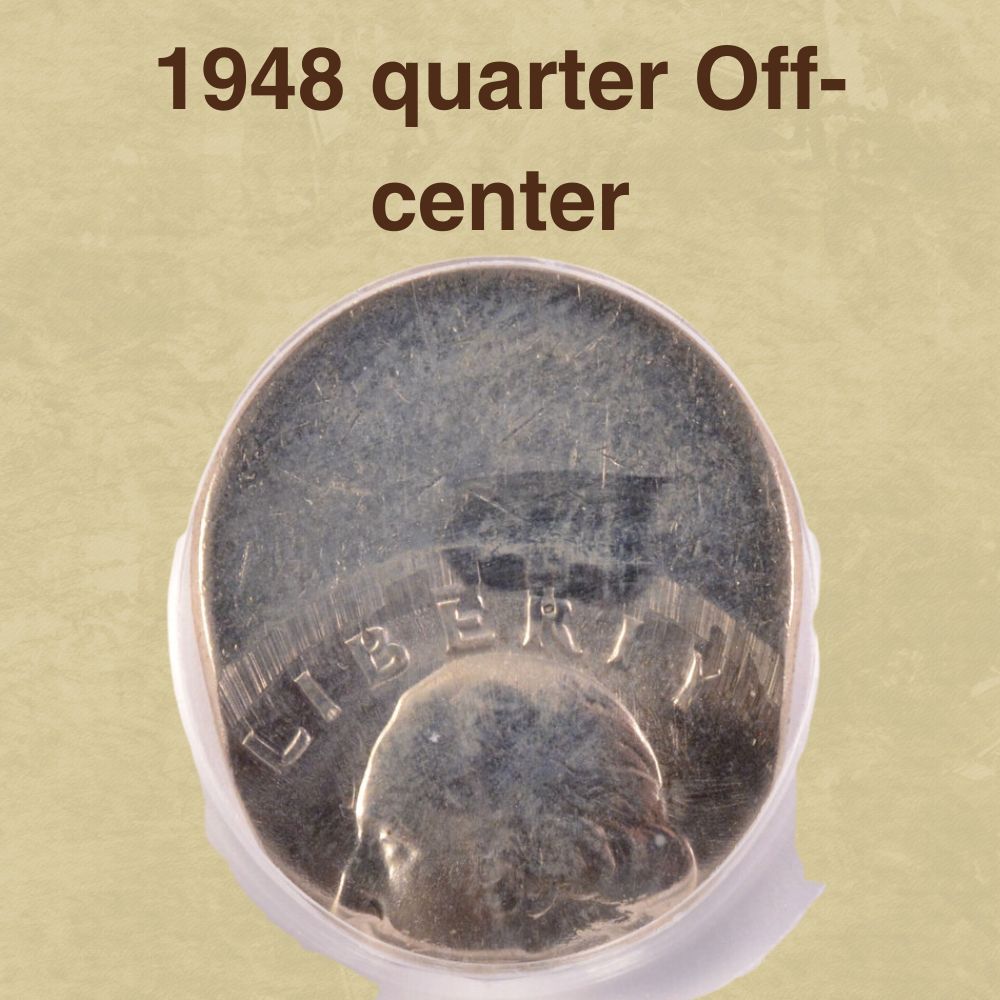 When a planchet comes into the coining press improperly for some reason, the result is a coin with an off-center strike. Since the deviation can vary, you can recognize quarters with 3% to 90% off-center. This type of error is rare in the 1948 set, and such coins cost differently, depending on imperfection severity.
Clipped planchet
A clipped planchet error leads to the appearance of quarters with one or two cuts on the edge. The clipped planchet can have a straight, irregular, or curved piece of edge of a different size. Sometimes, the cut is so prominent that a coin comes without the part of the design.
Die crack
This error occurrence is connected with a crack on the die surface. This flaw resulted from its wear and tear over time. When such a die struck a blank planchet, it left a raised line or spiderweb pattern on the future quarter. You can get a different sum for such a coin, depending on the error severity.
Broad strike
A quarter with broadstrike error was struck inside the damaged or broken collar. Therefore, it deviates from the standard measurements for that kind of coin. It is actually thinner and wider than regular specimens.
Strike-through
Imperfect strike-through quarters occur when a not-belonging object gets struck between the die and blank at the time of striking.
Sometimes, you can come across a quarter with a visible imprint of metal shavings, a staple, grease, or cloth. Determining their value is tricky because many factors affect it.
FAQ about the 1948 Washington Quarter
What makes a 1948 quarter rare?
Since only 519 quarters minted in Philadelphia in 1948 are rated at MS 67 and above, you can consider these coins conditionally rare. Specimens from the other two mints had a significantly lower mintage, but they are still not a great rarity except for those in Gem condition.
Which 1948 quarter is worth a lot of money?
The costliest Washington quarter from Philadelphia became the 1948 MS 68+ coin after selling at $43,200 at Stack's Bowers in 2021
The costliest Washington quarter from San Francisco became the 1948 S MS 68 CAC coin after selling at $23,500 at Heritage Auctions in 2013
The costliest Washington quarter from Denver became the 1948 D MS 67+ coin after selling at $8,050 at Heritage Auctions in 2012
The costliest Washington quarter error became the 1948 S/S MS 64 coin with the re-punched mint mark after selling at $4,000 at Heritage Auctions in 2018
How much are the 1948 Philadelphia quarters worth?
Washington quarters minted in Philadelphia in 1948 were coins with No Mint mark. Their typical value on the current market is $5 to $6 for used pieces and $7 to $50 for those kept safe and far away from circulation for decades.
The best-ranked MS 67 quarters are the most expensive, and you can expect their price range to be $115 to $180.
What is the most valuable Washington quarter?
The US Mint produced quarters in two compositions in their long history from 1932 to the present. Expectedly, the most valuable are silver coins from the earliest period.
So, the best-paid coin in the series is the 1932 D MS 66 quarter made of precious metal. One collector purchased it in 2008 for $143,750. The most expensive piece from San Francisco is the coin of the same grade, minted in the same year. Its auction price in 2020 was $45,500.
Finally, the most valuable quarter without the mint mark is the one struck in 1948. This quarter in MS 68+ ranking won the auction record after selling at $43,200 in 2021. The 1966 MS 68+ coin is the costliest among clad quarters since one collector paid $21,000 for it in 2023.
As for proofs, the 1950 PR 68 quarter made of silver reached the highest price of $31,200 in 2022. The clad recorder is the PR 70-ranked coin struck in 1974 in San Francisco. Its price at a 2009 auction was $10,925.