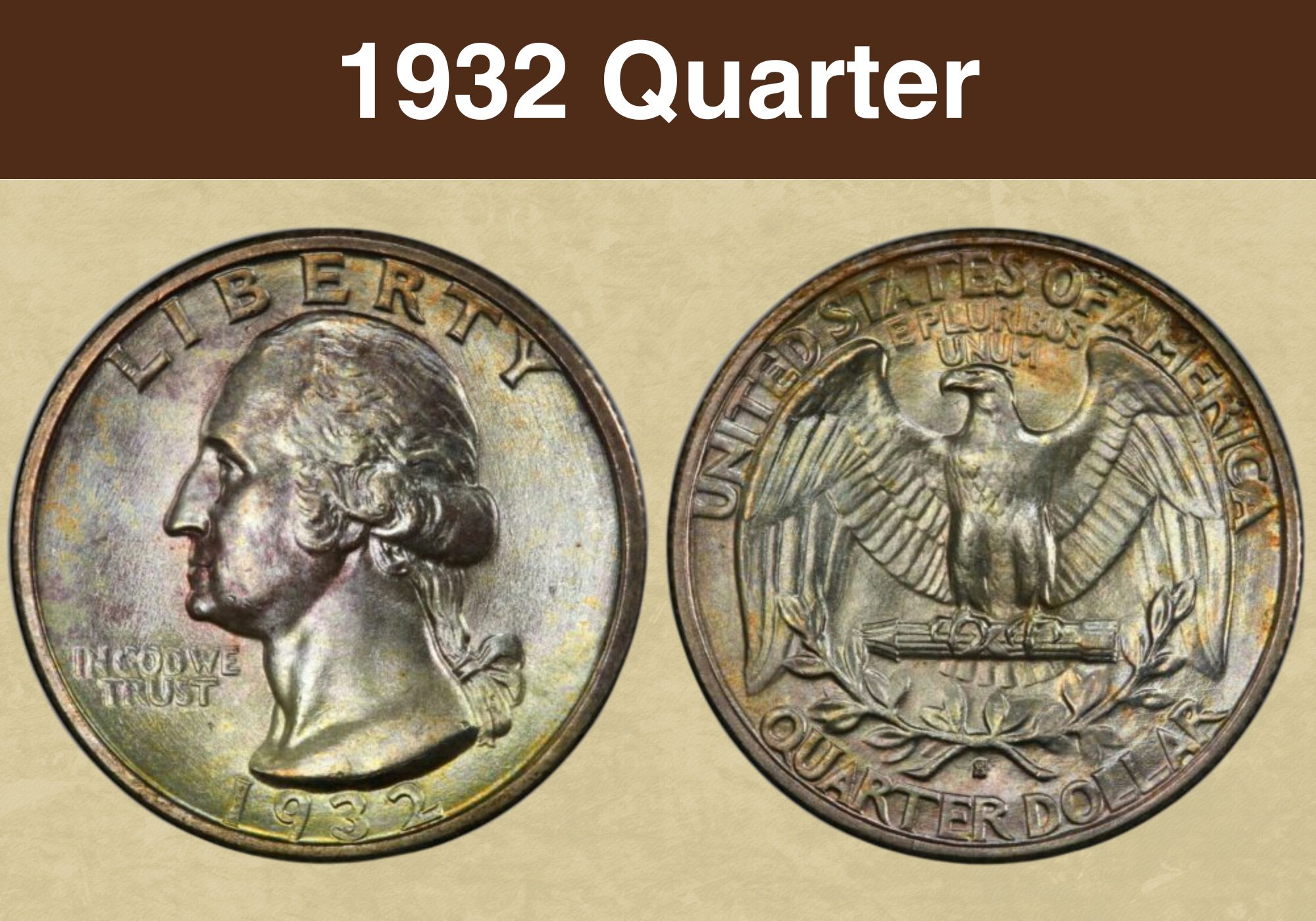 The 1932 quarter value is tightly connected with the fact it was the first year of minting these stylish American coins. Their purpose was to commemorate 200 years of the first American President's birth, making them historically significant.
Most of the first quarters in the series are precious for collectors, but there is one more advantage of these particular pieces. The first specimens in this series are over 90 years old, so they are in a group of highly collectible vintage coinage.
1932 quarter value Chart

Condition
1932 no mint mark quarter
1932 D quarter
1932 S quarter
Good
$9.31
$106
$97
Very good
$10.59
$124
$116
Fine
$13
$125
$125
Very fine
$16
$182
$139
Extra fine
$19
$234
$175
AU
$19
$410
$264
MS 60
$29
$1,162
$494
MS 65
$323
$11,357
$2,863
History of the 1932 Washington Quarter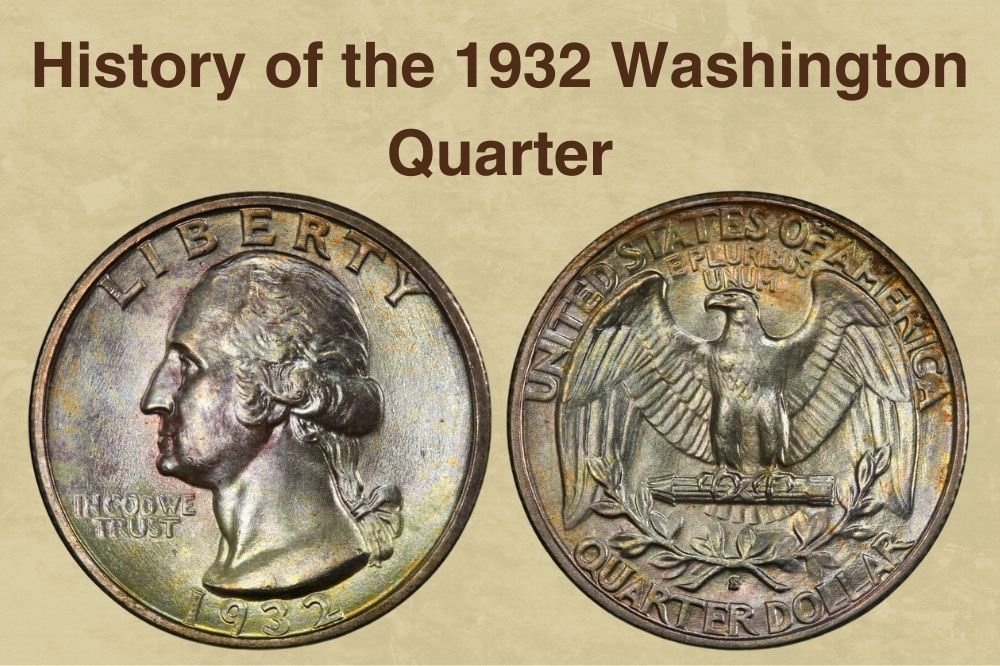 The initial plan was to produce half-dollars in 1932 to celebrate the 200th anniversary of the first President's birth. The preparations started in 1924 when no one could predict the Great Depression.
However, President Hoover was against unnecessary expenses and refused to support minting the commemorative half-dollars. Even though the responsible committee ensured these coins became circulating pieces, another faction in Congress came up with the idea of issuing quarters instead.
That was an ideal moment to introduce new quarters as permanent coinage and get rid of unpopular Standing Liberty coins. The idea was to get external artists a chance to offer fresh and innovative creative solutions.
1932 Washington quarter Types

Location
Year
Minted
Philadelphia
1932 No Mint mark quarter
5,404,000
San Francisco
1932 S quarter
408,000
Denver
1932 D quarter
436,800
Total
/
6,248,800
Unfortunately, the controversies didn't end there. Despite Laura Fraser's winning design, Andrew Mellon (Treasury Secretary) chose another option. He used his right to approve or disapprove of the accepted solution and favored John Flanagan's work.
That way, the new quarters appeared in circulation with the second-ranked design in 1932, on the first day in August. In order to at least partially correct the injustice, the US Mint used Ms. Fraser's conceptual solution on the 1999 five-dollar gold bullion coins.
Also read: Top 13 Most Valuable State Quarters Worth Money
Features of the 1932 Washington Quarter
The Washington quarter minting started 90 years ago in the middle of the Great Depression as a unique way for Americans to celebrate George Washington's birth bicentennial. John Flanagan was chosen to finish this demanding job, and he did it in the best possible way.
The obverse of the 1932 Washington quarter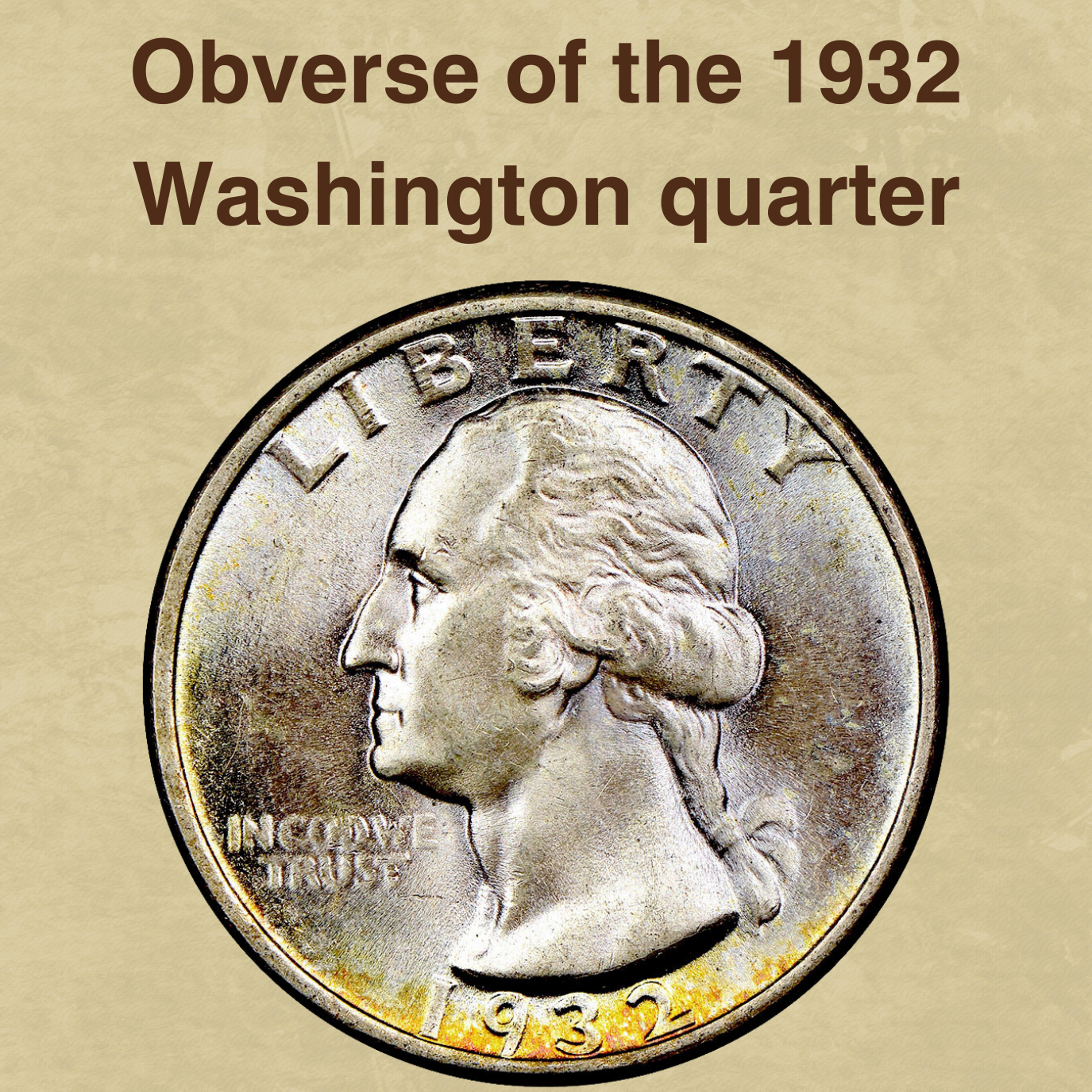 Even though planned as limited-run coins minted in 1932 only, the Washington quarters have become standard circulation coinage from 1934 to this day. Unlike previous quarters, these pieces depicted a real person on the obverse.
The designer excellently represented George Washington in the coin obverse center and framed him with the unavoidable LIBERTY word and the denomination. Besides, there is also the guiding principle for the new nation – IN GOD WE TRUST.
The reverse of the 1932 Washington quarter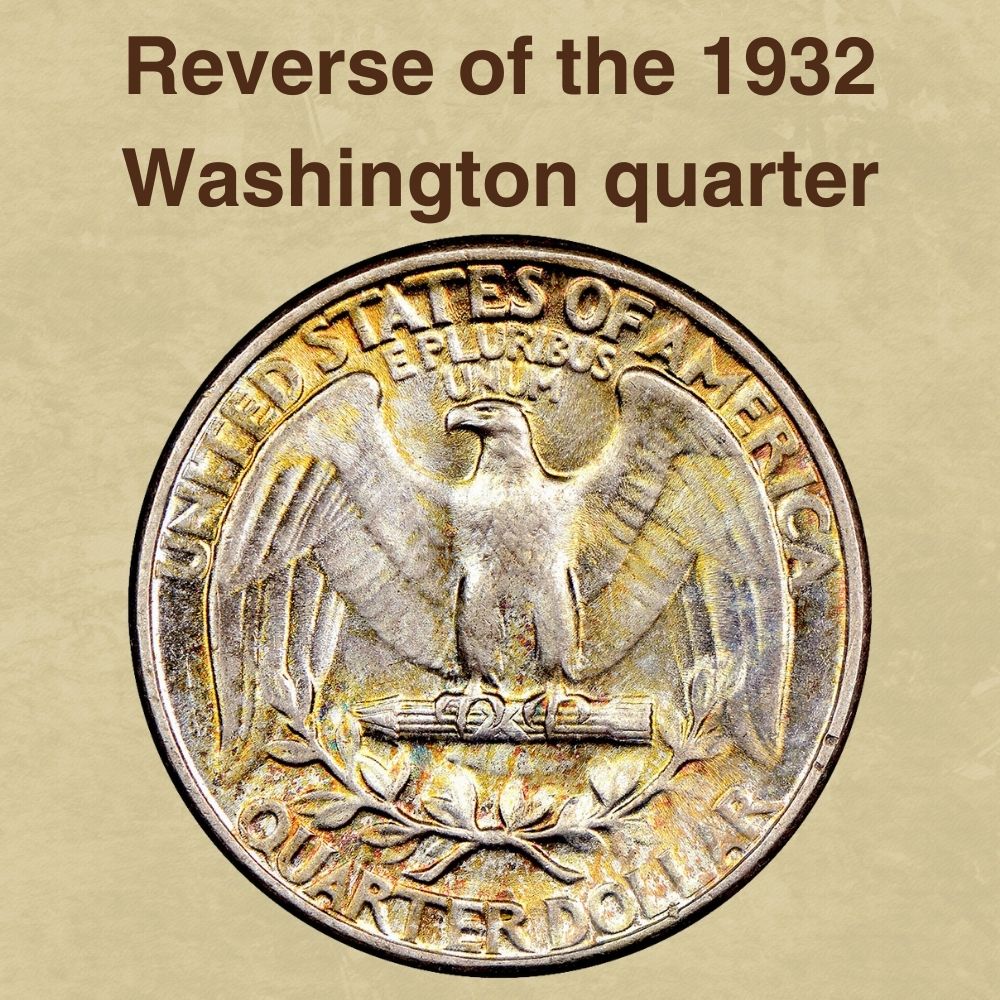 Flanagan decided to place the wing-spread eagle, the bird symbolizing America, in the reverse coin center. This heraldic bird holds arrows in its talons, showing the US's readiness to defend itself and go to war whenever required.
On the other hand, the designer showed the new nation's dedication to peace by placing olive twigs under arrows. They symbolize the tendency for peaceful solutions and harmony over war efforts.
Under the arrows and olive branches are the mint mark and denomination. Be aware that only two mints struck the letter (S or D) there, while Philadelphia issued coins with No Mint mark, according to then-regulations.
The area above the eagle's head is reserved for two inscriptions struck in three lines – UNITED STATES OF AMERICA, E PLURIBUS, and UNUM. This Latin motto symbolizes the unity of many States gathered together to make one powerful country.
1932 Washington quarter details

Face value
Twenty-five cents ($0.25)
Type
Standard circulation coin
Compound
0.900 silver alloy with some copper
Coin thickness
1.75 mm (0,06870 inches)
Shape
Round
Coin diameter
24.30 mm (0,95669 inches)
Coin weight
6.25 g (0,22040 troy ounces)
Silver weight
5.623 g (0.18084 troy ounces)
Edge
Reeded
Other features of the 1932 Washington quarter
Washington quarters issued in 1932 are twenty-five cent coins made of 90% silver. In other words, every coin weighing 6.25 g (0,22040 troy ounces) contains 5.623 g (0.18084 troy ounces) of silver. These round, 1.75 mm (0,069 inches) thick pieces have a reeded edge and a diameter of 24.30 mm (0,957 inches).
Also read: Top 16 Most Valuable Modern Quarters Worth Money
1932 Washington Quarter Grading
The 1932 Washington quarter grading process is the same as for any other coin. The crucial thing is to follow instructions given by the Sheldon scale and categorize your piece in a group from 1 to 70.
Coins graded GOOD are the first collectible, while those ranked 70 are entirely flawless specimens in perfect condition. Expectedly, every collector dreams of such one coin.
| # | Grade |
| --- | --- |
| 1 | Basal State-1 |
| 2 | Fair |
| 3 | Very Fair |
| 4, 5, 6 | Good |
| 7, 8, 10 | Very Good |
| 12, 15 | Fine |
| 20, 30 | Very Fine |
| 40 | Extremely Fine |
| 50 | About Uncirculated |
| 60 | Mint State |
| 65 | Mint State |
| 70 | Mint State |
Please check our grading guides to know your coin scale, It's the necessary step to know the exact value of your coin.
Check out now: How to Grade Washington Quarter?
1932 Washington Quarter Value Guides
The total 1932 quarter mintage was 6,248,800 coins. Over five million pieces were produced in Philadelphia, while the other two mints issued a significantly lower number.
Therefore, quarters with the mint mark are rare and tricky to acquire. Since the US Mint issued the first proofs only in 1936, you can't expect to find pieces with this date intended for collectors.
1932 No mint mark quarter Value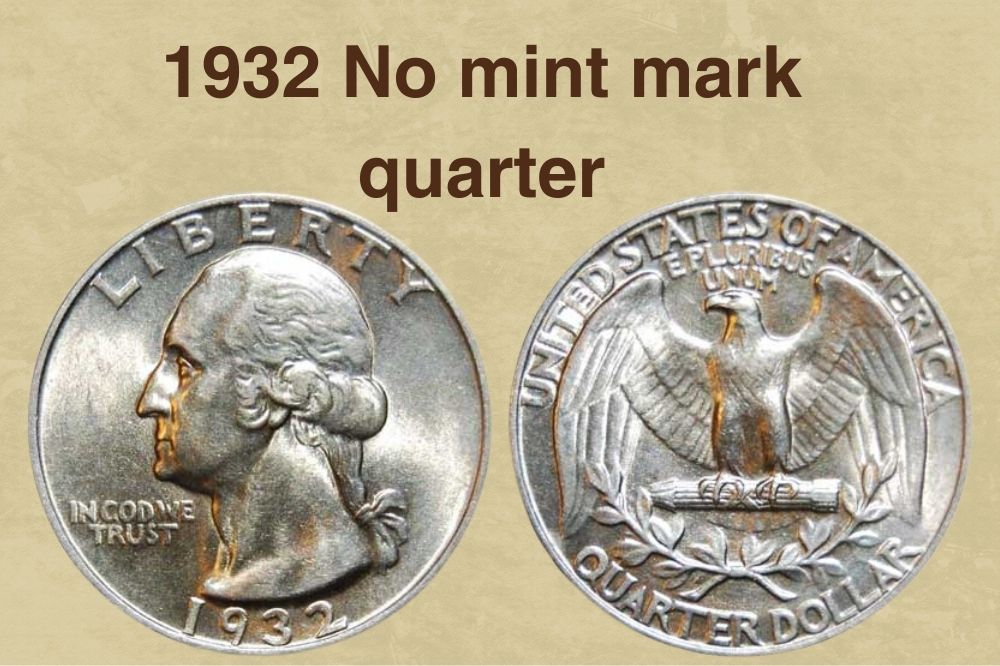 Typically, the mint in Philadelphia had the highest mintage in 1932 and produced 5,404,000 No Mint mark quarters. Since most ended up in circulation, their current price depends primarily on their condition.
You can purchase pieces spending years in use for $5 to $18, while most coins in the mint state cost up to $100. The situation is different with specimens in MS 65 and MS 66 grades, and you can discover that most are offered at $200 to $700.
Be prepared that MS 67-rated coins are rare nowadays, which can be pricey. An estimated price range for such pieces is $5,500 to $12,500, but reality sometimes surpasses even the best expectations.
So, one Washington quarter minted this year and preserved in MS 67 grade won an auction record after sold at $40,250 in 2012.
1932 D Washington quarter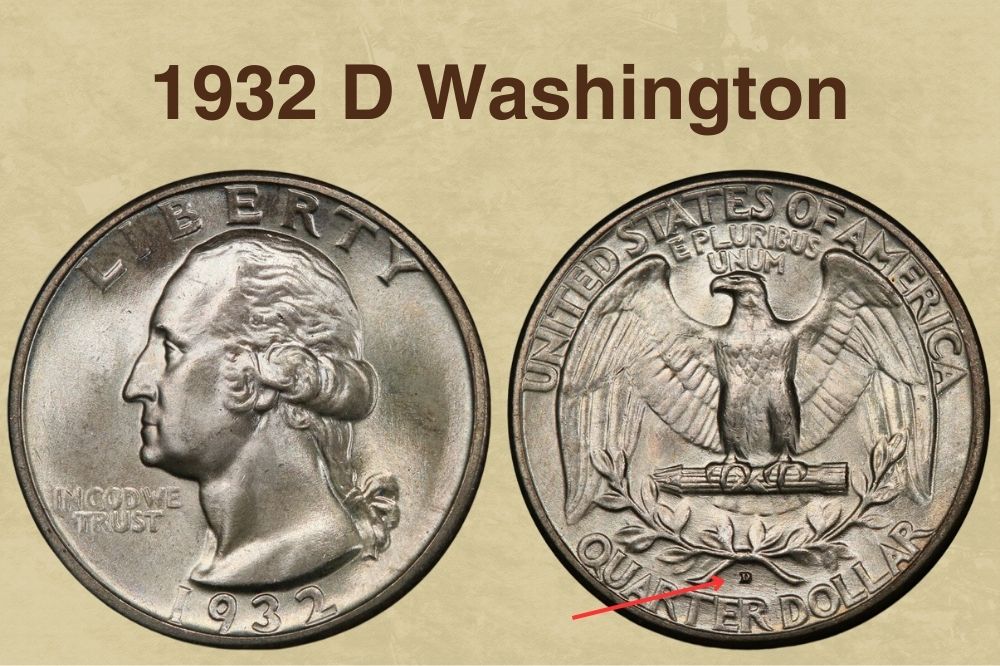 The mint in Denver issued only 436,800 quarters with the D mint mark in 1932, making them key dates for collectors. Even circulated pieces are expensive for coins with such a low denomination.
Most 1932 quarters cost $52 to $720 after spending years in circulation, but the real game begins with well-preserved ones. You can expect to pay a high sum for one, like:
MS 60-ranked quarters are assessed at $780 to $936
MS 61-ranked quarters are assessed at $840 to $1,008
MS 62-ranked quarters are assessed at $1,050 to $1,260
MS 63-ranked quarters are assessed at $1,170 to $1,500
MS 64-ranked quarters are assessed at $2,200 to $3,400
MS 65-ranked quarters are assessed at $9,600 to $12,000
Believe it or not, experts estimated the highest-graded coins (MS 66) at about $75,000 to $85,000, but the auction record is twice as high. One collector paid $143,750 on April 1, 2008, at Bowers & Merena to get one such quarter.
1932 S Washington quarter Value
The San Francisco mint had the lowest quarter mintage in 1932, making each surviving piece of 408,000 minted a key date. Most beginners are happy when finding one of the circulated coins for $48 to $264, while uncirculated ones are much more expensive.
In most cases, it is necessary to set aside $300 to $1,000 for quarters in the mint state, but specimens in the best condition typically cost more, about:
$2,200 to $2,600 (quarters rated MS 65)
$35,000 to $42,000 (quarters rated MS 66)
However, one such graded 1932 S Washington quarter won the auction record after selling at $45,500 in 2020.
Also read: 17 Most Valuable Quarter Errors Worth Money
Rare 1932 Washington Quarter Errors List
Like every other American coin series, the 1932 quarter set includes a few collectible errors. Such imperfections make them unique, thus enjoyable from a numismatic point of view. Therefore, you can expect these pieces to be often costlier than regular coins of the same quality.
Doubled die obverse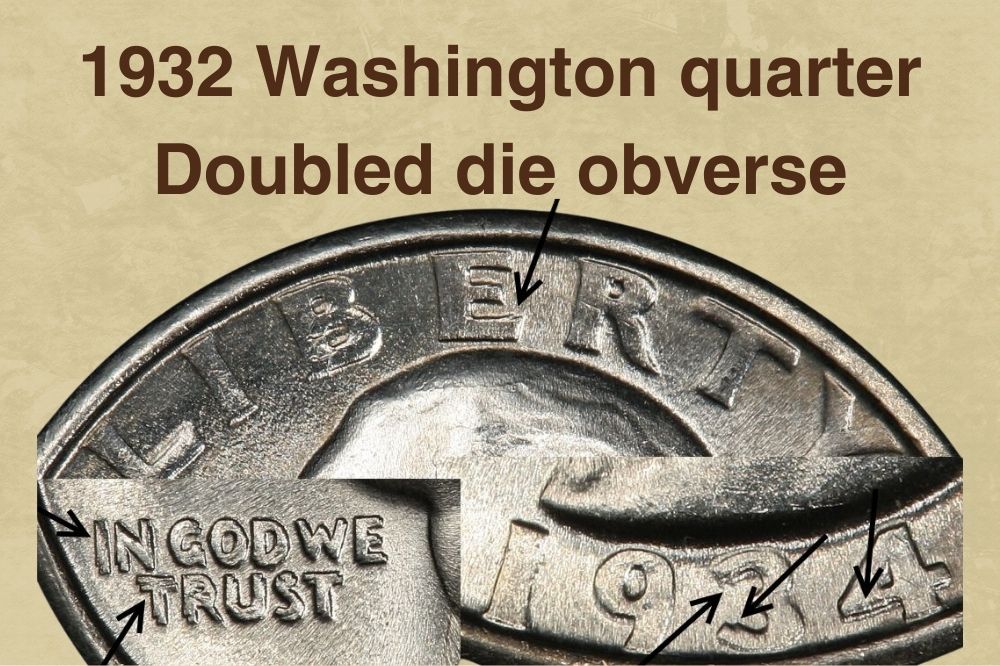 This famous error appeared when the die with a doubled design struck the coin, leaving the design doubling on the coin surface. In this case, such an imperfect image appeared on the obverse quarter side.
Experts estimate these coins at $250 to $1,000, depending on their grade. The only known piece in MS 66 ranking with this error sold at $3,055 in 2014 is now assessed at $3,600.
Cud error
This error type includes a damaged blob-like area at the coin edge. Its shape varies, depending on the broken die piece appearance. You can find the 1932 quarter with this imperfection at about $100 to $110 on eBay.
Broad strike
Like other pieces of equipment, retaining collars have their shelf life. Once they break, the result is broad coins thinner than standard without their regular shape and edge appearance. Most such quarters are available at $100 to $200, depending on each piece's look and size, as well as deformity level.
Off-center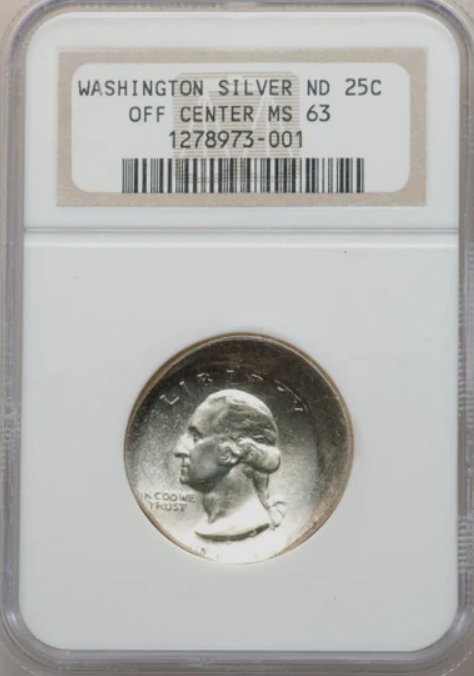 You can find coins with displaced design details when the die hits an incorrectly positioned planchet. The result depends on the percentage of the missing design.
For instance, you can get about $15 to $25 for a 1932 quarter with 10% off-center. The error of 50% off-center can bring you $25 to $100 when the mint mark and date are present.
Die cap
When the struck quarter sticks to the upper die, it hits the following coins. After a while, it gets a shape resembling a bottle cap. This error is particularly typical for Lincoln cents, but you can sometimes find such cup-formed quarters for $80 to $100.
Double-headed
The 1932 quarters with two obverse sides resulted from getting stuck on the reverse die. That way, it blocked the coin placed above, and the obverse die pressed the next piece, making this weird error. It appeared among coins minted in Denver.
Where to Sell Your 1932 Quarter ?
Now that you know the value of your coins, do you know where to sell those coins online easily? Don't worry, I've compiled a list of these sites, including their introduction, pros, and cons.
Check out now: Best Places To Sell Coins Online (Pros & Cons)
FAQ about the 1932 Washington Quarter
What makes a 1932 Washington quarter rare?
Low mintage makes quarters minted in Denver and San Francisco relatively rare nowadays. The best-graded coins are those ranked MS 66, and you can be sure they are particularly scarce. Only a few collectors have the privilege to have such specimens in their collections.
Which 1932 Washington quarter is worth a lot of money?
The 1932 D Washington quarter in MS 66 grade won an auction record after selling at $143,750 at Bowers & Merena on April 1, 2008
The 1932 S Washington quarter in MS 66 grade won an auction record after selling at $45,500 at David Lawrence RC on March 22, 2020
The 1932 Washington quarter in MS 67 grade won an auction record after selling at $40,250 at Heritage Auctions on April 18, 2012
The 1932 DDO Washington quarter in MS 66 grade won an auction record after selling at $3,055 at Heritage Auctions on December 4, 2014
How much is the 1932 Philadelphia Washington quarter worth?
The 1932 quarters from Philadelphia are issued without the mint mark. These coins are abundant in lower grades, and you can buy one circulated piece for $5 to $18.
On the other hand, those in the mint state cost $24 to $700, except the best-ranked ones in MS 67 grade. An estimated price range for such superb pieces is from $5,500 to $12,500.
What is the priciest Washington quarter?
Even though many 1932 quarters are affordable coins, some are surprisingly expensive. For instance, the priciest piece in the series is the 1932 D silver quarter in MS 66 grade (Type 1). Its price from 2008 is still a fantastic $143,750.
A similar coin from San Francisco was sold at $45,500 in 2020, while the 1950 PR 68 quarter is the most expensive silver proof in the series. One collector purchased it for $31,200 in 2022.
As for clad coin (Type 2), the most valuable is the 1966 MS 68+ quarter that reached $21,000 at an auction in 2023. The 1974 S PR 70 specimen is paid double less in 2009. However, the price of $10,925 makes this proof the most expensive in a group of clad coins.