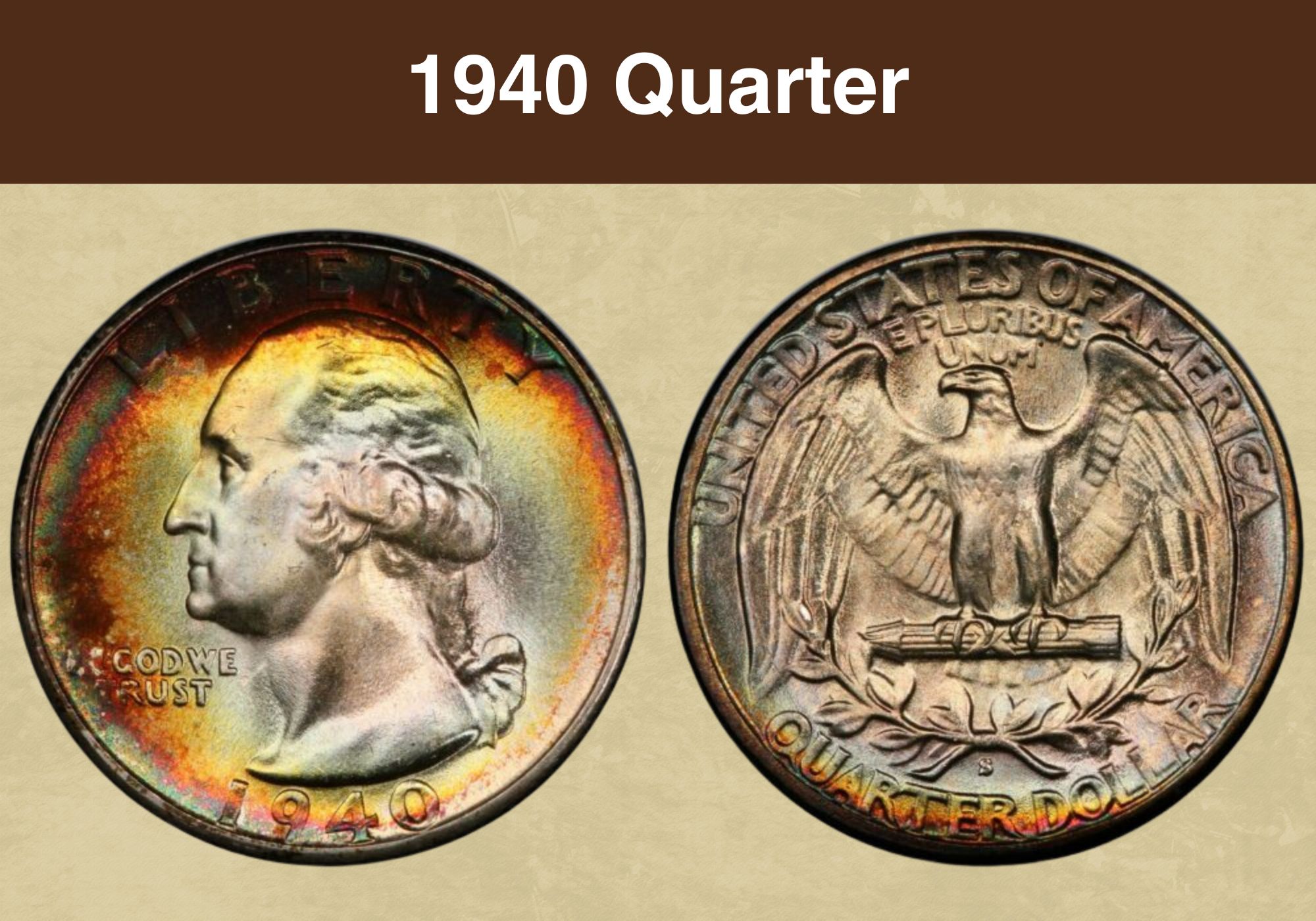 That was the eighth year of minting coins with George Washington on the obverse side. Even though some of the coins produced this year are still in circulation, the 1940 quarter value is typically higher than their denomination.
Be aware that these coins' collectability is primarily connected with their exciting history. However, it also depends on their look, luster, mint imperfections, and wear and tear of pieces that spent years circulating. Let's check all the information about these lovely coins together.
1940 quarter value Chart

Condition
1940 no mint mark quarter
1940 D quarter
1940 S quarter
Good
$8.84
$12
$8.84
Very good
$8.84
$18
$8.84
Fine
$8.84
$26
$8.84
Very fine
$10.84
$32
$12
Extra fine
$13
$44
$15
AU
$15
$77
$20
MS 60
$21
$153
$26
MS 65
$58
$294
$66
PR 65
$145
/
/
History of the 1940 Washington Quarter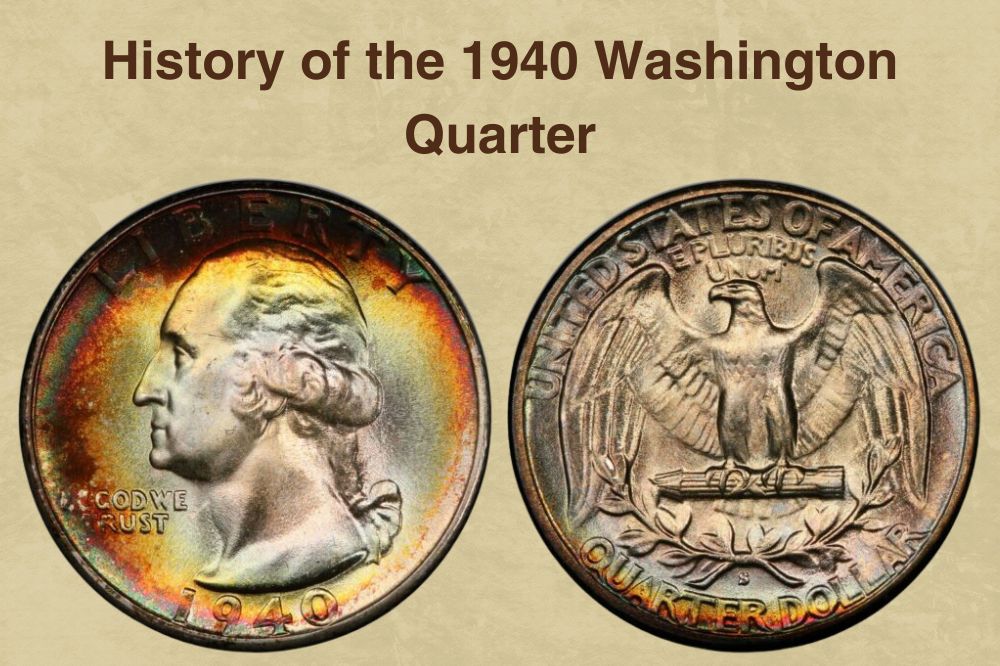 The Washington quarter history started on August 1, 1932, when the first silver coins of 25 cents were realized into circulation. The US Mint officials decided to issue these coins to celebrate the bicentennial of the 1st American President's birth.
It was an opportunity to replace the previous Standing Liberty quarters once and for all. The first choice was Laura Gardin Fraser's design, but the Treasury Secretary preferred John Flanagan's work. It is still unclear whether the reason was Flanagan's talent or whether Mr. Mellon disagreed with hiring a female sculptor.
1940 Washington quarter Types

Location
Year
Minted
Philadelphia
1940 no mint mark quarter
35,704,000
San Francisco
1940 S quarter
8,244,000
Denver
1940 D quarter
2,797,600
Philadelphia
1940 proof quarter
11,246
Total
/
46,756,846
The appearance of this coin finally rejected Washington's opinion that showing government officials on coinage was too colonial and imperial. Nevertheless, his face was used for the $1 bills since they appeared in 1869.
On the other hand, most decided his place was on one of America's coins. In fact, the first idea of putting this honorable man on one of the coins came up in 1924. Based on his democratic beliefs, it was expected that he would have undoubtedly agreed with that decision. After all, that's the basis of democracy, isn't it?
Also read: Top 13 Most Valuable State Quarters Worth Money
Features of the 1940 Washington Quarter
Even though Laura Gardin Fraser's design solution won the competition, the then-Treasury authorities favored John Flanagan's conceptual solution. That was the reason for this particular 1940 Washington quarter's look.
The obverse of the 1940 Washington quarters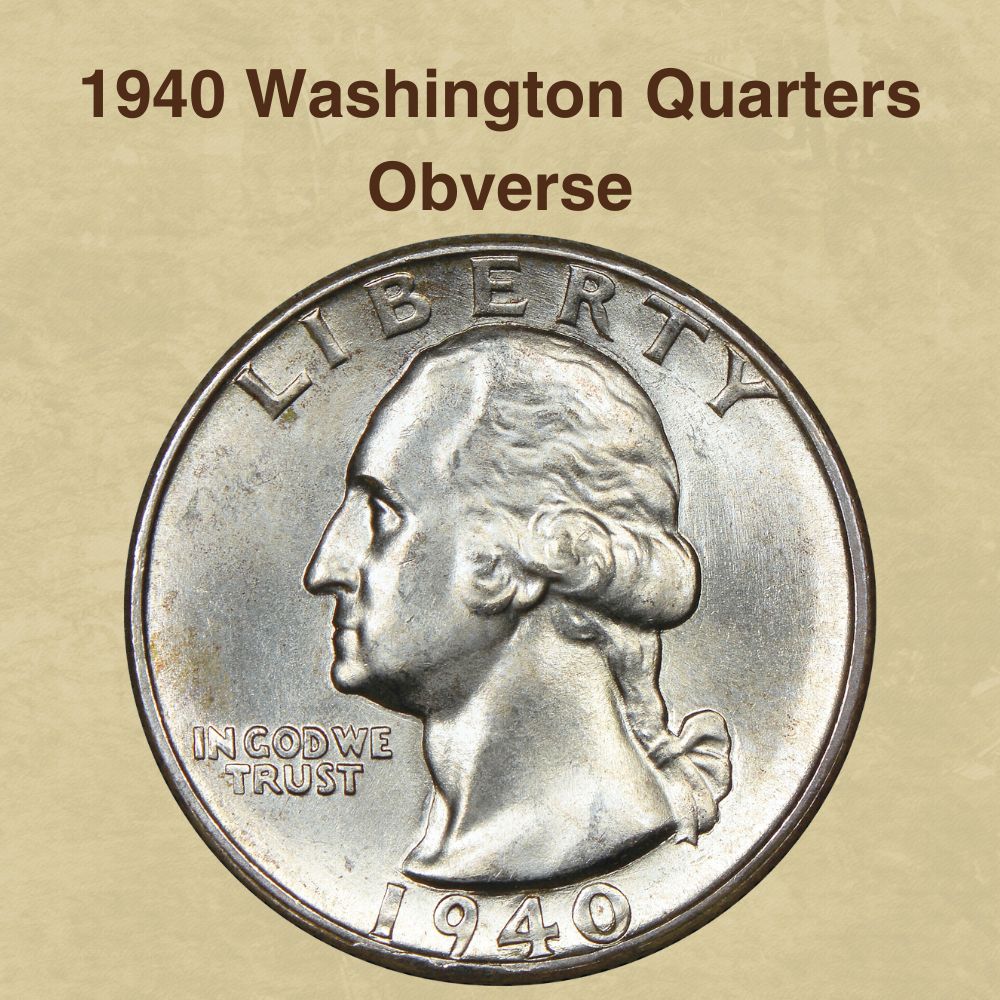 The 1940 quarter obverse shows the left-facing portrait of George Washington, the 1st US President. He looks serious with an official hairstyle of that time and a sharp gaze directed into the distance.
The IN GOD WE TRUST motto is in front of his throat, while the date is placed below the neck truncation. You can also read a word LIBERTY written in capital letters above the President's head. John Flanagan's initials are modestly engraved in the cut-off.
The reverse of the 1940 Washington quarters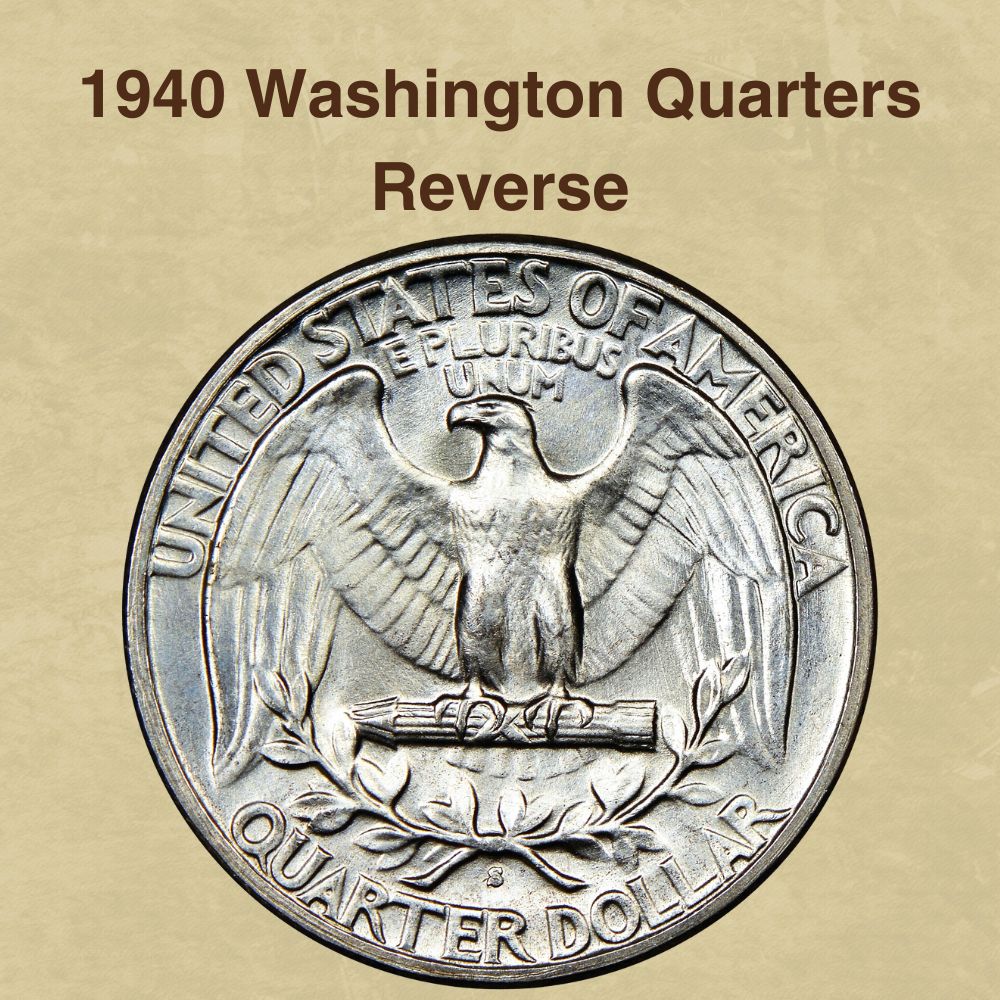 The 1940 quarter reverse features an eagle with spread-out wings. It rests on a bunch of arrows placed above two olive branches. Thirteen arrows symbolize the American preparedness for war, while the twigs represent the nation's striving for peace. The inscriptions on this coin side include:
UNITED STATES OF AMERICA
E PLURIBUS ENUM
ONE DOLLAR
Coins produced in other mints besides the one in Philadelphia have the mint mark between the denomination and the place where the olive branches meet.
1940 Washington quarter Details

Face value
Twenty-five cents ($0.25)
Shape
Round
Compound
Silver coin with added 10% copper
Coin thickness
1.75 mm (0.06870 inches)
Coin diameter
24.3 mm (0.95669 inches)
Coin weight
6.25 g (0.20094 troy ounces)
Silver weight
5.623 g (0.1808 troy ounces)
Edge
Reeded
Other features of the 1940 Washington quarters
The US Mint started minting the 1940 Washington quarters while Europe was at the beginning of WWII. These twenty-five cents were round silver coins with 119 reeds along the edge and a thickness of 1.75 mm (0.06870 inches).
Each piece contained 90% of this precious metal, weighing 5.623 g (0.1808 troy ounces). The entire coin weighed 6.25 g (0.20094 troy ounces) and had a diameter of 24.3 mm (0.95669 inches).
1940 Washington Quarter Grading
The 1940 quarter price rises with each coin's condition, so the priciest are those in the mint state. On the other hand, the least expensive are pieces in the lowest collectible grade, GOOD.
Be aware that lower-ranked coins are non-collectible, and most numismatists never take them into consideration. If you have a highly valuable quarter that was minted this year, you can expect to get the best price for it only when having it estimated by a reputable grading company.
| # | Grade |
| --- | --- |
| 1 | Basal State-1 |
| 2 | Fair |
| 3 | Very Fair |
| 4, 5, 6 | Good |
| 7, 8, 10 | Very Good |
| 12, 15 | Fine |
| 20, 30 | Very Fine |
| 40 | Extremely Fine |
| 50 | About Uncirculated |
| 60 | Mint State |
| 65 | Mint State |
| 70 | Mint State |
Please check our grading guides to know your coin scale, It's the necessary step to know the exact value of your coin.
Check out now: How to Grade Washington Quarter?
1940 Washington Quarter Value Guides
The total mintage of 46,756,846 quarters released in 1940 was divided into three mints. Besides regular coins and proofs without the mint mark issued in Philadelphia, you can find those with an S or D letter struck below the wreath. That is a sign they come in one of the smaller mints.
1940 No Mint Mark quarter Value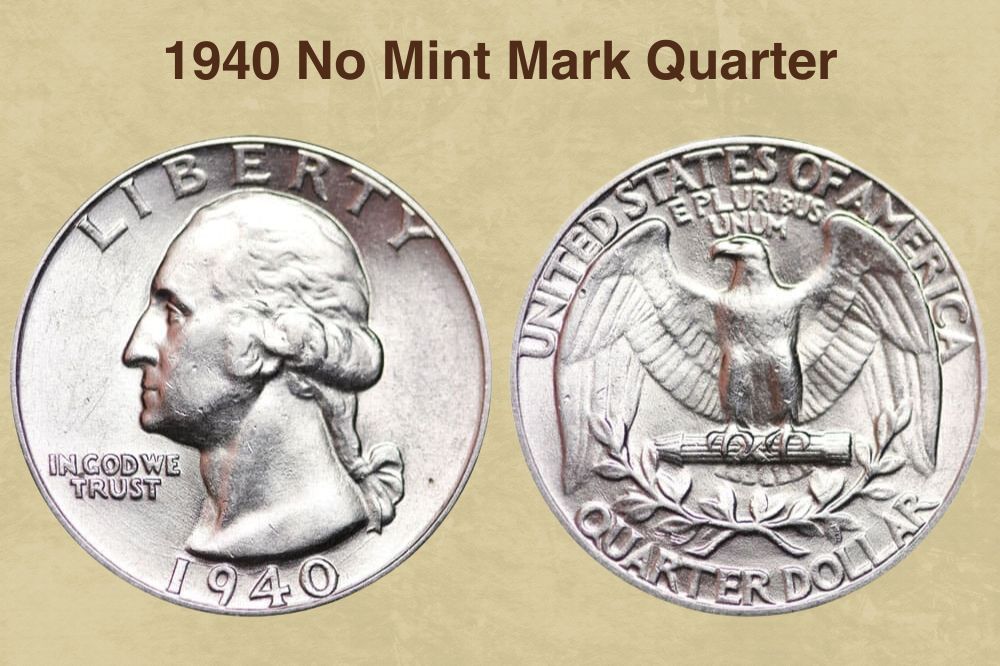 The 1940 quarters are collectible coins, and you can count on decent prices even for those in the lowest collectible grades. In most cases, it is possible to find circulated pieces for $5 to $18. The price range for specimens that have never spent time in circulation is from $24 to $225.
However, you can also buy quarters in MS 68 grade, but their prices are significantly higher. Such coins cost a fantastic $5,750 to $8,500 at auctions. The reason for such value is a low number of excellently preserved quarters despite the high mintage of 35,704,000 pieces.
Interestingly, one collector was delighted with one 1940 MS 68 Washington CAC quarter offered at Heritage Auctions in 2013. Therefore, they bought it for $19,975 without a second thought.
1940 proof Washington quarter Value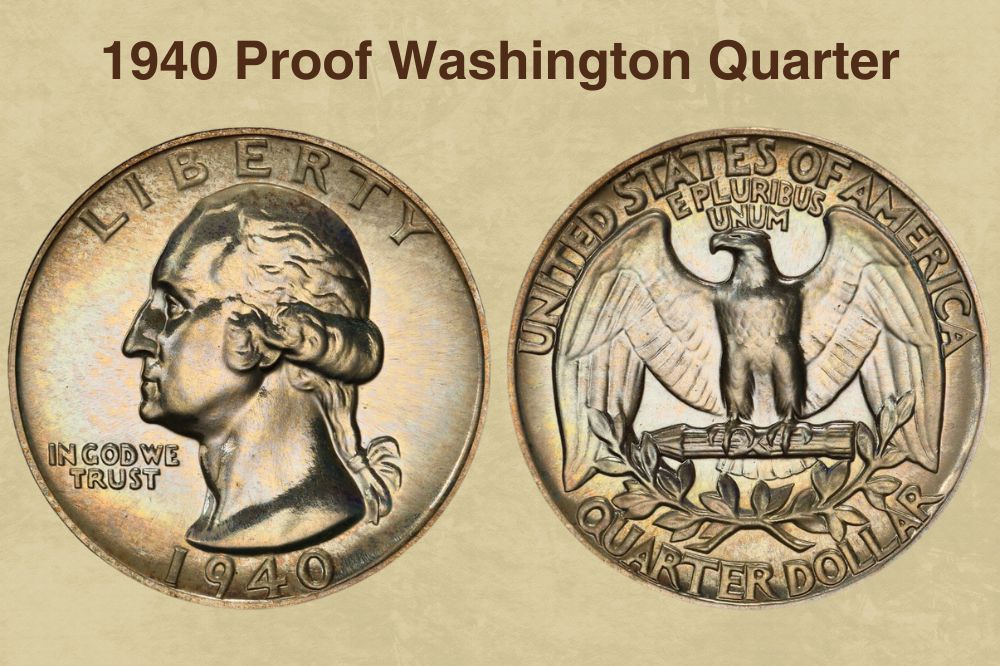 The 1940 proof quarters can be considered rare because only 11,246 pieces were issued that year. However, most are excellently preserved and are often available in all grades.
However, their price range is incredibly wide. For instance, those ranked from PR 55 to PR 65 cost approximately $40 to $100, while better graded pieces (PR 66 and PR 67) are available at $115 to $320.
You can find that the estimated price for the 1940 PR 68 quarter is $3,800 to $5,000, but one of these specimens was sold for more. One of the most dedicated collectors set aside $8,625 for it on September 1, 2008.
1940 D quarter Value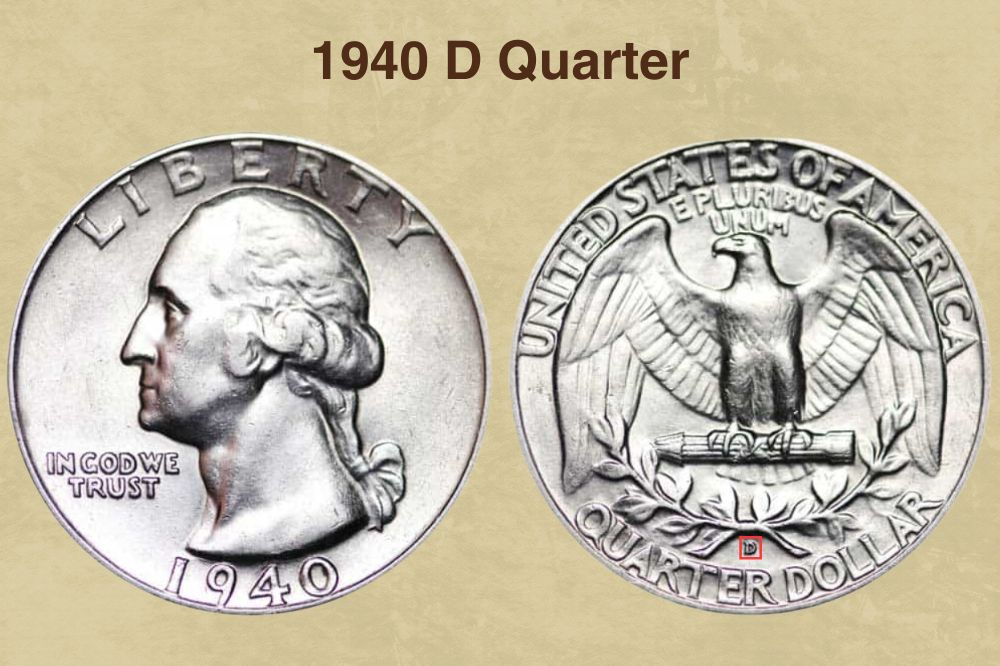 With 2,797,600 quarters minted in 1940, the Denver mint achieved the lowest mintage that year. All have the D letter below the wreath on the coin reverse.
Despite low mintage, these coins are available on the current market but are still more expensive than their face value. For instance, the 1940 D Washington quarters in circulated condition cost $5.75 to $54 in lower grades, while those in AU condition are worth approximately $65 to $114.
Uncirculated specimens have various prices, depending on their quality. You should set aside about $110 to $330 for those in MS 60 to MS 66 grades, while the best-looking pieces rated MS 67 quickly reach $550 to $600.
The particular surprise is the quarter minted in 1940 graded MS 68. This rare coin was paid $17,500 on eBay in 2022.
1940 S quarter Value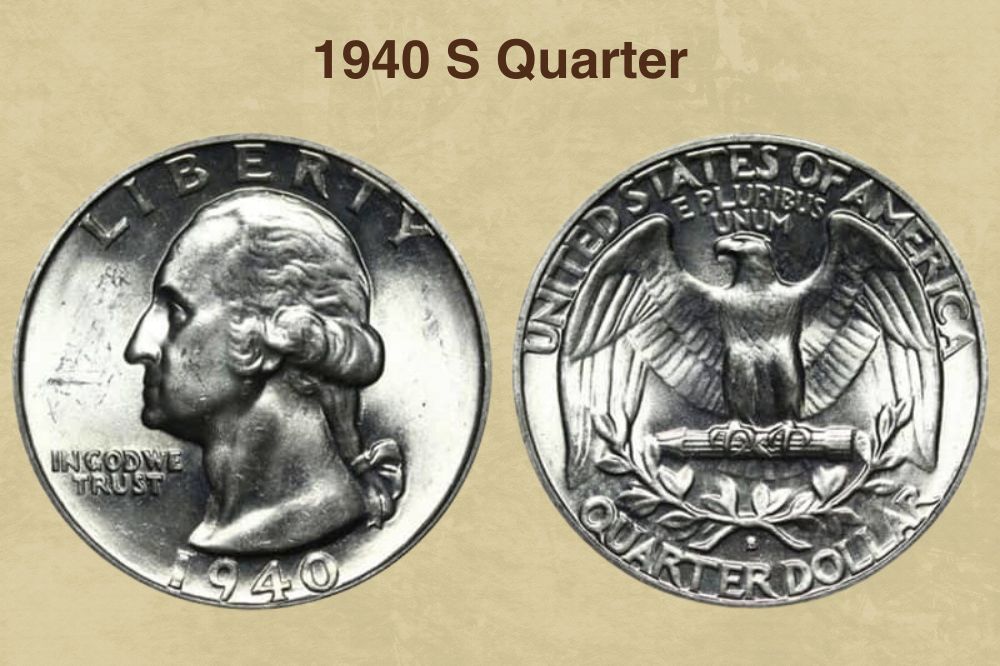 The San Francisco mint produced 8,244,000 quarters in 1940, and many of these lovely coins still exist in different grades. Since their condition dictates the price, you can expect to purchase one of the circulated specimens for approximately $6 to $25.
Even coins in the mint state are relatively inexpensive, particularly those of the lowest quality. In any case, you should count on $27 to $350 when you plan to add one of them to your collection.
On the other hand, quarters from San Francisco with the highest MS 68 rating have estimated prices from $10,000 to $10,500. The currently most expensive piece sold at an auction reached $10,200. The purchase happened at Stack's Bowers, organized in 2021.
Also read: Top 16 Most Valuable Modern Quarters Worth Money
Rare 1940 Washington Quarter Errors List
These coins were minted at the dawn of World War II, so you can expect to find numerous imperfectly struck pieces. These atypically-looked specimens are more or less available on the market, and their prices depend on each 1940 quarter preservation and rarity.
Doubled die obverse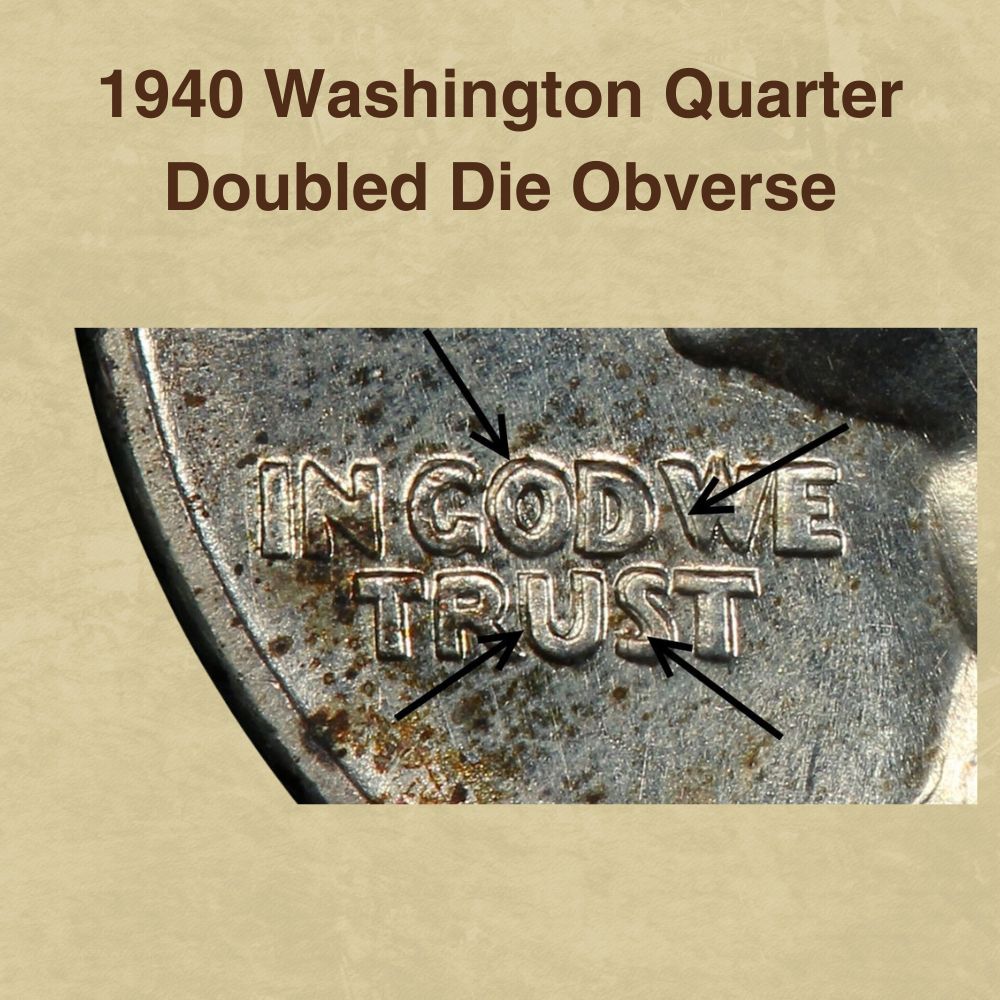 You can find quarters with DDO errors from all three mints producing these coins in 1940. Because of an imperfect die, they come with a doubling on the design, particularly on lettering and the date.
These coins often cost $70 to $800, but be aware that more doubling typically brings more money. The most expensive such piece is the 1940 D MS 66 quarter. It was sold at $2,880 after appearing at Heritage Auctions on February 22, 2018.
Re-punched mint mark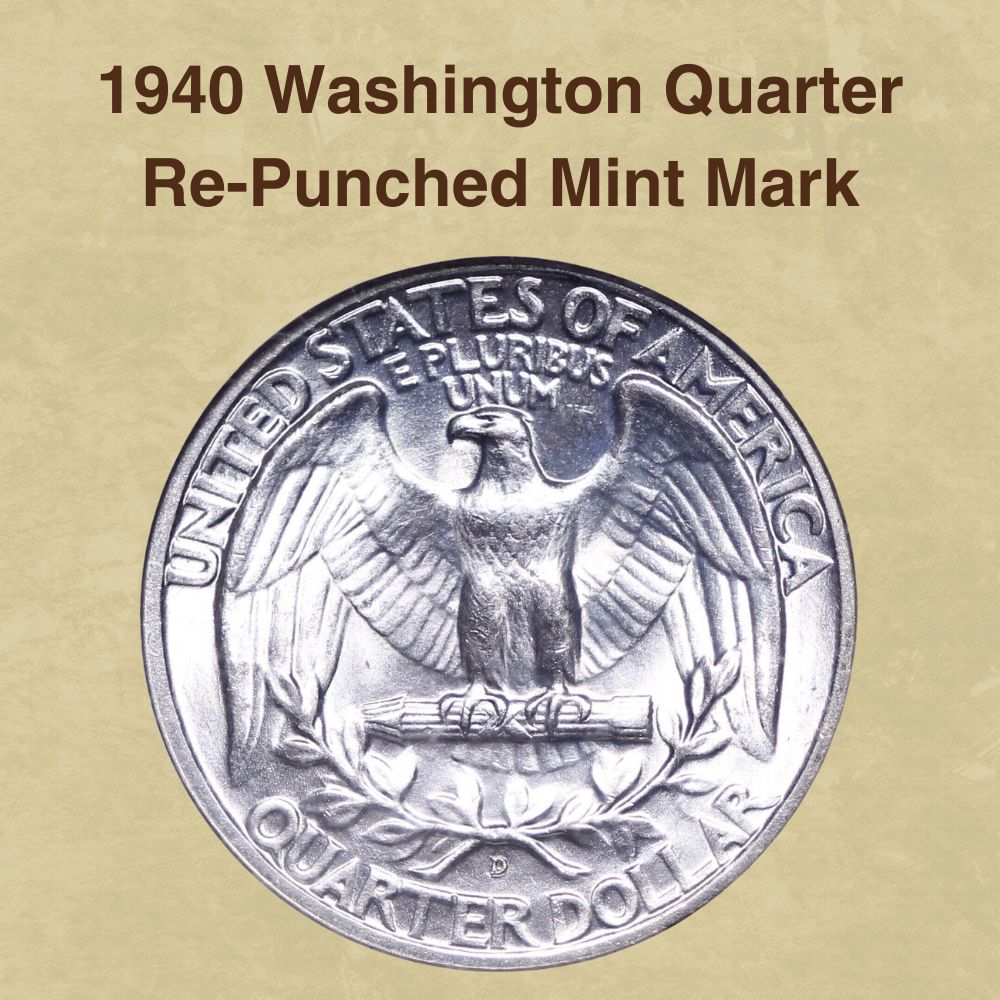 The 1940 Washington quarters with the re-punched mint mark error are worth approximately $20 to $400. The exact price depends on the coins' quality and doubling type.
This error results from the mint mark double strike. It appeared when the first attempt was unsuccessful, or the letter was hit at the wrong angle or in an inappropriate place.
This error was more noticeable on coins produced in the Denver mint. It was probably a reason for the high auction record one of these coins won in 2015. One collector paid $2,585 for this quarter in MS 66 grade.
Lamination
As you know, planchets are pieces of metal sheet used for coin production. They contain different metal alloys, depending on the coin type. In this case, it is 90% silver with remaining copper.
Sometimes, imperfect metal layering or certain impurities cause cracking and flaking off the previously struck coin. You can find a few such quarters produced in Philadelphia at an average price of $75.
Also read: 17 Most Valuable Quarter Errors Worth Money
Where to Sell Your 1940 Washington Quarter ?
Now that you know the value of your coins, do you know where to sell those coins online easily? Don't worry, I've compiled a list of these sites, including their introduction, pros, and cons.
Check out now: Best Places To Sell Coins Online (Pros & Cons)
FAQ about the 1940 Washington Quarter
What makes a 1940 Washington quarter rare?
The 1940 Washington quarters are historically significant because of the war period when they were minted. Even though the Denver mint had a modest mintage, quarters from San Francisco in the highest grades are rarer, making them more valuable. The reason is the lack of the first-rated pieces with the mint mark D.
Which 1940 Washington quarter is worth a lot of money?
The 1940 MS 68 Washington CAC quarter appeared at Heritage Auctions on January 9, 2013, and sold at $19,975
1940 D MS 68 Washington quarter appeared on eBay on September 6, 2022, and sold at $17,500
1940 S MS 68 Washington quarter appeared at Stack's Bowers on March 31, 2021, and sold at $10,200
1940 PR 68 Washington quarter appeared at Heritage Auctions on September 1, 2008, and sold at $8,625
1940 D MS 66 Washington DDO error quarter appeared at Heritage Auctions on February 22, 2018, and sold at $2,880
1940 D MS 66 RPM Washington D over D error quarter appeared at Heritage Auctions on August 16, 2015, and sold at $2,585
How much is the Philadelphia 1940 Washington quarter worth?
The circulated 1940 Washington quarters are available for collectors at an average price range from $5 to $18. On the other hand, those in the mint state typically cost $24 to $225, besides the best-quality ones.
Therefore, you can expect to pay $5,750 to $8,500 for specimens in MS 68 grade, but their prices at auctions are often significantly higher. One of the best-preserved pieces holds the auction record of $19,975.
What is the costliest Washington quarter?
Regular coins Type 1
$143,750 for the 1932 D MS66 Washington silver coin
$45,500 for the 1932 S MS66 Washington silver coin
$43,475 for the 1949 D MS68 Washington silver coin
Regular coins Type 2
$21,000 for the 1966 MS68+ Washington clad coin
$15,862.50 for the 1983 P MS65 Washington clad coin
$15,000 for the 1970 D MS69 Washington clad coin
Proofs Type 1
$31,200 for the 1950 PR68 Washington silver coin
$18,400 for the 1937 PR68 Washington silver coin
$16,800 for the 1942 PR69 Washington silver coin
Proofs Type 2
$10,925 for the 1974 S PR70 Washington clad coin
$9,987.50 for the 1998 S PR65 Washington clad coin
$7,475 for the 1971 S PR69 Washington clad coin