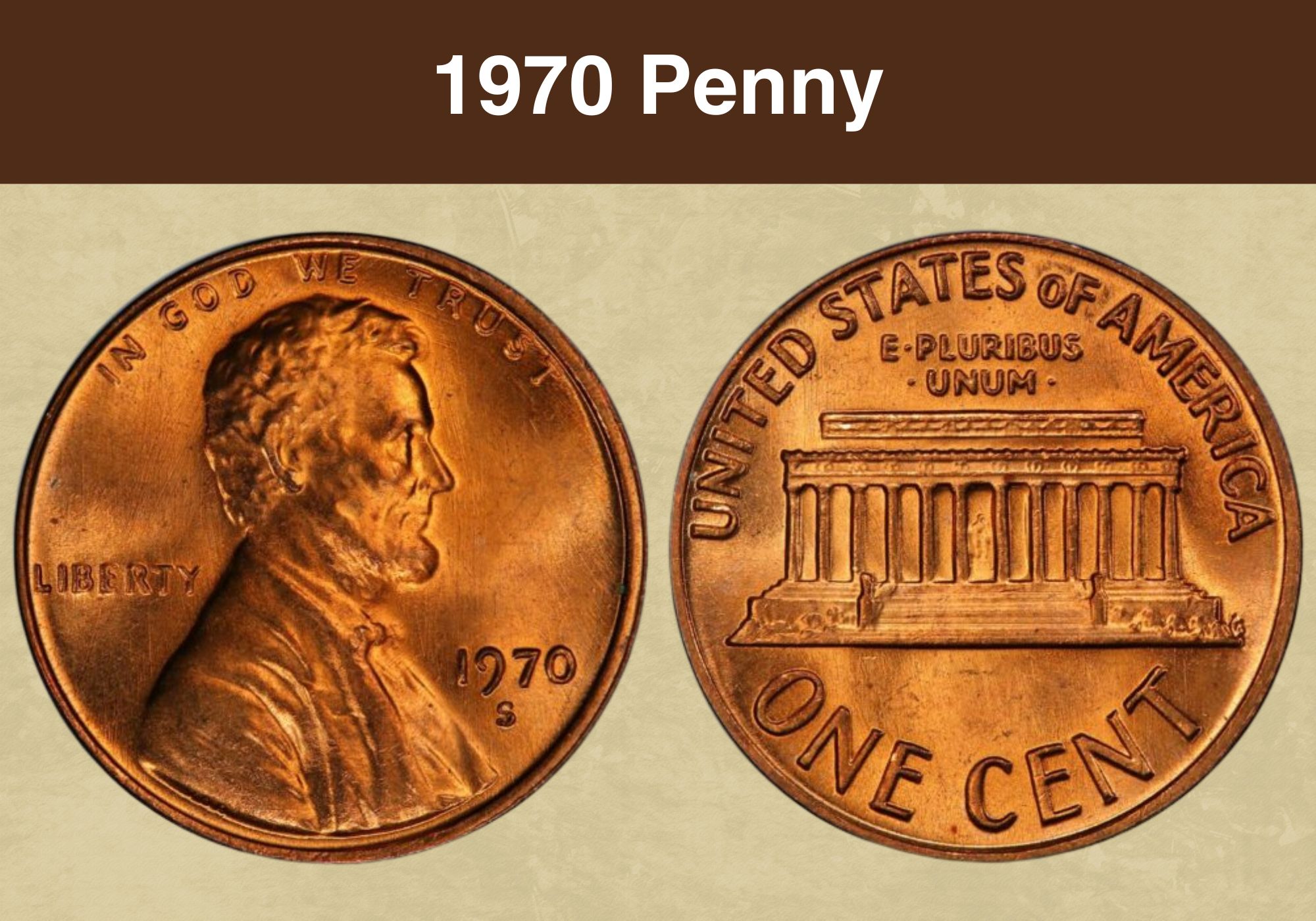 Initially, Lincoln Cents aka Lincoln Pennies were known as Wheat Cents because they had two stalks of wheat at the back. But from 1958 to 2008, the tails design changed. They used the Lincoln Memorial Building to celebrate his sesquicentennial, i.e. the 150th anniversary of his birth. So let's explore the 1970 Penny Value since it was one of those memorial pennies.
1970 Penny Value Chart

Coin
MS 63
MS 64
MS 65+
MS 67
MS 67+
PR 69 DCAM
1970 (P) No Mint Mark Penny
$8
$12
$22
$190
$5,500
–
1970-D Penny
$10
$16
$26
$500
$3,500
–
1970-S Small-Date Penny
$52
$65
$100
$700
–
–
1970-S Large-Date Penny
$12
$16
$25
$275
$2,000
–
1970-S Proof Small-Date Penny
–
–
–
–
–
$9,500
1970-S Proof Large-Date Penny
–
–
–
–
–
$700
History of the 1970 Penny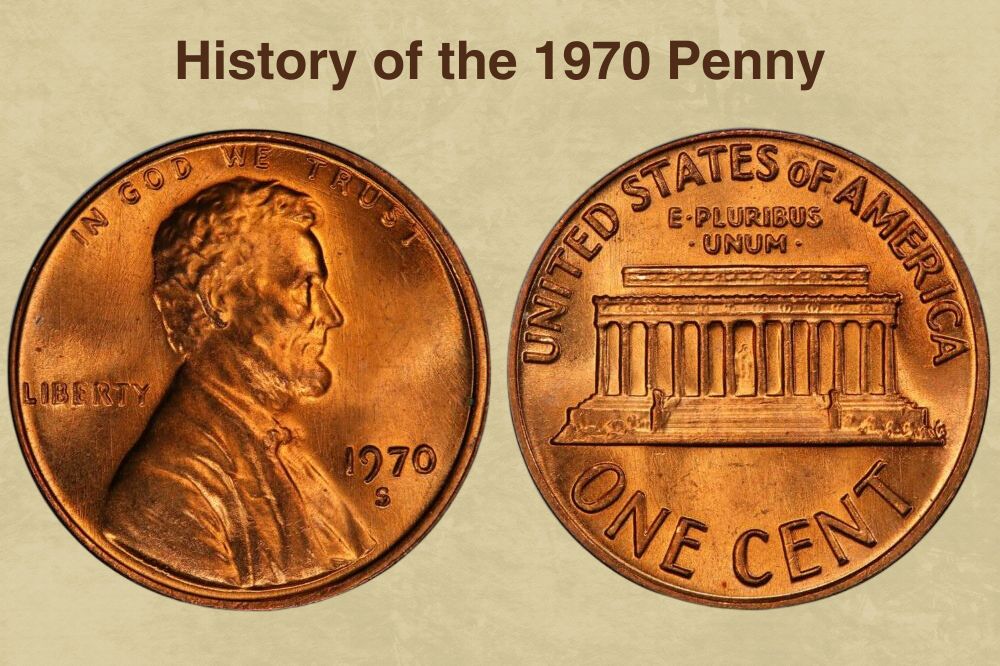 Abraham Lincoln was the first US President to be honored on a circulating coin. It's also the longest-running US coin and has been minted every year from 1909 to date. These days, pennies end up costing the mint money, since it takes almost 3c to mint one in 2023. But although these coins make a loss, they're popular and iconic so we continue to produce them.
Let's talk about the 1970 Penny in particular. It's part of the Lincoln Memorial series that started in 1959 to mark 150 years since Lincoln's birth. The coin had the same heads side as the original, designed by Victor David Brenner. But the tails side was done by the Chief Mint Engraver Frank Gasparro. He had to beat out his juniors to design this iconic coin though.
The mint usually has seven engravers that work on coins, and in 1959, they each submitted a design for the sesquicentennial. Gasparro's coin won despite him never having seen the spot in person. He also chose to use a smaller O in United States of America. If anyone asked him about it, there's no recorded response. The lower-case letter is applied throughout the series.
As for the Small-Date and the Large-Date, only one other year had coins like these – 1960. However, the mint didn't make any San Francisco coins that year. The mint was closed from 1955 to 1965, so proof pennies were made in Philadelphia. That said, in 1960, both Small and Large-Date coins were minted in Philadelphia and Denver – proofs and business strikes too.
Also read: 12 Most Valuable Lincoln Penny Worth Money
Features of the 1970 Penny
You can describe the features of the 1970 Penny using ordinary language. But it helps to understand the technical terms so you can easily review numismatic resources. The heads side is the obverse, the tails side is the reverse, the thin side is the edge, the words are mottos or legends, and the images are devices. The field is the backdrop and raised border is a collar.
The Obverse of the 1970 Penny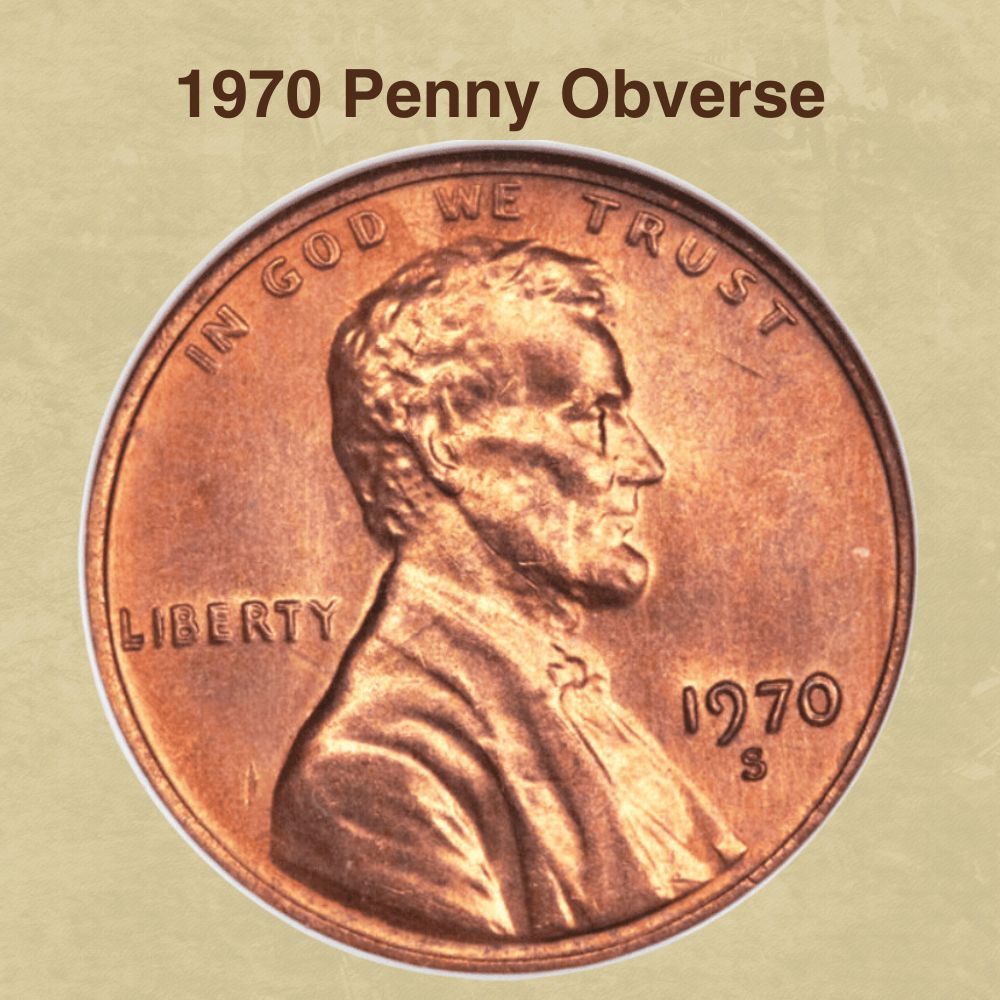 It shows Abraham Lincoln facing right, with In God We Trust above his head and Liberty on the left behind his neck. On the lower right of the coin, in front of his chest, you'll find the date and mint mark. The initials VDB for Victor David Brenner, are on the shoulder cut-off.
The Reverse of the 1970 Penny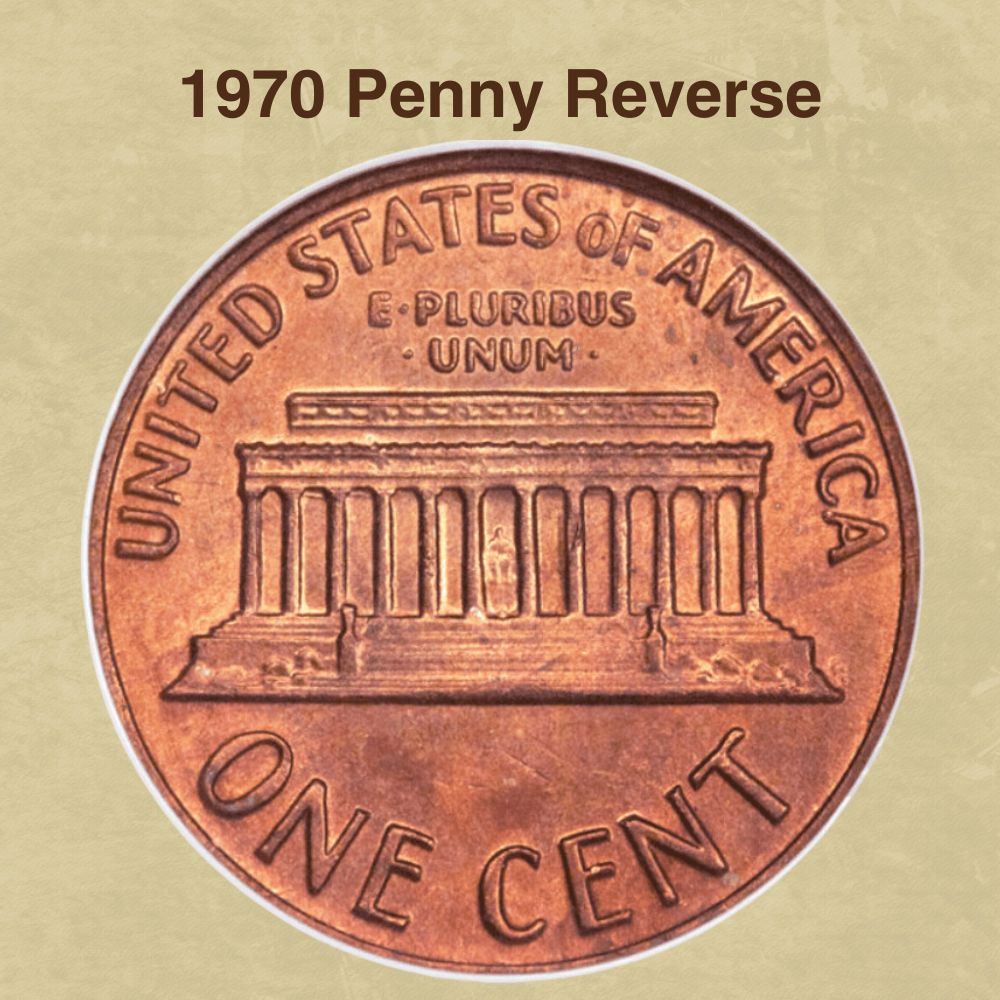 It shows the Lincoln Memorial Building and you can see Lincoln's Statue through the pillars. The top of the coin reads United States of America with E Pluribus Unum directly below. The bottom of the coin reads One Cent. FG for Frank Gasparro is at the right corner of the steps.
Other Features of the 1970 Penny
The 1970 Lincoln Memorial Penny is a brass coin made of 95% copper and 5% zinc. The coin weighs 3.11g and is 19.05mm in diameter (0.75"). It has a smooth edge without any reeds. It was the mint's most profitable coin for centuries, but the price of copper spiked around 1973.
Also read: 13 Most Valuable Wheat Penny Worth Money
1970 Penny Value Guides
In 1970, pennies were minted in Philadelphia, Denver, and San Francisco. The San Francisco Mint had four varieties. It made Small Date and Large Date Pennies in both proof strikes (for collectors) and business strikes or regular strikes (for everyday use). Small-Date Pennies had a Higher 7 while Large-Date Pennies had a Lower 7 in the mint date. Let's check them all out.
1970 No Mint Mark Penny Regular Strike Value
In 1970, Pennies coined in Philadelphia had no mint marks. The mint made 1,898,315,000 of them. With so many minted, this coin isn't especially expensive. An MS 67+ RD auctioned for $4,406 on 21st March 2014. It's the highest known grade, estimated at $5,500 in 2023.
1970-D Penny Regular Strike Value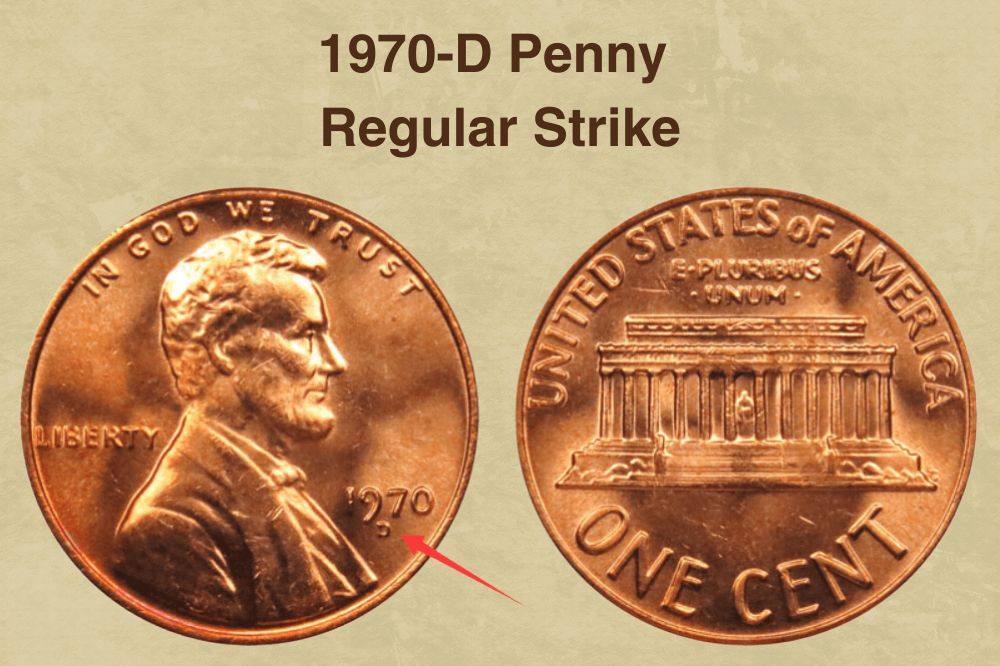 The Denver Mint coined 2,891,438,900 Memorial Pennies in 1970. They all had the D Mint Mark. The highest grade received by PCGS is MS 67+ RD. It sold for $2,820 on 10th October 2016, but since only four have been submitted, the value estimate for July 2023 is $3,500.
1970-S Small-Date Penny Regular Strike Value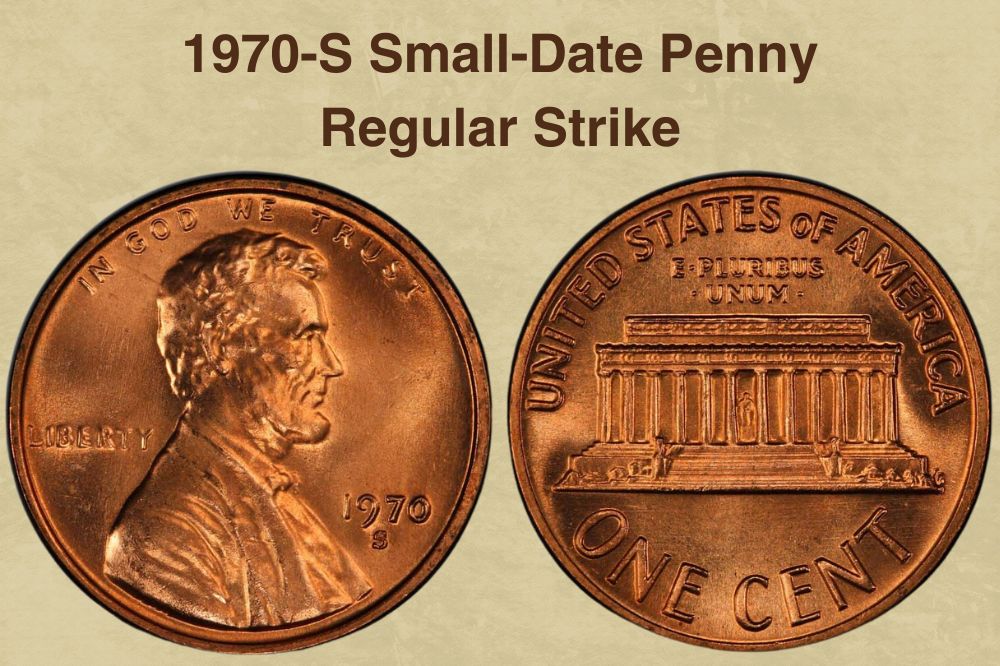 In total, the San Francisco Mint made 690,560,004 Business Strike Pennies. These included both Large-Date and Small-Date Varieties so there isn't much difference in their pricing. In December 2005, an AU 50 BN sold for $1,610. And in 2008, an MS 67 RD sold for $2,464 in June. It's the highest known grade but sold for $528 in 2020 and is estimated at $700 today.
1970-S Large-Date Penny Regular Strike Value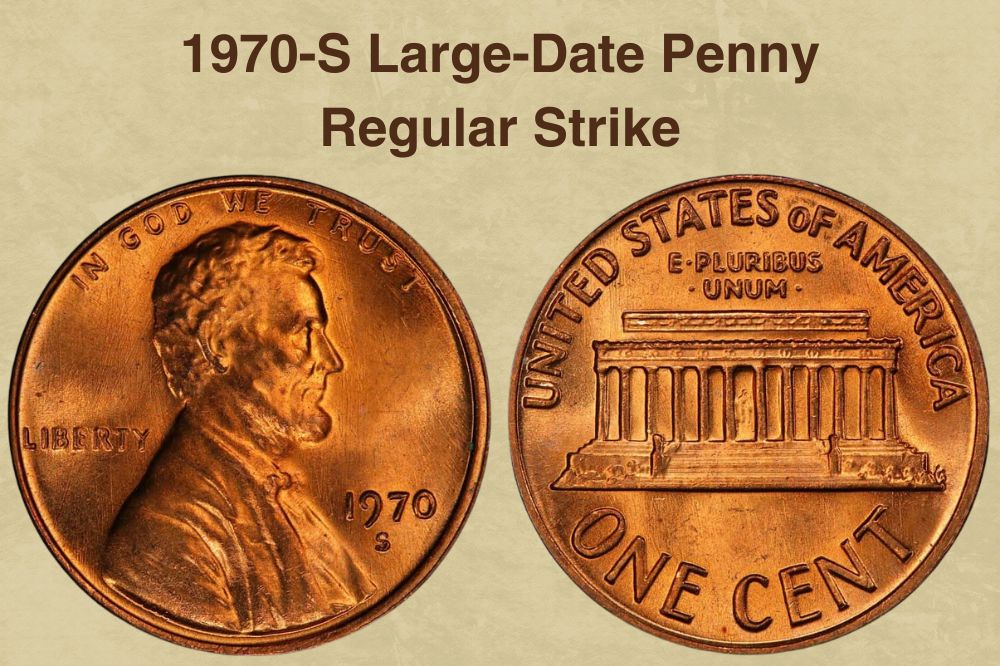 In 2020, an eBay vendor sold an AU 58 BN for $1,000 on 3rd July 2020. Another eBay seller got $1,500 for an MS 67+ RD on 20th February 2020. PCGS has received one MS 68 RD but it hasn't sold. Their 2023 price estimate for an MS 67+ is $2,000. They've seen three so far.
1970-S Small-Date Proof Penny Value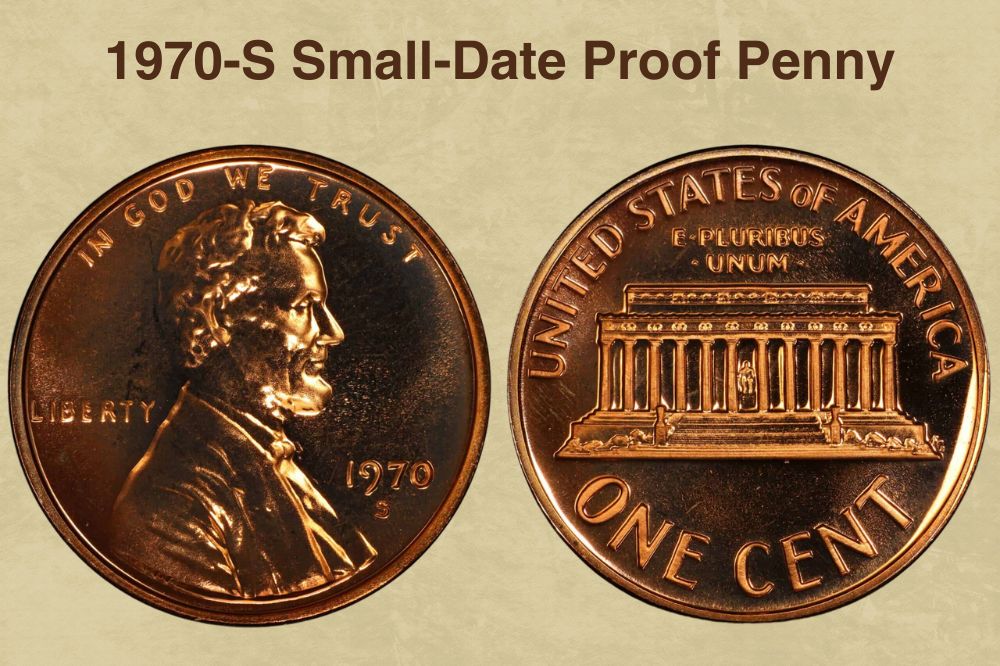 Proof Pennies are made with special dies and planchets. These blanks are burnished before striking to give an extra shine while the dies have a highly polished field and a frosted device for contrast. Coins with the biggest difference between the image and the backdrop get the Deep Cameo or DCAM grade. 1970 was the last year when coins were frosted via acid wash.
The mint made 2,632,810 Small-Date Proof Pennies. On 9th September 2004, a PR 66 sold for $1,323. And on 24th February 2021, a PR 69 CAM was $1,096. But Deep Cameos are so much more valuable. A PR 69 DCAM sold for $18,400 on 1st December 2005. The price has dropped over time though. It was $6,600 in March 2020 but is estimated at $9,500 today.
1970-S Large-Date Proof Penny Value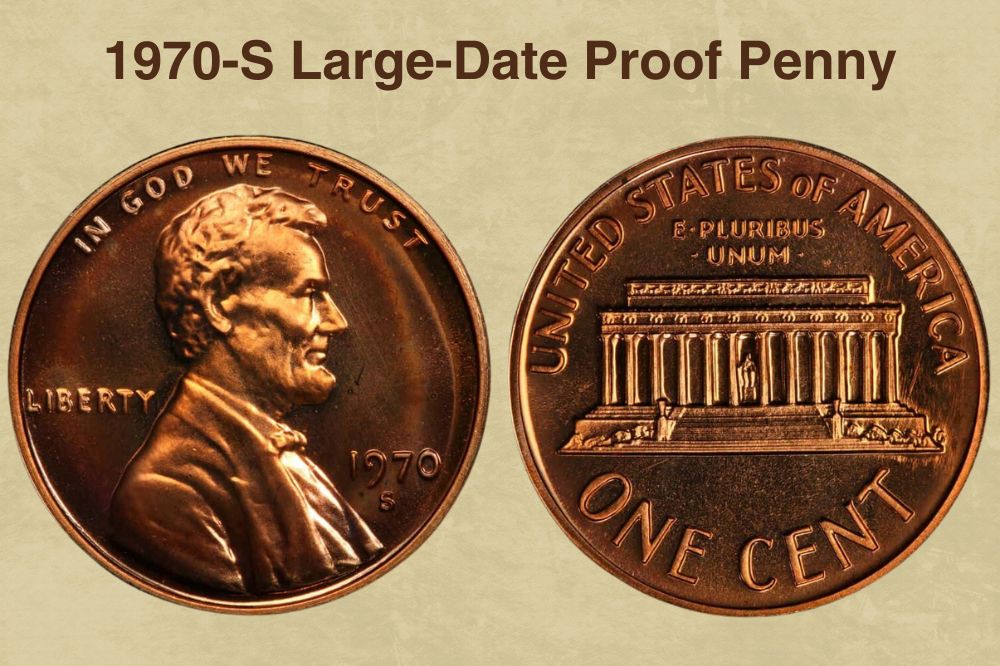 It's unclear how many Large-Date Proof Pennies were coined in 1970. On 1st May 2003, a PR 70 – the perfect grade – sold for $2,530. But with only four coins submitted to PCGS, their 2023 estimate is $1,850. Meanwhile a PR 69 DCAM sold for $3,220 on 21st November 2021.
Also read: 17 Most Valuable Indian Head Penny Worth Money
1970 Penny Grading
Wheat Pennies and Memorial Pennies have the same obverse design. But they have different reverse designs, so on the Memorial Lincoln Cent, graders pay extra attention to the steps and the statue. On high-quality coins, you can see Lincoln through the two central columns. Copper coins are graded RD (red), RB (red-brown), and BN or BRN (brown). Red is the best.
Rare 1970 Penny Error List
Lots of people collect pennies because they're cute and easy to source. But because it's such a common coin, it's on the lower end of the price spectrum. Plus, it doesn't have many mint mistakes. The best known First Strike error is a Doubled Die Obverse. The other 1970 Penny Errors are mostly double denominations, wrong planchets, cud breaks, die clashes, or clips.
1970 (P) Penny Partial Brockage Error
Just because a mint mistake looks dramatic doesn't necessarily mean it's valuable. This is a good example. It's a brockage error, which means the previous coin got stuck on the die, so its reverse struck this coin's obverse. That distorted the pattern and resulted in a 'headless' coin. But as drastic as it is, this NGC-Graded Philadelphia Penny was $65 in MS 60 BRN.
1970-S Proof LD/SD DDO Penny FS-102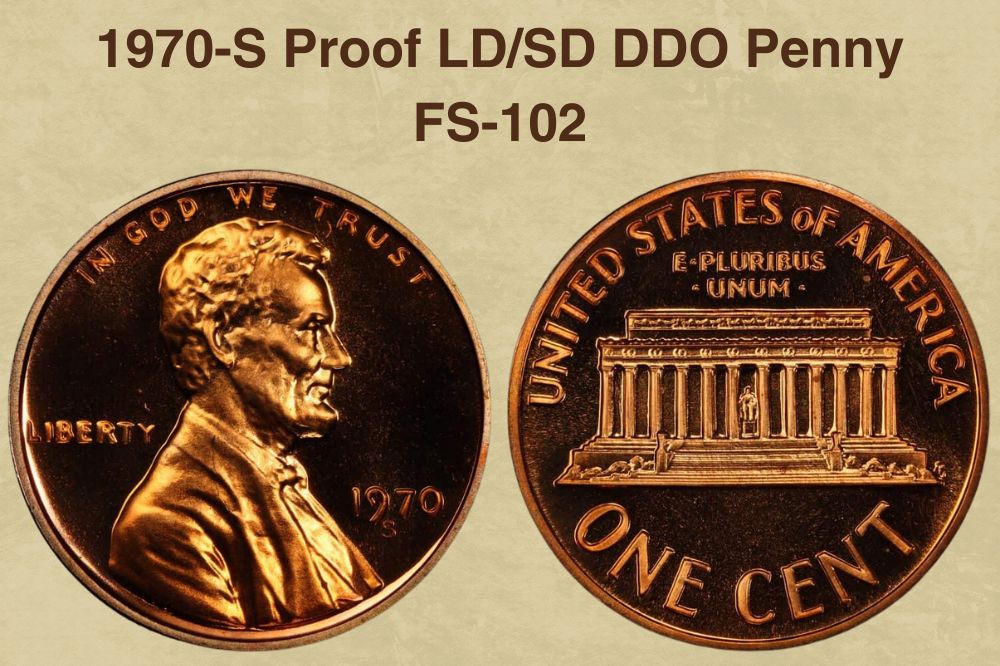 DDO means doubled die error. It happens if the die moves between its first and second strike so the second imprint lands slightly to the left or right, creating a double-vision effect. This is then transferred to any coin that die produces. The DDO on the 1970-S is a first strike error.
That means it was spotted within 30 days of release. But the FS-102 is also an overdate error because the Large-Date is struck on top of the Small-Date, and this double-doubled error gives the coin additional value. It sold for $1,290 in PR 66 RD and $1,500 in PR 68 CAM.
1970-S LD DDO Penny Business Strike FS-101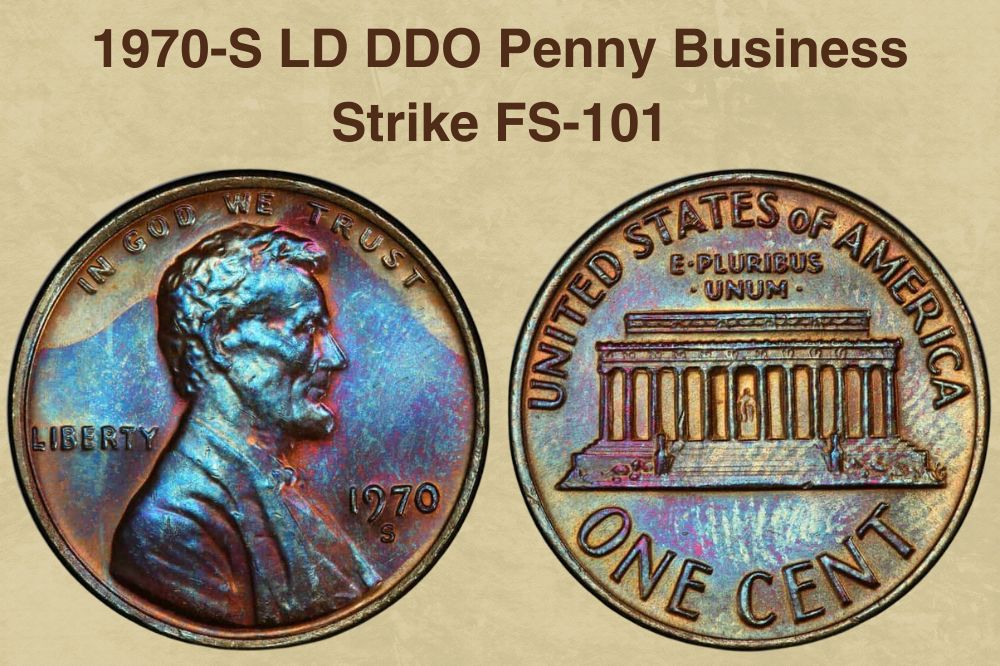 In 1970, the San Francisco Mint made both proof pennies and business strikes. The FS-102 was a proof coin error while the FS-101 was on both proofs and business strikes. A Brown LD AU 58, the FS-101 DDO sold for $2,125 in 2010. An LD MS 65 RB DDO was $9,500 in 2018 and $8,225 in 2022 and an LD MS 66 RD was $24,150 in 2001, down to $18,000 in 2022.
1970-S LD TDO Proof Penny FS-107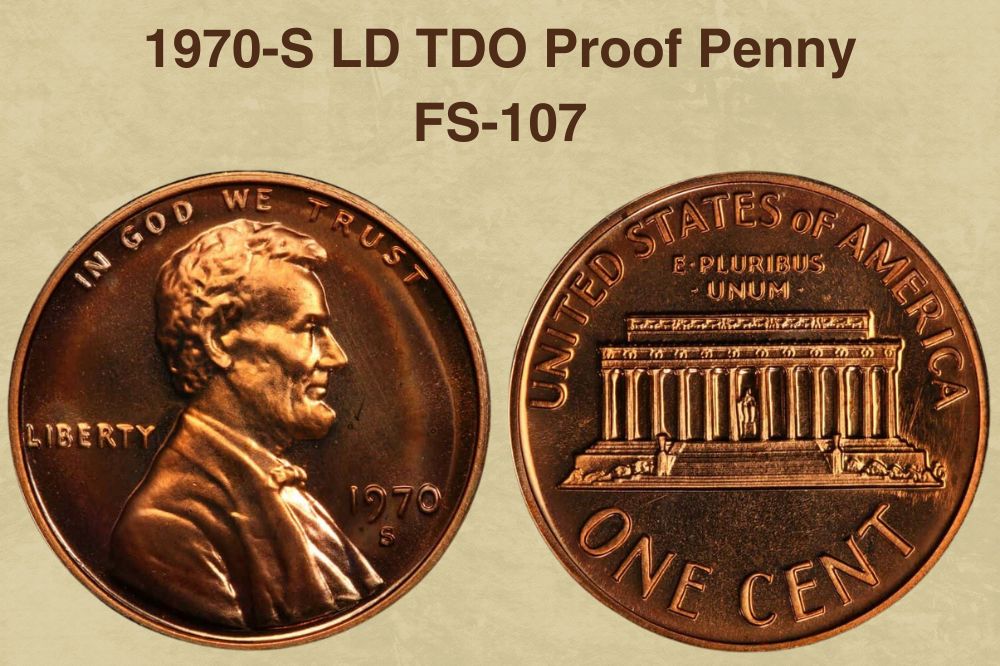 A TDO or Tripled Die Obverse is similar to a DDO except that the shift happens on both the second and third strike. This tripling effect is clearest on the words and numbers. In April 2023, a PR 69 RD Large-Date TDO sold for $1,140. An LD PR 65 CAM sold for half that at $587.50 in July 2013. And an LD PR 67 DCAM went for the same price in October 2016.
1970-S RPM Penny
RPM means re-punched mint mark, and you might confuse it for a DDO. The difference is until 1990, mint marks were manually placed and were the last detail added to a coin. This means RPMs came from unsteady hands and unfocused eyes rather than shifting dies. The RPM on 1970-S proofs isn't a first strike so pricing is unreliable. But it's an easy error to spot.
1970-D Penny Struck 55% Off-Centre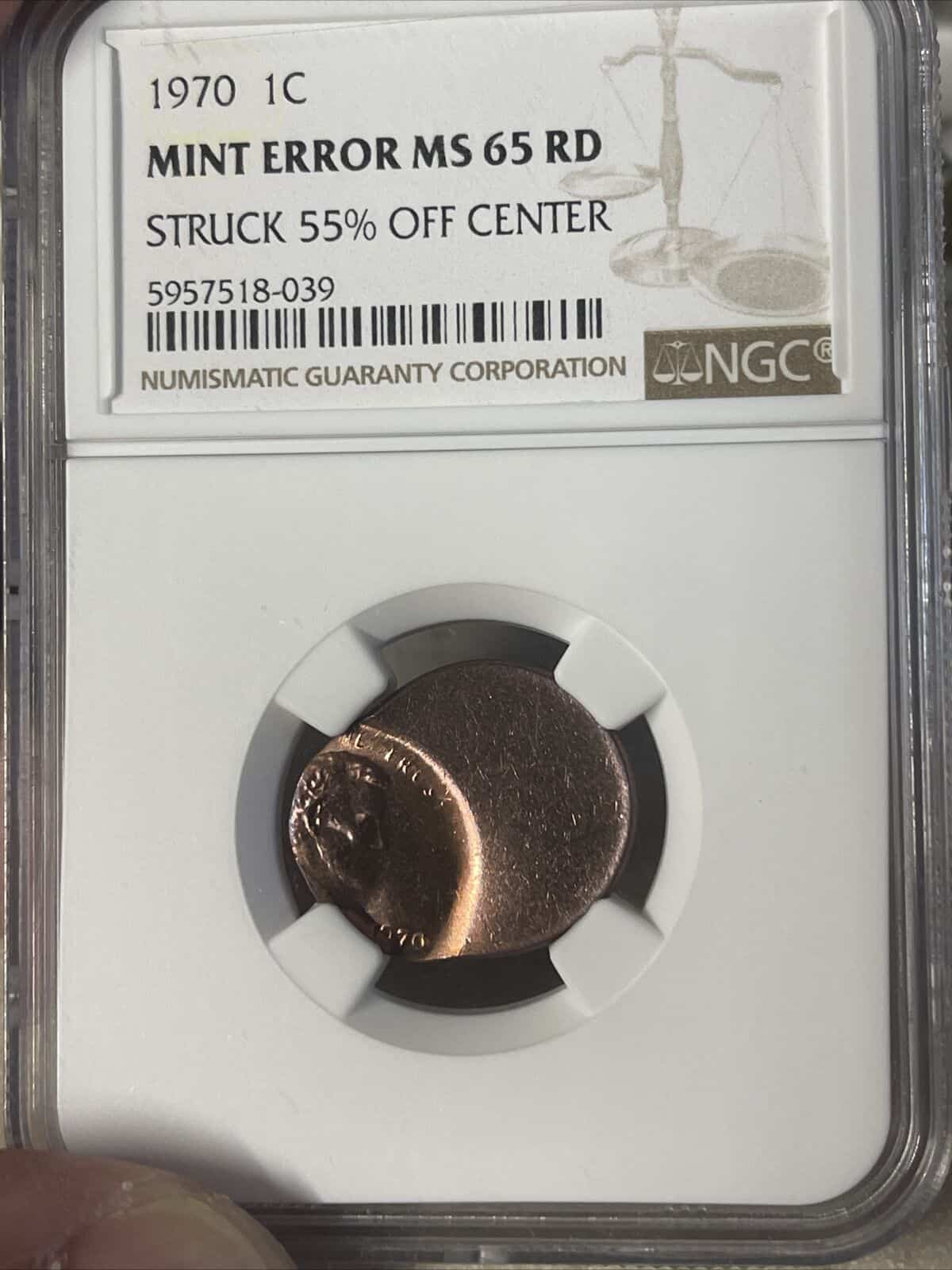 Coins are made by stamping designs onto blanks called planchets. A die is used to strike the blank, and sometimes the planchet will move before the first strike, leaving part of its surface unmarked. It's called a misalignment or an off-center error and is described by in percentages. This example was struck 55% off-center. It's not pricy though. In MS 63 RD, it sold for $65.
1970-S Triple Struck 35% Off-Centre Penny
When the planchet moves before the first strike, you get a simple misalignment. But if it shifts during the second or third strike, you get additional errors. This coin moved 35% to the left during the third strike, creating overlapping impressions on the coin. The result is quite arresting – and it's a valuable piece too! In MS 64 RD, the coin sold for more than $1,000.
1970-S and 1970-D Penny Double Struck Errors
The number of error strikes isn't necessarily proportional to the price. But sometimes, when the blank or coin shifts dramatically, that can change the shape of the coin by making metal spill outside the rim. One 1970-S MS 64 BN Double-Strike Off-Centre sold for around $100. But a 1970-D MS 63 RB Double-Strike that was similarly Off-Centre was more than $900!
1970-S Penny Struck on a Clad Dime Planchet
A Wrong Planchet Error happens when a coin is struck on a blank that was intended for a different denomination. And you can easily spot this one because it has a silver sheen while pennies always have copper coloring (except for the War Pennies of 1943 and 1944). This MS 64 Penny was struck on a 10c planchet that's a few millimeters smaller. It was $1,000.
Also read: 11 Most Valuable Wheat Penny Errors
1970 Penny FAQ
How Rare is the 1970-D Penny?
Not at all. At 2,891,438,900, it had the highest volume of the three mint branches so it's still quite a common coin. Over 600 samples are known in MS 65 or higher including 4 MS 67+.