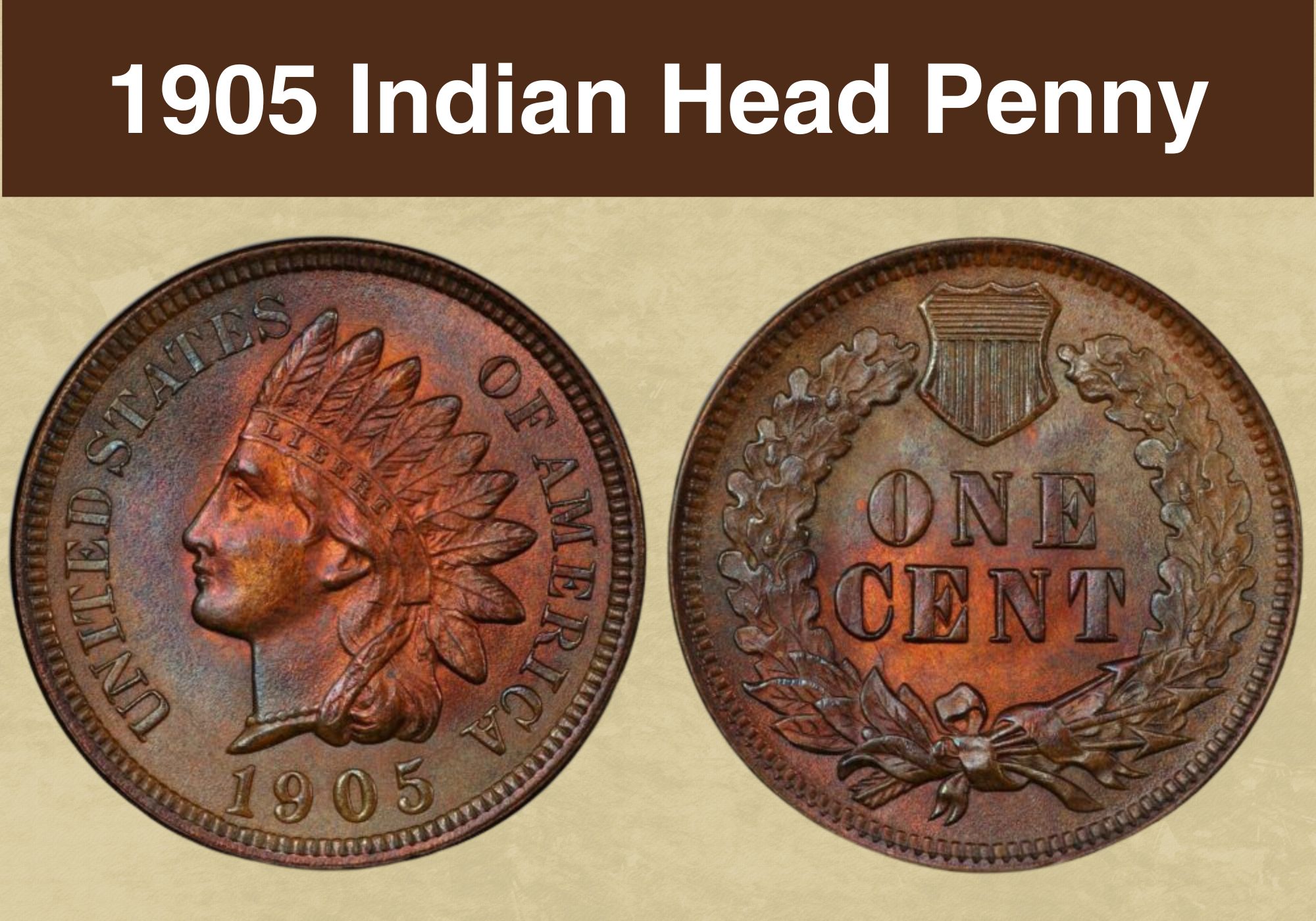 The 1905 Indian Head penny value was significant at the beginning of the 20th century since working-class Americans worked for 10 cents per hour only 50 years earlier. However, Large Cents were too sizable and impractical for everyday use.
Therefore, the US Mint started producing Small Cents in 1856, and the Indian Head cents appeared in circulation after three years. Nowadays, these coins are valuable collectibles and historical items sought after among all fans of numismatics.
1905 Indian Head Penny value

Condition
1905 No Mint mark penny
Good
$2.33
Very good
$3.38
Fine
$5.84
Very fine
$6.80
Extra fine
$11
AU
$23
MS 60
$46
MS 63
$75
PR 63
$292
History of the 1905 Indian Head Penny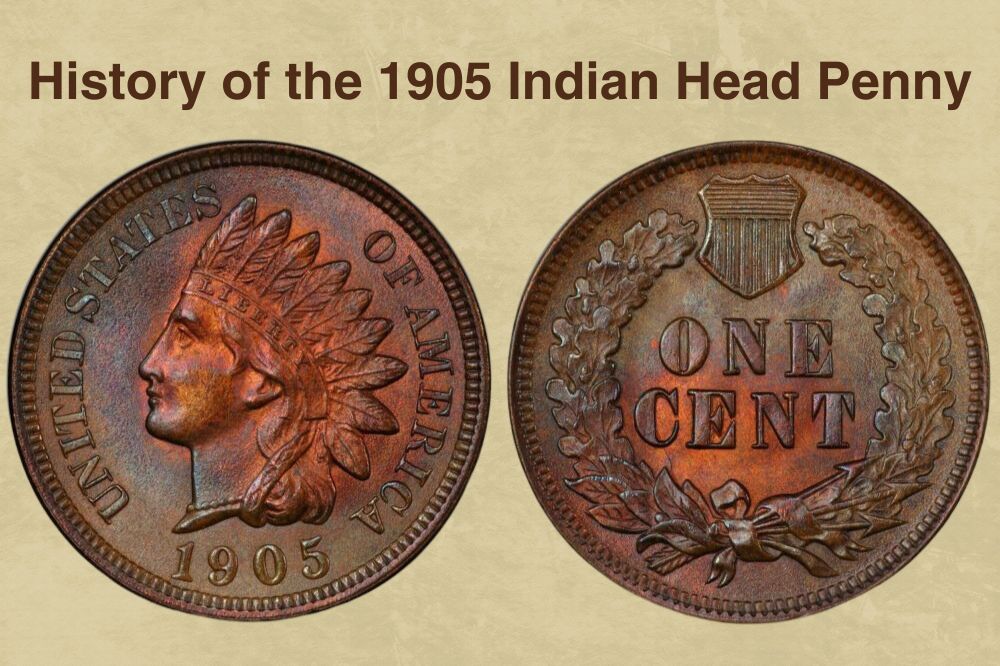 Whatever James B. Longacre's inspiration was, he created one of the most beloved American coin designs ever. These typical American pennies were tightly bonded with the national expansion during decades of their circulation.
They appeared in use on the eve of the Civil War, so adding national character meant a lot for Americans of that time. Despite established opinion, the image on the obverse was not an Indian but Lady Liberty wearing a tribal headdress.
1905 Indian Head Penny Types

Location
Year
Minted
Philadelphia
1905 penny
80,717,011
Philadelphia
1905 proof penny
2,152
Total
/
80,719,163
After 50 years of production and several changes in design, the US Mint replaced Indian cents with Lincoln pennies in 1909. That was a way to celebrate the 16th President's 100th birthday. However, beautiful Indian coins have stayed as desirable collectibles until today.
Also read: 12 Most Valuable Lincoln Penny Worth Money
Features of the 1905 Indian Head Penny
The 1905 Indian Head penny is a standard circulation coin minted from 1859 to 1909, based on James Barton Longacre's creation. In 1864, the US Mint changed this coin's size and composition, but it didn't affect its beauty and popularity.
The obverse of the 1905 Indian Head Penny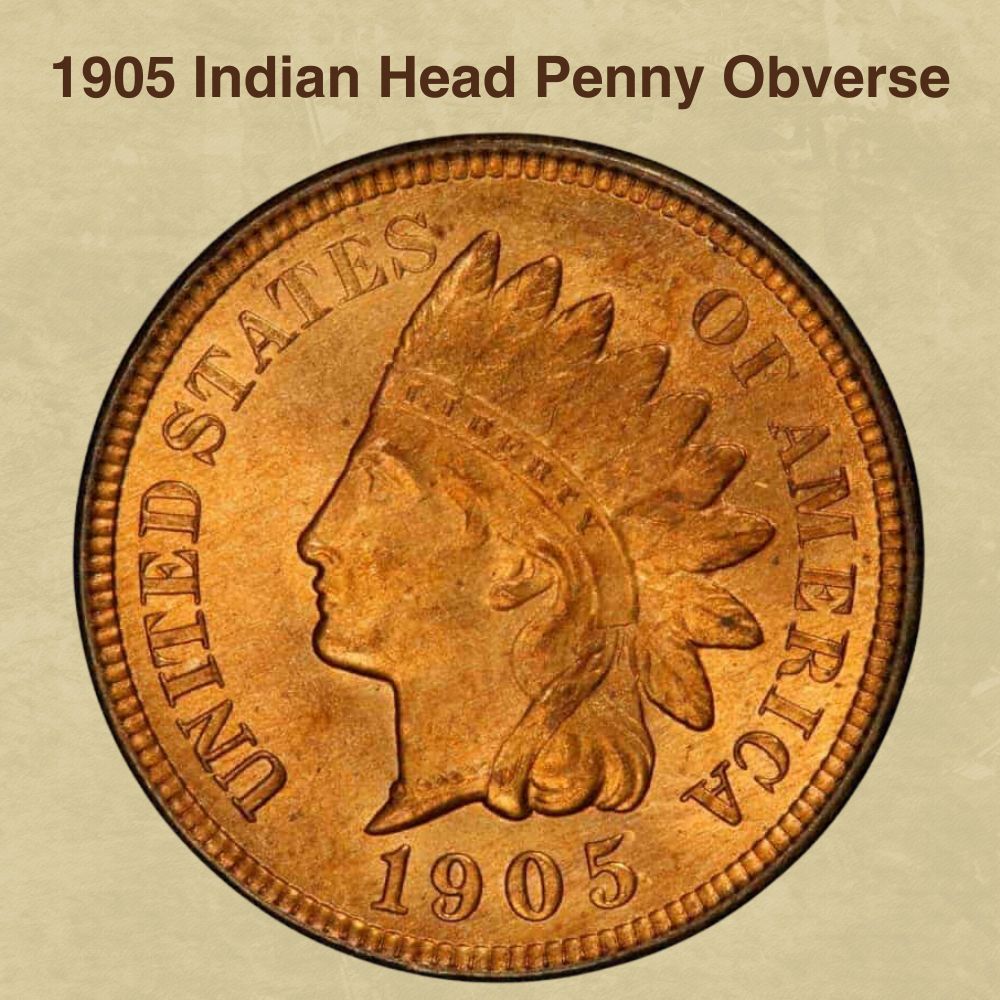 The designer's idea was to depict an Indian and pay tribute to the people who suffered so much since the arrival of the white man in the New World. Paradoxically, he didn't use an Indian as a model but based his work on his daughter's face.
The 'Indian' wears a traditional tribe headdress adorned with an inscription, LIBERTY. Along the rim is the UNITED STATES/OF AMERICA, separated in two parts, with the date struck on the bottom.
The reverse of the 1905 Indian Head Penny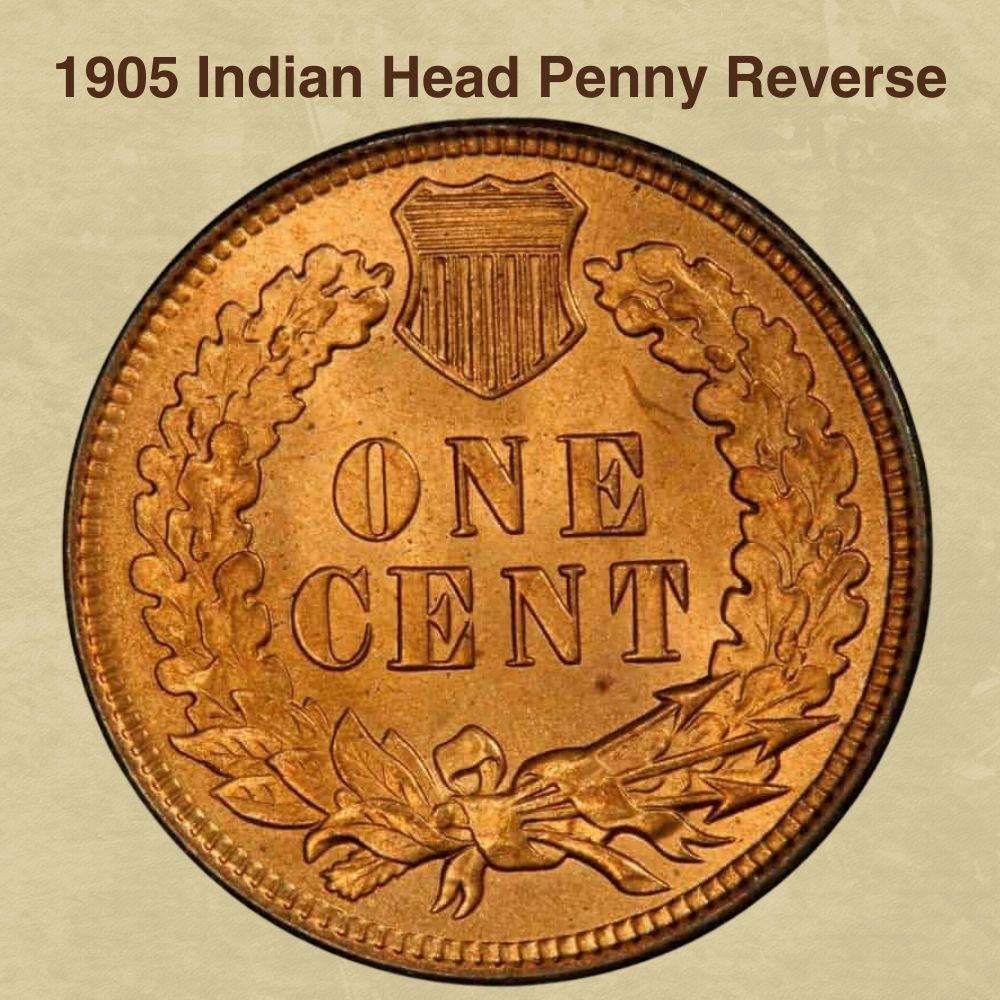 The elegant reverse features an oak wreath and three arrows tied with a ribbon and a shield at its top. You can count thirteen strips inside the shield, representing the first colonies. The denomination (ONE CENT) is written in capital letters and placed in the center in two lines.
1905 Indian Head Penny Details

Face value
One cent ($0.01)
Coin diameter
19.05 mm (0.75 inches)
Shape
Round
Coin thickness
1.47 mm (0.057874 inches)
Compound
An alloy of 95% copper with traces of zinc or tin
Coin weight
3.11 g (0.10970 ounces)
Edge
Plain
Other features of the 1905 Indian Head Penny
The 1905 pennies are one-cent coins made of 95% copper alloy. They have a thickness of 1.47 mm (0.057874 inches). Each coin weighs 3.11 g (0.10970 ounces) and comes with a standard diameter of 19.05 mm (0.75 inches).
Also read: 13 Most Valuable Wheat Penny Worth Money
1905 Indian Head Penny Value Guides
Only one mint issued Indian Head cents in 1905. The total mintage in Philadelphia was 80,719,163 coins, including over 2,000 proofs intended for collectors. Most others were released into circulation and spent years in everyday use.
1905 No Mint Mark Indian Head Penny Value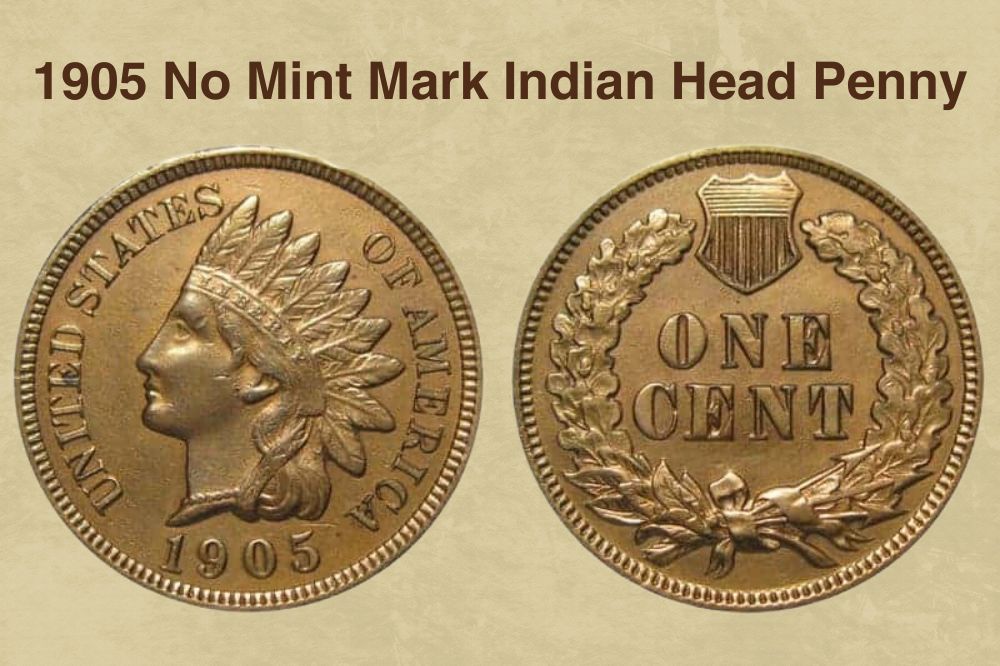 The Philadelphia mint produced 80,717,011 pennies in 1905. Most coins spent decades in use, but they have shown varying degrees of wear, usually embodied in discoloration. This feature is the primary characteristic in their evaluation nowadays.
Pennies with attractive red coloration are the most expensive in the set. However, their prices vary significantly, depending on their surfaces' degree of perfection.
For instance, you can find one 1905 MS 61 penny for $80 to $100, but better-ranked pieces always cost more. The expected price range is from:
$105 to $131.25 for MS 62-ranked pennies
$130 to $162.50 for MS 63-ranked pennies
$240 to $300 for MS 64-ranked pennies
$525 to $635 for MS 65-ranked pennies
$1,210 to $1,540 for MS 66-ranked pennies
Only a few survived pennies are graded MS 67, so you can expect them to be highly valuable and collectible. The assessed price rank for these coins is from $15,000 to $18,750. One such Indian Head coin sold at $19,975 at an auction in April 2013.
You can expect that specimens with a brownish shade are less desirable. Hence, their prices are significantly lower. So, you can pay one 1905 brown penny in circulated condition for $1 to $30. Even those in perfect condition are affordable despite their age.
All these coins ranking from MS 60 to MS 66 cost $32 to $375, and only those in MS 67 grade have a higher estimated value. You probably need to spend about $1,350 to $1,680 to get one of these pieces.
The costliest brown Indian Head cent minted in 1905 is the one in MS 65 grade. One collector added it to their set in June 2022 for $960.
Sometimes, you can come across unusual red-brown 1905 pennies in different color combinations. Their estimated price range is typically from $50 to $475, but rare specimens in MS 67 grade can cost $1,700 to $2,100.
The most expensive 1905 RB MS 66 penny appeared at Heritage Auctions in October 2011, selling at $1,726.
1905 proof Indian Head Penny Value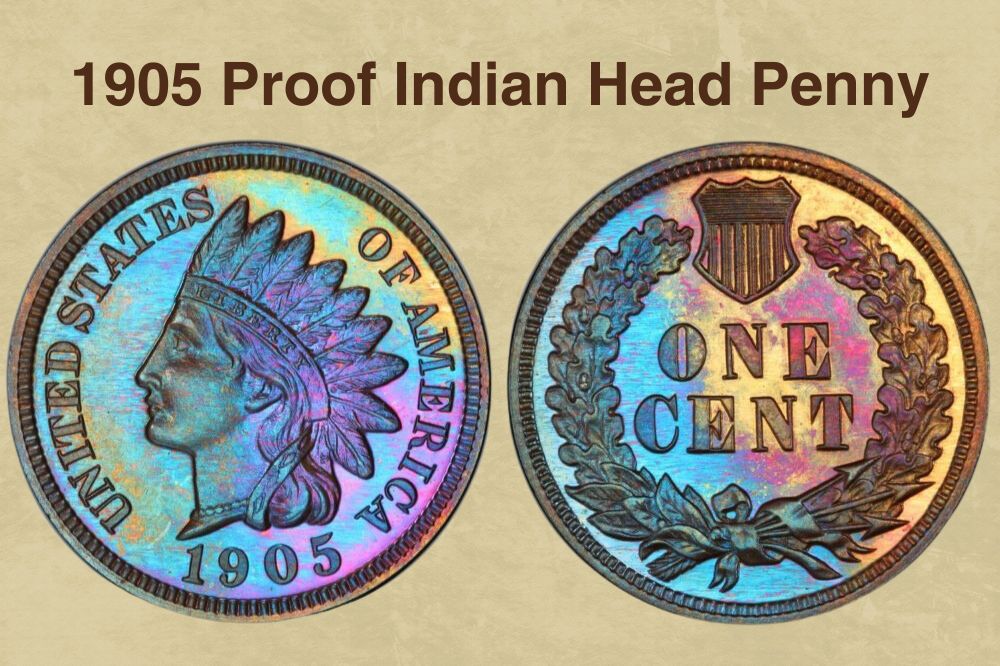 The Philadelphia mint issued 2,152 proof Indian Head cents intended for collectors in 1905. You can find these coins in three color combinations, directly affecting their price range.
For instance, the least attractive brown specimens, ranking PR 60 to PR 66, cost $120 to $936. On the other hand, it is often necessary to set aside $1,700 to $2,040 for PR 67-graded ones.
As always, you can count on exceptions. So, one brown 1905 PR 67 penny offered at Goldberg Auctioneers in 2005 sold at a high price of $3,335. One specimen in this grade with CAM quality became the most valuable in the set after selling at $23,000 in July 2009.
Red-brown pennies are more valuable than completely brown specimens, and you can expect to pay $150 to $660 to get one. As usual, the best-ranked ones cost more, so you need to set aside approximately:
$1,150 to $1,350 for a red-brown penny in PR 66 grade
$2,200 to $2,640 for a red-brown penny in PR 67 grade
Besides the high estimation, one red-brown coin in the highest known grade sold in May 2018 for an incredible $5,405. The 1905 Indian Head red pennies are the most collectible, and collectors are prepared to pay high sums for one such piece. Their price range is:
From $220 to $264 for a PR 60-rated piece
From $240 to $288 for a PR 61-rated piece
From $260 to $312 for a PR 62-rated piece
From $300 to $360 for a PR 63-rated piece
From $440 to $528 for a PR 64-rated piece
From $960 to $1,152 for a PR 65-rated piece
From $1,525 to $1,830 for a PR 66-rated piece
From $4,800 to $5,760 for a PR 67-rated piece
After selling at $11,750 in March 2014, one of these red beauties in PR 67 grade became even costlier than the best estimation.
Also read: 17 Most Valuable Indian Head Penny Worth Money
1905 Indian Head Penny Grading
Grading the 1905 Indian Head cents can be demanding since these coins are almost 120 years old. Most are worn out, but superb coins in the highest grades are in demand. In such a case, a professional estimation is the mast, particularly if you plan to offer one at an auction.
Rare 1905 Indian Head Penny Errors List
The 1905 Indian Head penny set is packed with errors interesting for collectors. Most are costlier than regular coins, but even beginners and those with a limited budget can afford some of these atypical specimens. Let's see.
Clipped planchet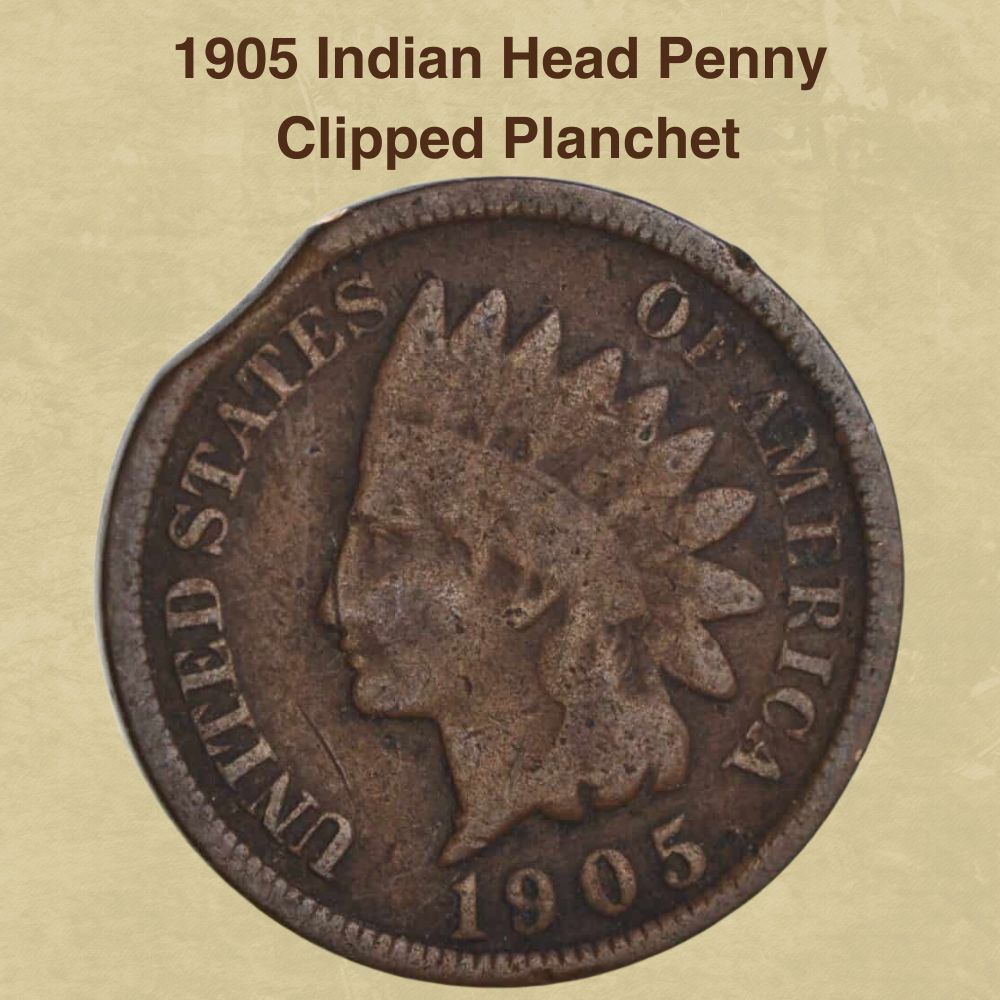 Coins with this error resulted from the dies cutting off a part from the planchet edge when striking it. It happened when the blank metal piece was incorrectly placed during minting. The best of all is that you can immediately notice this imperfection and buy a coin for $90 to $100, depending on the level of its peculiar appearance.
Doubled die obverse
The DDO error appeared on the 1905 pennies when the die was imperfect and had an engraved double image. Such coins are always collectible, but most collectors prefer those with an error visible to the naked eye.
Their estimated value is about $45. Sometimes, you need a magnifying glass to see a design deviation, lowering the price.
Off-center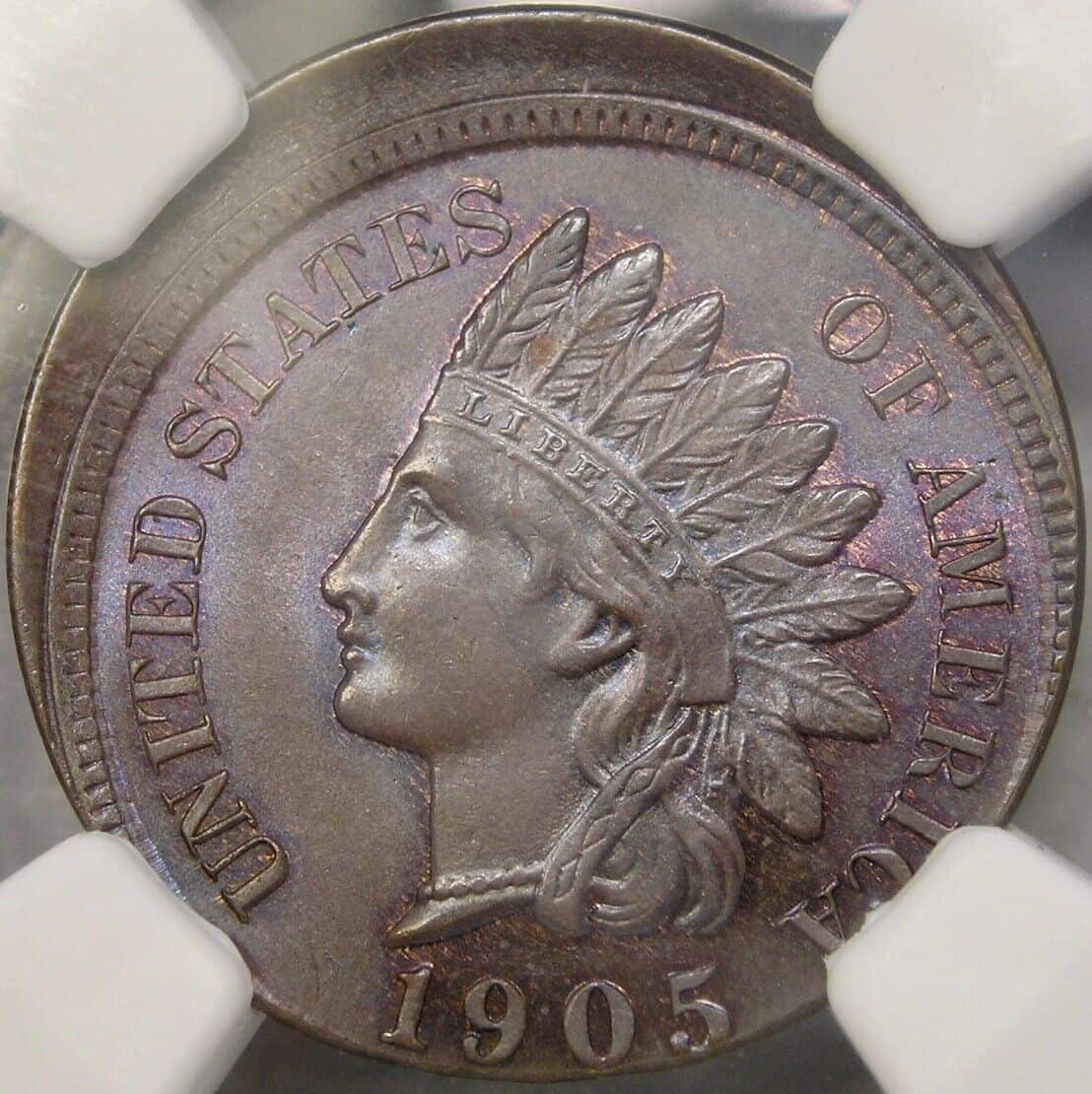 The 1905 penny with an off-center strike appeared when it was improperly placed during the strike. The result was a misaligned design in a certain percentage. Pieces with 30% to 50% missing design cost approximately $450 to $460.
Re-punched date
Coins with a re-punched date error resulted from a doubled strike to correct a previously inappropriately positioned minting date. Depending on the coin's wear or damage, you can see this defect more or less effortlessly. The most expensive piece was the brown 1905 XF 40 RPD coin, which sold at $396 in 2013.
Die breaks
This common error resulted from worn-out dies used during coin minting. When the old die struck the coin, it came out with a defective image or lettering. Be careful when buying such a coin. Those with minor errors can be valuable, but too sizable imperfection negatively affects the coin's appearance, lowering the price.
Strike-through
It is crucial to have a clean die and planchet while minting coins to get the best possible design imprint on the surface. Otherwise, dust particles or debris caught between them result in a partially or wholly missing design.
The price of these error coins depends on how dramatic the imperfection is. In most cases, you can expect to pay about $20 to $30 per piece.
Also read: 11 Most Valuable Wheat Penny Errors
FAQ about the 1905 Indian Head Cent
What makes Indian Head cents from 1905 rare?
Since the Philadelphia mint released over 80 million Indian head cents into circulation in 1905, these coins are pretty common even after almost 120 years of existence. However, red specimens in high uncirculated conditions can be rare and highly valuable.
Which are the most expensive 1905 Indian Head cents in the set?
The 1905 PR 67 Indian Head cent with CAM quality sold at $23,000 in July 2009, Heritage Auctions
The red 1905 MS 67 Indian Head cent sold at $19,975 in April 2013, Heritage Auctions
The red 1905 PR 67 Indian Head cent sold at $11,750 in March 2014, Stack's Bowers
The red-brown 1905 PR 67 Indian Head cent sold at $5,405 in May 2018, Legend Rare Coin Auctions
The brown 1905 PR 67 Indian Head cent sold at $3,335 in February 2005, Goldberg Auctioneers
The red-brown 1905 MS 66 Indian Head cent sold at $1,726 in October 2011, Heritage Auctions
The brown 1905 MS 65 Indian Head cent sold at $960 in June 2022, Stack's Bowers
The brown 1905 XF 40 Indian Head cent with re-punched date sold at $396 in July 2013, Great Collections
How much is the 1905 Indian Head cent worth?
The Indian Head cent prices depend on each coin's condition and color. You can buy an attractive red piece for $80 to $1,540, but those graded MS 67 are estimated to be $15,000 to $18,750.
The 1905 brown pennies in circulated condition cost $1 to $30, while those in the mint state cost $32 to $1,680. Unusual red-brown coins have an assessed price range from $50 to $2,100.
What Indian Head cents are the costliest in the series?
The 1864 PR 65 Indian Head cent with L On Ribbon error ($161,000, 2011, Heritage Auctions)
The 1877 MS 66 Indian Head cent ($149,500, 2007, Heritage Auctions)
The red 1902 MS 68 Indian Head cent ($144,000, 2022, Stack's Bowers)
The 1872 MS 66 Indian Head cent ($126,500, 2007, Heritage Auctions)
The red 1899 MS 68 Indian Head cent ($108,000, 2019, Heritage Auctions)
The DCAM 1897 PR 67+ Indian Head cent ($108,000, 2021, Stack's Bowers)