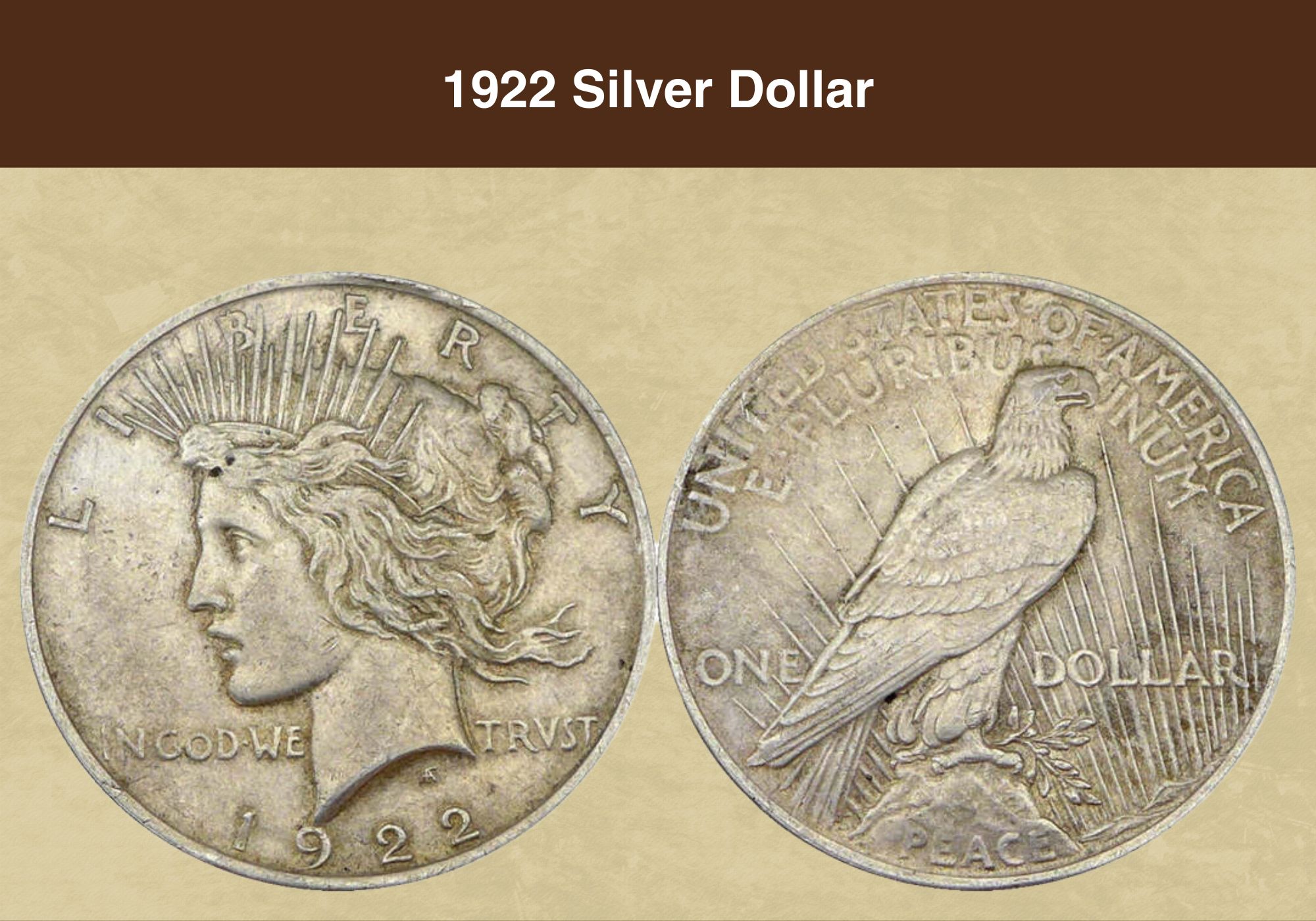 The silver dollar produced by the Mint in 1922 is one of a series known as "Peace dollars". But just how much is it worth?
We're going to find out, as we explore the 1922 silver dollar value. We'll learn about the different varieties, and we'll discover what impact coin condition has on value. And we'll find out more about the history and features of this interesting coin along the way.
Ready to learn more? Let's get started!
1922 Silver Dollar Value Chart

Mint mark
PO1
XF45
MS63
MS64
MS66
MS67
1922 (P) No Mint Mark Silver Dollar Value
$70
$40
$90
$110
$725
$10,500

1922 D Silver Dollar Value
$140
$42
$140
$250
$1,500
$75,000
1922 S Silver Dollar Value
$70
$40
$150
$300
$21,500
n/a
PR60
PR61
PR63
PR64
PR65
PR66
1922 (P) Proof Silver Dollar, Low Relief, Value
?
?
Satin finish: $108,000
?
Matte finish: $192,000
?
1922 (P) Proof Silver Dollar, High Relief, Value
?
Matte finish: $100,000
Matte finish: $160,000
Matte finish: $230,000
?
Matte finish: $350,000
SP60
SP61
SP63
SP64
SP65
SP66
1922 (P) Special Strike Silver Dollar, High Relief, Value
?
?
?
Sandblasted antique finish: $192,000
?
?
History of the 1922 silver dollar
The coins known as Peace dollars were first minted in 1921. They continued to be struck every year until 1928, then again in 1934, 1935 and 2021. They were intended to mark peace after the end of the First World War.
The 1922 silver dollars were produced four years after the passage of the Pittman Act. This legislation authorized the melting down of millions of silver coins to provide assistance to Britain. The Act also required new ones to be struck, produced using silver bought from US mines.
The approved designs for the Peace dollar featured a broken sword. But when this was reported in the press it proved unpopular, with people seeing it as a symbol of defeat. The Mint hastily backtracked, and the sword was removed from the design.
The first Peace dollars were struck in 1921 and released into circulation in January 1922. They were very popular, and long lines formed at the Treasury as people tried to get their hands on them.
The coins proved difficult to strike, however. Early in 1922 production was stopped, and the relief of the design was lowered.
All the high relief business strike coins made until that point are believed to have been melted down. One survivor has since surfaced, however, together with a handful of high relief proof coins.
The new lower relief coins began production in February 1922. The Mint facilities at Philadelphia, Denver and San Francisco all successfully struck high numbers.
Also read: 12 Most Valuable One-Dollar Coin Worth Money
Features of the 1922 silver dollar
Obverse of the 1922 silver dollar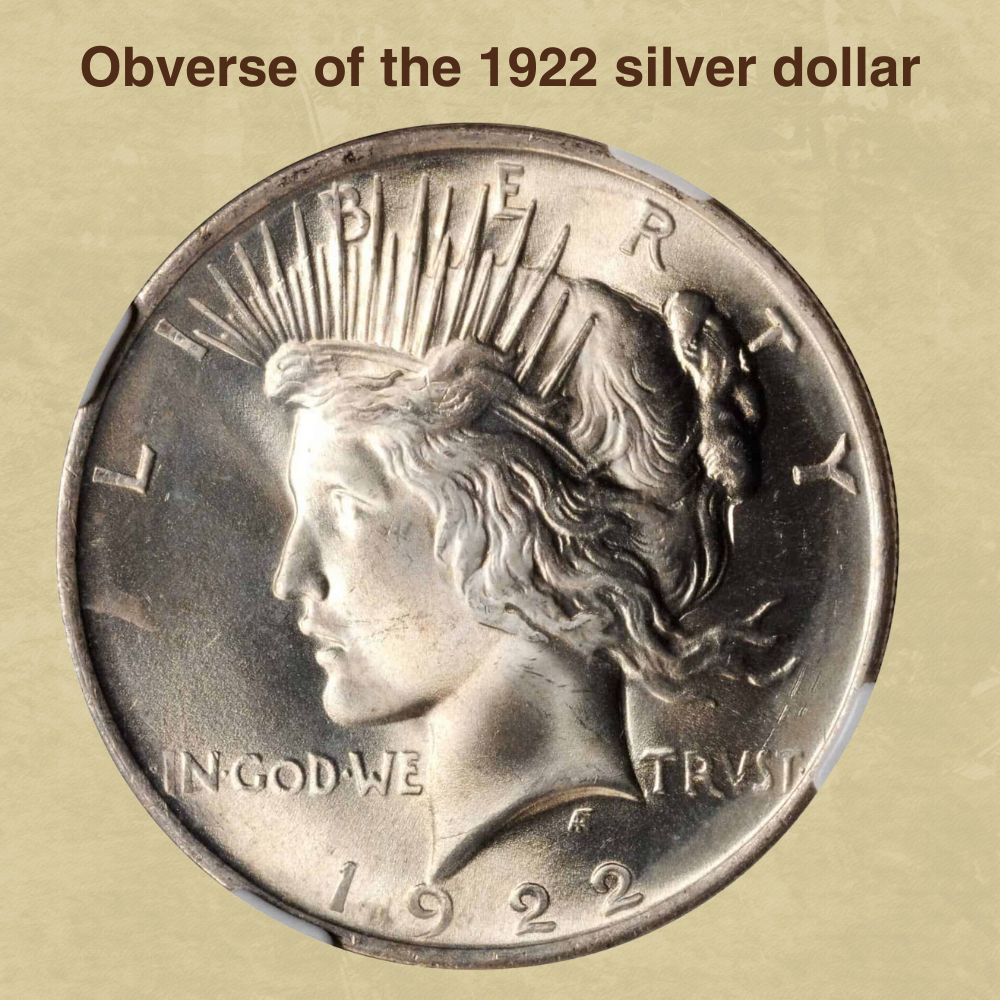 The design on the obverse of the 1922 silver dollar shows Lady Liberty in profile facing left. Her lips are parted, and her hair is blowing in the wind.
The words "In God We Trust" are positioned on either side of her neck, while the date is below. The word "Liberty" arches across the top of the coin.
The design was the work of the sculptor Anthony de Francisci, and it was selected following a competition. De Francisci said the competition timescales didn't allow him to employ a model, so he based his portrait of Liberty on his wife, Teresa.
Reverse of the 1922 silver dollar
The reverse of the 1922 silver dollar shows a large eagle perched on a rock, clutching an olive branch in its talons. The rays of the rising sun spread out over the coin surface.
Above the eagle curves the country name, and immediately below that, the Latin motto "E pluribus unum", meaning "From the many, one".
The denomination is inscribed on either side of the eagle, "One" on the left as the coin is viewed, and "Dollar" on the right. The word "Peace" appears at the bottom.
Other features of the 1922 silver dollar
The 1922 silver dollar is larger than modern dollars, measuring 1.5 inches in diameter and weighing 26.73 grams. It was made of 90 per cent silver and 10 per cent copper.
There are a number of different varieties – low relief and high relief, business strikes, special strikes, and proof coins. And the proof and special strikes have different finishes, including matte, satin and antique sandblasted.
Even the standard business strikes have lots of different varieties too. This YouTube video from Numismatic Stacker gives you more information.
Also read: 14 Most Valuable Coins In Circulation
1922 Silver dollar value guides
1922 (P) Silver dollar value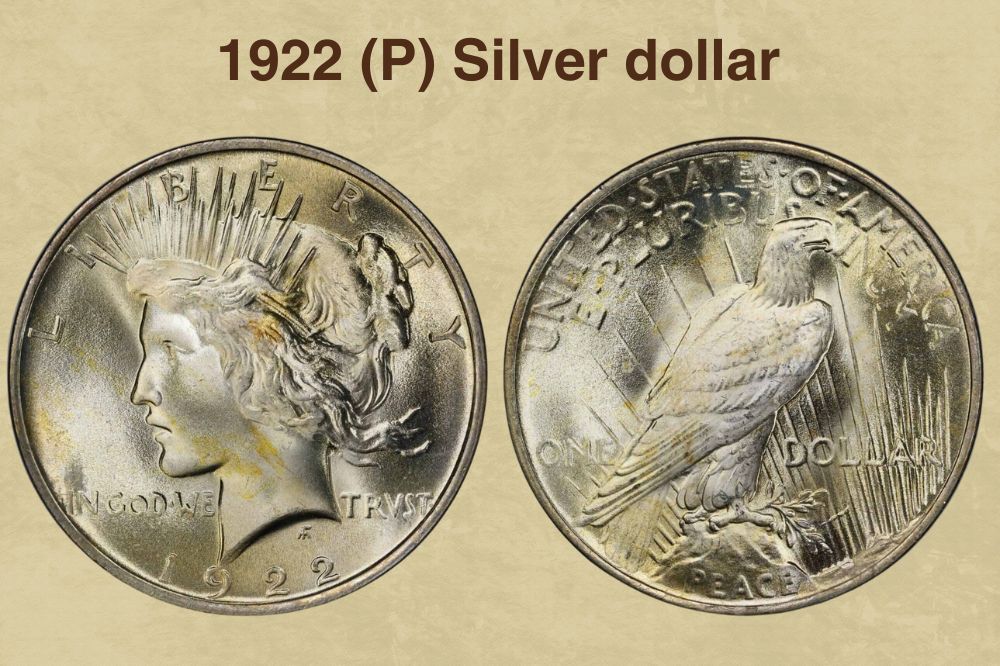 1922 saw almost 52 million silver dollars struck at the Mint facility in Philadelphia. You can identify these by the absence of a mint mark. Look on the reverse of the coin, just to the left of the tip of the eagle's tail feathers. If there's no letter, your dollar was struck in Philadelphia.
Today, around 10 million of these coins are believed to survive. But those in better condition are rarer, and hence more valuable.
Coins are graded from 1 to 70, with 1 indicating a coin in the poorest condition whilst still being identifiable. A coin graded 70 is flawless.
Of the surviving 1922 Philadelphia silver dollars, about three quarters are believed to be in circulated condition. That means they'll have varying degrees of wear and tear.
The remaining quarter are graded from 60 upwards, and are in what's known as "mint state". And about 75,000 coins are graded 65 and upwards, known as "gem quality".
1922 silver dollars graded 1 are collectable in their own right and carry a premium. The independent coin graders the PCGS value them at $70. Coins graded 2 are worth slightly less, about $60.
Move up a point and the value drops to $34. It remains steady all the way to XF40 (the "XF" stands for "extremely fine") before it begins to rise gradually once more.
A coin in mint state is valued at a minimum of $50, and values tip into three figures ($110) at MS64.
But coins become much rarer at MS66 and above. At that level, a 1922 Philadelphia silver dollar is valued by the PCGS at about $725. And the PCGS has certified 139 examples at MS66+, valued at $2,500 apiece.
Tied in top place for the finest examples yet known are 48 coins graded MS67. The PCGS says those are each worth $10,500.
1922 D Silver dollar value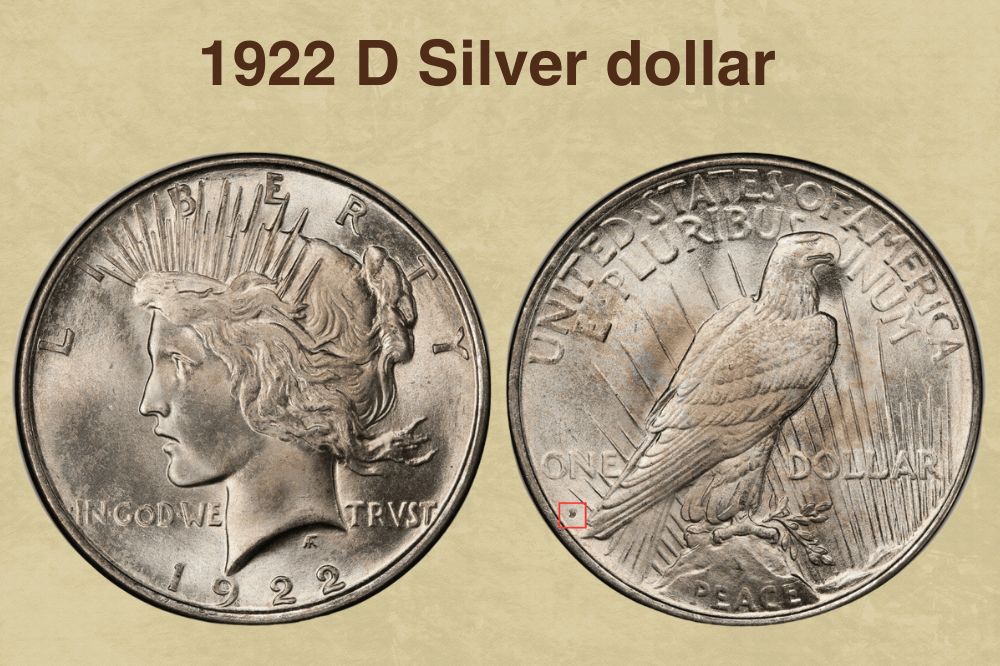 Far fewer 1922 silver dollars were struck in Denver than in Philadelphia. The total mintage there was just over 15 million coins. Look for the "D" to the left of the eagle's tail feather to spot them.
Most coins in circulated condition are nevertheless worth about the same as their Philadelphia counterparts. Coins graded from 3 all the way to 35 are worth around $34.
But there's a premium for coins in the poorest condition. An example graded 2 is valued at around $85, while one graded 1 is about $140.
Mint state coins are more valuable too. An example graded MS60 is worth about $65, and that rises to $575 for a gem quality MS65 coin. Go up half a point, and the value jumps again to $1,100.
And there's a gulf between examples graded MS66+ – valued by the PCGS at $8,500 – and those graded MS67. The auction record was set by one of the three certified MS67 examples in 2018, when it sold for $90,000.
Since then, prices have cooled slightly. The PCGS estimates the value of an MS67 example today at $75,000.
Another coin grading agency, the NGC, appears to be slightly more generous in its grading. It's certified 22 coins at MS67, one at MS67+, and one at MS67+ and with a star designation for superior eye appeal.
The MS67+ example sold at auction in 2022 for $36,000.
1922 S Silver dollar value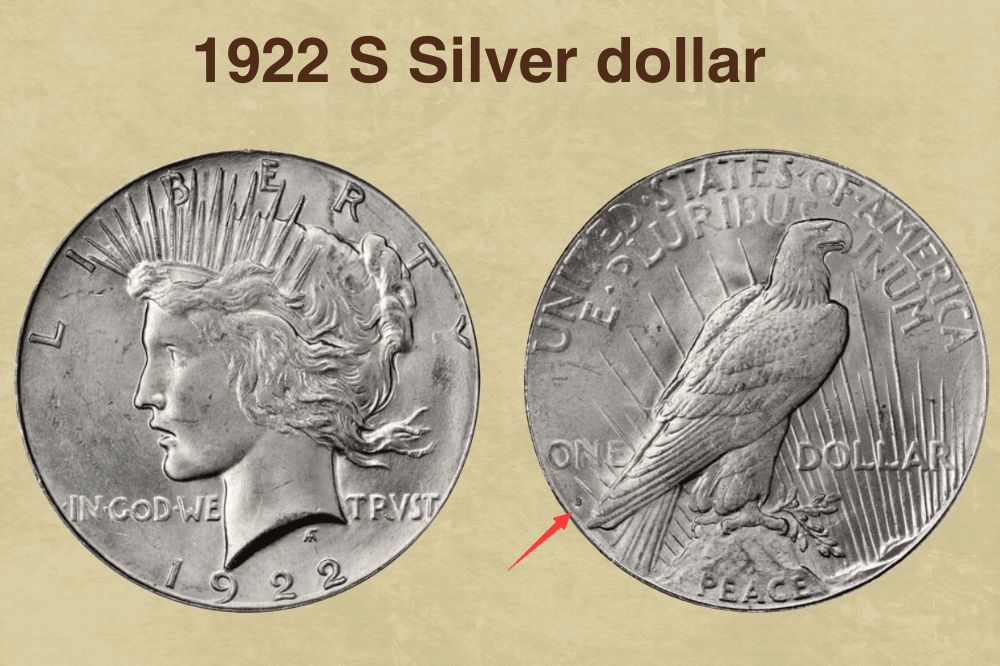 San Francisco was the least prolific of the Mint facilities, producing just under 17.5 million coins. Around 2 million of those are estimated to survive today – so an "S" mint mark is less easy to come by.
Coins graded 1 and 2 are valued at about $70 and $60 respectively. Circulated coins at other grades range in value from $34 (for coins graded 3 to 35) to $67 for an example graded AU58+ (the "AU" stands for "about uncirculated").
Values breach $100 at MS62+ and enter four figures at MS65 ($1,450). Coins graded MS66 and above are rare. The PCGS values an MS66 example at $21,500.
And there's one example finer. That coin, graded MS66+, is worth around $55,000.
1922 (P) Proof silver dollar value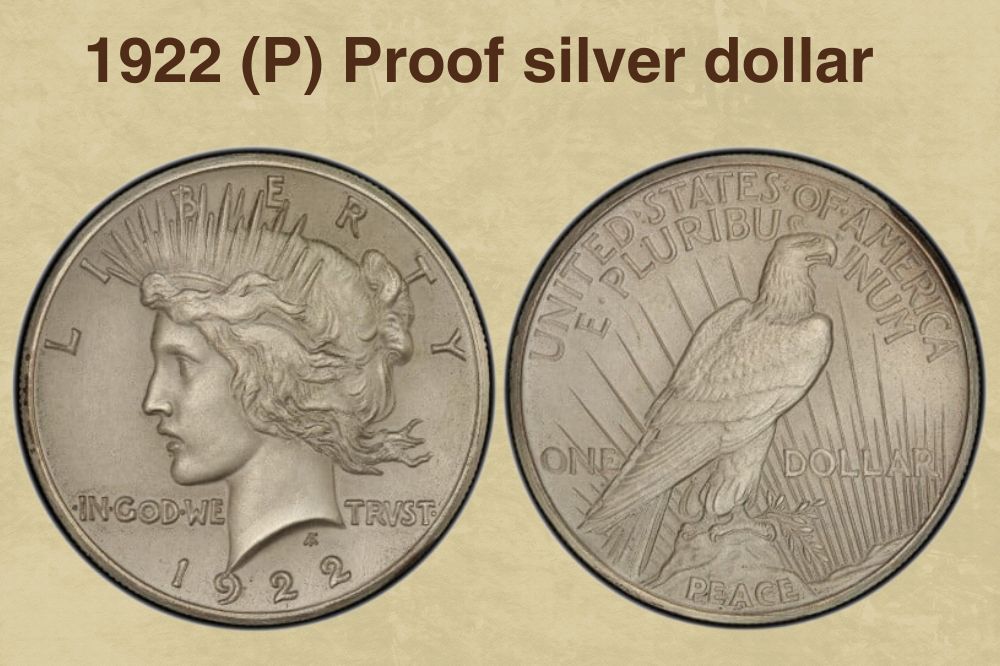 As well as the business strikes, a small number of proof 1922 silver dollars were also produced in Philadelphia. These were struck on special planchets using carefully prepared dies. And a small number of them are believed to survive, in both high and low relief.
The high relief examples might have been less practical for coin production, but they're very beautiful. Around ten are believed to have been struck with a matte finish, and ten with a satin finish.
The low numbers mean they're extremely valuable.
In circulated condition, only one matte finish coin has come to light. That's graded VF25 ("very fine") and valued at $40,000. The mint state examples range in value from $100,000 for a coin graded PR61, to $475,000 for a sole example graded PR67.
To date, only one satin finish high relief proof has been uncovered. That coin is graded PR61, but there are no sales records for it, and the PCGS doesn't estimate its value.
The low relief proofs can be found in both matte and satin finishes. Only 10 matte finish examples are believed to have been minted, with one graded PR65 certified by the NGC, and one at PR66 certified by the PCGS.
There are no sale records for the latter, but the PR65 example last changed hands in 2023. It sold then for $192,000.
10 satin finish low relief proofs are also believed to have been struck. The finest known example is graded PR65, but again there are no public sale records for that coin. The auction record was set in 2023 for a satin finish low relief proof graded PR63. That sold for $108,000.
1922 (P) Special strike silver dollar value
In addition to the proofs, the Philadelphia Mint facility also produced around eight "special strike" coins. These had yet another type of finish, known as "sandblasted antique".
Only one of the eight has so far come to light. That coin is graded SP64. It was last presented at auction in 2019, and sold then for $192,000.
Also read: Top 10 Most Valuable Morgan Silver Dollar Worth Money
Rare 1922 Silver Dollar Error List
1922 (P) Silver dollar, satin finish, high relief, reverse of 1921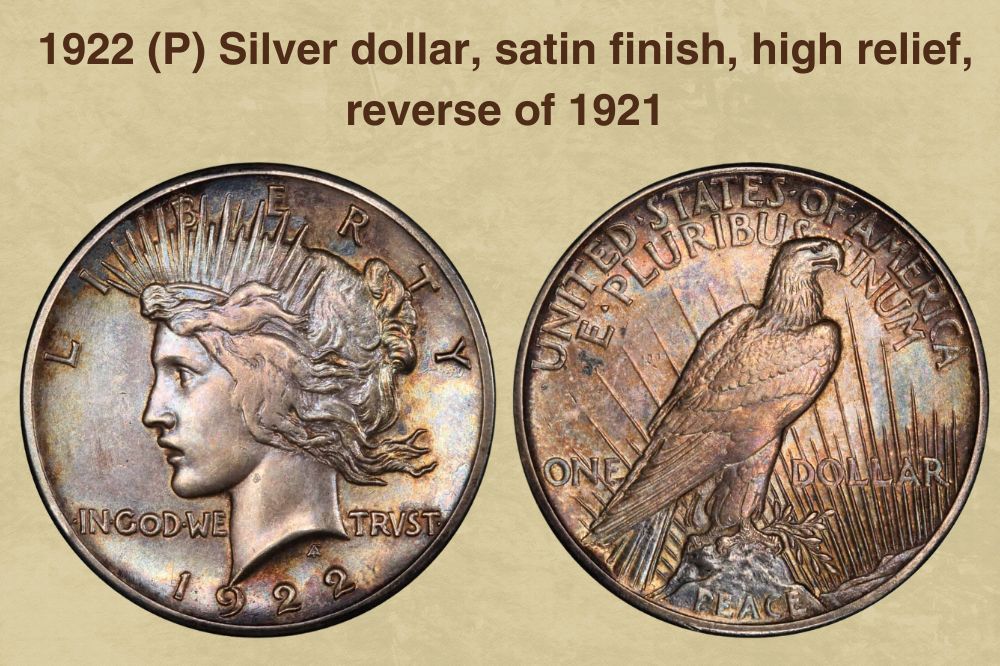 One of the proof silver dollars struck in 1922 had high relief and a satin finish. But what made it even more unusual is that it had the reverse of a 1921 dollar.
The PCGS has certified only one example of this error, and it's graded PR60. There's no sales information available for it. But as a unique coin, we'd guess it would be worth comfortably into six figures.
1922 (P) Silver dollar, "Moustache" variety, VAM12A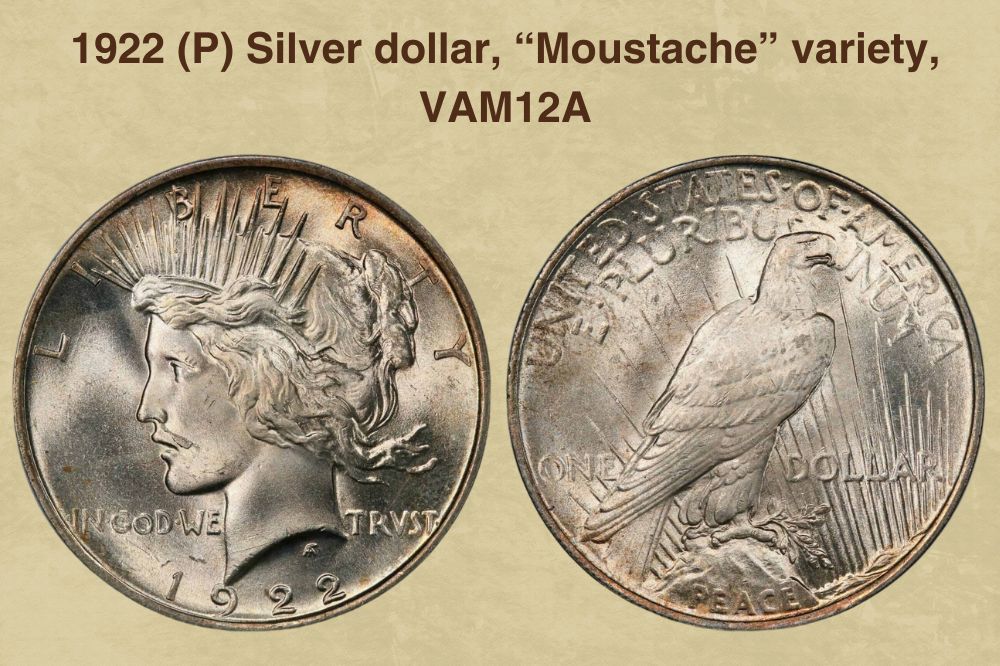 One of the most celebrated of the many 1922 silver dollar varieties is that known as the "Moustache" variety. It has the code VAM12A, and a die crack gives the appearance of a moustache on Lady Liberty's upper lip!
There are quite a few of these coins around. The majority of the examples graded by the PCGS are between AU55 and MS63. Today, the former is valued at $115, while the latter is worth $450.
But the finest examples certified by the PCGS to date are three coins graded MS65. The PCGS values those at $1,500 each.
This YouTube video from Treasure Town looks at these and other errors amongst 1922 silver dollars.
FAQs
How much is a 1922 silver dollar worth now?
That depends on its quality and condition, and on whether it has an interesting error.
Circulated business strike coins can be worth around $30 to $40. But values for coins graded 1 or 2 – in the very poorest condition, but still identifiable – can be closer to $100.
The finest examples are worth much more, with the best uncirculated coins valued into six figures. And interesting errors can add a further premium to prices.
The auction record was set by a matte finish proof coin in high relief. That was graded PR67, and sold in 2017 for an astonishing $458,250.
How many 1922 silver dollars are there?
The PCGS estimates that around 15 million 1922 silver dollars survive at all grades. Two thirds of those are from the Philadelphia mint, around 3 million from Denver, and 2 million from San Francisco.
Around 2.5 million of the Philadelphia coins are in mint state, about 100,000 of the Denver dollars, and about 45,000 of those from San Francisco.