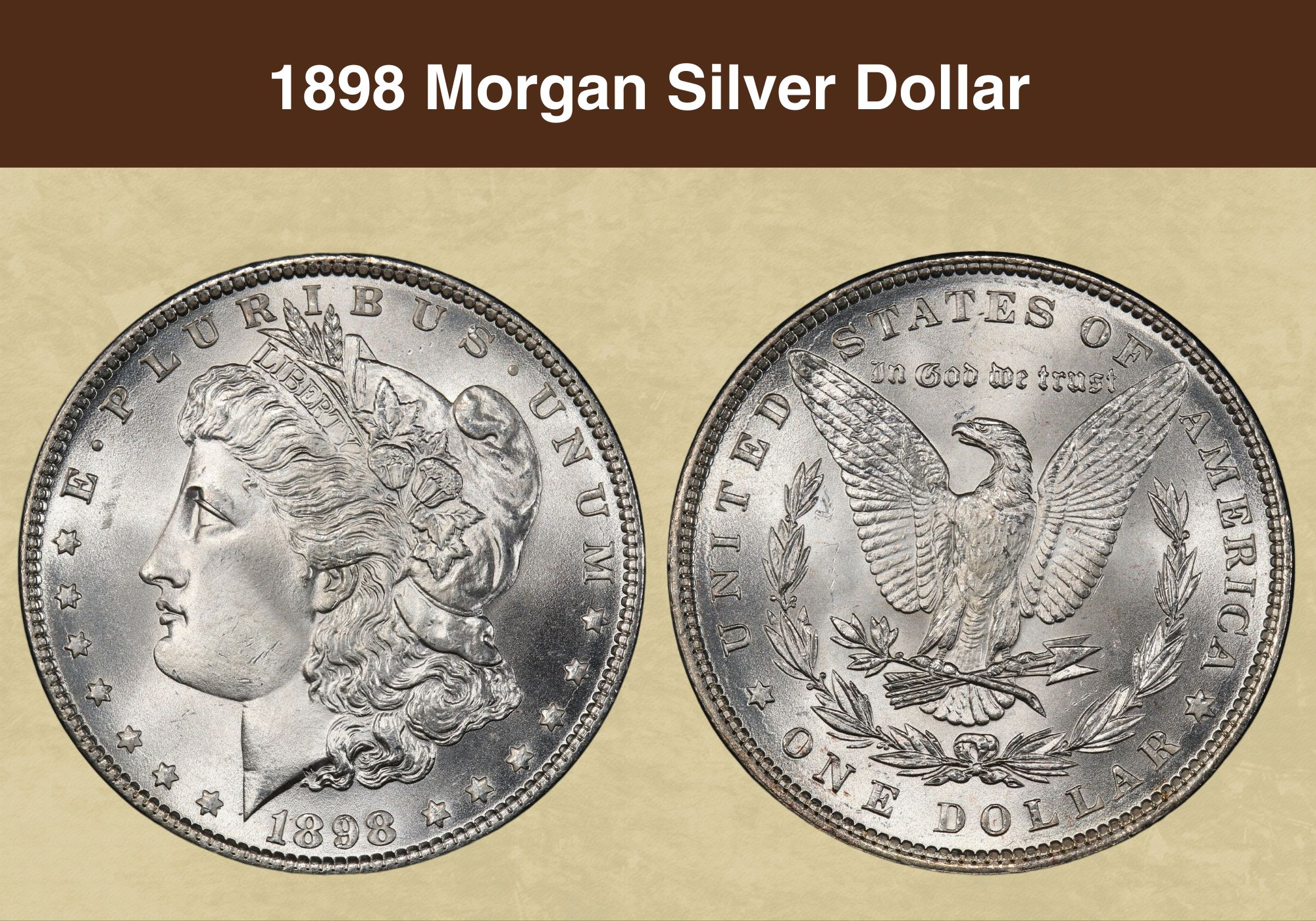 If you've found a silver dollar that's over a hundred years old, you're probably wondering what it's worth. And if you plan to add one to your coin collection, you'll want to know how much you can expect to pay.
Either way, we're here to help!
We're going to look in detail at the 1898 silver dollar value. We'll learn about its history and design. And we'll find out just how important coin condition is to collectors.
So if you're ready to find out more, let's get started…
1898 Silver Dollar Value Chart

Mintmark
XF45
MS60
MS65
MS67
1898 (P) No Mint Mark Silver Dollar Value
$46
$72

Prooflike: $115

Deep Mirror Prooflike: $160

$260

Prooflike: $525

Deep Mirror Prooflike: $1,450

$3,300

Prooflike: $7,500

Deep Mirror Prooflike: $38,500

1898 O Silver Dollar Value
$46
$75

Prooflike: $85

Deep Mirror Prooflike: $160

$225

Prooflike: $450

Deep Mirror Prooflike: $1,400

$1,850

Prooflike: $7,000

Deep Mirror Prooflike: $24,000

1898 S Silver Dollar Value
$90
$500

Prooflike: $550

Deep Mirror Prooflike: $550

$2,300

Prooflike: $5,000

Deep Mirror Prooflike: $15,250

$32,500
PR45
PR60
PR65
PR68
1898 (P) No Mint Mark Proof Silver Dollar Value
$775
$2,200

Cameo: $2,600

Deep Cameo: $2,750

$7,000

Cameo: $9,500

Deep Cameo: $14,750

$37,500

Cameo: $52,500

Deep Cameo: $72,500
History of the 1898 Silver Dollar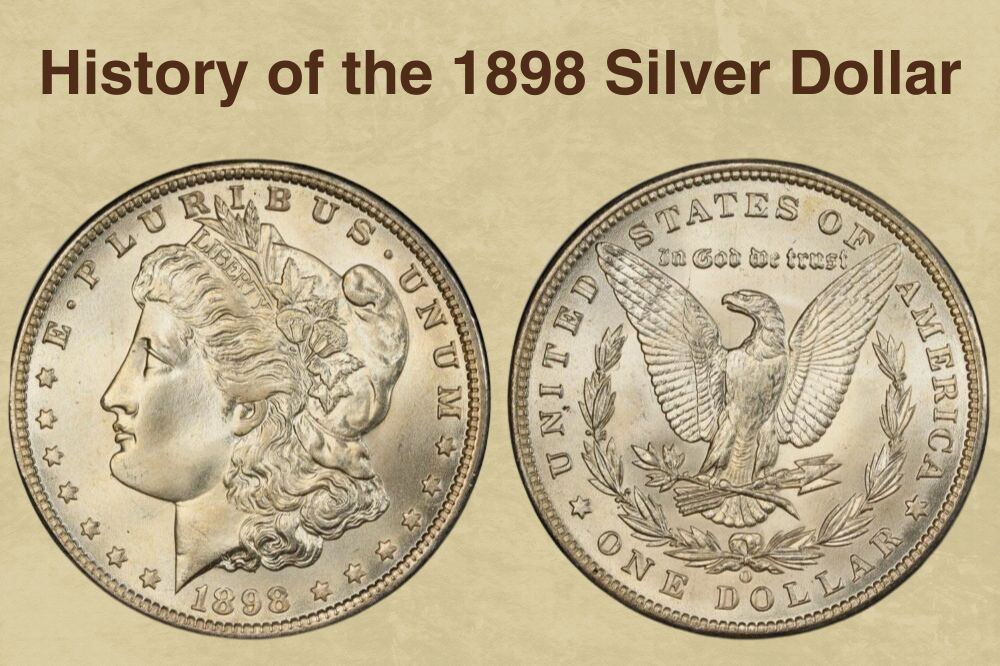 The 1898 silver dollar is part of the series known as Morgan dollars. They were issued from 1878 to 1904, and took their name from the man who designed them, George T. Morgan.
They came about as a result of lobbying by the powerful mining industry. The owners of silver mines wanted to ensure a secure market for their wares. They campaigned to require the Mint to purchase any silver presented to it at a set price.
The Bland-Allison Act was the response. Passed in 1878, it obliged the Mint to purchase silver to a value of between $2 million and $4 million a month. All that silver was then to be converted into coins.
With so much silver on its hands, the Mint had to produce large quantities of Morgan dollars every year. The 1898 mintage numbered over ten million coins, and by 1918, vast numbers of silver dollars existed.
But today, the survival rate is much lower. That's because 1918 saw another new piece of legislation, the Pittman Act.
The Germans had successfully spread panic in India about the British government's ability to back the paper currency there. The financial strain was threatening to derail the war effort, and the British had called for American help.
The Pittman Act authorized silver coins to be melted down, providing silver bullion which would then be sold to the British at a set price. New coins would then be struck using silver from American mines.
Around 90 million silver coins are believed to have been melted down as a result of the Act. Despite its high mintage, the 1898 silver dollar was relatively rare for many years.
But the Treasury released large quantities of the coins from its vaults in the 1950s and 1960s. And today, the 1898 Morgan dollar is one of the easiest to find in the series.
Also read: 12 Most Valuable One-Dollar Coin Worth Money
Features of the 1898 Silver Dollar
Obverse of the 1898 Silver Dollar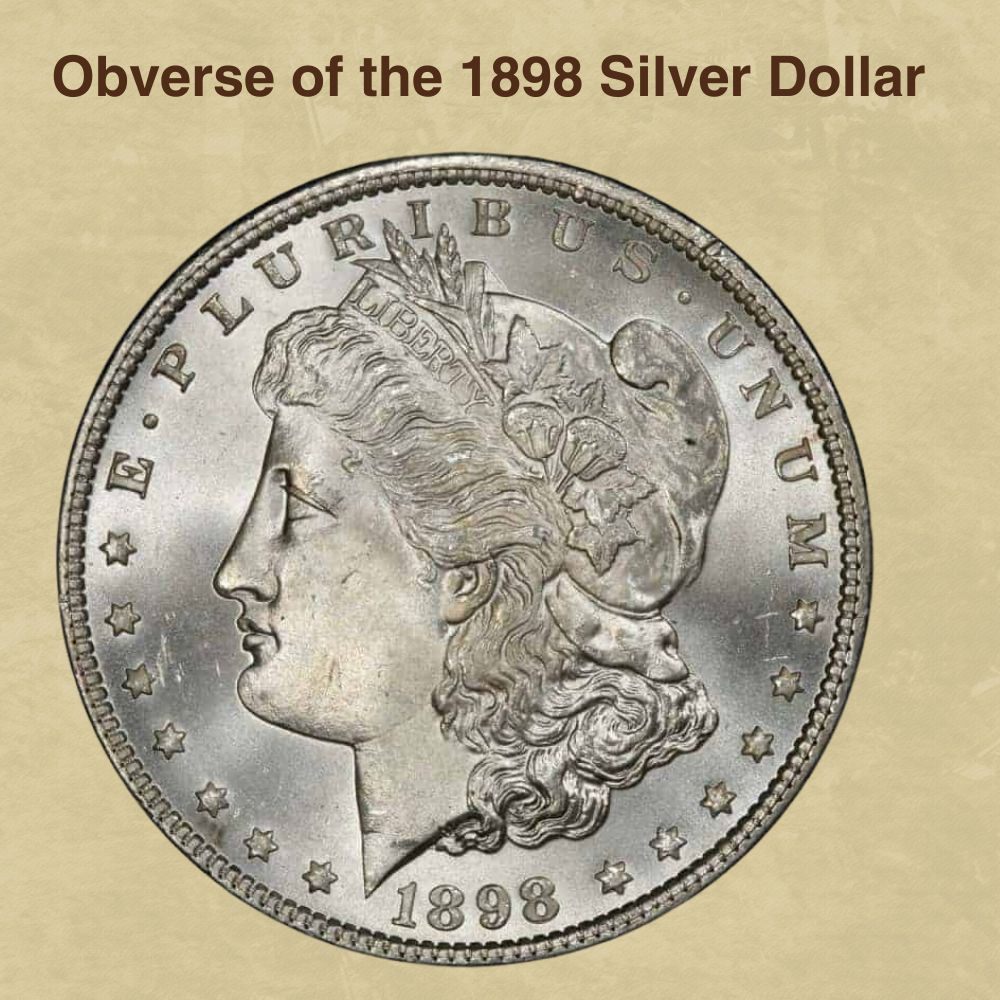 The Morgan dollar, like most US coins of the time, showed Lady Liberty on its obverse. She appears in profile, facing left as the coin is viewed.
George Morgan's portrait was quite different from earlier depictions of Liberty. She had usually been shown with classical features. But Morgan chose an American woman as his model.
Anna Willess Williams was a teacher and philosopher and had been introduced to Morgan by his friend, Thomas Eakins. Eakins was also an artist, and Anna had sat for him on several occasions.
She agreed to serve as Morgan's model for Liberty, but only on condition that she remained anonymous. Somehow, however, her name was leaked, and her sudden fame caused her considerable difficulty – including the loss of her job.
The image of Liberty on the dollar is surmounted by the Latin motto "E PLURIBUS UNUM", meaning "From the many, one". This refers to the country's genesis as a union of states.
The states are also represented by the stars that circle the edge of the design. The date appears at the bottom.
Reverse of the 1898 Silver Dollar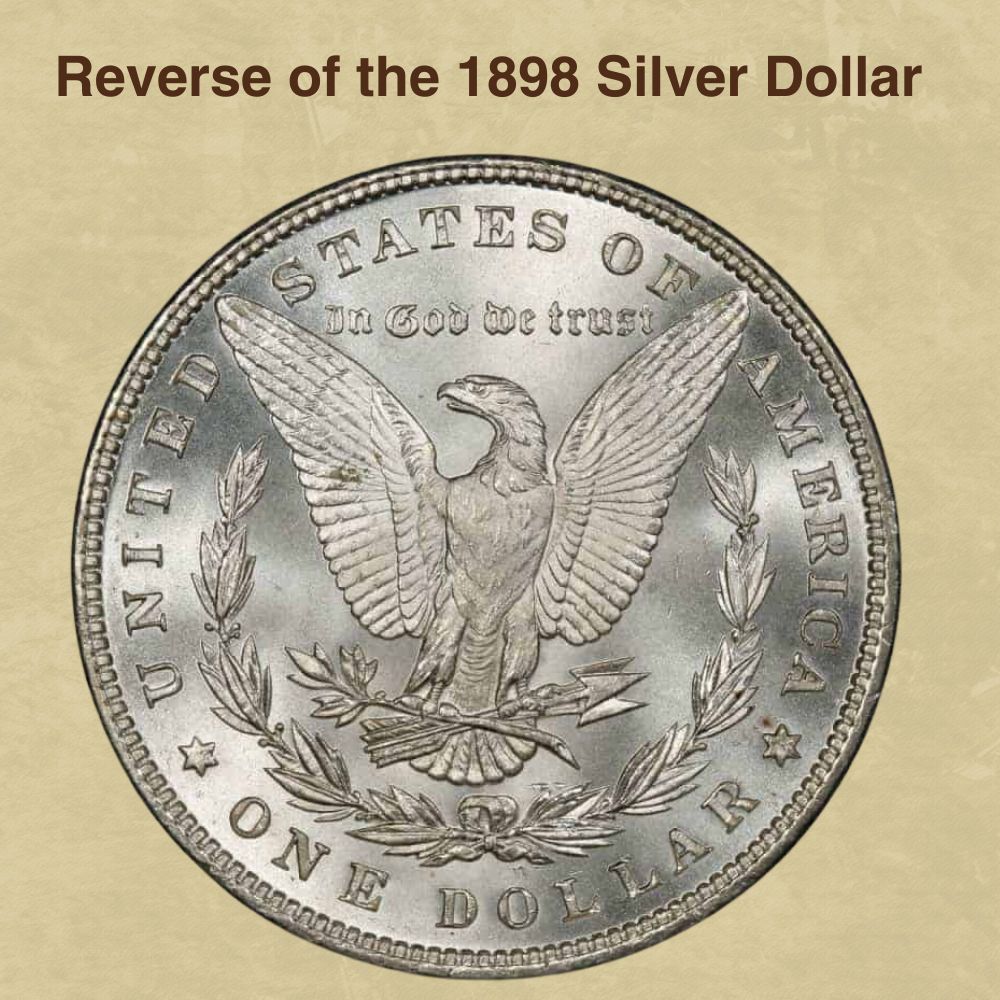 Like the obverse, the design on the reverse of the 1898 silver dollar was the work of George Morgan. It shows an eagle, wings outstretched, and a bundle of arrows and an olive branch in its talons.
The motto "In God We Trust" is inscribed in gothic script above the bird's head. Above that, the name of the country curves parallel to the upper coin edge. It is mirrored by the denomination at the bottom, with a star on either side separating the two legends.
The reverse is also where you'll find a mint mark, if there is one. Look for it just above the "D" and "O" of "DOLLAR". An "O" signifies New Orleans, and an "S" San Francisco. But if the area is blank, your dollar was struck in Philadelphia.
Other Features of the 1898 Silver Dollar
Although most of the 1898 silver dollar is, indeed, silver, it contains ten per cent copper too. The coin measures 38.1 millimeters across and weighs 26.73 grams.
The edge is reeded – meaning it has a series of grooves which run parallel to the coin faces. These are not simply decorative. They have been used since the eighteenth century as a way to tell if precious metal has been clipped from the coin edge.
For more details of the Morgan dollar and how to grade individual coins, check out this YouTube video from CoinStudy.
Also read: 14 Most Valuable Coins In Circulation
1898 Silver Dollar Value Guides
1898 No Mint Mark Silver Dollar Value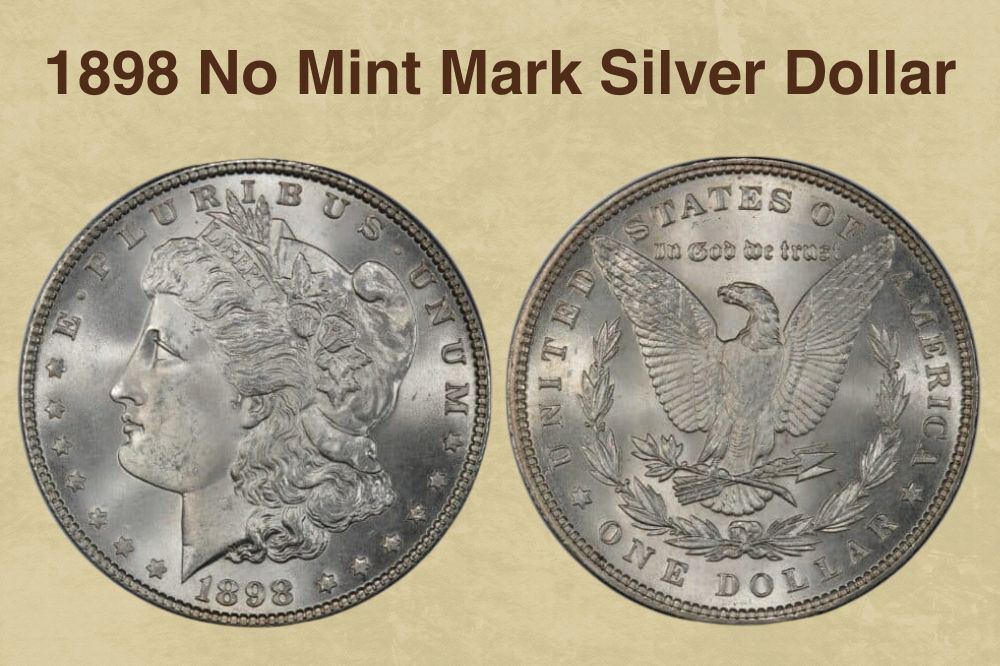 The age, beauty and silver content of Morgan dollars means that they're collectible at all grades.
The Philadelphia Mint struck 5,884,000 dollar coins in 1898. Today, it's estimated that around 588,000 of those remain at all grades.
Generally speaking, the better the condition, the more valuable a coin will be. The coin grading scale goes from 1 to 70, the latter indicating a flawless coin. Some Morgan dollar collectors, however, specialize in coins in the lowest grades, and those graded 1 and 2 carry a premium.
An 1898 silver Philadelphia dollar graded 1 is valued by the independent coin grading agency the PCGS at $120. At grade 2, the value is $80. At 3, it falls to $32, and rises again from there.
A coin in "extremely fine" condition, graded XF45, is valued at $46. And coins graded MS60 – the letters stand for "mint state" – are worth around $72.
Coins graded 65 and above are classed as "gems". If you want one of those, you'll be looking at spending around $260 for an MS65 example. And values breach four figures at MS67 ($3,300).
All these figures apply to "standard" coins. But coins that are particularly well struck and on good quality planchets have separate designations – "prooflike" and "deep mirror prooflike".
Prooflike 1898 Philadelphia dollars are available at grades from MS60 ($115) to MS67+ ($13,000).
And for a deep mirror prooflike coin (also known as DIMPL, pronounced "dimple"), the range is from MS60 to MS67. The single finest example last sold in 2012 for $30,550. Today, the PCGS values it at $38,500.
1898 O Silver Dollar Value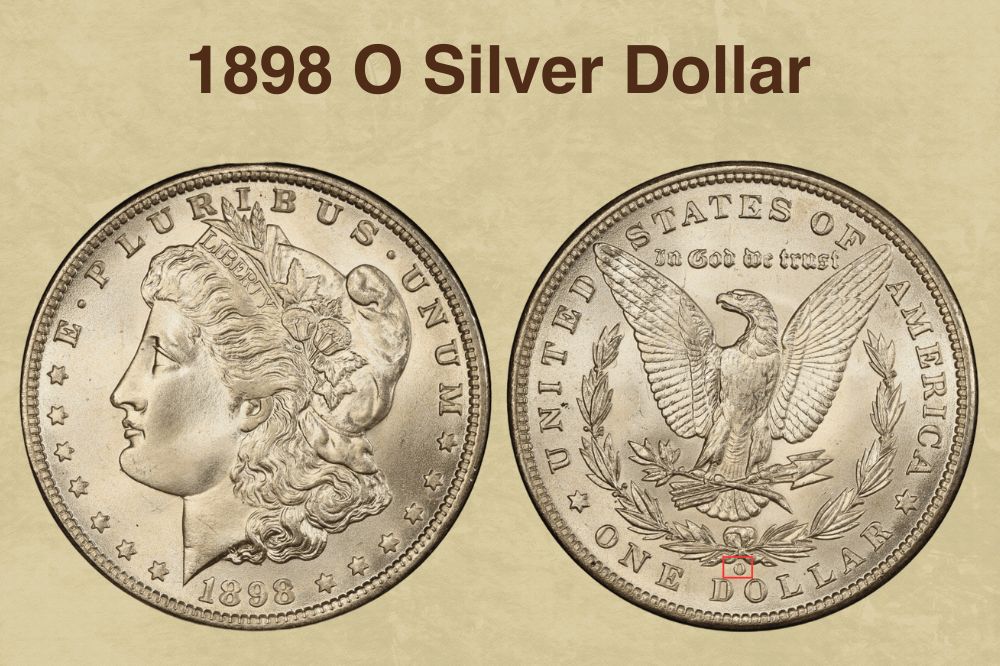 If your dollar has an "O" just above the denomination, it's one of the 4,440,000 struck in New Orleans in 1898.
Today, the PCGS estimates that around 4.4 million – i.e., one in ten – of those survive. Numbers for prooflike and DIMPL coins are much lower – 4,000 and 2,170 respectively.
That availability (or lack of it) is reflected in values. Mint state coins in circulated condition range from $32 graded 3, to $70 graded AU58+ ("about uncirculated"). As with Philadelphia coins, there's a premium for those graded 1 ($150) and 2 ($90).
In mint state, values for standard dollars range from $75 at MS60, to $225 at MS65, and $1,850 at MS67. The figures rise steeply from there. At MS67+, the value is $7,500, and at MS68, it's $27,500.
Prooflike coins start at a relatively modest $85 for an MS60 example, rising to $450 for a gem MS65. The top grade for a prooflike 1898 New Orleans dollar is MS68, and that's worth $30,000.
The DIMPL designation almost doubles the value of an MS60 coin to $160. A gem MS65 is valued at $1,400. And anything graded MS66+ and above will have a five-figure price tag. The best-in-class is graded MS68 and is worth an impressive $75,000.
1898 S Silver Dollar Value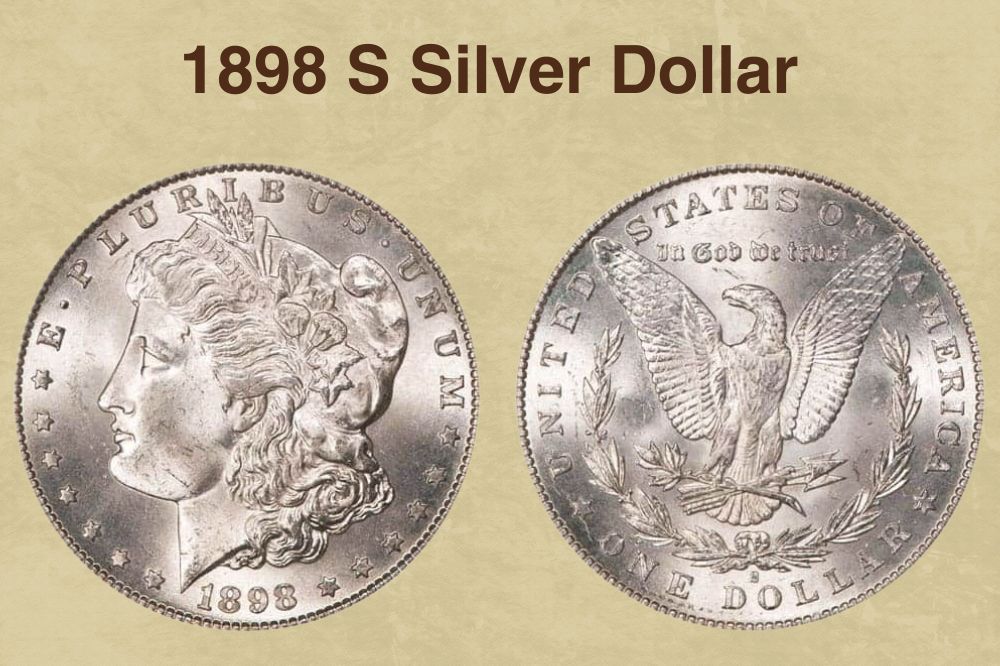 The San Francisco Mint facility struck 4,102,000 silver dollars in 1898. Around one in ten of those are thought to survive to this day. Prooflike survivors number around 550, while there are thought to be fewer than half that number of DIMPL coins.
At grades 1 and 2, values are $210 and $70 respectively. For a more economical option, look for coins graded between 3 and 20, which are worth between $30 and $50.
The finest grade for a standard 1898-S silver dollar is MS68. One coin has been certified at that level, and it's worth a breathtaking $150,000.
Prooflike examples range from $550 at MS60 to $12,500 at MS66. And for DIMPLs, the range is from $550 at MS60 (surely a low estimate) to $15,250 at MS65.
1898 (P) No Mint Mark Proof Silver Dollar Value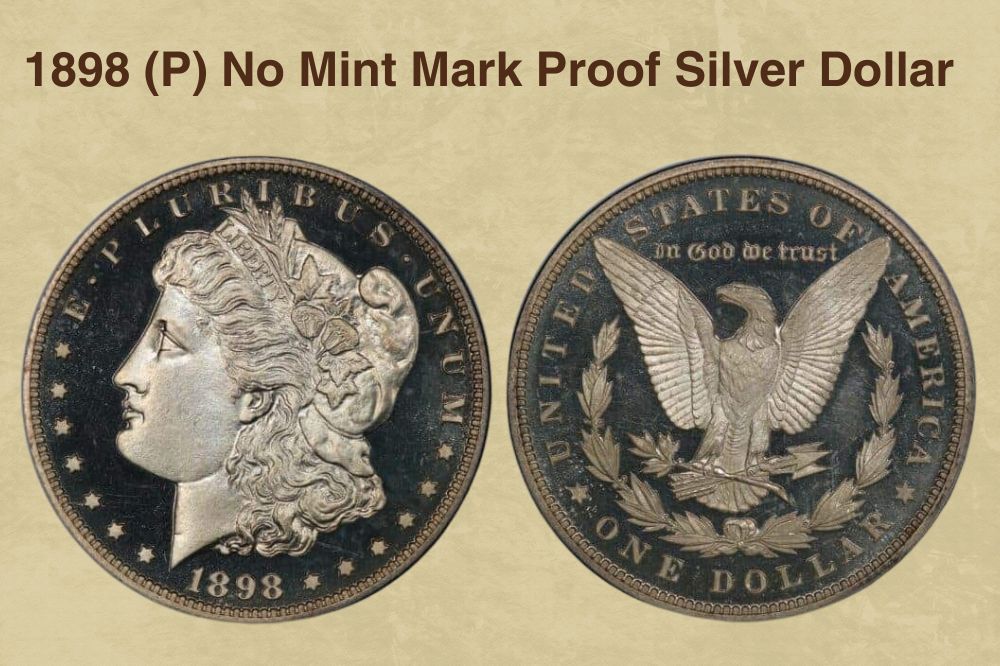 The Philadelphia Mint facility produced both regular strike and proof silver dollars in 1898. Neither have mint marks. The latter were struck on highly polished planchets using specially prepared dies. And the mintage was just 735.
These coins are divided into three categories: standard proofs, cameos, and deep cameos. Cameos are coins with an appealing contrast between glossy fields (the flat parts of the coin) and frosting on the raised parts of the design. In deep cameos, the contrast is particularly strong.
The lowest available grade for a standard proof is 45. A coin at that level is worth around $775. Prices tip into four figures at grade 50, and for a gem PR65 the value is $7,000.
The PCGS estimates that a standard proof graded PR69 would be worth around $85,000. It has not, to date, certified any coins at that level, however.
For cameos, values start at $2,600 for a coin graded PR60, rising to $9,600 at PR65, and topping out at $110,000 at PR69. Again, however, no coin has yet been graded at the top end of that spectrum.
Finally, a deep cameo is worth a minimum of $2,750 (PR60). A gem PR65 is worth around $14,750. And the crème de la crème is a single coin graded PR68+. That last sold at auction in 2017 for almost $65,000. And today the PCGS values it at $90,000.
Also read: Top 10 Most Valuable Morgan Silver Dollar Worth Money
Rare 1898 Silver Dollar Errors List
1898 S Silver Dollar, Partial Collar
A partial collar error occurs when the collar that's supposed to hold a coin in place as it's struck isn't in the right place. As a result, a line left by the collar is visible on the finished coin, near the edge.
One of the silver dollars struck in San Francisco in 1898 exhibited this error. The coin had been graded MS63 by the independent agency, the NGC. And when it was presented at auction in 2014, it sold for $1,100.
1898 (P) No Mint Mark, Die Adjustment Strike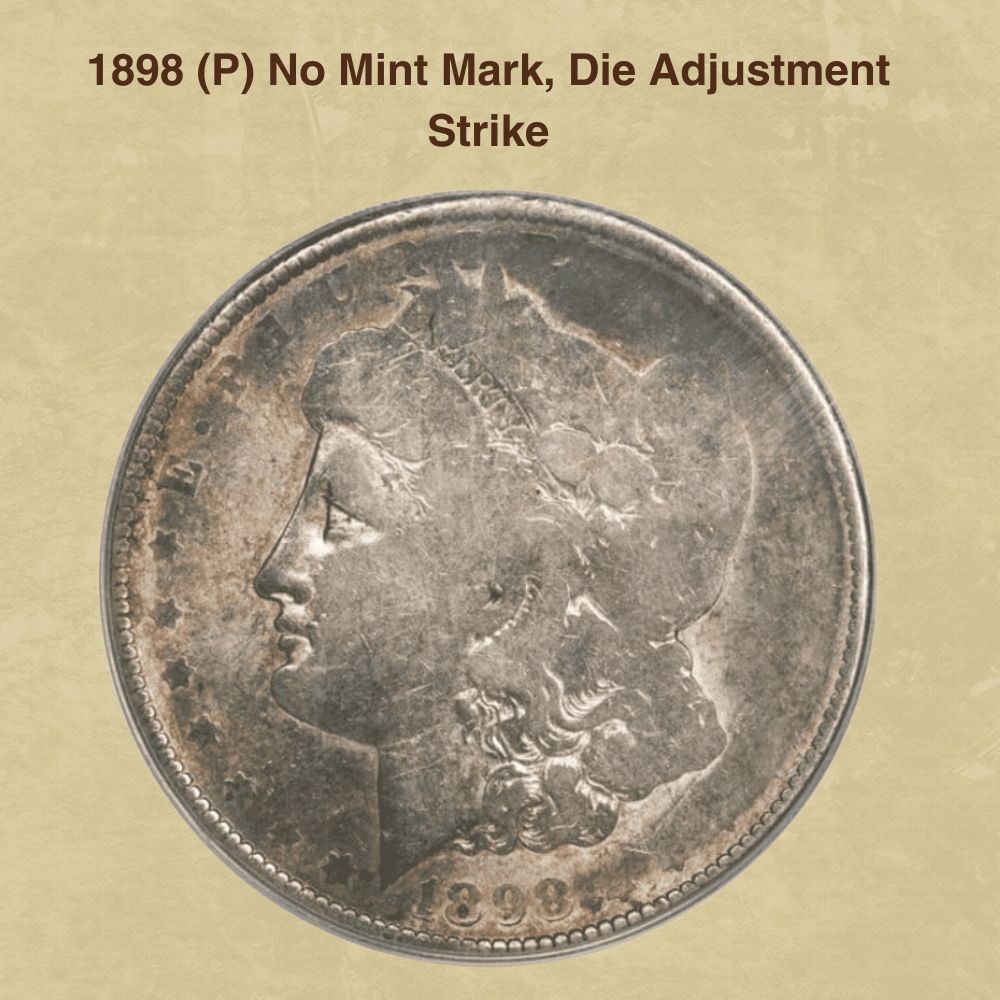 This unusual coin has the kind of error it's easy to overlook. At first sight, it appears simply as if the details of the design have been worn down over time.
But in reality, it resulted from the process of finding the right strike pressure for the die. The pressure for this planchet was too light, and the resulting coin should have been disposed of. But somehow it escaped the Mint.
It was graded AU50 by the PCGS. And because this kind of error is so rare, it attracted a lot of interest when it was presented at auction in 2010. It ended up crossing the block for $5,750.
This YouTube video from Couch Collectibles looks at both these errors in detail, and presents some different varieties of 1898 silver dollars.
FAQs
What makes an 1898 silver dollar valuable?
All 1898 silver dollars are collectible. In poorer condition, most are worth around $30 to $50.
But the very poorest coins, those graded 1 on the coin grading scale, can be worth around $100. And at the other end of the scale, those in uncirculated condition can be worth hundreds or thousands of dollars.
The mint mark of the coin will have a bearing on its value, as will whether it's a regular strike coin or a proof.
If the coin shows a Mint error, that will add a premium to the value. How much will depend on the rarity of the error, and how spectacular it looks.
How many 1898 Morgan dollars were made?
5,884,000 business strike Morgan dollars were produced at Philadelphia, 4,400,000 at New Orleans, and 4,102,000 at San Francisco.
That gives a grand total of 14,386,000 regular coins. The Philadelphia Mint also produced 735 proof dollars.