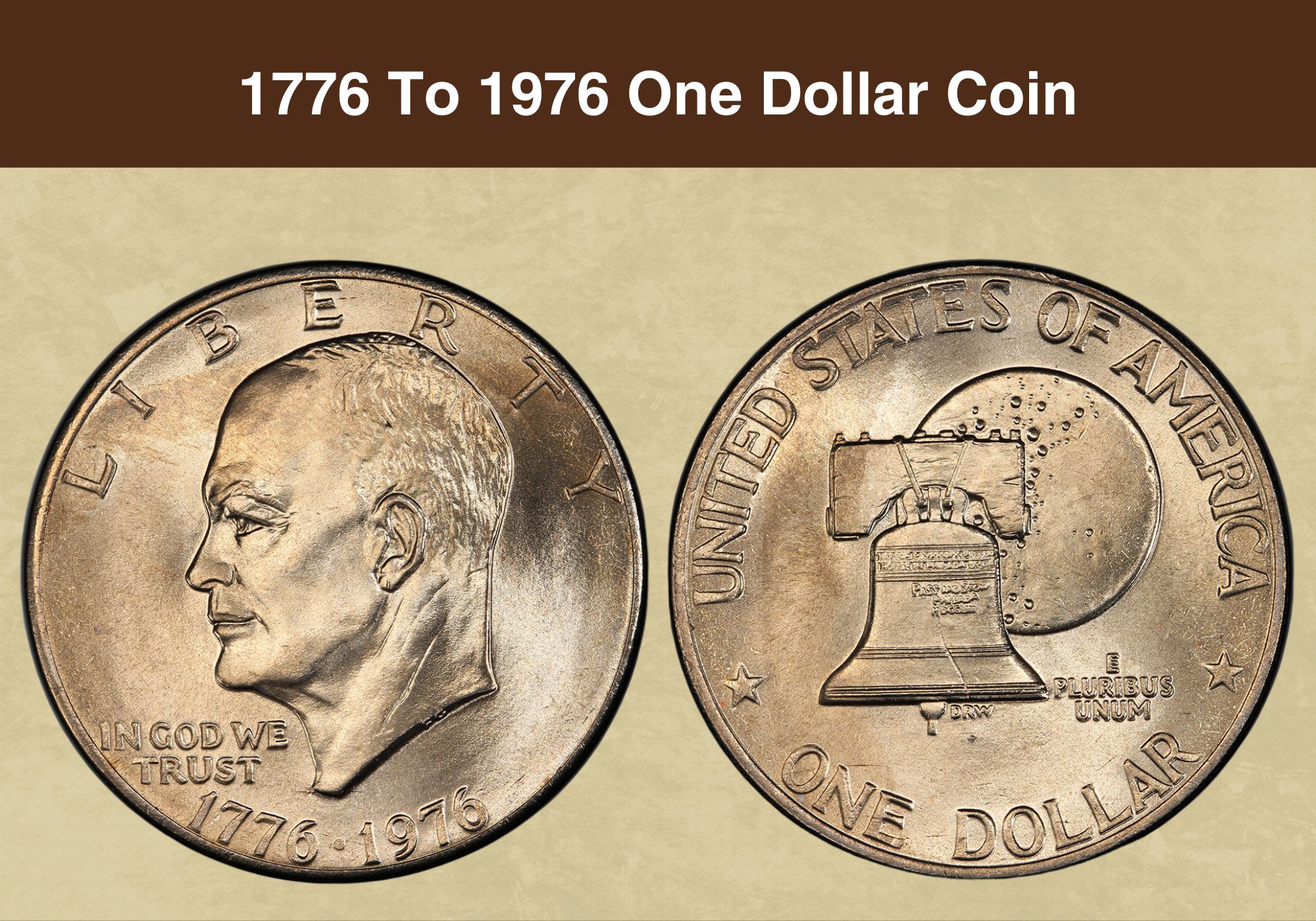 The silver dollar dated 1776 to 1976 was produced to mark the bicentenary of American Independence. The coins were actually minted in both 1975 and 1976. But are they valuable?
That's what we're here to find out! We're going to explore the 1776 to 1976 silver dollar value. We'll discover the different factors that affect how much an individual coin is worth. And we'll check out some interesting error coins that get collectors hot under the collar!
Ready to learn more? Then let's get started …
1776 to 1976 Silver Dollar Value Chart

Mint mark
XF45
MS60
MS65
MS68
1976 S 1776 to 1976 Silver Dollar Value
$13
$16
$28
$300
PR60
PR63
PR66
PR69
1976 S Proof 1776 to 1976 Silver Dollar Value
$10Cameo: $14

Deep cameo: $14

$10Cameo: $15

Deep cameo: $16

$10Cameo: $18

Deep cameo: $19

$15Cameo: $28

Deep cameo: $42

1976 No S Proof 1776 to 1976 Silver Dollar Value
n/a
n/a
$850,000
n/a
History of the 1776 to 1976 Silver Dollar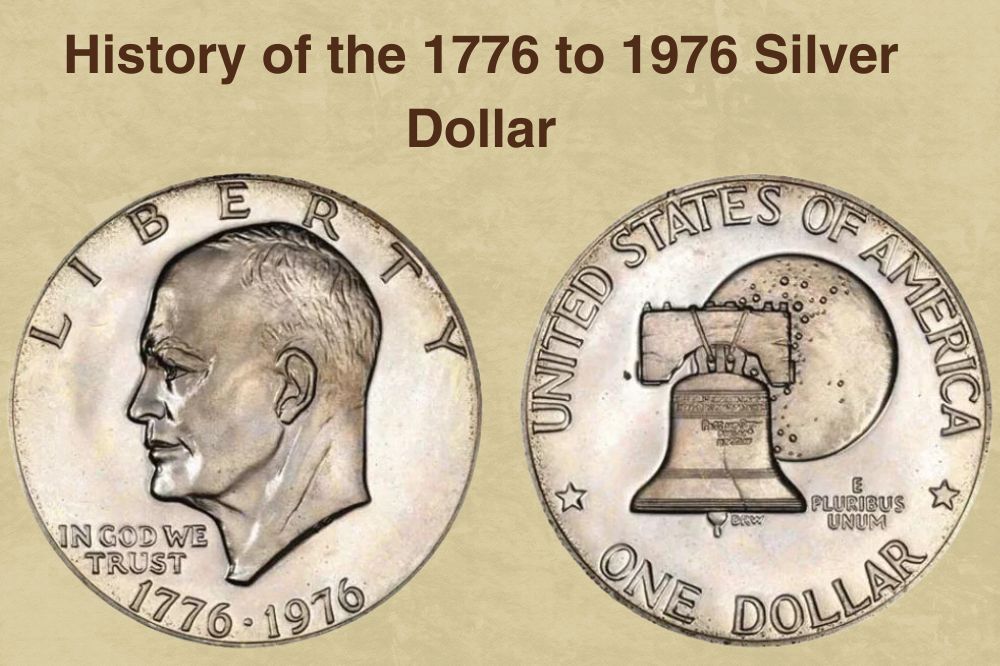 1976 marked the bicentenary of American Independence, the perfect occasion for a new coin. But by then, commemorative coins had fallen out of favor.
In earlier times, it was possible for any organization to contact Congress and seek authorization for a commemorative coin. But in the 1950s, one such coin issue had gone dramatically wrong.
Poor distribution of coins honoring Booker T. Washington and George Washington Carver had resulted in the coins being repeatedly discounted. And when they failed to sell at even the lowest prices, many of them entered circulation.
The resulting bad publicity had stung the Treasury. So when a commemorative coin was proposed by a new Commission, set up in 1966 to oversee the bicentenary preparations, the Treasury opposed it.
But proposals continued to be put before Congress, and in 1972 the Treasury relented. Both clad and silver dollar coins were authorized to mark the bicentenary. And a proof coin was also struck for collectors.Commemorative quarters and half dollars were struck too.
While the clad dollar coins were struck in Denver and Philadelphia, all but one of the silver dollars were produced at the Mint's facility in San Francisco. These carry the "S" mint mark. One silver dollar – one of the rarest of all modern coins – has no mint mark.
The silver dollar coins were issued in sets, alongside a silver quarter and a silver half dollar. Just under 5 million mint state sets were issued, and just under 4 million proof sets.
Also read: 12 Most Valuable One-Dollar Coin Worth Money
Features of the 1776 to 1976 Silver Dollar
The Obverse of the 1776 to 1976 Silver Dollar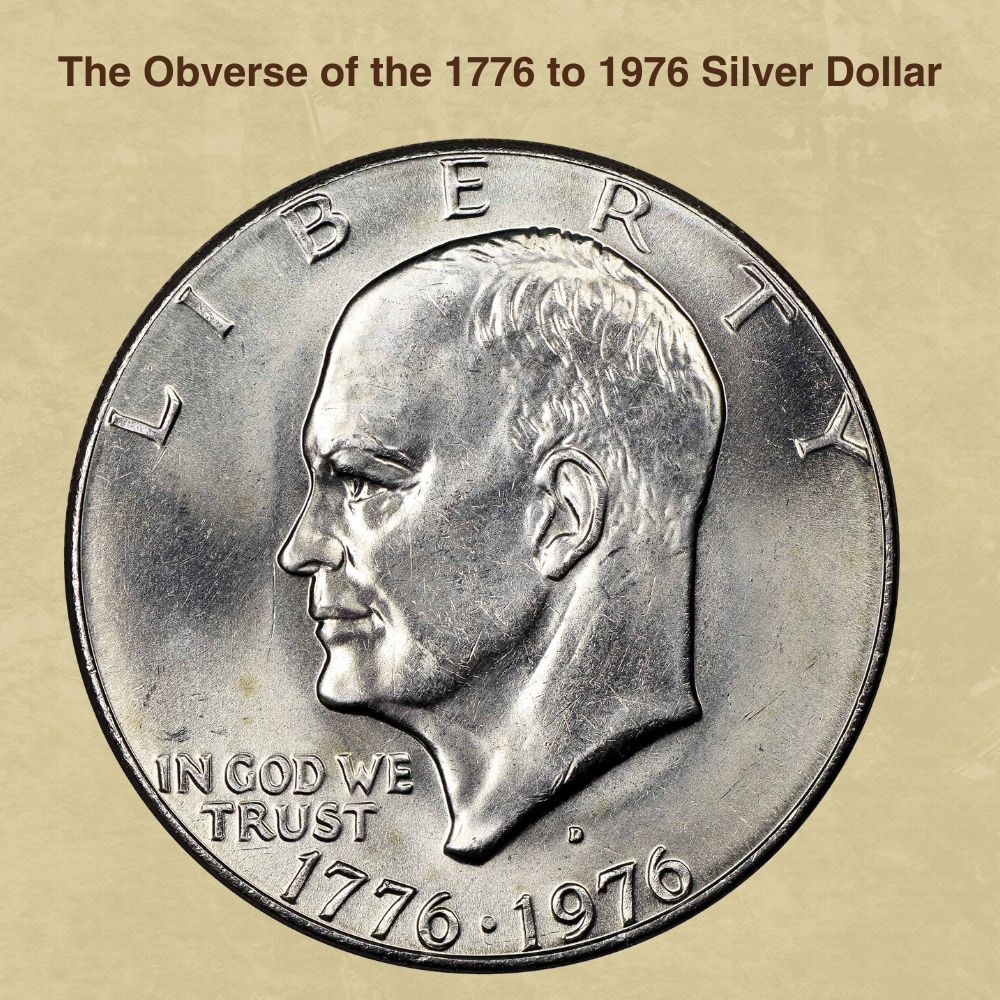 The obverse of the 1776 to 1976 silver dollar bears the same image of President Eisenhower that had appeared on dollar coins since 1971.
The portrait was the work of the Mint's Chief Engraver, Frank Gasparro. He based it on a likeness of the President – then General Eisenhower – that he had taken at a VE Day parade in June 1945.
The portrait shows Eisenhower in profile. It was met with some criticism when the first Eisenhower dollars were issued. The President's expression was deemed by some to be too stern for a man known as a genial character.
The word "LIBERTY" is inscribed above his head, following the curve of the coin edge. The years "1776" and "1976" appear beneath the image, separated by a dot. Just above them, to the left as the coin is viewed, is the motto "IN GOD WE TRUST".
The Reverse of the 1776 to 1976 Silver Dollar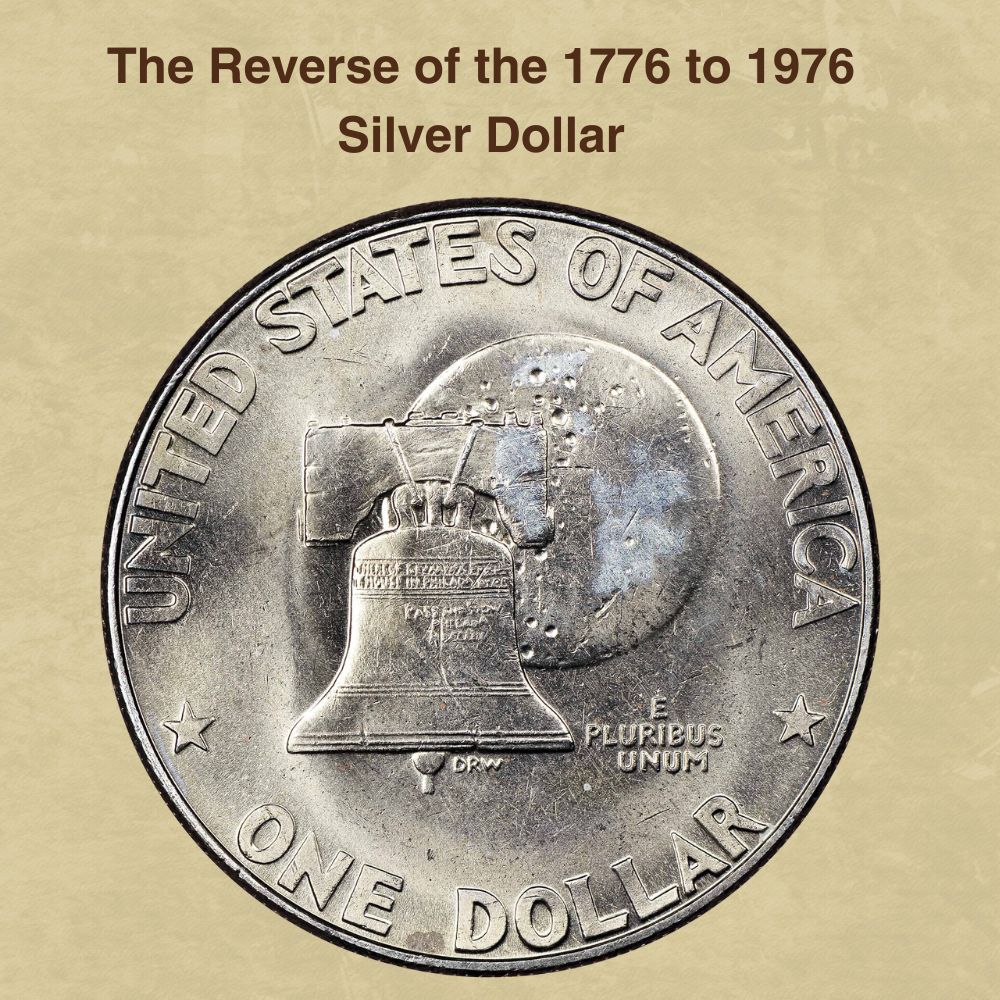 The design of the bicentennial dollar coin was the result of a competition which could be entered by any US citizen. Only members of the judging panel and those who were already employed as sculptors by the US government were ineligible.
The competition sought designs for all three commemorative denominations. Almost 900 entries were received, and these were narrowed down to a shortlist of 12. The judges then selected six to be reviewed by the Bicentennial Committee.
The Committee made recommendations to the Treasury Secretary, George Shultz. He selected a design of a Liberty Bell with the Moon in the background for the dollar coin.
The design was the work of a student named Dennis R. Williams, who had prepared it for an art school assignment. At just 21 years of age, he became the youngest ever designer of a US coin.
The country name arches across the top of the design, while the denomination mirrors it at the bottom. The Latin motto "E PLURIBUS UNUM" appears in small capitals to the right of the bell as the coin is viewed.
Other Features of the 1776 to 1976 Silver Dollar
The 1796 to 1976 silver dollar measured 38.5 millimeters across, the same as previous dollar coins. The diameter would be reduced to 26.5 millimeters in 1979, when the Susan B. Anthony dollar replaced the Eisenhower dollar.
The silver coins were heavier than the clad versions, weighing 24.6 grams compared to 22.7 grams for the cupro-nickel variety. And although they're commonly referred to as "silver", they're not pure silver.
The core is 79% copper and 21% silver. Those proportions are flipped for the cladding, which is 80% silver and 20% copper.
The coins feature a reeded edge, a series of parallel grooves that run perpendicular to the coin faces. Reeded edges were first used in the eighteenth century as a way of telling if silver or gold had been "clipped" from the coins, devaluing them.
You can take a look at the design of the 1776 to 1976 dollar in detail in this YouTube video from BigDCoins.
Also read: 14 Most Valuable Coins In Circulation
1776 to 1976 Silver Dollar Value Guides
1976 S 1776 to 1976 Silver Dollar Value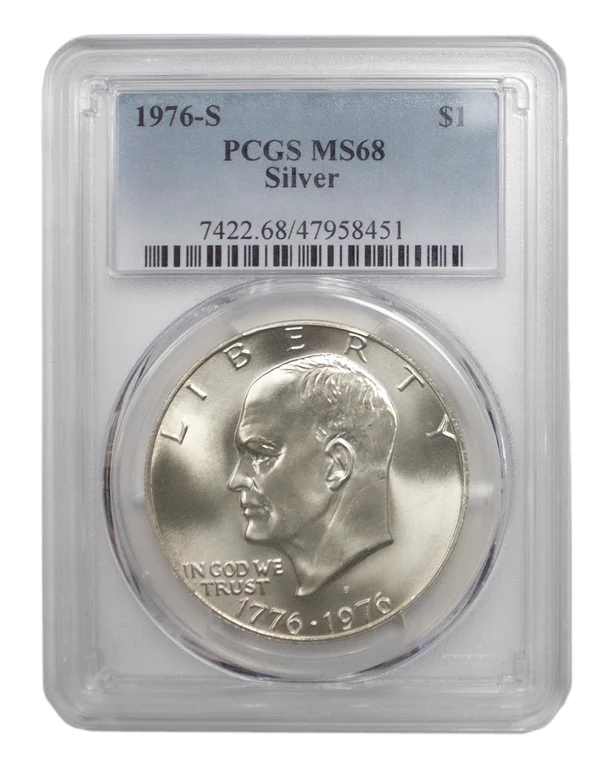 The San Francisco Mint facility struck 11 million regular silver dollars for the bicentenary. They were uncirculated and presented in special sets with the other commemorative denominations, the quarter and half dollar.
A few coins entered circulation, so it's possible to find them in circulated grades too. An example graded extremely fine (XF45) is valued by independent coin graders the PCGS at $13.
For the most part, however, these coins were stowed away carefully by people hoping their value would increase over time. Today, that means they are easy to find in good condition. And all but the highest graded coins are worth rather modest amounts.
A mint state MS60 example is valued by the PCGS at $16. And even an MS65 coin – the lowest grade at which a coin is considered a "gem" – is worth only around $28.
They become scarcer is MS67+. Values more than double from $52 at MS67 to $110 at MS67+, and rise steeply from there. A coin graded MS68 is worth around $300, while one at MS68+ is around $7,250.
The finest examples to have come to light to date are two coins graded MS69. The PCGS values those at a huge $25,000 apiece. One sold at eBay in 2023, setting an auction record at a slightly more modest $20,800.
1976 S 1776 to 1976 Proof Silver Dollar Value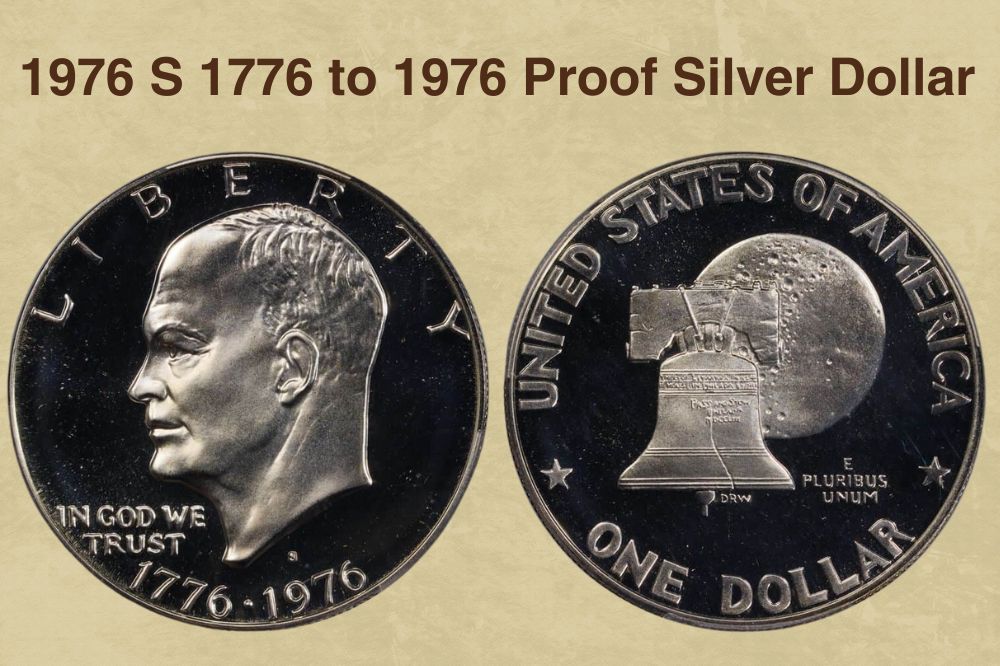 The San Francisco Mint also produced 4 million proof coins for collectors. These were made using highly polished planchets and specially prepared dies.
Proof coins are available in three different grades – standard proofs, cameos, and deep cameos.
The cameo designation is awarded to coins that have an attractive contrast between glossy flat "fields" and frosting on the raised parts of the design. Deep cameos are those where the contrast is particularly strong.
Standard proof coins at lower grades can be picked up for around $10. Values rise gradually through the uncirculated grades, and the PCGS doesn't estimate values at most grades. A standard proof graded PR69 by the NGC, however, sold for $55 in 2015.
Cameos are more valuable, with the PCGS placing a value of $14 on a bicentennial cameo dollar graded PR60. It values an example graded PR69 at double that.
Deep cameos are the most prized of all, but values at most grades are modest. A deep cameo at PR60 is worth around $14, rising to $42 at PR69.
But if you have a flawless example, it's worth much more. A PR70 deep cameo bicentennial dollar was sold on auction site eBay for $1,077 in 2021. And today, the PCGS values such a coin at $1,400.
1976 No S 1776 to 1976 Proof Silver Dollar Value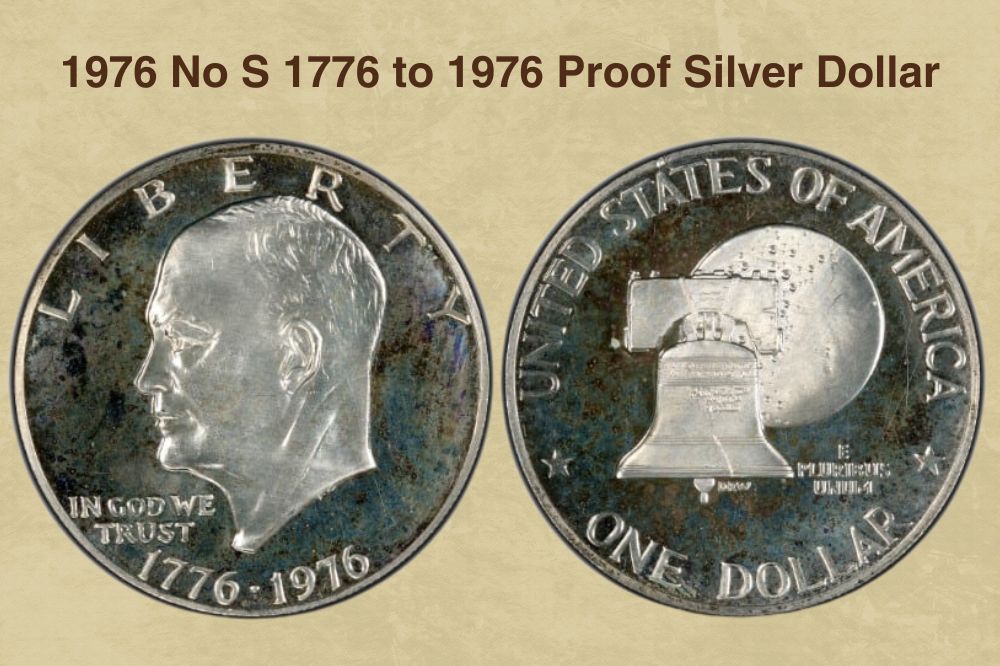 Amongst the rarest of all non-error coins is the 1976 "No S" bicentennial proof silver dollar.
The designs used for the bicentennial quarter, half dollar and dollar were selected from a nationwide competition. The winning designers were allowed to strike trial proofs of the design at the Philadelphia Mint facility. Because of the location, the coins didn't have mint marks.
Those coins are believed to have been melted down. But at least one silver proof dollar does exist without mint marks.
It has the "Type 2" reverse, adjusted from the earlier Type 1 to facilitate a better strike on clad planchets. This type has thinner lettering than Type 1 dollar coins. It's possible that the coin was struck as a trial piece, also at Philadelphia, to see if the changes to the reverse design would work.
Whatever the reason for the absence of a mint mark, the sole "No S" proof silver dollar in existence is graded PR66. It's also designated a cameo.
And as a unique coin, it's of great interest and value to collectors. Today, the PCGS values it at an impressive $850,000.
Also read: Top 10 Most Valuable Morgan Silver Dollar Worth Money
1776 to 1976 Silver Dollar Grading
Rare 1776 to 1976 Silver Dollar Error List
1976 D 1776 to 1976 Silver Dollar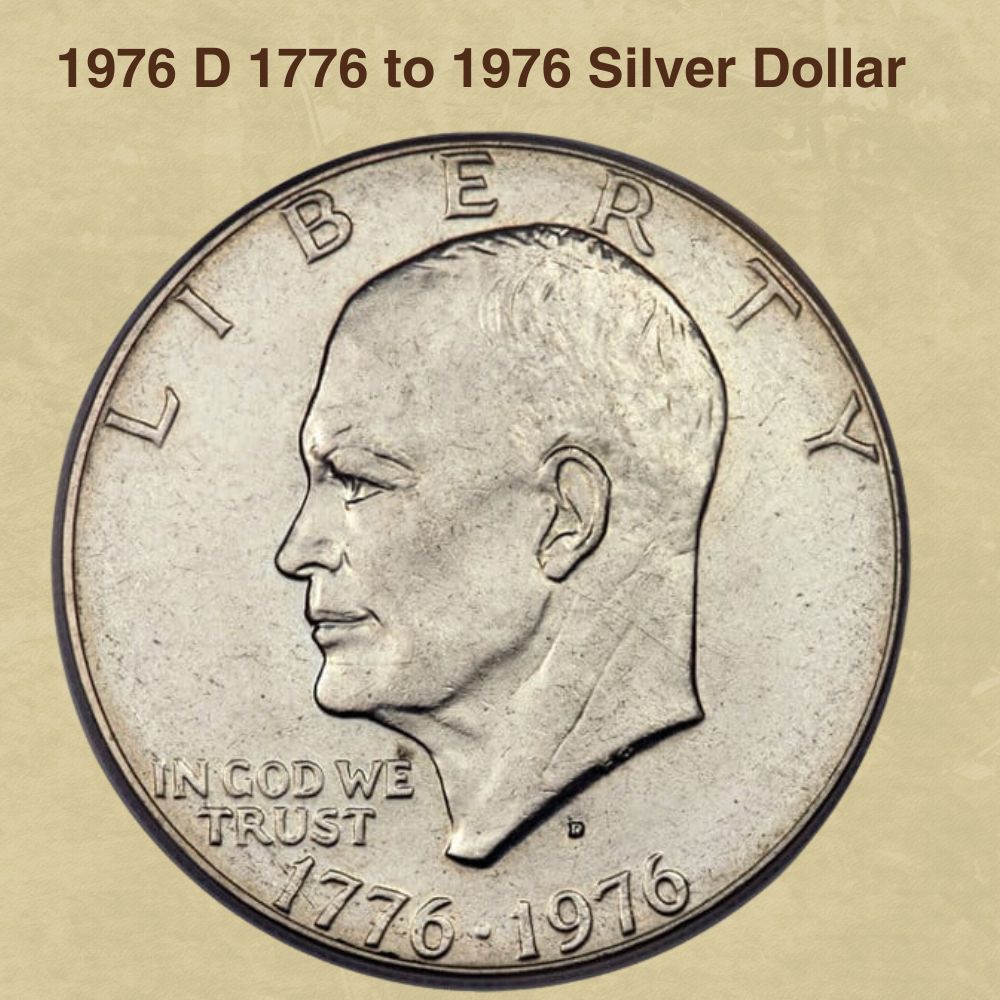 The Denver Mint facility was supposed to produce only the cupro-nickel clad bicentennial dollars. But one coin was instead struck on a 40 per cent silver planchet.
It had the Type 2 reverse, with the thinner lettering. It was graded AU55 by the PCGS (the "AU" stands for "about uncirculated). And it had the "D" mint mark for Denver.
It sold at auction for over $8,000.
1976 S 1796 to 1996 Silver Dollar, Obverse Die Crack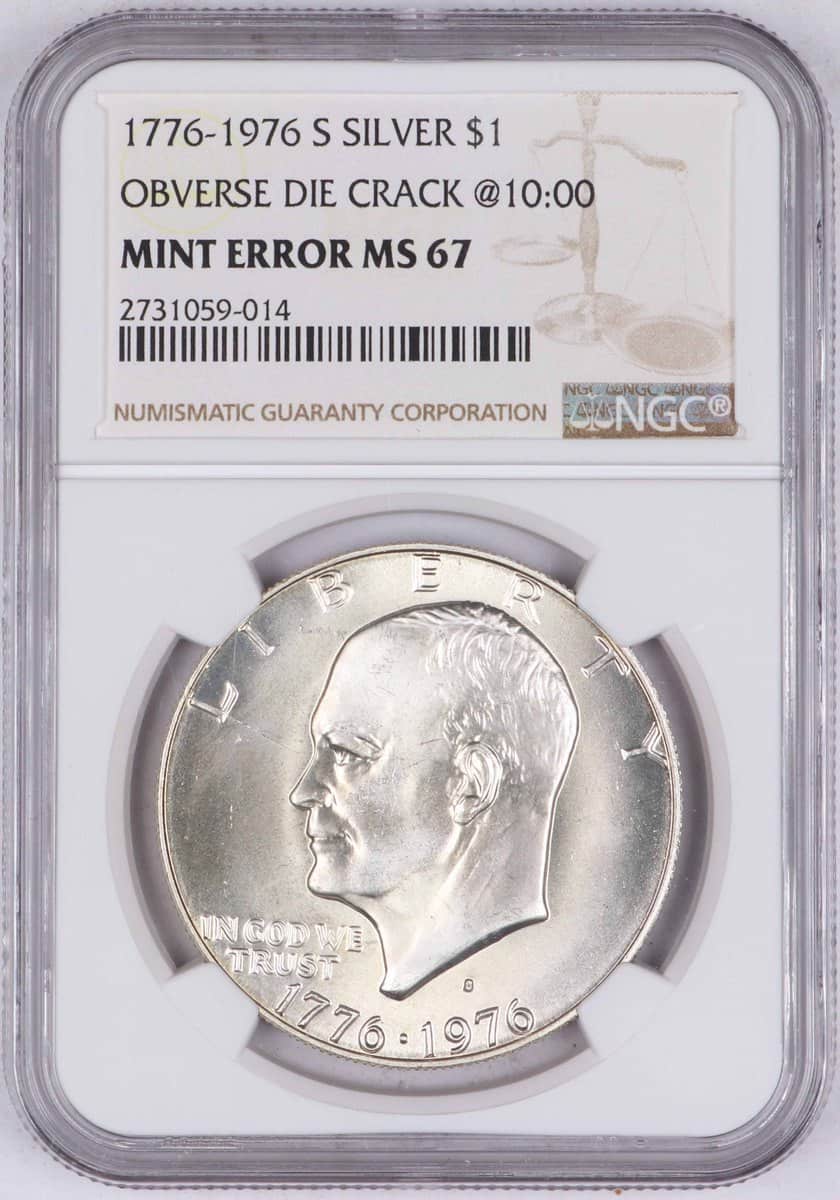 One silver bicentennial dollar produced at the San Francisco Mint facility had an obverse die crack error.
Die crack errors are just what they sound like: under the pressure of the minting process, a crack forms in the die. This small gap then results in a raised line of metal in the coins struck by the damaged die.
At the time of writing, one such error coin was being offered for sale online. It was certified by the NGC and graded MS67. And it could be yours for $165.
1976 S 1796 to 1996 Silver Dollar, Flipover, Triple Struck, and Large Broadstruck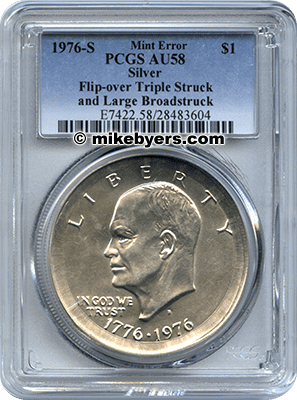 The San Francisco Mint facility specialized in producing high quality coins. As a result, examples of major errors are few and far between. One coin, however escaped the Mint with not one, but several errors.
The planchet should have been held securely in place by a collar as it was struck. But somehow that didn't work. The coin flipped over and was struck not once, but three times.
Because it wasn't held in the collar, it was also "broadstruck" – meaning the metal was able to escape beyond the collar. As a result, it's larger than a normal bicentennial dollar coin – 42 millimeters in diameter, rather than 38.
It sold at auction in 2016 for $7,050.
This YouTube video from Couch Collectibles looks at errors amongst both silver and clad 1776 to 1976 dollars.
FAQs
How much is a 1976 silver dollar worth today?
The first thing to check is whether your dollar is silver, or just silver-colored. If it's made with a 40 per cent silver planchet, it will weigh 24.6 grams. If it's a copper coin clad in copper and nickel, it will weigh 22.7 grams.
If it's silver, its value will depend on whether it's a business strike coin or a proof, its condition, and whether it has an interesting error. Values range from just a few dollars for a proof coin graded PR60, through to around $25,000 for a near-perfect business strike coin graded MS69.
Where is the mint mark on a 1776-1976 silver dollar?
All but one silver bicentennial dollar was struck at the San Francisco Mint facility. That means they have the "S" mint mark.
You'll find it on the obverse, between the bottom of Eisenhower's neck and the digits "9" and "7" in "1976".