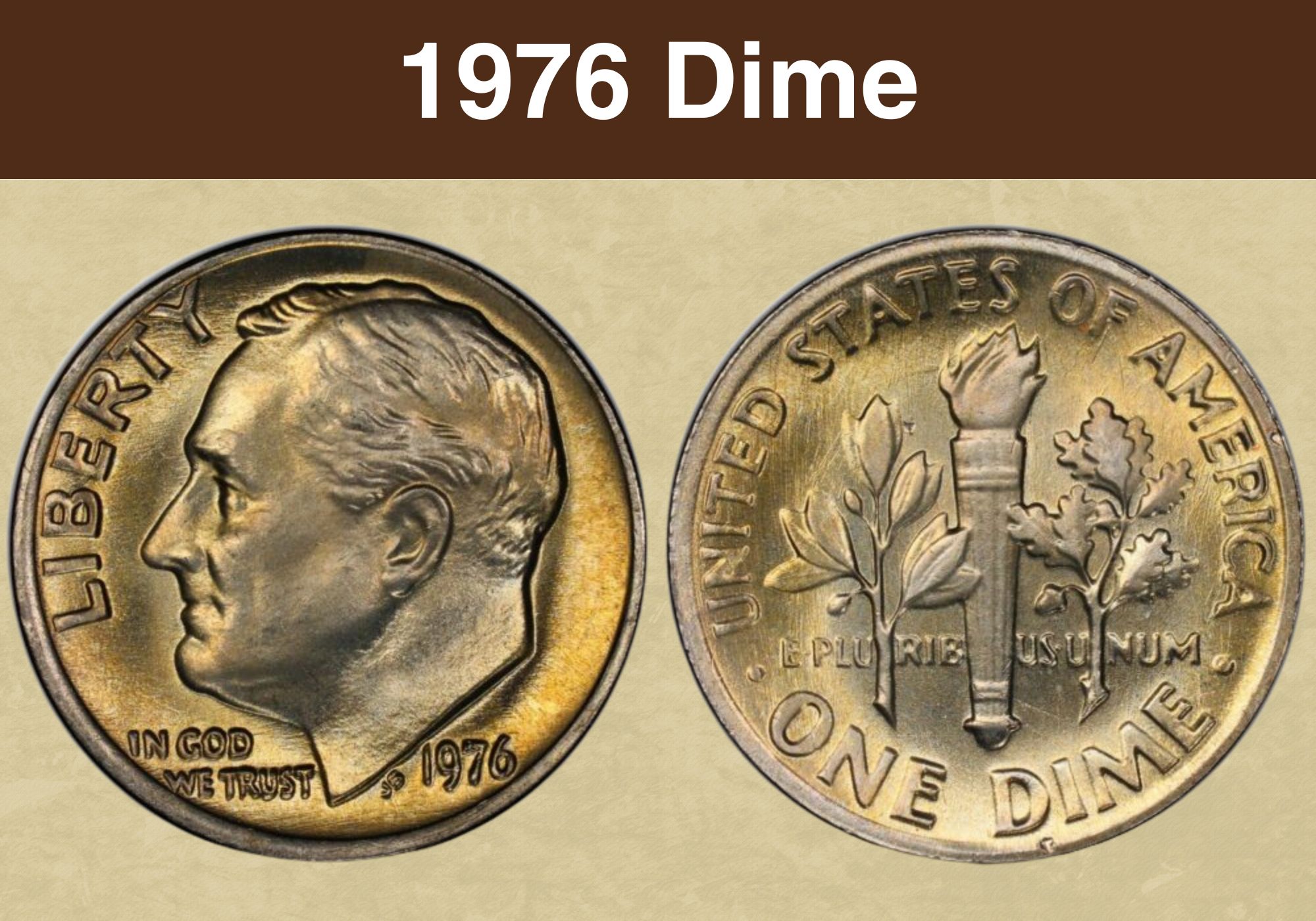 The US Mint replaced Mercury dimes with Roosevelt dimes in 1946 and still produces these lovely coins with the same obverse design. Designer John R. Sinnock created them to honor the 32nd President, who worked hard to found the March of Dimes (National Foundation for Infantile Paralysis).
This organization collected money to help those suffering from polio and supported research on this severe disease. Unlike the first pieces made of silver, those minted after 1965 contain a copper-nickel alloy, significantly affecting the 1976 dime value.
1976 dime value Chart

Condition
1976 No Mint Mark dime
1976 D dime
1976 S dime
MS 65
$2.61
$2.61
/
PR 65
/
/
$3.13
History of the 1976 Roosevelt Dime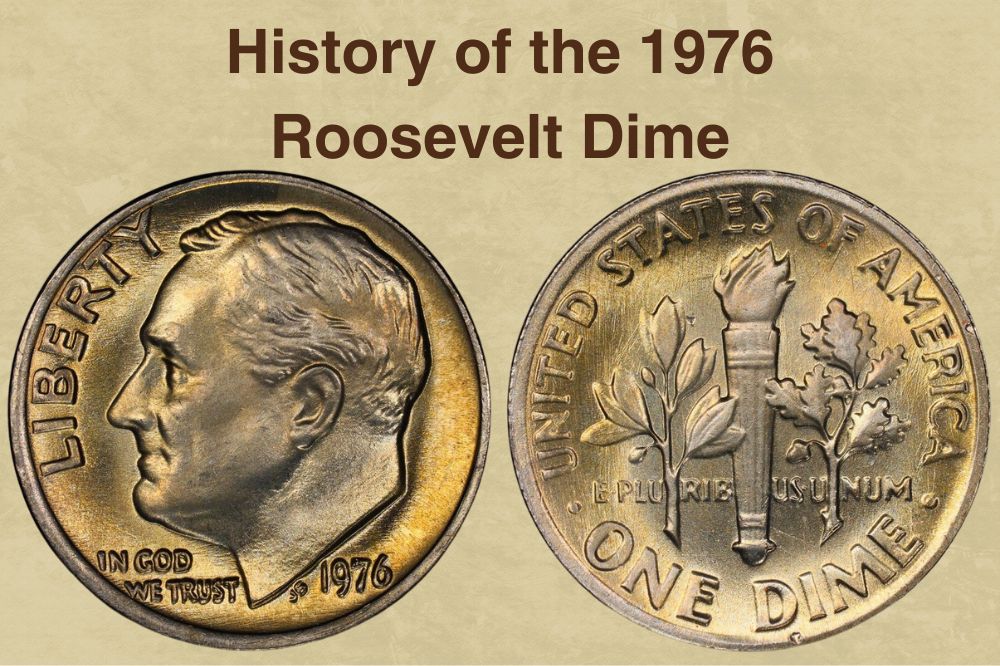 Americans took the French word disme (tenth part) for the new dimes that appeared in circulation in 1796. The US Mint released five types of this coin before the first Roosevelt dimes' production started in 1946. They have stayed in use until now.
All these coins were made of silver, including those with the 32nd President on the obverse, produced during the first 20 years. The Coinage Act of 1965 changed that, and the latest coin sets were made of cupronickel.
The interesting thing about John R. Sinnock's design is that it has stayed almost the same over the years. Unlike other American coinage, these pieces have remained virtually unchanged for decades.
1976 Roosevelt dime Types

Location
Year
Minted
Philadelphia
1976 No Mint Mark dime
568,760,000
San Francisco
1976 S dime proof
4,149,730
Denver
1976 D dime
695,222,774
Total
/
1,268,132,504
As you know, these dimes honored the 32nd American President, Franklin Delano Roosevelt. He was the only man in history who served his nation for more than eight years, being in this position during the hardest time for the country during the Great Depression and WWII.
This War President stayed in this position from 1933 to April 12, 1945, when he passed away. Most people don't know that this coin honors Roosevelt's efforts against polio, not his other achievements during the economic crisis and war.
Since he himself suffered from this deadly disease, he supported efforts to eradicate it and the March of the Dimes that was organized for this purpose. Still, many politicians and public figures of that time fought against placing Roosevelt's portrait on one of the American coins.
They were sure this President was a patriot, but they considered it inadmissible to classify him in the group of the most important American political figures. Luckily, these coins were issued despite the opposition and have stayed here.
Also read: Top 17 Most Valuable Roosevelt Dimes Worth Money
Features of the 1976 Roosevelt Dime
John R. Sinnock designed Roosevelt dimes, and the US Mint started their production in 1946, after the President's death. The 1976 dimes came without Bicentennial markings despite being minted during the year known after doubled-dated coins.
The obverse of the 1976 Roosevelt dime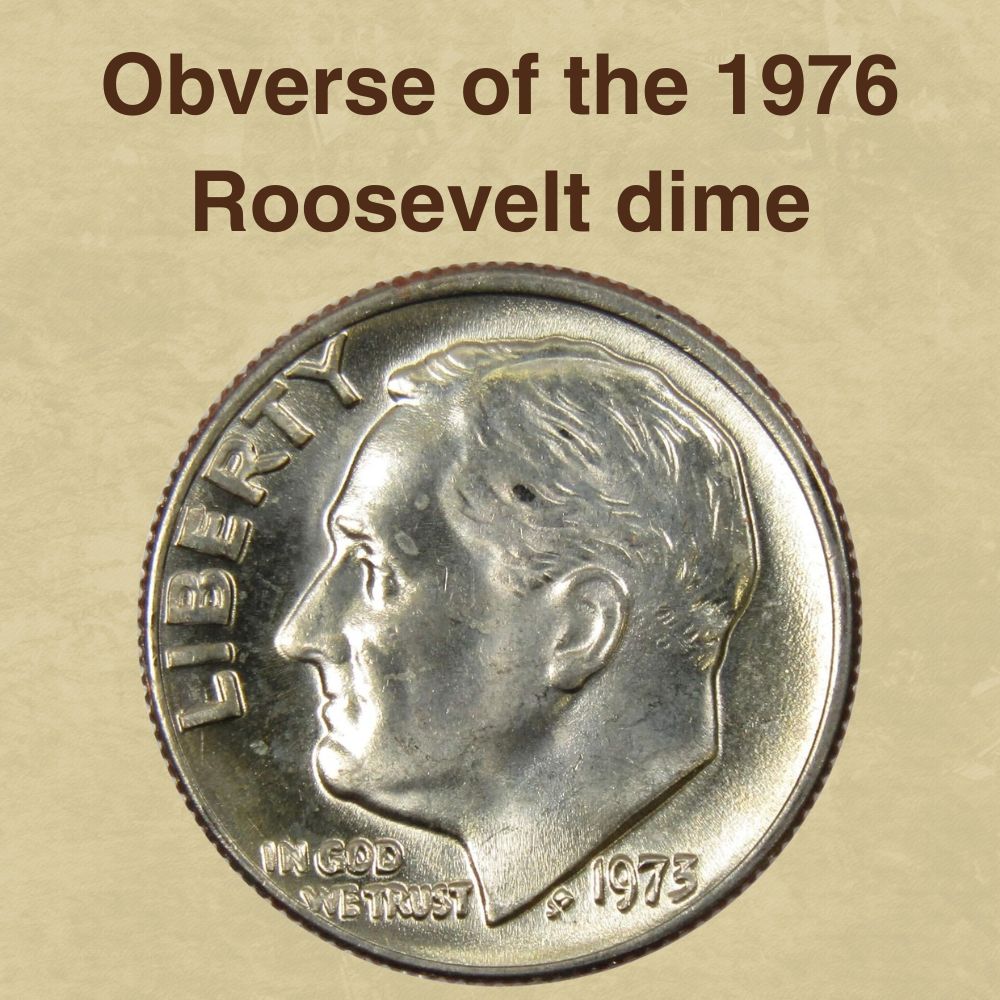 The first Roosevelt dimes appeared in 1946, a few months after the President passed away. Since 1965, these coins were made of cupronickel, and that stayed the same until 1976. The interesting data is that dimes are still the smallest and thinnest American coins.
You can see the portrait of Franklin D. Roosevelt, serving as the 32nd US President, on the obverse looking to the left. Sinnock did his best to emphasize depicted facial and hair details.
Besides the central image, there are only necessary inscriptions required by law. On the left side are LIBERTY and tiny IN GOD WE TRUST, while the date is placed on the right, next to the designer's initials (JS).
Coins produced in two mints, except for Philadelphia, have the mint mark on this coin side. One of the letters, D or S, is struck just above the date. There was no letter P because this mint started using the mint mark four years later, in 1980.
The reverse of the 1976 Roosevelt dimes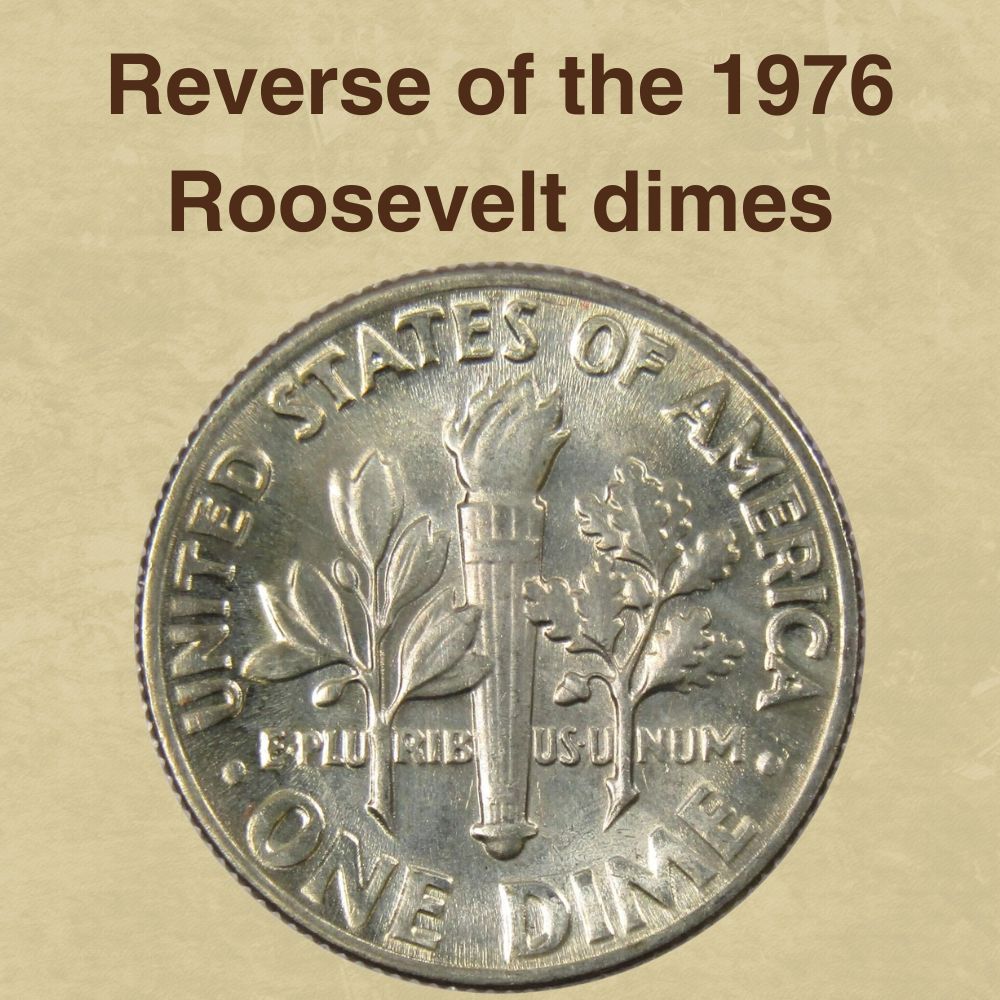 The reverse dime side, placed within a reeded edge, is much more complicated and fulfilling than this coin's obverse. The central position is reserved for a torch surrounded by two twigs.
On the left is an olive branch, representing peace after WWII. The oak struck on the right is a symbol of stability, honesty, and strength, crucial for the nation that survived such horrible times.
The torch itself symbolizes freedom defended with effort during the 1940s. The State name and denomination make the full circle around it, while E · PLU-RIB-US · U-NUM, symbolizing unity, is placed between the twigs.
1976 Roosevelt dime details

Face value
Ten cents ($0.10)
Coin diameter
17.91 mm (0.705 inches)
Compound
Copper/nickel (91.67% to 8.33% ratio) with the coin center being made of copper and the outer layer of cupronickel
Coin weight
2.268 g (0.08 ounces)
Coin thickness
1.35 mm (0.053 inches)
Shape
Round
Edge
Reeded
Other features of the 1976 Roosevelt dime
The 1976 Roosevelt dimes are copper/nickel coins containing these two metals in a 91.67% to 8.33% ratio. The coin center is made of pure copper, while the outer layer is an alloy of copper and nickel. The coin weight is precisely 2.268 grams (0.08 ounces).
These round pieces have a face value of ten cents and a diameter of 17.91 millimeters (0.705 inches). Their edge is reeded, while each specimen is 1.35 millimeters (0.053 inches) thick.
Also read: Top 17 Most Valuable Mercury Dimes Worth Money
1976 Roosevelt Dime Value Guides
Three main mints produced dimes in 1976. Their total mintage was 1,268,132,504 coins featuring Franklin D. Roosevelt on the obverse. Unlike facilities in Denver and Philadelphia, the mint in San Francisco issued only proofs.
1976 No Mint Mark dime Value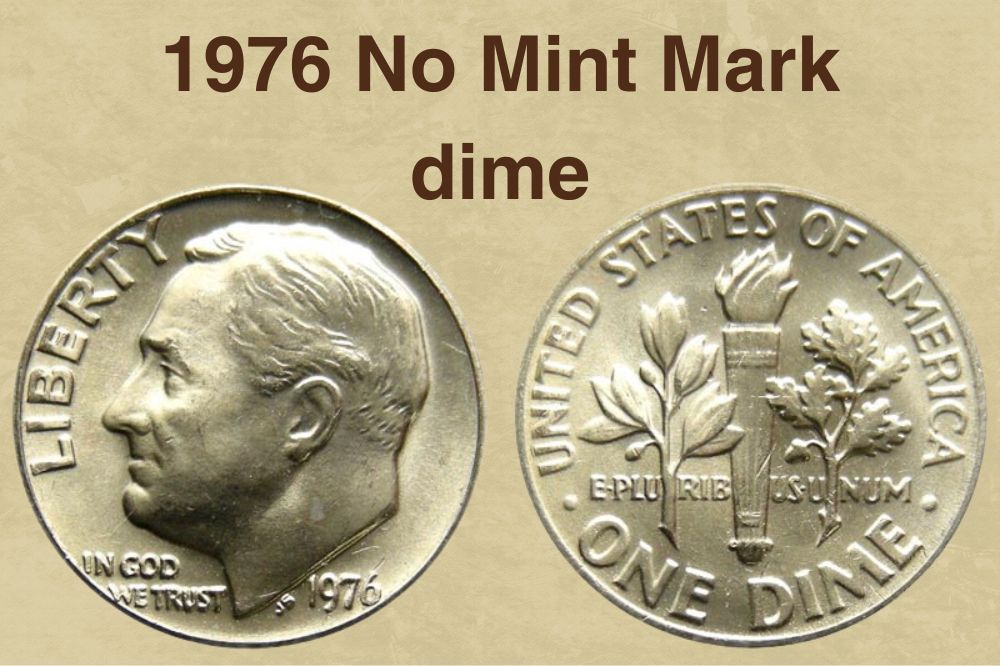 In 1976, the mint in Philadelphia released into circulation 568,760,000 Roosevelt dimes. These ten-cent coins are worth their face value when you want to buy one piece that spent years in use.
Coins in the mint state are slightly more expensive, and you should set aside up to ten dollars for those under MS 66 grades. While you can expect to pay about $120 for MS 67-rated coins, dimes in MS 68 grade are estimated at $1,500. For now, the auction record is lower, $1,035.
Expectedly, 1976 dimes with Full Bands are costlier, with estimated prices of about:
$400 for the dime in MS 65 grade
$1,000 for the dime in MS 66 grade
$2,500 for the dime in MS 67 grade
The auction record for one 1976 FB Roosevelt dime rated MS 66 is $2,695. None pieces in the highest existing grade have been offered at an auction until now.
1976 D Roosevelt dime Value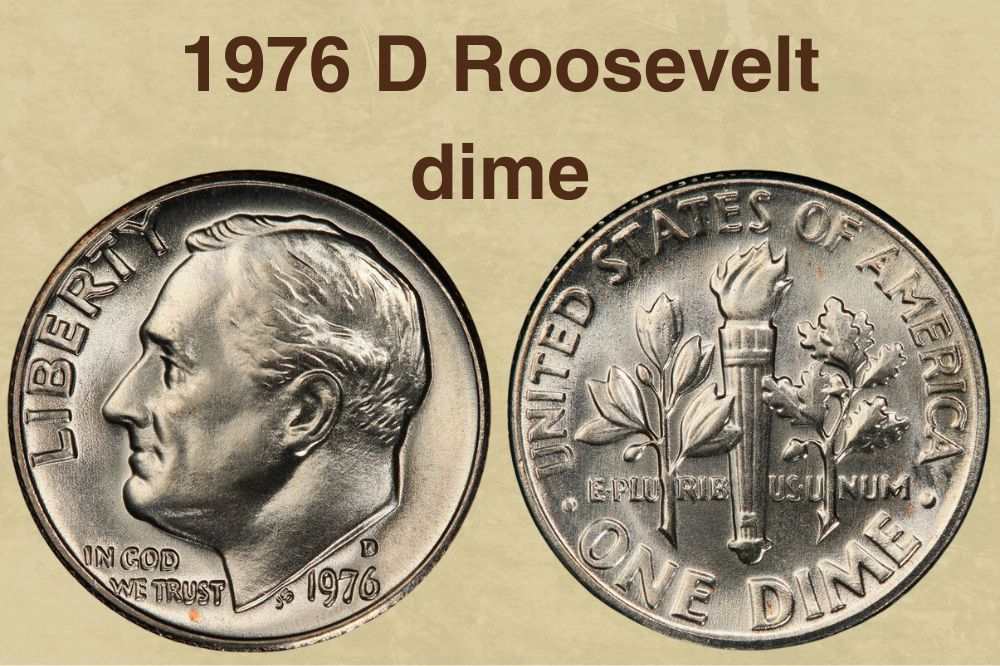 Many dimes of 695,222,774 minted in Denver in 1976 are still in circulation, costing their face value. Since these modern coins are less than 50 years old, even those in the mint state are affordable.
All specimens under MS 66 grade are worth less than a dollar, while MS 67-rated ones cost $25. The estimated price for dimes in MS 68 grade is $400, but one such piece won the auction record after selling at $202 in 2022.
Dimes minted this year with Full Bands on the torch are better estimated, with an expected price range from $22 to $100 for coins in MS 64 to MS 66 grades. The most valuable are MS 67-rated pieces, $1,200, but the auction record from 2020 is slightly higher, $1,560.
1976 S Roosevelt dime Value (proof)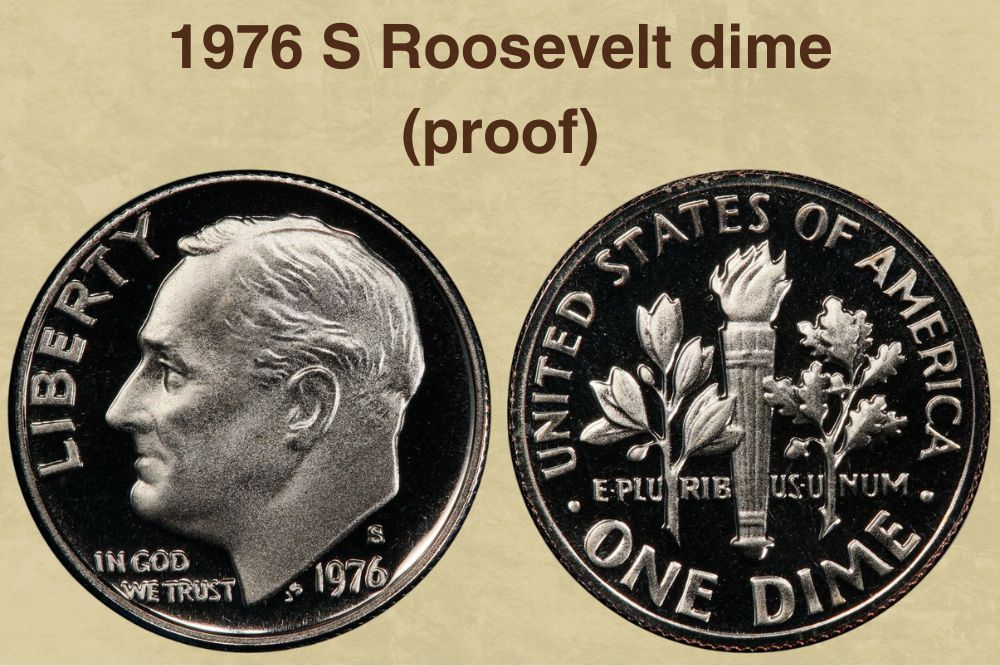 The San Francisco mint produced only proofs in 1976, precisely 4,149,730 dimes intended for collectors. Even though you can find them in various qualities, most collectors look for those with deep cameo contrast.
Their price range is from $0.25 to $1 for lower-graded pieces, while better-quality ones cost $2.50 to $6. The DCAM PR 70-ranked Roosevelt dime still holds the auction record of $1,035, won in 2003.
Also read: 13 Most Valuable Dime Errors Worth Money
1976 Roosevelt Dime Grading Guides
Grading is almost required in modern coin collecting since it is the only way to precisely determine each piece's value. Professional appraisers base their estimations on dimes' look, preservation, flaws, and possibly present minting errors.
However, experienced numismatists can also determine their coins' quality and approximate value by following the Sheldon scale. It is often sufficient for cheap, mediocre-looking pieces.
Rare 1976 Roosevelt Dime Errors List
Since the 1976 Roosevelt dime mintage was high, you can expect to see numerous coins with some standard errors typical for this series. Most of these imperfect pieces are inexpensive with insignificant errors.
Be aware of one collectible variety worth some money. These coins are standard but struck better than others in the set. Like Roosevelt dimes minted in other years, those with Full Bands have a significantly higher value than regularly looked pieces.
Blank planchet
When the dime planchet came through the machine without getting a design, the resulting coin appeared with both obverse and reverse blank surfaces. The only way to know it was a dime is by its size. You can expect to get about $10 for such a piece.
Clipped planchet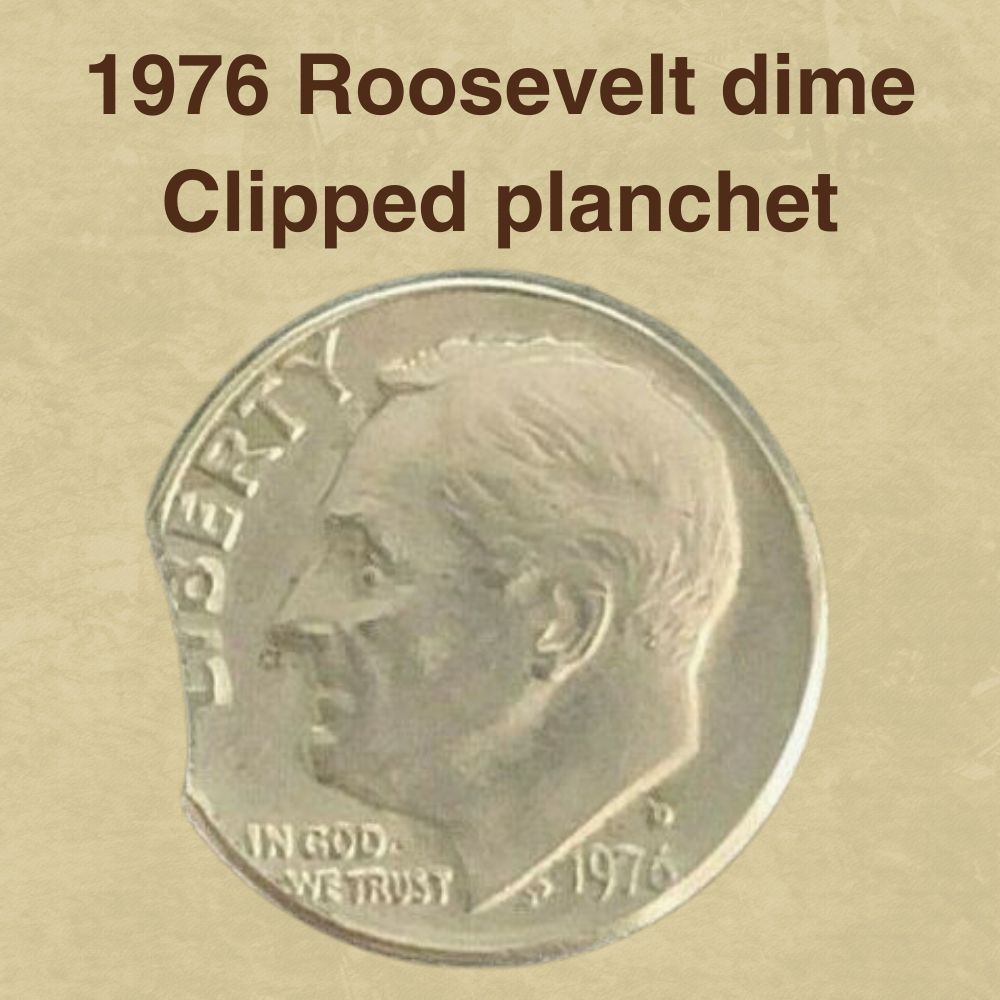 The 1976 dimes with a missing section are highly collectible. However, their price range varies from $15 to $50, depending on the cut piece size and position.
Missing clad layer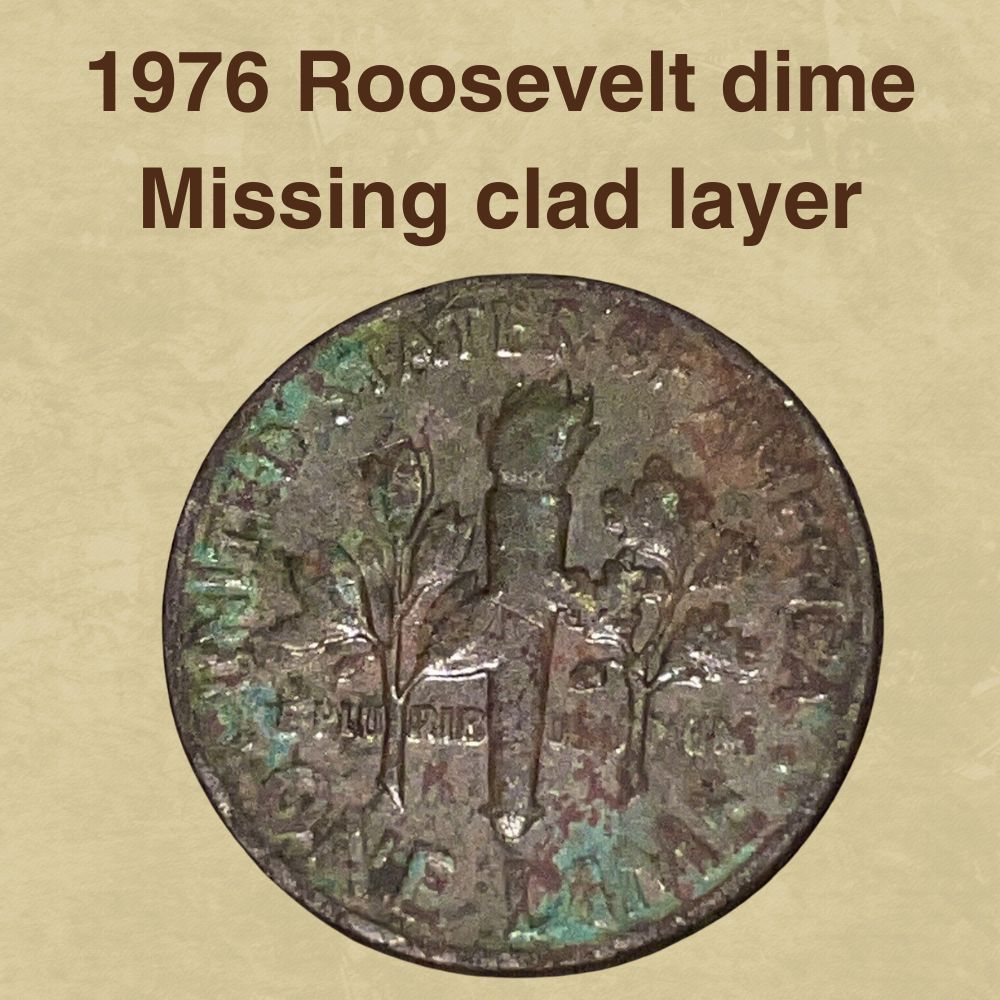 As you know, 1976 dimes have a copper core and an outer coating made of copper and nickel. When this layer is missing, you can see a copper core on the surface, giving the coin a rusty appearance. Some collectors are prepared to pay about $5 to $10 for such a piece.
Broad strike
Broad strike error occurs when the collar breaks. Such made coins are deformed, broader than required, and with a plain edge. They are also thinner than regular dimes and often cost up to $45.
Off-center
Sometimes, the 1976 Roosevelt dimes minted in Denver appear with more or less off-center design percentages. They are a result of the improperly aligned die before hitting the planchet.
Finding pieces from this set with significant deviation is impossible, and most such coins available have an average of 10% to 15% off-center. They are worth up to $20.
FAQ about the 1976 Roosevelt Dime
What makes 1976 dimes rarer than other coins in the series?
Dimes minted in 1976 are less than half of a century old. That makes these coins common on the market nowadays, and only some Full Bands specimens in the highest grades can be rare under certain circumstances.
Which 1976 Roosevelt Dime is worth a lot of money?
The 1976 Roosevelt dime (MS 66 grade, Full Bands) sold on eBay for $2,695 in 2018
The 1976 D Roosevelt dime (MS 67 grade, Full Bands) sold at Heritage Auctions for $1,560 in 2020
The 1976 MS 68 Roosevelt dime sold at Heritage Auctions for $1,035 in 2012
The 1976 S PR 70 Roosevelt dime (DCAM) sold at Heritage Auctions for $1,035 in 2003
The 1976 S PR 70 Roosevelt dime sold on eBay for $293 in 2021
The 1976 D MS 68 Roosevelt dime sold on eBay for $202 in 2022
The 1976 S PR 69 Roosevelt dime (CAM) sold at Great Collections for $46 in 2014
The 1976 S PR 69 Roosevelt dime (DCAM, with LB Treasure Hunt) sold on eBay for $25 in 2018
The 1976 S PR 69 Roosevelt dime (CAM, with LB Treasure Hunt) sold on eBay for $18 in 2023
How much are the 1976 Roosevelt dimes minted in Philadelphia worth?
The 1976 Roosevelt dimes in circulated condition are worth their face value, while those under MS 66 grades cost less than $10. The MS 67-rated coins are estimated at $120, while you need to set aside about $1,500 for those graded MS 68.
The 1976 dimes with Full Bands are more expensive, with estimated prices of $400 (MS 65 grade), $1,000 (MS 66 grade), and $2,500 (MS 67 grade).
What are the priciest Roosevelt dimes?
You can recognize a few Roosevelt dime types, and all of them come with auction records. For instance, one 1975 clad proof in PR 68 grade with No S error sold at $456,000 in 2019, making it the most expensive in the series.
Other priciest dime varieties are the following:
1951 silver dime (Type 1) in PR 68 grade – $23,500 (2014)
1999 D clad dime (Type 2) in MS 65 grade – $14,375 (2009)
1949 silver FB dime (Type 1) in MS 68 grade – $13,200 (2018)
1966 clad SMS dime (Type 2) in SP 67 grade – $12,499.99 (2021)
1964 silver SMS dime (Type 1) in SP 66 grade – $10,200 (2019)