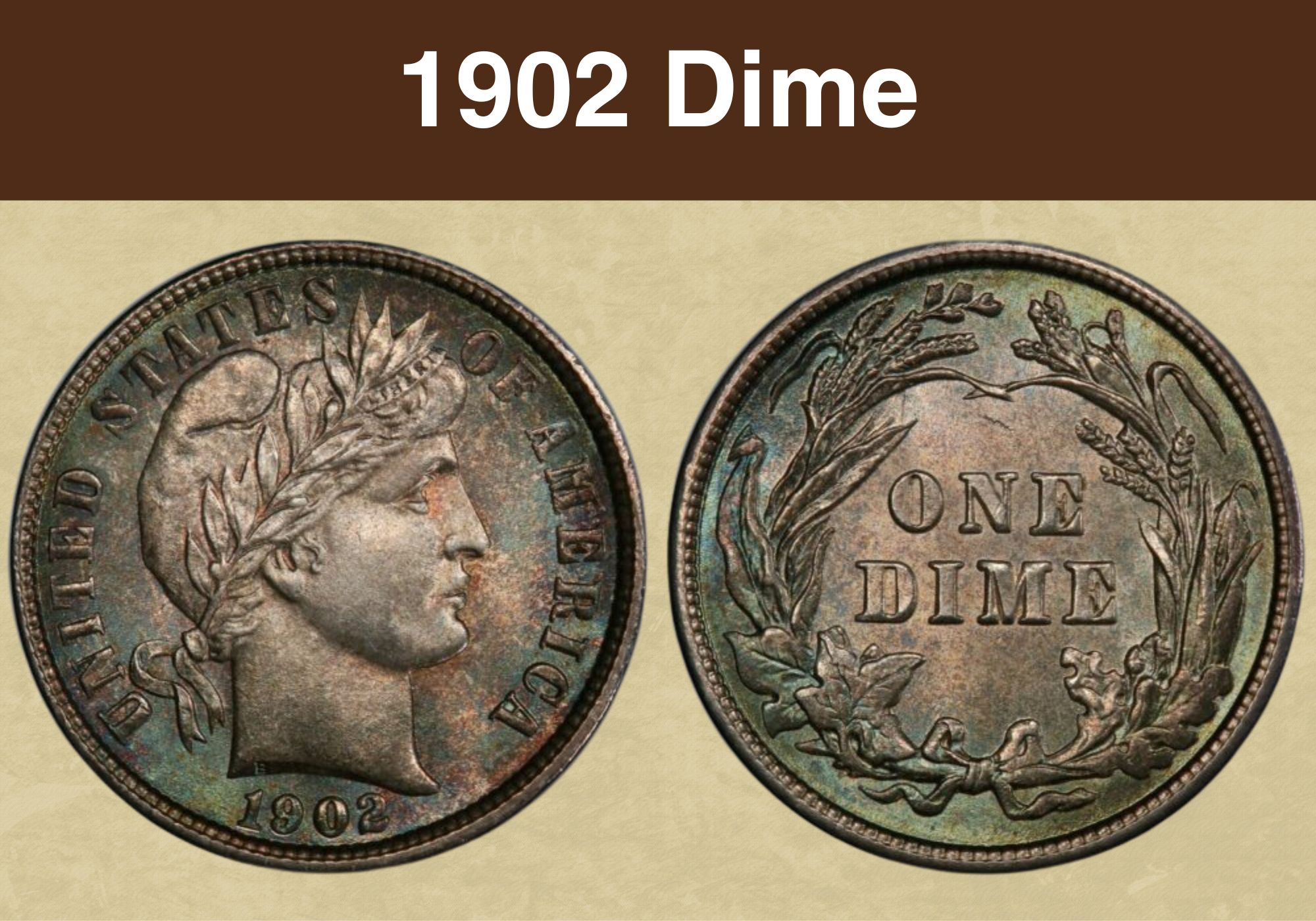 The US Mint issued Barber dimes from 1892 to 1916. These classic American coins are often valuable, but their prices are connected with a few features.
So, the 1902 dime value varies as expected, depending on each piece's quality and preservation level. While the lowest-graded coins are affordable, the highest-rating ones are expensive. Let's see.
1902 dime value Chart

Condition
1902 no mint mark dime
1902 O dime
1902 S dime
Good
$8.64
$11
$20
Very good
$11
$14
$36
Fine
$14
$27
$69
Very fine
$18
$47
$110
Extra fine
$36
$86
$164
AU
$86
$204
$241
MS 60
$152
$493
$465
MS 63
$233
$868
$900
PR 63
$572
/
/
History of the 1902 Barber Dime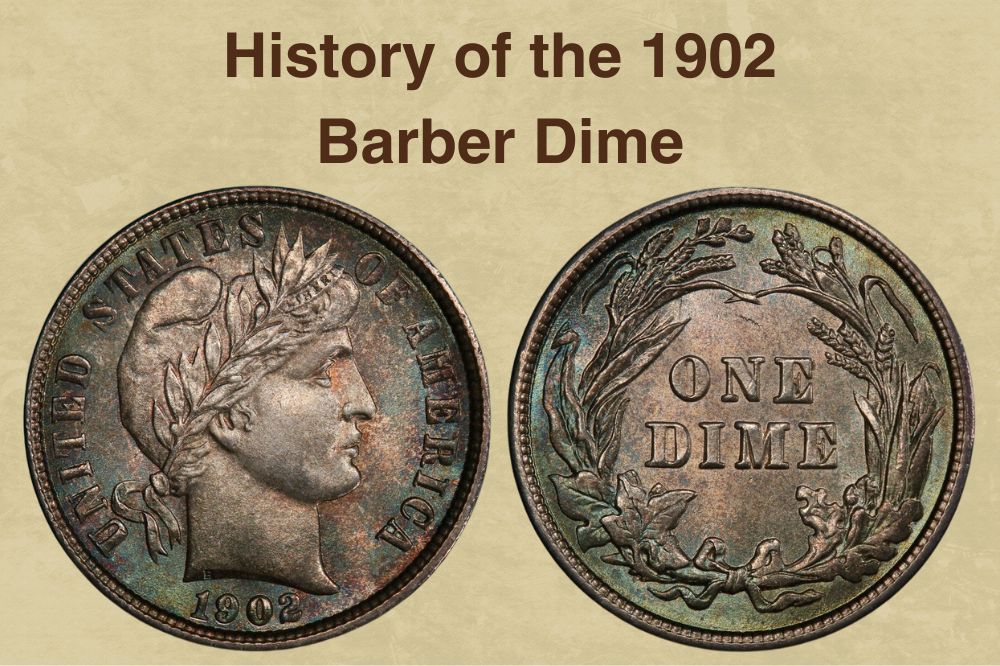 Barber dimes appeared in 1892 after the US Mint stopped minting the Seated Liberty dimes the year before. Their production lasted until 1916, when the new type of coin, Mercury (Winged Liberty Head) dimes, replaced them.
No one seemed to regret when that unpopular, unimaginative, and too-conservative design left the historical scene, and Mercury dimes immediately became a hit. Thirty years later, the death of one of America's most beloved presidents led to the minting of the third coin in the nation's history with a real-life man on the obverse.
1902 Barber dime Types

Location
Year
Minted
Philadelphia
1902 No Mint Mark dime
21,380,000
Philadelphia
1902 dime proof
777
New Orleans
1902 O dime
4,500,000
San Francisco
1902 S dime
2,070,000
Total
/
27,950,777
As for Barber dimes, they were Charles E. Barber's creation. Chief Engraver was not an artist but knew everything about coinage minting. Therefore, he made a sturdy and practical design convenient for the production process without paying too much attention to aesthetics.
His dimes were a part of the so-called Barber coinage, which also included Barber quarter and half-dollar. The entire series started in 1892 and lasted until 1916, except for half-dollars, which minting ended a year before.
Sadly, Mr. Barber, who held the position of the Mint Chief Engraver from 1879 to 1917, witnessed the disappearance of his life's work. The new era began, and the American coinage needed to be beautiful besides being useful.
Also read: Top 17 Most Valuable Roosevelt Dimes Worth Money
Features of the 1902 Barber Dime
The Barber dimes are ten-cent American coinage minted from 1892 to 1916. Three mints produced these coins by following Charles Barber's design. Besides pieces from regular strikes, one mint also released proofs for numismatists.
The obverse of the 1902 Barber dime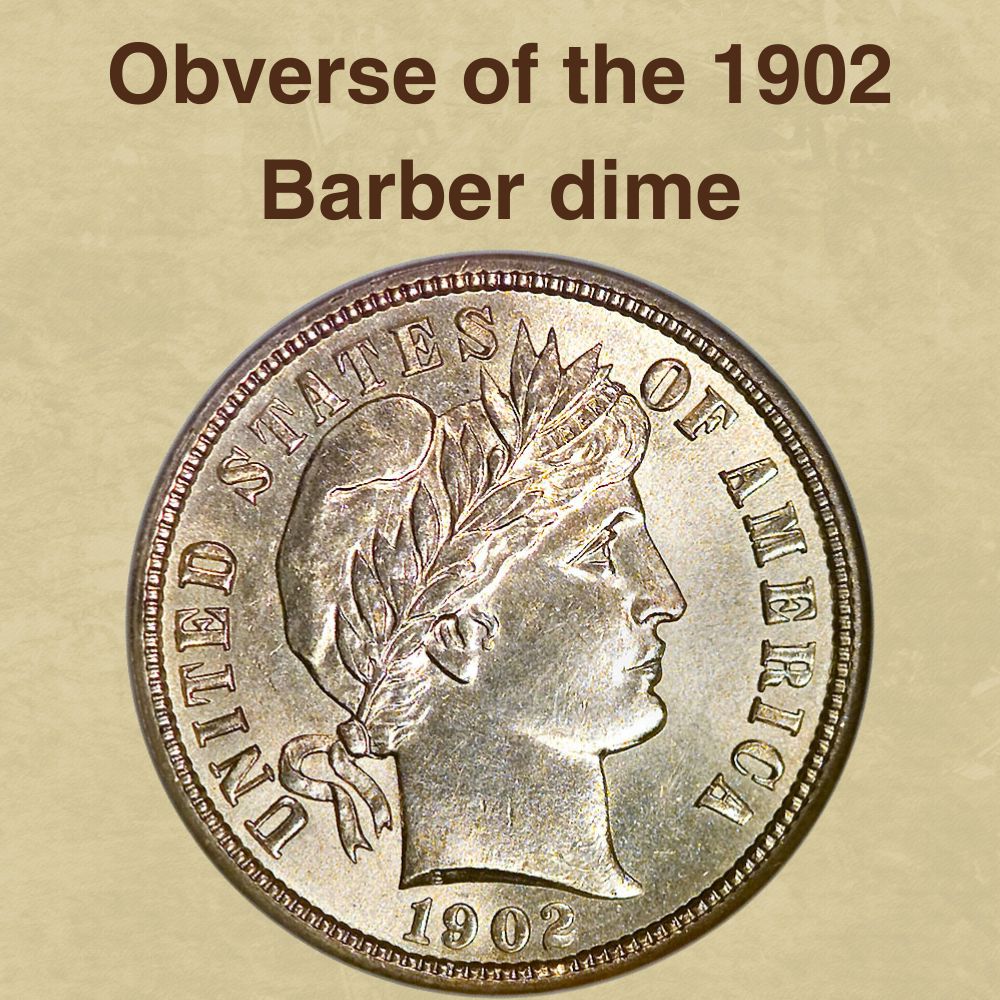 Charles Edward Barber created a practical dime design. The obverse of these 10-cent coins minted in 1902 featured Lady Liberty looking at right.
It wore a conical Phrygian cap with its top folded forwards. It was often recognizable as a felt Dacian Pileus worn in ancient Etruria or Roman cap of liberty.
An olive wreath tied with the strip decorated the cap, with the front part showing the written LIBERTY. You could read UNITED STATES behind Lady Liberty's head while the rest of the State name, OF AMERICA, was struck in front of her face.
The minting date, 1902, was on the bottom rim decorated with a row of denticles. Like most designers, Barber placed his initial, letter B, on the neckline truncation.
The reverse of the 1902 Barber dime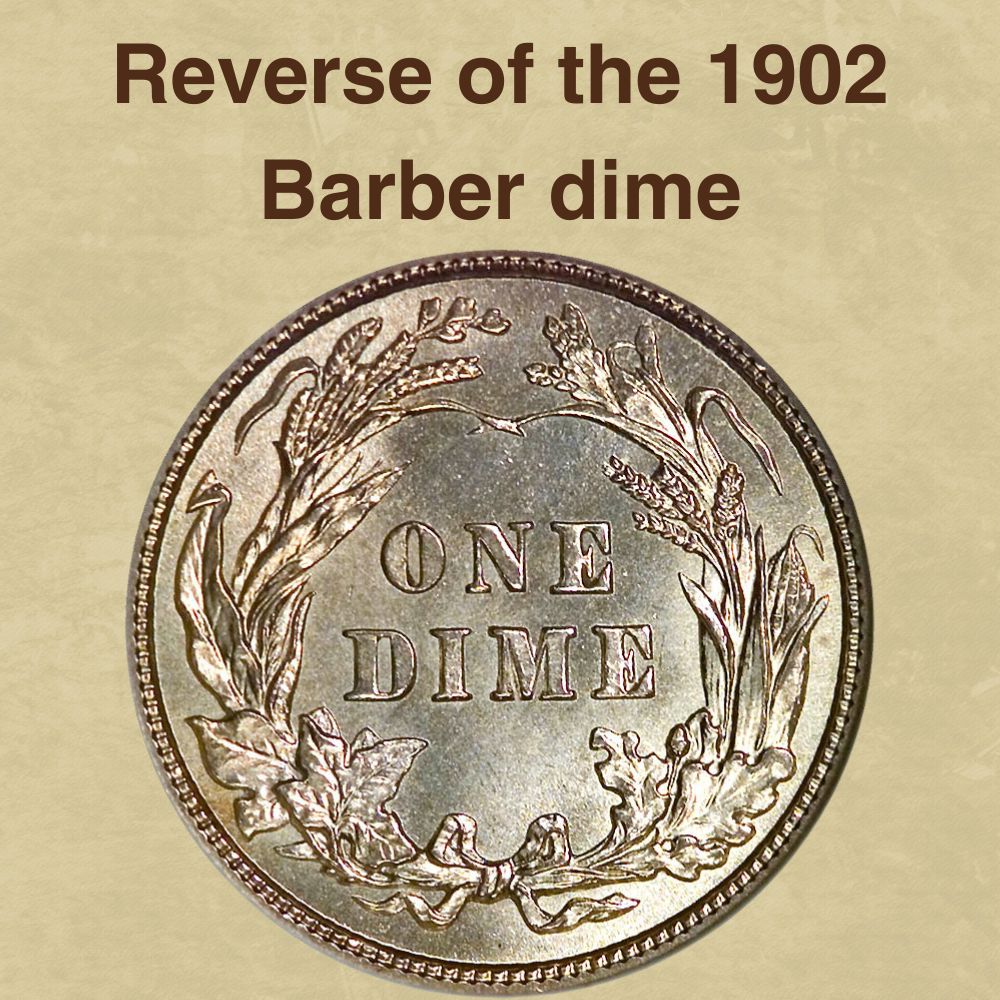 Since Barber was more interested in the design practicality and the ease of its minting than in the aesthetic part, the dime reverse included only basic elements. You could see the coin face value, ONE DIME, in the center.
The wreath made of corn cones, acorns, oak leaves, maple branches and leaves, and stalks of wheat and other cereals surrounded the central composition. The mint mark (O or S) was under the bow, tying the wreath, while coins from Philadelphia had this space blank.
1902 Barber dime details

Face value
Ten cents ($0.1)
Shape
Round
Compound
Silver and copper in 90%: 10% ratio
Coin thickness
1.35 mm (0.053 inches)
Coin diameter
17.91 mm (0.705 inches)
Coin weight
2.5 g (0.08038 troy ounces)
Silver weight
2.25 g (0.07234 troy ounces)
Edge
Reeded
Other features of the 1902 Barber dime
The 1902 Barber dimes contained 90% silver, meaning 2.25 g (0.07234 troy ounces) of total coin weight of 2.5 g (0.08038 troy ounces) was this precious metal. The precisely measured diameter was 17.91 mm (0.705 inches), while their thickness was a standard 1.35 mm (0.053 inches).
Also read: Top 17 Most Valuable Mercury Dimes Worth Money
1902 Barber Dime Value Guides
You can recognize three types of coins from regular strikes and proofs among 27,950,777 dimes minted in 1902. Two came with the mint mark O or S, while pieces (regular coins and proofs) minted in the main mint were without any letter below the wreath.
1902 No Mint mark dime Value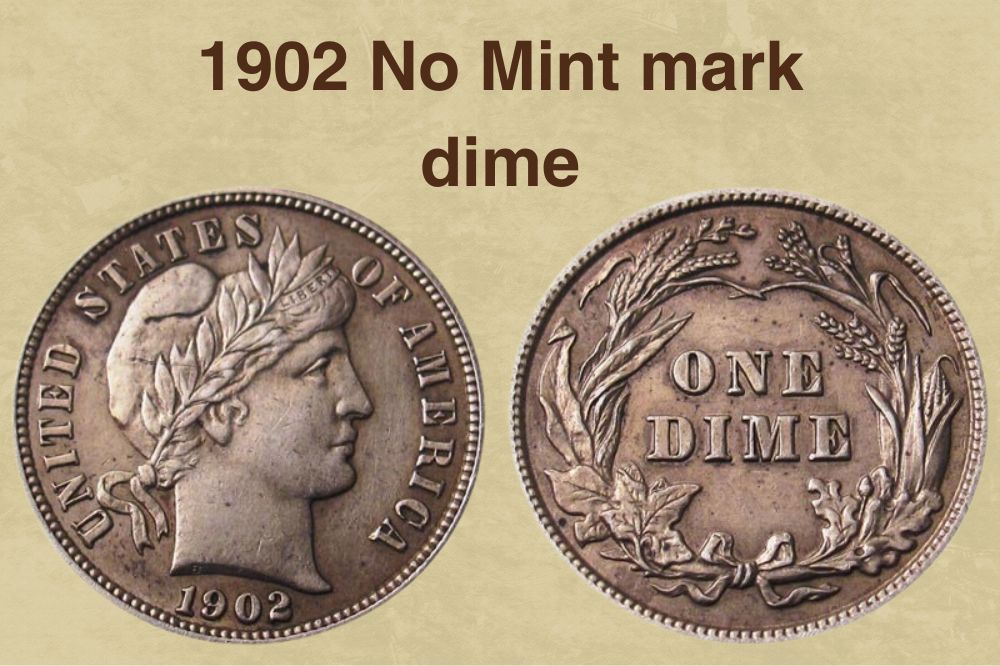 The 1902 Barber No Mint mark dimes came from the Philadelphia mint in a high number of 21,380,000 coins. Despite their age, they spent years in use, and you could expect a relatively modest price range of $4 to $100.
Coins in the mint state can bring you significantly more money, depending on their quality. So, you can count on a price range from $110 to $540 for pieces graded from MS 60 to MS 65. The best-preserved ones are assessed at the following cost:
$850 to $1,020 for 1902 dimes in MS 66 grade
$3,500 to $4,200 for 1902 dimes in MS 67 grade
Despite these already high estimated values, one 1902 Barber dime in the highest existing grade won an auction record of $5,875 in 2014.
1902 proof dime value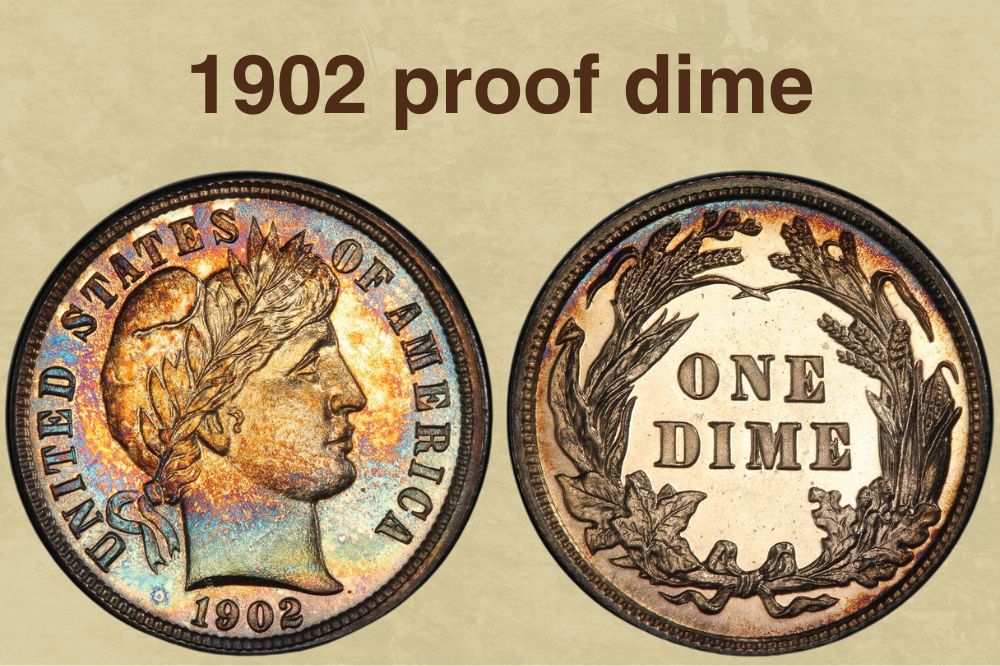 The Philadelphia mint also took care of collectors and issued 777 proofs for them in 1902. These dimes cost differently, depending on grades, and their selection includes the following:
PR 60-rated Barber dimes cost $255 to $306
PR 61-rated Barber dimes cost $275 to $330
PR 62-rated Barber dimes cost $315 to $378
PR 63-rated Barber dimes cost $375 to $450
PR 64-rated Barber dimes cost $500 to $600
PR 65-rated Barber dimes cost $765 to $880
PR 66-rated Barber dimes cost $950 to $1,200
Even though the best-estimated are coins with a PR 67 rating, ranging from $3,000 to $4,000, the most expensive proof in the set is one PR 61-graded dime. Its auction record of $17,258 from 2008 is still unbroken.
1902 O dime value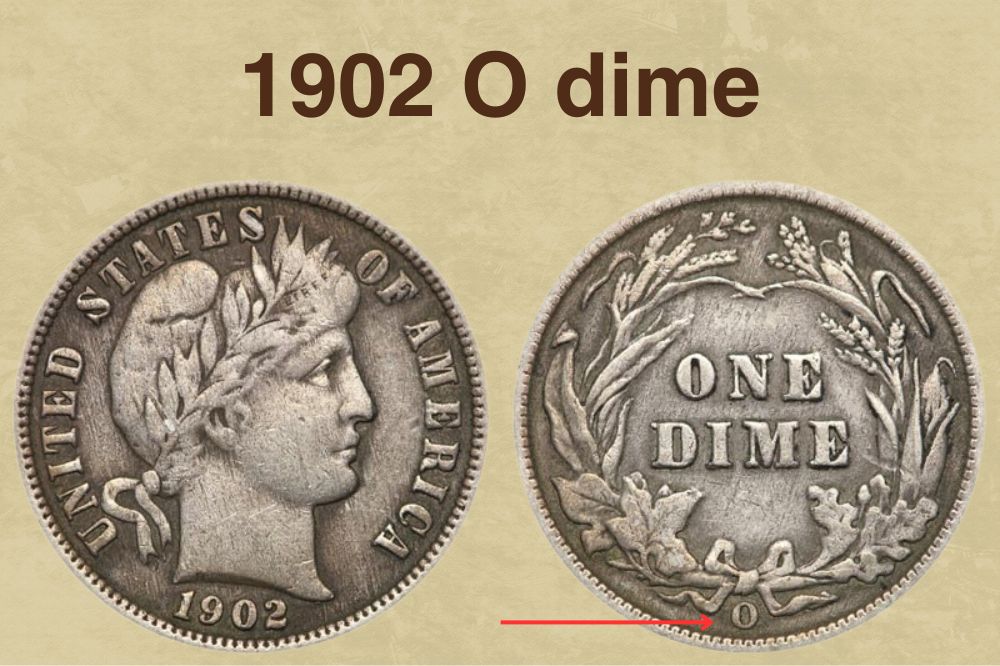 Even though the number of 4,500,000 dimes produced in New Orleans in 1902 is not the lowest, their prices can sometimes be surprisingly high nowadays. That is particularly true for the best-ranked ones.
The 1902 O Barber dimes in circulated condition are worth $5 (GOOD) to $300 (AU), while those with the untouched look cost more:
MS 60-graded coins – $300 to $350
MS 61-graded coins – $330 to $380
MS 62-graded coins – $375 to $450
MS 63-graded coins – $575 to $690
MS 64-graded coins – $1,150 to $1,380
MS 65-graded coins – $2,600 to $3,000
MS 66-graded coins – $4,800 to $5,760
The most expensive are specimens with an MS 67 rating, with the estimated price range from $9,500 to $11,000. However, the auction record from 2007 is slightly higher – $12,650.
1902 S dime value
The San Francisco mint reached the lowest number of dimes in 1902, only 2,070,000 pieces. You can buy one coin used for a longer or shorter period for $10 to $270.
Specimens that never spent a minute in circulation cost $300 to $810 in lower grades, while better-preserved ones have an assessed value of $1,000 to $4,320.
Even though experts estimated the 1902 MS 67 dime price range for $7,000 to $8,500, one piece in MS 67+ grade won $21,150 at an auction in 2014. That made it the costlier coin in the set.
Also read: 13 Most Valuable Dime Errors Worth Money
1902 Barber Dime Grading
The coin condition is everything when you want to estimate such an old specimen like the 1902 dime. Since some of these coins are incredibly expensive, you shouldn't risk making an error in judgment.
Therefore, your best option is to consult experts from one of the reputable companies specializing in coin appraisal. Be aware that using the Sheldon system can help you understand your coin condition and approximate value.
Unfortunately, layman's estimate is never enough for highly valuable pieces offered at auctions. Only a reputable grading company can offer a certificate that gives the buyer absolute certainty in the estimate accuracy.
Rare 1902 Dime Errors List
No one cared about the 1902 Barber dimes, particularly imperfect pieces in those times, so only several superb coins have survived by now.
Still, it is almost impossible to find any high-profile error worth collecting among these functional but not very beautiful coins. Anyway, you can buy one of such dimes for a slight change if you are a dedicated admirer.
Doubled die obverse
You can find a few 1902 Barber dimes with this error on the obverse side, but it is too insignificant to seriously increase their value. However, each piece's price depends on its grade, the design part with doubling, and the error visibility.
Clipped planchet
This weird dime minted in 1902 with warped, crushed, and slightly cut edge can be worth about $30. It resulted from unadjusted planchet movement speed in the machine during minting.
Re-punched date
This kind of error often occurred in American mints since workers hit the date by hand. When they made a mistake and struck the minting year in the wrong place or the right place but at the wrong angle, they tried to correct it.
The quickest way was to hit the date once more over the previous one. The 1902 Barber dime with RPD error cost approximately $30.
Lamination
A few collectors discovered the 1902 Barber dimes with a planchet error known as lamination. Such coins resulted from contamination in metal alloy when their surface cracks and flakes. Metal layers separate, leaving the coin without the outer coat on some parts.
The interesting thing about this error is that it can increase the value of common dimes but reduce the prices of rare ones. One collector has offered his piece minted in San Francisco with this imperfection on eBay for $150.
Silver leaves attached over the obverse parts
All Barber dimes are made of silver, including those minted in 1902. One collector found a strange coin with silver leaf-looking pieces over Lady Liberty's neck and ears. It can be tricky to determine the real price for such a unique coin, but the owner wants to sell his specimen for $75.
FAQ about the 1902 Barber Dime
What makes a 1902 Barber dime rare?
The situation with 1902 Barber dimes is unusual. Even though these coins are over 120 years old, many circulated pieces are cheap, and many collectors avoid collecting them. Only excellently-looking specimens reach high prices on the market, but they are still not particularly rare.
Which Barber dimes are the most expensive in the 1902 set?
1902 S MS 67+ Barber dime, paid $21,150, won an auction record in 2014
1902 PR 61 Barber dime, paid $17,258, won an auction record in 2008
1902 O MS 67 Barber dime, paid $12,650, won an auction record in 2007
1902 MS 67 Barber dime, paid $5,875, won an auction record in 2014
1902 PR 65 CAM Barber dime, paid $4,500, won an auction record in 2018
How much is the 1902 Barber No Mint mark dime worth?
The 1902 dimes minted in Philadelphia are readily available and cheap after a long time in circulation. It is possible to find those in the lowest collectible GOOD condition for only $4, while better-ranked used coins can reach up to $100.
Dimes that never spent a day in circulation can cost up to $4,200, but such a high sum is reserved only for pieces in MS 67 grade.
What is the priciest Barber dime?
The most expensive Barber dime in the series is the 1894 S PR 66 coin, paid $1,997,500 in 2016 at Heritage Auctions. The next costliest proof is the 1900 PR 68+ CAM dime sold at $66,000 in 2020. The priciest dime from regular strikes is the 1893 S MS 67 specimen that won an auction record of $63,250 in 2007.