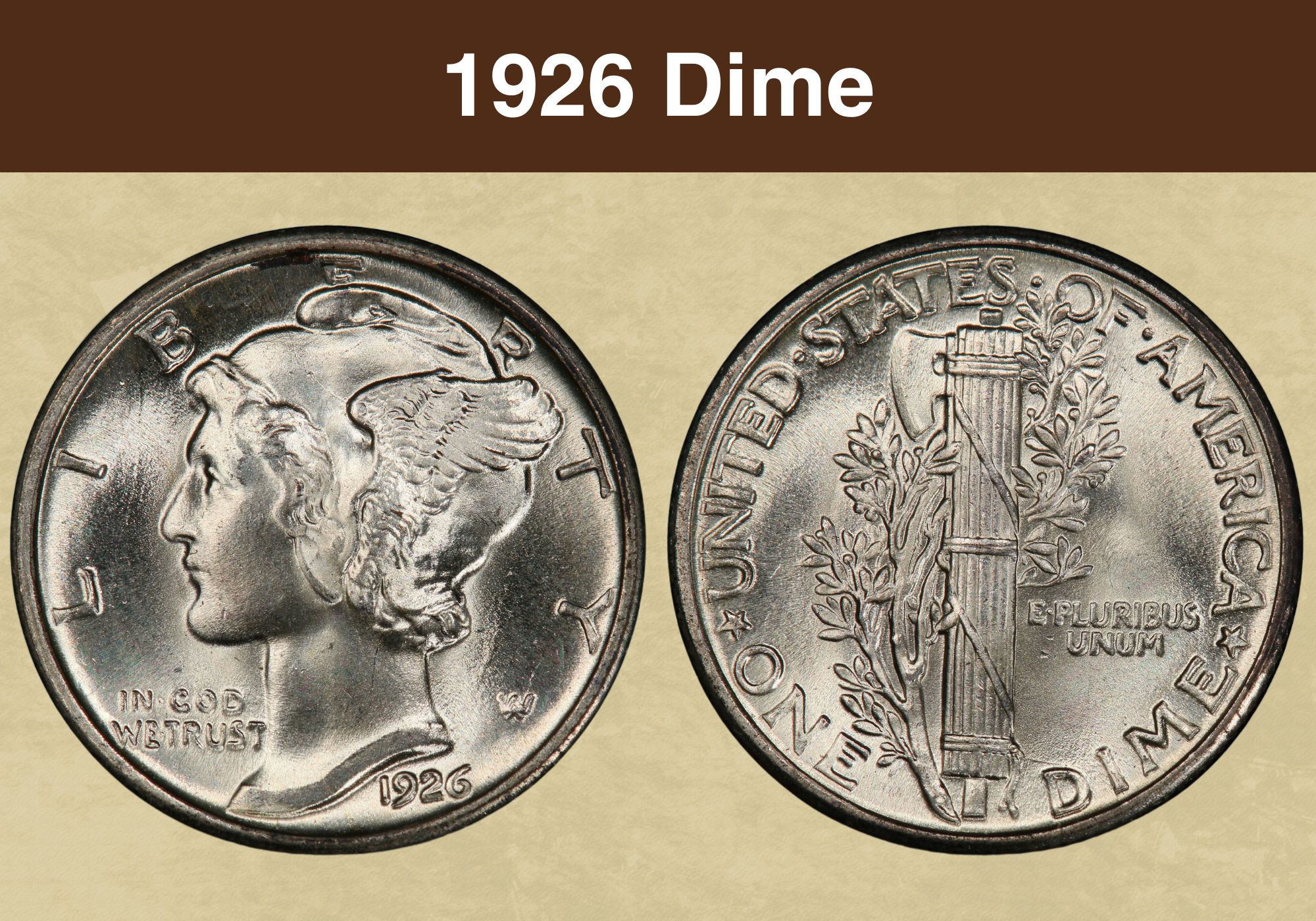 They say good things come in small packages, and this couldn't be truer when it comes to the 1926 dime. Despite its size, this coin holds immense value for collectors and numismatists.
Whether you're an experienced numismatist or a fresh face in the world of coin collecting, delving into the 1926 dime value can provide you with a valuable compass to navigate the intricate realm of rare coins.
So, continue reading if you're curious to learn the value of a 1926 Dime. You are soon going to discover what makes the 1926 Dime so special!
1926 Dime Value Chart

Mint Mark
Good
Fine
Extremely Fine
Uncirculated
1926 Dime without Mint Mark
$3.75
$5
$9
As high as $1200
1926 "D" Dime
$4.50
$8
$30
As high as $1450
1926 "S" Dime
$13
$40
$260
As high as $11000
1926 No Mint Mark Dime Value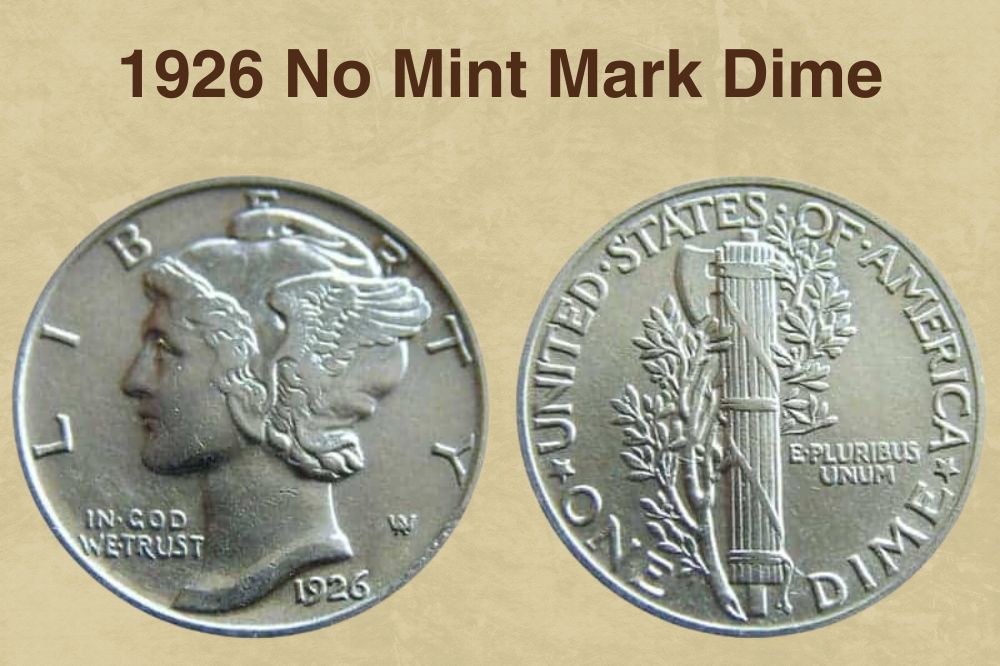 The 1926 dime is a dazzling part of American heritage that possesses tremendous value for collectors and numismatists. Because of its unique history, composition, and design, the 1926 Dime without a mint mark is prized by coin collectors all over the world.
This particular piece was part of the Mercury Dime series, produced between 1916 and 1945. The coin's design is the head of Liberty, represented as a young woman wearing a cap with wings to represent freedom of thought. Adolph A. Weinman, a sculptor of German descent famous for his iconic sculptures and coin designs, was the designer of the image.
The Greek god Mercury, renowned for his speed and agility, served as the model for Weinman's design of the Mercury Dime. The depiction of Mercury seemed appropriate for the dime since it was a small and lightweight currency that could fit easily in pockets and handbags.
The Mercury Dime was a component of the U.S. Mint's broader modernization initiative for American coinage. The Barber dime, which had been in use since 1892, was intended to be replaced by the Mercury dime series.
The sleek and contemporary appearance of the Mercury dime marked a change from earlier coins' more conventional designs and ushered in a new period in American coinage.
The 1926 dime was struck in Philadelphia, which explains why it lacks a particular mark to identify its place of production. The currency is made of 90% silver and 10% copper, the usual composition for dime coins at the period.
The 1926 dime had a mintage of 32,160,000 pieces, indicating its widespread production. This makes it one of the more prevalent dates in the Mercury Dime series.
Although a large number of 1926 dimes were produced without a mint mark, it's still considered to be a rarity in high grades, particularly in an uncirculated state.
This is primarily due to the fact that most of these dimes were extensively circulated, and very few have been able to survive in immaculate conditions.
The scarcity of the 1926 dime without a mint mark has sparked the interest of collectors who value its historical significance and stunning aesthetics.
This coin is a testament to a significant period in American history, during which the nation experienced a strong economic boom and an era of flourishing arts.
The worth of the 1926 dime without a mint mark is heavily dependent on both its rarity and condition. In general, the value of this dime can differ significantly based on its grade.
A circulated 1926 dime without a mint mark may range from $2.75 to $25. Conversely, an uncirculated coin is known to possess a greater value and can fetch over $1000.
In an auction held by Heritage Auctions, a 1926 Dime without mint mark was sold for $6463. This particular coin had been graded as MS-67 CAC by PCGS, indicating that it was in excellent condition with no major visible flaws.
1926 "D" Dime Value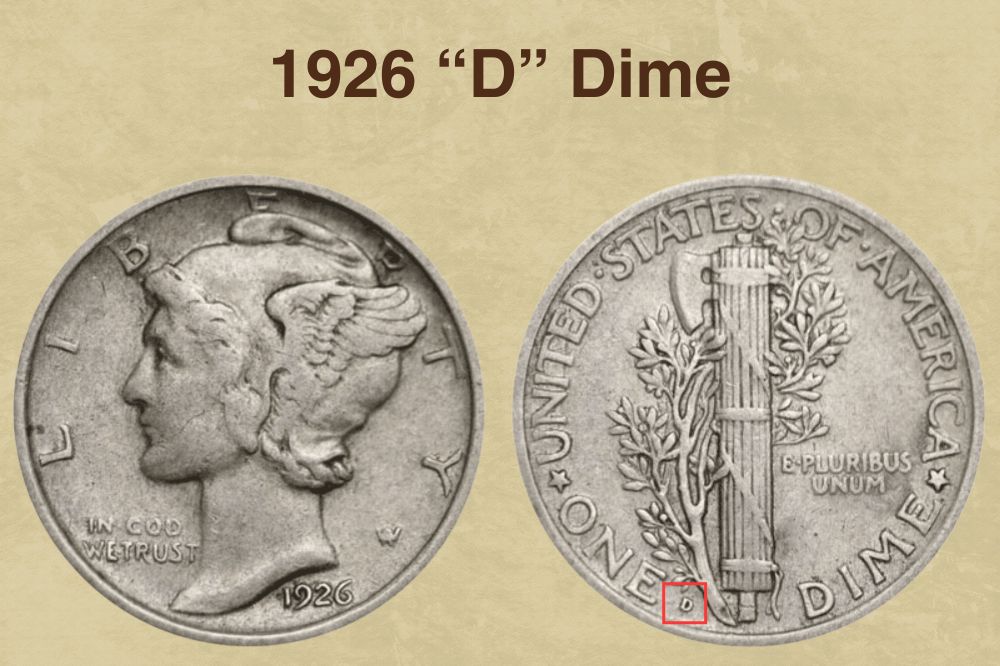 The 1926 "D" dime is an American ten-cent coin created at the Denver Mint in 1926. It has a picture of Lady Liberty on the obverse and a bunch of branches on the reverse, just like other dimes from the time. However, the 1926 "D" dime has distinctive qualities that make it a sought-after piece among enthusiasts.
Weinman's design for the dime captures Lady Liberty wearing a feathered cap, denoting freedom of thinking, and a flowing robe with a draped shawl over her shoulder.
The reverse side of the coin shows a bundle of branches, including an olive branch, which represents peace, and an oak branch, which represents power.
The Denver mint produced 6,828,000 copies of the 1926 "D" Dime, making it the third-highest mintage of the decade. Even so, most of the coins produced at the time were massively exchanged, so discovering a 1926 "D" dime in mint condition is quite unusual.
With its beauty and historical significance, the 1926 "D" dime has become a much-desired treasure for collectors. Its rarity adds to its allure, representing a period of immense economic growth and artistic flourishing in American history.
The coin's distinctive design has earned it a place among the most aesthetically pleasing coins of its era, cementing its status as an iconic representation of American numismatics.
Like all coins, a 1926 "D" dime's worth varies depending on its condition. A 1926 "D" dime in MS-63 can sell for over $300, while an MS-65 can bring more than $500 to collectors who esteem flawless coins.
An impressive $1000 or more can be spent on acquiring an MS-66, the highest grade. However, these higher grades are highly uncommon and challenging to find, which adds to their great worth. Despite the grade, the 1926 "D" dime continues to be a popular collectible among aficionados worldwide.
1926 "S" Dime Value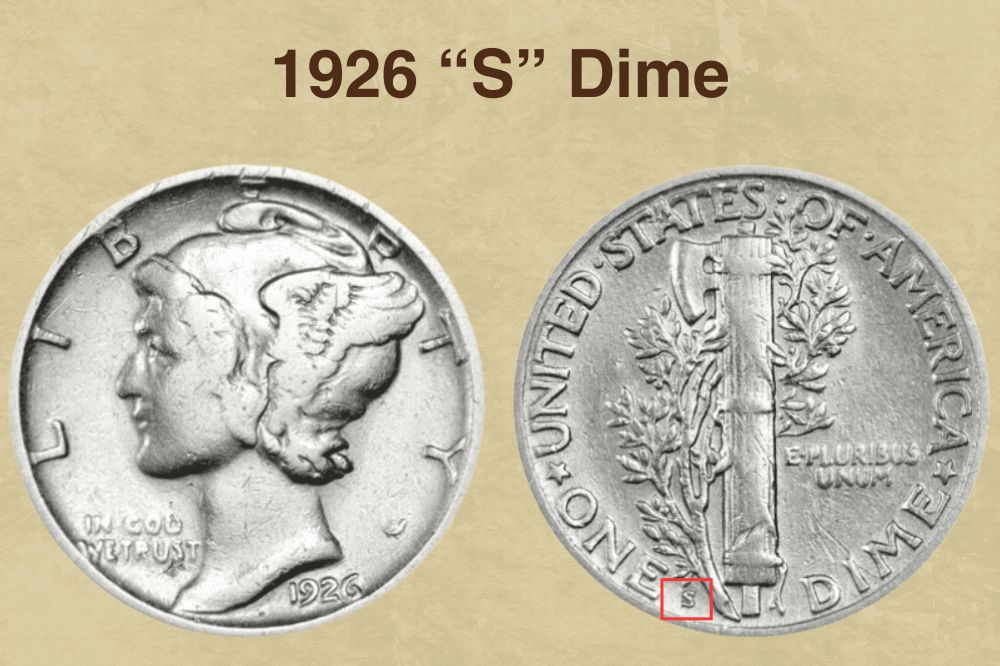 With its rarity, historical relevance, and captivating design, the 1926 "S" dime is a treasure eagerly sought by coin collectors. Originating from the San Francisco Mint, this dime is a precious piece of American numismatics, symbolizing the wealth and flourishing culture of the era.
The 1926 "S" dime showcases a timeless design that mirrors other dimes of the period, depicting a side profile of Lady Liberty on the obverse and a torch, olive branch, and oak branch on the reverse. The mintmark "S" is situated beneath the oak branch, indicating its origin in the San Francisco Mint.
The 1926 "S" dime was struck in limited quantities, with only 1,520,000 minted, making it a rare and valuable addition to any coin collection.
Although operational alongside two other mints at the time, the San Francisco Mint produced a lower number of dimes, adding to the coin's appeal and rarity. The scarcity of this dime makes it an exciting find for numismatists and collectors, who appreciate its historical and aesthetic significance.
The 1926 "S" dime was issued during a substantial era in American history, the Roaring Twenties. Rapid economic expansion and cultural transformation marked this decade, during which many Americans enjoyed newfound riches and indulged in leisure pursuits.
This era is reflected in the dime's design, which has a torch as a representation of enlightenment, power, and independence.
The 1926 "S" dime holds a special place in the hearts of coin collectors and numismatists alike, and its value is a reflection of its rarity and historical significance.
While a circulated dime from this year may fetch between $5.50 and $1350, an uncirculated coin is more valuable, with prices starting from $1000.
The stakes are even higher for collectors seeking the finest examples of the 1926 "S" dime. An MS-63 condition coin can command upwards of $2000, while an MS-65 can fetch over $3500. For example, a 1926 "S" Dime graded MS-63 was sold for $2640 at an auction back in 2021!
The ultra-rare MS-67 grade is the Holy Grail for many collectors and is worth a staggering $11000 or more. Obtaining one of these rare coins is a true feat, as they are few and far between, which only adds to their allure and value.
With its rarity and historical significance, the 1926 "S" dime is a prized possession for collectors. Due to the lower mintage of dimes from the San Francisco Mint, obtaining a well-preserved 1926 "S" dime is a true feat, adding to its value as a collectible.
For those who value the beauty and history of the 1926 "S" dime, owning one can be a treasured addition to their collection. Its scarcity is a testament to its worth, serving as a valuable piece of American history that can be passed down for generations to come.
Also read: Top 17 Most Valuable Mercury Dimes Worth Money
1926 Dime Grading
The 1926 Dime is graded on a scale from 1 to 70, with 70 being the highest grade, like all other coins. A severely worn and damaged dime would be classed as a 1, whereas one that is flawless and has never been circulated would be given a grade of 70.
Based on the degree of wear and damage to the coin, there are many distinct grades between those two extremes. Grades such as Good (G-4), Very Good (VG-8), Fine (F-12), Very Fine (VF-20), and Very Fine (EF-40) are typical for circulated 1926 dimes.
To ensure correct grading, collectors should always seek the advice of a professional coin grading service. Watch this informative YouTube video about coin grading for additional details.
Rare 1926 Dime Error List
1926 Dime with Full Band Lines Error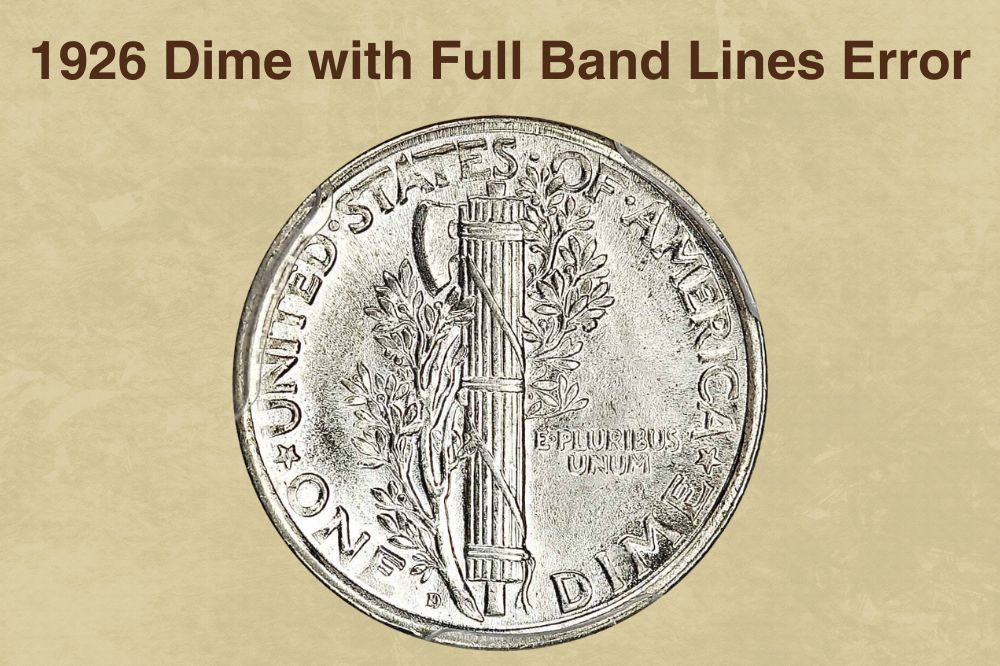 The 1926 Dime with Full Band Lines is a precious and uncommon error that collectors seek out. These dimes are unique because the olive branches on the reverse side of the coin have more prominent bands surrounding them as a result of being struck more than once.
A 1926 Dime's value can increase significantly as a result of the Full Band Lines error; even poorly kept versions can sell for hundreds of dollars. Yet, the value might rise to several thousand dollars for those in pristine condition.
The most valuable 1926 S FB Dime in mint condition is worth an impressive $54,625. It was sold at an auction in 2010. These uncommon and valuable coins are proof of the skill and accuracy of early 20th-century coin manufacturing.
To learn more about the 1926 Dime with full band lines error, check out this YouTube video to discover how such errors can dramatically raise the value of a seemingly ordinary coin!
Also read: 13 Most Valuable Dime Errors Worth Money
1926 Dime FAQs
How much is a dime from 1926 worth?
According to the NGC Price Guide report, a 1926 Mercury Dime can fetch anywhere from $5.50 to $1,300, depending on its condition. But, in the wild world of coin collecting, a 1926 S Dime in flawless, uncirculated condition can sell for an astonishing $11,000 or even more.
The rarity and state of the coin are critical factors that significantly impact its value. Interestingly, the higher the coin's grade, the more the value increases. As such, collectors looking to invest in a high-grade 1926 Dime can expect to pay big money for this coveted coin.
Where is the mint mark on a 1926 dime?
The 1926 Mercury dime boasts a fascinating history, having been minted at three different locations across the United States.
The absence or presence of a mint mark plays a critical role in determining the origin of the coin, with Philadelphia (no mint mark), Denver ("D" mint mark), and San Francisco ("S" mint mark) being the three possible locations.
If present, the mint mark can be found on the reverse side of the coin, precisely below the wreath and above the word "ONE." If the dime bears no mint mark, it means that it was minted in Philadelphia.
How can you tell if a dime is mercury?
Looking at the design on the front (obverse) of a dime will most likely reveal whether it is a Mercury dime. The Mercury dime depicts Liberty wearing a winged cap, frequently confused with the Roman god Mercury, hence the nickname "Mercury dime."
Examining the date is another technique to determine if a dime is a Mercury dime. The Mercury dime was struck from 1916 to 1945, so any dime with a date in that period is most certainly a Mercury dime. It's worth mentioning that dimes were also produced with a different design for some years, so make sure to check both the design and the date.