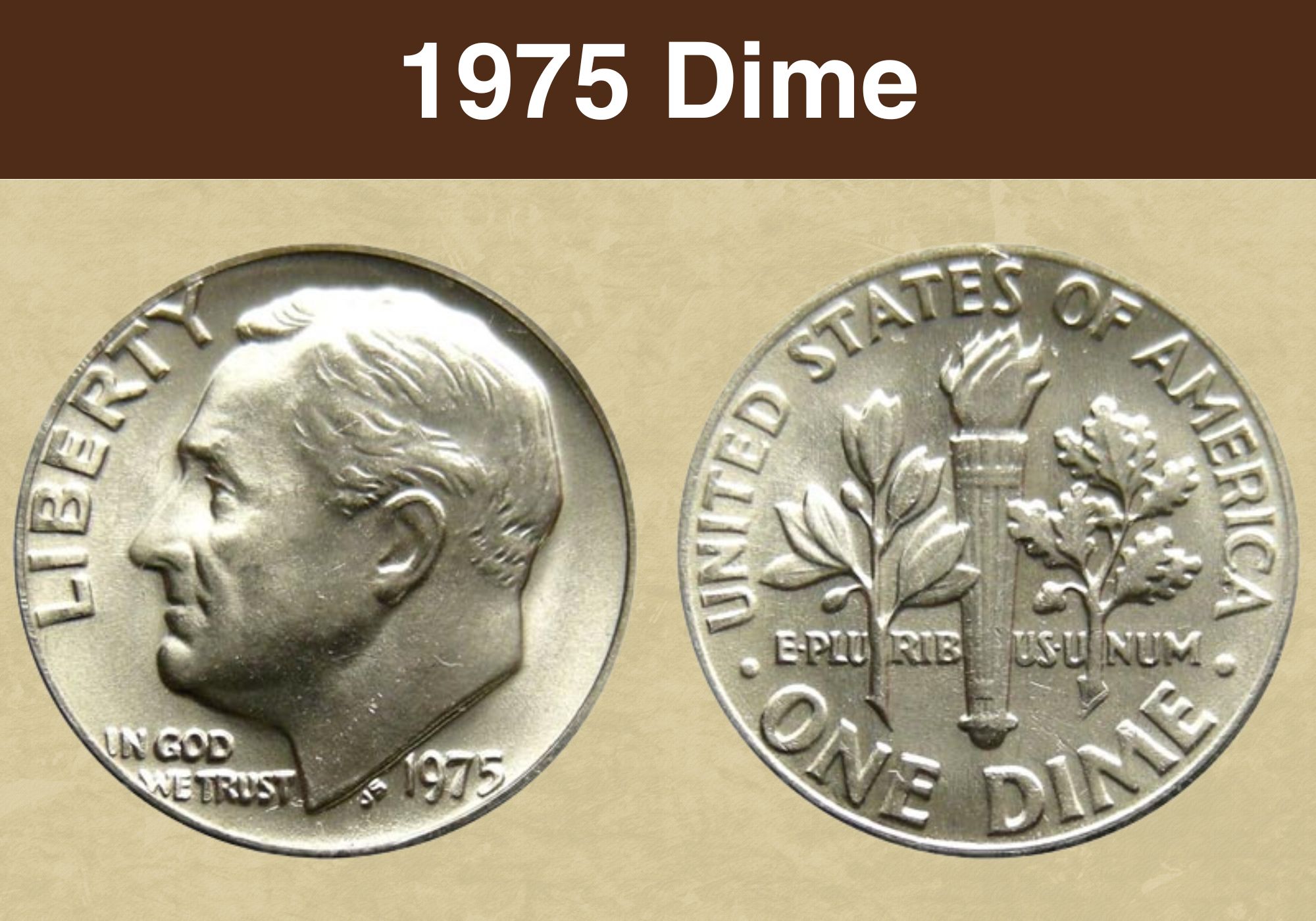 The 10-cent coin struck in 1975 is one of the series known as Roosevelt dimes. Some of these coins can be very valuable. But which ones – and why?
That's what we're here to investigate. We're going to look at the 1975 dime value and the different factors that influence it. We'll check out the difference between circulated and uncirculated coins. And we'll find out what types of Mint errors can place a premium on prices.
So if you're ready to learn more, step this way!
1975 Dime Value Chart

Mint mark
AU58
MS60
MS65
MS67
1975 No Mint Mark Dime Value
$1
$4Full band: $4
$34Full band: $65
$200Full band: $2,250
1975 D Dime Value
$1
$4Full band: $4
$7Full band: $30
$40Full band: $550
PR60
PR66
PR68
PR70
1975 S Proof Dime Value, Deep Cameo
$4
$8
$10
$115
1975 No S Proof Dime Value
n/a
$350,000
$525,000
n/a
History of the 1975 Dime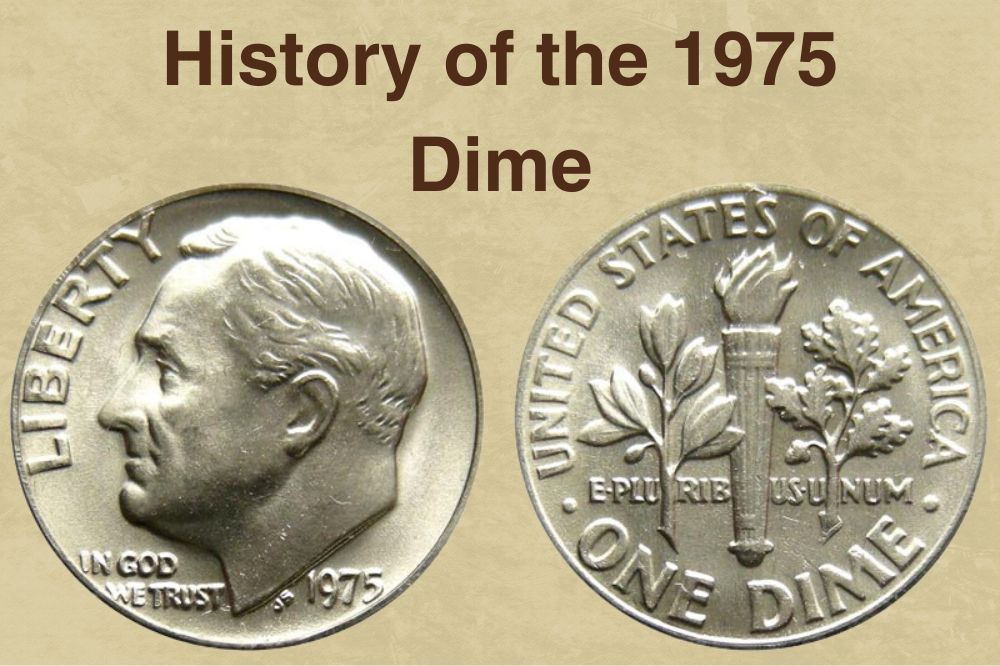 The 1975 dime is known to coin collectors as a Roosevelt dime. It gets its nickname from the image on the obverse, or "heads" side. This shows the former president of the USA, Franklin D. Roosevelt.
The coins were first struck in 1946, just a year after Roosevelt's death. He had been diagnosed with polio, and was instrumental in setting up an organization known as the March of Dimes. This aimed to raise money for research into the disease.
Honoring his memory on the face of the dime was therefore a natural choice.
The design was the work of the Mint's Chief Engraver at the time, John R. Sinnock. But he had to endure repeated criticisms from the Commission of Fine Arts before the coin eventually went into production.
The first dimes were struck in the middle of January 1946. They were released into circulation on January 30th, the former President's birthday.
They were made of 90 per cent silver and 10 per cent copper. But over the years, the price of silver bullion rose ever higher.
That made producing the coins an increasingly expensive business. It also meant that the public began to hoard them, hoping that the silver content would soon be worth more than their face value.
So in 1965, the Treasury changed the composition of the coins. The new versions still had a silver color, but they didn't contain any real silver at all. Instead, they had a copper core clad in an alloy of 75 per cent copper and 25 per cent nickel.
With the exception of some special collectors' editions, this recipe remains the same to this day.
Also read: Top 17 Most Valuable Roosevelt Dimes Worth Money
Features of the 1975 Dime
The Obverse of the 1975 Dime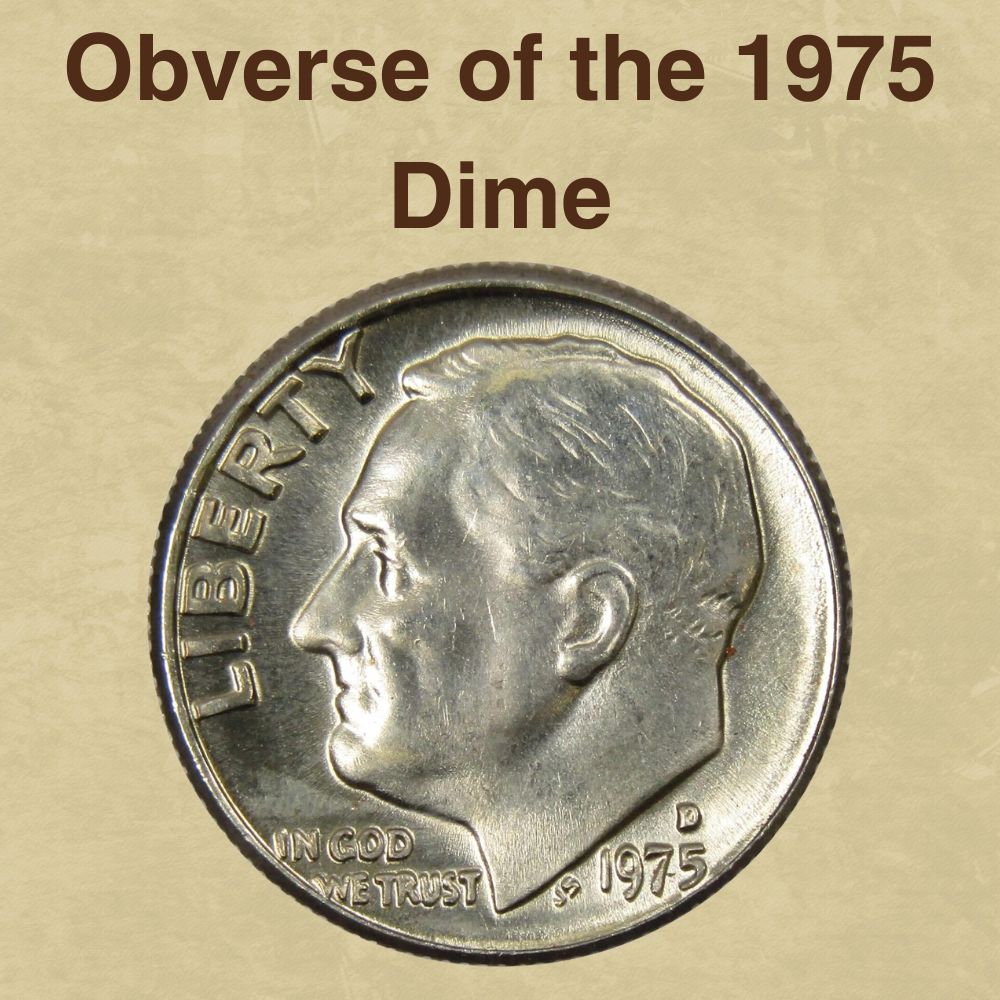 The obverse of the 1975 dime features Sinnock's portrait of Franklin D. Roosevelt. His head and neck are shown in profile, and he faces to the left as the coin is viewed. The word "LIBERTY" is in front of him, curving to follow the left-hand edge of the coin.
At the bottom, to either side of Roosevelt's neck, are the motto "IN GOD WE TRUST" and the date. Sinnock's initials appear just below the cut off, inscribed on the diagonal.
If there is a mint mark on your 1975 dime, you'll find it just above the date. A "D" signifies that the coin was struck in Denver, and an "S" San Francisco. If there's no letter, the coin was struck in Philadelphia.
Sinnock had to go through considerable trials to get approval for his design. The main challenge was from the Commission of Fine Arts, set up to advise on public artwork. The Commission rejected Sinnock's first portrait, opining that it was "not good" and "needs more dignity".
Sinnock went to the trouble of visiting Lee Lawrie, the member of the Commission who advised on sculpture, at his home. He amended his portrait following that conversation – but the Commission rejected it again.
They went so far as to suggest ditching Sinnock altogether, and running a design competition amongst five artists of their choice.
Sinnock, who was presumably tearing his hair out by this stage, made yet more changes to his work. These satisfied both Lawrie and the Treasury Secretary, Fred Vinson.
With time pressing, the Mint Director, Nellie Tayloe Ross, decided that this was good enough. She informed the Commission she had signed off production without waiting for them to meet. This caused a cooling in the relationship between the Commission and the Mint.
The Reverse of the 1975 Dime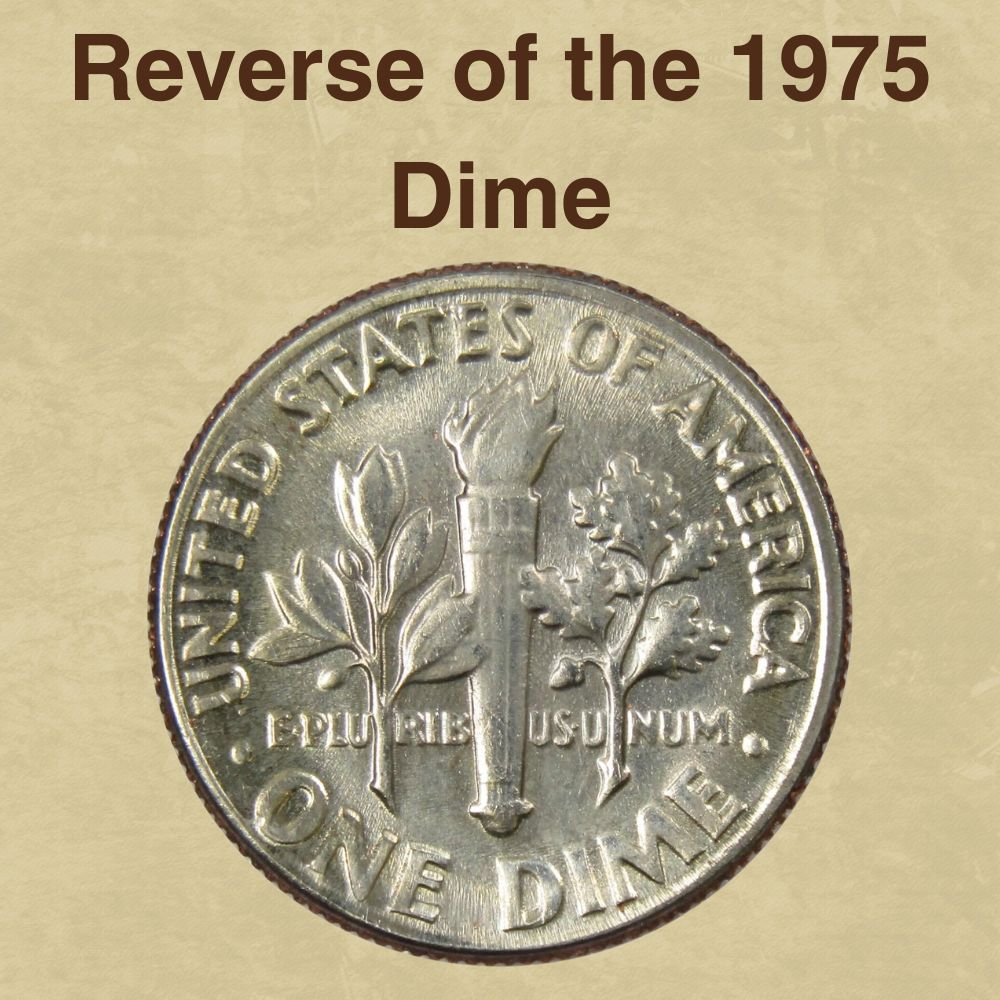 The reverse design was also the work of Sinnock. And just as with the obverse, it was the subject of considerable debate with the Commission of Fine Arts.
His original design showed a torch, a sprig of olive and a sprig of oak. The three represented liberty, peace and strength. And they were all depicted clutched in a hand.
But the Commission didn't like the design. Sinnock responded by removing the hand and positioning one sprig on either side of the torch. This was the configuration that finally made it onto the new dime.
Above the image, the country name curves to follow the line of the upper coin edge. At the bottom, mirroring it in slightly larger lettering, is the denomination, written as "ONE DIME".
The Latin motto "E PLURIBUS UNUM" appears in small letters running through the torch and sprigs of leaves. The words mean "Out of the many, one", and they refer to the country's birth as a union of states.
Other Features of the 1975 Dime
Some 1975 dimes have a special designation – "full band" or "FB". This refers to the strength of the strike.
To check if you have a full band coin, you'll need to look at the design on the reverse. Focus on the torch – in particular, the two pairs of horizontal bands at the top and bottom. To qualify as a full band coin, both pairs must show clear separation between the upper and lower bands.
To be designated full band, the coin grading agency the PCGS uses other criteria too. There must not be any significant marks across the bands. And the coin must be graded at least MS60.
(The coin grading scale runs from 1 to 70, and the letters signify "mint state" – i.e. a coin that hasn't been circulated.)
The rival grading agency, the NGC, uses a slightly different term – "full torch" or "FT". The definition is slightly different too. As well as separation of the horizontal bands, it requires each of the vertical strips on the torch to be clear and separate.
For more information on the full band and full torch designations, take a look at this YouTube video from JBCoinsInc.
1975 Dime Value Guides
1975 No Mint Mark Dime Value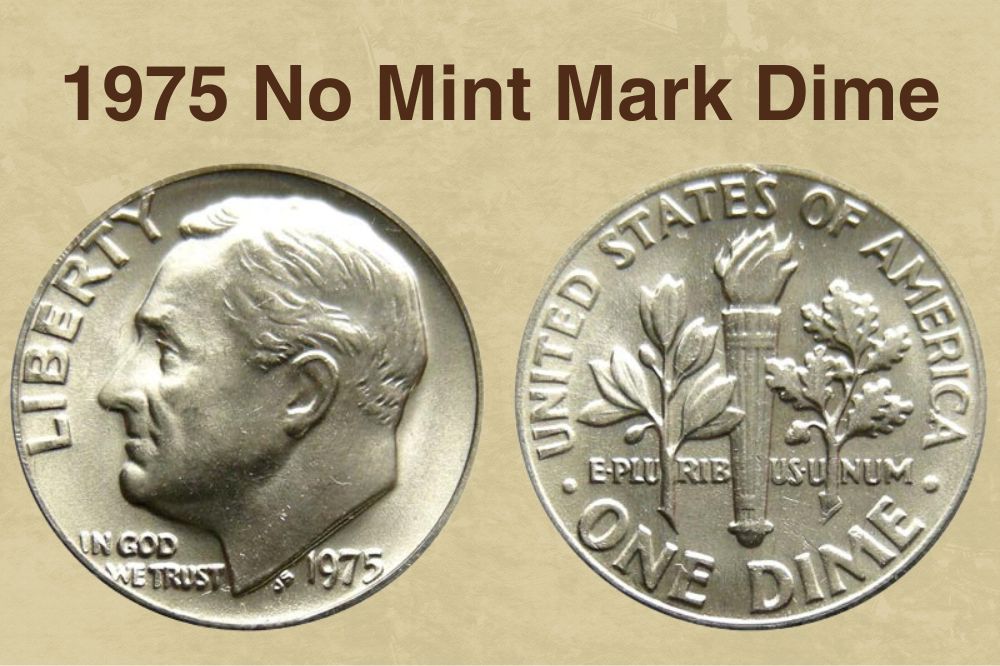 The Philadelphia Mint facility produced almost 586 million dimes in 1975. Today, the PCGS estimates that there are around 1.2 million survivors that would qualify for its full band designation.
In order to be worth more than its face value, a 1975 no mint mark dime needs to be in great condition.
A coin graded 58 on the grading scale – which counts as "about uncirculated" – will be worth around a dollar. And a mint state MS60 example will be worth around $4, whether or not it's a full band coin.
At higher grades, though, the full band designation adds a premium to values. At MS65, the lowest level at which a coin is termed a "gem", a standard 1975 dime will be worth around $34. But if it's a full band, that value almost doubles to $65.
From there, availability declines sharply and values rise accordingly. At MS67, the 1975 no mint mark dime is worth around $200. And it it's a full band example, the value is more than ten times that – $2,250.
1975 D Dime Value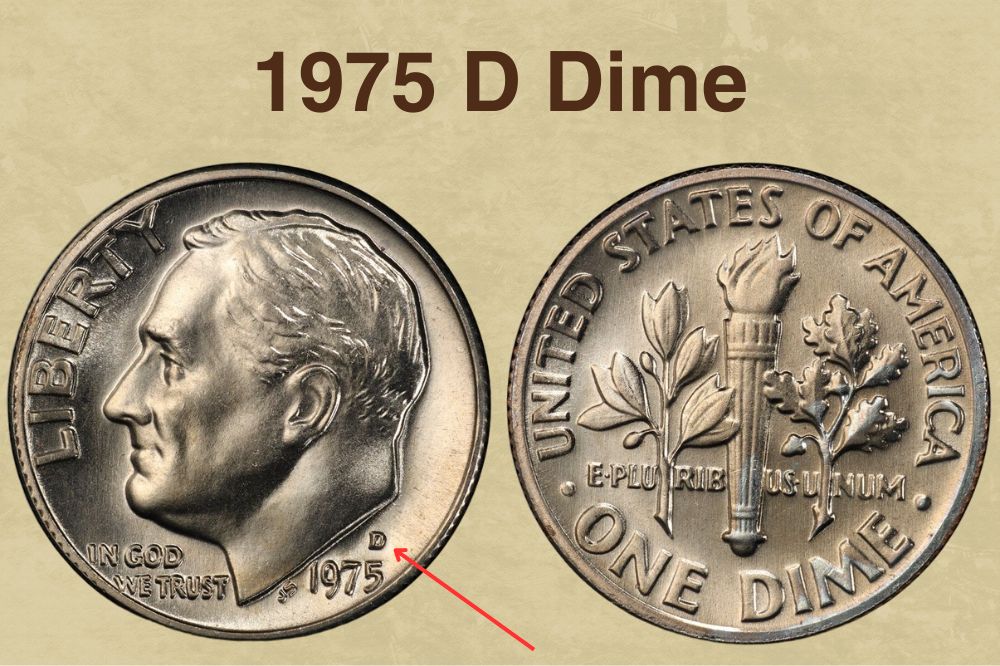 The Denver Mint facility also produced dimes in large numbers in 1975. Almost 314 million came out of the coin presses there. The PCGS estimates that around 628,000 of those survive at all grades.
Values of coins graded up to MS60 are the same, whether there's a D mint mark or none. In most circulated grades, they'll only be worth a few cents. At AU58, they'll fetch around a dollar. And at MS60, the value is around $4.
In higher grades, the full band designation packs more of a punch. A standard 1975 D dime graded MS65 will be worth $7, while a full band will increase that to around $30.
The finest known full band 1975 D dime is graded MS68. There's no public sales information for that one, and the PCGS doesn't provide an estimate of its value. But there's also a sole coin certified half a point lower, at MS67+. And that's valued at $1,250.
1975 S Proof Dime Value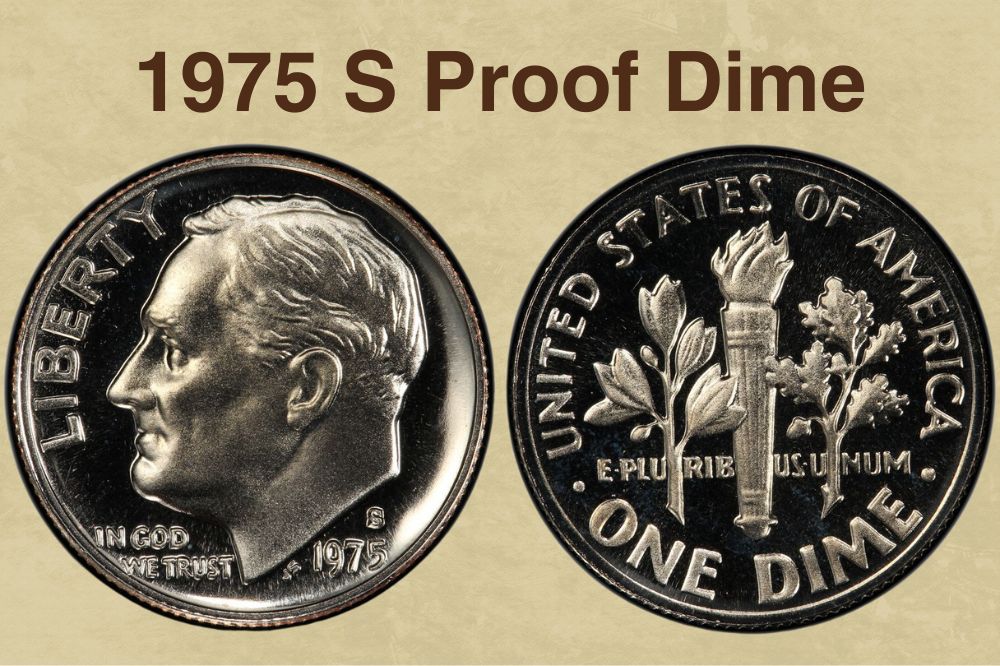 1975 saw the San Francisco Mint facility strike just over 2.8 million proof dimes. These were produced using highly polished planchets and detailed dies, and they were aimed at collectors.
Today, the PCGS estimates that around 2.3 million of those coins survive. The low attrition rate is probably a result of the fact that they were always marketed as collectors' pieces. That means you can pick up a good quality proof coin without spending a fortune.
A deep cameo example graded PR60 is worth around $4. And even a perfect PR70 deep cameo proof is valued by the PCGS at a modest $110.
Also read: Top 17 Most Valuable Mercury Dimes Worth Money
1975 Dime Value Grading
Rare 1975 Dime Errors List
1975 No S Proof Dime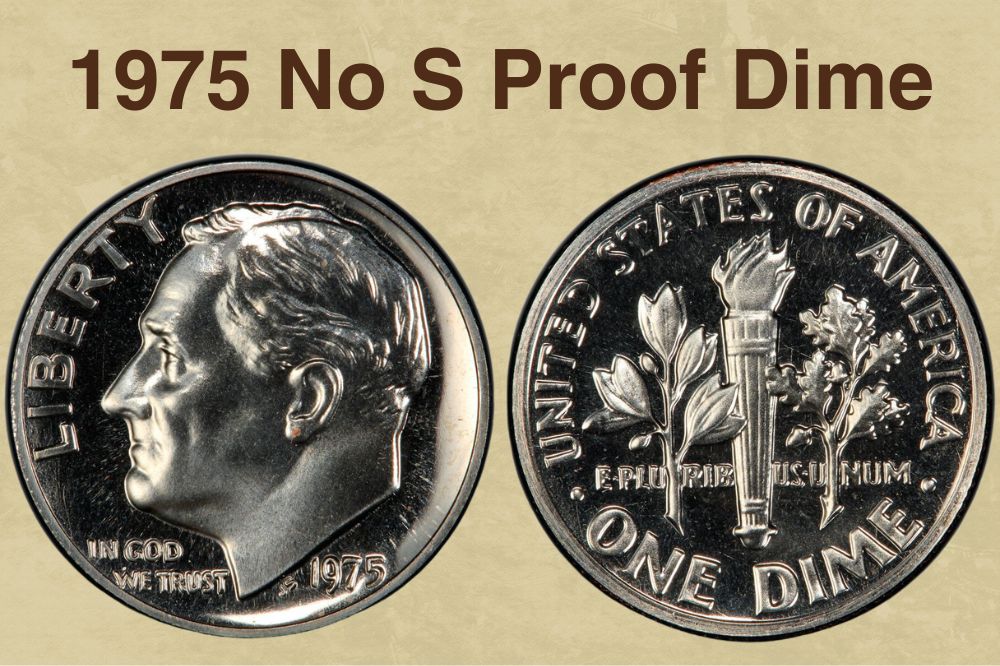 While the vast majority of 1975 proof dimes aren't worth lots of money, there are two exceptions.
A number of mintages of proof dimes have what's called a "no S" variety. This occurred because the proof dies were prepared in Philadelphia, which didn't use mint marks. The "S" marks for San Francisco, where the coins would be struck, were then added separately.
But that didn't always happen. And as a result, there are "no S" dimes in the mintages of 1968, 1970, 1975, and 1983.
In every other year, the number of coins that resulted were between 24 and 242. But in 1975, only two no-S proof dimes have ever come to light. Either the error was spotted very quickly, or the coins were made deliberately.
Whatever the reason, their extreme rarity makes them very valuable indeed.
One example is graded MS66 and valued by the PCGS at $350,000. The second is graded MS68 and valued at a cool $525,000.
1975 S/S Proof Dime, Re-punched Mint Mark
A missing "S" wasn't the only mint mark-related error to hit the 1975 proof dime population. Far less rare is the S over S proof dime. This has a second mint mark punched over the first. You'll need a magnifying glass or loupe to spot this.
The value of a coin with this error will depend on its condition. To date, the PCGS has certified five examples at a near-perfect PR69, with the deep cameo designation.
Without the error, one of those coins would have been worth only $16. With it, that value jumps to $800.
Check out this YouTube video from Couch Collectibles to see examples of both these errors, as well as examples of high graded 1975 dimes and their values.
Also read: 13 Most Valuable Dime Errors Worth Money
FAQs
Which 1975 dime is worth money?
Most 1975 dimes are worth no more than their face value. But if you have a coin in excellent condition, or with an interesting Mint error, it could be worth more.
For coins in the finest condition, the mint mark – or lack of one – will influence the value too. A coin graded 67 out of 70 on the coin grading scale with a "D" mint mark, for example, is worth around $40. But a coin without a mint mark at the same grade is worth around $200.
Coins that meet the criteria to be designated "full band" or "full torch" are worth more too. Those are, by definition, uncirculated. So you're highly unlikely to find one in your pocket change.
How do I know if I have a 1975 "no S" dime?
There are lots of 1975 dimes without mint marks out there. And all but two of them – as far as we know – came from Philadelphia.
In circulated condition, those Philadelphia dimes are only worth their face value. And even at the highest grades, prices are modest.
A "no S" dime, however, is a completely different matter. Unlike the Philadephia dimes, it's a proof coin – so it will have a mirror-like surface and fine detail.
If you have a coin like that, and it doesn't have a mint mark, you could be in the money. To date, only two examples have been found. And the least expensive of those is valued at $350,000.