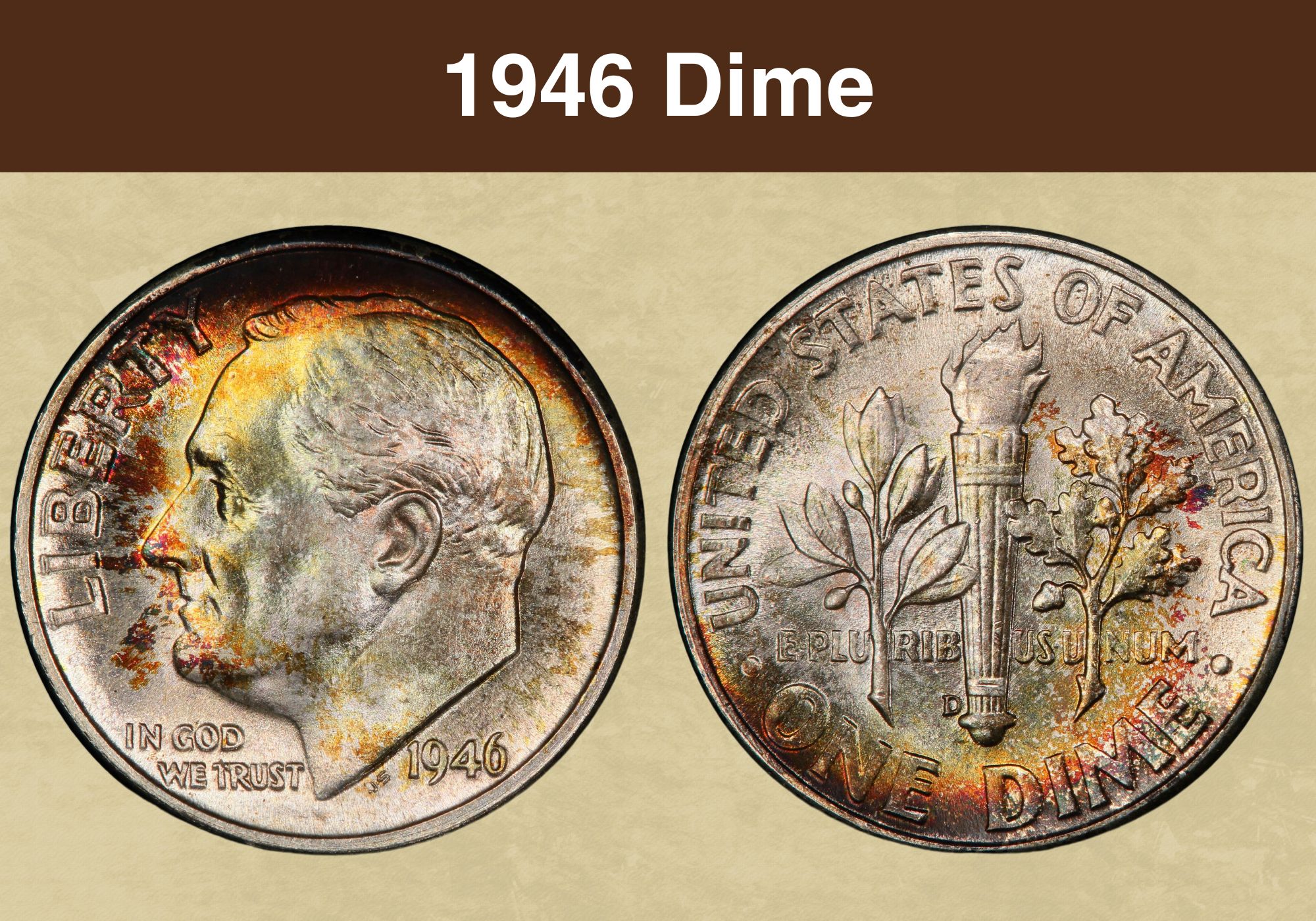 Dimes produced in 1946 were the first in the series with Franklin Delano Roosevelt on the obverse, minted after Mercury dimes went into history. These silver coins quickly became a hit in post-war America, and everyone wanted their own specimen.
Nowadays, collectors are picky about this coinage and enjoy collecting only the best pieces. Therefore, the 1946 dime value is high only for those in the highest grades, while low-quality coins often cost only a few bucks.
1946 dime Value Chart

Condition
1946 No Mint Mark dime
1946 D dime
1946 S dime
Good
$2.78
$2.78
$2.78
Very good
$3.34
$3.34
$3.34
Fine
$3.86
$3.86
$3.86
Very fine
$4.11
$4.11
$4.11
Extra fine
$4.39
$4.39
$4.39
AU
$5.04
$5.04
$5.04
MS 60
$6.57
$6.57
$6.57
MS 65
$14
$17
$24
History of the 1946 Dime
Dimes are extra thin American coins, tiny enough never to surpass their face value. The first pieces were DISME, minted in 1792, which name was based on a French word for tenth.
Four years later, the US Mint started Draped Bust dime production. After four other designs minted from 1809 to 1945, Roosevelt dimes minting began in 1946 to honor the American war President. These coins have never been replaced, and the US Mint has still struck them with the same appearance.
By 1965, all dimes were made of silver when their composition was changed to cupro-nickel. However, pieces made in 1946 contained precious metal, making them valuable collectibles and an excellent investment.
These pieces are unique and different from other American coins with cent or dollar denominations. They still show only ONE DIME on the reverse instead of TEN CENTS, confusing foreigners.
1946 Silver dime Types

Location
Year
Minted
Philadelphia
1946 no mint mark dime
255,250,000
San Francisco
1946 S dime
27,900,000
Denver
1946 D dime
61,043,500
Total
/
344,193,500
Franklin D. Roosevelt was the 32nd American President who led the country against German Nazis during World War II and fought a horrible disease, polio. Even though opponents contested his presence on the coin beside Washington, Jefferson, and Lincoln, the Mint officials were sure of their decision.
There was one more controversy connected with this coin. As usual, designer John Ray Sinnock placed his initials on the obverse. However, many Americans believed JS was a secret Soviet symbol for Russian communist President Joseph Stalin. The US Mint was forced to deny this belief officially.
Also read: Top 17 Most Valuable Roosevelt Dimes Worth Money
Features of the 1946 Roosevelt Dime
The first Roosevelt dimes ever minted had 1946 on the obverse, meaning this was the first year showing the beloved President instead of Winged Liberty Head. Even though the first coins were a target of controversy because of designer initials, they have become a part of a long-living series.
The obverse of the 1946 Roosevelt dime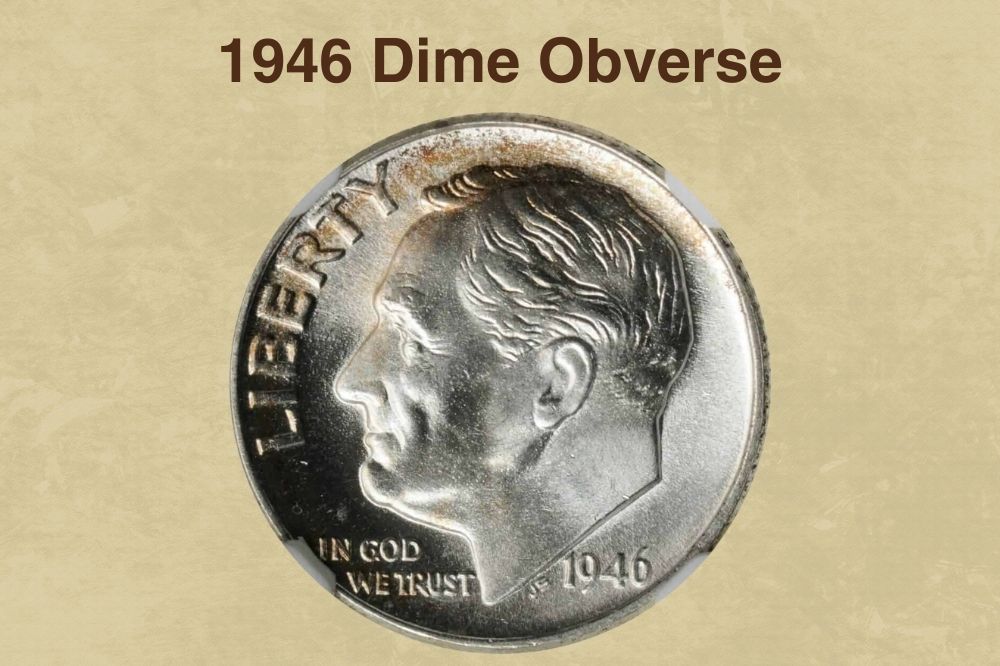 Designer John R. Sinnock created the new dimes with Franklin D. Roosevelt's image on the obverse. This humble coin side is uncomplicated and clear, with only required inscriptions beside the centrally positioned portrait.
The right area behind the 32nd American President's back is reserved for the minting year, 1946, and disputed initials below the neck cutout. On the left is a tiny motto (IN GOD WE TRUST) required by law, while the LIBERTY word stretches along the coin rim in front of Roosevelt's face.
The reverse of the 1946 Roosevelt dime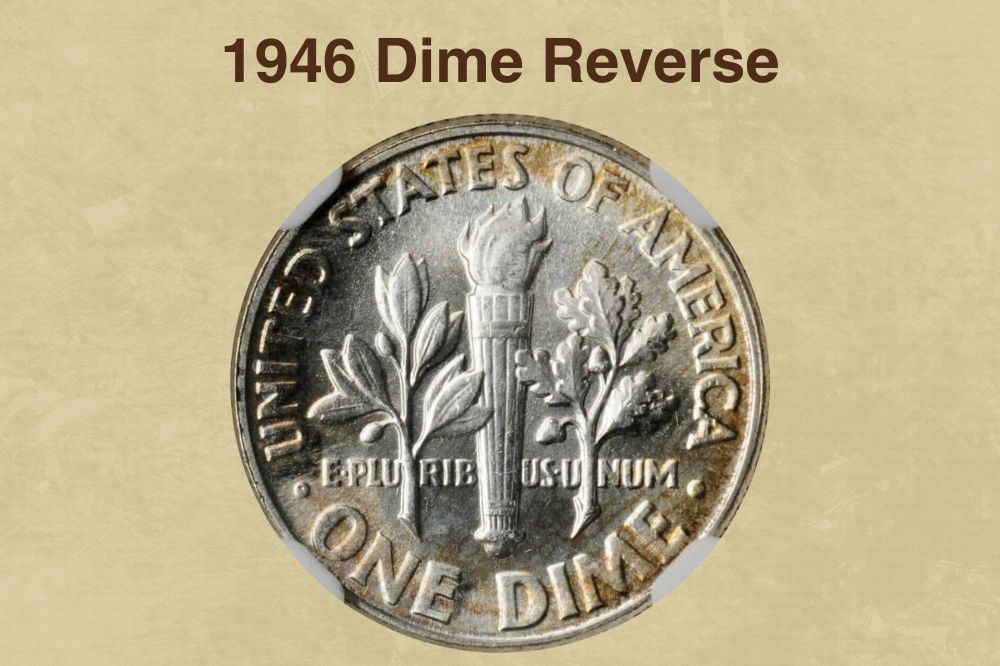 This coin reverse is a bit complicated compared to the simple obverse and full of symbols crucial for the United States of America. Besides the country name, you can see the denomination ∙ ONE DIME ∙ along the rim.
They surround the centrally positioned composition consisting of a torch with an olive branch on the left and an oak branch on the right side. These three components symbolize liberty, peace, and victory.
The designer decided to intertwine the motto in an unusual way. So, you can see E ∙ PLU / RIB / US ∙ U / NUM struck between the centrally placed twigs and the torch.
1946 dime Details

Face value
$0.10 (ten-cent coin)
Shape
Round
Edge
Reeded
Coin thickness
1.35 mm (0.06889 inches)
Compound
Silver with 10% copper
Coin weight
2.50 g (0.080377 troy ounces)
Silver weight
2.25 g (0.07234 troy ounces)
Coin diameter
17.90 mm (0.70511 inches)
Other features of the 1946 Roosevelt dime
The 1946 dimes are silver ten-cent coins with a diameter of 17.90 mm (0.70511 inches) and a reeded edge. They are 1.35 mm (0.06889 inches) thick and weigh 2.50 g (0.080377 troy ounces). Since these coins consist of 90% silver, most of the weight is this precious metal, 2.25 g (0.07234 troy ounces).
1946 Roosevelt Dime Value Guides
The total 1946 Roosevelt dime mintage was 344,193,500 coins in three varieties. While one mint struck only pieces without the mint mark, the other two marked dimes with the corresponding letter. Therefore, you can find that almost one-quarter of coins have the S or D mark on the reverse.
1946 No Mint mark dime Value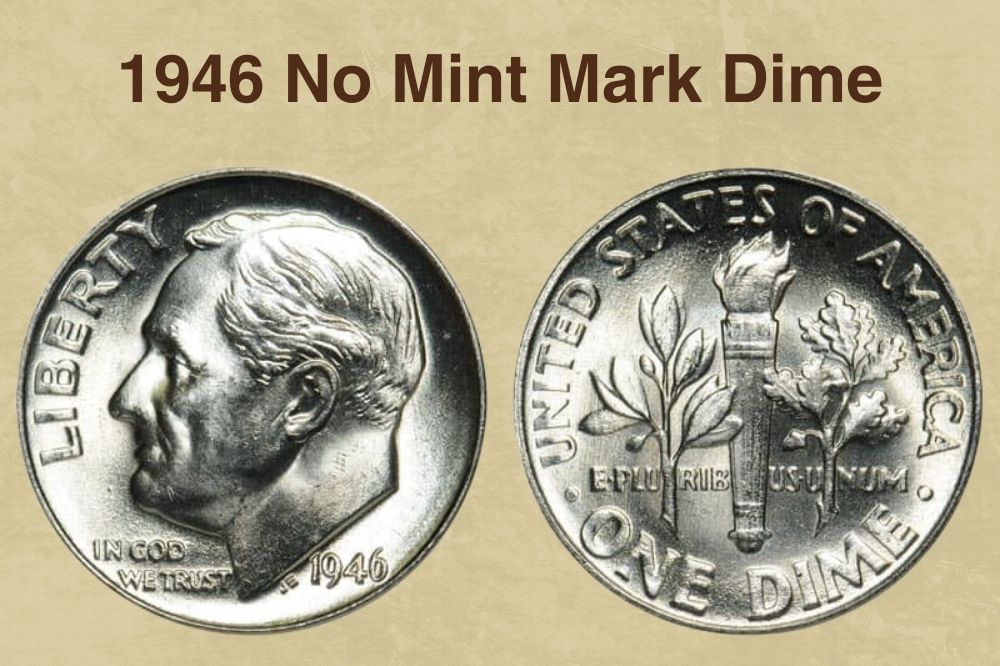 The mintage of 255,250,000 Roosevelt dimes was incredibly high in 1946. Thanks to numerous survived coins, they are common nowadays with relatively low prices.
You can usually find circulated pieces for about two dollars, while most well-preserved ones cost $2 to $40. Superior dimes with the MS 68 grade have an estimated price of approximately $1,500.
The most expensive dime produced in 1946 is a specimen with MS 69 rank. It was sold at $12,650 on November 18, 2004.
On the other hand, be prepared to pay more for Roosevelt dimes with Full Bands since they are highly collectible and rarer than standard coins. Their usual price range is:
MS 64-ranking dime costs $12
MS 65-ranking dime costs $20
MS 66-ranking dime costs $25
MS 67-ranking dime costs $240
MS 68-ranking dime costs $4,000
However, one beautiful coin in MS 68 grade reached $10,869 at an auction on October 15, 2015.
1946 D dime Value
The Denver mint produced the second-highest number of 1946 dimes, 61,043,500. Their prices vary depending on condition, but lower-ranking pieces cost $2 to $6, including some in the mint state.
You can only get more money for better-ranking coins, but even they are pretty affordable. So, you should set aside:
$11 for a dime in MS 65 grade
$19 for a dime in MS 66 grade
$42 for a dime in MS 67 grade
One rare 1946 D MS 68 dime reached $1,000 at the New Year's auction in 2007.
The 1946 D Full Bands Roosevelt dimes are pricier. Therefore, you should count on $25 for one in MS 66 grade and over $100 for an MS 67-grading specimen.
The best-preserved FB dimes minted in Denver with this date are those with the MS 68 grade. They cost approximately $2,000, but auction prices can be surprisingly high. The current record for such a coin is $4,888 (July 12, 2007).
1946 S dime Value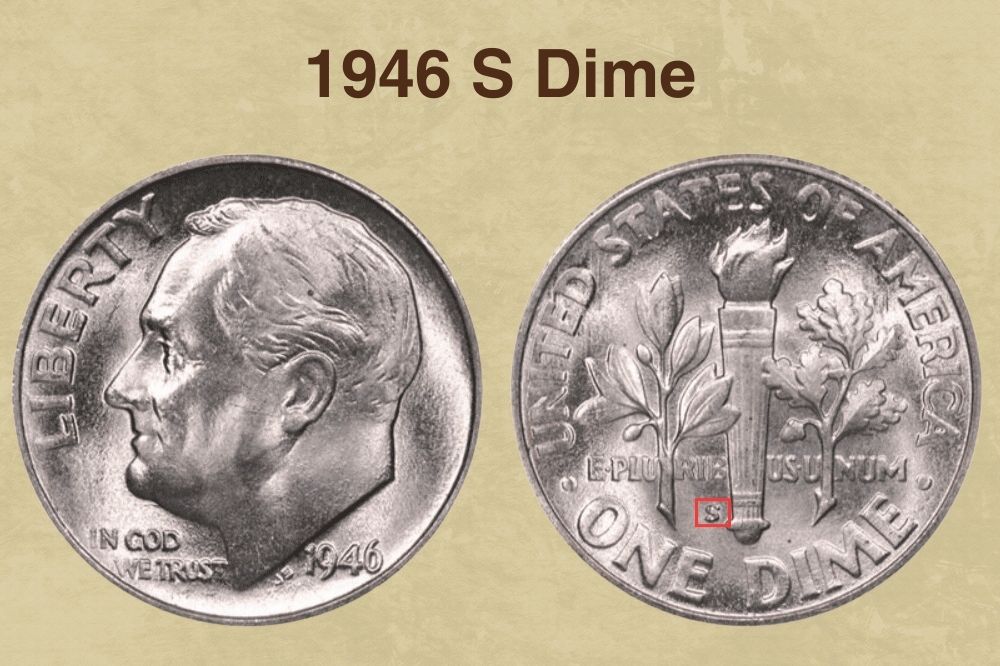 The San Francisco mint achieved the lowest dime production in 1946, 27,900,000 coins. Despite the differences in mintage, these pieces have similar prices as those from the other two mints.
For instance, you need to pay only about $2 for circulated dimes, while uncirculated ones cost $2 to $65. Only coins with MS 68 rank are more valuable, with an average price of $1,000. The costliest 1946 S MS 68 dime won an auction record in 2007 of $1,840.
As expected, the 1946 FB dimes with Full Bands are more valuable, ranging from $22 to $135. Only MS 68-graded coins can cost about $1,300. Despite relatively modest estimations, one such piece reached $5,819 in 2007 at an auction.
Also read: Top 17 Most Valuable Mercury Dimes Worth Money
1946 Roosevelt Dime Grading
Since most 1946 Roosevelt dimes were released into circulation, you can expect to find a bunch of pieces with different levels of wear and tear. Their grades are typically low, making them cheap. On the other hand, dimes in the mint state can be graded from MS 60 to MS 70, but the best-preserved known coins in the set are MS 68-ranked.
Rare 1946 Roosevelt Dime Error List
As with most other coins, Roosevelt dime errors produced in 1946 are often more pricey than standard and flawless ones. The reason is a great inclination of collectors toward unusual and unique specimens that appeared due to problems in production.
Re-punched mint mark (D/D or S/S)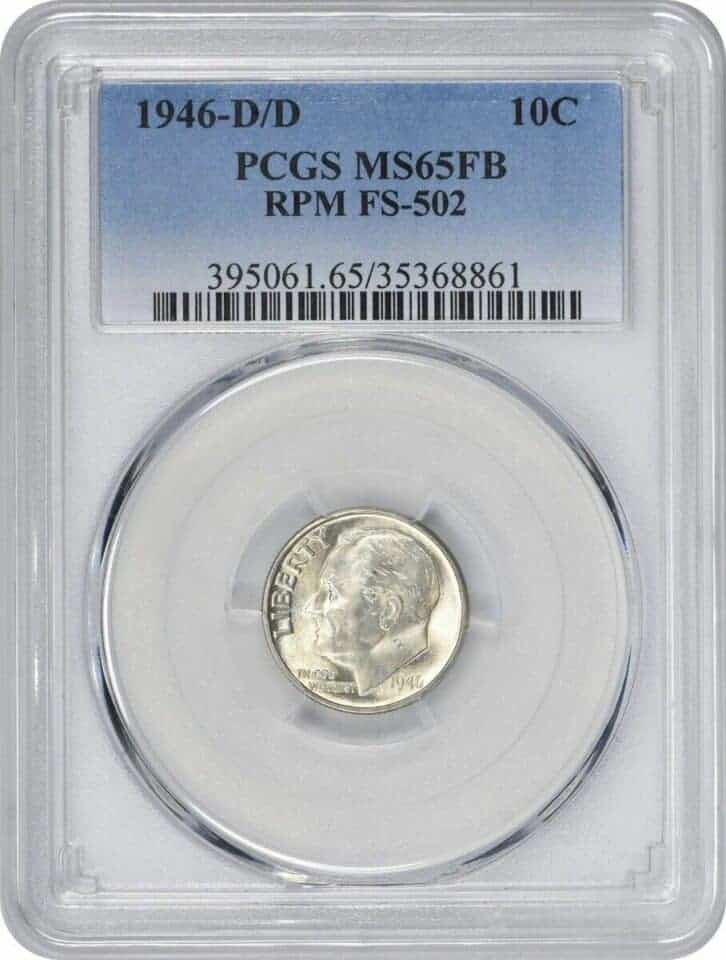 Dimes with the re-punched mint mark came from Denver or San Francisco, so you can recognize those with doubled or tripled letters D or S. Such coins cost $50 to $150 on average, but there are also more precious perfectly-looking pieces.
For instance, collectors set aside $380 and $995 for two priciest 1946 D/D dimes with Full Bands in the set. On the other hand, similar coins from San Francisco are worth a few thousand dollars at auctions.
Doubled-die obverse/reverse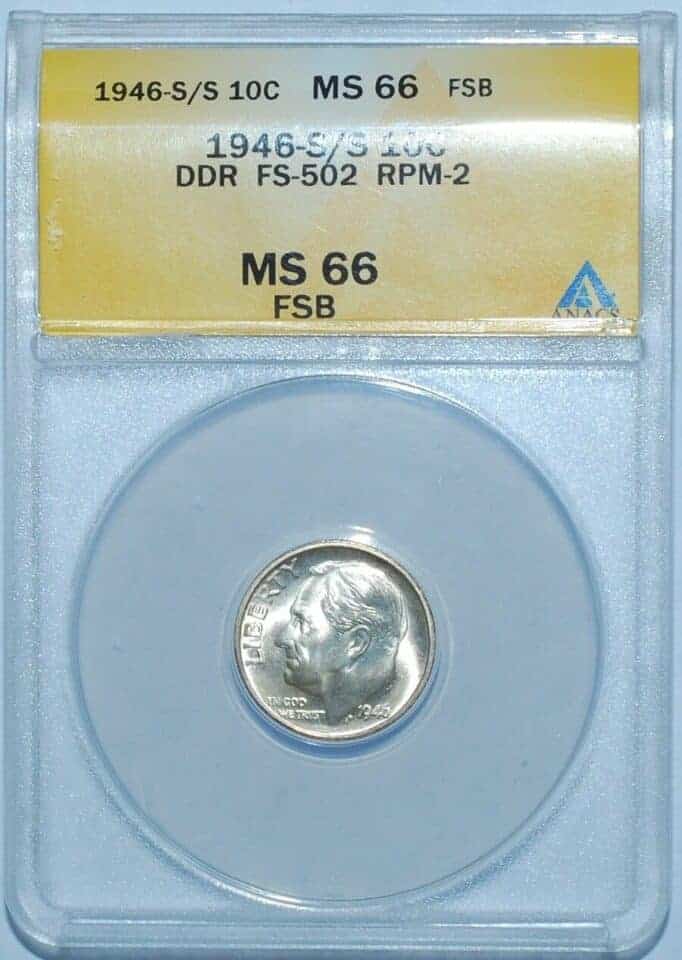 This error coin type with a doubling in numbers or words appeared among dimes minted in Philadelphia. Better-ranking specimens are worth $135, but the 1946 MS 64 DDO and DDR dime was sold at $750 in 2021.
Interestingly, dimes with DDR combined with the re-punched mint mark error can reach $720. The costliest specimen with Full Bands and such an imperfection reached $2,760 at an auction in 2020.
Broad struck
The three-piece collar allowed perfectly circularly shaped dimes' striking. Sometimes, one or more parts fell off, leaving a flatter and more misshapen broad-struck error coin. Since collectors like these pieces, they are prepared to pay $100 for one.
Dime struck on an elliptical planchet
Some 1946 dimes were struck on elliptical planchets, becoming of such an atypical shape instead of a circle. One such piece was sold at $260.
Die crack
Dimes with this error were a result of a crack on an old and worn-out die. It left an unevenness on the coins' surfaces, increasing their value.
Also read: 13 Most Valuable Dime Errors Worth Money
FAQ about the 1946 Roosevelt Dime
What makes a 1946 Roosevelt dime rare?
Most Roosevelt dimes are common coins, with only a few exceptions. You can consider rare only a few specific errors and some FB varieties in the highest grades.
How many 1946 Roosevelt dimes are worth a lot?
1946 MS 69 dime cost $12,650 (Superior Galleries, November 18, 2004)
1946 MS 68 dime with Full Bands cost $10,869 (Legend Rare Coin Auctions, October 15, 2015)
1946 S MS 68 dime with Full Bands cost $5,819 (Bowers & Merena, February 1, 2007)
1946 D MS 68* dime with Full Bands cost $4,888 (Heritage Auctions, July 12, 2007)
1946 S/S MS 68 DDR & RPM dime with Full Bands cost $2,760 (Heritage Auctions, June 7, 2020)
1946 S MS 68 dime cost $1,840 (Heritage Auctions, January 1, 2007)
1946 D MS 68 dime cost $1,000 (eBay, September 1, 2018)
1946 S MS 66 Sans Serif MM dime with Full Bands cost $999 (eBay, August 26, 2019)
1946 D/D MS 67 RPM dime with Full Bands cost $995 (eBay, October 14, 2021)
1946 MS 64 DDO and DDR dime cost $750 (eBay, March 21, 2021)
1946 MS 63 DDO dime with Full Bands cost $480 (Stack's Bowers, May 29, 2019)
1946 D/D MS 66 RPM dime with Full Bands cost $380 (eBay, November 1, 2017)
How much money to set aside for the 1946 Roosevelt dime from Philadelphia?
Circulated dimes are the most affordable, and you can buy them for about $2, while those in the mint state cost $2 to $40. The most superior-looking coins can cost up to $1,500. Those with Full Bands are more expensive, and their estimated price range is from $12 to $240. The only exceptions are MS 68-ranking dimes that are worth $4,000.
What are the priciest Roosevelt dimes?
1975 No S PR 68 dime (clad) cost $456,000
1968 No S PR 68 dime (clad) – $48,875
1951 PR 68 dime (silver) – $23,500
1956 PR 69 dime (silver, DCAM) – $19,975
1950 PR 68 Dime (silver) – $18,800
1999 D MS 65 dime (clad) – $14,375
1949 MS 68 dime (silver, Full Bands) – $13,200
1946 MS 69 dime (silver) – $12,650
1966 SP 67 dime (clad, SMS) – $12,499.99
1983 No S PR 70 dime (clad) – $10,560
1964 SP 66 dime (silver, SMS) – $10,200