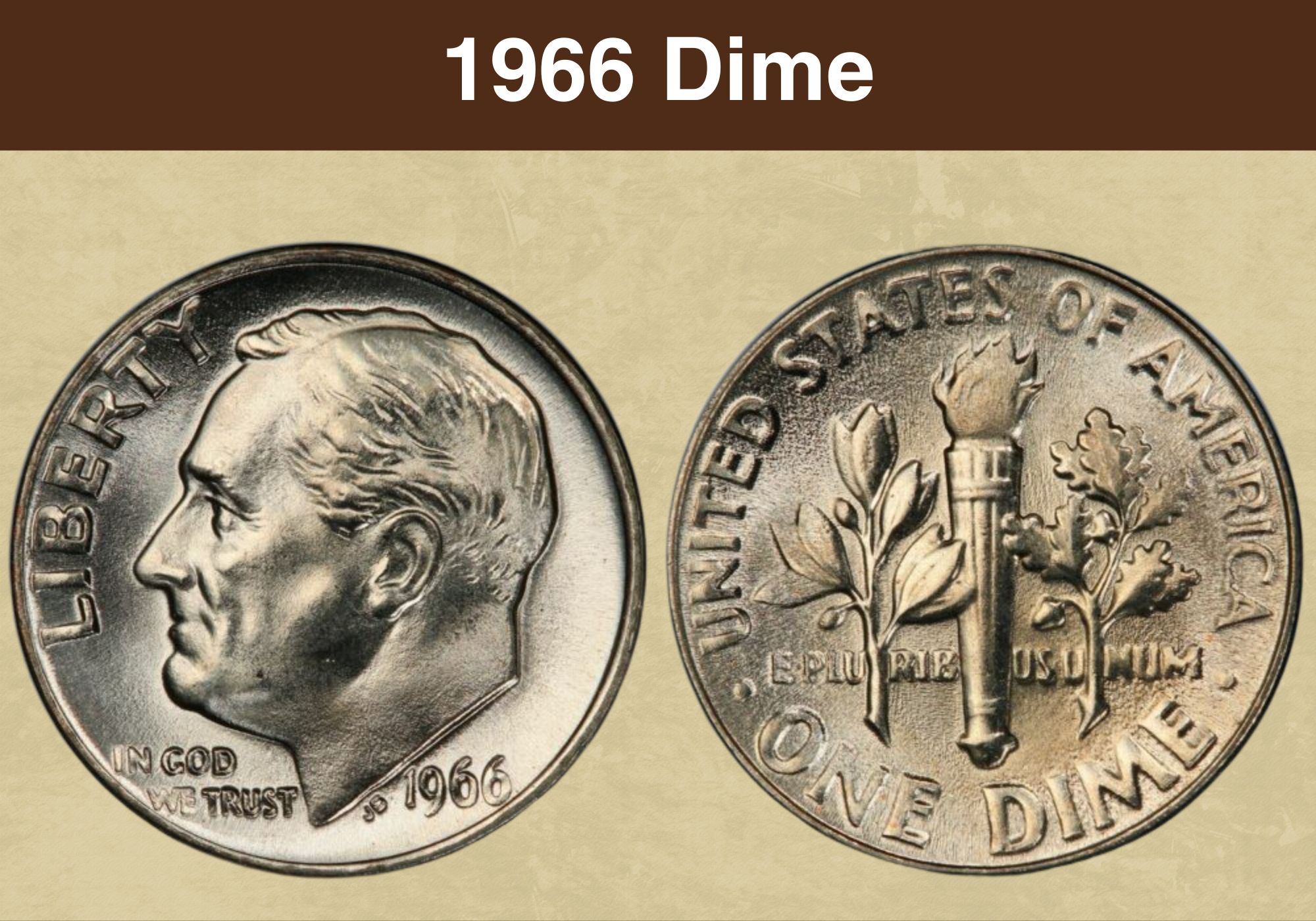 The 1966 Roosevelt dimes are a valuable part of a long history of dimes. The US Mint struck the first dime (disme) in 1792, while those with the Roosevelt profile appeared in 1946. Their minting has continued since then.
The structure and content of this coin type have changed over time. Initially, dimes were made of 0.900 silver, but the alloy transformed into 3/4 copper and 1/4 nickel in 1965. Therefore, early coins reach higher prices at the current market, while the 1966 dime value is significantly lower.
1966 dime value

Condition
1966 No mint mark dime
MS 65
$2.61
History of the 1966 Dime
The 1966 dimes are familiar to US citizens by a Franklin D. Roosevelt head sculpture on their obverse. He was the 32nd President of the USA and a philanthropist, and the US Mint started these coins' production soon after he died in 1945.
The first dimes went public on January 30, 1946, on the 64th Roosevelt's birthday date. The idea was to honor the President and great leader who led the country through two harsh periods in its history, the Great Depression and WWII.
His achievements were even more remarkable if you know that he also battled the terrible illness polio. By the end of his life, this honorable man dedicated himself to promoting and improving the welfare of others.
For instance, President Roosevelt established the March of Dimes, a nonprofit organization enhancing mothers' and babies' health, in 1938. Besides, he started the National Foundation for Infantile Paralysis, and his contribution to the cause was crucial to raise awareness about polio.
1966 dime Types

Location
Year
Minted
Philadelphia
1966 No Mint mark Regular Strike dime
1,382,734,540
Philadelphia
1966 No Mint mark Special Strike dime
2,260,000
Total
/
1,384,994,540
Mercury dimes were the predecessor to Roosevelt dimes, being in circulation from 1916 until 1945. New dimes appeared soon after war-President death, and the man responsible for the design was John R. Sinnock.
His initials JS were struck on these coins' obverse, under Roosevelt's head. They caused a famous controversy because these initials resembled Soviet leader Joseph Stalin.
After several attempts and setbacks, Sinnock's conceptual solution for the new coin was finally accepted. His assistant on this project was Gilroy Roberts, later the chief engraver himself.
Apart from initials, the look of these dimes has remained almost the same until now, with some slight differences. However, their composition changed in 1965 from silver to copper-nickel alloy.
According to the Coinage Act of 1965, clad coins got a so-called sandwich structure. In the middle of the dime was copper, while two outer layers were a mixture of two metals.
Unfortunately, the value of Roosevelt dimes without silver significantly decreased, making them less collectible. Since all Roosevelt dimes minted from 1965 to 1967 came from Philadelphia, you can find those coins only without the mint mark.
Also read: Top 17 Most Valuable Roosevelt Dimes Worth Money
Features of the 1966 Dime
The 1966 dimes are coins with copper-nickel composition from the regular strike, but you can also find those intended for collectors. These SMS dimes are always a part of the five-piece set containing:
Washington quarter
Roosevelt dime
Jefferson nickel
Lincoln cent
The Roosevelt dime's face value is 10 cents, which is usually the price of these widely used and easily recognizable coins found in circulation.
The obverse of the 1966 dime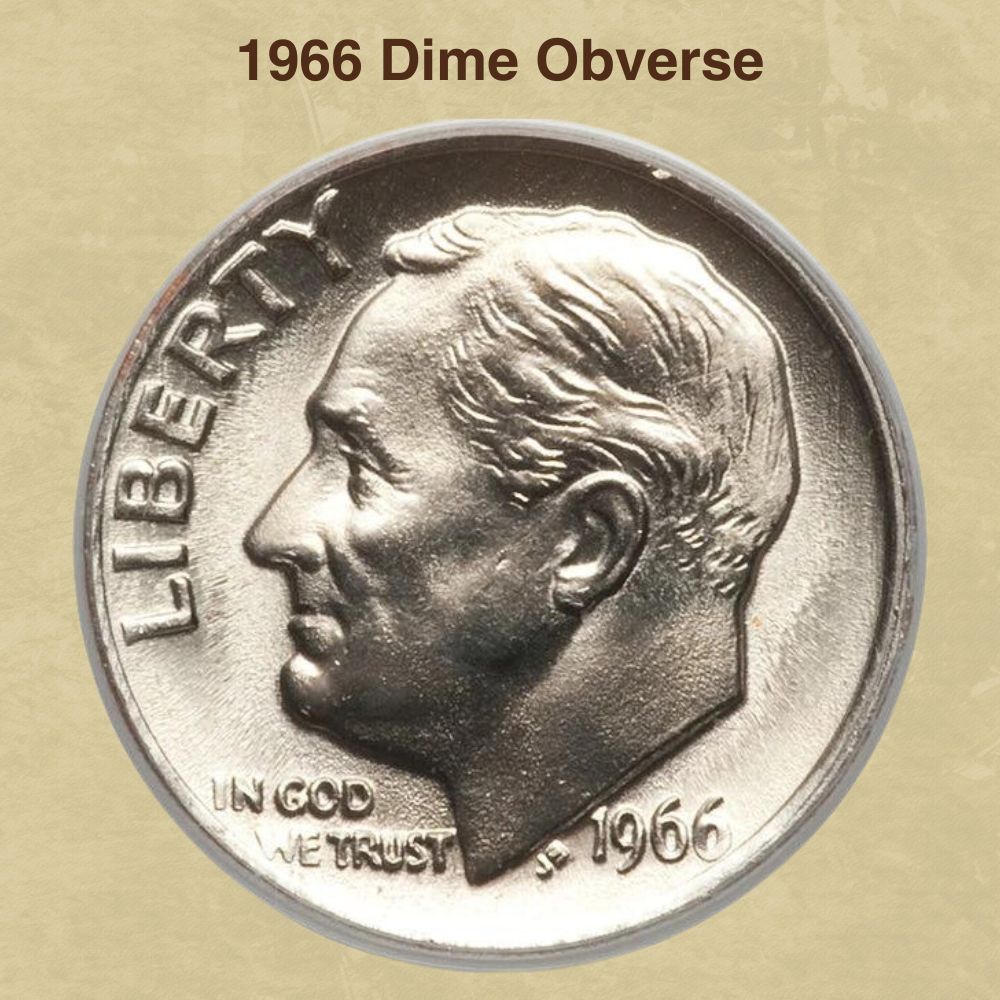 Unfortunately, Sinnock had problems with the Commission of Fine Arts before the design was finally approved. There were some technical issues regarding the authenticity and magnitude of Roosevelt's head on the coin obverse.
As the dime is only 17.9 mm (0.7 inches) in diameter, Roosevelt's bust looked too small with the engraving LIBERTY placed above his head. So, the designer needed to move the inscription slightly to the left to make President's profile more visible.
Besides, the bust of Roosevelt facing the left side of the coin looked like he read LIBERTY, the most symbolic American word. By doing so, Sinnock satisfied all criteria of the Committee of Fine Art.
Under President's chin is the saying, IN GOD WE TRUST, while the designer initials JS are under the bust just next to the minting year, 1966. There are no mint markings, as all the coins minted that year came only from Philadelphia.
The reverse of the 1966 dime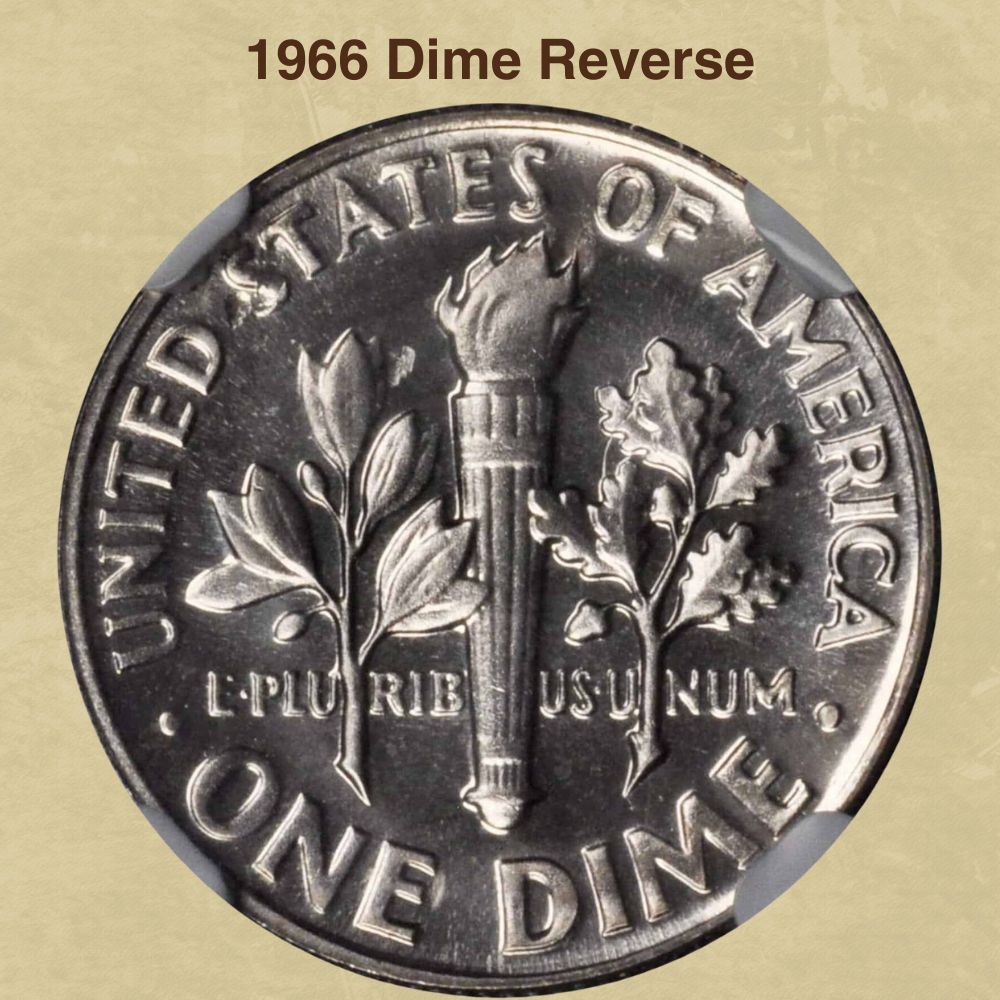 The 1966 Roosevelt dimes have an amazing and symbolically perfect reverse. The torch is in the coin center, with the olive branch on the left and the oak branch on the right side. They represent symbols of peace and strength.
The UNITED STATES OF AMERICA is on the top of the reverse above the torch, following the coin edge. On the other hand, the ONE DIME value of the coin is at the bottom, under the torch and two branches.
There is also a writing E PLURIBUS UNUM in the middle, which looks as if intertwined with the torch and twigs. One of the first ideas was adding a hand holding the torch and branches.
However, that idea was dismissed together with several other solutions the designer had. Finally, the reverse was approved after numerous sketches, changes, and disputes, and coins went to minting.
Interestingly, they became the most common and recognizable pieces in modern American coinage. Believe it or not, you can still find dimes minted in the 1960s circulating across the United States of America and reminding people of great Roosevelt deeds.
1966 dime Details

Face value
0.10 US dollars (10 cents)
Shape
Round
Compound
An alloy of copper and nickel (in a 91.7%: 8.33% ratio)
Coin thickness
1.35 mm (0.053 inches)
Coin diameter
17.9 mm (0.705 inches)
Coin mass
2.27 g (0.08 ounces)
Edge
Reeded edge
Other features of the 1966 dime
The face value of the 1966 dime is ten cents. It is round, with a thickness of 1.35 mm (0.053 inches). The coin is 17.9 mm in diameter (0.705 inches) and weighs 2.27 g (0.08 ounces). The edge of a coin has reeds all over it. It is a clad coin containing 91.7% copper and 8.33% nickel, with a copper core.
1966 Dime Value Guides
Americans have used most of the 1,384,994,540 minted 1966 dimes for almost 60 years, and some of these coins are still in circulation. Only unique specimens cost more, while dimes in use are often just worth their face value.
1966 No Mint mark dime Value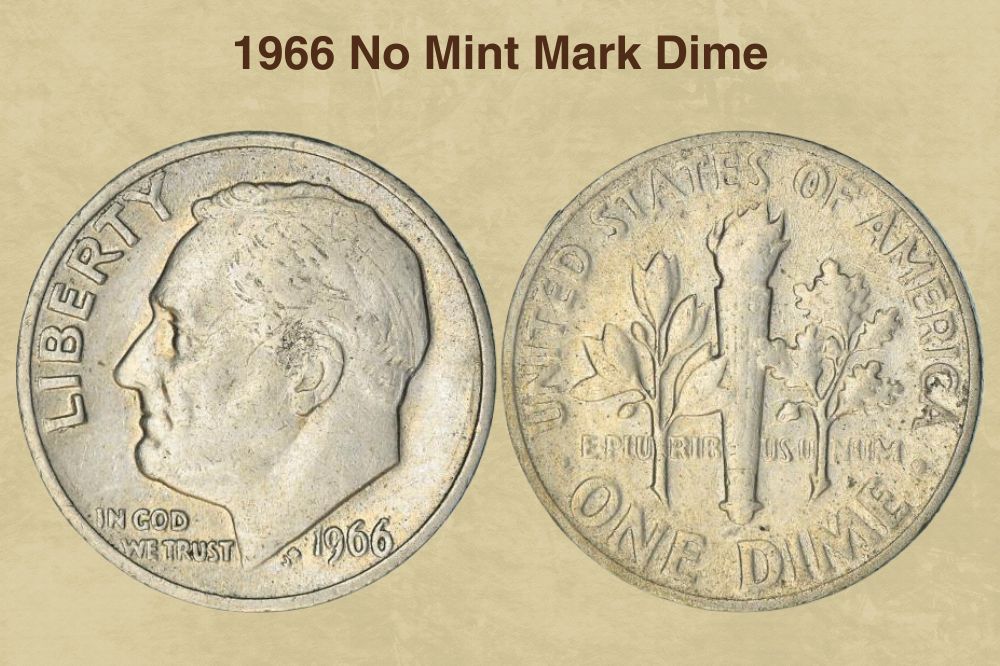 Compared to other more collectible coins, the 1966 dimes are not high on the collectible list, affecting their prices. For instance, the About Uncirculated and Extra Fine coins have a face value of $0.10 and are often uninteresting for collectors. Besides, you can often find them in circulation.
The 1966 dimes in MS 60, MS 61, and MS 62 grades have an average value of 20 cents. Although in super conditions, those with the MS 63 grade are only worth 25 cents, while the 1966 MS 64-ranking coins cost approximately 75 cents.
A bit more valuable is dimes in higher grades, estimated at $1.50 to $2. On the other hand, ten times more valuable are MS 67 dimes, and you can get about 20 dollars for them.
As expected, the MS 68-graded coins are the priciest, with an average price of $550. There are always dimes that reach the record in the sale. In this case, it is the 1966 MS 68 Roosevelt dime sold at $2,375. Somebody purchased it for that sum on eBay in May 2021.
1966 dime from the Special Mint Set Value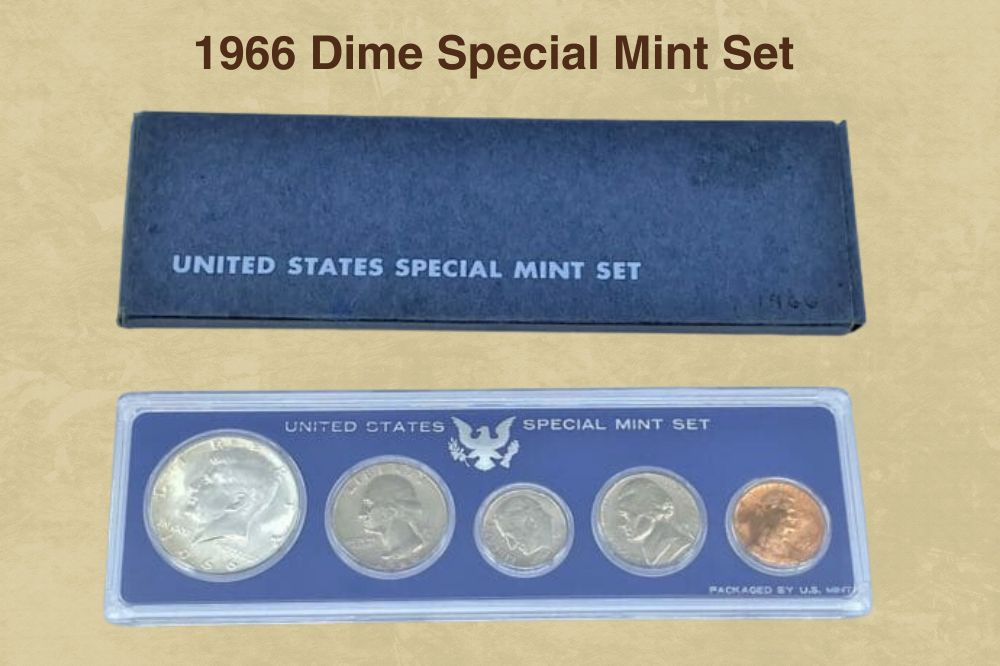 The 1966 Special Mint Set with a total of 2,260,000 minted dimes is collectible and available in three qualities, including:
Dimes from the Special Mint Set
Dimes from the Special Mint Set with CAM quality
Dimes from the Special Mint Set with DCAM quality
The difference between them is in color and value. Standard pieces' value varies slightly, depending on these features, and you can buy them for:
SP 63 dime has a value of $2
SP 64 dime has a value of $2
SP 65 dime has a value of $3
SP 66 dime has a value of $4
SP 67 dime has a value of $5
SP 68 dime has a value of $15
The most valuable is the 1966 MS 69 dime, evaluated at $250. The record holds the 1966 SP 67 dime sold at $12,500 in August 2021 on eBay. Regarding Special Mint Set pieces with cameo contrast, the values are significantly higher:
SP 65 CAM costs $15
SP 66 CAM costs $25
SP 67 CAM costs $35
SP 68 CAM costs $150
On the other hand, the 1966 SP 69 dime with CAM quality costs $750. Although it is the highest estimated price, the auction winner was the 1966 SP 68 dime with cameo contrast sold at Heritage Auctions for $1,035. The auction was organized in January 2004.
Collectors particularly appreciate the DCAM 1966 dimes, so their prices are always higher. So, you can get:
Dime in MS 66 grade for $750
Dime in MS 67 grade for $1,500
Dime in MS 68 grade for $2,500
The most expensive are scarce dimes with the MS 69 grade since their estimated value is $4,500. The record on auctions holds the 1966 SP 68 dime with deep cameo contrast. It was sold in January 2007 for $2,760.
Also read: Top 17 Most Valuable Mercury Dimes Worth Money
1966 Dime Grading
The dime grading is an essential factor in determining their value. Firstly, you can divide them into two groups, those spending time in circulation and pieces in an uncirculated condition. The circulated dimes are low-valued, but their final prices depend on their grading levels.
The MS dimes come with different qualities, and a higher number means a better appearance and preservation level. In the case of the 1966 Roosevelt dime, the ranking goes from MS 60 to MS 69.
Rare 1966 Dime Error List
Imperfection makes coins desirable to collectors. Since such pieces are often rare, you can expect them to be more valuable than standard ones. Several variations and errors increase the price of the 1966 Roosevelt dimes.
Full band dime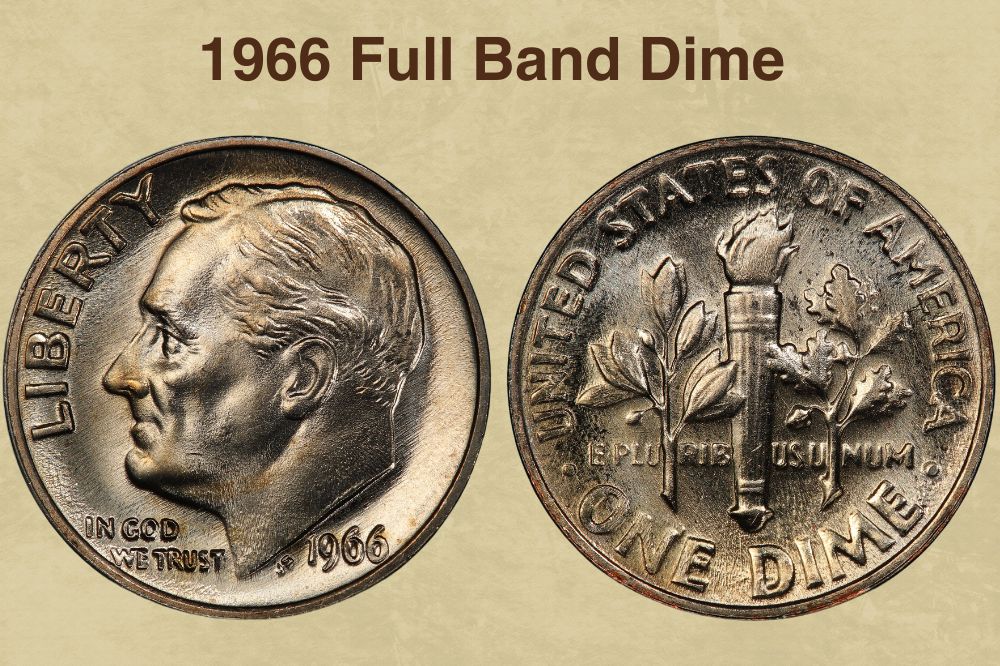 Besides regular coins with average quality, the 1966 dime set includes Full Band coins that look fabulous with all details visible as planned. In this case, you can notice that all torch lines and bands are distinctive and highly recognizable.
That feature makes these specimens more costly. Most are typically worth $20 to $600, but the rare 1966 MS 68 dimes often reach $2,500. The most valuable piece in MS 68 grade was sold in 2013 at $2,820.
Doubled die
Dimes with a doubled die error have a doubled image or the word LIBERTY. When the imperfection is noticeable, such a coin can be worth up to $600.
Clipped planchet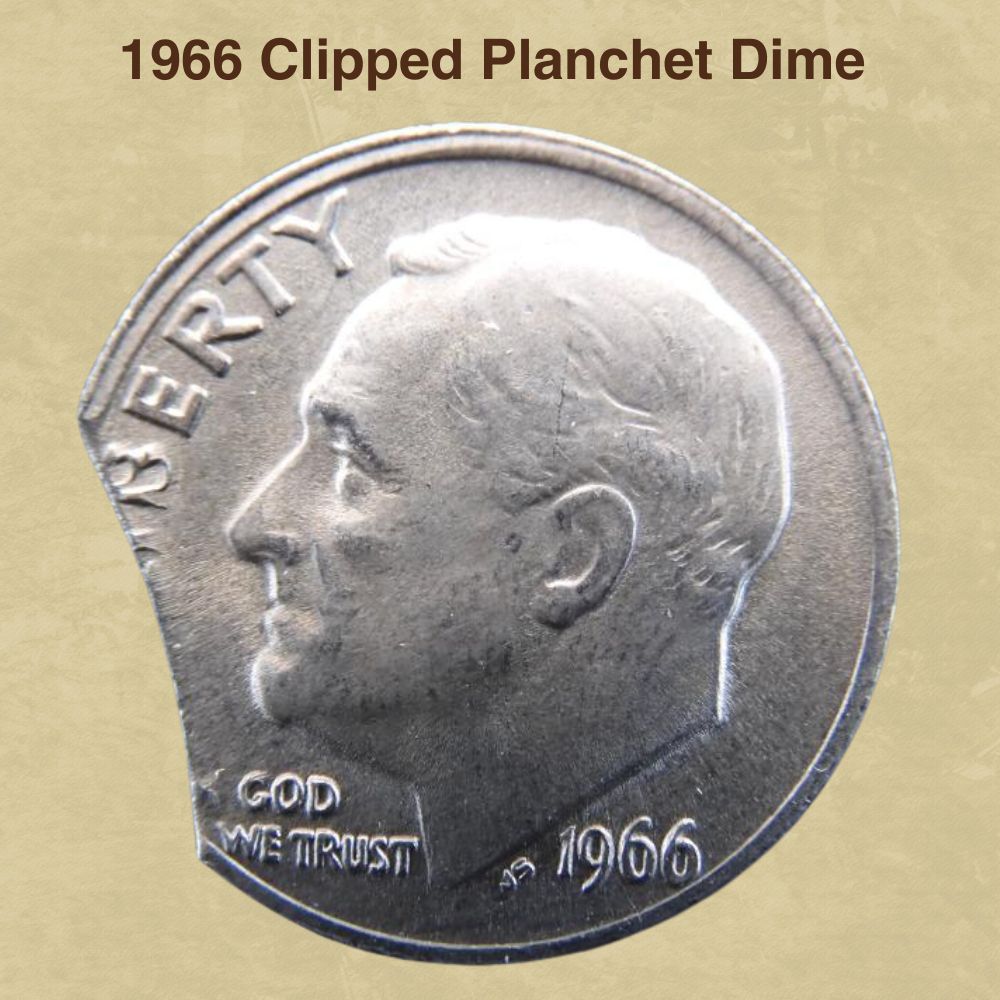 During the production process, some dimes ended up with the clipped planchet error, looking like small bites on the coin rim. The 1966 dimes with such a flaw can be worth about $30.
Misplaced die
This atypical error can significantly increase the prices of dimes minted in 1966. Due to improper manufacturing, you can see the number 5 on Roosevelt's face on the obverse. Such specimens are scarce and can cost over $2,000 at auctions.
Also read: 13 Most Valuable Dime Errors Worth Money
FAQ about the 1966 Dime
What makes 1966 dimes sought-after and rare?
Being in circulation for more than 55 years makes Roosevelt dimes less rare and valuable when compared to other coins. However, pieces with Full Bands, errors, and coins from Special Mint Sets have considerably higher prices.
Which 1966 dimes are worth a lot?
1966 SP 67 dime (SMS) – $12,500 in 2021
1966 MS 68 dime – $2,820 in 2013
1966 SP 68 dime (SMS DCAM) – $2,760 in 2007
1966 MS 68 dime – $2,375 in 2021
1966 SP 68 dime (SMS CAM) – $1,035 in 2004
How much are 1966 dimes (No Mint mark) valuable?
All 1966 dimes are without the mint mark since all were minted in Philadelphia. Most pieces in the mint state have an average price of 20 cents to $2, but circulated specimens cost only their face value, $0.10.
What are the most-paid Roosevelt dimes ever?
$456,000 for the 1975 No S PR 68 dime
$48,875 for the 1968 No S PR 68 dime
$23,500 for the 1951 PR 68 dime
$19,975 for the 1956 PR 69 DCAM dime
$18,800 for the 1950 PR 68 dime
$13,200 for the 1949 MS 68 FB dime
$12,650 for the 1946 MS 69 dime