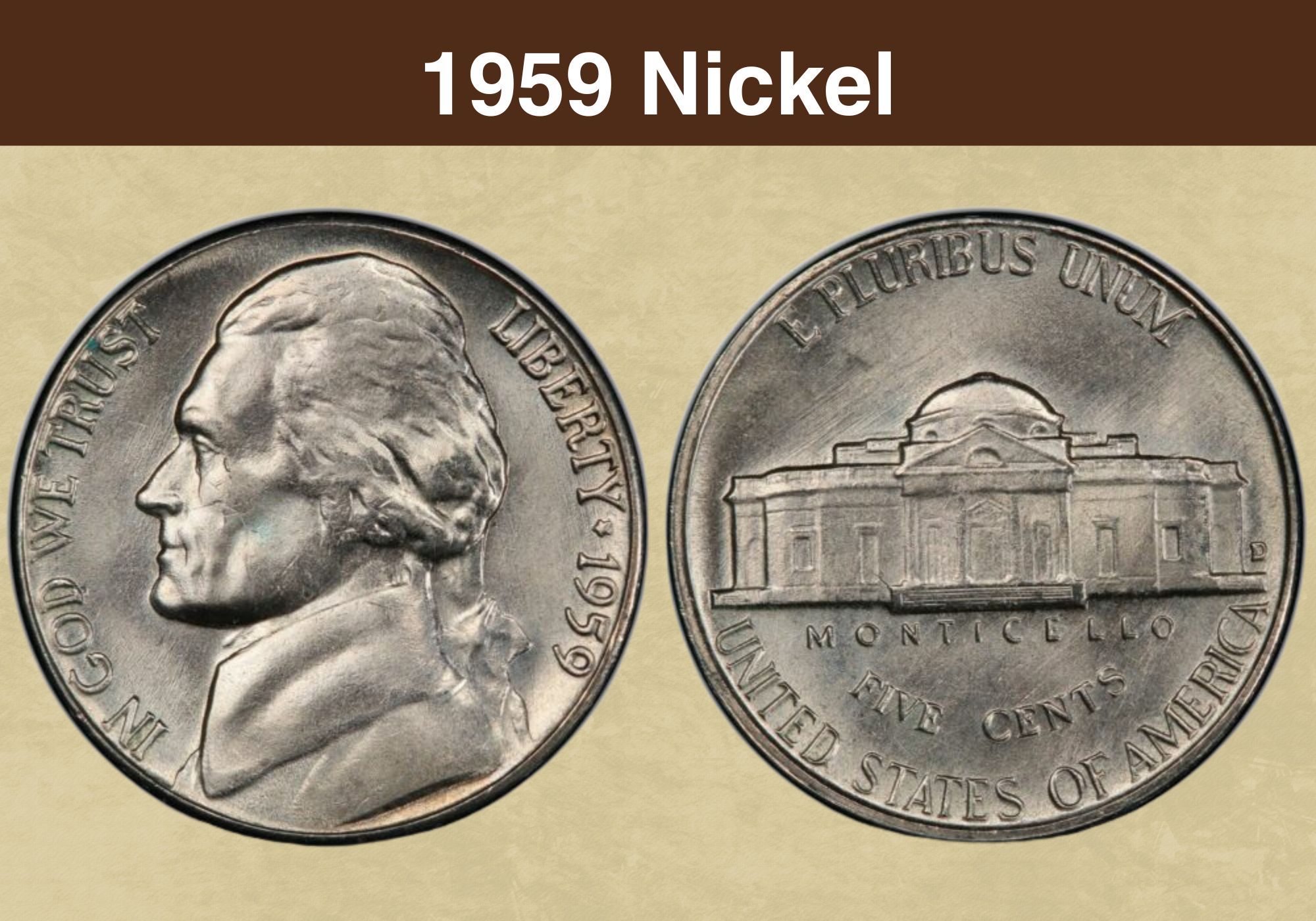 Most nickels from regular strikes produced in 1959 were realized into circulation, while proofs were intended for collectors. Therefore, you can find numerous inexpensive, worn-out coins on the market, while the 1959 nickel value increases for coins in higher grades. Be prepared that those with Full Steps are the costliest because collectors like their perfectly struck design.
1959 nickel value Chart

Condition
1959 No Mint Mark nickel
1959 D nickel
MS 60
$0.28
$0.28
MS 65
$17
$17
PR 65
$3.38
/
History of the 1959 Jefferson Nickel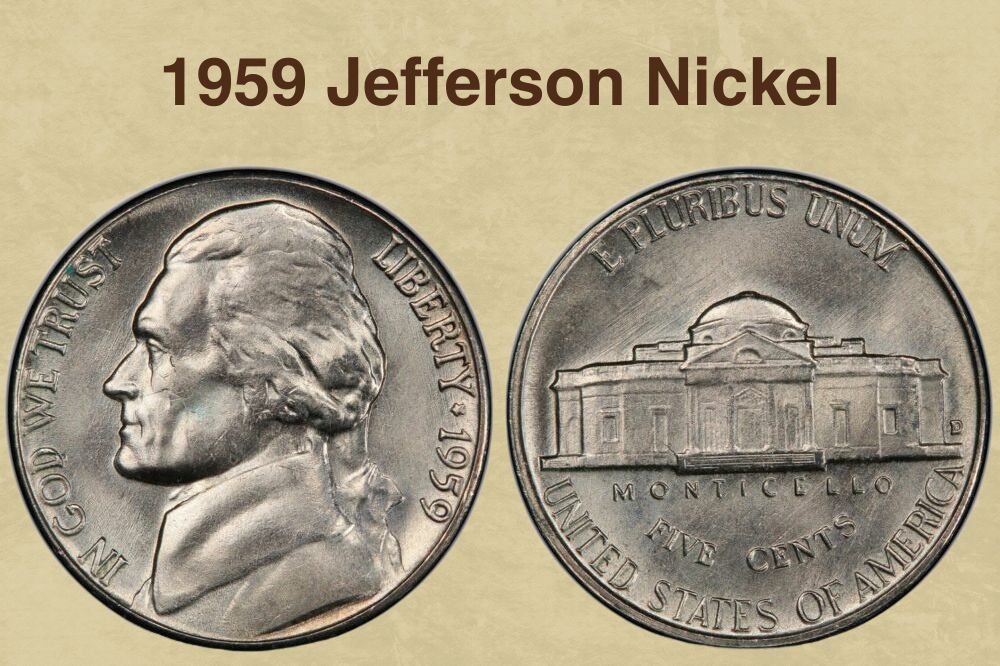 Jefferson nickel mintage started in 1938, and the US Mint has never significantly changed anything about these coins' appearance until now. The design was a Felix Schlag's piece of art that won a $1,000 competition.
After a few changes in Monticello's appearance and letter style, officials accepted the new nickel creative solution. These coins replaced impractical Buffalo nickels that quickly became sought-after collectibles instead of circulated currency.
1959 Jefferson nickel Types

Location
Year
Minted
Philadelphia
1959 No Mint Mark nickel
27,248,000
Philadelphia
1959 nickel proof
1,149,291
Denver
1959 D Nickel
160,738,240
Total
/
189,135,531
For some reason, Schlag's initials were excluded from the design in the early sets, and this inequity was righted only in 1966. In other words, you can't see them on the 1959 nickel obverse.
Also read: Top 10 Most Valuable Nickels Worth Money
Features of the 1959 Jefferson Nickel
Felix Schlag designed Jefferson nickels, and the US Mint has produced them from 1938 to date. These elegant coins replaced Indian Head nickels, solving a long-standing problem with minting.
The obverse of the 1959 Jefferson nickel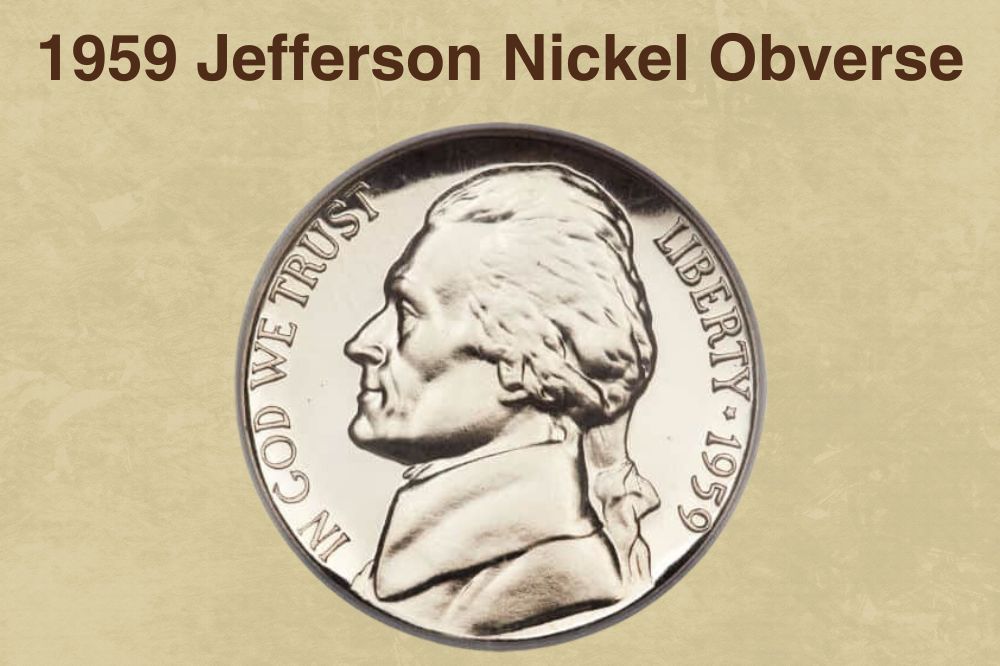 The 1959 Jefferson nickel contains Thomas Jefferson's portrait. This man was the 3rd American President, serving from 1801 to 1809. That fact explains an old-fashioned coat with a large collar typical for the early 19th century and hair tied in a ponytail with a bow.
Besides his portrait, you can read the following words:
IN GOD WE TRUST
LIBERTY ★ 1978 S
The reverse of the 1959 Jefferson nickel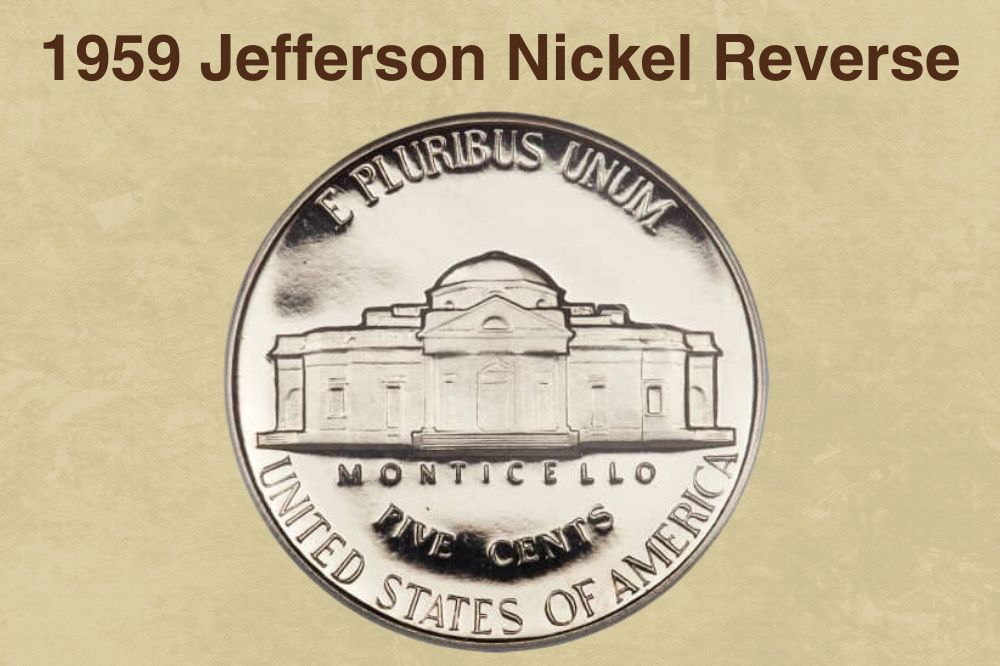 While the designer made the coin obverse elegant and stylish, the reverse with Jefferson's home in the center was pretty cluttered with inscriptions. Besides the mansion image, you can see a few rows of text, including:
E PLURIBUS UNUM (written along the top coin rim)
MONTICELLO (written in a straight line under the building)
FIVE CENTS (denomination written in a semicircle)
UNITED STATES OF AMERICA (written along the bottom line)
1959 Jefferson nickel Details

Face value
Five cents ($0.05)
Coin weight
0.1764 ounces (5 g)
Coin diameter
0.835 inches (21.20 mm)
Shape
Round
Compound
Copper and nickel alloy in 75%: 25% ratio
Coin thickness
0.07677 inches (1.95 mm)
Edge
Plain
Other features of the 1959 Jefferson nickel
The 1959 Jefferson nickels are round, 64-year-old coins with a plain edge. Their face value is five cents ($0.05), and are made of copper-nickel alloy. Each specimen weighs 0.1764 ounces (5 g). You can expect its thickness to be 0.07677 inches (1.95 mm), while its diameter is 0.835 inches (21.20 mm).
Also read: Top 17 Most Valuable Buffalo Nickel Worth Money
1959 Nickel Value Guides
In 1959, you can find only three nickel types available. Two were from regular strikes and came without the mint mark or with the letter D, marking the mint they came from. Finally, there were proofs struck in Philadelphia intended for collectors. The total mintage was 189,135,531 this year.
1959 No Mint Mark nickel Value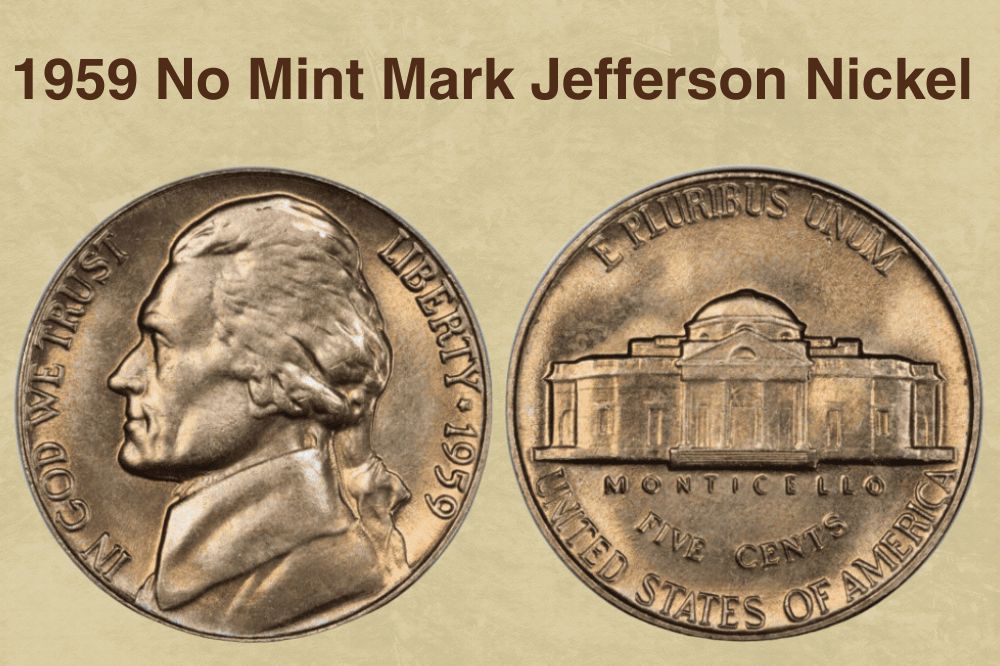 Most of the 27,248,000 nickels minted in 1959 in Philadelphia are worth only $0.06 to $4, regardless of whether they spent years in circulation or were in the lower MS grades. Only better-preserved pieces can cost over ten dollars, while those in the MS 67 grade are worth about $80.
Like in other sets, the Full Steps nickel variation showing 5 to 6 steps in front of Monticello costs more than a regular coin with less visible lines. This coin type's price ranges from $12 for MS 63-rated coins to $150 for those in MS 66 grade. On the other hand, rare specimens rated MS 67 are more valuable, with an estimated price of $3,200.
Interestingly, the auction record is lower for the 1959 nickel with Full Steps ($9,694) than the coin without all visible lines, despite being the same grade. The 1959 MS 67 nickel changed the owner for $12,000 in 2022.
1959 proof nickel Value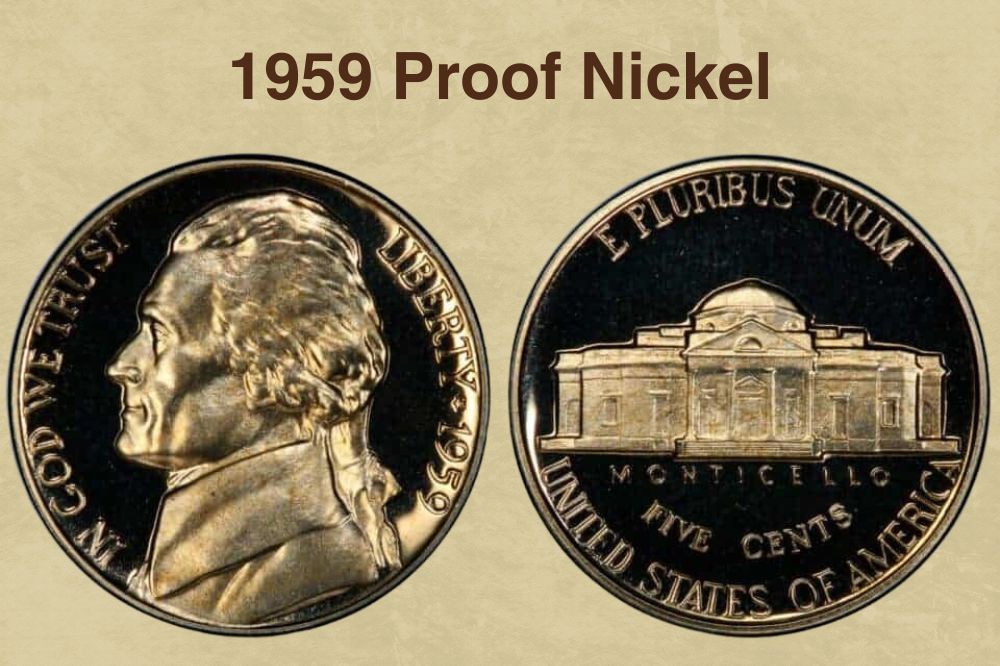 Besides nickels from regular strikes, the Philadelphia mint also produced coins intended for collectors in 1959. The number of these proofs was 1,149,291, which was significantly higher than in previous years (except in 1957).
That makes their prices lower than expected. For instance, coins with quality under PR 65 grade often cost less than a dollar, while better-ranked pieces are assessed to be $5 to $24.
The only exceptions are coins in PR 69 grade priced at $75. The auction record from 2021 for one such beautiful specimen was $1,576.
You can expect a higher price range for the 1959 PR CAM nickels, ranging from $12 (PR 65) to $220 (PR 69). The most expensive piece with the best characteristics changed the owner for $1,150 in 2011.
The most expensive are coins with DCAM quality. Most collectors are prepared to pay them about:
PR 65 – $75
PR 66 – $150
PR 67 – $320
PR 68 – $800
Since nickels in PR 69 grade with deep cameo contrast are exceptionally rare, you can expect them to cost at least $6,000. The auction record was even higher and was won in 2021. That year, one collector bought one of these rarities for $8,400.
1959 D nickel Value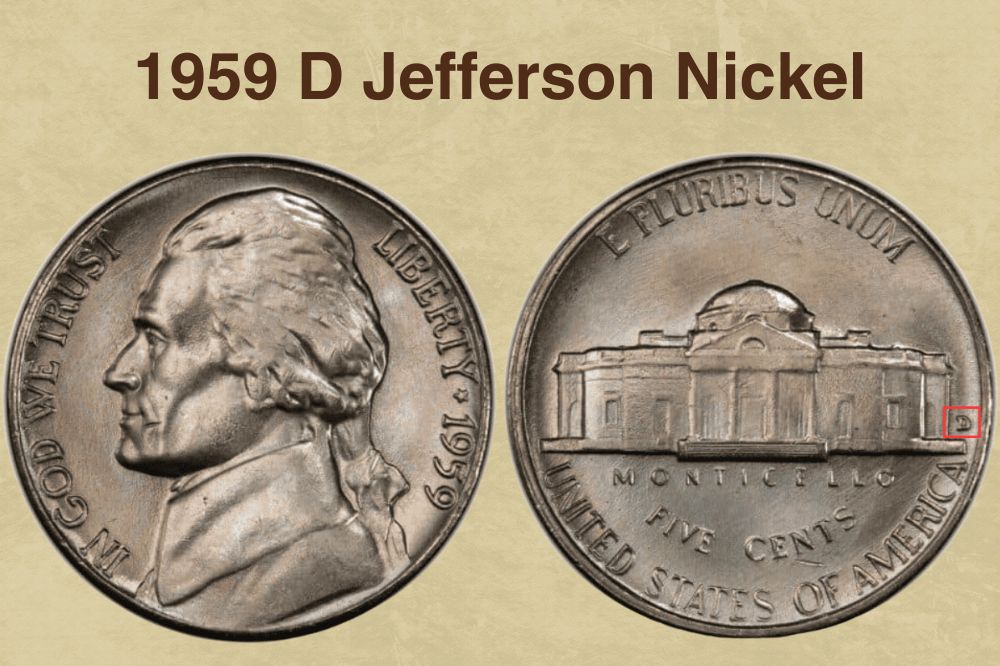 You can expect more affordable prices since the Denver mint had many times more mintage than Philadelphia in 1959, exactly 160,738,240 nickels. While circulated pieces cost only a few cents, those in the mint state are assessed at $0.8 (MS 60) to $40 (MS 66).
Coins of the best quality (MS 67 grade) typically cost about $750. However, one collector set aside $900 for one such nickel on May 8, 2021.
Collectors are often prepared to pay more for certified nickels with Full Steps, so you should count on the following price range:
$44 for 1959 MS 64 FS nickels
$100 for 1959 MS 65 FS nickels
$700 for 1959 MS 66 FS nickels
$2,000 for 1959 MS 67 FS nickels
The auction price for one FS nickel with the D mint mark was more than double compared to a similar coin from Philadelphia. This coin was paid $3,910 in 2007, but you should pay attention that it was in MS 66 grade.
Also read: Top 17 Most Valuable Jefferson Nickels Worth Money
1959 Jefferson Nickel Grading
The Sheldon scale is the most reliable way to determine your coin's quality, authenticity, and value. Most collectors evaluate lower-quality coins themselves, while it is always better to send superior specimens to professional grading companies.
Rare 1959 Jefferson Nickel Errors
Often, error coins are more expensive than standard pieces, and the same thing is with 1959 Jefferson nickels. The reason is the collector's tendency towards imperfection and uniqueness. A well-known variation and a few rare error types are highly sought-after, increasing their prices.
Doubled die
This well-known error results from the die doubling during contact with the hub. The 1959 nickels produced under such circumstances have barely visible imperfections on the obverse or reverse and are worth only a few dollars.
Off-center
All off-center nickels are error coins, but only those with the visible mint mark, date, and at least 40% of the design are collectibles. Most cost $10 to $50, while pieces with 50% off-center are worth $100 to $200.
Re-punched mint mark
Since US Mint workers struck mint marks by hand, they often mistakenly hit them at the wrong angle or in an inappropriate place. As a result of an attempt to fix the error, they often left visible traces of the first punch under the second one. The 1959 nickels with re-punched D mint mark can bring you $3 to $10.
Double strike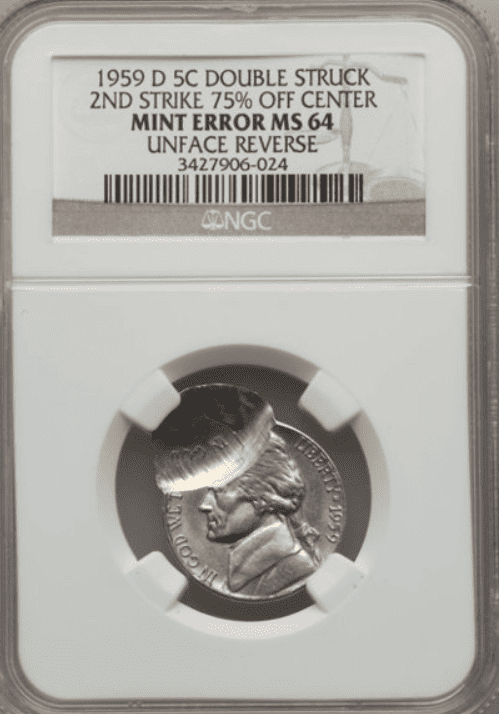 Some 1959 D nickels were struck twice when the planchet, hub, or die slightly moved between two strikes. Such coins are attractive and cost approximately $125.
Die cuds and breaks on the obverse
This error appeared among nickels minted in Denver because of old, cracked, and broken dies. They leave raised lines on the coin surfaces, increasing their value to at least $3. Expectedly, more prominent cracks make these coins more valuable, and they may cost $25 to $50 in such a case.
Nickel struck on a silver dime planchet
The 1959 silver dimes had a diameter of 0.705 inches (17.91 mm) and were 0.05 inches (1.35 mm) thick, making them significantly smaller than nickels minted this year. So, nickels struck on a silver dime planchet come with a cut design. Such error pieces typically cost over $600.
Nickel struck on a penny planchet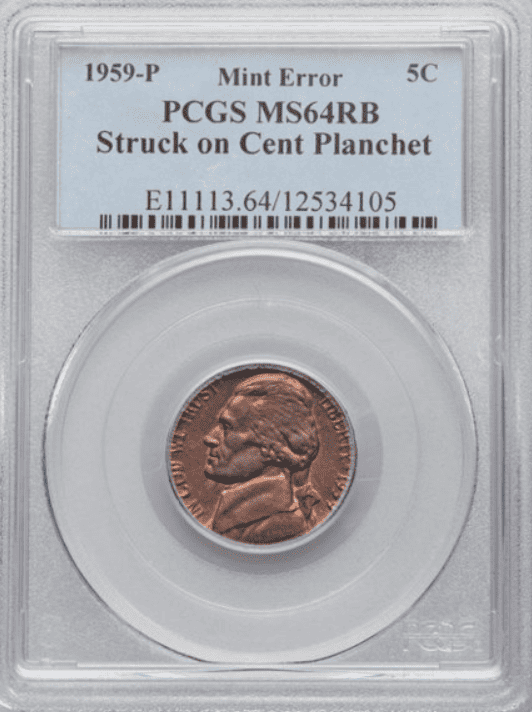 The 1959 nickels struck on a Lincoln planchet have a recognizable coppery tone typical for pennies. It can be challenging to estimate such pieces' value since their quality depends on condition but often even more on color. In any case, you can expect to get about $1,000 per coin.
Black beauty
When the 1959 nickel was inappropriately annealed during minting, it looked dark and often had unwanted marks on the surface. Their prices are modest nowadays except for coins in the highest grades.
Strikethrough error
You can expect this error on coins minted when a foreign object got stuck between the die and planchet during production. The existing impression on nickels from Denver can bring you up to $70.
Staple struck into the reverse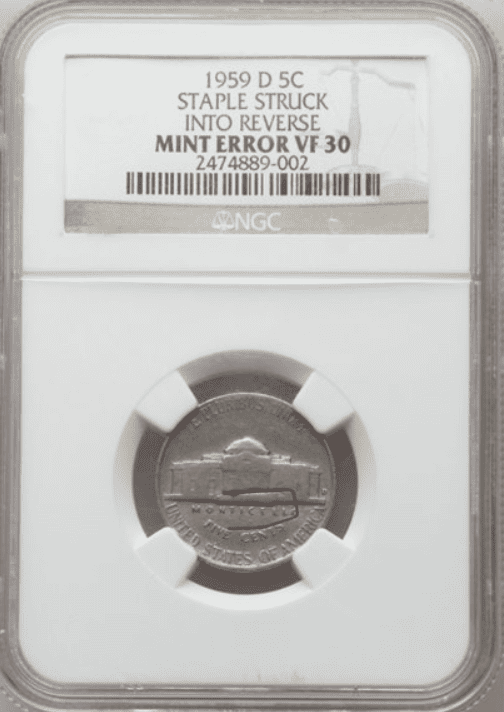 You can sometimes notice this error among nickels minted in Denver in 1959. It appeared when a staple got stuck between the blank and the die. Such coins have a silhouette of this object engraved onto the nickel surface. You can expect about $525 for one of these rare pieces.
Staple struck into the obverse
Rare nickels minted in Denver in 1959 come with a pattern on the obverse surface left after the die struck the planchet over a staple. You can sometimes find a piece with this foreign object bonded onto the surface, increasing its price to $545.
Also read: 14 Most Valuable Nickel Errors Worth Money
FAQ about the 1959 Jefferson Nickel
Are 1959 Jefferson nickels rare nowadays?
The 1959 Jefferson nickels are relatively old coins, but not enough to reach the highest prices. The high mintage causes most pieces to be affordable, except for the best-quality ones with Full Steps.
Which 1959 Jefferson Nickels are the most expensive?
On eBay, one owner sold the 1959 MS 67 nickel for $12,000 (December 8, 2022)
At Legend Rare Coin Auctions, one owner sold the 1959 MS 67 FS nickel for $9,694 (October 26, 2017)
At Stack's Bowers, one owner sold the 1959 PR 69 DCAM nickel for $8,400 (August 25, 2021)
At Bowers & Merena, one owner sold the 1959 D MS 66 FS nickel for $3,910 (March 1, 2007)
On eBay, one owner sold the 1959 PR 69 nickel for $1,576 (April 19, 2021)
At Heritage Auctions, one owner sold the 1959 PR 69 CAM nickel for $1,150 (March 17, 2011)
On eBay, one owner sold the 1959 D MS 67 nickel for $900 (May 8, 2021)
How much is the 1959 nickel minted in Philadelphia worth?
The 1959 No Mint mark nickels are affordable coins, and you can find them for $0.06 to $18, depending on their grade. Only those in the MS 67 rank are worth $80. Pieces with Full Steps are pricier, with a standard price range from $12 to $150. However, rare MS 67-ranked specimens often reach over $3,200 at auctions.
What Jefferson nickels are the most expensive by now?
The most expensive nickel ever sold at an auction is the one with Full Steps from San Francisco. This MS 67-ranked coin reached $35,250 at Legend Rare Coin Auctions in 2020.
The costliest Jefferson nickel with the D mint mark is the MS 65-graded coin with Full Steps sold at $33,600 in 2021. Only a little cheaper is the 1964 SMS SP 68 FS nickel, which was paid $32,900 in 2016.
Finally, the most valuable Jefferson nickel error is the 1942 D/horizontal D coin with MS 64 ranking. One collector bought it for $32,200 at Heritage Auctions in 2006.