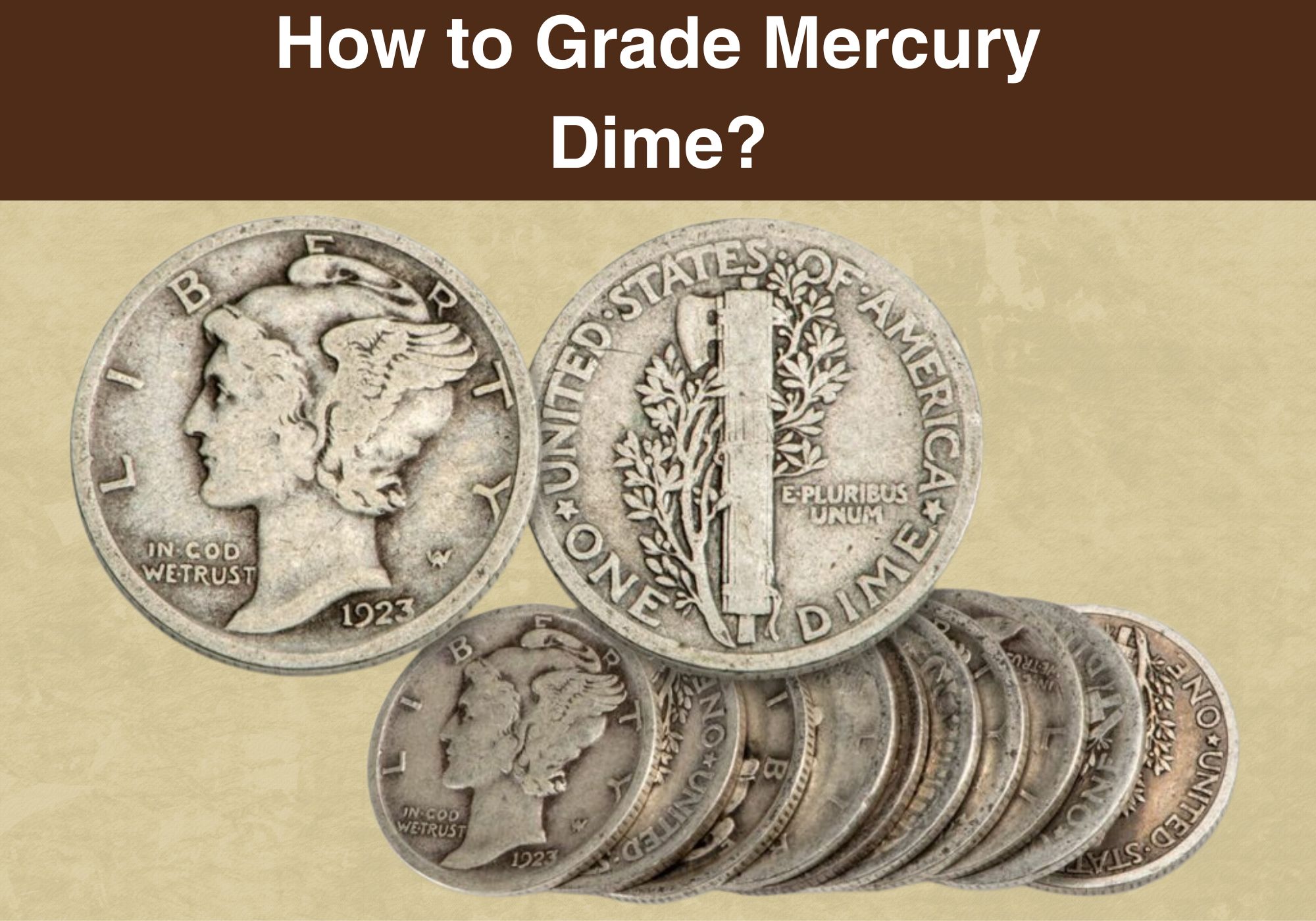 There is not much unclearness in relation to how to grade Mercury dimes accurately. The most effortless way is to use the Sheldon grading scale, which includes 70 points, describing each coin condition in detail.
Dimes from the first set minted in 1916 and several after that date are the most collectible and desirable for collectors. Even the last set in the series, issued in 1945, is 75+ years old, making it valuable. However, age is not the only thing to determine coin value, so the best to do is to send your piece to the grading company for precise estimation.
Grading Standards
Even though you can evaluate every dime on your own, most collectors prefer buying professionally graded and certifying pieces. It is particularly crucial with rare and expensive coinage and unique errors.
Determining coins' grades aims to define their market value and expected price range precisely. Numerous factors affect them, including each specimen's condition, the mint mark, the date, and possible minting errors.
Any wear and tear on the coin surface places it lower on the 70-point scale. Even those in the mint state are graded differently, depending on the level of perfection. Sometimes, only one tiny detail visible under a magnifying glass or even a microscope means a significant price difference.
Check Sheldon grading scale guide before reading grading mercury dime.
Understanding Grades for Mercury Dime
Mercury dimes are old American coinage made of 90% silver. Thanks to silver melting value, such pieces are worth something in every, even the worst grade. On the other hand, this precious metal can make grading difficult because of its softness.
The first step is determining whether your dime ever circulated or you have a piece in the mint state. Be aware that coins spending years in use can be challenging to rate, particularly the most worn-out ones.
An aggravating circumstance is that some specimens never wear and tear in an officially established pattern. The additional problem is that their reverse always looks worse than the obverse, particularly in grades below Very Fine.
Therefore, some professionals slightly lower existing standards for the reverse, but it is not a popular and generally accepted practice. Considering all that, most collectors and Mercury dime admirers insist on professional estimation.
Mercury dime

Face value
Ten cents ($0.10)
Compound
0.900 silver with 0.100 copper
Coin weight
0.080 troy ounces (2.5 g)
Coin diameter
0.705 inches (17.91 mm)
Coin thickness
0.053 inches (1.35 mm)
The situation with pieces in the mint state is entirely different. They are typically simple to grade. Most are in MS 63+ ranks except carelessly stored coins and those cleaned inappropriately.
However, always be aware of Mercury dimes struck on heavily worn dies. Since their mint luster is compromised, you can't expect them to be graded over MS 60. That is particularly true with dimes minted in San Francisco and Denver during the 1920s.
The additional problem is dimes from Philadelphia that were minted in 1945. Those with Full Bands are exceptionally rare, making them scarce and highly expensive, unlike similar pieces from Denver that are common.
How to Grade Mercury Dime?
The first thing to consider when buying a Mercury dime for your collection is its grade. Sometimes, a quick glance at fasces can help you rank it appropriately. Still, your best shot is to look for professionally assessed pieces.
1. About Good (AG3)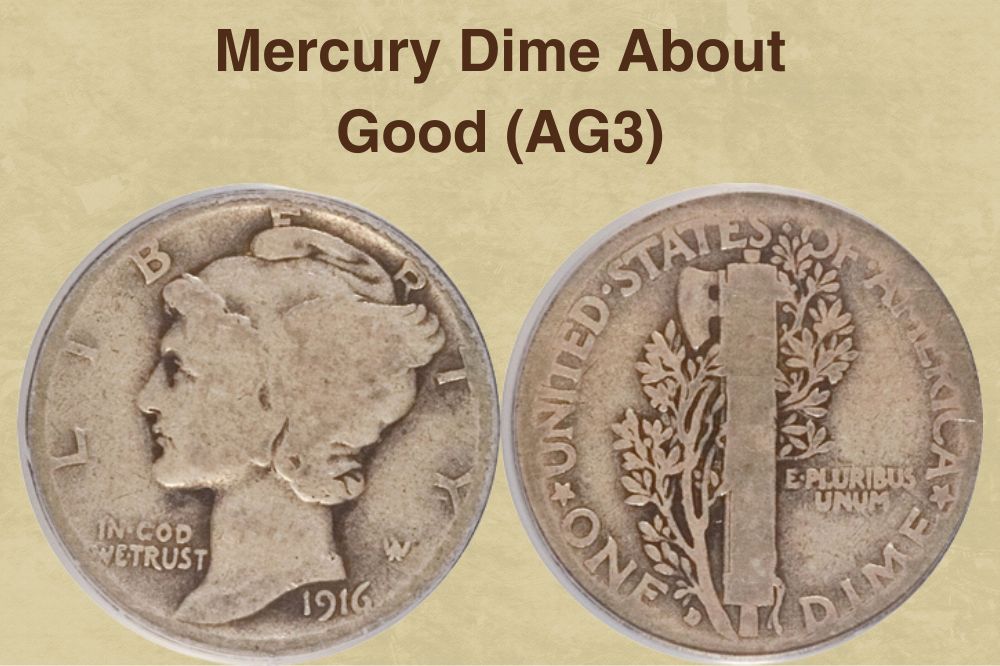 The Mercury dimes in Average Good condition are heavily worn. They have barely readable lettering that blends with the rim, making them non-collectible. Interestingly, the date is well-struck, so you can always effortlessly recognize it.
Obverse
Even though you can recognize Lady Liberty's head outline, it is nearly without details. The rim is merged with the LIBERTY word tops engraved along it, but all letters are legible. You can recognize the motto, Adolph Weinman's initial (W), and the date.
Reverse
The dime design is worn out in this rank, particularly the leaves on the olive branches and the fasces. It is impossible to recognize vertical lines and bands. The half of the legend is worn away and blended into the rim.
2. Good (G, G4)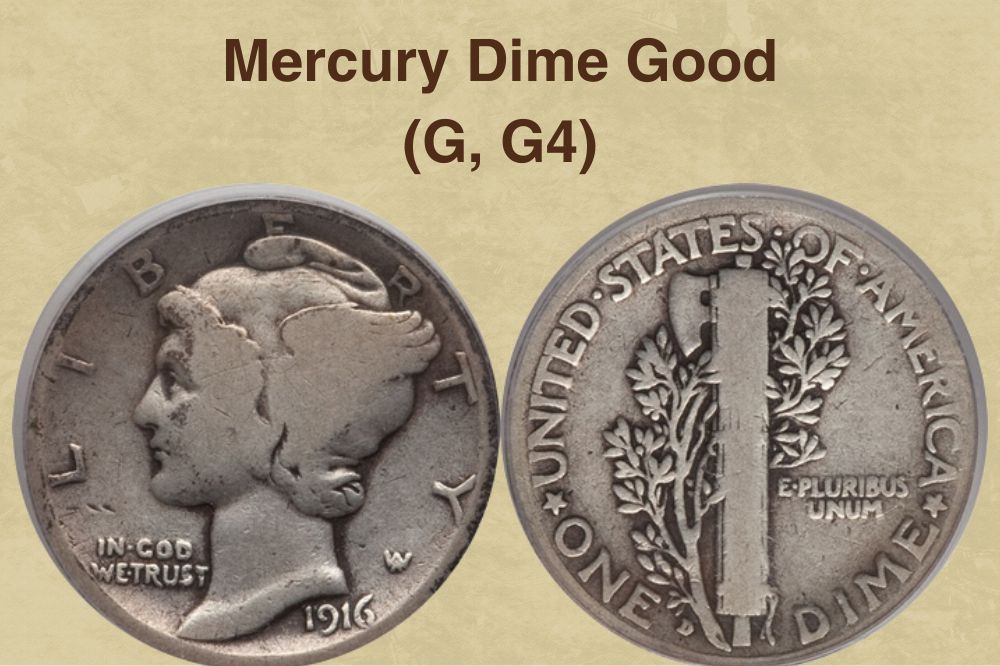 Such graded Mercury dimes are heavily worn but with a preserved date. The rim is incomplete, while images are flat and without most details, particularly on coins with a weak strike.
Obverse
You can see an entirely worn design with only minor details remaining. Letterings are weak but recognizable, and you can read all the letters despite merging with the rim. Lady Liberty's hair, cheek, cap, and wing are flat. In the best case, the last digit in the date is fully separated from the rim.
Reverse
Fasces is completely outlined but looks worn out and flat without recognizable sticks and bands. The mint mark is strong, but other letters are pretty smooth, although readable.
3. Very Good (VG, VG8, VG10)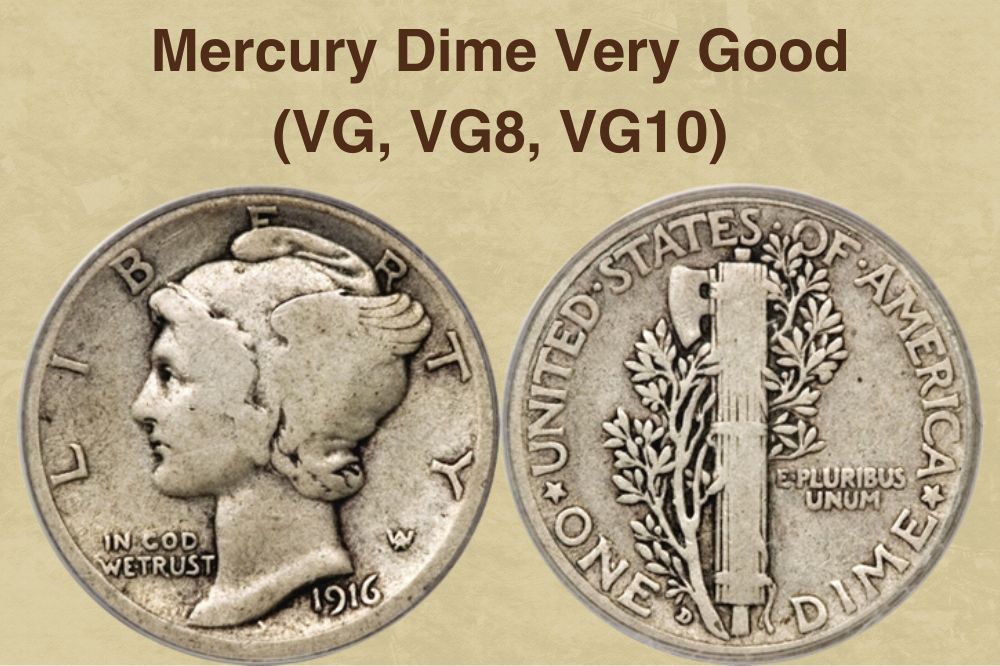 This well-worn coin has a clear design with defined significant elements, but they are often flat and without fine details. However, old pieces in this grade are desirable among numismatists despite their average appearance.
Obverse
A dime can be graded this way only when the rim is complete, and letters in the LIBERTY word are separate from it. The Liberty's head appearance is weak, while most existing details on the cap and wing are outlined but flat.
Reverse
You can distinguish less than half of the vertical sticks in fasces. All letters around the coin edge are separated from the rim line.
4. Fine (F, F12, F15)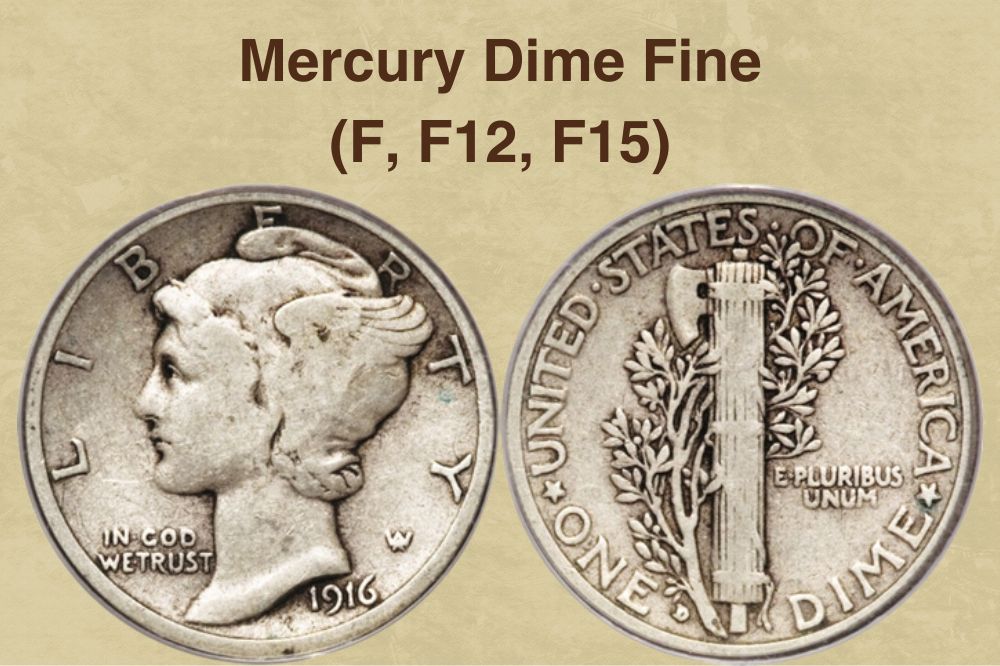 Coins in this grade have moderate wear over the surface with readable dates and legends. You can notice that the main design elements are bold, while the rim is complete on both sides. Most Mercury dimes minted in the late 1920s and 1930s are in this rank.
Obverse
Such ranked dimes must have a complete rim and some recognizable details in Lady Liberty's hair. For instance, feathers in the wing are partially visible but still weak, while curls at the nape of the neck are slightly rounded. Hair curls are merged with her face but are separated from the cap.
Reverse
Vertical lines of the fasces are mostly visible but without original sharpness. You can effortlessly recognize horizontal and diagonal bands, but they are still worn away and weakly defined, particularly across the center part.
5. Very Fine (VF, VF20, VF25, VF30, VF35)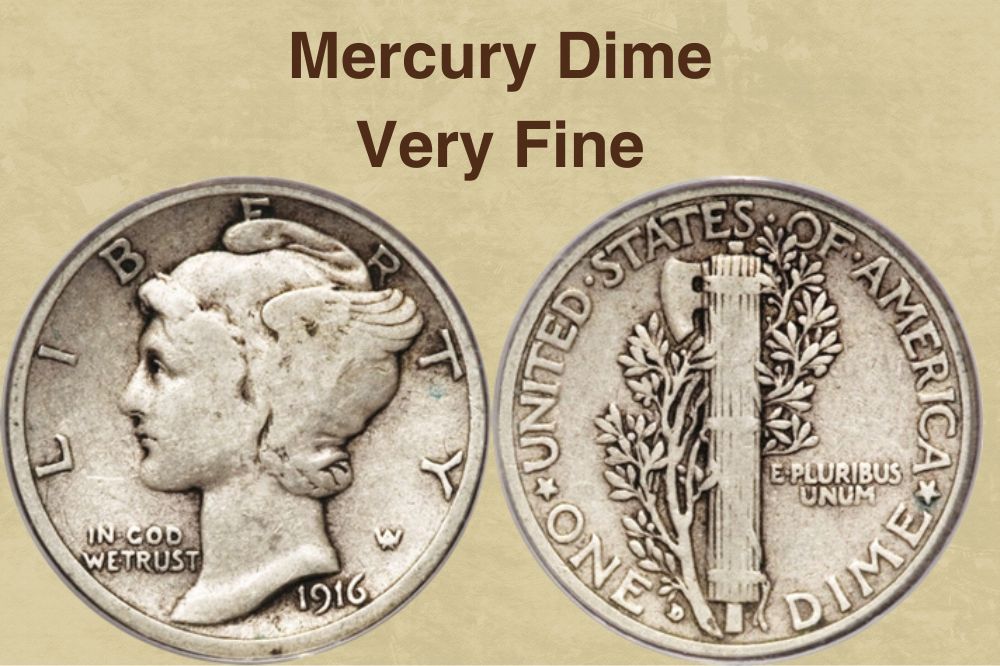 In this rank, Mercury dimes show moderate wear on the highest parts of the coin surface. All primary design parts are bold with readable legends and clearly defined dates. Many of these pleasing and attractive pieces are from the 1930s.
Obverse
The first thing to notice is details in Liberty's hair and about 75% visible feathers in the wing. Hair curls are less merged with her forehead, and you can see a slightly faded contour line. Even though the hair is flat, the separation from the cap exists.
Reverse
Most vertical lines on fasces are visible but without original sharpness. Bands binding them are with visible details, but you can notice slight smoothness in the middle. The lettering and the mint mark are complete, while the rim shows a raised inner edge.
6. Extra Fine (EF40, EF45)
These coins are only slightly worn out on the highest points, but most details are sharp. You can see traces of mint luster and well-defined design elements. Most dimes from the 1940s are ranked this way.
Obverse
Almost all details on Liberty's head and the wing on the cap are visible, plus the hair along her face is nicely detailed. You can recognize curls at the back of the neck and above her forehead. Only the high points of the hairline and wing feathers have traces of wear.
Reverse
Fasces are partially separated but with slightly flattened highest points. All design details are defined, and diagonal bands are full and visible. However, you can spot a slight flattening in their center. The olive branch has separated leaves.
7. About Uncirculated (AU50, AU55, AU58)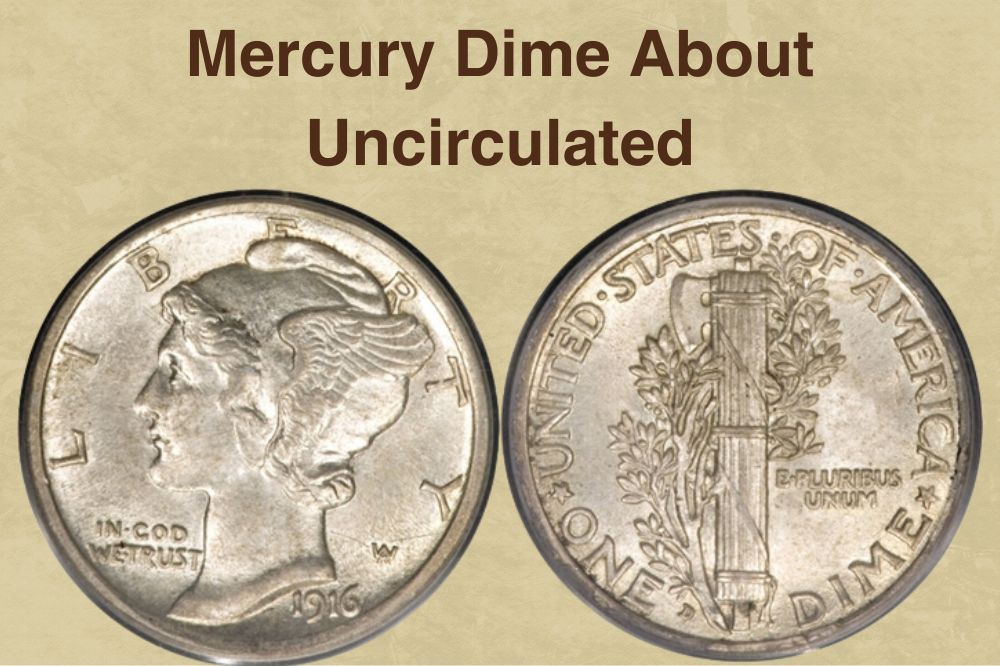 These coins are beautiful with almost complete mint luster and well-preserved surface. Only slight traces of wear are visible on the highest design points.
Obverse
Most of the design is preserved, and dimes in this grade are shiny and with nicely defined details. Traces of wear are minimal and visible in front of Lady Liberty's ear, on the cheek, and on the hair above her forehead.
Reverse
Fasces are well-defined, with some traces of wear on the vertical lines and all three horizontal bands. However, their edges are sharp, and olive leaves are rounded and with a pleasant appearance.
8. Mint State (from MS60 to MS70)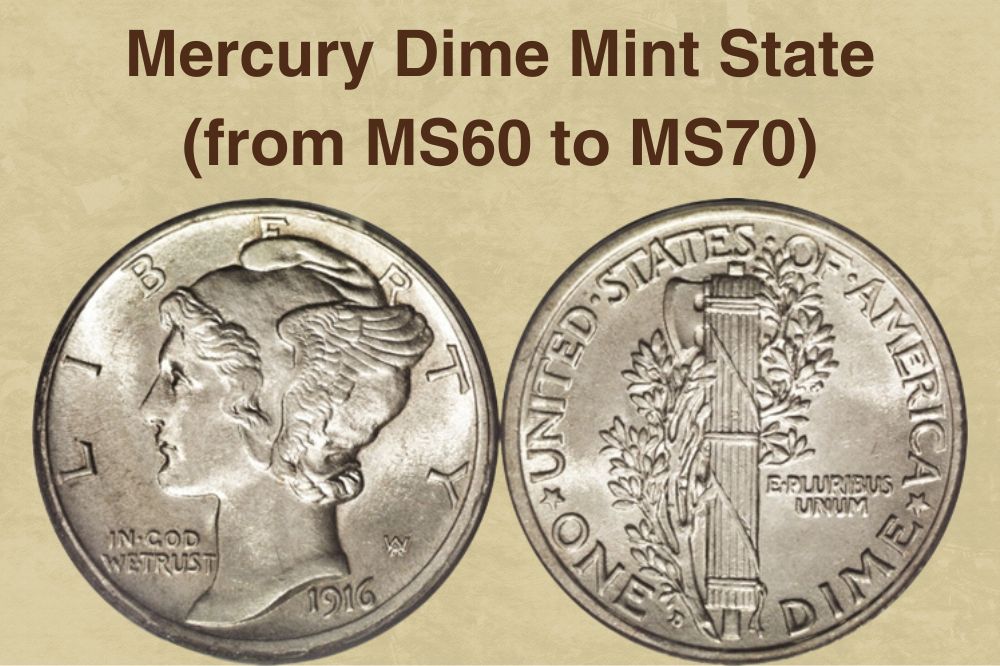 Uncirculated Mercury dimes never show wear or imperfections on their surfaces. Even the highest points of design should remain intact, the metal texture is even, and mint luster is present.
The crucial points to check are Liberty's jawline and cheek on the obverse and the bands binding the fasces on the reverse. All the details must be sharp, shiny, and eye-appealing without even the slightest signs of wear.
Summary
While Mercury dimes minted in the 1940s are affordable, and most numismatists estimate them on their own, collectors consider those dated before 1934 worth of professional grading.
Experts have two tasks when one coin comes to their hands. They need to apprise each dime's technical characteristics and check their overall eye appeal.