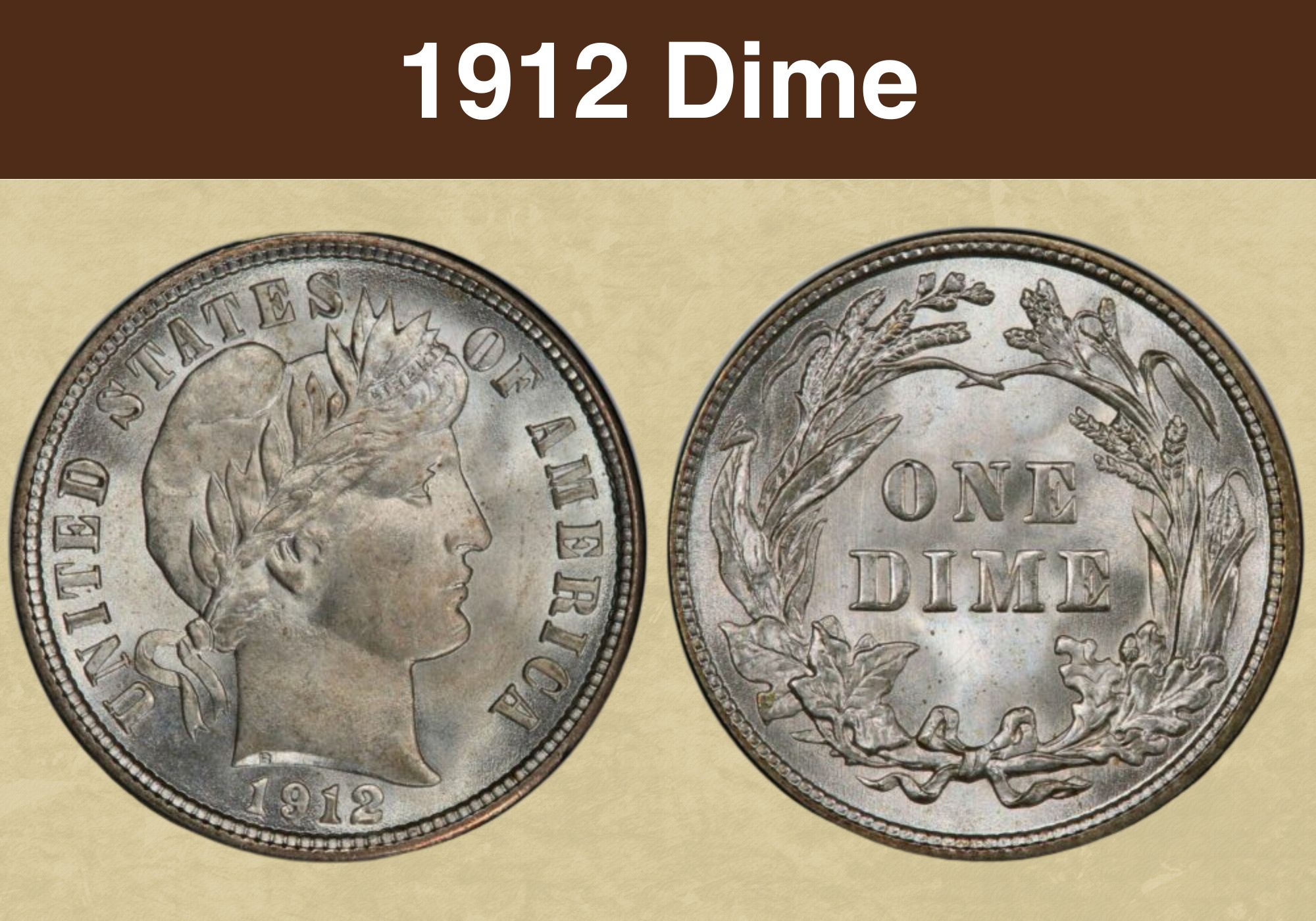 The 1912 dime value is based on the traditional Barber's design and each piece's condition. The US Mint released these coins into circulation from 1892 to 1916, and most are now heavily worn out.
That fact makes uncirculated dimes sought-after and desirable for collecting. Despite the face value of ten cents, they often cost significantly more. In fact, the most expensive specimen in the set was sold at more than $20,000. Can you believe it?
1912 dime Value Chart

Condition
1912 dime
1912 D dime
1912 S dime
Good
$6.84
$6.84
$11
Very good
$9.84
$9.84
$15
Fine
$12
$12
$18
Very fine
$18
$18
$29
Extra fine
$36
$36
$57
AU
$86
$86
$105
MS 60
$152
$152
$211
MS 63
$233
$233
$380
PR 63
$572
/
/
History of the 1912 Barber Dime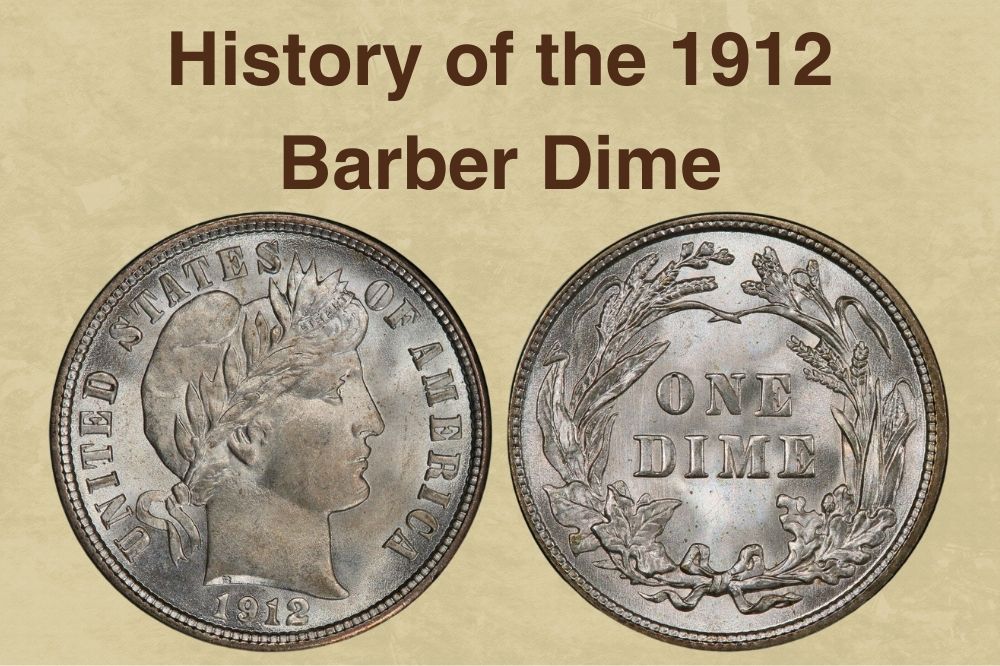 The US Mint has had a few places for coinage minting. Nowadays, you can recognize four mints existing for this purpose while others are inactive.
The US Mint of Philadelphia, Pennsylvania – Thanks to the Coinage Act of 1792, the first American mint was established in 1792. This place is the oldest national mint and is still active.
The US Mint of Denver, Colorado– It was established on February 1, 1906, and is still active.
The US Mint of San Francisco, California – This branch started working in 1854 and is still active. Its purpose was to serve the gold mines during the Gold Rush in California.
The US Mint of West Point, New York – It was a production US facility established in 1937. Nowadays, it is a depository place holding 22% of the state's gold reserves.
The US Mint also includes:
Washington, DC, Headquarters responsible for research
Fort Knox, Kentucky, a Bullion Depository that stores the US gold
In the past, there were a few other official Mint branches that are inactive today:
New Orleans, Louisiana
Carson City, Nevada
Dahlonega, Georgia
Charlotte, North Carolina
Manila, the Philippine
1912 Barber dimes Types

Location
Year
Minted
Philadelphia
1912 dime
19,349.300
Philadelphia
1912 proof dime
700
Denver
1912 D dime
11,760,000
San Francisco
1912 S dime
3,420,000
Total
/
134,530,000
Three of these American mints produced Barber dimes from January 2, 1892, to 1916. These coins were named after the engraver Charles E. Barber, who created them. They replaced the Seated Liberty, quite unpopular coins with the public.
Even though the then-Mint Director asked artists to join the public competition for the new coin design and got over 300 ideas submitted, only two were acceptable. His successor in this honorable position gave up the competition results and asked the Chief Engraver, Barber, to create the new dime design.
Unfortunately, he was not innovative and only modified an already existing Morgan dollar obverse design. The new Liberty got shorter hair, a cap on the top of her head, and the initial B on the neck truncation. The reverse stayed almost the same, like in the Seated Liberty dimes.
Also read: Top 17 Most Valuable Roosevelt Dimes Worth Money
Features of the 1912 Barber Dime
Barber dime creator was the then chief engraver Charles E. Barber, probably the most famous US Mint coin designer in this institution's history. These specimens minted from 1892 to 1916 were named for their creator and were a part of Barber coinage. Besides dimes, it included Barber quarters and Barber half-dollars.
The obverse of the 1912 Barber dimes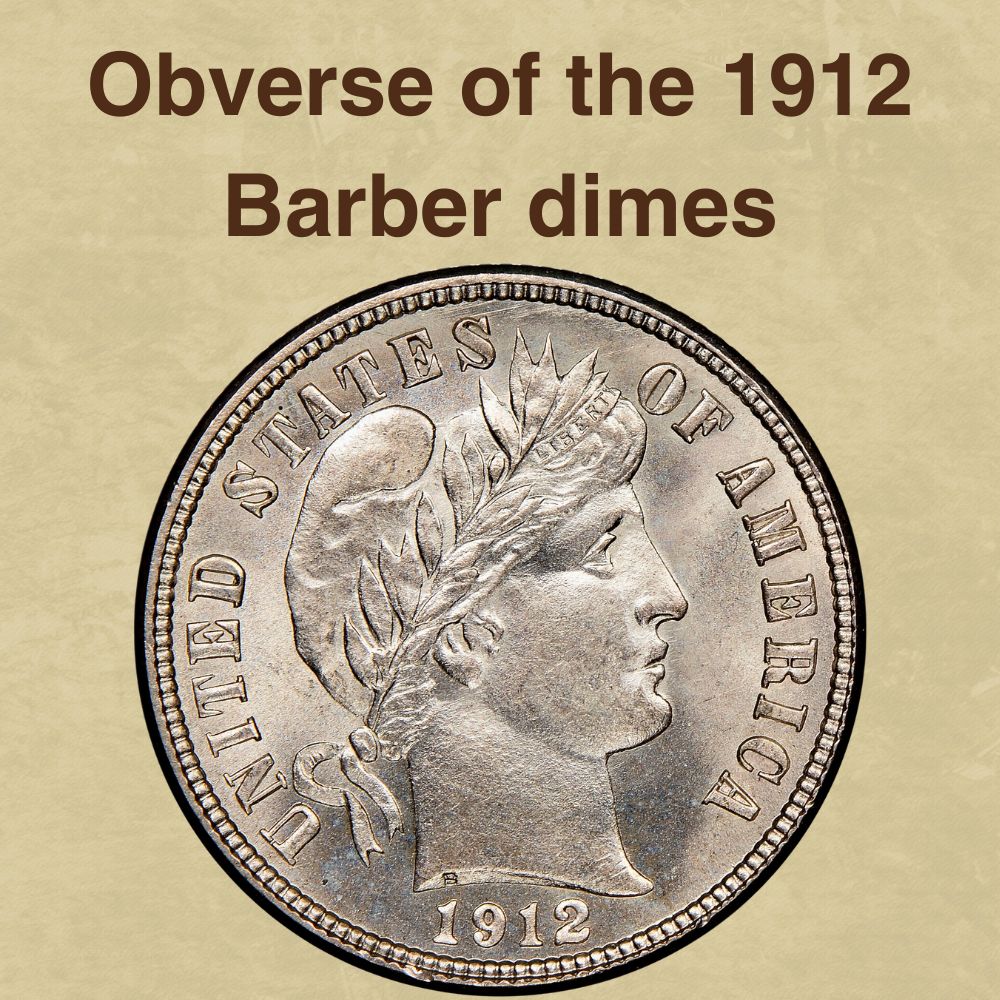 This coin obverse shows Lady Liberty's head looking right. She wears a Phrygian cap decorated with a laurel wreath and tied by ribbon, with the engraved word LIBERTY on the band.
The engraver got an idea for the Liberty image from French coins and medals created on the model of ancient Greco-Roman sculptures. Along the rim are two inscriptions divided into three parts, including:
UNITED STATES
OF AMERICA
1912
You can also see the letter B, standing for the first letter of the designer's name. It is struck on the Liberty's neck truncation on the left.
The reverse of the 1912 Barber dimes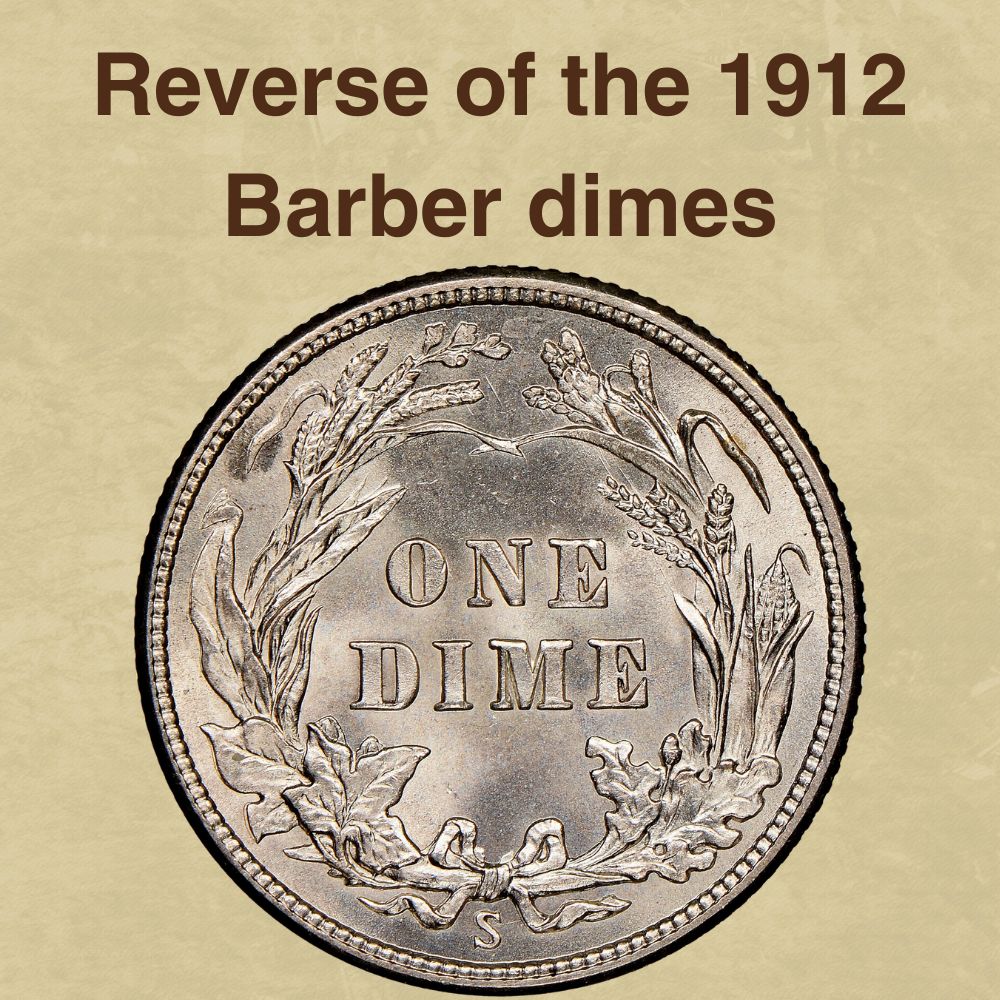 The first thing to see on the dime's reverse side is a wreath made of oak and maple leaves, wheat, and corn tied by a ribbon bow on the bottom.
The central position is reserved for denomination ONE DIME, while the mint mark is struck below the bow. You can see a letter S or D or a blank area there, depending on the mint where a particular coin was produced.
1912 Barber dimes Details

Face value
$0.10 (ten cents)
Shape
Round
Compound
Silver coins with ten percent of copper
Type
Standard circulation coin
Coin diameter
17.91 mm (0.705 inches)
Coin weight
0.08038 troy ounces (2.50 g)
Silver weight
0.07234 troy ounces (2.25 g)
Technique
Milled
Coin thickness
1.35 mm (0.053 inches)
Edge
Reeded
Other features of the 1912 Barber dimes
The 1912 Barber dimes are round, reeded-edged coins with a denomination of ten cents. You can measure their diameter of 17.91 mm (0.705 inches), while each piece is precisely 1.35 mm (0.053 inches) thick.
These coins are made of 90% silver. A simple math shows that each dime weighing 0.08038 troy ounces (2.50 g) contains 0.07234 troy ounces (2.25 g) of precious metal, while the rest is copper.
Also read: Top 17 Most Valuable Mercury Dimes Worth Money
1912 Barber Dime Value Guides
The 1912 dime mintage was 134,530,000 pieces produced in three mints. You can recognize regular strikes based on one of two possible mint marks and the third option without them. There are also proofs struck in Philadelphia intended for collecting purposes.
1912 Barber dime Value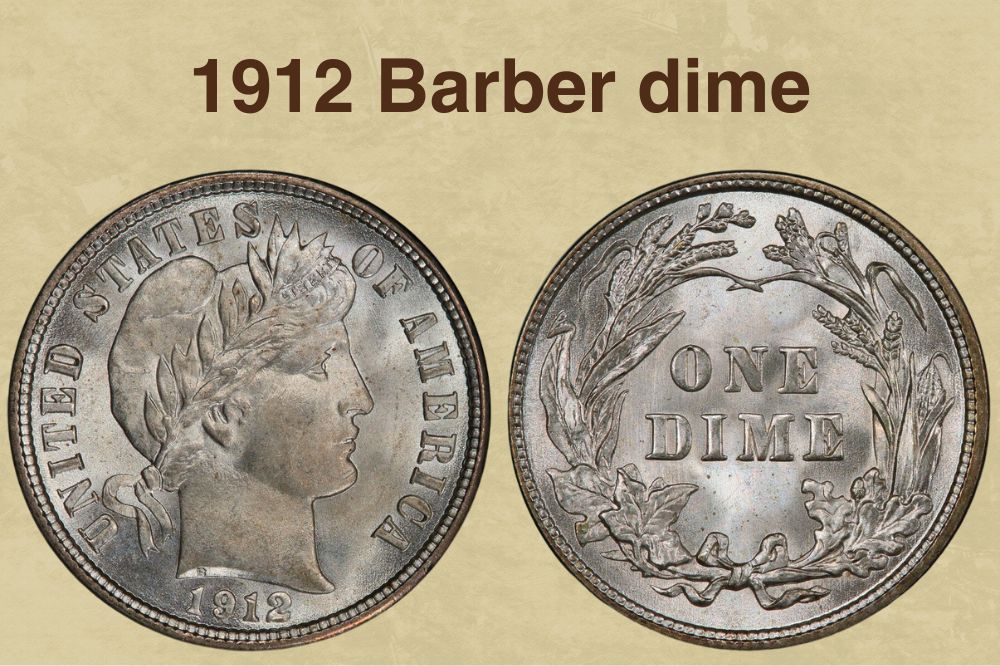 The Philadelphia mint had the highest 1912 dime mintage since it produced 19,349.300 coins during the twelve months. Despite their age, the high number of surviving pieces makes them affordable for most collectors.
Novices and some collectors with limited budgets consider collecting dimes in a circulated condition acceptable. They pay $4 to $40 for such pieces, while those in AU circulation often cost $55 to $100.
Expectedly, specimens in the mint state are more valuable than those spending decades in circulation, and you should expect to pay about:
$110 to $132 for MS 60-ranked dimes
$120 to $144 for MS 61-ranked dimes
$135 to $162 for MS 62-ranked dimes
$155 to $186 for MS 63-ranked dimes
$180 to $216 for MS 64-ranked dimes
$300 to $360 for MS 65-ranked dimes
$500 to $700 for MS 66-ranked dimes
Even though the estimated price for dimes in MS 67 grade is $1,450 to $1,850, the auction record exceeded expectations. One collector paid $8,050 for the 1912 Barber dime in this grade in 2005.
1912 proof Barber dime Value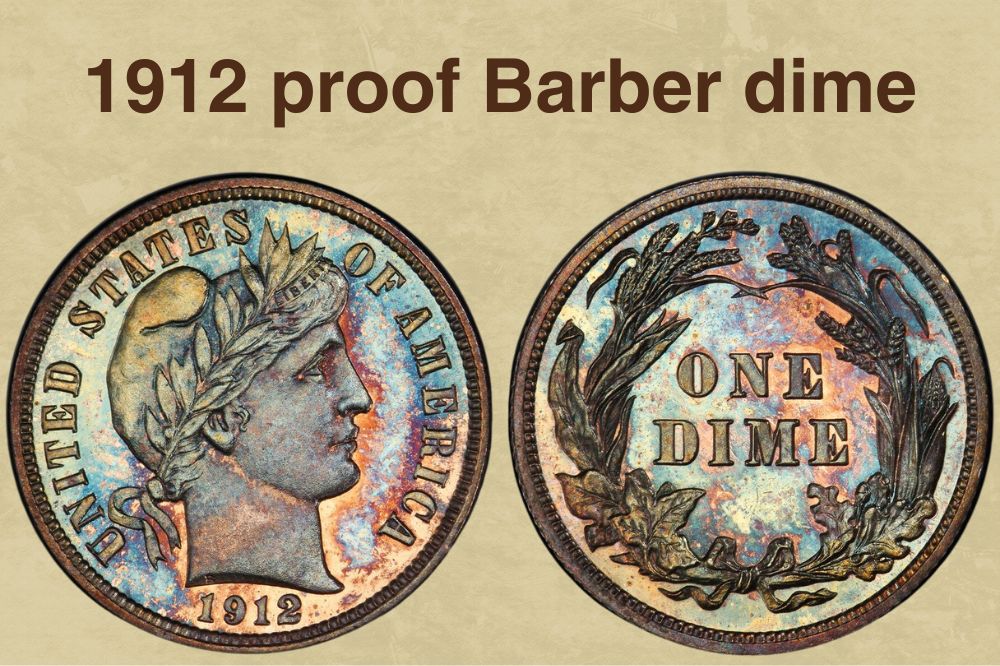 Besides millions of regular dimes minted in 1912, the Philadelphia mint also issued 700 proofs this year. These pieces intended for collectors typically cost $255 to $1,200 nowadays, depending on quality and preservation levels.
However, dimes in the PR 67 grade can be rare, and their assessed price range is $1,550 to $2,200. One of these coins with cameo contrast was purchased for $12,925 in 2013. On the other hand, the scarce 1912 PR 68 dime won the auction record of $11,163 in 2014.
1912 D Barber dime Value
The Denver mint had only a slightly lower mintage in 1912, precisely 11,760,000 coins with the struck D letter. These Barber dimes cost $4 to $102 when you want to buy a piece in circulated condition.
Dimes that never spent time in use cost at least $110, but their value rises up to $800 for pieces rated MS 66.
The most collectible are the rarest coins in MS 67 grade, with an assessed price of $4,750 to $5,750. Despite the expert estimation, one of these coins was paid more, and one collector set aside $7,344 to purchase it at an auction in 2016.
1912 S Barber dime Value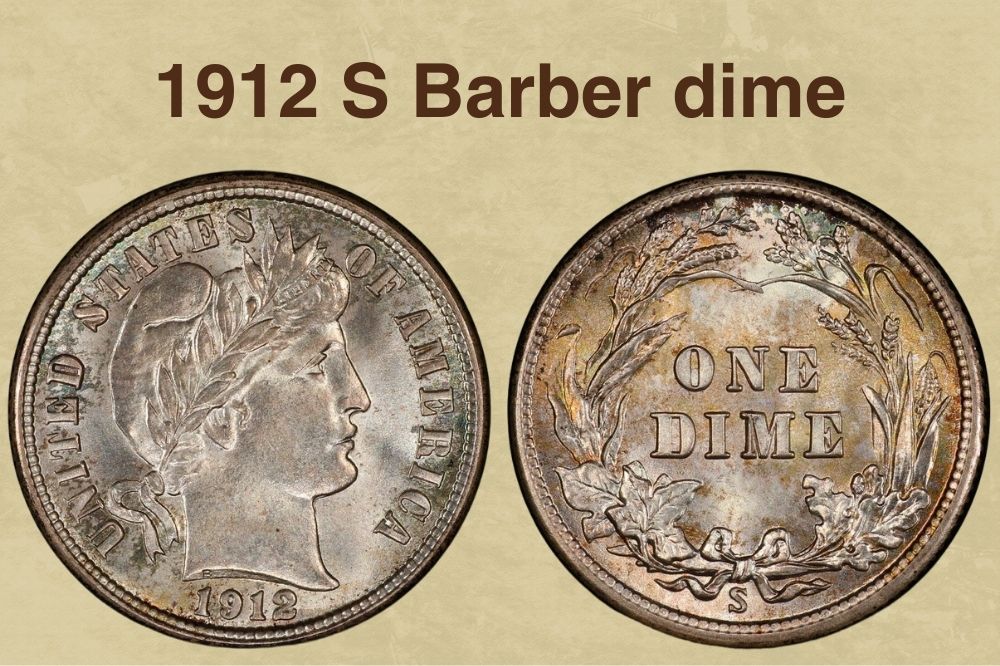 The lowest mintage in 1912 of 3,420,000 coins was realized in the San Francisco mint. Therefore, these coins are the most expensive in the set and cost $5 to $132 in circulated condition.
On the other hand, the least-quality pieces in MS 60 grade are worth $140 to $170 on the market. Better-ranked specimens cost $160 to $1,920, while those in MS 67 are estimated at a fantastic $8,500 to $10,500.
The 1912 S MS 67 dime (CAC) reached the best price at an auction in 2014 after selling at $21,150.
Also read: 13 Most Valuable Dime Errors Worth Money
1912 Barber Dime Grading
Barber dimes from 1912 are old coins most numismatists want to see in their collections. Experienced collectors often grade their coins by following instructions the Sheldon grading scale provides.
However, most prefer having high-quality dimes professionally graded. It is an excellent option since only officially estimated pieces can win high auction records.
If you suspect that your specimen is not excessively valuable, making the appraisal price higher than the value of the coin, you can check Liberty's cheek first. This point is the most exposed to wear and tear, and any changes there are a sure sign that the piece you have is not in pristine condition.
Rare 1912 Barber Dime Errors List
Numismatists like the Barber dime series, but these coins came with numerous imperfections. The most sought-after specimens are major varieties, the 1905 O micro-O dimes and the 1893/2 P dimes, but some errors minted in 1912 can also be interesting for collectors.
Broad strike
Sometimes, the collar holding the planchet breaks, resulting in imperfect, typically thinner dimes with a broader diameter. In most cases, such coins lose their round shape and become deformed, resembling a wax seal.
You can expect to pay about $10 to $50 for such a 1912 dime, depending on each piece's condition and the error's dramaticness.
Die errors
These errors resulted from using a new, improperly set die. Such a flaw leads to coin imperfections, like doubling on the coin surface and missing or extra design details.
Clipped planchet
When the planchet used for dime minting is chipped or clipped, coins appear without a more or less cutting on the rim. Some collectors find them attractive and pay more money than for regular dimes.
FAQ about the 1912 Barber Dime
What makes a 1912 Barber dime rare?
According to expert estimations, dimes minted in 1912 are not particularly rare coins, but they are not too common either. It is especially true for the highest-ranked pieces since only a low number of perfectly preserved ones survived 110 years after minting.
Which 1912 Barber dime is worth a lot of money?
1912 S CAC Barber dime in MS 67 grade won the auction record at Legend Rare Coin Auctions of $21,150 in 2014
1912 CAM Barber dime in PR 67+ grade won the auction record at Heritage Auctions of $12,925 in 2013
1912 Barber dime in PR 68 grade won the auction record at Heritage Auctions of $11,163 in 2014
1912 Barber dime in MS 67 grade won the auction record at Heritage Auctions of $8,050 in 2005
1912 D Barber dime in MS 67 grade won the auction record at Legend Rare Coin Auctions of $7,344 in 2016
How much are the 1912 Barber dimes from Philadelphia worth?
The 1912 Barber dimes minted in Philadelphia came without the mint mark, according to then-established regulations. Pieces that survived after years in circulation suffer from more or less wear out, and you can buy one for $4 to $102.
Expectedly, those in the mint state are more valuable and available for $110 to $700, depending on grade. Only superior and rare pieces rated MS 67 can cost about $1,450 to $1,850.
What is the priciest Barber dime?
The most valuable Barber dime in the series is one proof coin. One collector purchased the 1894 S PR 66 Barber dime for a remarkably high $1,997,500. This transaction was held at Heritage Auctions, organized on January 6, 2016.
As for regularly struck coins, all three priciest were sold at Heritage Auctions. The best-paid was the 1893 Barber dime from the San Francisco mint in MS 67 grade. It reached $63,250 in 2007. The next was the one from New Orleans, minted in 1895. This MS 67-rated coin won an auction record of $58,755.88 in 2017.
Finally, the 1895 MS 67 Barber dime was the most valuable among millions of coins issued in Philadelphia. The price paid for this piece in 2005 was $46,000.