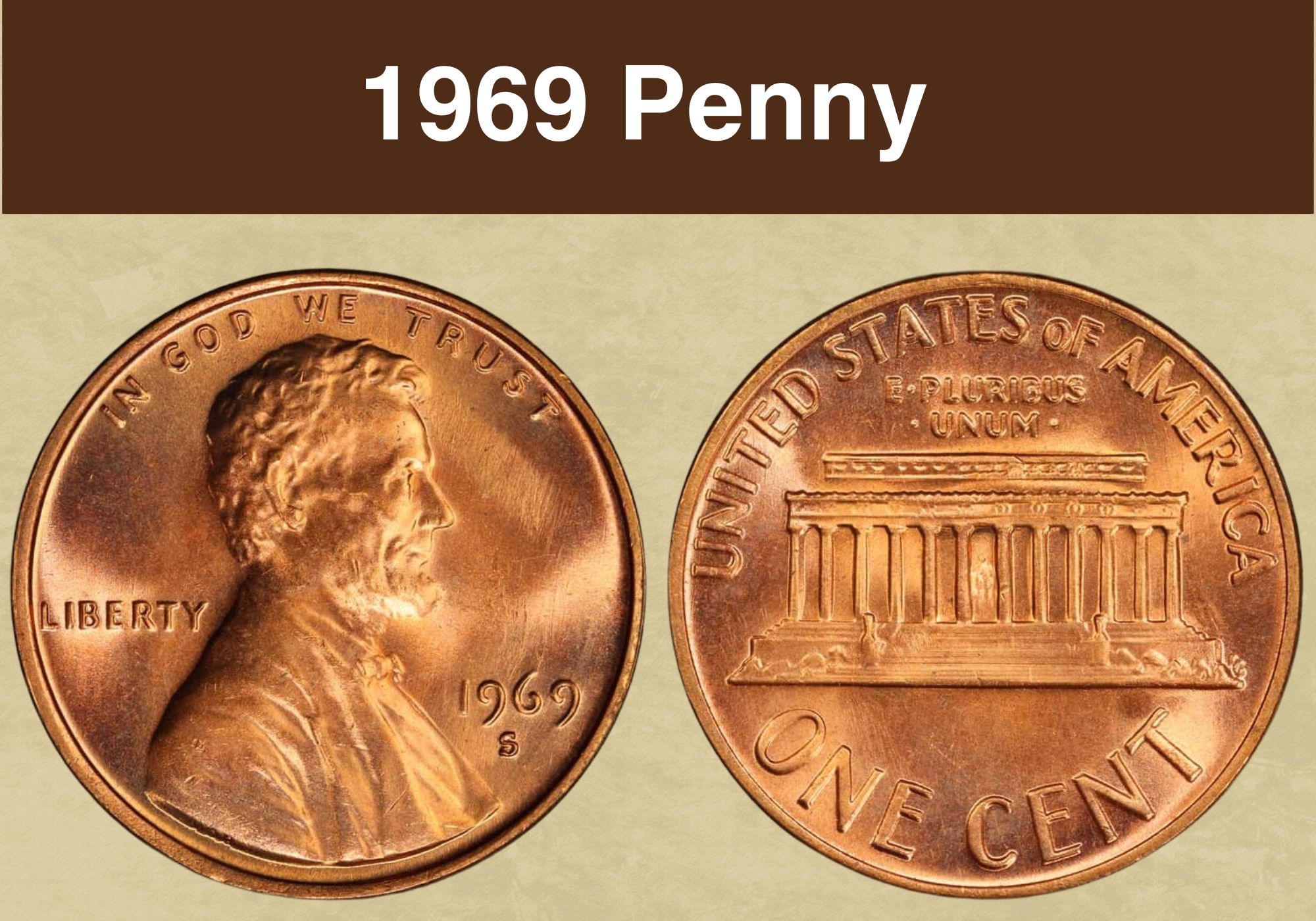 Are you an Abraham Lincoln fan? Do you love collecting memorabilia, including coins depicting one of our country's famous presidents?
One of Lincoln's coins that might draw your attention is the 1969 penny. This large, glorious cent was minted in large quantities to celebrate the late president's centennial anniversary.
Due to the large mintage, the 1969 penny is not rare. However, you can buy or sell it profitably if you know what to look for, especially when it comes to spotting errors. Hint: some errors can fetch hundreds of dollars!
In this article, I will help you understand the 1969 penny value so you can make a smart decision whether you want to buy or sell this coin.
So, let's get started!
1969 Penny Value Chart

Mint Mark
Good
Fine
Extremely Fine
Uncirculated
1969 No Mint Mark Brown Penny Value
$0.05
$0.05
$0.05
$7.50
1969 No Mint Mark Red Brown Penny Value
$0.05
$0.05
$0.05
$15
1969 No Mint Mark Red Penny Value
$0.05
$0.05
$0.05
$300
1969 D Penny Brown Value
$0.05
$0.05
$0.05
$7.50
1969 D Penny Red Brown Value
$0.05
$0.05
$0.05
$15
1969 D Red Penny Value
$0.05
$0.05
$0.05
$380
1969 S Brown Penny Value
$0.05
$0.05
$0.05
$7.50
1969 S Red Brown Penny Value
$0.05
$0.05
$0.05
$20
1969 S Red Penny Value
$0.05
$0.05
$0.05
$400
1969 S Penny Value (Proof)
–
–
–
$28
History of the 1969 Penny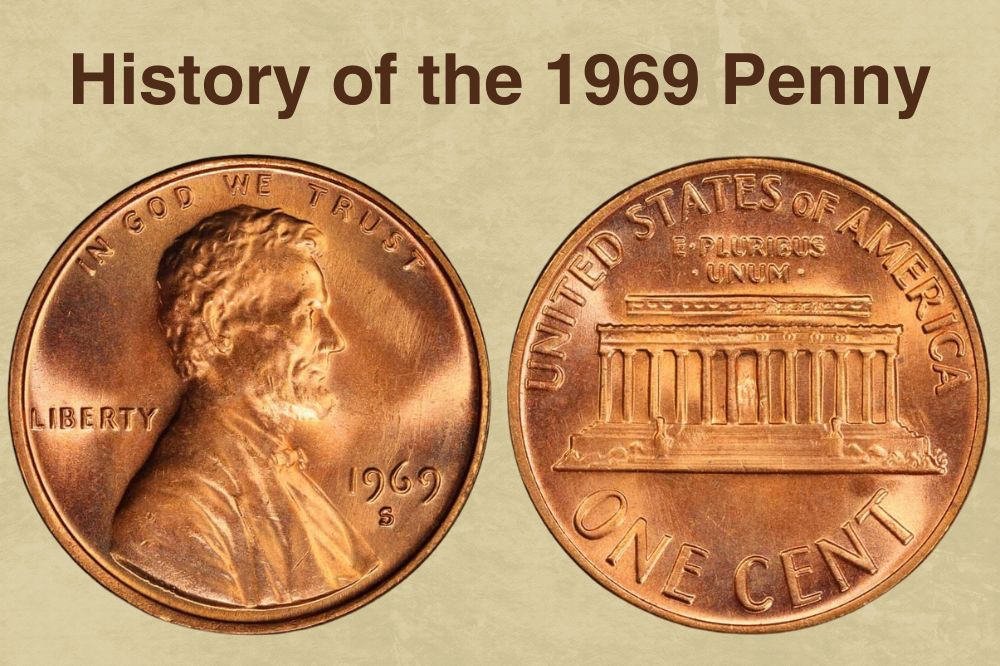 Abraham Lincoln was the 16th president of the United States of America. A strong opponent of slavery, he is known for his Gettysburg Address and, most importantly, for the Emancipation of Proclamation, which marked the beginning of the end of slavery.
A confederation sympathizer assassinated President Lincoln on April 21, 1865. Forty-four years later, a coin would be struck to celebrate the fallen president.
The Lincoln penny was first struck in 1909 to commemorate Abraham Lincoln's 100th birthday anniversary. The United States Mint commissioned Victor David Brenner to design the coin's obverse and reverse.
The obverse design featuring the president has remained unchanged since 1909, but the reverse has changed severally. Initially, the reverse featured two wheat ears, but it was changed to portray the Lincoln Memorial Hall in 1959.
The 1969 penny now spots Lincoln's portrait on the obverse and the Hall on the reverse.
It is worth noting that the Lincoln cent was the first widely circulating coin with a portrait of a U.S. president, a practice that the country's first president, Georg Washington, widely opposed.
Despite this, the Lincoln Cent garnered widespread public support, and the U.S. Mint had no qualms about releasing it into circulation in the August of 1909.
Also read: 12 Most Valuable Lincoln Penny Worth Money
Features of the 1969 Penny
Let's now look at the unique physical characteristics of the 1969 penny that you should pay attention to for the purposes of grading.
The obverse of the 1969 Penny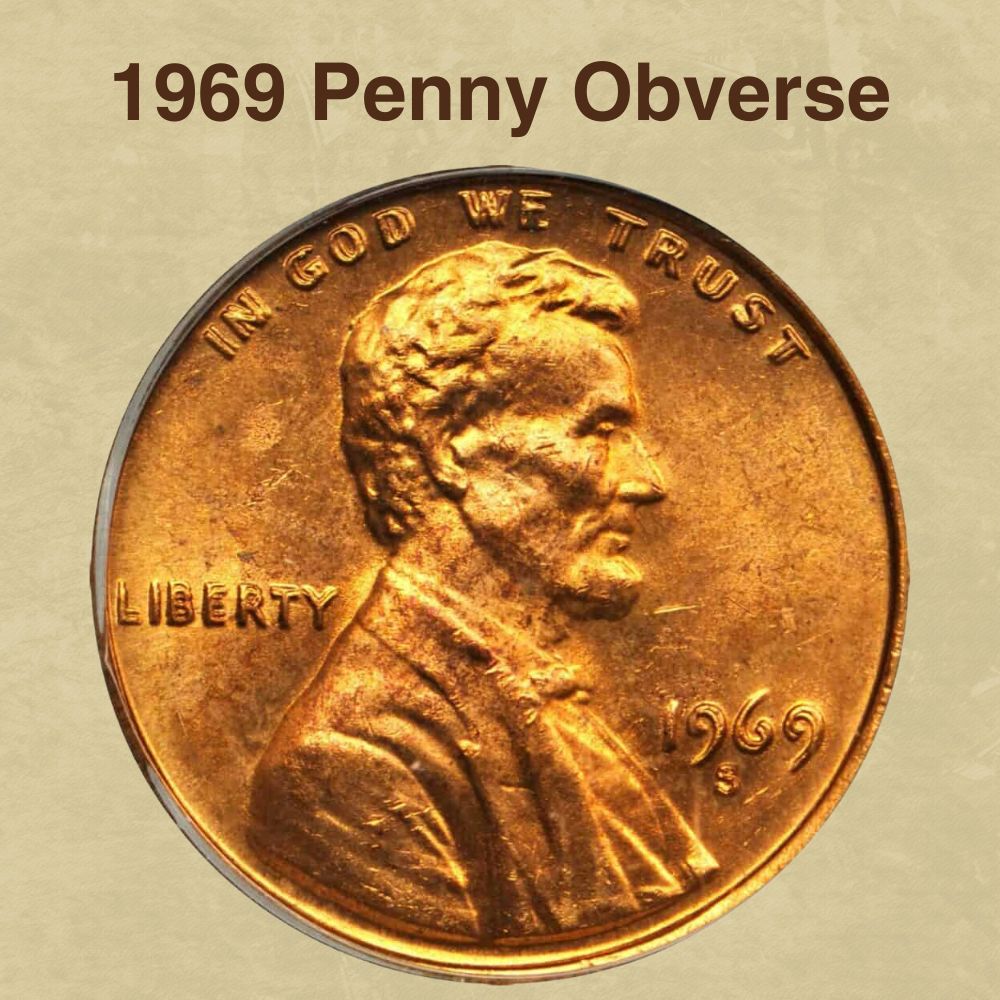 The obverse features the right-facing portrait of President Abraham Lincoln as designed by Victor Brenner.
The words IN GOD WE TRUST appears around the coin's rim at the top.
Meanwhile, the word LIBERTY is imprinted on the left behind Lincoln's back, while the date 1969 appears on the right in front of his chest.
You will notice the initials VDB close to Lincoln's shoulder in less-worn coins. The VDB honors the coin's designer Victor David Brenner.
The reverse of the 1969 Penny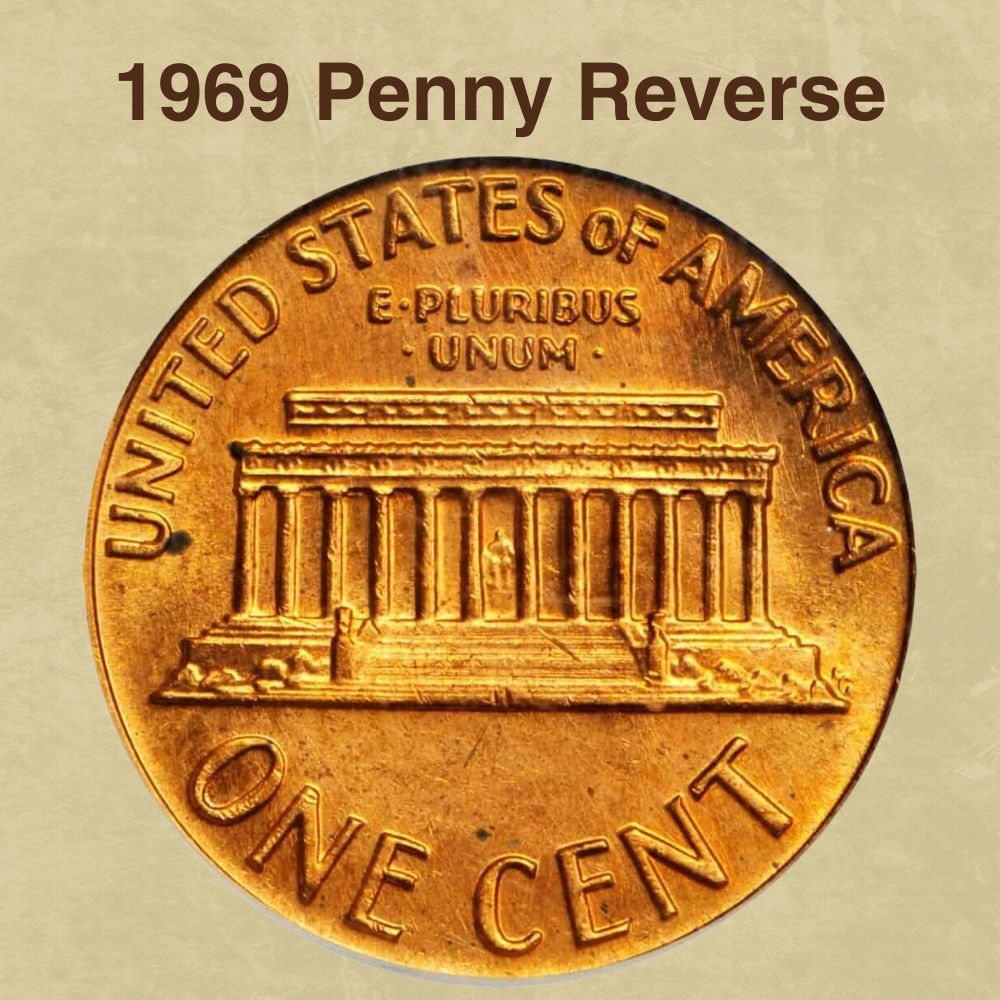 The coin's reverse features a prominent image of the Lincoln Memorial Hall, built in 1922 in honor of President Lincoln. Frank Gasparro designed the coin's reverse.
A closer look will reveal a portrait of Lincoln on a seat, a representation of the real-life 19-foot statute implanted inside the actual memorial located at the end of the National Mall in Washington, D.C.
Aside from the Memorial Hall, the reverse also features the country's name along the rim at the top and the denomination ONE CENT at the bottom. The motto E PLURIBUS UNUM appears at the top of Memorial Hall.
On the right, near the stairs, you will notice the initials FG, which honor Frank Gasparro. These initials are most visible on mint state coins.
Other Features of the 1969 Penny
The 1969 Lincoln penny is made of 95% Copper and 5% Zinc.
It weighs 3.11 grams and measures 19.00 millimeters in diameter, with a plain edge.
The coin's color varies from brown, red-brown to red, depending on the level of wear and exposure to the elements.
You will also notice the mint mark D on some coins, indicating that the coin was struck in Denver. The Philadelphia and San Francisco mints also produced pennies in 1969, but these coins do not bear any mint mark.
Check out this video for little-known tips on identifying valuable 1969 pennies.
Also read: 13 Most Valuable Wheat Penny Worth Money
1969 Penny Value Guides
The U.S. Mint struck large numbers of Lincoln pennies in 1969. In total, the Philadelphia, Denver, and San Francisco mints produced more than 5 billion pennies!
So, just how much is the 1969 penny worth?
There are four main varieties of the 1969 penny. These are:
1969 No Mint Mark Penny
1969 D Penny
1969 S Penny
1969 S Penny (Proof)
Let's take a look at the value of each.
1969 No Mint Mark Penny Value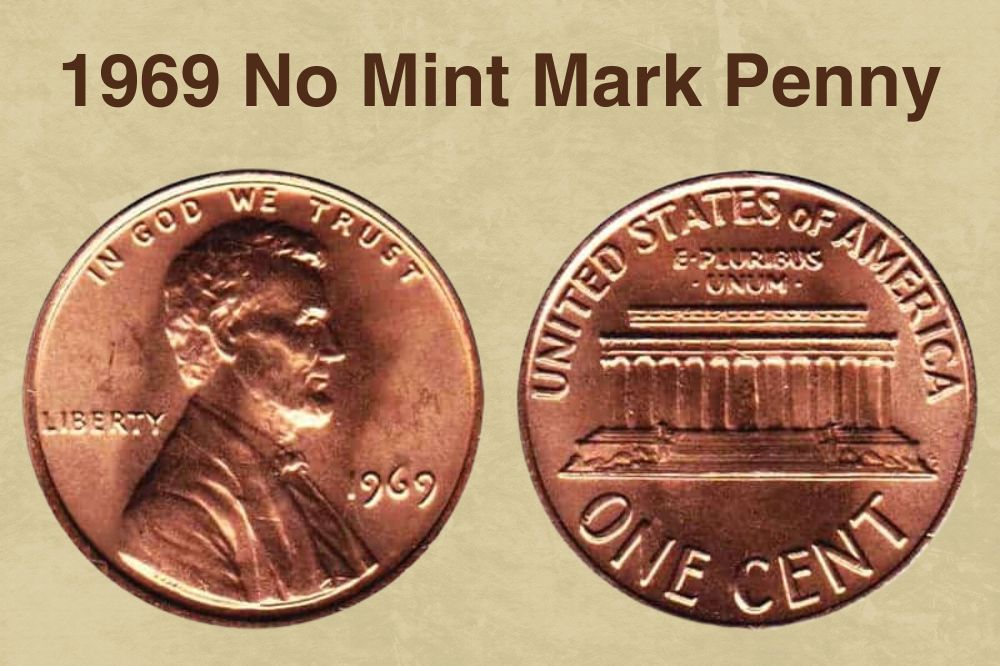 Approximately 1,136,910,000 Lincoln pennies were struck in Philadelphia in 1969. As you might have guessed, 1 billion coins is a large mintage!
Many of these coins were released into circulation, so they are pretty easy to find to date. In fact, you can easily find a 1969 Lincoln penny that is graded MS65. However, the coins become scarce starting from grade MS68 onwards.
A brown 1964 no-mint mark penny is worth about $0.05 in circulated condition. The value increases slightly in mint state, with those graded MS65 fetching $2.50 and $7.50 for those at the furthest end of the scale graded MS67.
A red penny is more desirable as it has fewer dings and scratches, and the coin's details are clearer. There are no known examples of circulated 1969 red pennies, but those in mint state can bring in as much as $300 at grade MS67.
The most expensive 1969 red penny was graded MS67 and sold for 5,750 in 2010.
1969 D Penny Value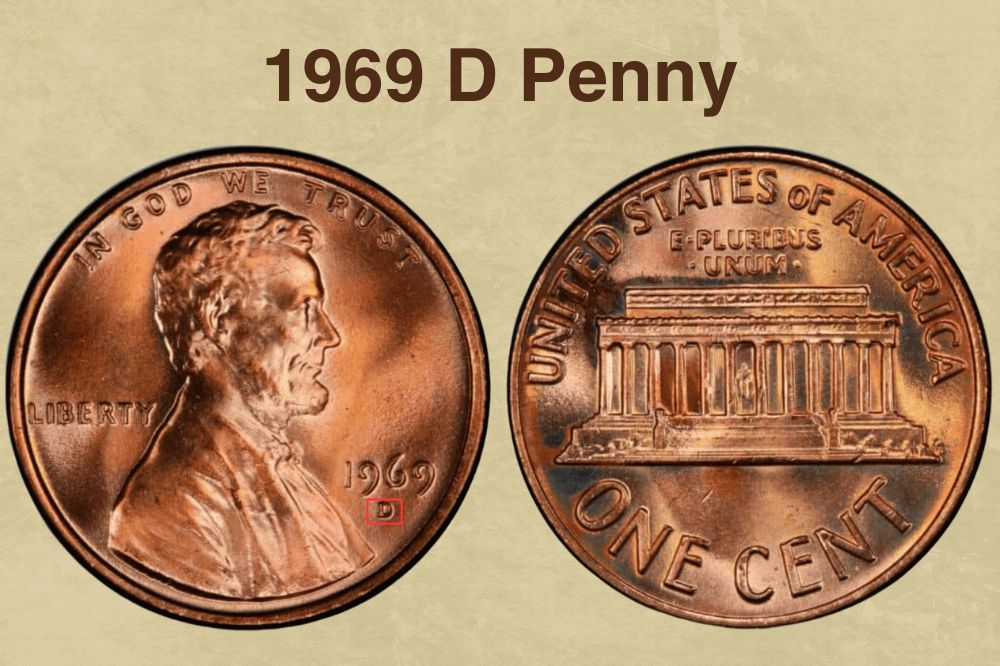 The mint in Denver struck a whopping 4,002,832,200! With such a large number, you can expect these coins to be extremely common and unpopular among collectors.
What's more, 1969 D pennies, like most Lincoln pennies of the 1960s were poorly struck and are generally of a lower quality. Coins in mint state are extremely scarce and difficult to find.
A brown 1969 D Lincoln penny is worth $0.05 in circulated condition. The few existing specimens in mint state are less profitable too. At grade MS65, you can expect just $2 and $7.50 for one graded MS67.
According to the Professional Coin Grading Service, the most expensive brown 1969 D penny sold for $191 at a 2020 online auction.
There are very few examples of red 1969 D pennies. The handful in mint state are worth about $15 at grade MS66.
In 2010, a super-rare specimen was discovered, graded MS67 and sold for an impressive $7,475.
1969 S Penny Value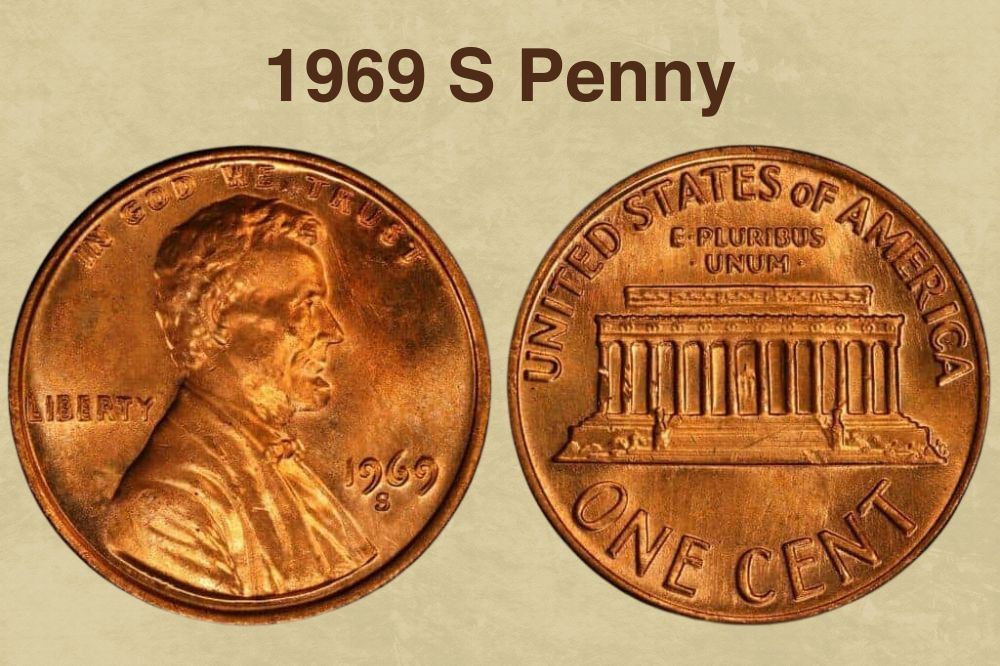 The San Francisco mint struck both regular pennies and proofs in 1969. About 544,375,000 regular Lincoln pennies were struck at the facility, making these coins quite common.
In circulated condition, a brown 1969 S penny is worth $0.05.
Quite a number exist in mint state, and it's easier to find these coins than to find the no-mint mark and Denver ones. That said, the pennies become scarce starting at grade MS68 onwards.
At grade MS67, you can expect your brown 1969 S Lincoln penny to fetch $7.50. Red pennies are hard to come by in circulated condition but are more available in mint state grades, which can fetch up to $400 for MS67 pennies.
1969 S Penny Value (Proof)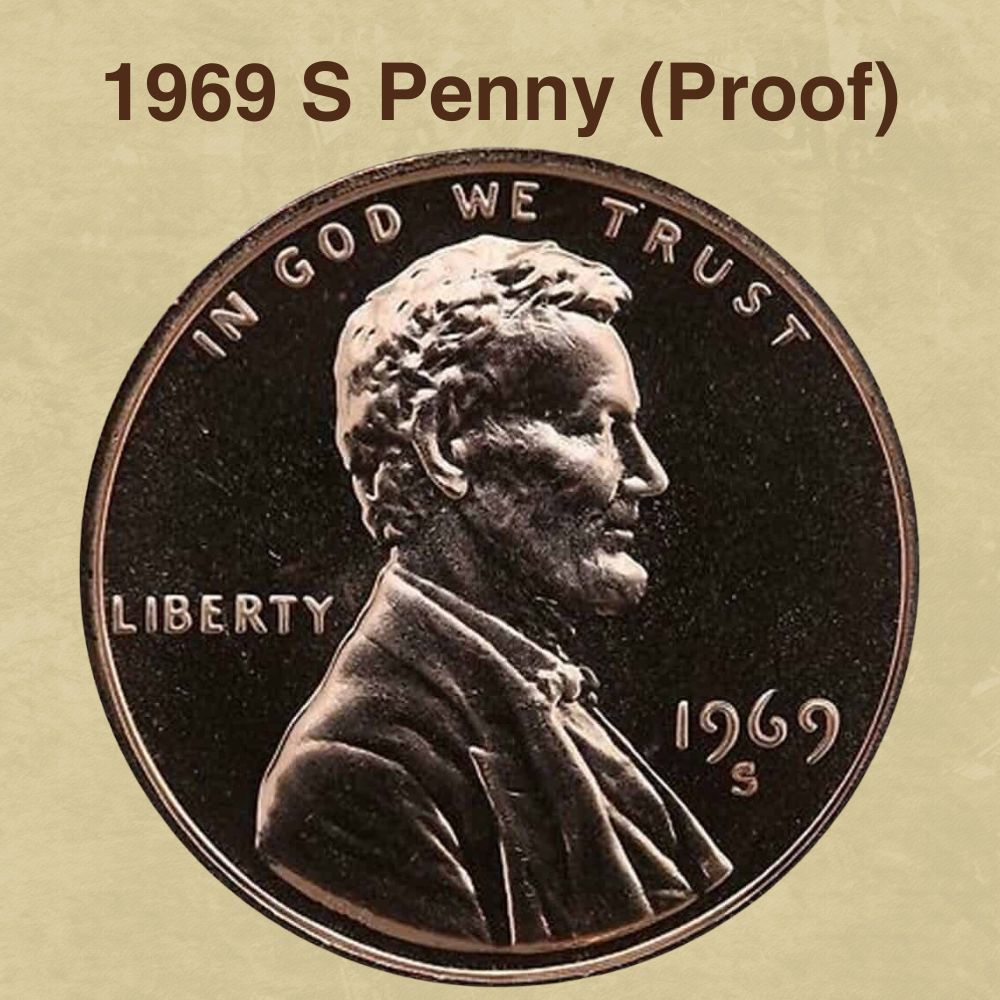 In addition to the regular strikes, the San Francisco mint produced about 2,934,631 proof Lincoln pennies for collectors.
These coins boast a satin finish, brilliant contrasts, and a frosted texture, making them extremely visually appealing to collectors.
You will find 1969 S-proof pennies in red, cameo and deep cameo, deep cameo being the highest grade. A red Lincoln proof penny graded PF69 is worth about $28 though one rare example graded PF69 fetched $230 at an online auction.
Cameo Lincoln proofs are slightly more valuable, with those graded PF69 bringing in as much as $65. On the other hand, a deep cameo (DCAM) can be sold for up to $625.
Also read: 17 Most Valuable Indian Head Penny Worth Money
1969 Penny Grading
When grading 1969 pennies, you want to examine the coin's luster, contact marks, color, and wear and tear in high points.
Uncirculated coins must have luster, the satin appearance that forms when the die continuously strikes the metal planchet. Without luster, the coin is downgraded to the circulated condition category.
Contact marks are acceptable in uncirculated coins. These marks are normal and appear when newly minted coins are packed together in rolls or bags. Uncirculated coins with contact marks are still graded as mint state but are lower on the scale.
Pennies can be red, red-brown, or brown, depending on their exposure to the elements. Red Lincoln pennies are shinier, lustrous, and therefore more desirable than brown ones.
Lastly, you can use a loupe to check for signs of wear and tear on the high spots of Lincoln's hair, cheeks, and lower shoulder. High points are more prone to poor strike and wear, so observing these areas will give you a feel for a coin's most probable grade.
Rare 1969 Penny Error List
Although 1969 Lincoln pennies fetch a low price in the open market, some error coins in this series are extremely profitable.
Let's look at a few 1969 penny errors that are worth money.
1969 S Double Die Obverse Penny Error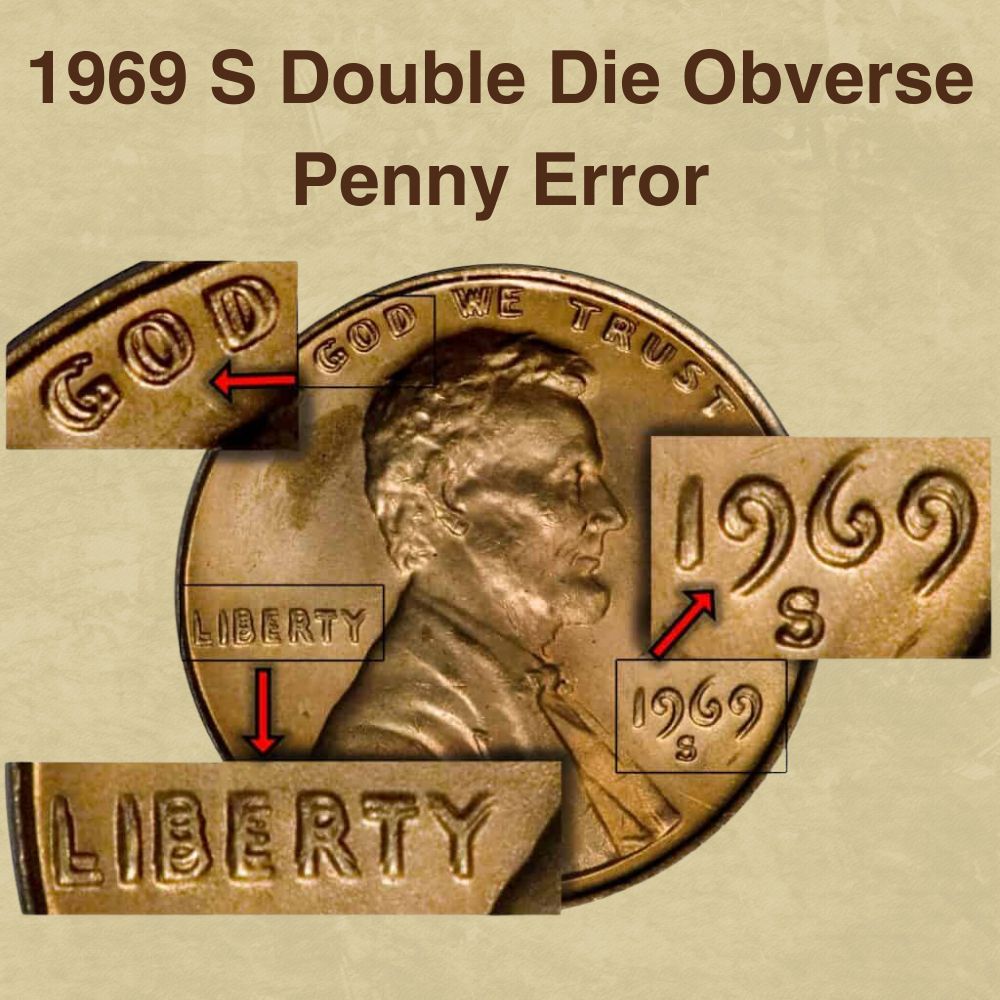 This is one of the Lincoln coin series's most famous and sought-after errors.
First discovered by collectors Bill Hudson and Ceil Moorhouse in the 1970s, this doubled die error has been the subject of many forgery attempts.
At one point, the U.S. Secret Service seized 1969 S pennies claimed to have the doubled die error to eliminate counterfeit currency. Although they later returned the genuine pennies back to their owners, they destroyed many 1969 S coins with the error.
This error coin is extremely rare today, with about 40 to 50 examples known. The last time a collector found one was in 2007.
Visible doubling can be seen around the words LIBERTY, IN GOD WE TRUST and on the date too.
The PCGS graded the coin as MS-64 Red and valued it at an eye-popping $126,500.
1969 D No FG Penny Error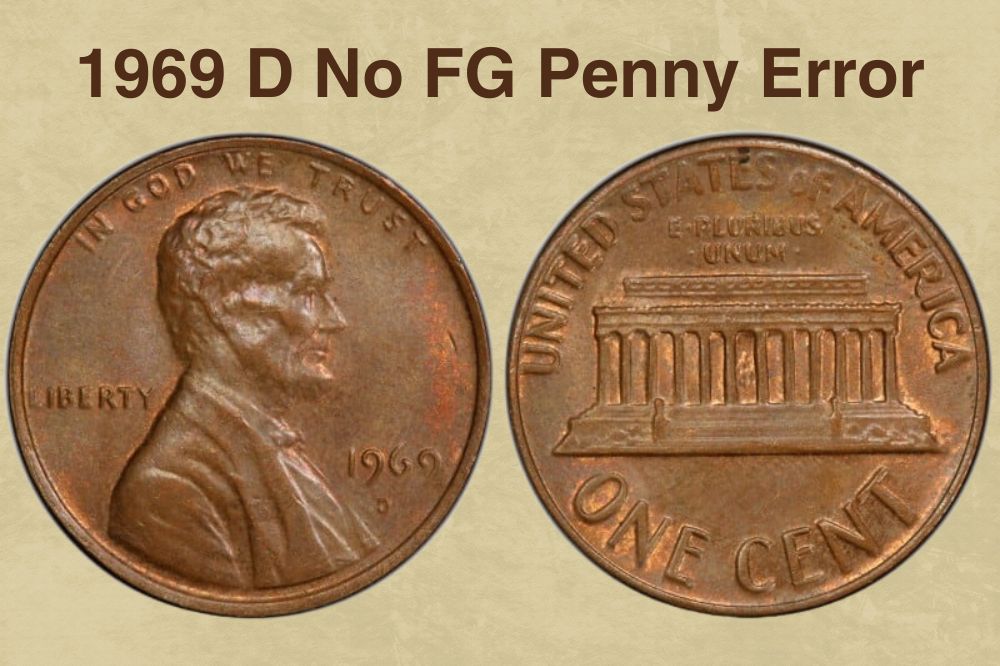 As mentioned earlier, Frank Gasparro designed the reverse of the Lincoln Memorial pennies and placed his initials, FG, to the right of the memorial Hall next to the staircase.
But, due to minting errors, some Lincoln pennies struck in 1969 at the Denver facility do not include these initials.
These unique coins are known as 1969 D No FG pennies, and they can bring in as much $210 depending on the coin's grade.
Also read: 11 Most Valuable Wheat Penny Errors
FAQ
Is a 1969 penny worth anything?
A 1969 penny is worth more or less its face value of $0.05. This coin is less profitable, especially in circulated condition. Mint state pennies from this year are rare in higher grades. But if you happen to find a red penny in gem condition, you should have a professional coin grader certify it; the coin might be worth hundreds or thousands of dollars!
Why is the 1969 penny rare?
With over 5 billion coins released into circulation, the 1969 Lincoln penny is not rare at all. It is one of the most common and collected coins in the U.S. Since most coins were released into circulation, 1969 pennies in mint stare are quite difficult to come by, so these can be considered rare. Error coins from the Philadelphia and San Francisco mints are relatively hard to come across as well.
Does a 1969 penny have a mint mark?
Pennies minted in Denver and San Francisco in 1969 have mint marks D and S, respectively, on the obverse, just below the date. Circulated pennies without a mint mark indicate that they were minted in Philadelphia.
Check out this video for more interesting facts about grading Lincoln Memorial pennies.