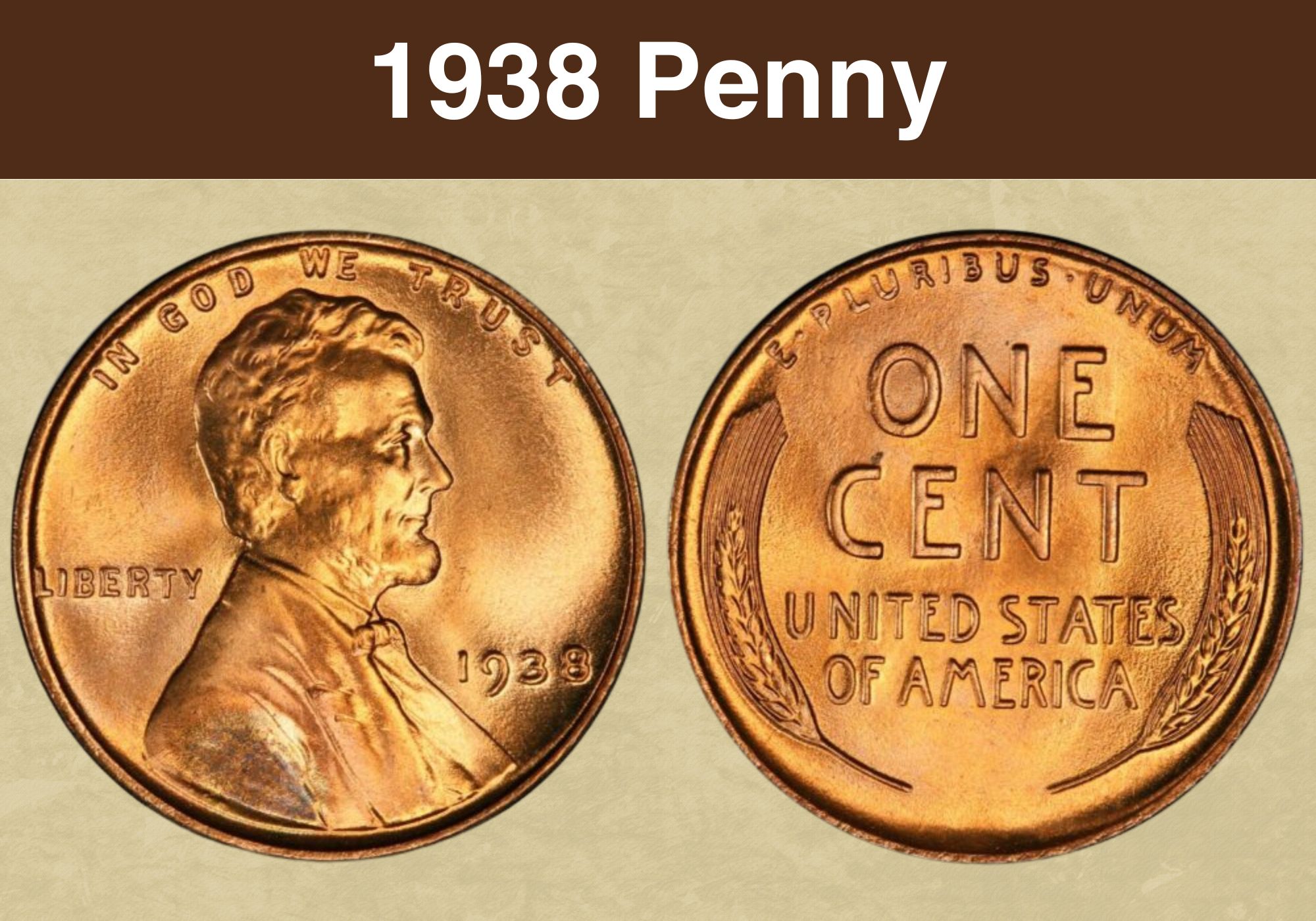 Have you found a 1938 penny in your pocket change? If so, you might want to find out more about its history and design. And you'll probably be interested in its value too.
Never fear, we've got you covered! We're going to look in detail at the 1938 penny value and the factors that influence it. And we'll dig into the background of this interesting coin along the way.
Ready to get started? Then step this way …
1938 Penny Value Chart

Mint mark
MS60
MS63
MS65
MS68
1938 No Mint Mark Penny Value*
$7
$12
$32
$15,500
1938 D Penny Value*
$6
$12
$25
$11,500
1938 S Penny Value*
$8
$15
$30
n/a
PR60
PR63
PR65
PR67
1938 No Mint Mark Proof Penny Value
Brown: $18

Red and brown: $35

Red: $50

Cameo: n/a

Brown: $65

Red and brown: $85

Red: $110

Cameo: $260

Brown: $135

Red and brown: $150

Red: $215

Cameo: $950

Brown: n/a

Red and brown: $1,300

Red: $1,500

Cameo: $14,500
* Values are for coins graded red.
History of the 1938 Penny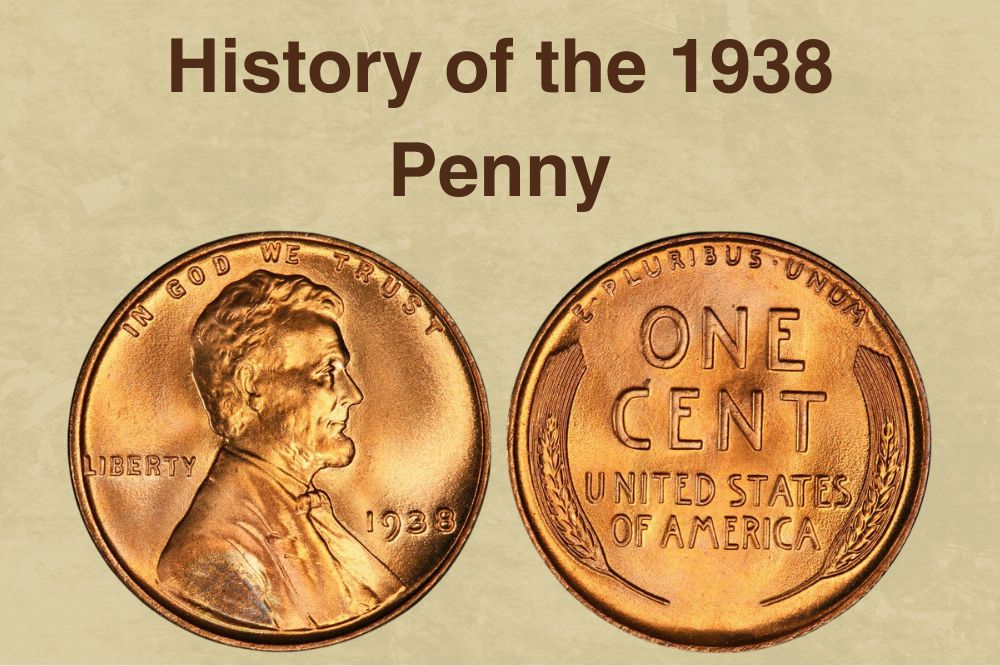 At first glance, the penny struck in 1938 looks similar to modern versions. The portrait of Lincoln on the obverse is much the same as the one that's still being used on today's cents.
It's that portrait that gives this series of coins its common nickname: the Lincoln cent. You may also hear them referred to as Wheat pennies, after the design on the reverse.
The first Lincoln pennies were produced in 1909. That makes their portrait of the former president the longest running design to appear on any US coin.
They marked an historic moment in numismatic history: it was the first time a real person had ever appeared on a US coin. Until then, the associations with monarchy had meant that it was considered unseemly. And it was usually Lady Liberty who appeared on the "heads" side.
But 1909 marked a hundred years since Lincoln's birth. And with preparations to mark the occasion gathering steam, the idea of honoring the president with a coin grew in popularity.
The Mint commissioned an artist called Victor David Brenner to design the new coins. He took up the project in January 1909, and the first coins were issued in July of the same year.
If you look at the obverse of the 1938 penny, you'll see Brenner's initials at the base of the portrait. But the very first coins had them on the reverse instead.
On their issue, there was uproar at the size and prominence of the letters. It was felt that the artist was advertising his wares, and such was the commotion that coin production was paused.
With time of the essence, the Mint decided it would take too long to redo the design with smaller initials. So instead, and in the face of Brenner's protests, they decided to remove them altogether. They were eventually reinstated in 1918, this time on the obverse.
1938 saw business strike pennies – i.e. those intended for circulation – produced at the Mint facilities in Philadelphia, Denver and San Francisco. In the same year, the Philadelphia Mint also struck a smaller number of proof pennies, aiming these at collectors.
Also read: 12 Most Valuable Lincoln Penny Worth Money
Features of the 1938 Penny
The Obverse of the 1938 Penny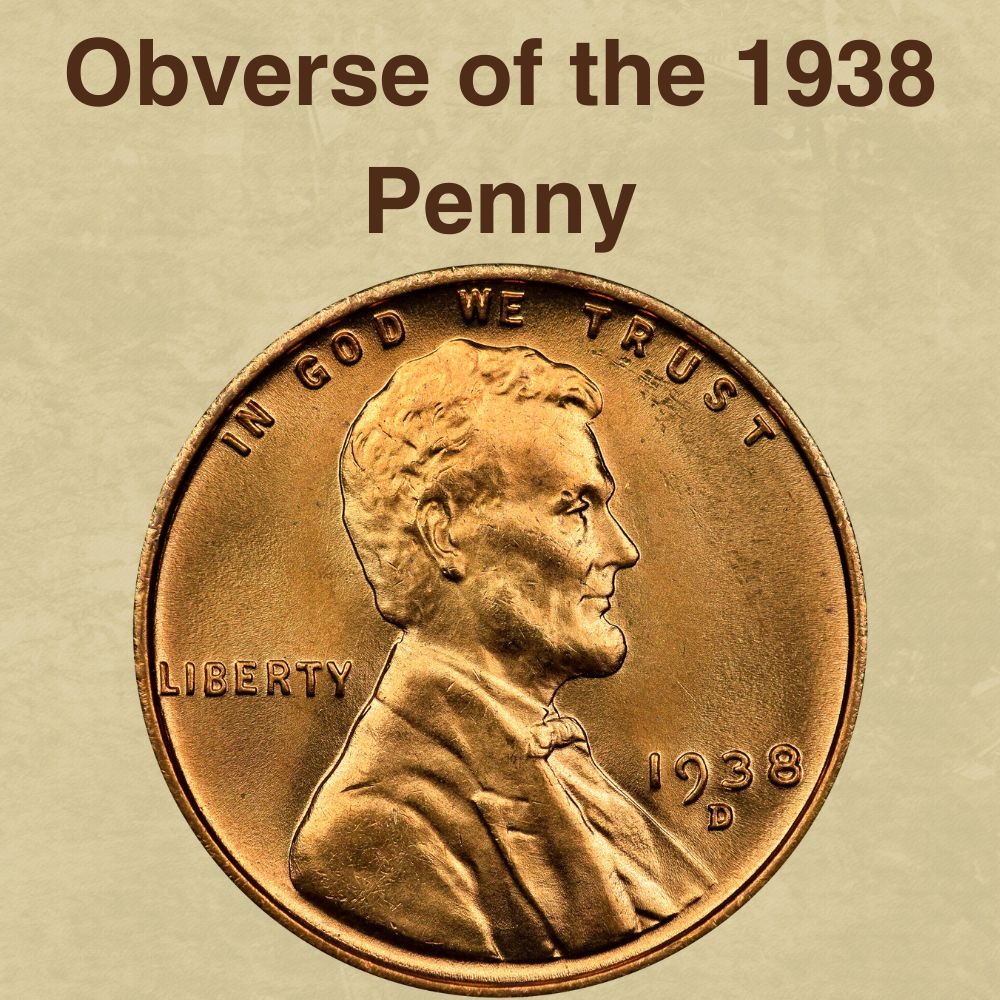 The portrait of Abraham Lincoln on the 1938 penny is essentially the same as that which appears on modern cents. Lincoln is shown in profile, facing to the right as the coin is viewed.
The artist, Victor David Brenner, later explained that he had imagined the President as he would have looked when reading to a child. This, he said, gave him a lively expression.
Lincoln, of course, was long dead when Brenner produced the portrait. It's widely believed he worked from an image of Lincoln with his son, taken at the studio of Matthew Brady.
The words "IN GOD WE TRUST" arch above Lincoln's head, while the inscription "LIBERTY" is to the left of the portrait. The date appears further down the coin, on the right-hand side.
If there's a mint mark on your penny, it will be under the date. A "D" signifies Denver, and an "S" San Franciso. If there's no letter there, the coin was struck in Philadelphia.
The Reverse of the 1938 Penny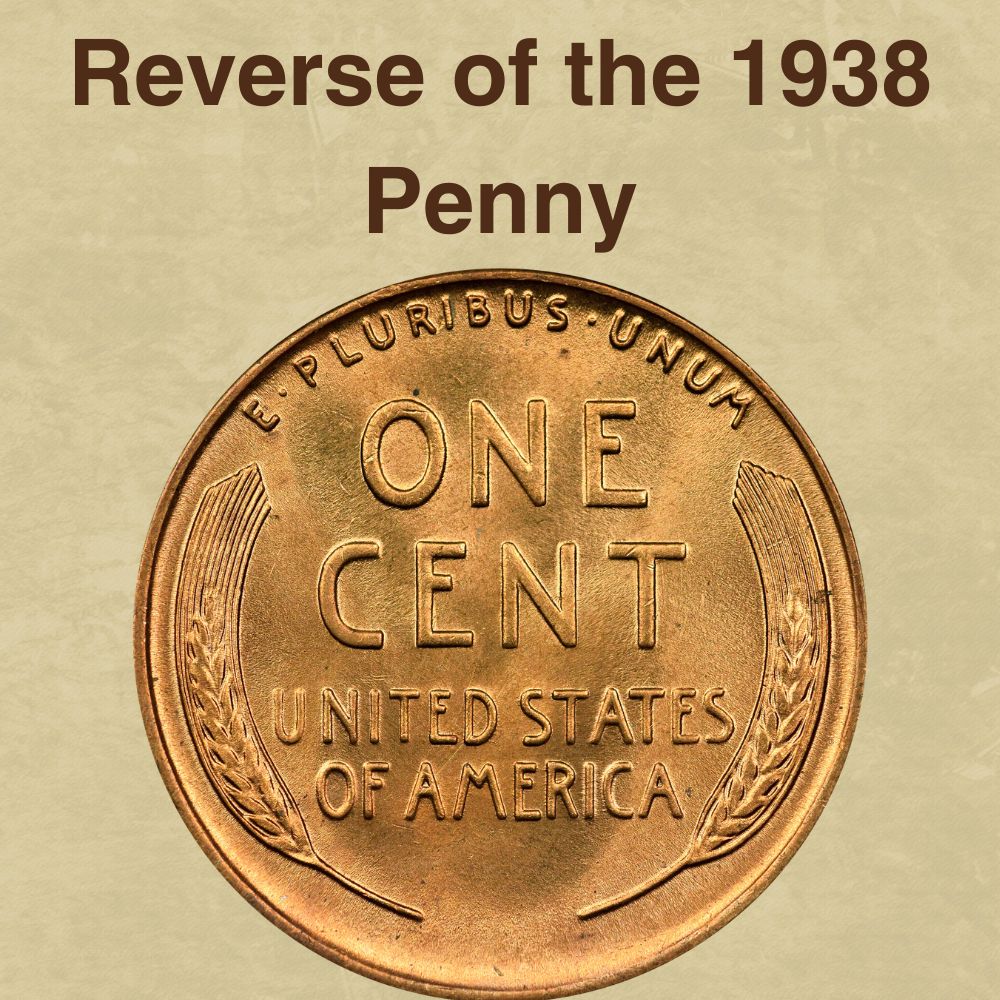 The reverse of the 1938 penny features a design of two ears of durum wheat. They curve up the left and right sides of the coin, framing the denomination and country name.
At the very top, curving parallel to the upper coin edge, is the motto "E PLURIBUS UNUM". This is Latin for "From the many, one", and it refers to the creation of the country as a union of states.
Like the obverse, the reverse design was the work of Victor David Brenner. He had originally proposed a tree branch as the central motif. This, however, was deemed too similar to French coins of the period.
Also read: 13 Most Valuable Wheat Penny Worth Money
Other Features of the 1938 Penny
The 1938 penny is a bronze coin, made of 95 per cent copper. The remainder is a mixture of tin and zinc. It weighs in at 3.11 grams and has a diameter of 19 millimeters.
The high copper content means that the color of individual coins can vary significantly. That's because copper changes color, from red to brown, as it's handled or exposed to the air. As a result, you won't find a red coin in circulated condition.
Generally speaking, collectors are prepared to pay more for red coins than brown ones. And coin grading agencies apply strict criteria to assess coin color.
To be graded red, a coin must show that color over at least 95 per cent of its total surface area. If it's red over between 5 and 95 per cent of its surface, it counts as "red and brown". And if it has less red than that, it's "brown".
Find out more about how to grade the color of your 1938 penny in this YouTube video from Len Here.
1938 Penny Value Guides
1938 No Mint Mark Penny Value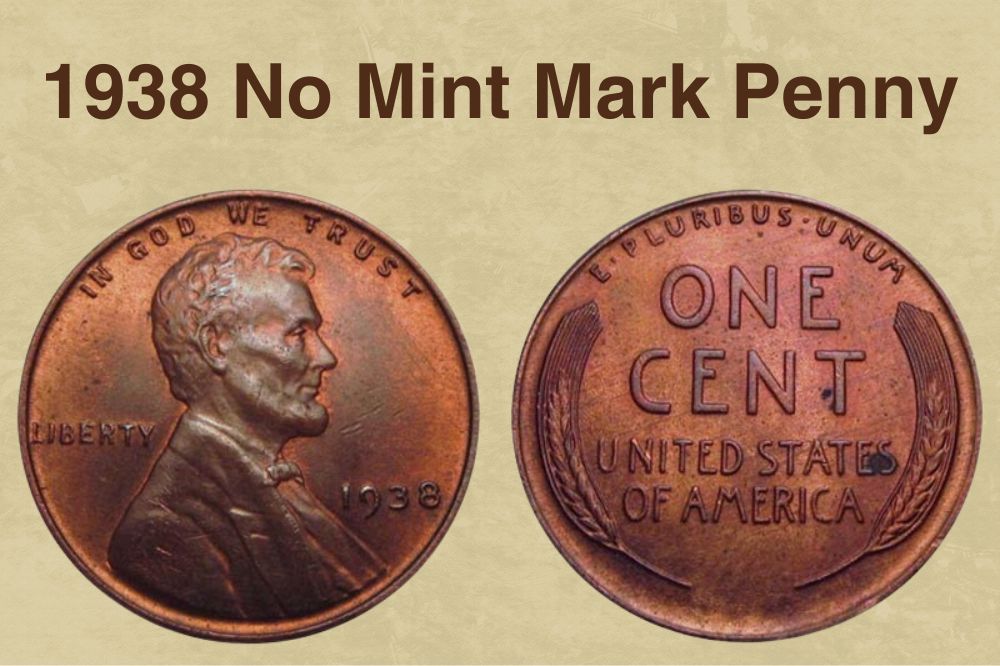 Almost 157 million pennies were struck at the Mint facility in Philadelphia in 1938. And today, the independent coin grading agency, the PCGS, estimates that around 15 million survive.
In circulated condition, most will only be worth a few cents unless they have an interesting Mint error. But coins in mint state – those graded 60 and above on the coin grading scale – can be worth much more. And red coins are particularly desirable.
A red 1938 no mint mark penny graded MS60 is worth around $7. That rises to $12 at MS63, and $32 at MS65 – the lowest grade at which a coin is termed a "gem".
The value doubles between MS66 and MS66+, from $40 to $80. And at MS67, it breaches three figures, at $175.
From there, availability nosedives, meaning prices rise steeply. The PCGS values a 1938 (P) penny graded MS67+ red at $750.
Only two coins have been certified higher, both at MS68 red. And those are worth a cool $15,500 apiece.
1938 D Penny Value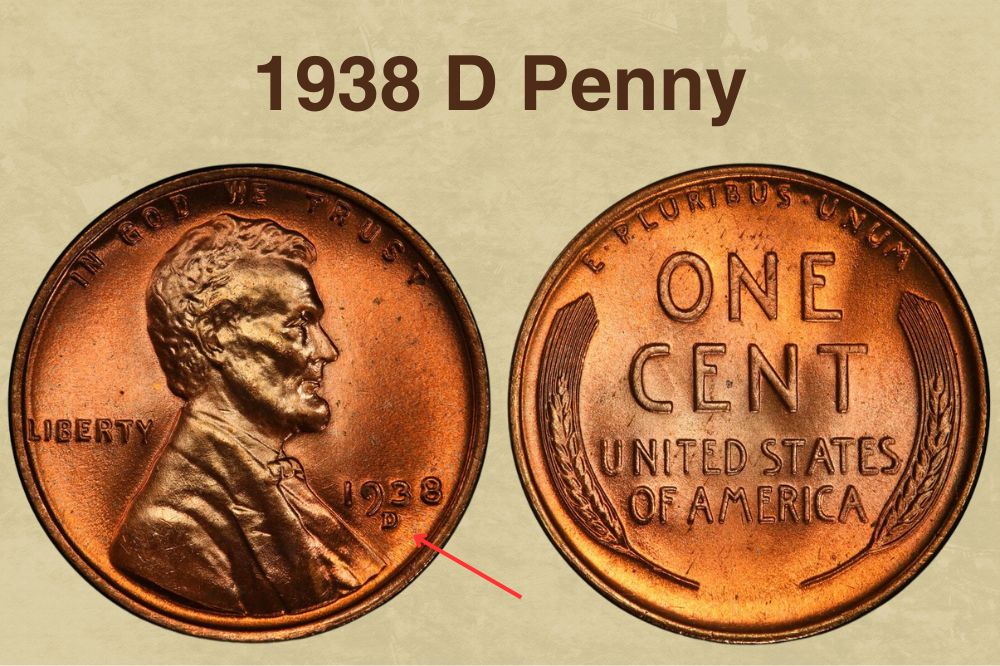 Far fewer pennies were struck in Denver than in Philadelphia in 1938. The total mintage was a shade over 20 million. And today, it's estimated that around 2 million survive.
The survivors are, however, skewed more heavily towards better quality coins. While only 9,000 red 1938 Philly pennies are believed to remain, the estimate for their Denver equivalents is 1,000 higher.
Values at most grades are similar. A Denver 1938 penny in circulated condition will usually be worth no more than a few cents. There'll be a premium, though, for coins with Mint errors.
In uncirculated condition, values for red examples start at around $6 at MS60, rising to $25 at MS65.
In this case, too, quality tops out at MS68. Three Denver coins have been certified at that level, and the PCGS assesses the value of those at $11,500 each.
1938 S Penny Value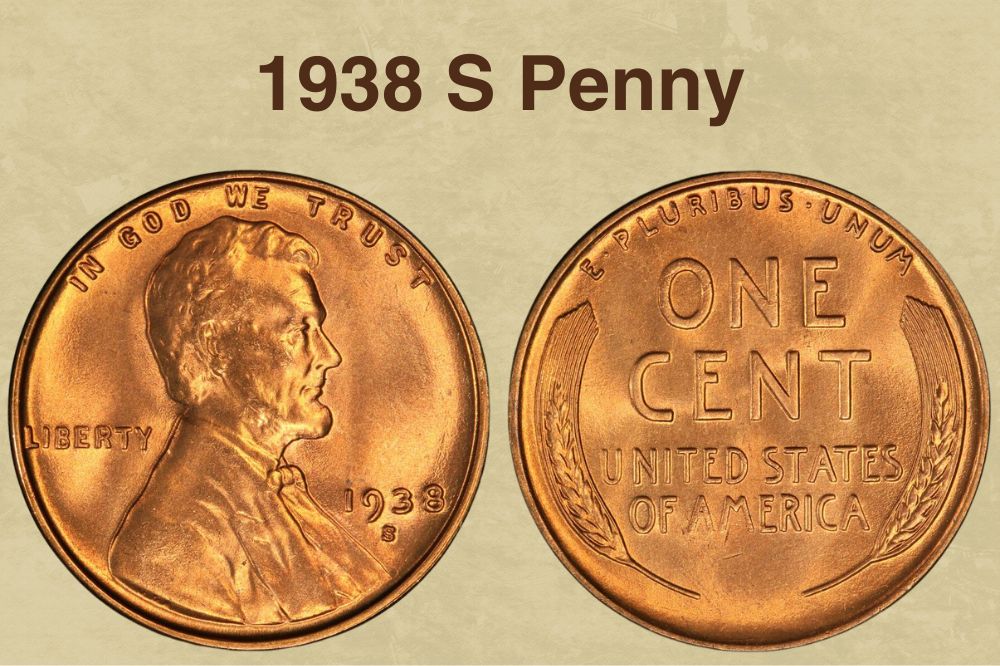 The San Francisco Mint facility produced the fewest business strike 1938 pennies, with a mintage of around 15 million. But the number of surviving red coins in mint condition is higher than from either Denver or Philadelphia, at 16,000.
As with the other mint marks, a 1938 S penny in circulated condition will usually not be worth much more than its face value.
In mint state, the value of a red coin starts at $8 at MS60, rising to $15 at MS63, and $30 at MS65. But while there are more mint state survivors with the "S" mint mark, no stand-out examples have so far come to light.
The highest grade to be awarded to any 1938 S penny is MS67+. To date, 57 coins have been certified at that level, keeping the value of each to a modest $1,000.
1938 No Mint Mark Proof Penny Value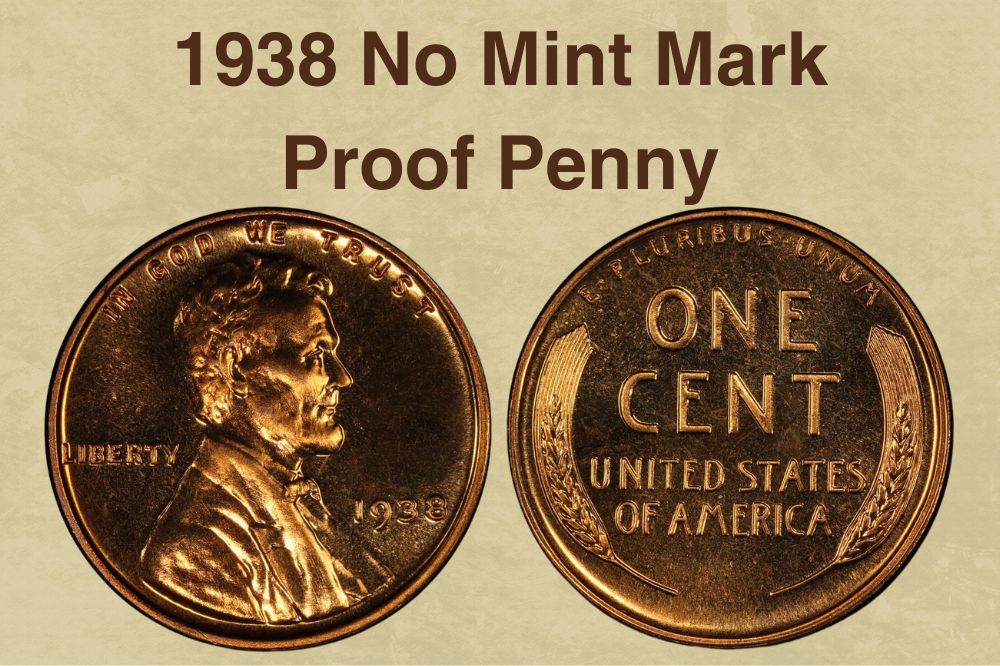 Business strike coins are those that were produced for general circulation. But in many years, the Mint also struck proof coins, using specially selected planchets and carefully prepared dies. These were intended to create high quality coins that could be marketed to collectors.
In 1938, the Philadelphia Mint facility struck some 14,734 proof pennies. The low mintage means that these are desirable coins in any color.
A brown coin graded MS60 is worth around $18, while a gem quality MS65 penny of the same color is around $135.
For red and brown coins, values start at upwards of $30, and peak at $1,300 at MS67.
And red examples range from $50 (MS60) to $4,300 (MS67+).
Most desirable of all are proofs designated as cameos because of their attractive mirrored finish and frosted designs. The 1938 proof penny mintage includes cameos graded from MS63 to MS67+.
At the bottom end of that scale, you can expect to pay around $265. But the cream of the crop are two coins valued by the PCGS at an astonishing $27,500 apiece.
Also read: 17 Most Valuable Indian Head Penny Worth Money
Rare 1938 Penny Errors List
1938 S/S/S Penny, Re-punched Mint Mark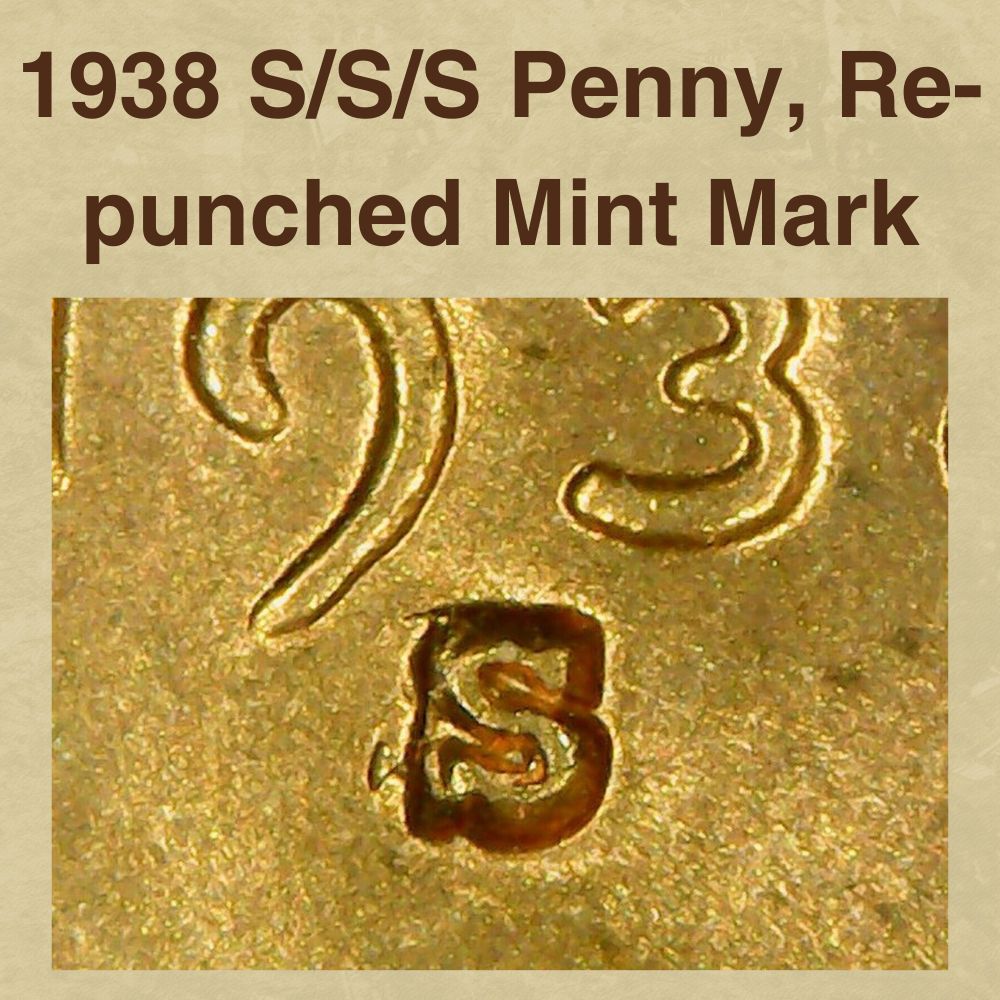 Some of the 1938 pennies struck in San Francisco had their mint marks punched not once, but three separate times.
Look closely, and you'll see the shadows of the earlier "S"s beneath the final version.
This error is difficult to spot with the naked eye, so you'll probably need a microscope or loupe.
There's also another repunched "S" mint mark error among the 1938-S mintage. That one has two "S"s. So check carefully to make sure you identify which error you have on your hands.
The value of a 1938 penny with the triple "S" mint mark varies according to the quality of the coin. A brown coin graded AU58 (the letters stand for "about uncirculated") sold at auction in 2020 for $100.
The PCGS has certified six coins at the finest known grade of MS67 red. And those are valued at $650 a pop.
1938 D/D Penny, Re-punched Mint Marks
Re-punched mint marks weren't confined to the 1938 pennies struck in San Francisco. The Denver coins also include some examples with two mint marks, one under the other.
As with non-error coins, condition is key to value. A brown penny with this error graded AU50 sold via eBay in 2018 for a record-breaking $112.
But today, the PCGS values a red coin graded MS60 at a more modest $70. That rises to $150 at MS65, and $750 at MS66+.
This YouTube video from Couch Collectibles shows examples of all these errors.
Also read: 11 Most Valuable Wheat Penny Errors
FAQs
How much is a 1938 penny worth?
The value of a 1938 penny depends on its condition, its color and – particularly for the very finest coins – its mint mark.
Brown coins in poorer condition will usually be worth no more than a few cents. The exceptions are coins with interesting Mint errors. A brown "about uncirculated" coin with a triple S re-punched mint mark, for example, is worth around $100.
The highest prices are achieved by "best in class" coins. The two finest known 1938 S pennies, graded MS67+ red, are valued at $27,500 apiece.
What makes a 1938 penny rare?
The better the condition of a coin, the rarer it will be. And all other things being equal, the more red there is on a coin, the more desirable it is.
Coins with Mint errors are rare too. The 1938 D/D and 1938 S/S pennies carry a premium over coins without the re-punched mint mark. And the 1938 S/S/S penny is rarer still.