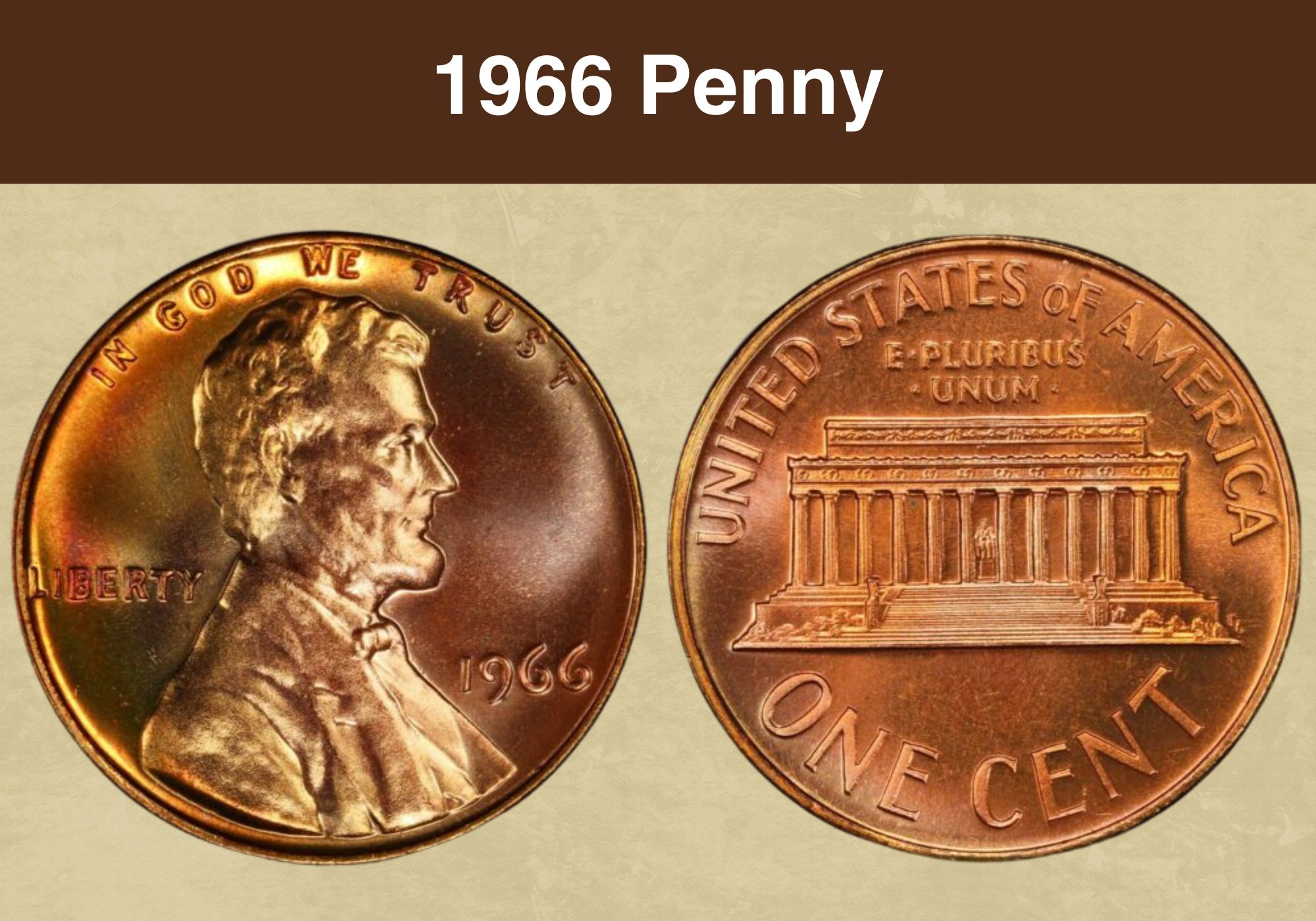 There are three unique years in penny mintage with issued coins different than usual. Three mints produced such cents in 1965, 66, and 67, and all were without the mint mark. The US officials were sure that it was a way to prevent hoarding.
Besides, the San Francisco mint struck so-called SMS coins for collectors instead of the usual proofs. Despite all these uniqueness, the 1966 penny value is affordable for most collectors, thanks to their age and high mintage.
1966 Penny value Chart

Condition
1966 No Mint Mark penny
MS 60
$0.23
MS 65
$1.16
History of the 1966 Penny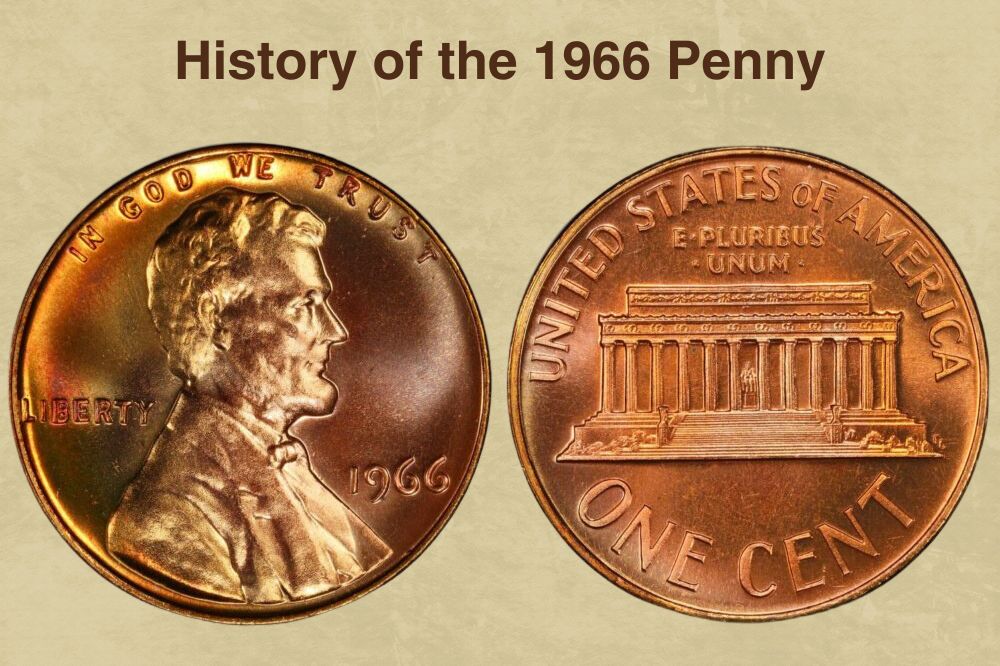 The history of the Lincoln penny goes back to 1909 when the US Mint issued the first pieces honoring the 16th American President. Officials of that time believed that this good man famous after slavery abolition deserved to appear on the American coinage.
It was a precedent because it was not a practice until that year. The US Mint respected Washington's attitude that depicting genuine persons on the coin obverse looked too monarchical.
However, everything changed that year. The Lincoln penny became the first of many coins with prominent figures in the history of the US on the coin obverse.
1966 Penny Types

Location
Year
Minted
No Mint mark coins
1966 no mint mark penny
2,185,886,200
San Francisco
1966 SMS penny
2,261,583
Total
/
2,188,147,783
In 1959, Americans celebrated the assassinated President's 150th birth anniversary. On that occasion, the US Mint changed the penny reverse. Frank Gasparro's design replaced famous wheat stalks and stayed actual for the next 50 years.
Also read: 12 Most Valuable Lincoln Penny Worth Money
Features of the 1966 Penny
Victor David Brenner designed original pennies with wheat stalks on the obverse to honor Lincoln's 100th birthday anniversary.
Fifty years later, re-designing the reverse was a way to commemorate another anniversary and celebrate President's 150 birthday. Frank Gasparro was entrusted with that job, and the new Memorial cent occurred in 1959 to be an official coinage.
The 1966 penny (obverse)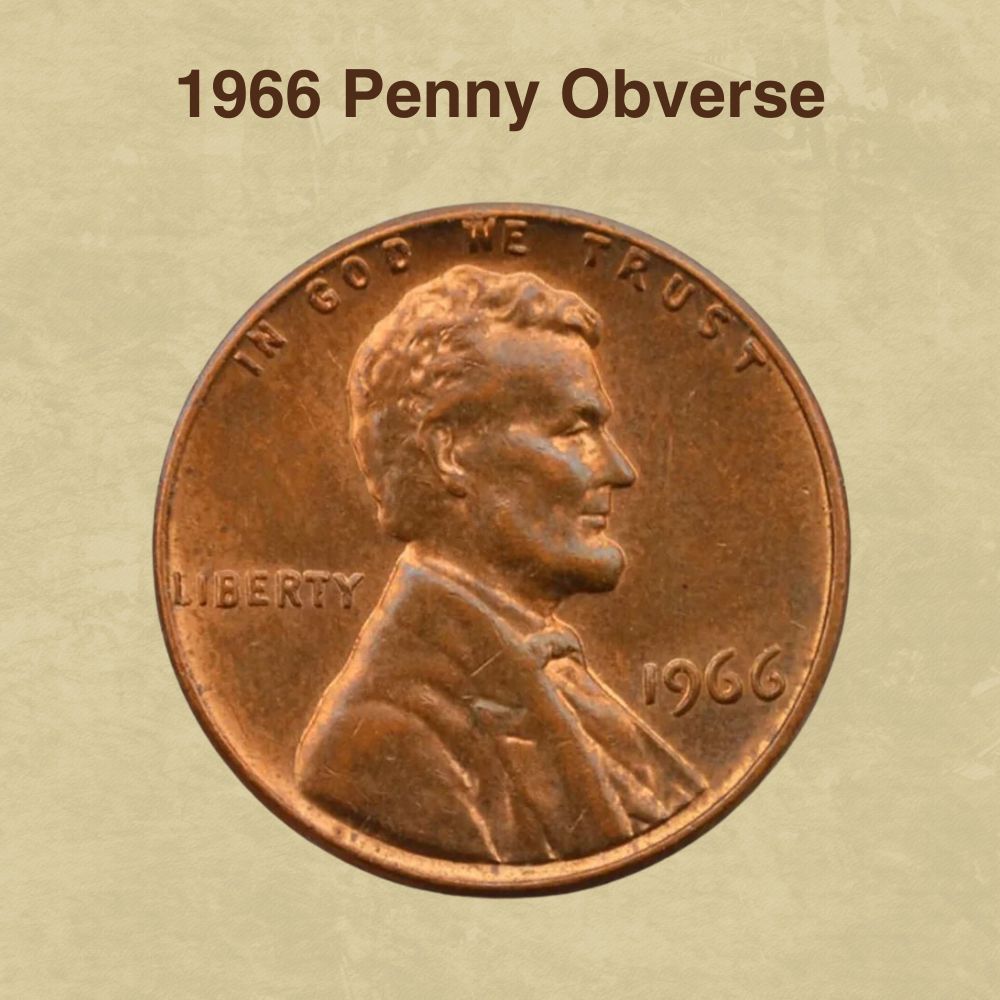 A designer depicted the Abraham Lincoln bust facing right in the penny center with all inscriptions framing it, including:
IN GOD WE TRUST from above
LIBERTY from the left side
The date from the right
The VDB initials from the bottom
Remember that all 1966 cents are without the mint mark, despite being struck in different mints.
The 1966 penny (reverse)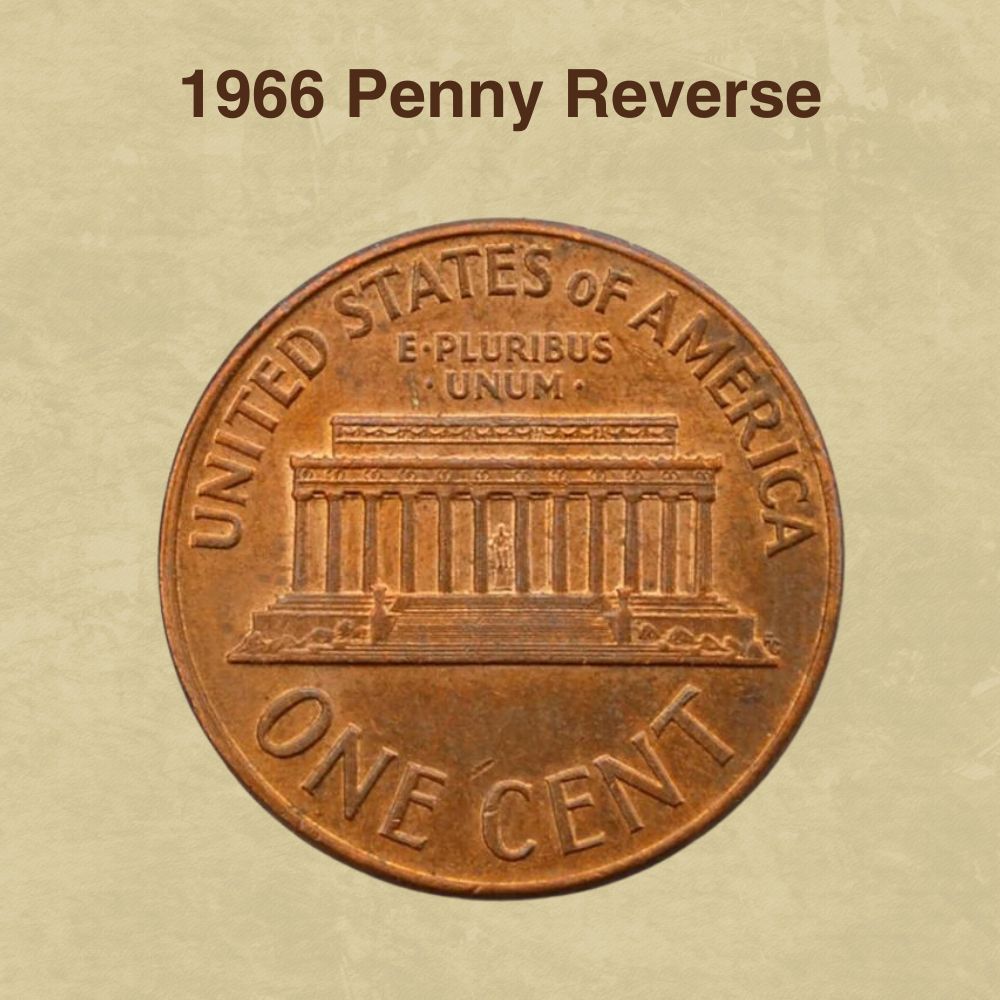 Like all pennies minted after 1959, those with the 1966 minting year have the reverse showing the Lincoln Memorial with a tiny Lincoln statue in the middle. Besides, you can see required inscriptions, such as the country name, the motto E • PLURIBUS • UNUM •, and denomination. The initials FG are on the right, next to the steps.
1966 penny Details

Face value
$0.01 (one-cent coin)
Compound
An alloy of copper (95%) with a remainder of tin or zinc (5%)
Coin thickness
0.059843 inches (1.52 mm)
Shape
Round
Coin diameter
0.75 inches (19.05 mm)
Coin weight
0.109702 ounces (3.11 g)
Edge
Plain
The 1966 penny (other features)
The 1966 Memorial one-cent coin with Lincoln's profile on the obverse is 0.059843 inches (1.52 mm) thick. It weighs 0.109702 ounces (3.11 g) and has a plain edge. This penny is made of copper alloy and has a diameter of 0.75 inches (19.05 mm).
Also read: 13 Most Valuable Wheat Penny Worth Money
1966 Penny Value Guides
The total penny mintage in 1966 was 2,188,147,783 coins. Interestingly, all these cents were without the mint mark, despite the mint they were produced.
Therefore, people believe they came from Philadelphia, but that was incorrect. Three mints produced regular coins, while one of them struck additional pennies as a part of Special Mint Sets intended for collectors.
Philadelphia minted 811,100,000 pennies
Denver minted 991,431,200 pennies
San Francisco minted 383,355,000 pennies from regular strikes plus 2,261,583 SMS pennies
1966 No Mint Mark penny (regular strikes)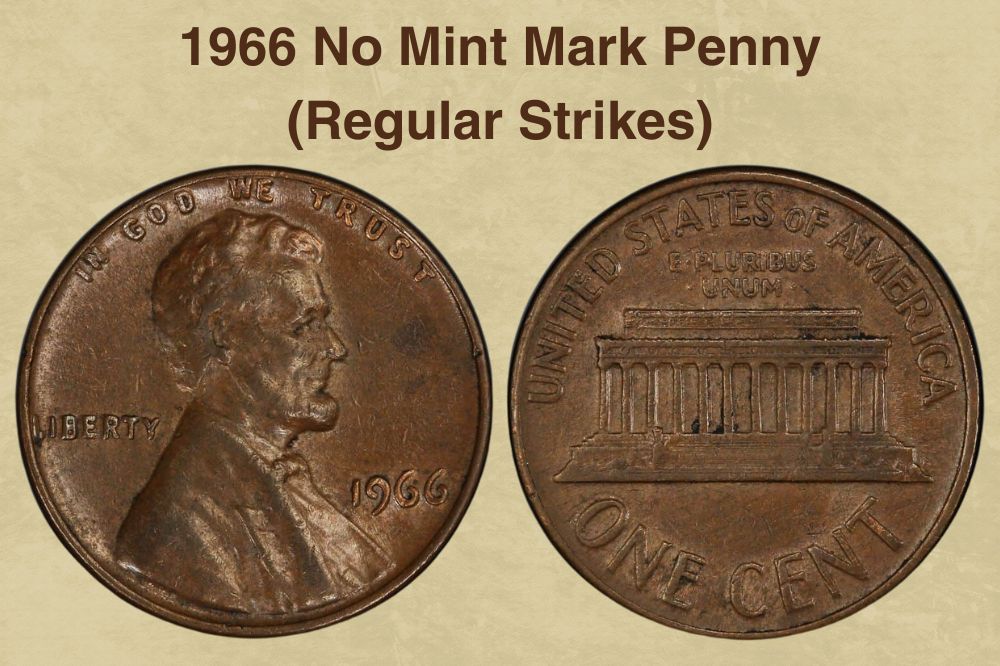 Be aware that only 811,100,000 regular cents were minted in Philadelphia, while the rest of the 2,188,147,783 coins without the mint mark came from two other mints. However, most dealers sell these coins without differentiating their origin.
So, you can expect to pay the 1966 red No Mint mark cent only based on their quality. Their prices significantly vary, depending on preservation:
MS 60-graded penny costs $0.40
MS 61-graded penny costs $0.50
MS 62-graded penny costs $0.60
MS 63-graded penny costs $0.75
MS 64-graded penny costs $1.50
MS 65-graded penny costs $2.50
MS 66-graded penny costs $25
Finally, you can find relatively rare cents in MS 67 grade for $550 on the current coin market. Even though there are only slight price variations among differently-toned coins, their auction records vary significantly.
For instance, one 1966 red-brown penny in MS 65 grade was sold at $200 in 2022, while the MS 68-rated brown penny reached $320 in 2022. Besides these relatively modest records, one red-toned piece in MS 67 grade won an incredible price of $6,463 in 2012.
1966 penny (Special Mint Set)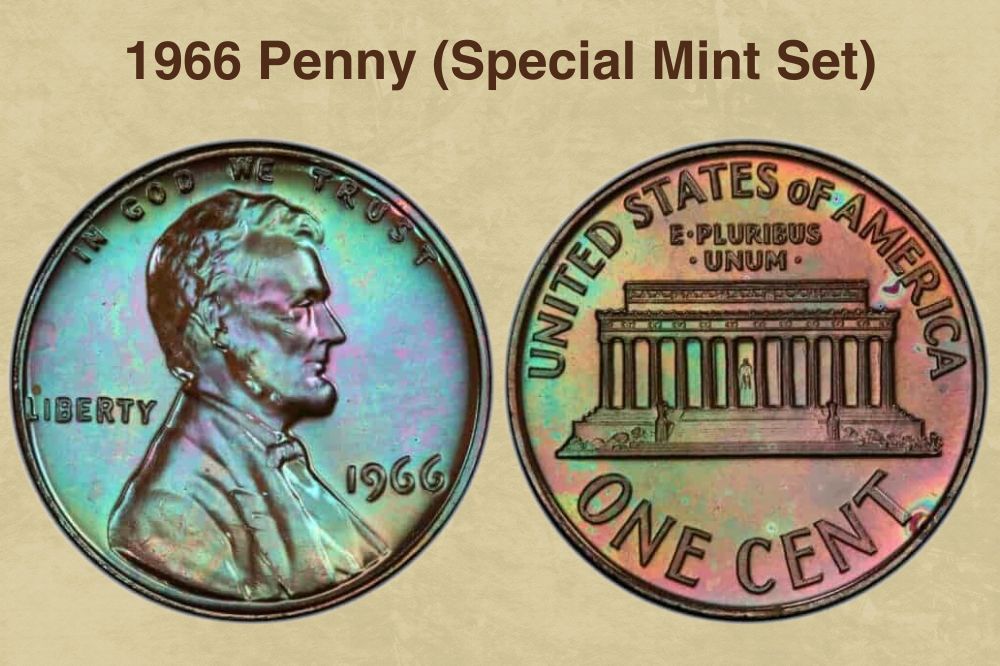 Like pennies from 1965 and 1967, those minted in 1966 came without proof coins. Instead, the mint in San Francisco struck 2,261,583 pieces from Special Mint Strike. They were intended for collectors but were of lower quality than proofs.
Be aware that these cents have never attended for circulation, so most are still in impeccable condition. The SMS red pennies often cost $3 to $14 (pieces in SP 65 to SP 67 grade), while almost perfect SP 68-rated specimens are worth approximately $100.
The best-paid 1966 SP 69 SMS penny is the red tone sold at an auction in 2001 for $863. The brown and red-brown pieces reached significantly lower prices, under $300.
Cents with CAM quality are often more expensive, but their price range depends on their quality. So, you should pay:
$175 for the coin in SP 65 grade
$250 for the coin in SP 66 grade
$750 for the coin in SP 67 grade
One of these best-graded pieces won an auction record in 2014 of $2,585 in 2014. Finally, the estimation value for SP-graded pennies with deep cameo contrast is $1,750.
Also read: 17 Most Valuable Indian Head Penny Worth Money
1966 Penny Grading
Thanks to the Sheldon grading system for coin estimation, you can precisely determine the value of each checked piece. Since the 1966 pennies have been in circulation for years, you can find many graded under the GOOD ranking. That is the lowest quality for collectible coins.
A few grades describe circulated but collectible coins, but you can also see those that have never spent a second in use are not the same. They are classified from MS 60 to MS 70, and only perfect specimens can get the highest rating.
Rare 1966 Penny Errors List
The penny series is well-known for numerous error coins, so you can be sure that some of the 1966 Memorial cents come with specific imperfections. Some are visible to the naked eye and are typically worth more than standard coins. Barely visible errors and those you can only notice with a magnifying glass are less expensive.
Doubled die obverse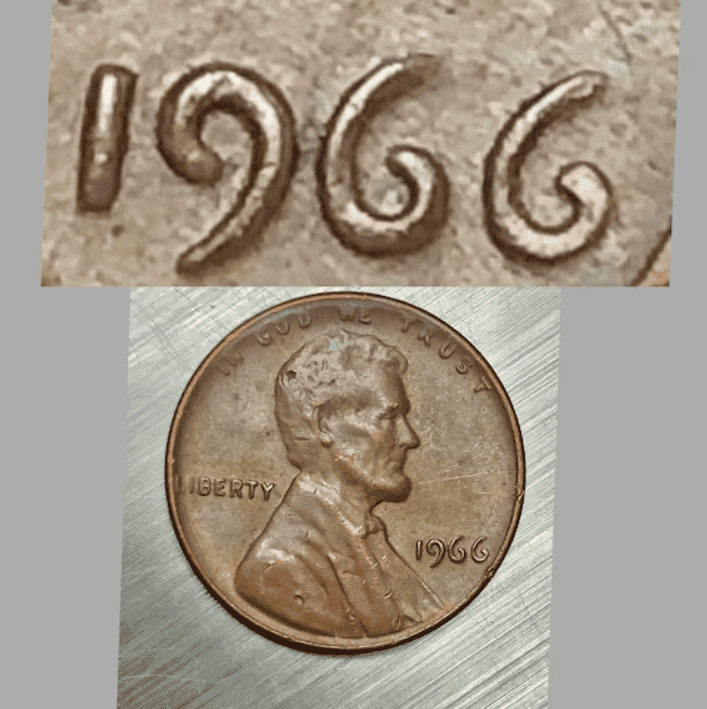 A die showing some degree of doubling results in 1966 pennies with doubled die obverse. This imperfection is often visible on inscriptions, including the word TRUST and the number 1 in the date.
These coins typically cost $20 to $50, sometimes up to $100, depending on the doubling degree. For instance, the 1966 AU 53 brown cent was sold at $54 in 2020. As always, a few exceptional coins are costlier, like the red error cent minted this year in MS 64 grade. One collector bought it for $650 in 2018.
Double strike with or without die adjustment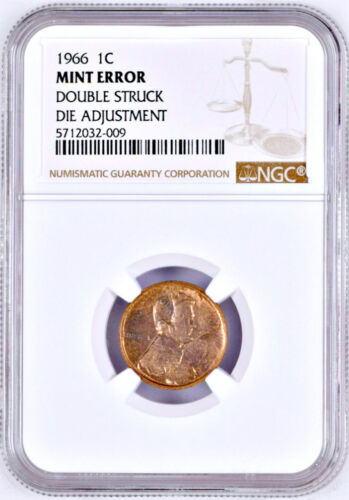 This error cent occurs after a die strikes it twice. You can sell it for approximately $65. However, you can sometimes come across a penny with a combined double strike and die adjustment error. Believe it or not, such a piece is assessed at $11,500.
Penny struck on a 10-cent (dime) planchet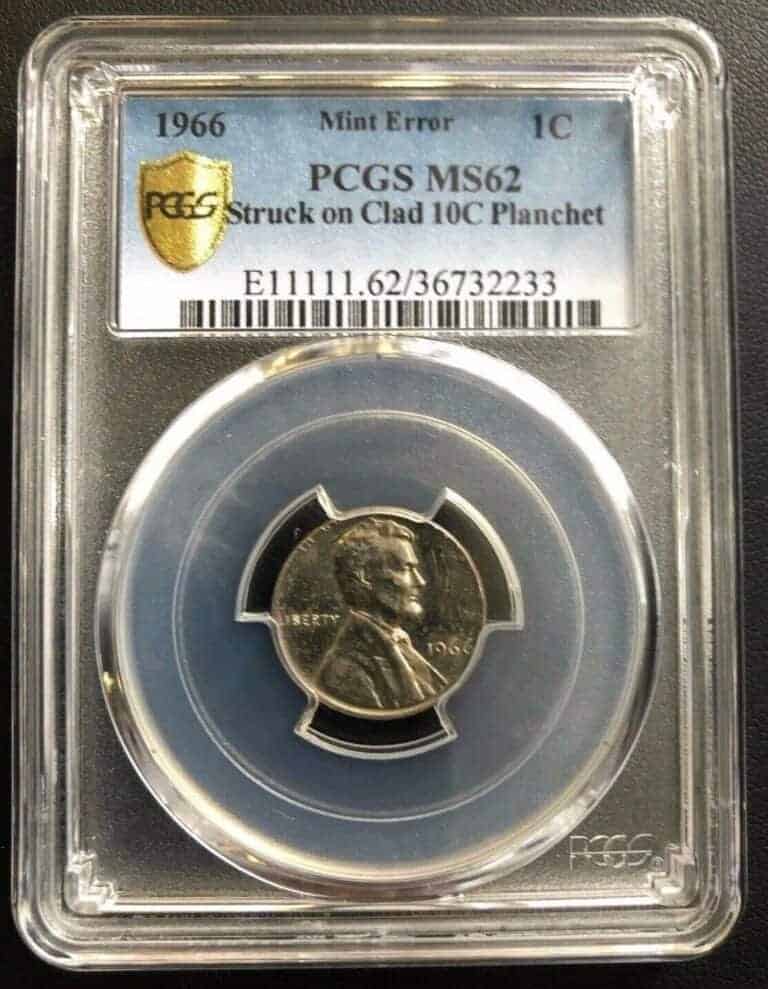 This unusual penny struck on a dime planchet has a notable silver color. It weighs 0.080 ounces (2.26 g) instead of the expected 0.088 ounces (2.5 g).
Since dimes have only 0.709 inches (18 mm) in diameter compared to the required 0.75 inches (19.05 mm), you can expect to see IN GOD WE TRUST motto cut in half. Such coins are assessed to be about $300.
Ragged end clip
This rare error occurs when stopping the minting on time is impossible for some reason. Such a penny has an irregular piece of edge. You can expect to get $3 to $8 for such a coin.
Penny struck on a split planchet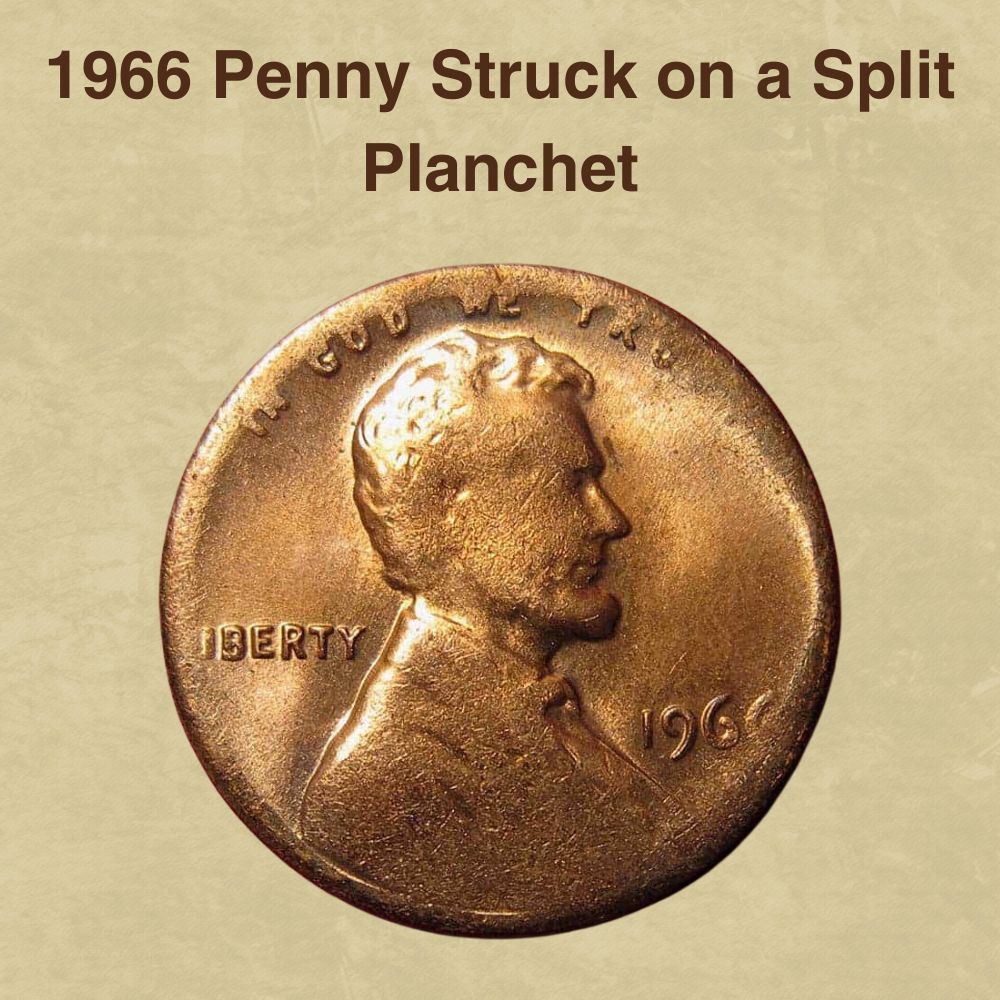 You can sometimes find the 1966 Memorial cent struck on a split planchet with typical striations. It is always lighter than a standard coin, weighing about 0.067 ounces (1.9 g) instead of the regular 0.110 ounces (3.11 g). An expected price for such error coins is about $30.
Retained strike-through
A 1966 penny with this error type looks damaged, but it was only struck after a stapler wire, string, wire bristle, or wood chip gets stuck onto the planchet. Since such coins are rare, you can earn about $1,150 after selling one.
Half of two pennies struck together (mated pair error)
It is pretty uncommon for such a piece to leave the mint. However, you can count on at least $100 once you find a coin with a Lincoln portrait on one side while the reverse is blank.
Obverse struck through a capped die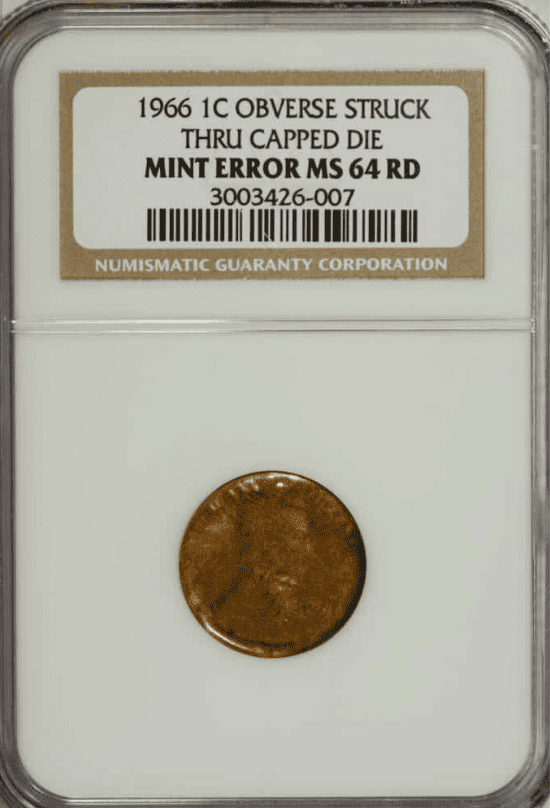 When the 1966 cent is struck through a capped die, you can see that the coin obverse is strange. This so-called ghostly Lincoln image can bring you at least $40.
Die break
A die break is a regular occurrence when the mint uses too old dies during coin minting. Once such a die with a crack on the surface strikes the coin, it leaves a raised bump or line on it. Pennies with this error never bring a premium, but you can expect to pay $5 to $10 for one from 1966, which is more than a regular price.
BIE
The BIE penny variety has a vertical die crack between letters B and E, looking like the second I in the word LIBERTY. Since this error is pretty common among cents, you can expect them to be worth $5 to $10.
Die cud
The 1966 die cud cent is the most valuable die crack error that resembles a sizable, flattish blank area attached to the coin rim. Such a coin often costs about $100.
Also read: 11 Most Valuable Wheat Penny Errors
FAQ about the 1966 Penny
Are the 1966 Penny rare?
Pennies minted in 1966 are modern coins, so you can guess they are not particularly rare. However, a few highest-graded pieces reached incredible prices at auctions.
How much money for the most valuable 1966 Penny?
The 1966 MS 67 Memorial red penny was sold at Heritage Auctions for $6,463 in 2012
The 1966 SP 67 Memorial CAM SMS penny was sold at Heritage Auctions for $2,585 in 2014
The 1966 SP 69 Memorial red SMS penny was sold at Heritage Auctions for $863 in 2001
The 1966 MS 64 Memorial red DDO penny was sold on eBay for $650 in 2018
The 1966 MS 68 Memorial brown penny was sold on eBay for $320 in 2022
The 1966 SP 66 Memorial brown SMS penny was sold on eBay for $299 in 2019
The 1966 SP 66 Memorial red-brown SMS penny was sold on eBay for $202 in 2016
The 1966 MS 65 Memorial red-brown penny was sold on eBay for $200 in 2022
The 1966 AU 53 Memorial brown DDO penny was sold on eBay for $54 in 2020
The 1966 UNC Details Memorial DCAM SMS penny was sold on eBay for $6 in 2023
How much money for the 1966 Penny (No mint mark)?
The 1966 red No Mint mark cents cost differently, depending on their preservation and quality. An expected price range is from $0.40 to $25, while MS 67-graded pieces can be worth about $550.
What are the costliest pennies in the series?
The most expensive Memorial cent was the 1999 MS 66 coin, sold at $138,000 in 2006. On the other hand, the Wheat penny's auction record was much higher, since the 1943 D MS 64 brown penny reached $840,000 in 2021.