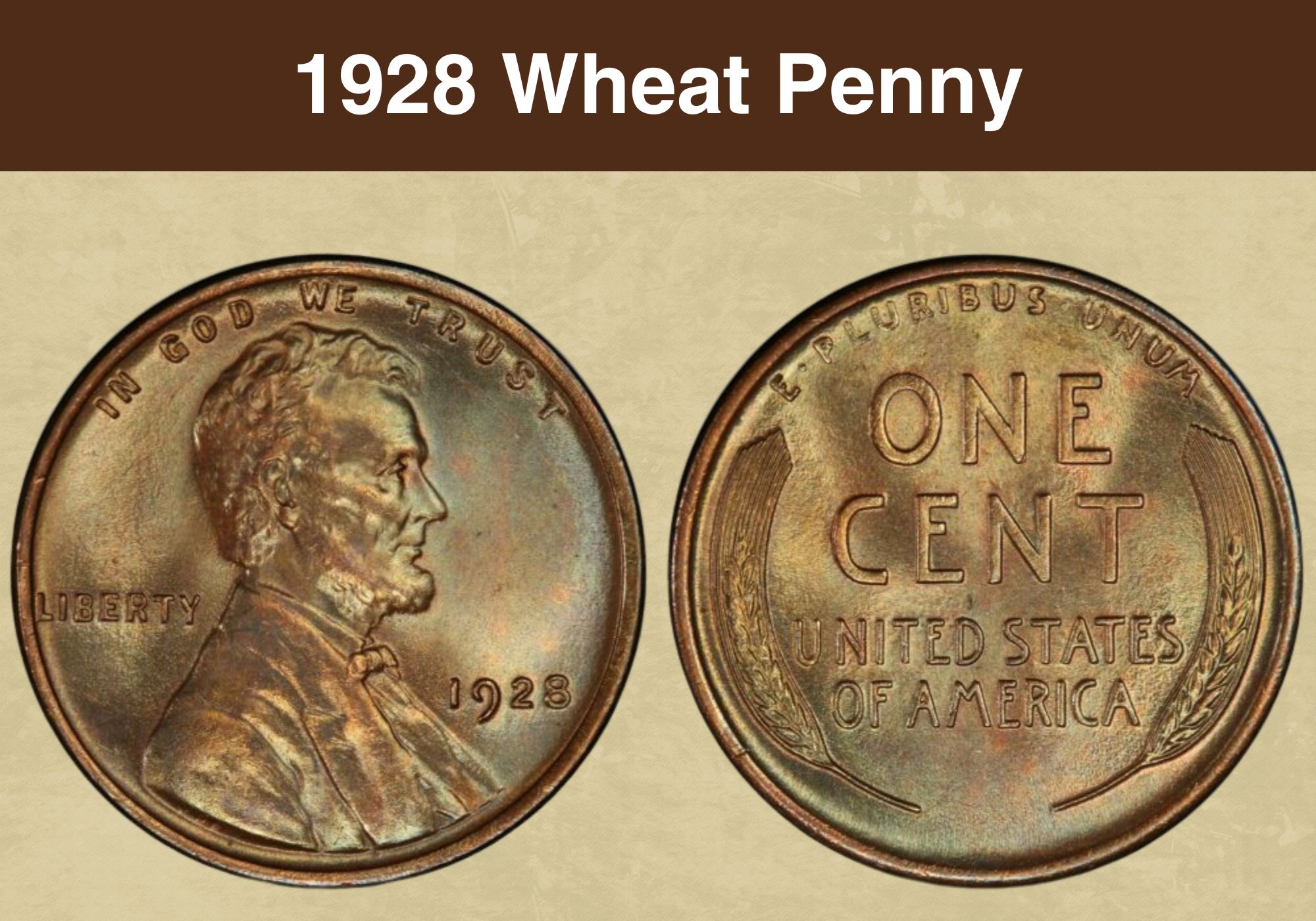 Most Lincoln pennies have almost negligible value nowadays, but you can still find expensive pieces on the open market. In fact, a few adequately preserved coins can reach dizzyingly high sums at auctions.
The 1928 wheat penny value depends on their color, luster, condition, and possible imperfections visible on their surfaces. Only perfectly-looked red coins, particularly errors, can bring money, regardless of the low denomination struck on the reverse.
1928 Wheat Penny Value Chart

Condition
1928 No mint mark penny
1928 D penny
1928 S penny
Good
$0.28
$0.87
$1.16
Very good
$0.34
$1.16
$1.87
Fine
$0.40
$2.05
$3.13
Very fine
$0.69
$3.38
$4.31
Extra fine
$2.33
$6.81
$11
AU
$5.84
$23
$40
MS 60
$11
$57
$115
MS 63
$17
$94
$144
History of the 1928 Wheat Penny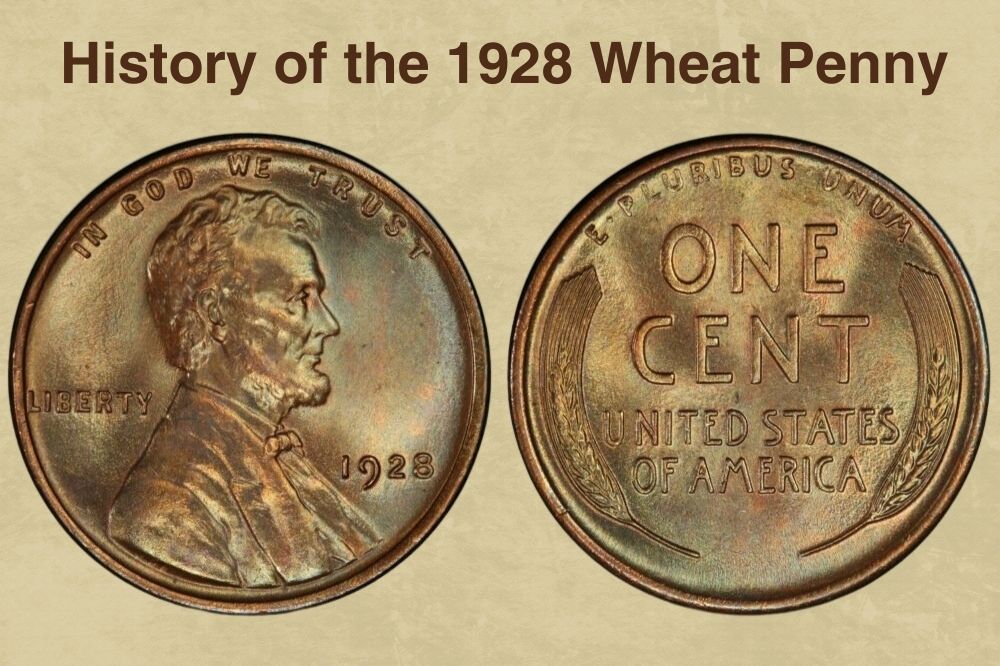 The US Mint issued the first Wheaties (Lincoln Wheat pennies) in 1909. President Theodore Roosevelt asked Victor D. Brenner to design this coin to honor his illustrious predecessor and his 100th birth anniversary.
1928 Wheat Penny Types

Location
Year
Minted
Philadelphia
1928 no mint mark penny
134,116,000
Denver
1928 D penny
31,170,000
San Francisco
1928 S penny
17,266,000
Total
/
182,552,000
The first coins came with the designer's initials between the wheat stalks, but the public disapproved of them as oversized. They were removed, and pennies were issued without them until 1918.
Also read: 12 Most Valuable Lincoln Penny Worth Money
Features of the 1928 Wheat Penny
The 1928 pennies with wheat stalks on the reverse were made based on Victor Brenner's creative idea. Unlike pieces minted during the first decade, these included his initials in the design. Well, most did. Let's take a look.
The obverse of the 1928 Wheat Penny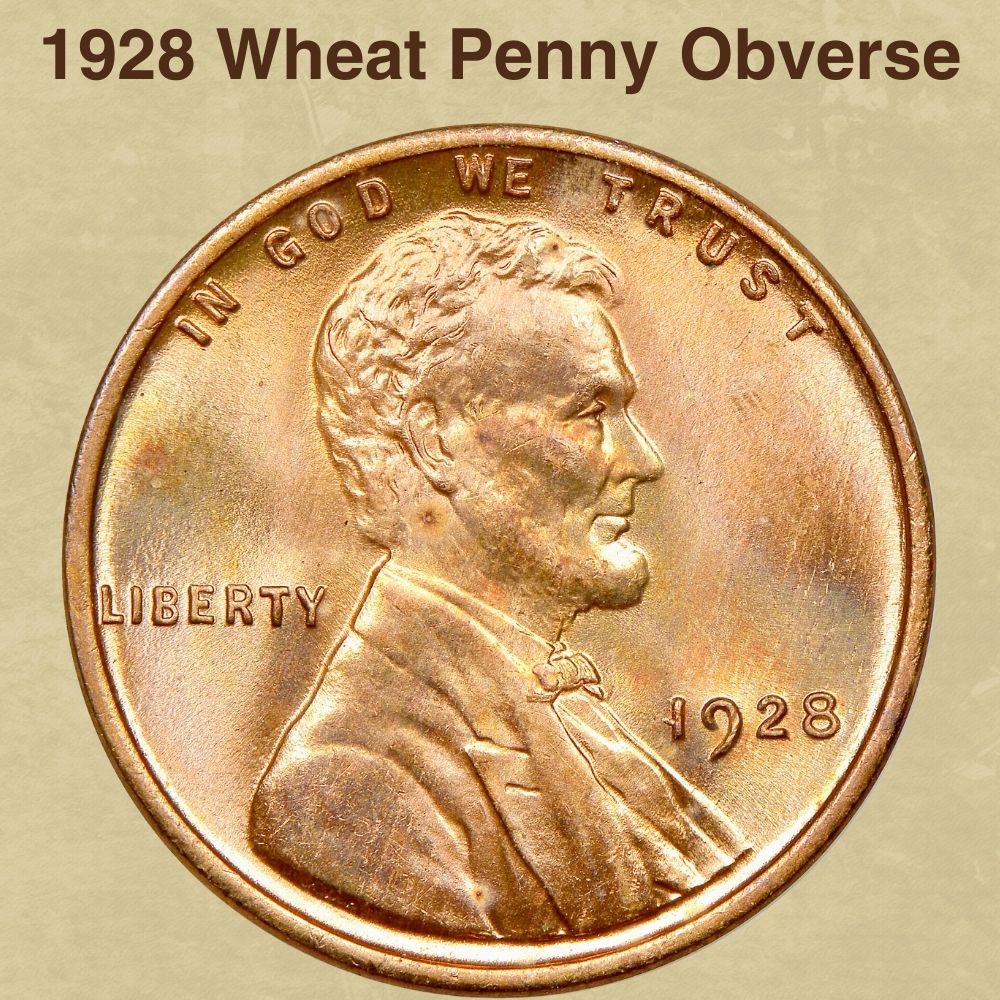 Brenner created a simple obverse for the new penny in 1909 that showed a portrait of the 16th President of the US facing right. Besides the centrally placed image, there are the word LIBERTY and the date, left and right of the bust.
Coins minted in 1928 are in a group of those with the designer's initials, VDB. They were added in 1918, after a controversy from 1909. The final touch is the motto IN GOD WE TRUST struck along the coin top.
Pennies minted in Philadelphia didn't have the mint mark in those times. However, you can recognize pieces from the other two mints by the letter S or D struck below the date.
The reverse of the 1928 Wheat Penny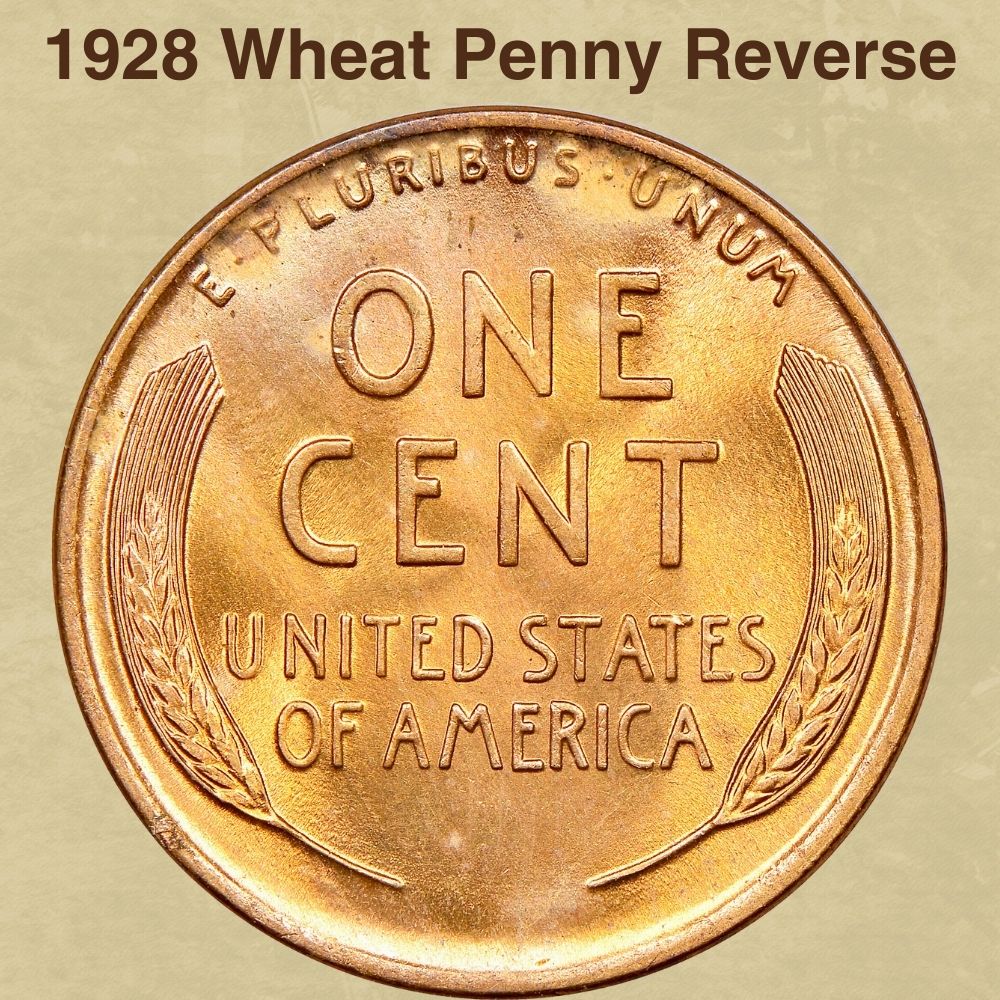 The humble 1928 penny reverse mostly includes inscriptions, like:
E · PLURIBUS · UNUM
ONE CENT
UNITED STATES OF AMERICA
However, the detail responsible for these coins' names is two wheat ears stretched along the right and left coin rims. The original designer's intention was different, but fortunately, it was not realized.
The Americans liked this solution so much that they often named their pennies Wheat cents instead of Lincoln cents.
1928 Wheat Penny Details

Shape
Round
Compound
An alloy of 95% copper with zinc or tin
Coin thickness
1.52 mm (0.0598 inches)
Face value
One cent ($0.01)
Coin diameter
19.05 mm (1.75 inches)
Edge
Plain
Coin weight
3.11 g (0.10970 ounces)
Other features of the 1928 Wheat Penny
Pennies minted in all three mints in 1928 are one-cent coins made of 95% copper. Their thickness of 1.52 mm (0.0598 inches) and diameter of 19.05 mm (1.75 inches) are standard for this coin type. Each piece weighs exactly 3.11 g (0.10970 ounces) and has a plain edge.
Also read: 13 Most Valuable Wheat Penny Worth Money
1928 Wheat Penny Value Guides
Precisely 182,552,000 pennies were issued in three mints in 1928. All coins were from regular strikes since the US Mint didn't issue proofs for collectors from 1917 to 1935.
1928 No Mint Mark Wheat Penny Value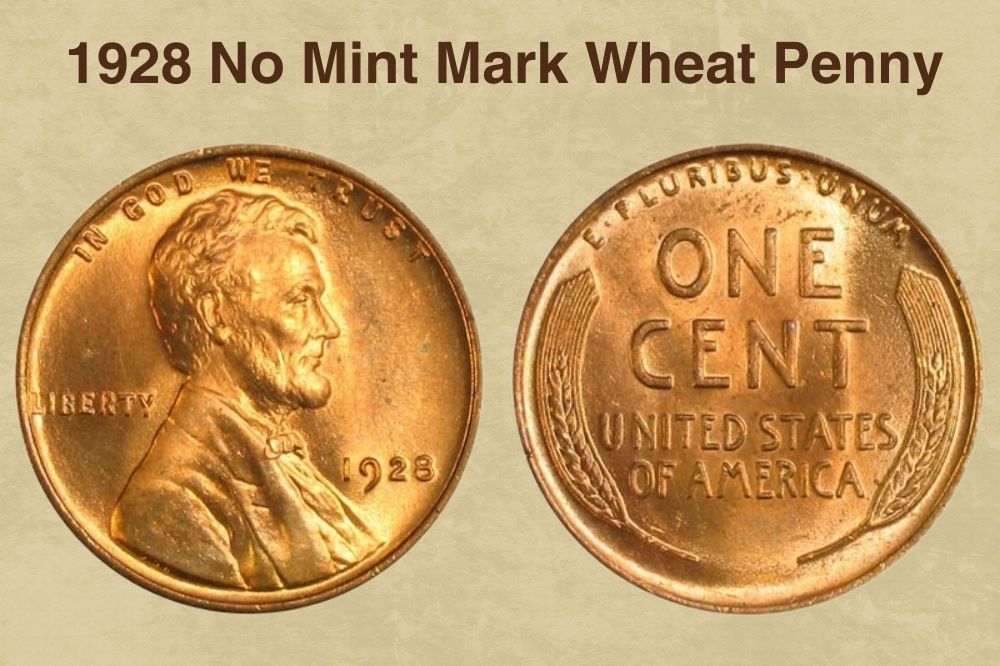 With 134,116,000 minted pennies, the Philadelphia had by far the highest mintage in 1928. Therefore, you can expect to find numerous inexpensive pieces, particularly those in circulated condition.
In most cases, it is enough to set aside $0.10 to $6 for a brown-colored coin. However, exceptions exist, like a 1928 brown penny in F 12 grade sold at a 2007 auction for $1,035.
Those that didn't spend time circulating are more valuable. However, you rarely need to pay more than $48, even for pieces in the highest grade. If you come across one red-brown coin, you can buy it for $15 to $175, depending on its preservation.
Expectedly, the most expensive are red specimens, with an average price from $30 to $360. Only the best ones rated MS 67 can cost you $950 to $1,200, while one of the scarcest pieces in MS 67+ grade was paid $9,000 in 2019.
1928 D Wheat Penny Value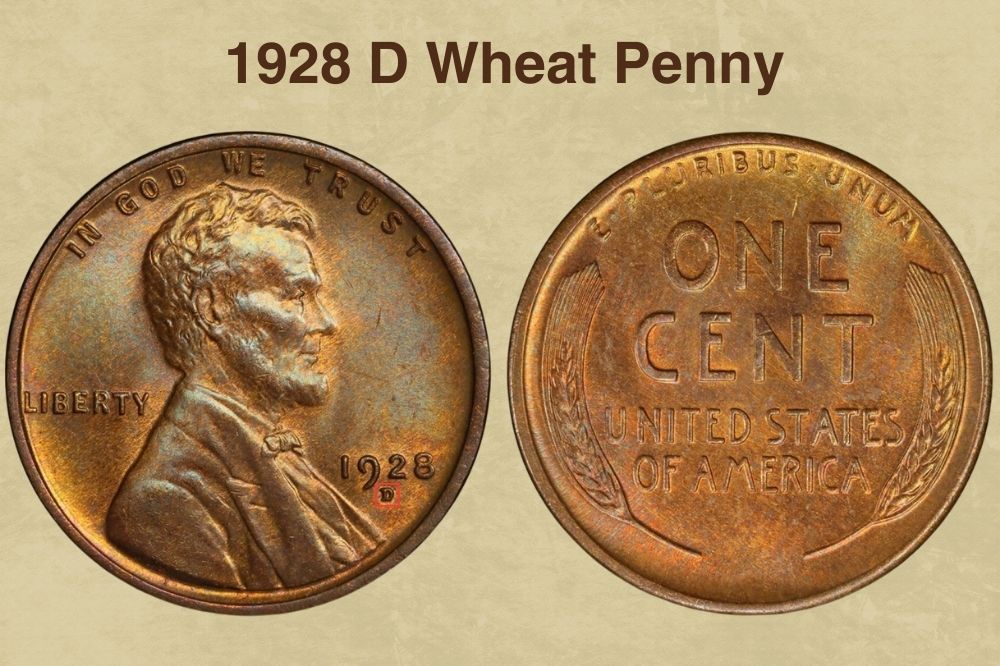 The Denver mint had the second-highest penny mintage in 1928, but the number of 31,170,000 coins was far lower than of the Philadelphia mint. Prices of survived pieces reflect the ratio between the two.
So, you need about $0.30 to $26.40 in your pocket to get one circulated brown penny, while the price range for those in the mint state is from $35 to $240. Lovely pieces graded MS 66 are assessed at $600 to $720.
The 1928 D red-brown pennies are more expensive, as you can guess. Therefore, you can find them on the open market for $55 to $432. Like in the previous case, coins with MS 66 ranking are more valuable, ranging from $850 to $1,020.
Some collectors always choose the best options, and red pennies minted in 1928 are in this group. Be prepared for that pleasure to cost approximately:
$90 to $108 (coins in MS 62 grade)
$135 to $162 (coins in MS 63 grade)
$240 to $288 (coins in MS 64 grade)
$1,000 to $1,200 (coins in MS 65 grade)
$6,600 to $8,000 (coins in MS 66 grade)
$15,000 to $18,000 (coins in MS 67 grade)
The second costliest regular coin in the 1928 set is the one minted in Denver. This beautiful red piece in MS 66 grade won the record at one 2022 auction of $12,600. On the other hand, a similar coin with MS 66+ penny ranking but brown color was sold at $1,125 on eBay in 2020.
1928 S Wheat Penny Value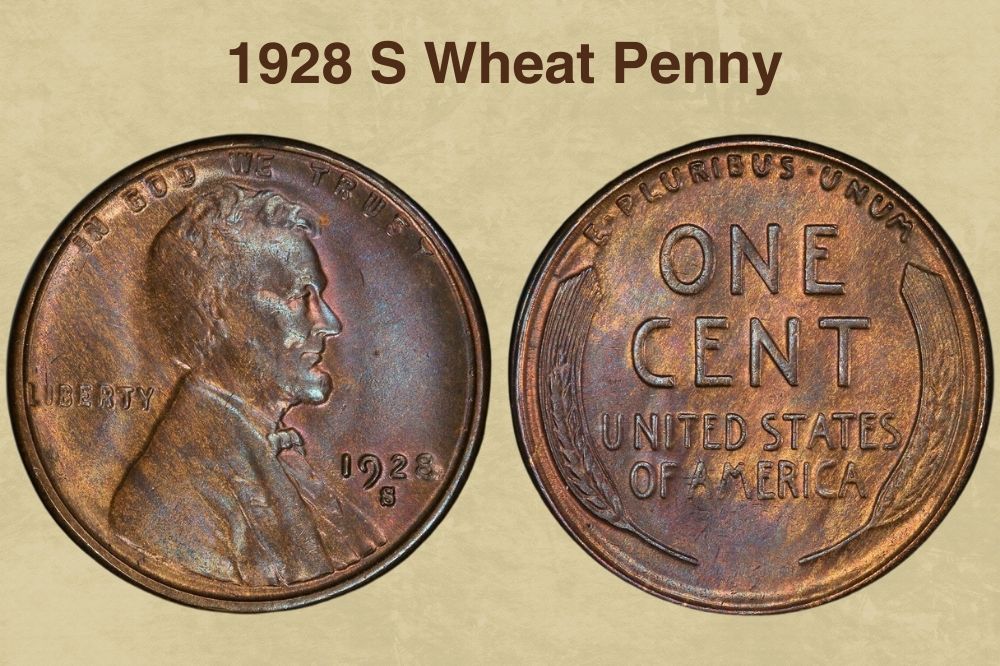 Like in most cases, the San Francisco mint had the lowest penny production in 1928 S penny, only 17,266,000 coins. Interestingly, finding pieces with a better ranking than MS 65 is impossible.
Most pennies minted this year are available at $0.35 to $54 after a long period spent in everyday transactions. Expectedly, these brown specimens cost $75 to $400, depending on their quality (MS 60 to MS 65 grade).
Red-brown pennies minted in 1928 come with a price range from $120 (MS 62) to $1,400 (MS 65). The auction record is higher since a collector paid $2,070 to get one in MS 65 grade in 2008.
No matter how strange it sounds, you should know that the most expensive penny in the set is one red-colored coin with an MS 66 rating. Its auction price from 2020 is $45,600.
Also read: 17 Most Valuable Indian Head Penny Worth Money
1928 Wheat Penny Grading Guides
Pennies minted in 1928 are almost a century-old coins, so you can expect to see them in various conditions. While some are non-collectible because of horrible condition, only rare pieces without flaws are saved.
The primary job of any professional working in grading companies is to estimate these coins correctly, meaning to determine their condition, coloring, and grade. The next step is to find errors that make these pennies more collectible than regular ones. The final thing is to assess a probable price range for each specimen.
Rare 1928 Wheat Penny Errors List
The San Francisco mint issued more error pennies in 1928 than the other two together. Be prepared that some excellently-preserved ones are expensive, but their value depends on two crucial factors. Such a coin needs to be in high-graded condition, and the error should be visible and recognizable.
Off-center
Off-center errors are common among 1928 pennies, particularly those with less than 5% off-center. Rarer pieces with 10% to 20% off center can be worth about $100, while those with a 50% deviation cost over $250.
BIE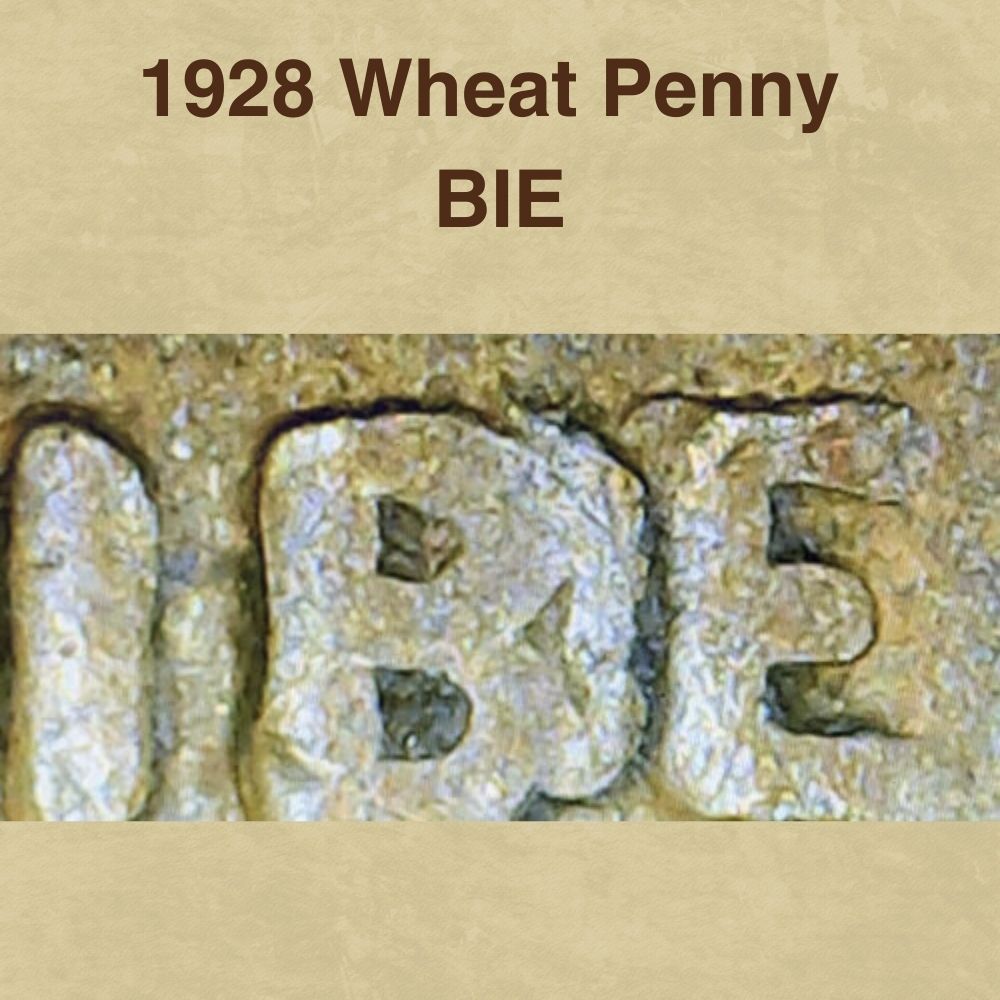 Sometimes, you can find the 1928 pennies with a tiny vertical line in LIBERTY between letters B and E resulting from a die crack. The cause is an overused cracked die, and you should count on $5 to $20 if you want to get one such piece.
Pennies without VDB
The regular 1928 pennies have the artist's initials under Lincoln's shoulder, but they often become invisible under heavy wear. Unlike those worthless coins, a few pieces came into circulation without VDB letters. The reason was grease stuck on the die, causing a strikethrough error worth $10 to $15.
The large mint mark (Large S)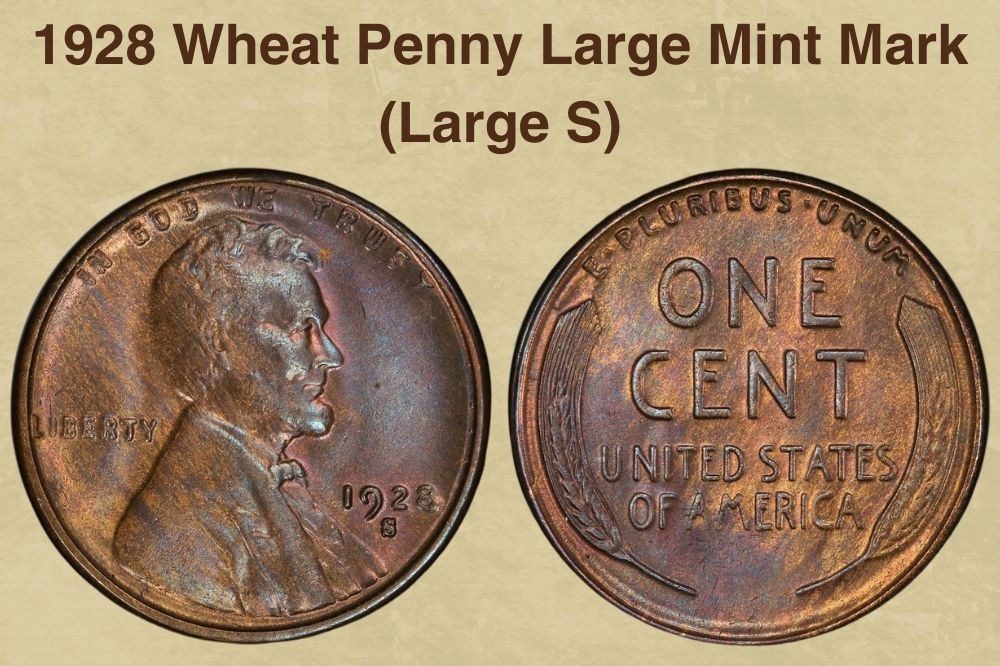 The 1928 pennies from San Francisco are known for a unique error, the so-called Large S (large mint mark) error. They have an atypically sizable letter S under the date on the obverse. Experts estimate that about a hundred coins with this imperfection survived in the mint state.
Even though most pieces cost about $50 and $400, a few pieces cost more. For instance, one brown piece in MS 64 was paid $588 in 2012, while the auction record for a red-brown specimen in MS 65 grade is $2,400 (2017). The auction winner is the 1928 S MS 65 red penny, bought for $5,875 in 2019.
Re-punched mint mark
The mint in San Francisco produced numerous pennies with the re-punched S mint mark in 1928. Despite the number of these pieces, you can expect to pay about $20 to $100 per one.
Doubled die
Doubled die pennies struck on a twice-impressed die are particularly collectible. In this case, the errors on these coins, mainly on the motto, are minor and cost approximately $5 to $20.
Also read: 11 Most Valuable Wheat Penny Errors
FAQ about the 1928 Wheat Penny
What makes a 1928 Wheat Penny rare?
Thanks to a high mintage, the 1928 pennies are considered abundant. Nowadays, only a few specimens of the highest quality can bring surprisingly high money at auctions. Unfortunately, most of these humble coins are worth their face value or slightly more than that.
Which 1928 Wheat Penny is worth a lot of money?
1928 S MS 66 penny (red) – $45,600 at an auction in 2020
1928 D MS 66 penny (red) – $12,600 at an auction in 2022
1928 MS 67+ penny (red) – $9,000 at an auction in 2019
1928 S MS 65 penny with Large S (red) – $5,875 at an auction in 2019
1928 S MS 65 penny with Large S (red-brown) – $2,400 at an auction in 2017
1928 S MS 65 penny (red-brown) – $2,070 at an auction in 2008
1928 S MS 66 penny (brown) – $2,000 on eBay in 2019
1928 D MS 66+ penny (brown) – $1,125 on eBay in 2020
1928 F 12 penny (brown) – $1,035 at an auction in 2007
1928 D MS 66 penny (red-brown) – $686 on eBay in 2020
1928 S MS 64 penny with Large S (brown) – $588 at an auction in 2012
1928 S MS 62 penny with Large S (brown) – $399 on eBay in 2021
1928 S MS 63 penny with Large S (red-brown) – $312 at an auction in 2022
1928 MS 65 penny (red-brown) – $230 at an auction in 2000
How much is the 1928 Wheat Penny minted in Philadelphia worth?
Most 1928 pennies are inexpensive despite their age. Those in low condition cost approximately $0.10 to $6, but the price of pieces in higher grades primarily depends on their color.
For instance, you can get $6 to $48 for brown pennies, while red-brown coins cost $15 to $175. The value of the most collectible red specimens ranks from $30 to a surprisingly high $1,200.
What is the most valuable Lincoln penny?
Can you imagine paying one tiny penny a huge $840,000? One collector did such a thing in 2021 to get one brown bronze piece. This MS 64-graded coin minted in Denver in 1943 is the most expensive cent coin with Lincoln image on the obverse ever sold.
The second place won a bronze brown penny (MS 63) from San Francisco after it sold at $504,000 in 2020. The steel coin from the same mint produced in 1944 holds the third place. This MS 66-graded piece won $408,000 at a 2021 auction.