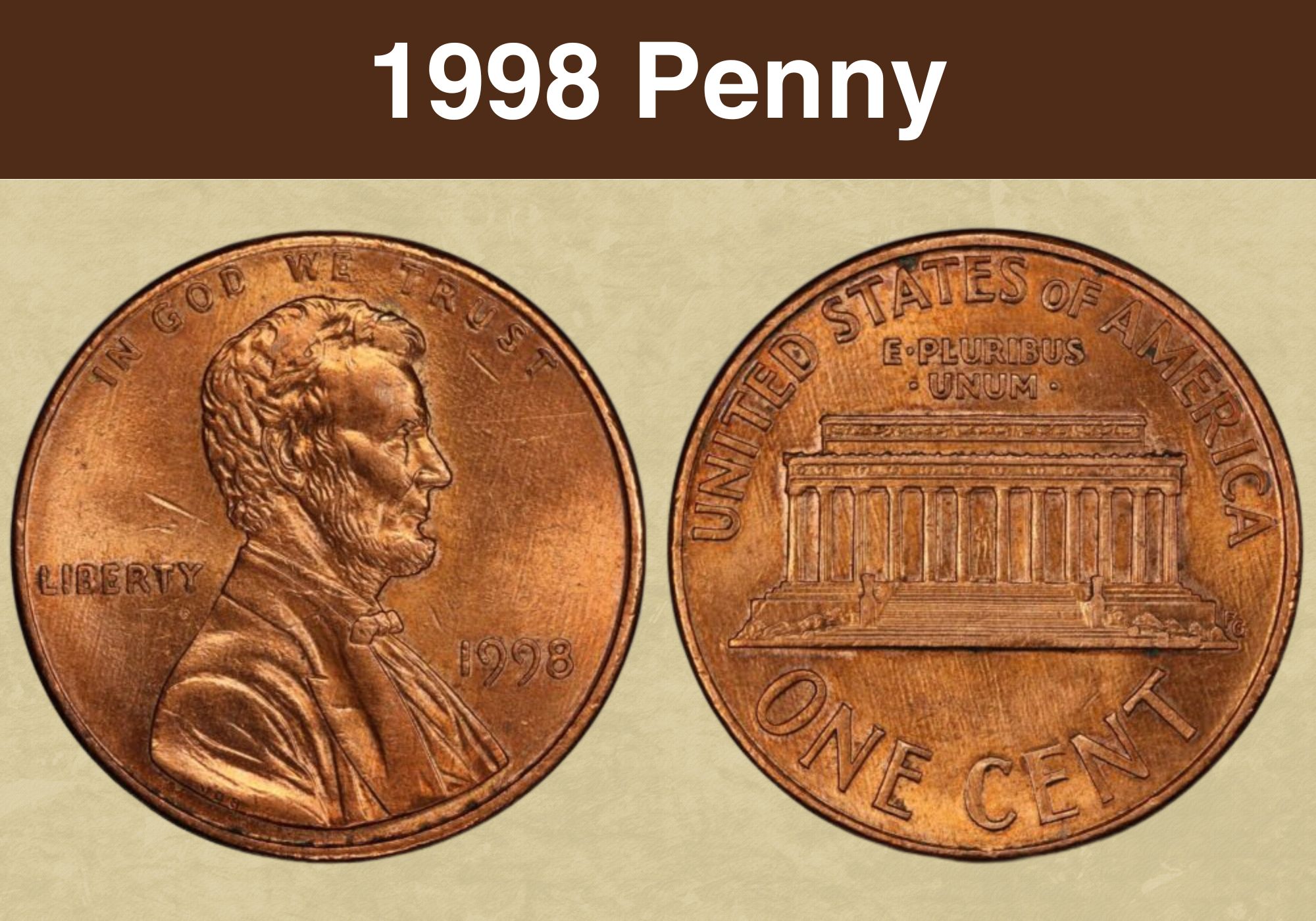 The US Mint has produced over 450 billion Lincoln pennies since 1909. The lowest number of seven million of these coins were minted in 1922, while the record mintage of 17 billion pieces was issued in 1982. The rule of thumb is that coins from older sets cost more.
So, you can expect the 1998 penny value to be pretty moderate since it is about relatively modern, only 40-year-old coins. Surprisingly, some pieces reached high prices at auctions, so you should always check your change thoroughly. You never know!
1998 Penny Value Chart

Condition
1998 No Mint Mark penny
1998 Wide AM penny
1998 D penny
1998 S penny
1998 S close AM penny
MS 65
$0.34
$28
$0.34
/
/
PR 65
/
/
/
$10
$546
History of the 1998 Penny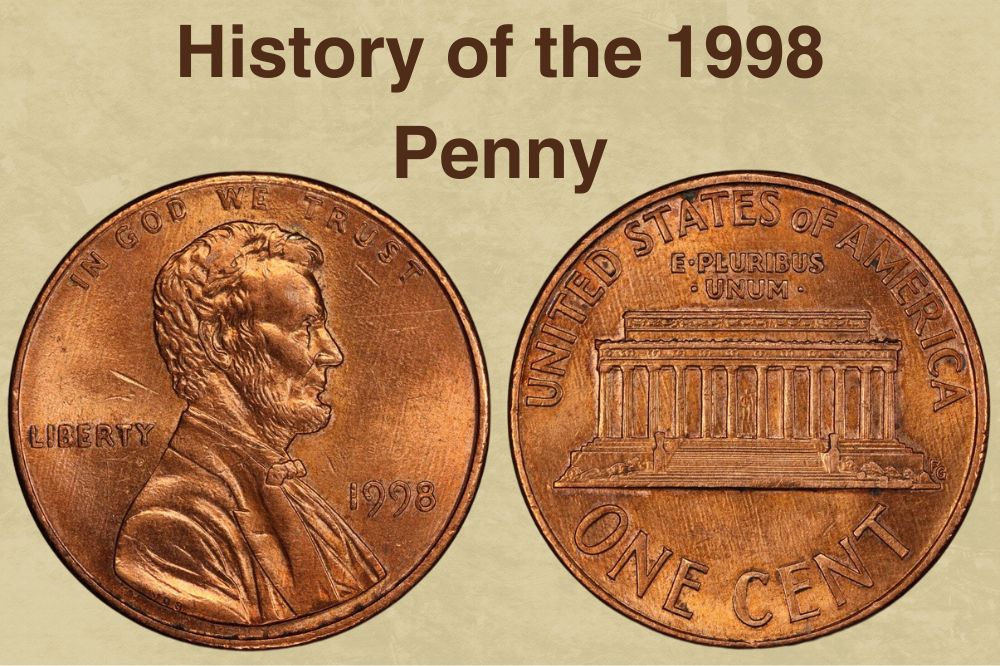 The US Mint issued the first Lincoln pennies in 1909 to celebrate the significant date, one century after this prominent American President's birth. These Wheat pennies were re-designed in 1959, on the other anniversary when Americans celebrated Lincoln's 150 birthday.
1998 Penny Types

Location
Year
Minted
Philadelphia
1998 No Mint Mark penny
5,032,155,000
San Francisco
1998 S penny (proof)
2,086,507
Denver
1998 D penny
5,225,353,500
Total
/
10,259,595,007
Cents minted in 1998 belong to one of the last sets in this second group before the pennies with four different reverse options appeared in 2009. The amazing fact about these coins is that Gasparro never saw the Memorial, making many of his contemporaries think that the monument depiction was not of artistic quality.
Also read: 12 Most Valuable Lincoln Penny Worth Money
Features of the 1998 Penny
The 1998 cents are in a group of Memorial coins. You can see the new Frank Gasparro's reverse combined with the original obverse side created by Victor D. Brenner.
The obverse of the 1998 Penny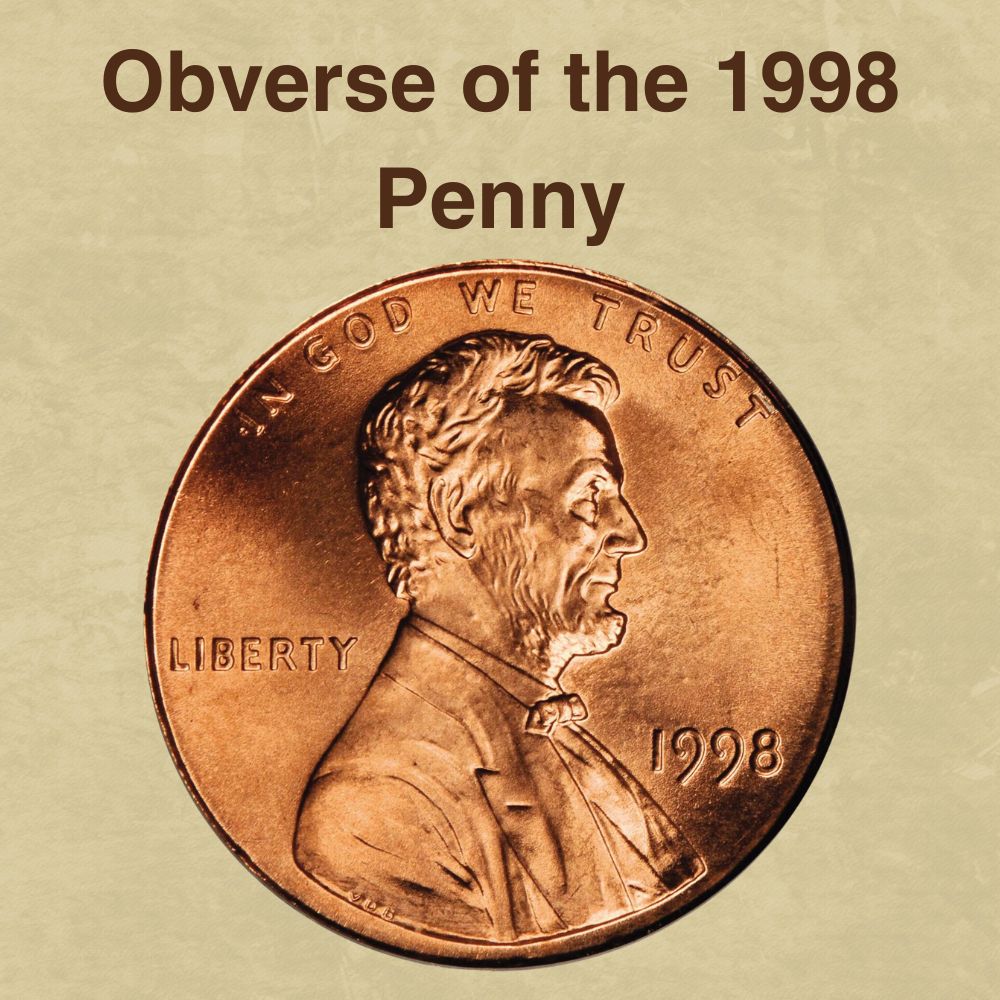 The penny obverse has remained unchanged since 1909, so pieces minted in 1998 still have a Lincoln image in the center with recognizable inscriptions. You can see four, including IN GOD WE TRUST, the date, VDB initials for Victor David Brenner, and LIBERTY.
The reverse of the 1998 Penny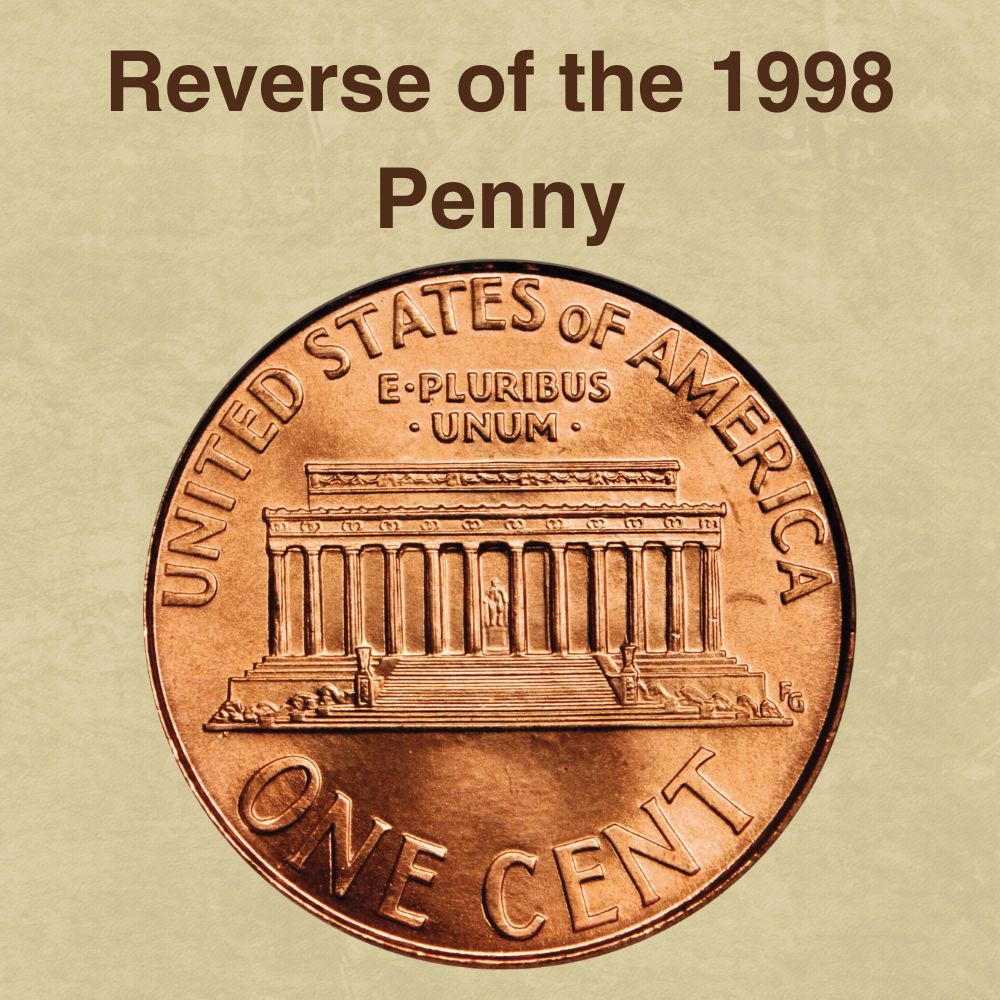 The 1998 Lincoln cent reverse includes the centrally placed Memorial with pillars in the front and a small President's statue in between. Each coin has the standard inscriptions, including UNITED STATES oF AMERICA, FG initials for Frank Gasparro, ONE CENT, and E • PLURIBUS • UNUM •.
1998 Penny Details

Face value
One cent ($0.01)
Shape
Round
Compound
All pennies minted after 1982 consist of 97.5% zinc and 2.5% copper
Coin weight
2.5 g (0.08818 ounces)
Coin thickness
1.52 mm (0.05984 inches)
Coin diameter
19.05 mm (1.75 inches)
Edge
Plain
Other features of the 1998 Penny
Like all Lincoln pennies minted after 1982, those from 1998 consist of 97.5% zinc and 2.5% copper. Their weight is 2.5 g (0.08818 ounces), and you can measure that their thickness is 1.52 mm (0.05984 inches). These one-cent specimens with a plain edge have a diameter of 19.05 mm (1.75 inches).
Also read: 13 Most Valuable Wheat Penny Worth Money
The 1998 Penny Value Guides
The minting of 10,259,595,007 Memorial pennies in 1998 is not the highest in the series, but a high number of these modern coins makes them cheap. Even the most quality specimens are affordable, with more or less price variations.
1998 No Mint Mark Penny Value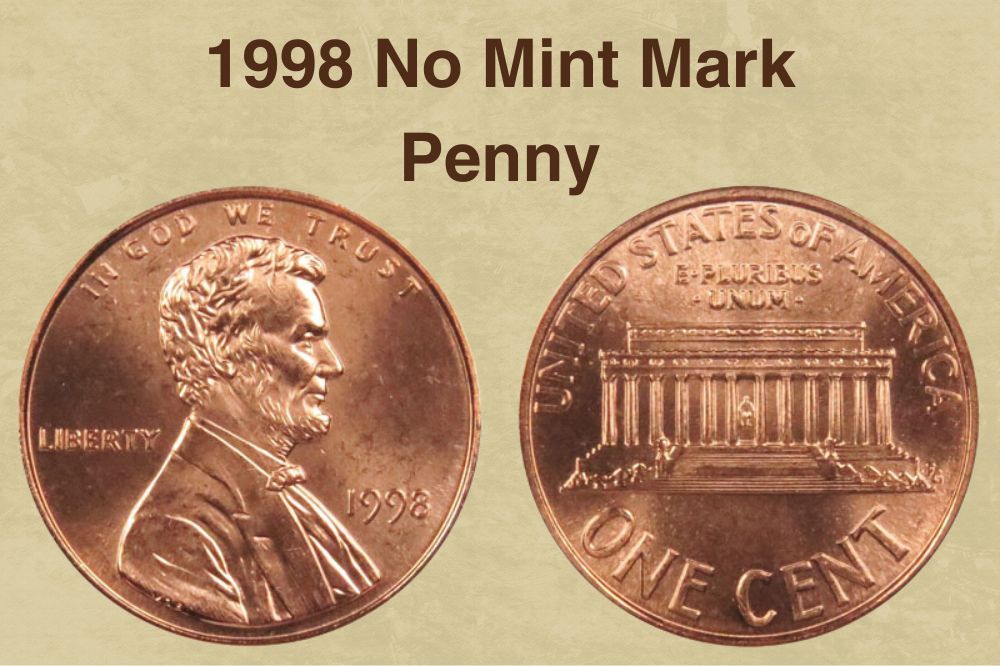 The mintage of 1998 cents in the Philadelphia mint was 5,032,155,000 coins, which is an average number for sets from the 1990s. These specimens are still in circulation, and even those in the mint state are abundant. Therefore, most numismatists consider only red-toned pieces collectibles.
Most perfectly preserved coins cost $0.10 to $13, and only those in MS 68 grade stand out from the crowd with a price of $110. However, some special pennies have appeared at auctions and won higher sums than expected.
For instance, one red-brown colored 1998 MS 66 penny reached $125 on eBay in 2021, while the brown cent in MS 69 penny grade sold at $420 three years before.
Many collectors were surprised after one red penny minted in 1998 and rated MS 69 won an auction record of $5,800 in 2020. It is still the most expensive coin in this set.
1998 D Penny Value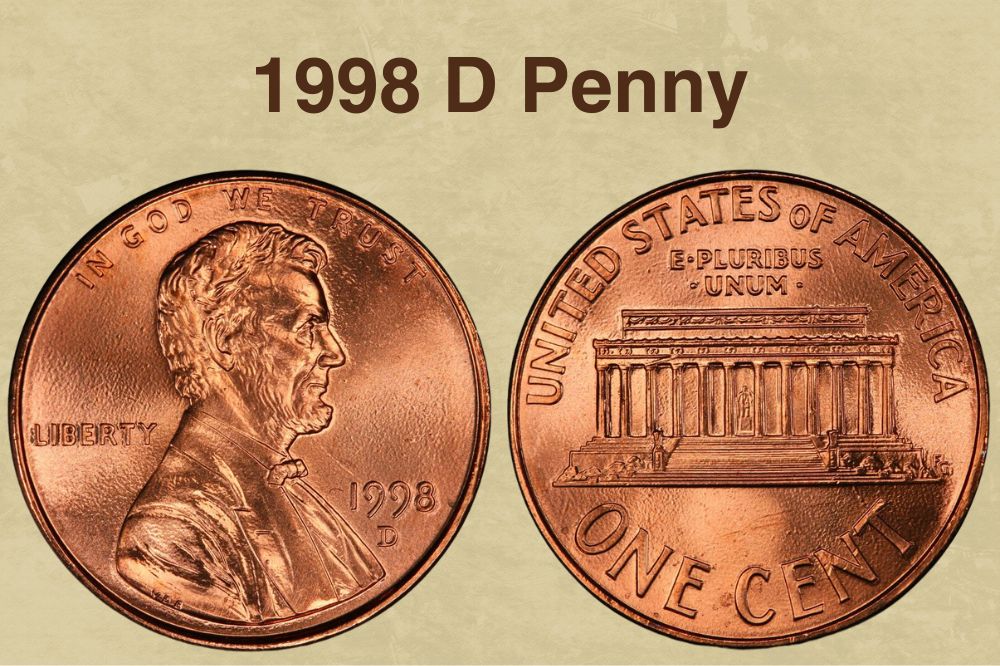 Survived pennies of 5,225,353,500 minted in Denver in 1998 are affordable nowadays. The most appreciated red pieces have a price range from $0.10 for those in MS 60 grade to $15 for coins ranked MS 67.
The best-graded red coins in MS 68 grade are estimated at $225. However, the most expensive piece with the letter D under the date on the coin obverse minted in this mint this year is the MS 66-ranked penny sold at $529 in 2011.
1998 S Penny Value (proof)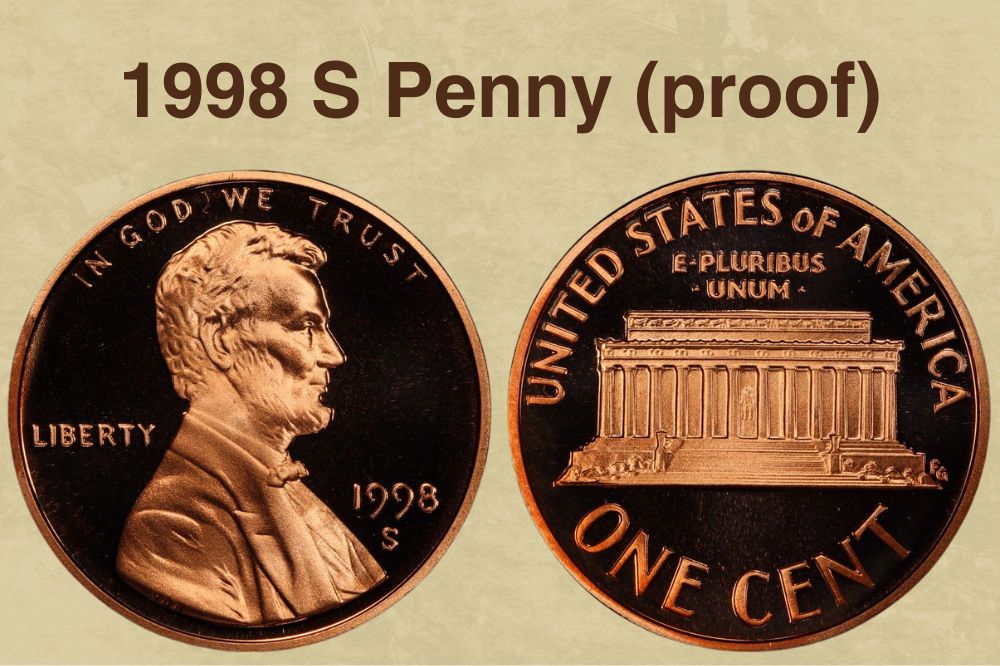 The San Francisco mint issued only proofs in 1998, exactly 2,086,507 excellently-looking coins with the letter S under the date on the coin obverse.
All these cents were intended for collectors, but only red ones with deep cameo contrast are sought-after for now. All pieces ranked from PR 60 to PR 65 cost $0.50, while you should pay $1 to $4 for those in PR 66 to PR 69 grades.
Despite these modest estimated prices, one 1998 penny with the Memorial on the reverse became a part of one collection for $1,265. It was the price one collector paid for this perfect DCAM specimen in PR 70 grade on June 2, 2005.
Also read: 17 Most Valuable Indian Head Penny Worth Money
The 1998 Penny Grading
When you want to know the real value of the 1998 pennies, you should grade them based on the Sheldon grading scale. It is more profitable to do it yourself than to ask for professional companies' services because these modern coins are inexpensive in most cases.
The only situation when professional assessment makes sense is when you suspect to have a unique error piece or a specimen with superb features. Only then can it be cost-effective to pay for such an evaluation.
Rare 1998 Penny Errors list
The 1998 penny set is well-known after two interesting varieties, Wide AM among proof coins minted in San Francisco and Close AM coming from Philadelphia.
However, mistakenly replaced dies caused the occurrence of unique error coins. Besides, you can find a few other errors with relatively moderate prices compared to similar pieces from other years.
Close AM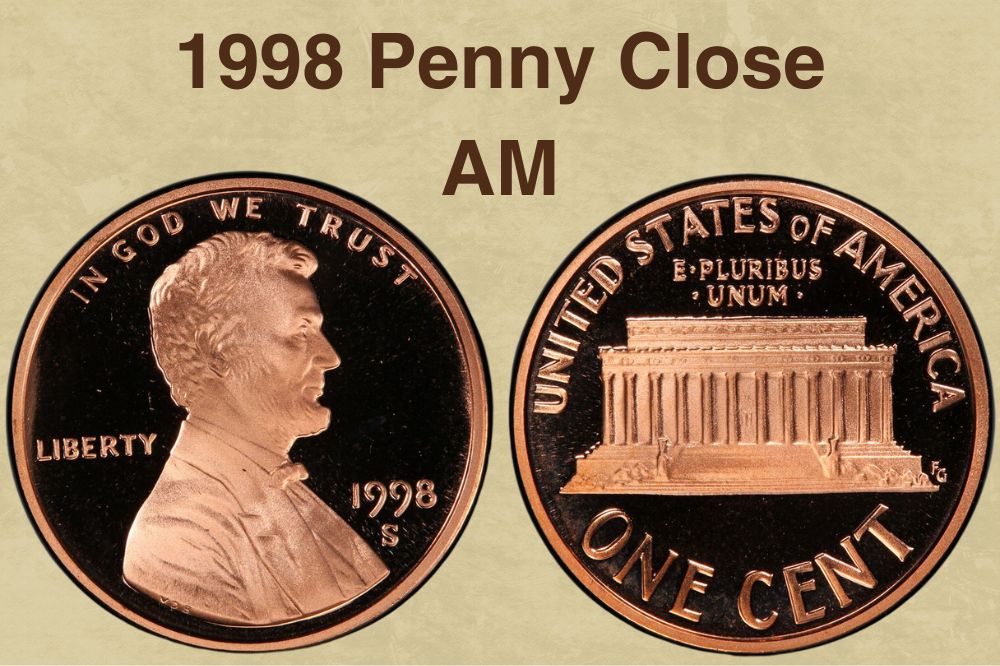 Some 1998 penny proofs minted in 1998 have a recognizable Close AM. Since the US Mint intended to produce coins for collectors with Wide AM die, the other ones are considered an error.
You can buy one 1998 DCAM red Memorial cent proof in PR 66 to PR 69 grades for $100 to $275. The auction records are much higher, like always. Two such pieces with a PR 70 ranking were sold on eBay for $4,500 (2015) and $4,000 (2018).
Wide AM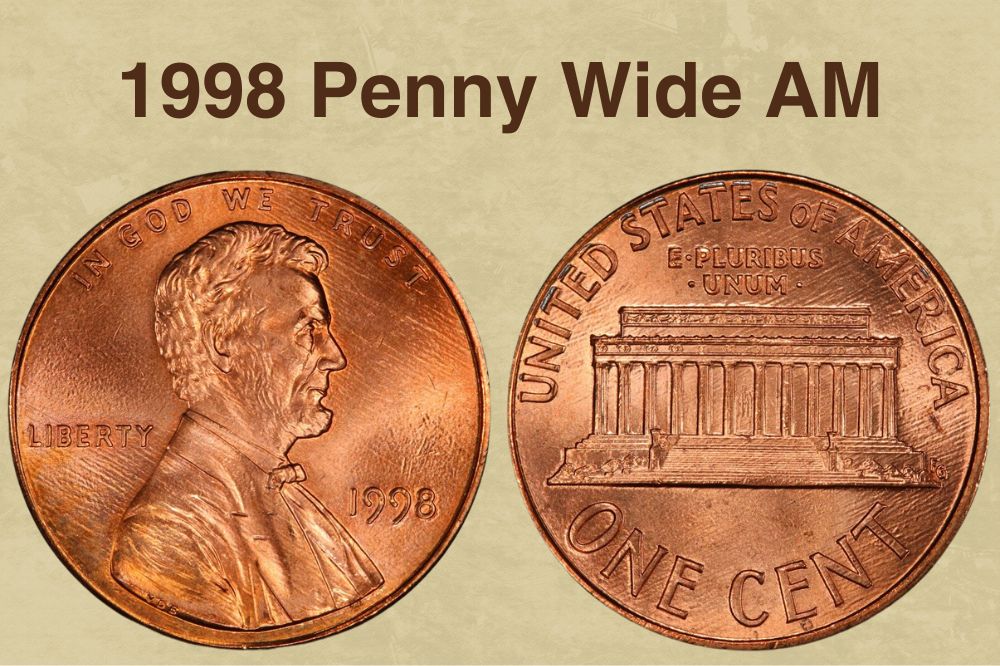 The 1998 pennies from regular strikes come with the so-called Close AM in the word AMERICA with these letters tightly close. However, some pieces came with the Wide AM error, with letters separated more than planned.
That happened because the Wide AM reverse die intended for proof minting mistakenly ended up on the line with regular coins. Circulated pennies with this imperfection typically cost $10, while unused pieces are worth approximately $15 to $25.
The costliest pennies with Wide AM error minted this year are red coins sold at auctions for $940 (2014) and $725 (2011).
Brown-toned pieces with the same imperfection type were moderately expensive and reached auction records of $175 to $250. Finally, the most affordable red-brown specimens were sold at $30 to $80.
Doubled die
Pennies with this error have the unintentional doubling of numbers, words, and/or an image, typically on one side. The reason is the design flaw in the form of doubling on the die during its production.
Doubling appears in Lincoln's eye, his bowtie, lettering parts, or the Memorial pillars. In most cases, it is minor on coins minted this year, and you can notice it only with a magnifying glass. Such pieces typically cost $20 to $50.
Off-center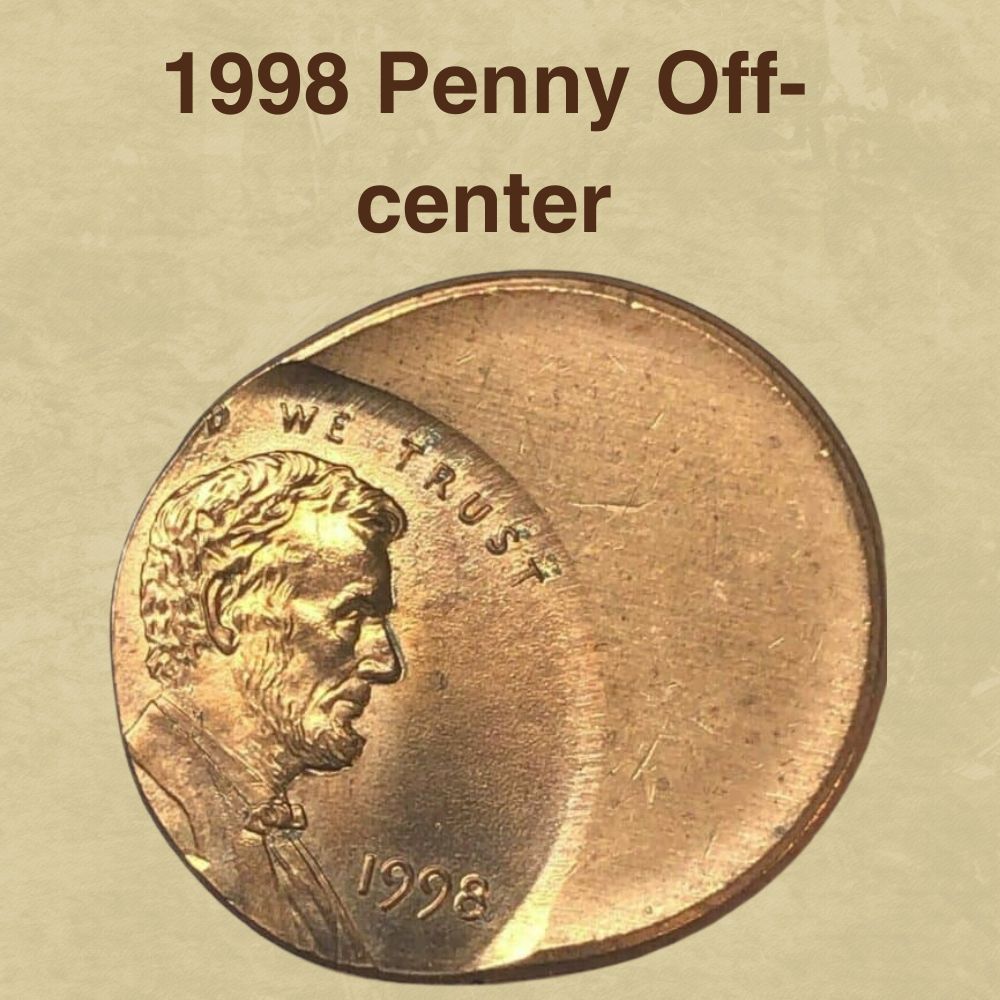 Misaligned dies or an improperly placed blank coin often result in this error type. Be aware that this displacement can be minor, from 3% to 10%, which rarely increases the coin's value.
On the other hand, pennies minted in 1998 with 5% to 10% off-center or those with too high error percentages are worth approximately $5 to $15. The most expensive are collectible coins, with 45% to 60% off-center. You can expect to pay about $50 to $100 for one such penny.
BIE die crack
This error is typical for most pennies in the series because of the die cracking in the middle of the word LIBERTY. Error coins have this word looking like – LIBIERTY and can sometimes be expensive. Unfortunately, that is not the case with these modern specimens.
Therefore, you can find one such piece for a relatively modest price of $10 to $15. Some collectors even reported the 1998 Lincoln No Mint mark cents with an IIB error. They are usual this year and typically of insignificant value.
Also read: 11 Most Valuable Wheat Penny Errors
FAQ about the 1998 Penny
What makes 1998 Penny rare?
Thanks to billions of minted pennies in 1998 and the fact they are only 25 years old, these coins are common and available for everyone who wants to collect them. However, pieces with Close AM and Wide AM errors can bring more money than standard specimens.
Which 1998 Penny are the most expensive in the set?
The 1998 MS 69 penny Memorial, red, sold at $5,800 on eBay on November 20, 2020
The 1998 S PR 70 penny Memorial, Close AM, DCAM, sold at $4,500 on eBay on July 1, 2015
The 1998 S PR 70 penny Memorial, Close AM, DCAM, sold at $4,000 on eBay on March 31, 2018
The 1998 S PR 70 penny Memorial, DCAM, sold at $1,265 at Heritage Auctions on June 2, 2005
The 1998 MS 67 penny Memorial, red, Wide AM, sold at $940 at Heritage Auctions on June 4, 2014
The 1998 MS 67 penny Memorial, red, Wide AM, sold at $725 at Stack's Bowers on June 14, 2011
The 1998 D MS 66 penny Memorial, red, sold at $529 at Bowers & Merena on January 3, 2011
The 1998 D MS 68 penny Memorial, red, PL, sold at $450 on eBay on May 24, 2021
The 1998 MS 69 penny Memorial, brown, sold at $420 on eBay on December 23, 2018
The 1998 S PR 69 penny Memorial, red, Close AM, sold at $378 on eBay on February 22, 2019
The 1998 NGC Genuine penny Memorial, brown, Wide AM, sold at $250 on eBay on October 27, 2019
The 1998 MS 66 penny Memorial, brown, Wide AM, sold at $175 on eBay on March 1, 2023
The 1998 MS 66 penny Memorial, red-brown, sold at $125 on eBay on August 15, 2021
The 1998 NGC Genuine penny Memorial, red-brown, Wide AM, sold at $80 on eBay on February 8, 2022
The 1998 D MS 65 penny Memorial, red-brown, sold at $50 on eBay on January 5, 2023
The 1998 MS 61 penny Memorial, red-brown, Wide AM, sold at $30 on eBay on September 11, 2021
The 1998 D UNC Details penny Memorial, brown, sold at $9 on eBay on June 9, 2022
How much are the 1998 Penny minted in Philadelphia worth?
Since the 1998 cents are considered modern coinage, you can expect to find even uncirculated pieces for $0.10 to $13. Only excellently-looking coins with an MS 68 rating are estimated at $110. In most cases, their prices depend on color, and the rule of thumb is that red ones are the most expensive.
What Memorial Penny are the most expensive in the series?
Modern Memorial cents are often inexpensive, but several collectible coins in superb condition reached impressive prices at auctions.
The priciest penny from the Philadelphia mint is the 1999 MS 66 coin, sold at $138,000 in 2006
The priciest penny from the San Francisco mint is the 1969 S MS 64 DDO coin, sold at $126,500 in 2008
The priciest penny from the Denver mint is the 1959 D MS 60 coin, sold at $48,300 in 2003
The priciest proof is the 1963 PR 70 coin, sold at $40,250 in 2004