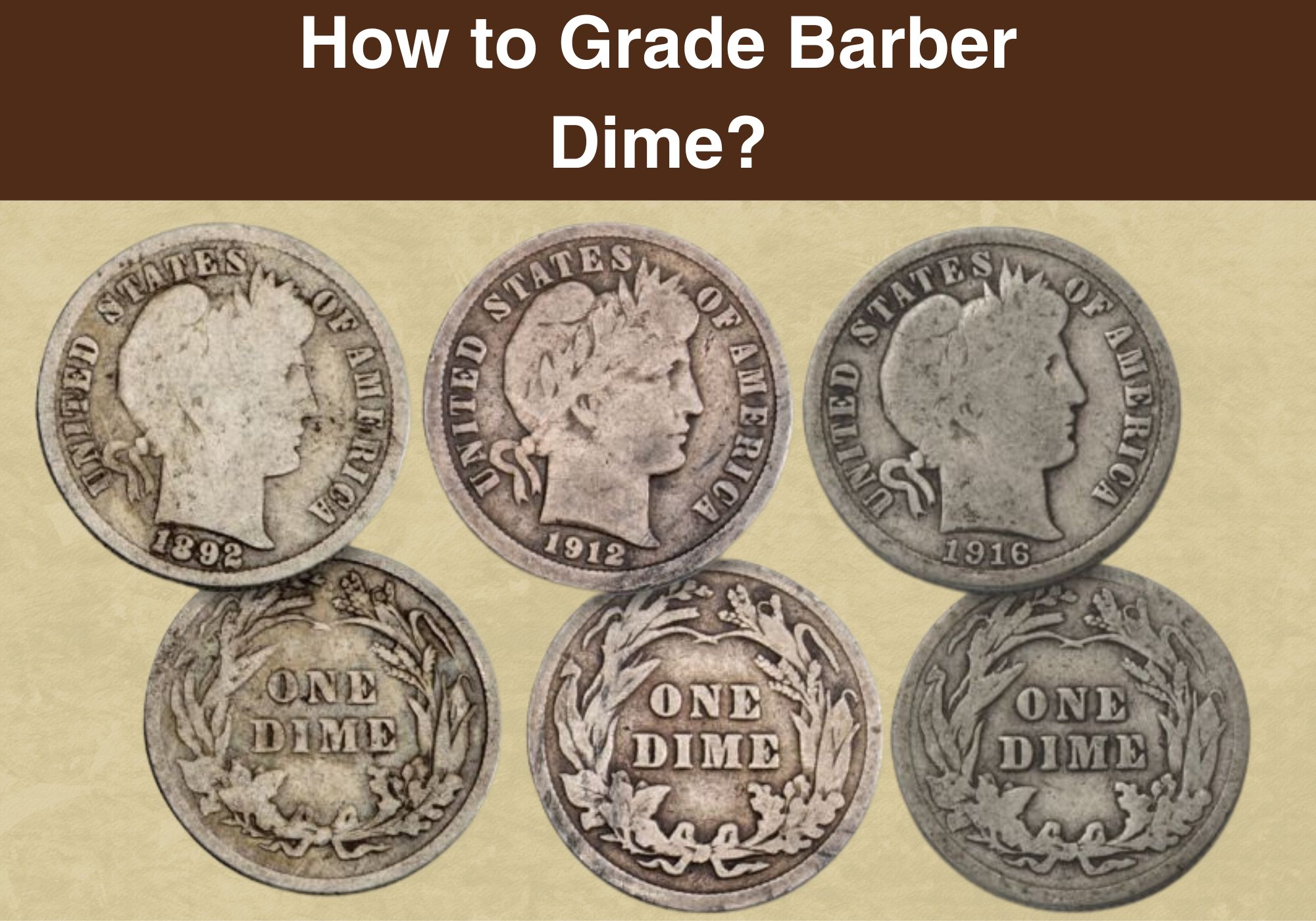 Believe it or not, you should study a coin condition in-depth to discover the subtle Barber dime value differences from one grade to the next. The crucial things to check are your coin's mint luster, toning, and possible abrasions.
Therefore, experts spend years learning how to grade Barber dimes in a precise manner. They are particularly careful when evaluating used pieces and those with rare minting errors. Only one tiny detail can make a difference worth hundreds of dollars!
Grading Standards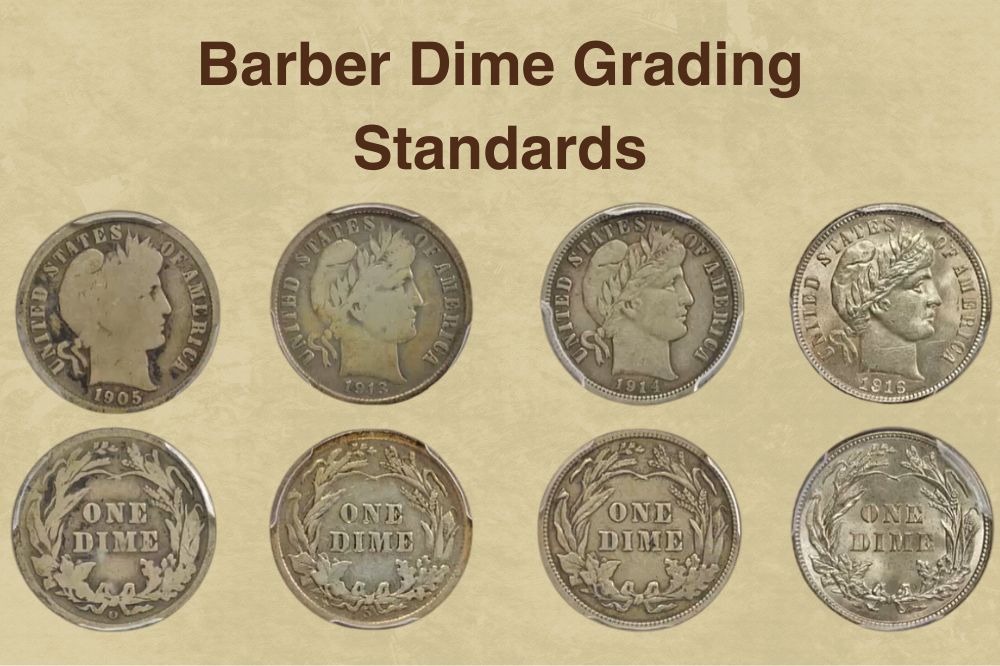 Most beginners need help grading their coins, particularly pieces that spent more or less time in circulation. The fact is that you need the least knowledge to evaluate circulated coins. On the other hand, assessment of those in the mint state requires a trained eye because of subtle variations.
The crucial thing is to have a superb light source. Most collectors attach a 75-watt bulb to a lamp and place it on the table. If you prefer LED light bulbs, the best option is to use a bright white bulb.
The bulb is critical because only those providing excellent lighting allow you to notice color differences on the coin surface. Besides, it is the only way to spot tiny scratches and possible minting errors that are hard to see with the naked eye.
Every numismatist also needs a decent magnifying glass that magnifies a picture approximately 5 to 8 times. Using the one lower than 5x is too weak, so it disables you to spot possibly crucial details. Those stronger than 8x are impractical for coin grading.
The next step is determining whether your coin is uncirculated or has signs of spending time in use. If you notice only slight hints of high points' wear, you probably have a piece in About Uncirculated condition.
Finally, you need the Sheldon scale to compare your dime with the given guidelines. Be prepared that the numbers on the scale are not proportional. For instance, the difference between coins in VF 20 and EF 40 is not the same as between two pieces in EF 40 and MS 60.
In other words, differences in the first case can be from 5% to 60% lost details. The variation between the other two coins is more subtle and harder to notice. The best solution is to use the Official ANA Grading Standards as help because they describe every American coin in any possible condition.
Understanding Grades for Barber Dime
The first Barber dimes based on Charles Barber's design appeared in 1892. Their minting lasted only 25 years. In 1916, the Mercury dime appeared on the scene, replacing the unpopular US chief engraver's creation.
Collectors avoided collecting these unattractive coins from the start, and this series has never got the attention it might deserve. If you admire this humble series, you should learn how to grade your specimens appropriately.
Barber dime

Face value
Ten cents ($0.1)
Compound
Silver (90%)
Coin weight
0.080 troy ounces (2.5 g)
Coin diameter
0.705 inches (17.91 mm)
Coin thickness
0.053 inches (1.35 mm)
The most effortless way is to use ANA grading standards with detailed descriptions of any possible coin condition. There is also information about the number of dimes the series includes based on the mint marks and dates.
Besides, you can find details about minting quality and the most common or particularly scarce errors that appeared in particular mints. Finally, the book describes barely visible differences in each piece condition.
How to Grade Barber Dime?
Correct dime grading lets you understand your specimen's appearance, quality, and collectability. Besides, it is the only way to determine its accurate market value.
An evaluation gives information on each piece's price range. However, rare dimes in superb condition or with a spectacular minting error can break a rule.
Such coins sometimes win prices at auctions that are many times higher than estimated. These auction records often result from a moment, the enthusiasm of collectors, and their unwavering intentions to get a particular specimen.
1. About Good (AG)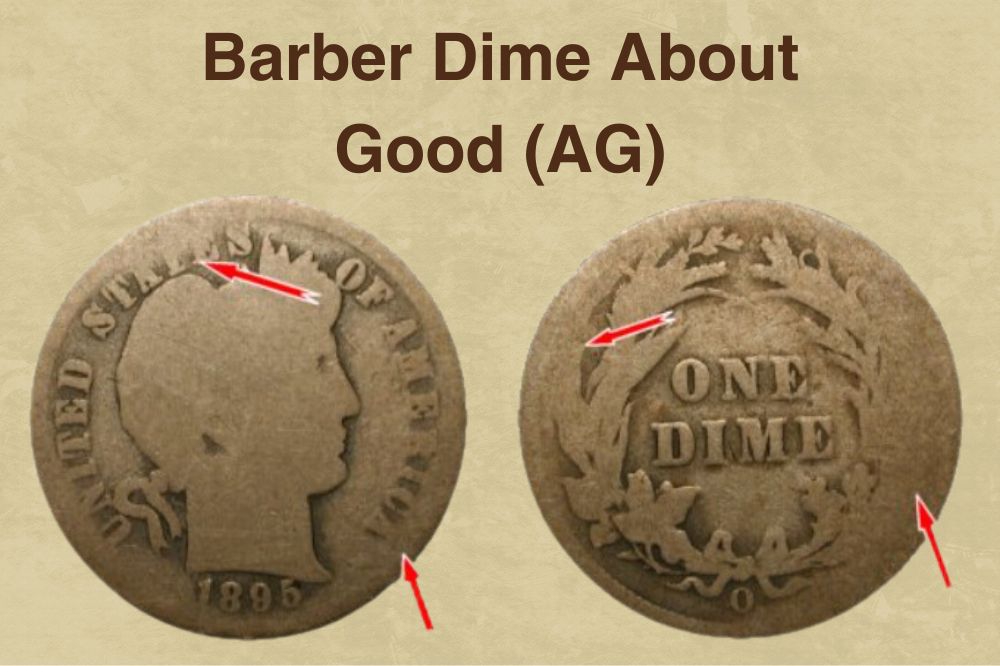 The Barber dimes in this grade are non-collectible, and even beginners avoid adding them to their collections. There is a good reason for that. Such coins are heavily worn and without recognizable details.
Obverse
The coin rim is worn into the inscriptions written along it, and the Liberty's head is only outlined. In most cases, you can barely recognize details. The bottom part of the date is worn away but visible.
Reverse
You can see a partially worn wreath, especially its outer edges that merge into the rim. The denomination and mint mark are readable.
2. Good (G, G4, G6)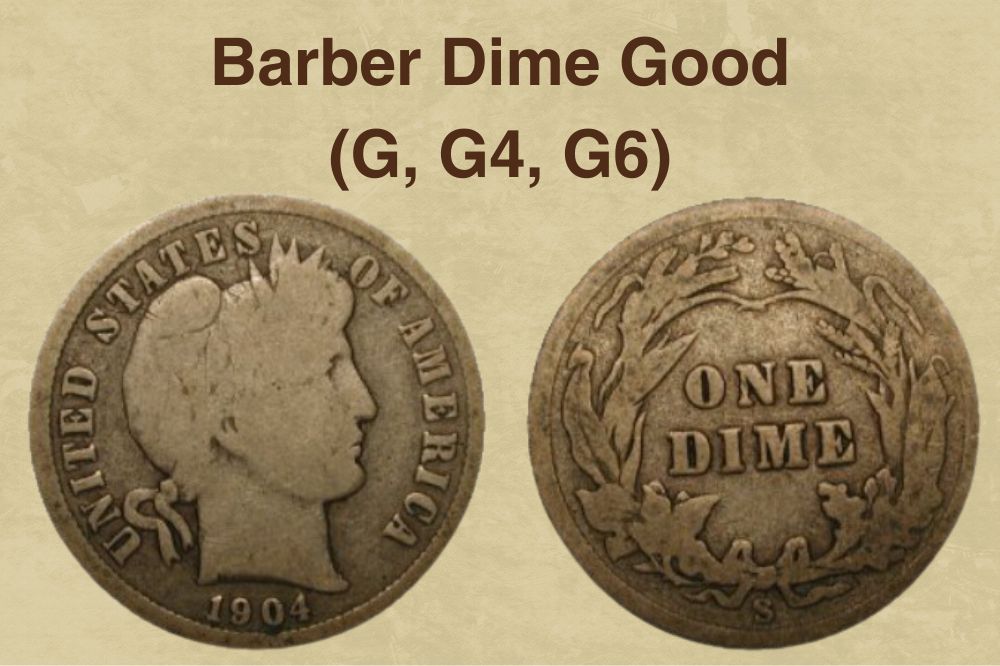 It is the lowest collectible grade for American coinage. Such coins show worn-out images with missing major details, but their rims are complete. Nevertheless, the bold design makes these old coins still desirable.
Obverse
This coin side shows the Liberty image outline, and you can see the complete coin rim. Unfortunately, it is impossible to recognize a band with the word LIBERTY. The legend and date are bold and readable, separated from the edge.
Reverse
The rim is often complete, but it is not always the case. The date and major wreath elements, including grain stems, corn, and leaves, are recognizable. However, all detail on their surface is missing, while leaves and corn placed on the right are flat and without defined lines.
3. Very Good (VG, VG8, VG10)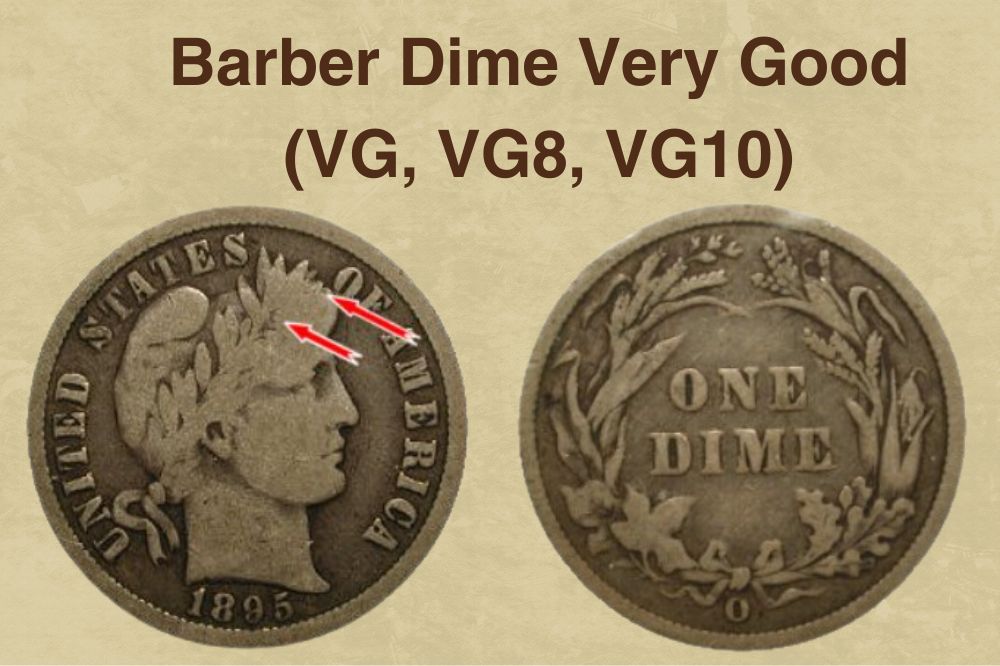 The primary characteristic of this grade is at least three visible letters in the word LIBERTY struck on the band that adorns Liberty's hair.
Obverse
The head design is weak and barely recognizable, while most face details are smooth. The crucial thing is to find a minimum of three readable letters in LIBERTY, no matter which ones. The coin rim on this coin is complete.
Reverse
The wreath depicts a few details, but grain stalks and corn are smooth and flat. You can recognize bow outlines, but the impression is weak.
4. Fine (F, F12, F15)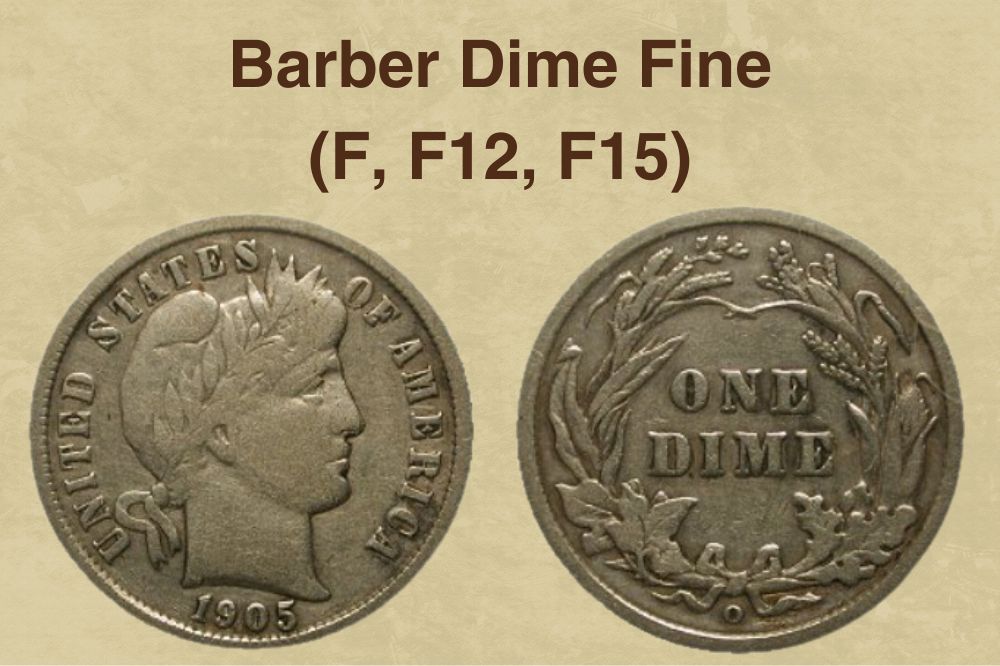 The Barber dime graded Fine is faded with noticeable signs of wear. Most major design elements are shallow, and you can recognize only an outline. However, several existing key features distinguish this specimen from the lower-ranked ones.
Obverse
All letters in LIBERTY are visible, but some can have a weak or missing bottom line. In this case, more details on the well-defined laurel wreath are visible, but its bottom part is pretty worn out and smooth. It is impossible to see a raised headband definition typical for this coin.
Reverse
The denomination is well-preserved, but the wreath is worn out with fine lines that are still smooth. However, each leaf is detailed and visibly separated, and the bow is with a defined knot and ribbons.
5. Very Fine (VF, VF20, VF25, VF30, VF35)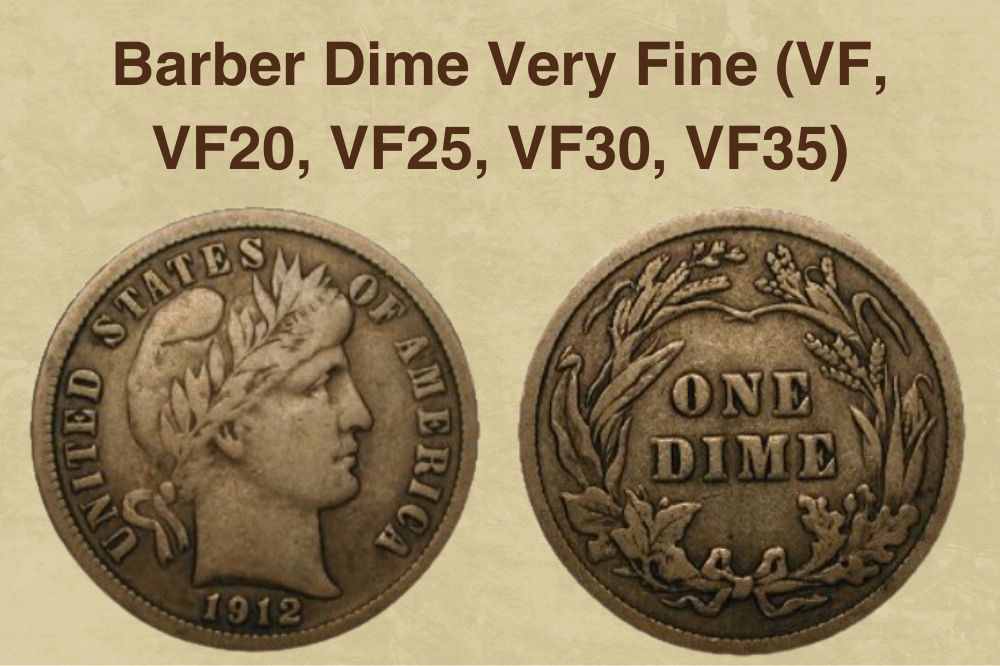 The coin in this grade is the first with even and recognizable details on both sides. Although some parts are still worn out, you can be satisfied with this piece's look.
Obverse
A Liberty profile shows many details, and you can recognize numerous considerable ones in the laurel wreath in her hair. In this rank, all letters in LIBERTY are visible and even. A band struck on the bottom is complete.
Reverse
You can see signs of wear on lower leaves, but you can recognize corn kernels and most details in the ribbon bow.
6. Extra Fine (EF40, EF45)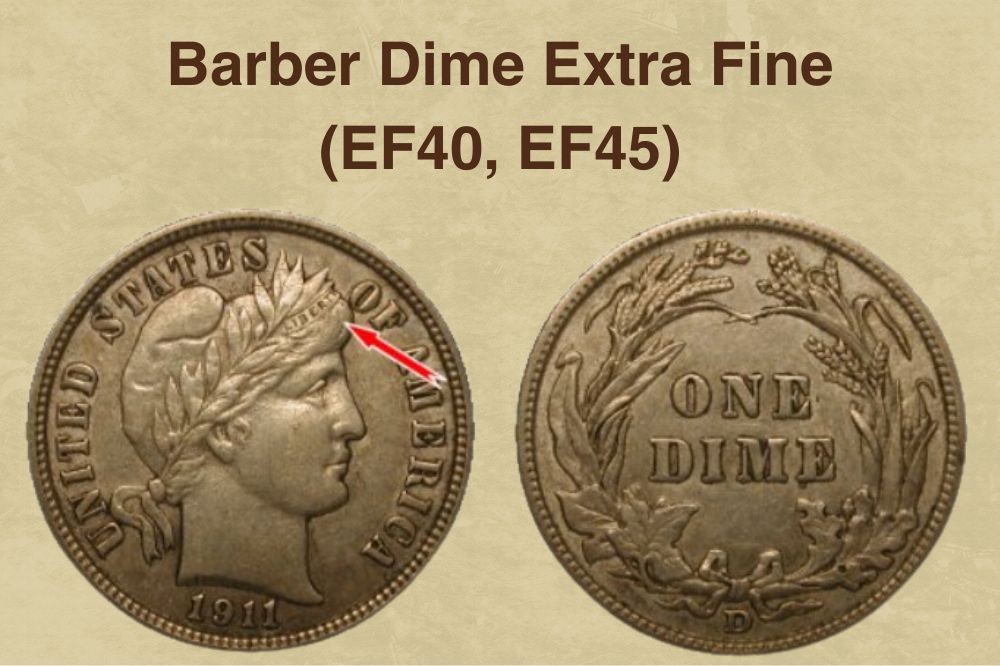 This dime still shows light wear, but most details are visible and well-defined. You can notice areas of wear on the highest design parts. The mint luster is missing, but the coin surface looks distinct and sharp.
Obverse
The band in Liberty's hair is complete with the readable inscription LIBERTY. It is the lowest grade where her forehead and hair show three-dimensionality. You can spot slight wear only on the highest design areas, such as Liberty's cheek and the highest upper leaves points.
Reverse
The wreath and denomination are excellently defined and visible, although the highest wreath and bow points are still lightly worn out. Many details, like the corn kernels and grains of wheat, are recognizable and separated.
7. About Uncirculated (AU50, AU55, AU58)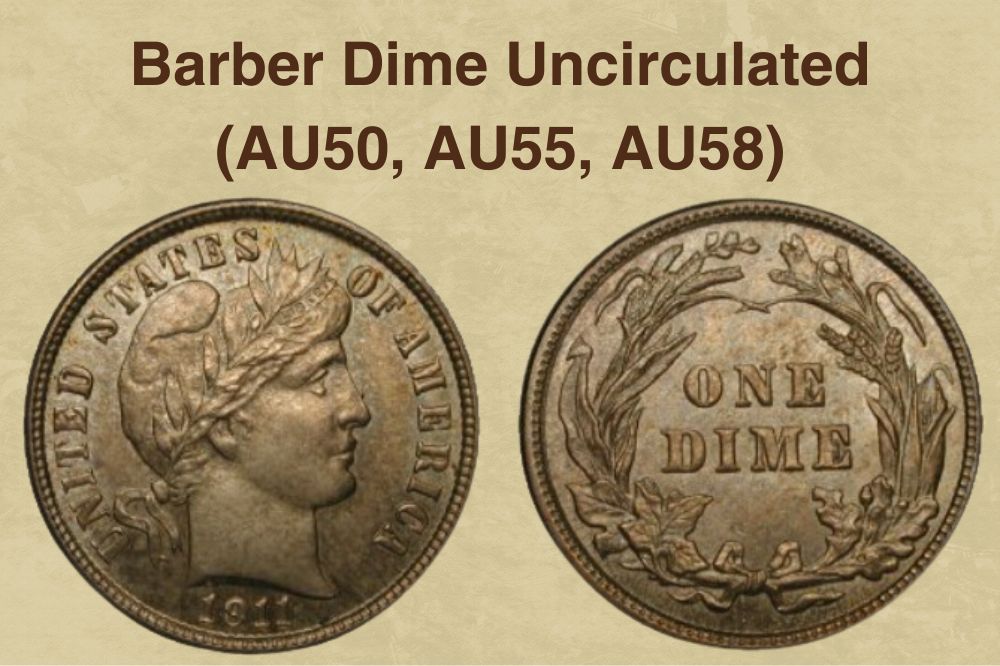 These Barber dimes look like they rarely spent time in circulation. You can see only light, barely visible signs of wear on the highest design points.
Obverse
You can recognize mint luster on the coin surface, and there are only traces of wear on the highest hair points below the LIBERTY word. Besides, you can spot them on Liberty's cheek and forehead top.
Reverse
A ribbon bow shows slight traces of wear, but you can also see them on wheat grains and leaf tips. Approximately 75% of mint luster should be present.
8. Mint State (from MS60 to MS70)
Barber dimes in the mint state are almost perfectly preserved. The top design areas are bright with the same texture as the deep parts, and the surface is free of wear. However, you can sometimes see changes in metal texture and slight wear on the highest points, primarily Liberty's cheek.
They result from mutual contact while packing in the same bag and so-called bag marks. They appear when dimes are inside the bag for a long time and come to friction between the metal and the canvas' rough surface.
Summary
The vital thing to understand is that Barber dime grading is not an exact science. It is a skill that takes years to acquire, making professional coin appraisers so important.
Remember that any collector can evaluate coins. However, only experts can notice subtle variations in appearance that can make a difference of hundreds or even thousands of bucks.