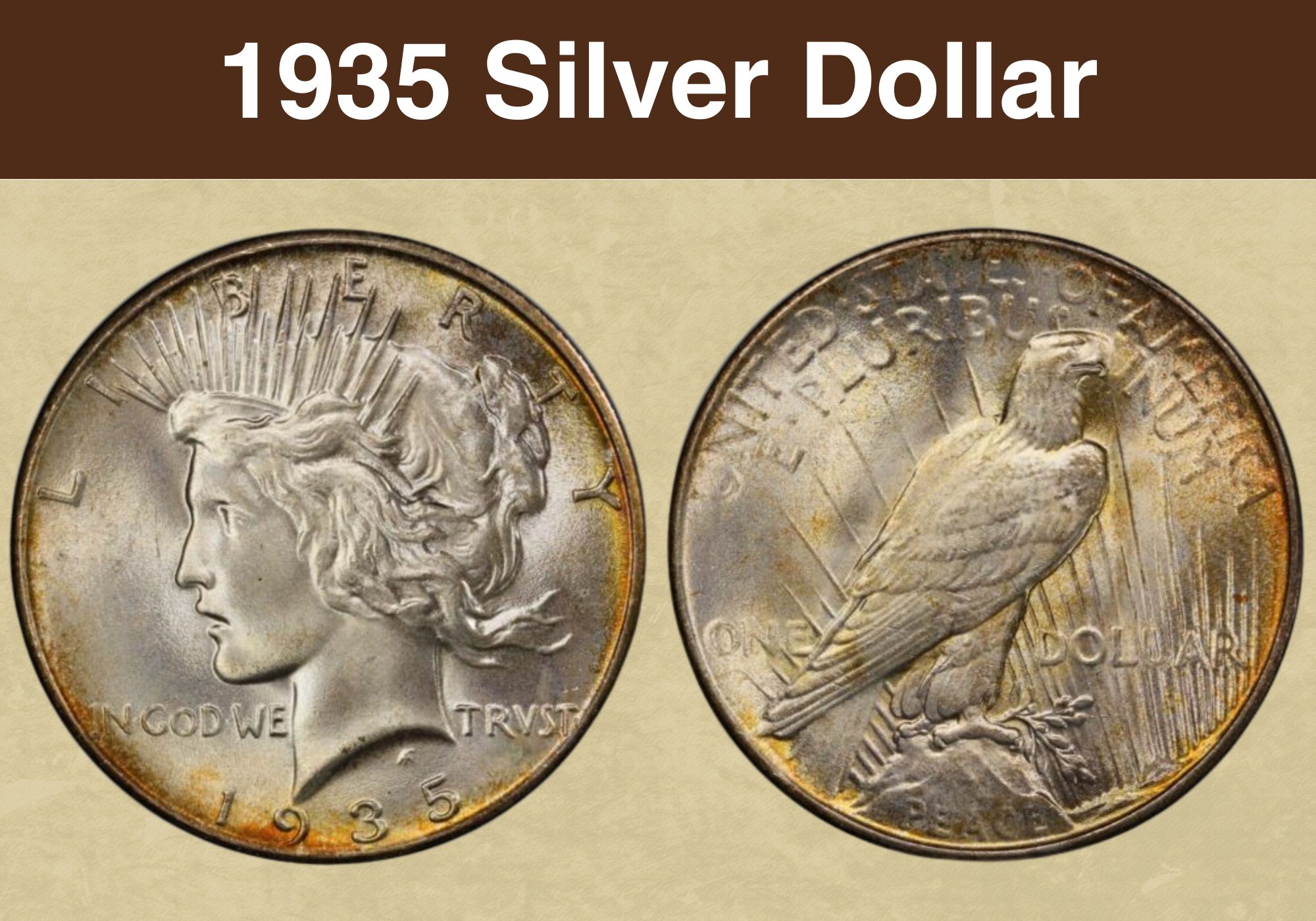 Peace silver dollars are rare, lovely coins minted in only 15 years, from 1921 to 1935. Except in 1922, their mintage was relatively low during the years, especially in the 30s. The series includes 24 minting dates and three possible mint marks. The total mintage was 190,577,279.
Their purpose was to celebrate peace after WWI, but they were abolished in 1935, only a few years before the most horrible war in human history began. The 1935 silver dollar value significantly varies nowadays, depending on the mint they were produced and their current beauty, luster, and condition.
1935 Peace silver dollar value Chart

Condition
1935 silver dollar
1935 S silver dollar
Good
$41
$42
Very good
$46
$48
Fine
$52
$56
Very fine
$58
$61
Extra fine
$62
$81
AU
$87
$120
MS 60
$120
$327
MS 65
$874
$1,637
History of the 1935 Peace Silver Dollar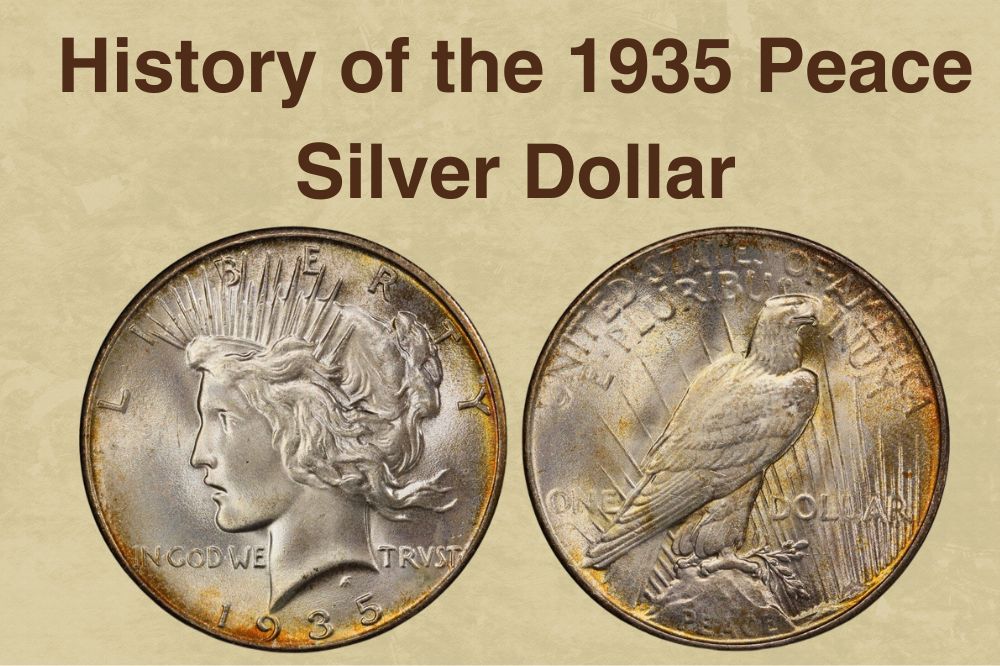 Peace dollars are beautiful silver coins containing 0.77 troy ounces (24.5 g) of precious metal minted from 1921 to 1935 in the US Mint. They were the first silver pieces after 1904, after the Morgan dollar production ended.
Under the Pittman Act of 1918, millions of silver coinage were melted. Most were sold as bullion, while one part was used for new coins minting. The US Mint had one more attempt to produce lovely Morgan dollars, but the final decision was to replace them with a new design.
Interestingly, you can find Morgans minted this year by December when new Peace dollars took their place. Their history was turbulent, and minting was even stopped from 1928 to 1934, mainly during the Great Depression.
1935 Peace silver dollar Types

Location
Year
Minted
Philadelphia
1935 silver dollar
1,576,000
San Francisco
1935 S silver dollar
1,964,000
Total
/
3,540,000
The Peace dollar set, including all date and mint combinations, has 24 coins. It is a significantly lower number compared to a Morgan dollar set with 95 coins, making them easier to collect.
In fact, this silver dollar type had the shortest minting period of any American coin. These coins aimed to celebrate the end of WWI, the war to end all wars. At that time, Americans believed in a future where peace could last long.
Unfortunately, that didn't happen, and this coin failed in every possible way. It glorified a short-lived peace and became the last American circulating silver dollar containing 90% of this precious metal. The next war started two decades later.
Also read: 12 Most Valuable One-Dollar Coin Worth Money
Features of the 1935 Peace Silver Dollar
Anthony de Francisci did an incredible job with the Peace dollar series. These beautiful coins came with fantastic design details and a unique word, PEACE, struck on the reverse. It was how the US Mint celebrated the end of World War I and glorified life after the suffering people had experienced.
The obverse of the 1935 Peace silver dollar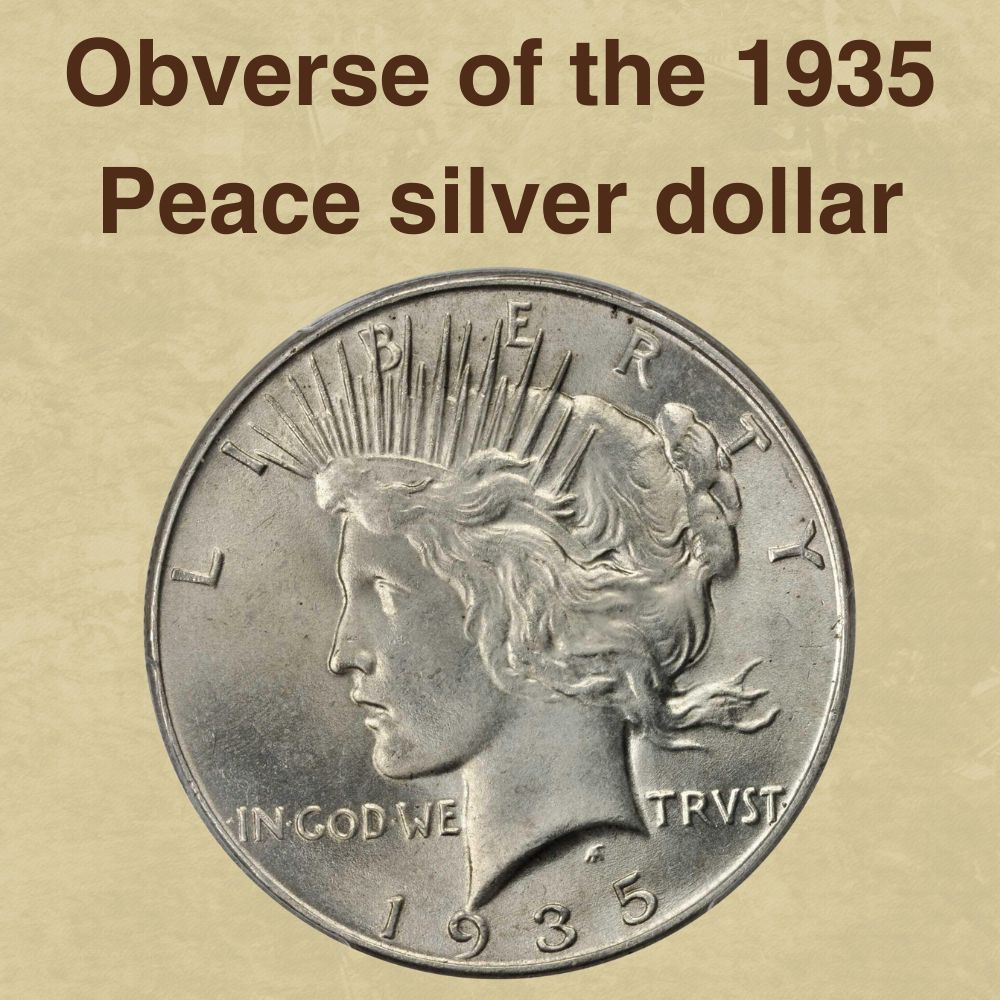 The 1935 Peace silver dollar obverse is among the most beautiful American coinage minted since the US Mint started producing coins in 1792. It depicts Lady Liberty with a cap on her head top, decorated with a crown imitating the sun's rays.
Behind her image is LIBERTY stretched along almost half of the rim. On the left side of her neck is · IN · GOD · WE, while the word TRVST is struck on the right. Below the bust are AF initials (for Anthony de Francisci) and the date, 1935.
Interestingly, these coins have the letter V in the word Trust. That is not an error but the way to write this word on Peace dollars produced after the war. It symbolizes the victory of American soldiers, making them commemorative coins in some way.
The reverse of the 1935 Peace silver dollar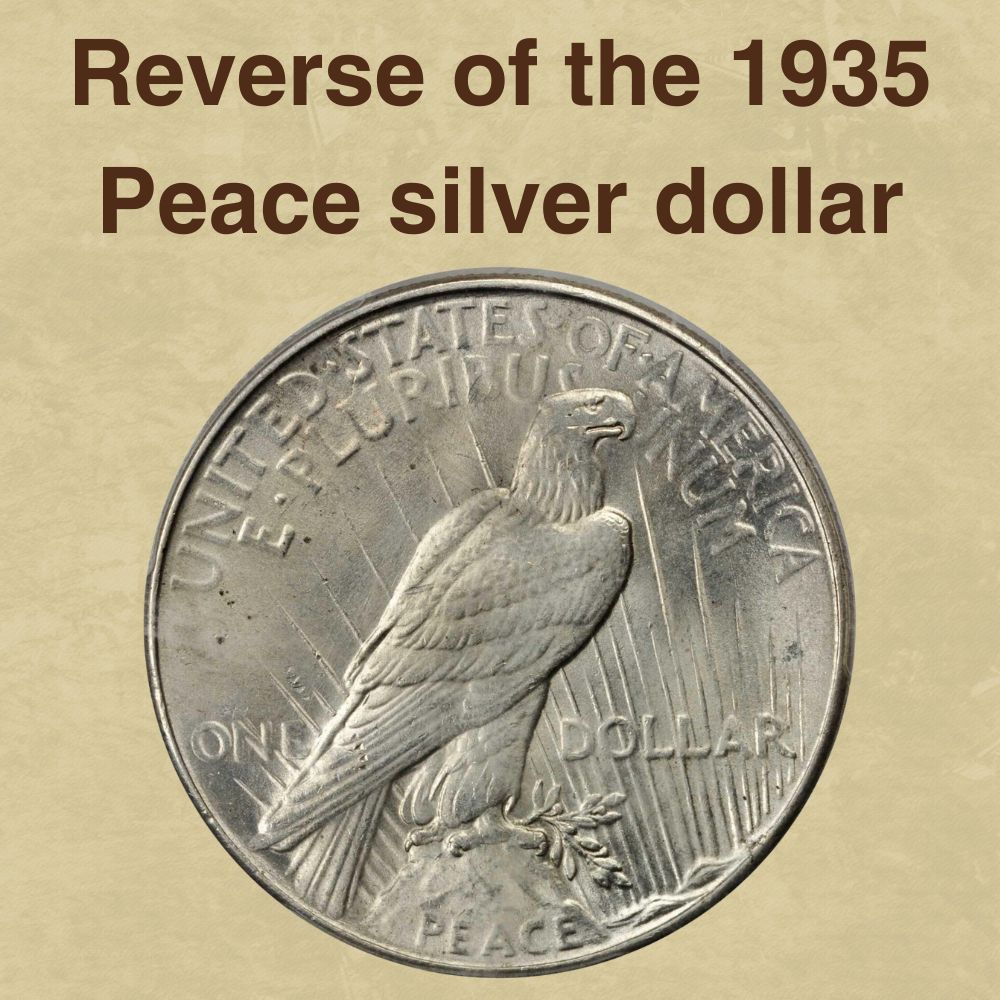 The 1935 Peace dollar reverse is a bit different from standard American coinage. This silver piece includes a centrally positioned eagle that stands on a rock with a twig growing to the right.
Sun rises from the bottom right coin side and lights up the following inscriptions:
UNITED STATES · oF · AMERICA and E · PLURIBUS UNUM struck in two lines above the bird
ONE – DOLLAR divided into two parts and placed to the left and right of the bird
The word PEACE, as a unique inscription on American coins
The S mint mark left of the bird's tail
1935 Peace silver dollar Details

Face value
One dollar ($1)
Shape
Round
Edge
Reeded
Compound
90% silver (the rest is copper)
Coin thickness
0.09449 inches (2.4 mm)
Coin weight
0.8594 troy ounces (26.73 g)
Silver weight
0.77344 troy ounces (24.5 g)
Coin diameter
1.5 inches (38.11 mm)
Other features of the 1935 Peace silver dollar
The 1935 Peace silver dollar is a round silver coin with a diameter of 1.5 inches (38.11 mm) and a reeded edge. Its thickness is 0.09449 inches (2.4 mm). In terms of weight, every coin is 0.8594 troy ounces (26.73 g) heavy, while the silver content is 0.77344 troy ounces (24.5 g).
Also read: 14 Most Valuable Coins In Circulation
1935 Peace Silver Dollar Value Guides
In 1935, two mints issued Peace silver dollars. Their whole mintage was 3,540,000 coins, but the one in San Francisco produced slightly more coins than the Philadelphia mint. This series came without proofs, except the set minted in 1921.
1935 Peace silver dollar Value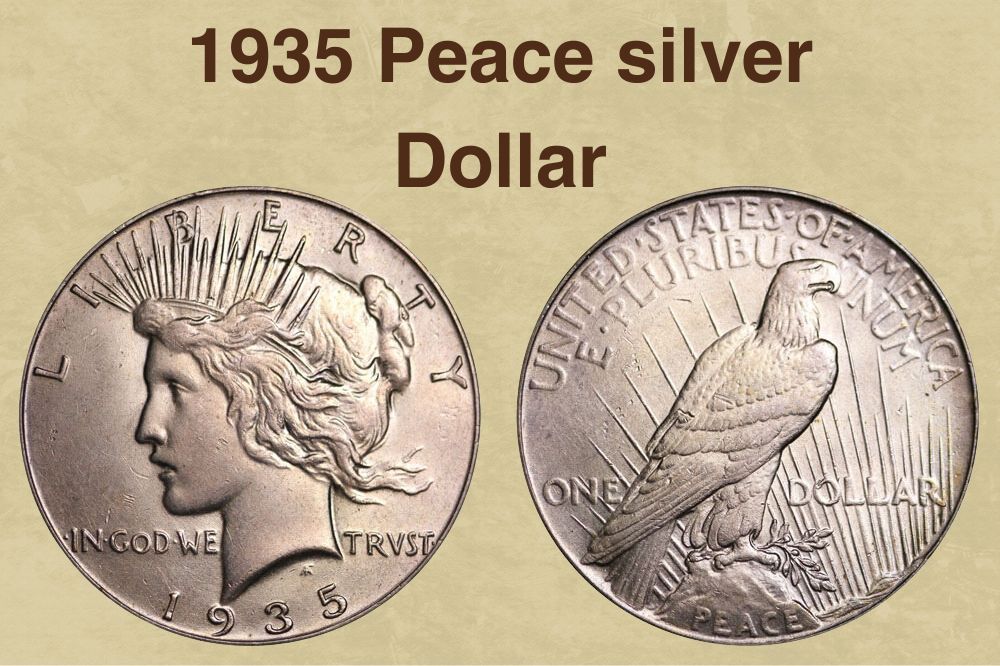 All 1,576,000 Peace silver dollars minted in Philadelphia in 1935 were without the mint mark, following the laws of that time. Despite their age, finding these coins on the market is still possible.
Those in circulated condition cost $24 to $100, while coins up to MS 65 grade are available at $120 to $625. However, the situation is entirely different with higher-rated pieces, and you need to think big if you plan to buy one.
Peace dollars in MS 66 grade are estimated at $2,200 to $2,500, while experts assess those ranked MS 67 at $24,000 to $50,000. The auction record reached on February 25, 2021, is even higher, $63,000.
1935 S Peace silver dollar Value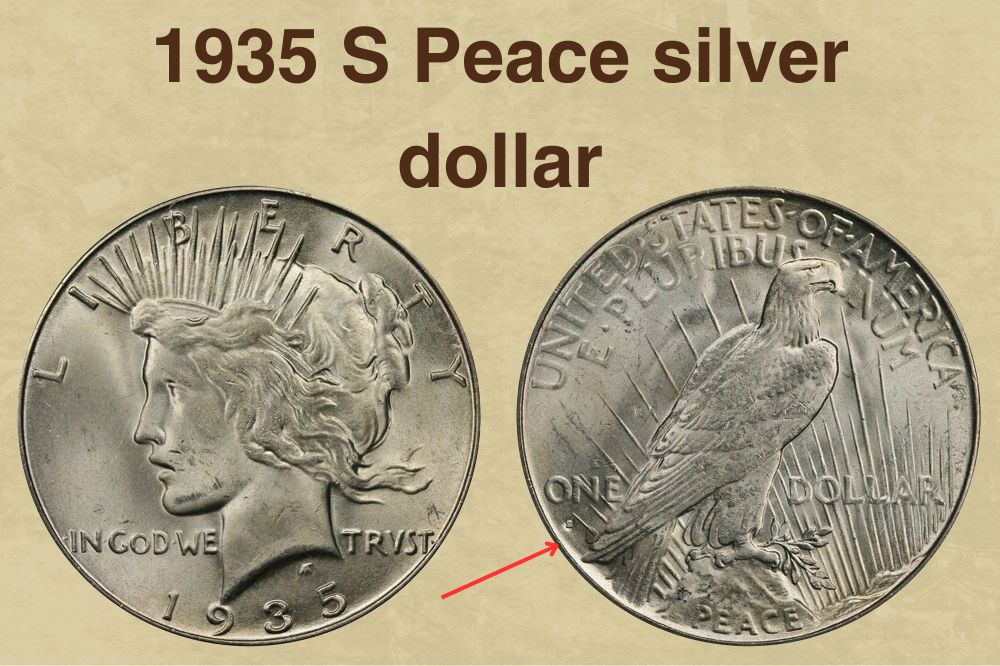 The San Francisco mint had a higher Peace dollar mintage than the one in Philadelphia. This mint issued 1,964,000 silver coins in 1935, and the high number still exists on the open coin market.
Specimens that spent years in circulation cost $24 to $228 nowadays, while perfectly preserved ones (MS 60 to MS 64) have prices within $1,000. You can also find one piece with MS 65 ranking for $1,450 to $1,670, while those in MS 66 grade are assessed at $2,850 to $3,278.
Experts estimate precious MS 67-ranked coins at $45,000 to $65,000, but the reality can be better than that. One owner sold his 1935 S MS 65 silver Peace dollar for $39,656 in 2013.
Also read: Top 10 Most Valuable Morgan Silver Dollar Worth Money
1935 Peace Silver Dollar Grading
Professional coin grading is the most reliable way to find the genuine value of one silver dollar. Since they are old coins containing precious metal, they are both collectibles and an investment. So, you can expect that each buyer wants to get a precise estimation for the specimens they buy.
It is possible to sell your coin on eBay after determining its quality and price yourself by following the Sheldon scale instructions. However, it is insufficient for superb pieces that reach thousands of dollars at auctions. Collectors appearing there want to see certifications proving each specimen's condition, flaws, and assessed price.
Rare 1935 Peace Silver Dollar Errors List
Despite the effort, producing a perfect set of coins without errors is virtually impossible. The reasons are various, including human errors, technology limitations, or equipment wear and tear. The 1935 Peace dollars came with a few well-known errors that often increased their prices compared to standard pieces.
Four rays
This attractive 1935 Peace dollar variety has four instead of three rays between the eagle's tail and the word ONE. No one knows the reason for this error occurrence, but such coins can be valuable. For instance, one such piece in MS 63 grade minted in San Francisco sold at $408 in 2023.
Doubled die reverse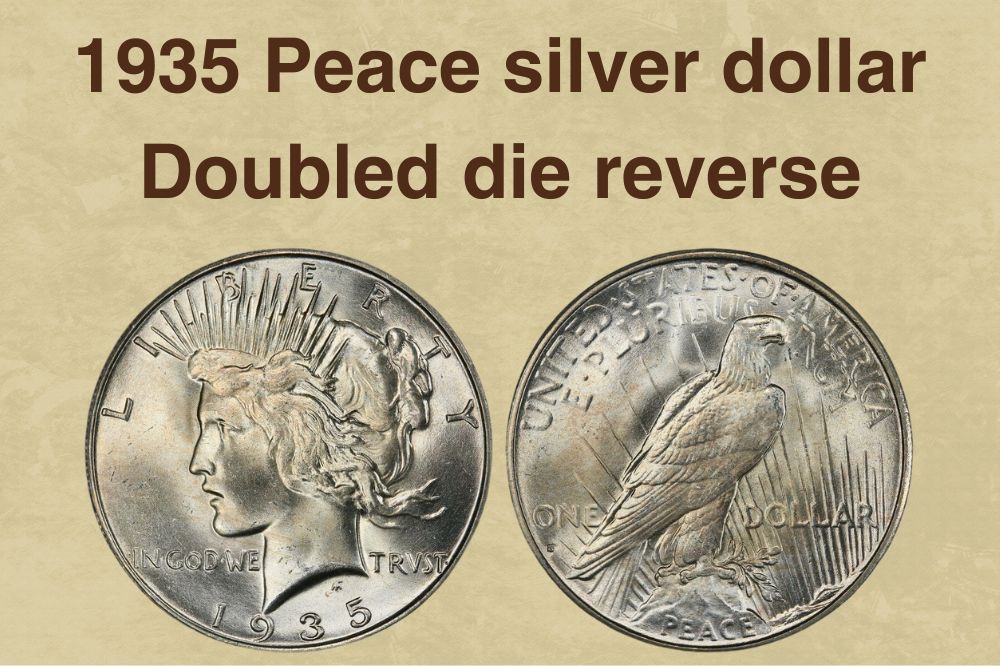 The 1935 silver dollars with a doubled die reverse have specific design details duplicated, depending on the flaw on the die surface. This mint error can significantly increase a particular coin's value.
For instance, one such silver dollar in MS 66 grade with the S mint mark won an auction record in 2016. One numismatist paid $4,200 to add it to their collection.
Planchet flaws
These atypical errors appear when planchets have some kind of flaw, resulting from poor annealing or wrong metal composition. In such cases, you can see pits, tiny cracks, lumps, or even holes on the Peace dollar surface.
Lamination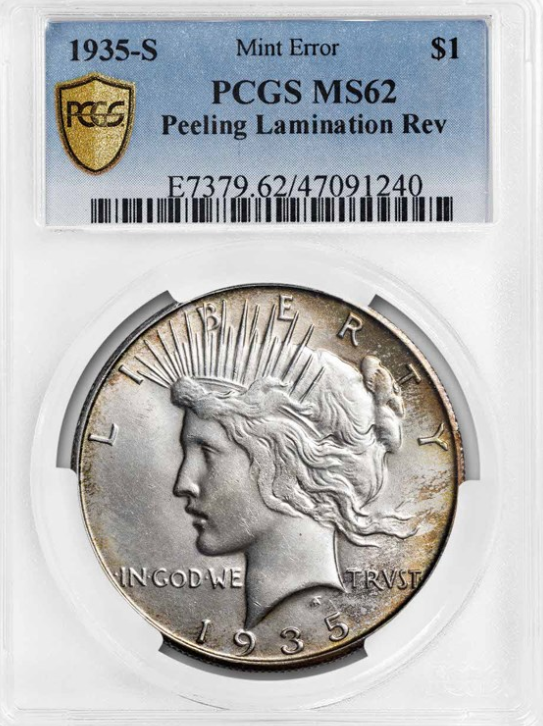 The most common error in this group is a peeling lamination. Peace dollars with this error are not particularly common. It is a coin imperfection resulting from a planchet error that appears because of the metal impurity.
The upshot is coins with tiny cracks or flakes separating from the surface. You can expect to pay about $800 to $1,800 for one of these Peace dollars with such distinctive patterns on the design.
Clipped planchet
Another possibility is the clipped planchet error that occurs because of an incorrect cut during manufacturing. The result is a curved or straight cut on the coin, leaving it without a small piece. Collectors are prepared to pay several hundred dollars for such a dollar.
Off-center
Such an error appears when the die hits the coin's obverse or reverse surface out of the regular strike. In this case, the deviation percentage directly dictates the price.
The least expensive are pieces with 10% to 40% off-strike and those with over 65% when the date is unrecognizable. Most collectors appreciate Peace dollars with about 50% off-center the most.
Broad strike
Coins with broad strike errors appeared because retaining collars were missing or were broken during minting. Due to the planchet spreading, the piece is not perfectly round, and its diameter is always broader than usual. You can expect such a Peace dollar to cost at least $1,000.
Die cracks
Linear die cracks appear on a coin surface after striking with the damaged dies. They can be small or more sizable and of various depths, diminishing the dollar's visual appeal. On the other hand, some collectors like these coins as a testament to their exciting history.
FAQ about the 1935 Peace Silver Dollar
What makes a 1935 silver dollar rare?
The 1935 silver dollars are not rare per se, and you should consider numerous factors that set individual coins apart from the crowd. For instance, low-quality pieces are abundant and worth a few dozen bucks. Those in high MS 67 grades are scarce, with estimated prices of several tens of thousands of dollars.
Which 1935 silver dollar is worth a lot of money?
The 1935 MS 67 silver Peace dollar sold at $63,000 on February 25, 2021 at Heritage Auctions
The 1935 S MS 65 silver Peace dollar sold at $39,656 on April 24, 2013 at Heritage Auctions
The 1935 S MS 66 silver Peace dollar with Doubled Reverse sold at $4,200 on December 26, 2016 at David Lawrence RC
The 1935 S MS 64 silver Peace dollar with Three Rays sold at $1,000 on January 17, 2022 on eBay
The 1935 S MS 63 silver Peace dollar with Four Rays sold at $408 on June 16, 2023 at Stack's Bowers
How much is the 1935 Peace silver dollar without the mint mark worth?
The 1935 Peace silver dollars minted in Philadelphia are collectible but often abundant in circulated condition. For instance, you can get a piece in GOOD condition for $24 to $34, while those in AU condition are worth approximately $60 to $100.
Uncirculated coins' prices vary and typically start at $120 for those in MS 60 grade. On the other hand, MS 67-ranked silver dollars are estimated at $24,000 to $50,000.
What is the priciest Peace silver dollar in the series?
1922 PR 67 dollar (high relief, matte finish) – $458,250 in 2014
1922 PR 65 dollar (low relief, matte finish) – $192,000 in 2023
1921 PR 67 dollar (satin finish) – $150,000 in 2023
1922 PR 67 dollar (modified high relief) – $381,875 in 2014
1927 D MS 66+ dollar – $176,250 in 2019
1921 MS 67 dollar – $132,000 in 2018
1925 S MS 65+ dollar – $132,000 in 2022