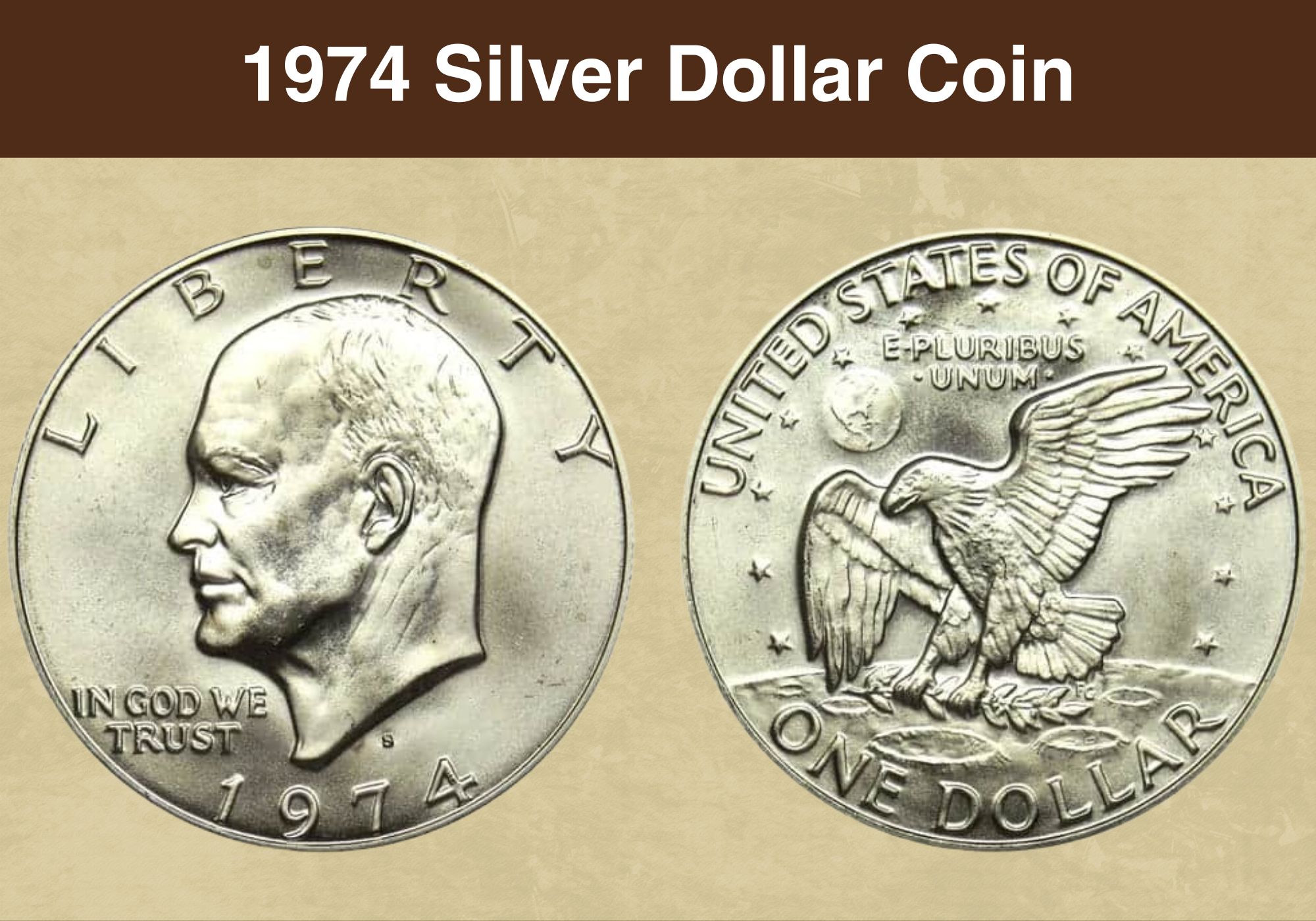 Are you curious how much your 1974 silver dollar is worth?
Whether you are looking to add one of these coins to your collection or to sell your piece, it helps to know whether your Eisenhower silver dollar is worth any money.
There are two type of the 1974 dollar: Type 1 and Type II. The Type I is a clad dollar struck at the Philadelphia, Denver, and San Francisco mints.
The type II lot comprise silver 1974 dollars made for collectors like you. In this guide, you will learn everything you need to about thee 1974 silver dollar value.
You will discover the features to evaluate when grading a 1974 silver dollars, as well as errors that might be worth thousands of dollars. You will also learn about the controversial history of the Eisenhower dollar.
So, let's get started!
1974 Silver Dollar Value Chart

Mint Mark
Good
Very Good
Extremely Fine
Uncirculated
1974- S Type I Uncirculated Silver Dollar Value
$7.75
$7.75
$7.75
$25
1974 Type I Proof Silver Dollar Value
–
–
–
$80
The History of the 1974 Silver Dollar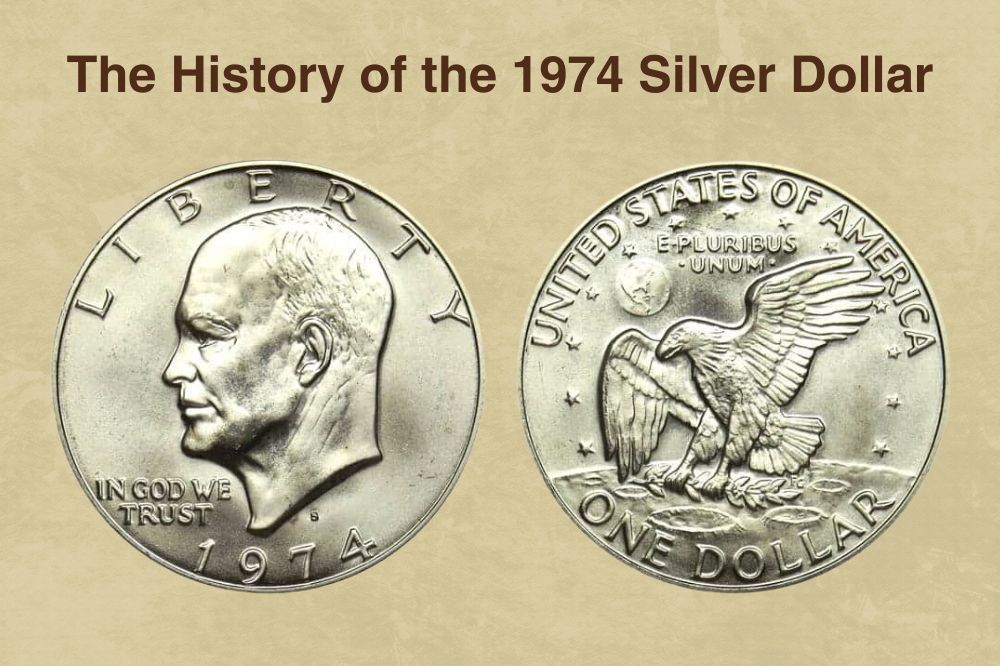 The Eisenhower has a notoriously controversial history, involving political gimmicks and power plays between Congress, the United States Mint, House of Representative, and Senate.
The last circulating dollar coins was struck in 1935 so when President Dwight "Ike'' Eisenhower died in 1969, there were numerous proposal to commemorate him on the new dollar coin legislators were already seeking to introduce.
By this time, however, silver bullion prices were rising considerably, which would mean the reduction of the use of silver in coins. Mint Director Mary Brooks was keen on minting a silver dollar coin but the House of Representatives, led by the chair of the House Banking Committee, Wright Patman, opposed the minting of a silver dollar due to the looming silver shortage crisis.
The Senate and Nixon's administration were for the idea of a silver coin to honor Eisenhower, but the House of Representative would oppose such proposals. In 1970, the House and Senate reached a compromise to strike about 150 million Eisenhower dollars in base metal for circulation and a few others, meant for collectors, would be struck in 40% silver.
On December 31 1970, President Richard Nixon signed the bill authorizing the U.S. Mint to strike a new dollar coin. While the 40% dollar coins were best-sellers, the circulating base metal dollars were unpopular and were eventually discontinued in 1978, after a short 7-year run.
The last silver collectors' Eisenhower dollars were struck in 1974, making these some of the most collectible silver dollars.
Also read: 12 Most Valuable One-Dollar Coin Worth Money
Features of the 1974 Silver Dollar
Let's now look at the features of the 1974 silver dollar that you should familiarize yourself with.
The Obverse of the 1974 Silver Dollar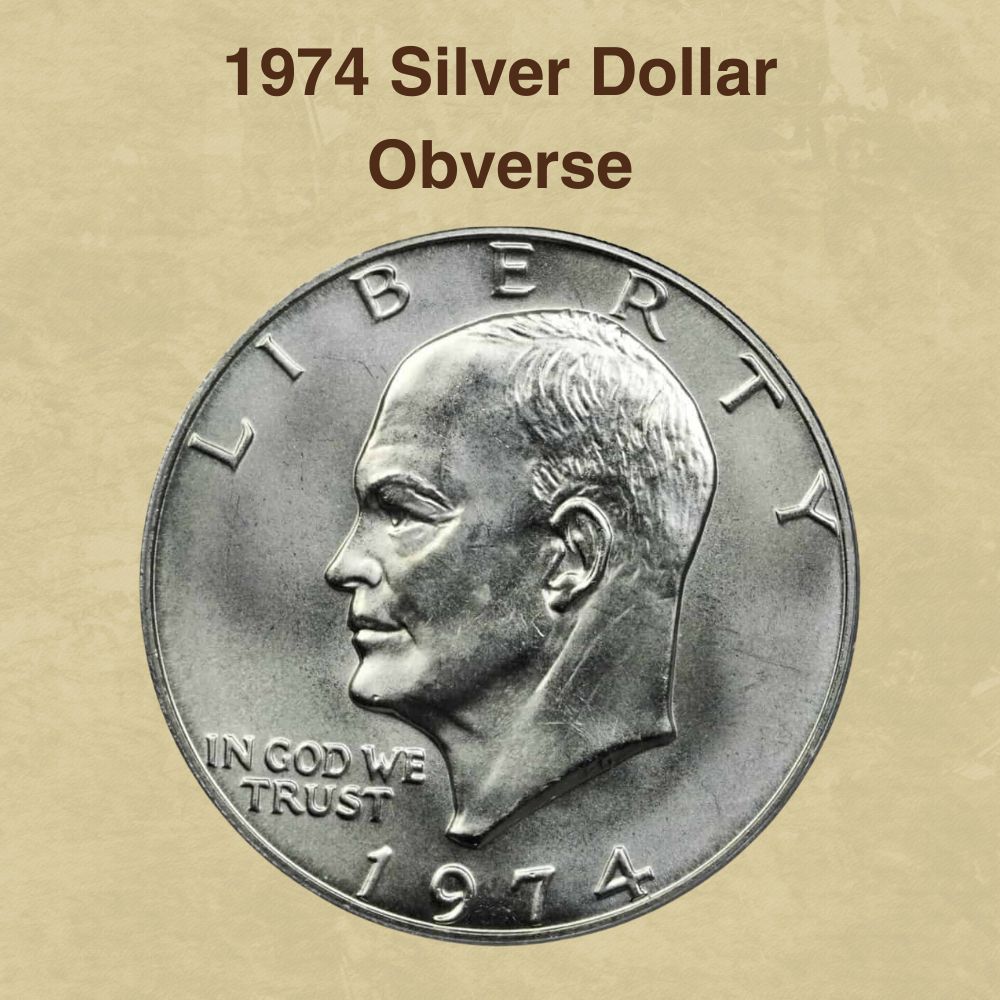 The left-facing portrait of President Dwight Eisenhower features prominently on the obverse of the 1974 silver dollar.
The word LIBERTY appears at the top around the coin's inner rim. Our country's heavenly motto, IN GOD WE TRUST, is inscribed in two lines on the left toward the bottom of the coin while the date appears on along the lower rim
Take notice of the mint mark beneath Eisenhower's truncated neck.
The Reverse of the 1974 Silver Dollar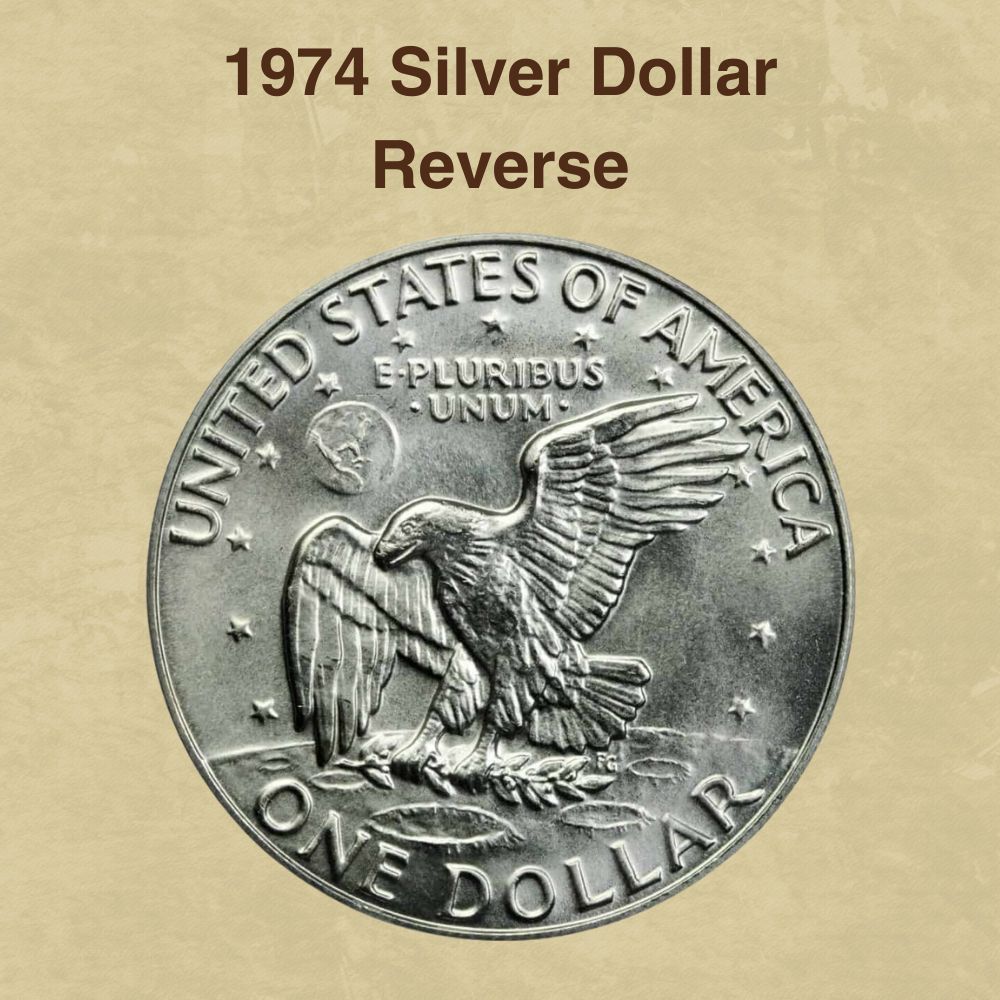 The reverse of the Eisenhower silver dollar has a more detailed design featuring an eagle landing on the moon while clasping an olive branch in its talons, with planet earth in the background.
Michael Collins and James Cooper designed the coin's reverse based on the Apollo 11 mission moon landing insignia.
The words UNITED STATES OF AMERICA appear at the top along the coin's rim. This is closely followed by the motto E PLURIBUS ENUM.
The coin's denomination, ONE DOLLAR, appears along the rim at the bottom. You will also notice a semi-circle of thirteen stars encircling the eagle. These represent the first thirteen states to gain independence from British colonialists.
Other Features of the 1974 Silver Dollar
The outer layer of the 1974 silver dollar comprises of an outer layer of 80% silver and 20% copper and a center made of 79% copper and 21% silver.
This is a large and heavy coin measuring 38.50 millimeters in diameter and weighing 24.60 grams. The silver dollar of 1974 has a reeded edge.
The Eisenhower dollar's bulkiness is one of the reason why this coin did circulate very well, resulting in a series with a comparably short life span.
In the next section, we'll look at the value of a 1974 silver dollar.
Also read: 14 Most Valuable Coins In Circulation
1974 Silver Dollar Value Guide
How much is a 1974 silver dollar worth?
The value of a 1974 silver dollar depends on whether it is of the Uncirculated variety or a Proof. The good news is that you can rest assured that your silver Eisenhower dollar is worth more than face value.
As mentioned, there are two types of the 1974 silver dollar. These are:
1974 Uncirculated strike silver dollars
1974 Proof silver dollars
Let's take a look at each coin and its value.
1974 Uncirculated Silver Dollar Value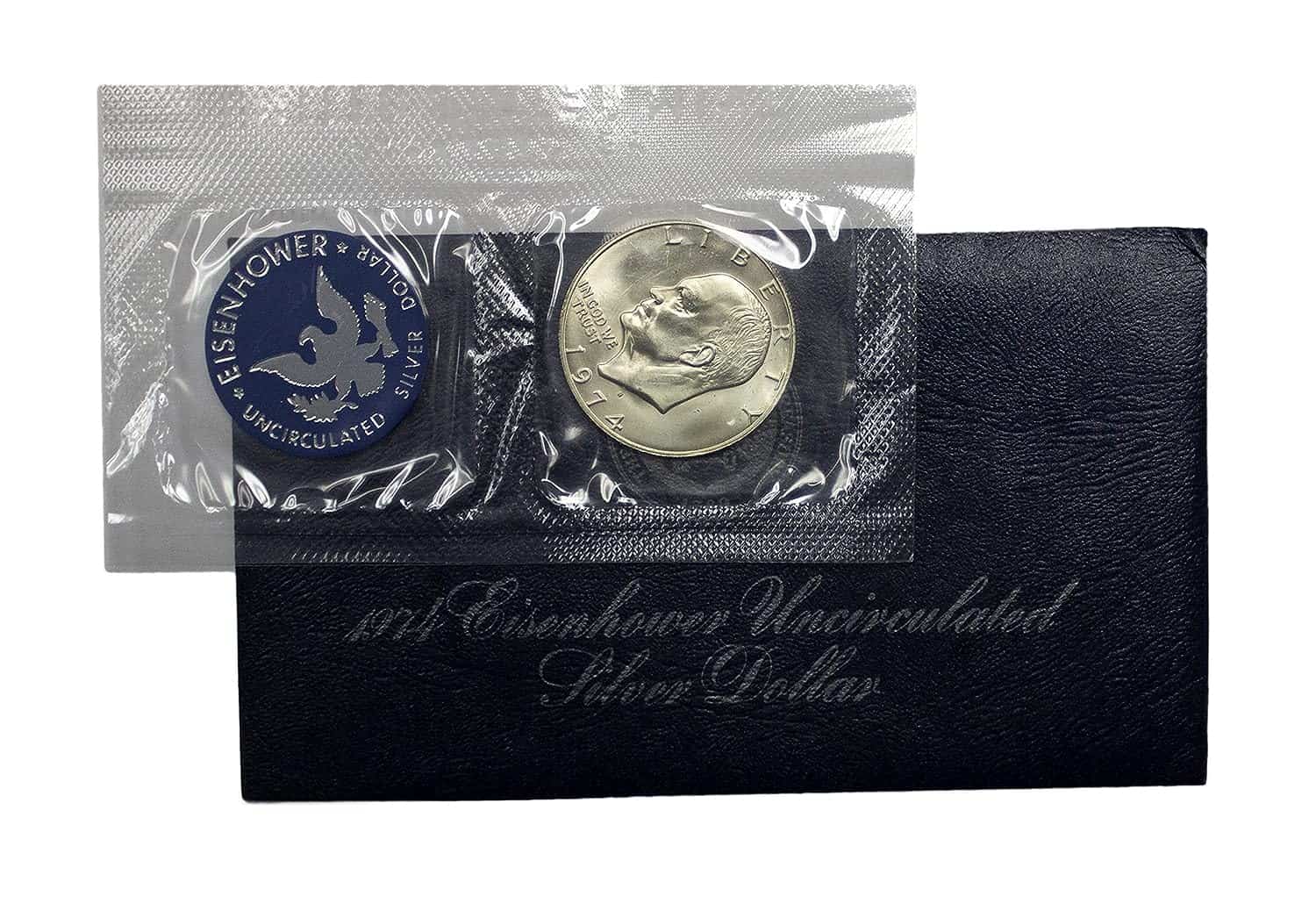 The San Francisco mint struck about 1,900,156 regular strike silver dollars bit these were not meant for circulation. Instead, the Mint sold these coins to collectors at about $10 a piece.
The uncirculated silver dollars were packed in small, clear film packs and sealed in blue envelops. These silver dollars are known as Ike Blue.
These collectors' coins were very well struck and of a higher quality when compared with the regular Eisenhower dollars struck at the Philadelphia and Denver mints.
Even in lower grades, your 1974 silver dollar is worth more than face value. Of course after collectors bought the silver dollars, the coins changed hands severally and were subjected to some wear.
A 1974 silver dollar graded About Uncirculated (AU) 58 is worth $9 while an MS65 can fetch up to $25. Gem quality examples graded MS67 are relatively rare, selling for an average of $9,000.
The most expensive 1974 Eisenhower silver dollar was graded MS68 and sold for $13,500 by Legend Rare Coin auctioneers.
1974 Proof Silver Dollars Value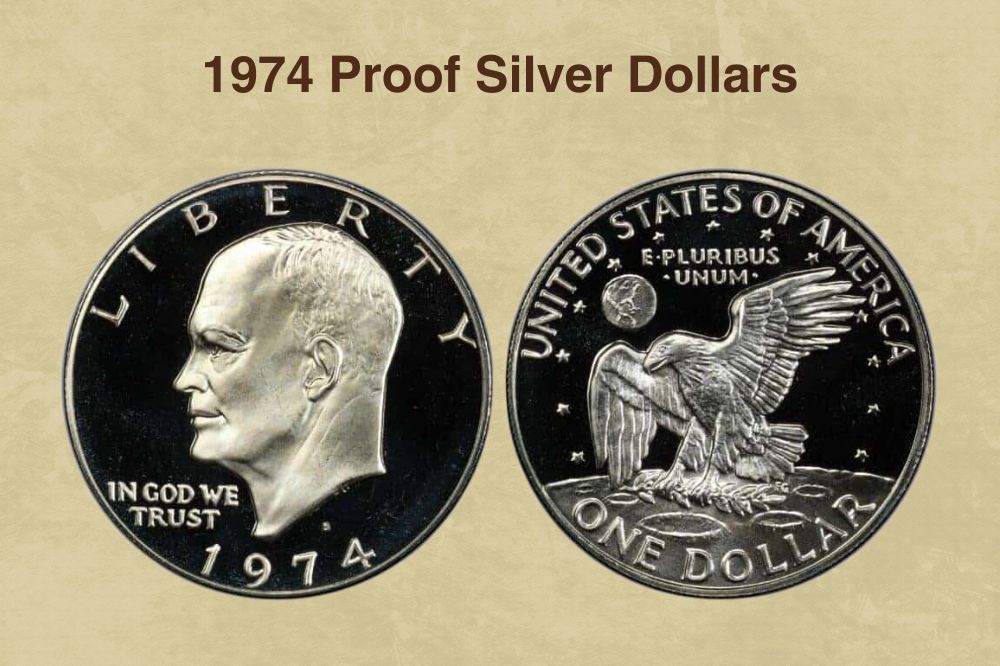 The proof silver dollars struck in 19174 are of the highest quality and are in fact consider super gem. These coins were only sold to collectors as well, packed in a brown slipcase, therefore their nickname Ike Brown. The San Francisco mint struck an estimated 1,306,579 gem proof silver dollars in 1974.
These coins have a noticeably superior strike with consistent frosting on the high points and brilliant luster across the fields. A different set of dies was used to strike proof silver coins, uncirculated silver coins, and Type II clad coins from the San Francisco mint.
In lower mint state grades, the 1974 proof silver dollars are quite plentiful and affordable. At grade MS60, you can own a specimen or sell yours for up to $11.50 and $35 for gem quality specimen graded MS67. The most expensive example graded Gem PR was auctioned for an impressive $2,300.
Cameo and deep cameo 1974 proof silver dollars are worth more. The average price for a Cameo silver proof is $45 but this can increase to $80 for a deep cameo specimen. In 2007, a deep cameo graded PR70 came up for auction and fetched $4,600.
Also read: Top 10 Most Valuable Morgan Silver Dollar Worth Money
1974 Silver Dollar Grading
The collectors' edition of the 1974 silver dollars is plentiful in gem quality, so you should have no problem obtaining these coins when looking to add them to your collection.
Because these coins were struck from superior dies, issues such as die cracks and other imperfections will typically not get in the way of evaluating the coin.
Check keenly on the high spots such as the hair on the brows and around the ear on the obverse. On the reverse, key areas to focus on are the bird's left outer wing but inspecting the inner wings also helps to identify any signs of wear.
Luster should be present in the proof silver dollars. As for the regular, uncirculated silver dollar pay closer attention to luster on high relief areas and across the fields, spots prone to wear.
Check out this video to learn more about grading your Eisenhower silver dollars.
Rare 1974 Silver Dollar Error List
Some unique errors can increase the value of your coin and increase its collectability; the silver dollars are not any different.
Here are a few examples of errors to pay attention to whether you plan to buy or sell 1974 silver dollars:
1974 Blank Planchet Silver Dollar Error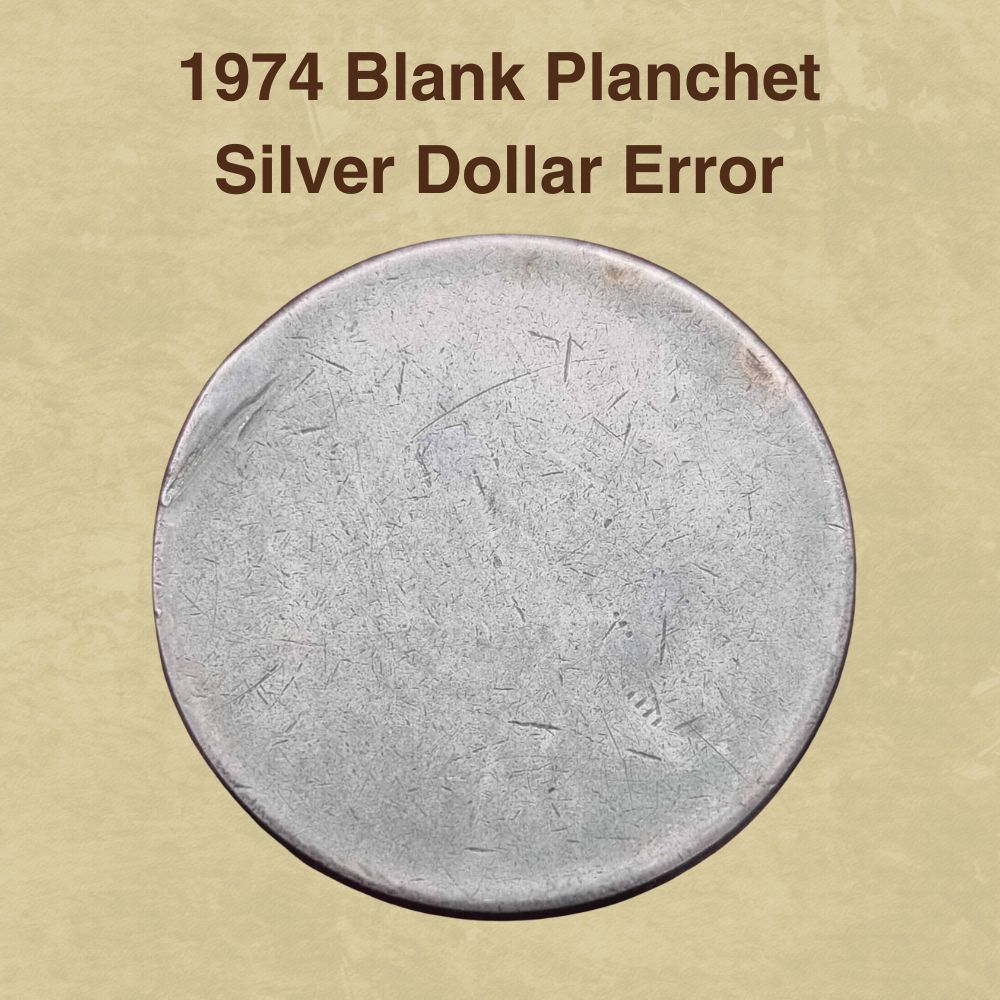 This is an extremely rare error in which the 40% silver planchet on which the coin design was to be struck actually leaves the hub blank.
Such an error occurs when the die presses somehow skip a particular planchet during the minting process. The fact that the blank planchet comprises precious silver metal and is in mint state makes this error coin even more desirable.
A 1974 blank planchet silver dollar error can fetch as much as $430.
1974 Doubled Die Obverse/Reverse Silver Dollar Error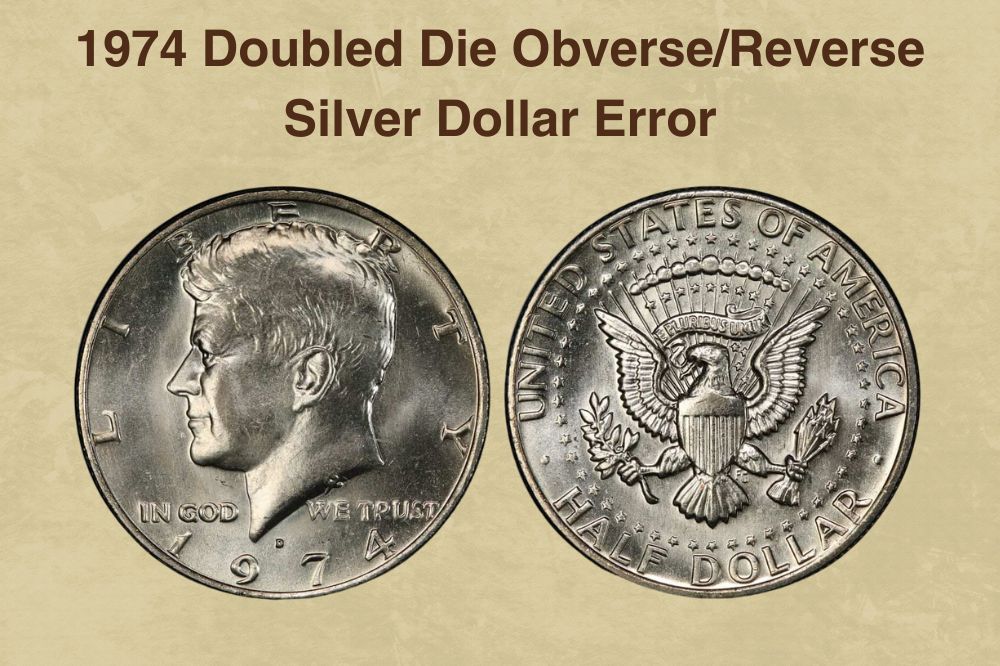 Doubled-die errors are quite common but equally fascinating to coin collectors.
This error occurs when the die presses strike the coin's design multiple times at slightly different angles, resulting in an overlapping effect, known as doubling in the numismatic world.
A doubled die error can occur on the obverse and reverse as was the case with the 1974 silver dollars. Significant doubling can be noticed on IN GOD WE TRUST and 1974.
On the reverse, doubling is noticeable on UNITED STATES OF AMERICA and on ONE DOLLAR.
Proof 1974 silver dollars with a double die obverse or reverse error can fetch between $70 and $100.
All in all, the Eisenhower silver dollar lot was very well struck at the San Francisco mint so there were very few examples of mint errors.
FAQ
What makes a 1974 silver dollar rare?
The 1974 silver dollars are not necessarily rare. Many examples in mint state are readily available to collectors however the number of gem quality examples continues diminishing. Proof 1974 silver dollars graded MS68 and above are quite hard to come by but are the most desirable among collectors of this coin series.
How do I know if my 1974 silver Eisenhower dollar is worth money?
Your silver Eisenhower dollar is worth some money, by virtue of the coin's precious metal content. Your silver dollar from 1974 is worth at least $7 in uncirculated condition but this value can increase significantly for gem quality silver dollars.
Where is the mint mark on a 1974 silver dollar coin?
The mint mark S is found on the obverse right below Eisenhower's truncated neck. The S mint mark shows that the coins were struck at the San Francisco mint. The proof version of these coins does not have a mint mark