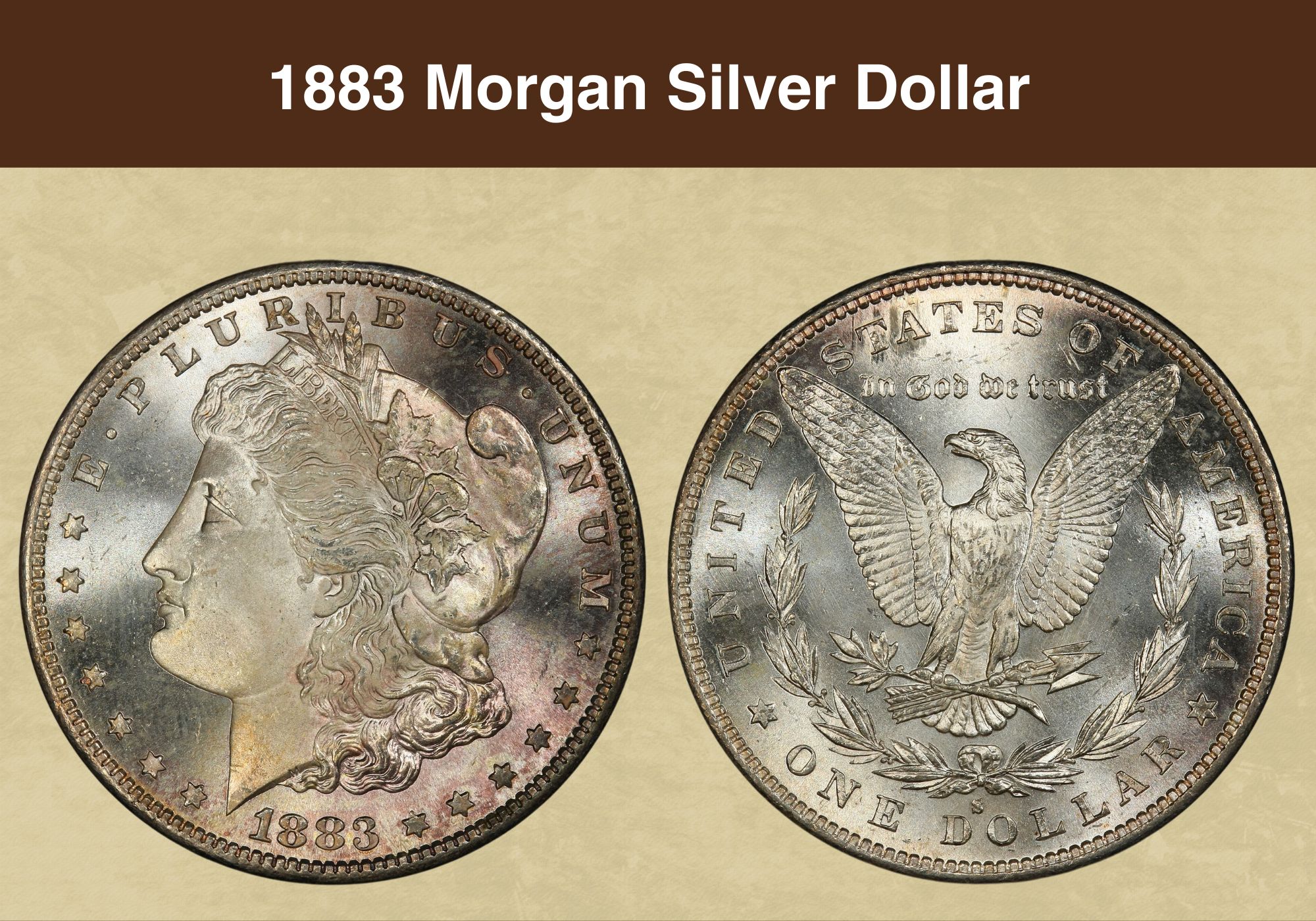 Like other Morgans minted during the 1880s, those from 1883 had only a few die variations. You can find regular pieces from four mints, plus two proof types. Besides proofs from Philadelphia, there are 12 often contested that came from New Orleans.
All silver coins with this date are rare and highly collectible, making the 1883 silver dollar value significant. The reason was melting over 270 million silver dollars under the Pittman Act of 1918, so no one can tell how many Morgan dollars still exist. Particularly costly specimens are those with the CC mint mark.
1883 Morgan Silver Dollar value

Condition
1883 No Mint mark Silver Dollar
1883 CC Silver Dollar
1883 O Silver Dollar
1884 S Silver Dollar
Good
$43
$131
$43
$43
Very good
$48
$160
$48
$48
Fine
$54
$174
$54
$54
Very fine
$57
$201
$57
$57
Extra fine
$60
$241
$60
$113
AU
$65
$359
$65
$211
Mint state 60
$83
$458
$76
$1,357
Mint state 65
$316
$681
$270
$34,800
Proof 63
$4,370
/
/
/
History of the 1883 Morgan Silver Dollar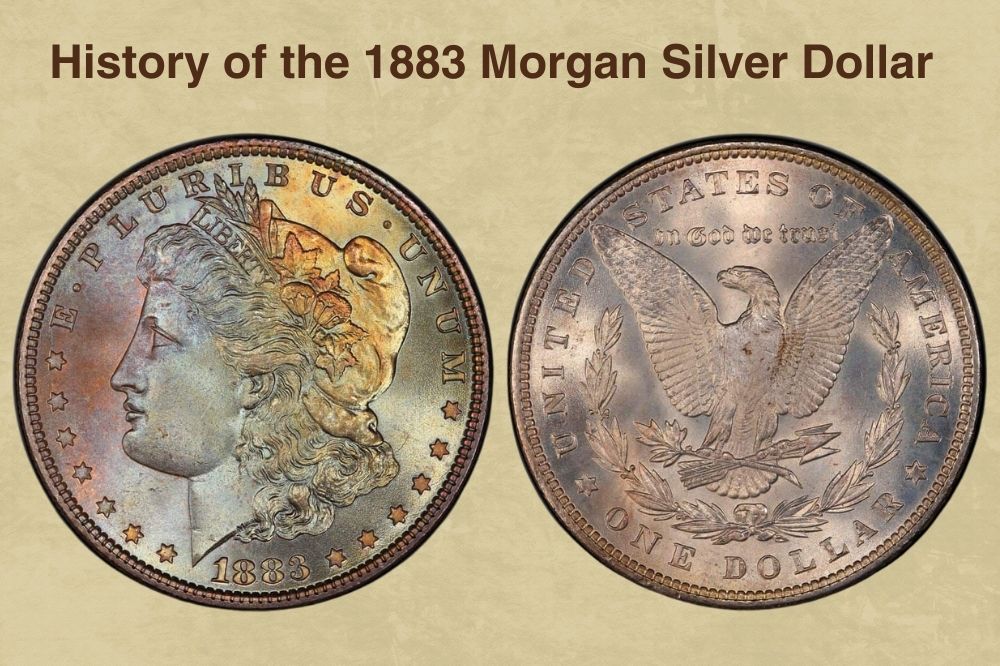 The 1883 Morgan dollars occurred in 1878 for the first time and were minted by 1904, meaning those struck in 1883 belong to the early sets.
The US Mint needed to adequately respond to mining industry lobbying at the end of the 19th century that sought a market for produced silver. Therefore, George T. Morgan got the task of creating a new silver dollar.
1883 Morgan Silver Dollar Types

Location
Year
Minted
Philadelphia
1883 No Mint mark silver dollar
12,290,000
Philadelphia
1883 No Mint Mark silver dollar (proof)
1,039
Carson City
1883 CC silver dollar
1,204,000
New Orleans
1883 O silver dollar
8,725,000
New Orleans
1883 O silver dollar (proof)
12
San Francisco
1883 S silver dollar
6,250,000
Total
/
28,470,051
The Bland-Allison Act committed the US Mint to spend 2 to 4 million dollars on silver monthly, providing a high coin production. However, most coins were melted during WWI to help Britain. Only about 10% of Morgans survived these measures after the Pittman Act was passed.
Also read: 12 Most Valuable One-Dollar Coin Worth Money
Features of the 1883 Morgan Silver Dollar
After George T. Morgan created the design for the new silver dollar, the US Mint began production in 1878. It lasted until 1904 and was renewed in 1921 for a year. After that, Morgans went to history and became collectibles.
The obverse of the 1883 Morgan Silver Dollar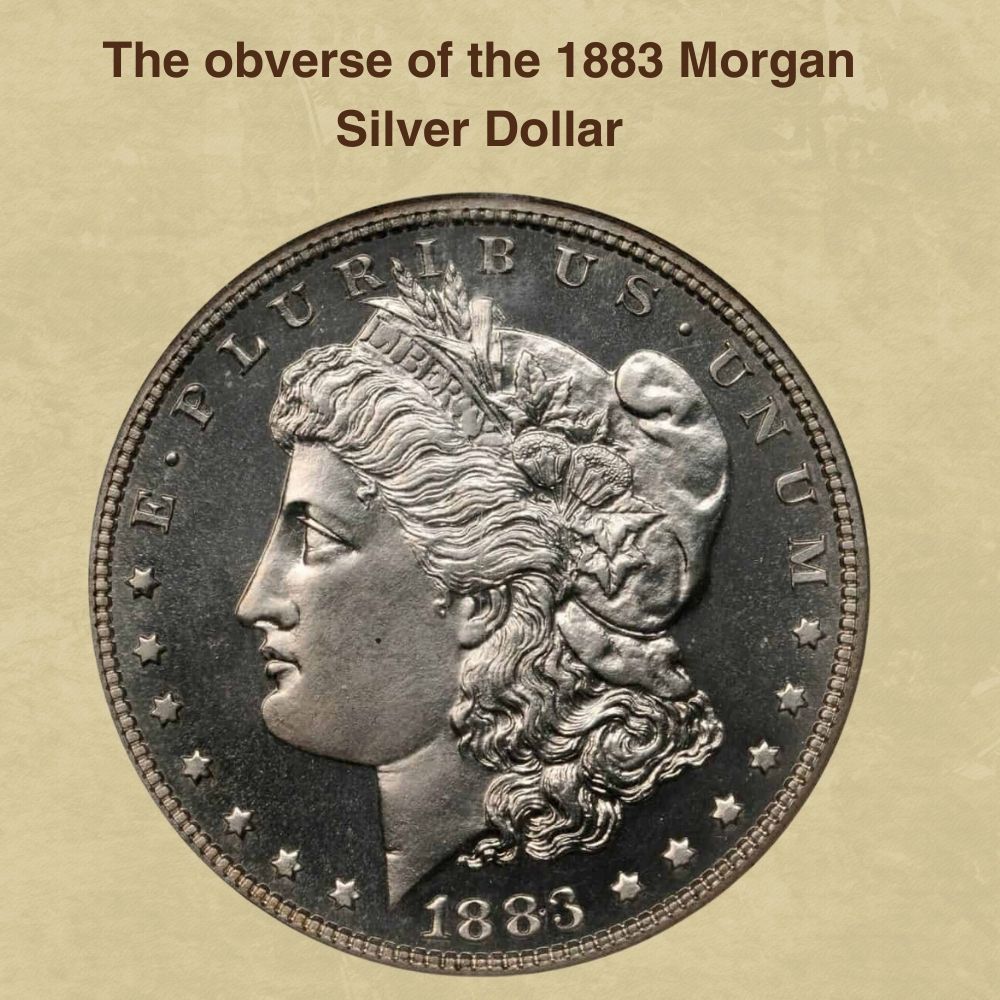 Like all Morgans, those minted in 1883 depict Lady Liberty with the word LIBERTY struck on the crown. She is framed with E PLURIBUS UNUM and the date, separated by seven stars on the left and six on the right side. A tiny letter M, representing Morgan's initial, is placed on Lady Liberty's neck.
The reverse of the 1883 Morgan Silver Dollar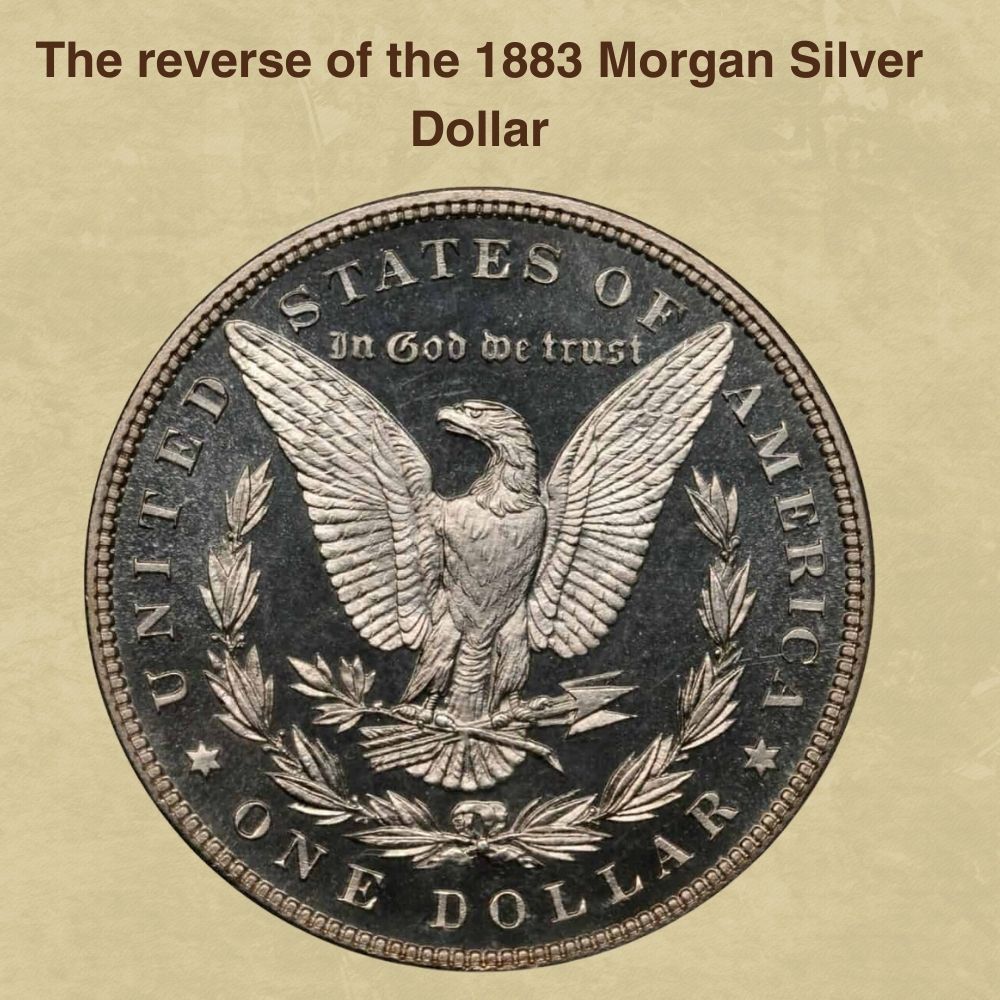 The 1883 silver dollar reverse includes the victorious eagle, holding symbols of war (arrows) and peace (an olive branch) in talons. You can recognize three inscriptions, UNITED STATES OF AMERICA, IN GOD WE TRUST, and ONE DOLLAR. Interestingly, this beautiful coin is a rare specimen with the same designer initial on both sides. You can see the tiny letter M left of the ribbon tiding the wreath.
1883 Morgan Silver Dollar Details

Face value
One dollar ($1)
Shape
Round
Compound
90% silver and 10% copper
Coin thickness
0.09449 inches (2.4 mm)
Coin weight
0.8594 troy ounces (26.73 g)
Silver weight
0.77344 troy ounces (24.50 g)
Coin diameter
1.50 inches (38.10 mm)
Edge
Reeded
Other features of the 1883 Morgan Silver Dollar
The silver 1883 Morgan dollar is a 0.09449 inches (2.4 mm) thick coin with a reeded edge and diameter of 1.50 inches (38.10 mm). Its weight is 0.8594 troy ounces (26.73 g), including 0.77344 troy ounces (24.50 g) of silver.
Also read: 14 Most Valuable Coins In Circulation
1883 Morgan Silver Dollar Value Guides
Four mints produced 28,470,051 Morgan dollars in 1883, including four types from regular strikes and two proofs. These 12 proof pieces from Carson City cause disputes among collectors, and there is often controversy surrounding them and the number of surviving specimens.
1883 No Mint Mark Morgan Silver Dollar Value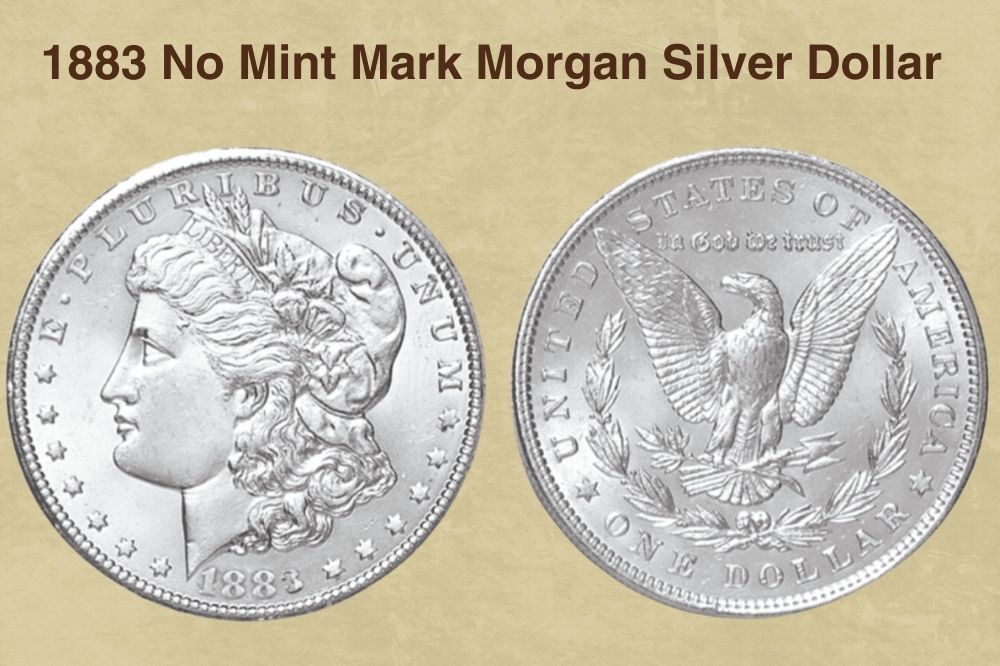 Even though you may expect 1883 Morgan dollars to be inexpensive because of a high mintage of 12,290,000 pieces, it is not the case. You should set aside $30 to $60 for a circulated coin, while those in the mint state can be costly.
Most Morgans are worth $50 to $500, but the highest-ranking ones quickly reach high prices at auctions, like:
MS 67 – $1,800 to $2,100
MS 68 – $18,500 to $27,500
Proof-like Morgans cost $60 to $104 in AU condition, while uncirculated specimens are worth $100 to $480. The only exception is MS 66-ranked dollars estimated to be $1,600 to $1,950. If you look for one of the 1883 DMPL silver dollars, you can find them at the price range from $220 to $5,750.
1883 Morgan proof Silver Dollar Value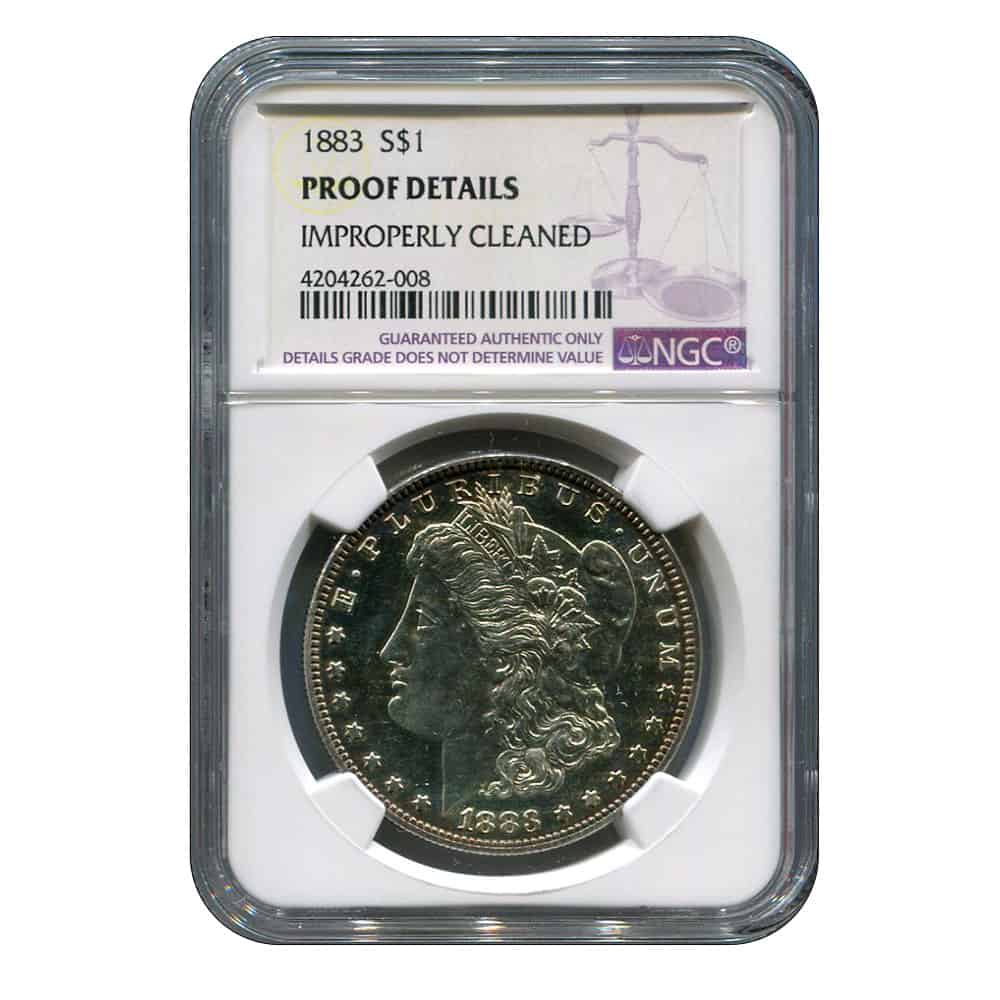 Besides regular coins, the Philadelphia mint produced 1,039 silver dollars for collectors in 1883. Be prepared that these proofs are collectible and often expensive. So, you need to set aside different sums depending on the desirable Morgan dollar and its grade.
PR 50 – $975 to $1,170
PR 53 – $1,000 to $1,200
PR 55- $1,050 to $1,260
PR 58- $1,280 to $1,536
PR 60 – $2,150 to $2,580
PR 61 – $2,350 to $2,820
PR 62 – $2,600 to $3,000
PR 63 – $2,975 to $3,300
PR 64 – $3,550 to $4,420
PR 65 – $4,800 to $5,500
PR 66 – $6,100 to $7,500
PR 67 – $13,500 to $16,200
PR 68 – $27,500 to $33,000
Although Morgans with cameo contrast are assessed to be $2,400 to $43,200, one collector paid $170,375 for the 1883 PR 65 coin with this feature in 2013. The price range for DCAM silver dollars produced in 1883 is $3,400 to $27,500.
1883 O Morgan Silver Dollar Value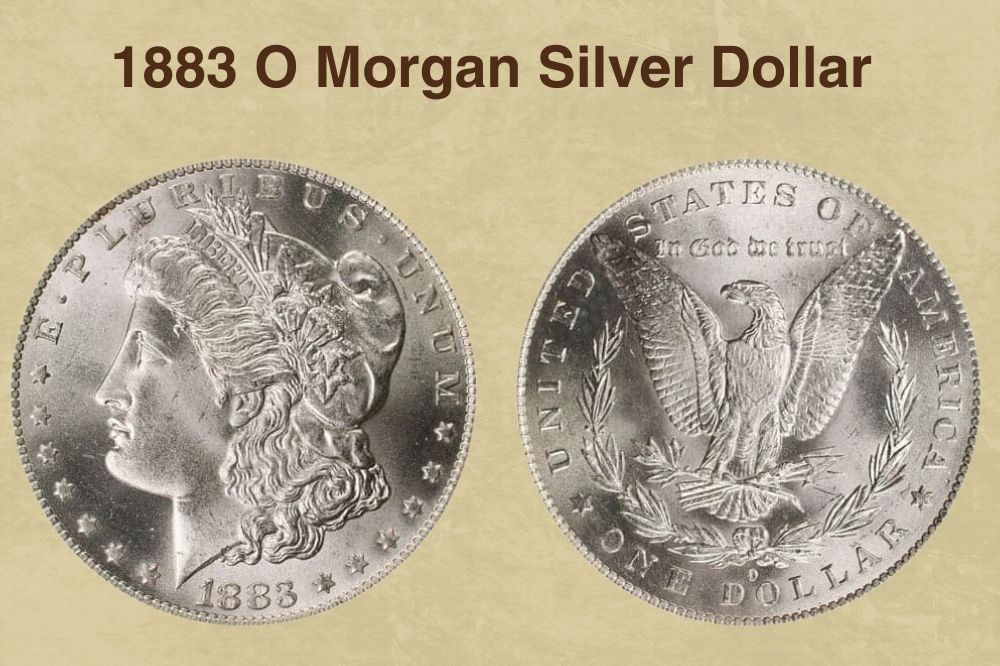 As soon as the Civil War started in 1861, Louisiana took control of the mint in New Orleans. It released some coinage in a few following years but was quickly ruined. In 1879, the mint started working again, and the Morgan dollar production began. After 26 years, Morgan minting stopped in 1904.
In 1883, this mint struck 8,725,000 silver dollars with the O mint mark. Numerous coins were used in everyday transactions, and most were heavily worn out. However, their historical significance and silver content keep them still valuable. So, you can get $30 to $60 for collectible pieces in circulated condition.
Those in the mint state cost $53 to $385 (MA 60 to MS 66), while MS 67-ranking coins are worth $2,700 to $3,105. The scarce specimens in MS 68 grade can bring you $55,000.
Depending on the condition, the 1883 O PL silver dollars cost $50 to $900, while DMPL pieces are more costly. Their price goes up to $10,000 for those in MS 67 grade. The absolute winner at auctions is the 1883 O PR 67 Morgan sold at $270,250 in 2013.
1883 O Morgan proofs Silver Dollar Value
According to numismatic tradition, the New Orleans mint produced twelve Morgan proofs in 1883. This information is controversial since differentiating DMPL strike coins from proof coins can be challenging.
These Morgans are considered Branch Mint, meaning these unverified coins are rarely seen, and there is no relevant information about them. Anyway, their estimated price range is:
$200,000 to $240,000 for 1883 O PR 64 Morgan dollars
$450,000 to $525,000 for 1883 O PR 67 CAM Morgan dollars
1883 S Morgan Silver Dollar Value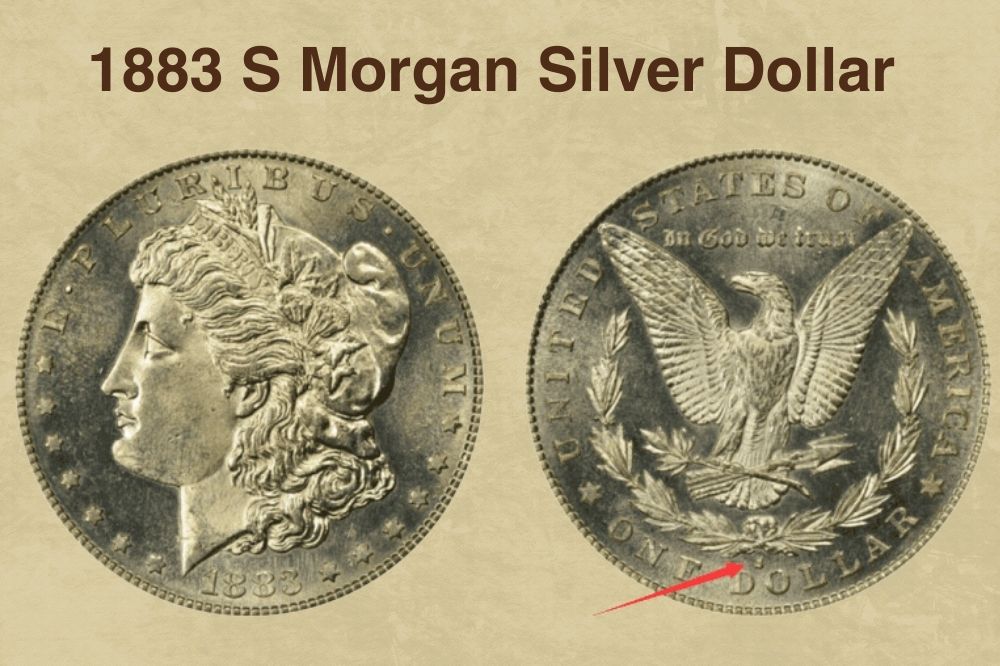 The San Francisco mint released 6,250,000 silver dollars in 1883, and you can expect circulated coins to be worth $30 to $830. Never-used Morgans ranked up to MS 64 typically cost $1,125 to $5,160.
On the other hand, MS 65- to MS 66-graded pieces are estimated to be $24,000 to $57,600. Highly collectible but extremely scarce coins in MS 67 grade can bring $125,000 to 150,000 at auctions.
Most proof-like Morgans in the mint state are worth $1,500 to $69,120. Even though those in MS 67 grade are assessed to be $150,000 to $180,000, the most expensive coin with this feature reached $161,000 at an auction in 2009.
Rarely preserved 1883 S MS 64 DMPL silver dollars can cost about $80,000 to $96,000. However, one scarce, MS 66-ranked DMPL Morgan won an auction record after selling at $137,500 in 1997.
1883 CC Morgan Silver Dollar Value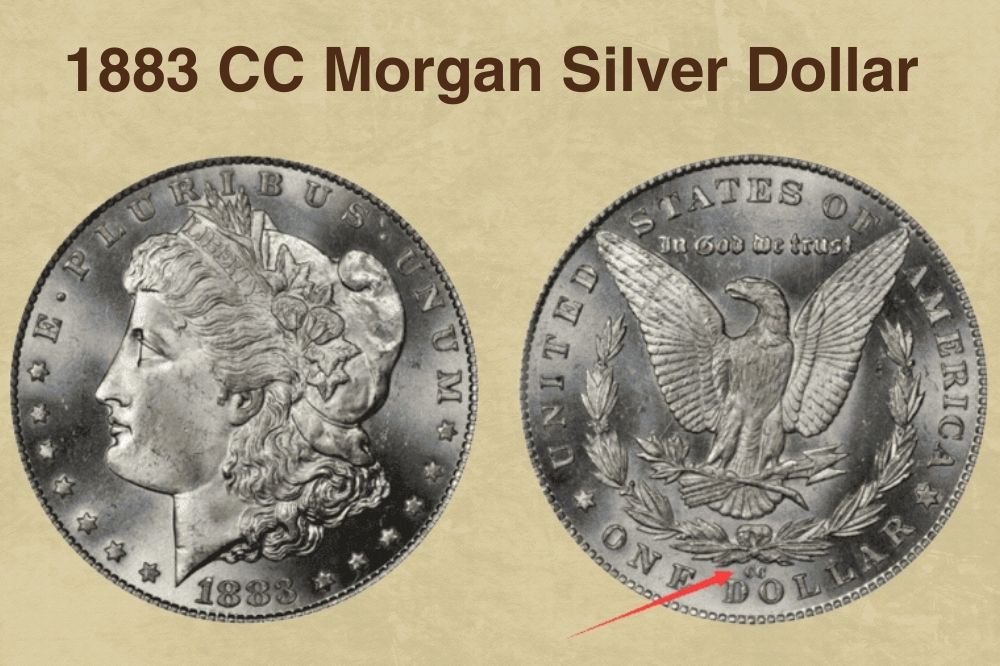 Any surviving coin of 1,204,000 silver dollars minted in Carson City in 1883 is valuable. Pieces that spent years in circulation cost $110 to $300, while most well-preserved Morgans are estimated at $300 to $990.
On the other hand, impeccable coins are worth $3,900 to $4,800 (MS 67 grade) or even $50,000 to $85,000 (MS 68 grade).
Depending on each piece's condition, you can buy one 1883 CC PL silver dollar for $335 to $6,000, while the price range for DMPL coins is $385 to an impressive $20,400 (MS 67 rank).
Also read: Top 10 Most Valuable Morgan Silver Dollar Worth Money
1883 Morgan Silver Dollar Grading
Even though you can find Morgan silver dollars in all grades, you can be sure that the highest-rating specimens are rare. After almost a century and a half of their minting, finding a piece without even slight signs of wear can be tricky. Anyway, silver content and rarity make these coins precious even in lower grades.
Rare 1883 Morgan Silver Dollar Errors List
Despite the US Mint's tendency to make perfect coins, those with errors appeared in every possible series in long American coinage history. So, you can find several well-known imperfect pieces among 1883 Morgan dollars, including the Sextupled Star, typical only for this set.
Sextupled star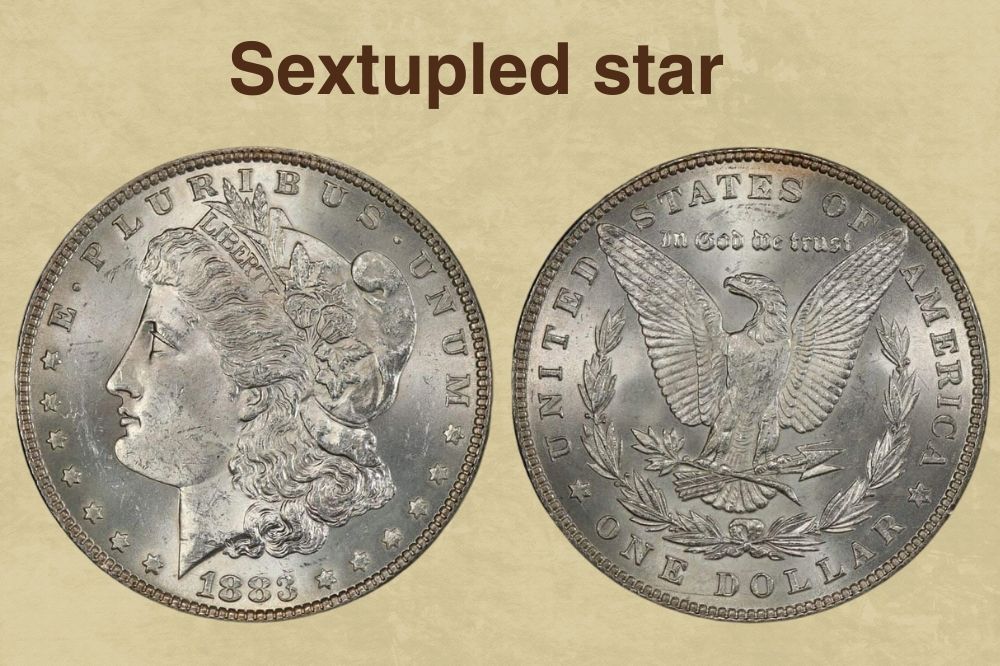 This common error on 1883 Morgan dollar coins is slightly visible on stars. It implies the six doubled die errors on one coin and is often followed by the die crack between 1 and 8 in the date. One such coin was sold in 2023 for $2,500.
Other errors
Besides this unique imperfection, there are a few other minting errors found among Morgan dollars struck in 1883. The most expensive at auctions are:
Double-struck (1883 O Morgan) – $1,000 to $7,000
Struck off-center (1883 O Morgan) – $6,900
Broad strike – $760
Rotated dies (1883 O Morgan) – $50 to $120
Besides, you can find 1883 Morgan errors of lower value, like:
Doubled die
Re-punched mint mark error (on all coins except for those from Philadelphia)
Die breaks or cracks
FAQ about the 1883 Morgan Silver Dollar
Are 1883 Morgan Silver Dollar scarce and collectible?
All Morgan dollars from 1883 are rare, but specimens minted in San Francisco and New Orleans are particularly scarce. Since most of these silver dollars are rarities, Americans consider them lucky.
Which 1883 Morgan Silver Dollar won auction records?
1883 O PR 67 Morgan (BMCA) – $270,250 (2013)
1883 PR 65 Morgan (CAM) – $170,375 (2013)
1883 S MS 67 Morgan (PL) – $161,000 (2009)
1883 S MS 66 Morgan (DMPL) – $137,500 (1997)
1883 O PR 63 Morgan $132 (2019)
1883 O PR 66 Morgan (BM) – $121,000 (1997)
1883 CC MS 68 Morgan $80,500 (2012)
1883 S MS 67 Morgan $74,750 (2003)
1883 O MS 68 Morgan $60,000 (2020)
1883 MS 68+ Morgan $49,938 (2015)
1883 PR 66+ Morgan (DCAM) – $30,550 (2013)
1883 PR 68 Morgan – $27,600 (2018)
1883 CC MS 67 Morgan (DMPL) – $27,600 (2008)
1883 MS 66+ Morgan (DMPL) – $23,500 (2016)
1883 CC MS 67 Morgan (PL) – $22,800 (2019)
1883 O MS 66+ Morgan (DMPL) – $13,200 (2019)
1883 MS 66+ Morgan (PL) – $3,819 (2013)
1883 O MS 66+ Morgan (PL) – $3,463 (2014)
1883 XF Details Sextupled Stars (VAM 10) Morgan – $2,500 (2023)
How much for the 1883 silver dollar from Philadelphia?
You can find affordable 1883 silver dollars from Philadelphia. Those in the lowest grades are worth about $30 to $60. Even those in the mint state are relatively inexpensive for such an old coin, ranging from $50 to $500. On the other hand, the highest-ranking pieces cost up to $27,500.
What is the most valuable Morgan dollar?
The most expensive Morgan dollar in the series is one of the pieces from Carlson City. One collector paid $881,250 in 2013 to get the 1889 CC MS 68 silver dollar. Interestingly, one of the proofs reached a significantly lower price. It was the coin minted in the same mint but in 1893. Its record price was $323,125, reached at Stack's Bowers auction in 2013.