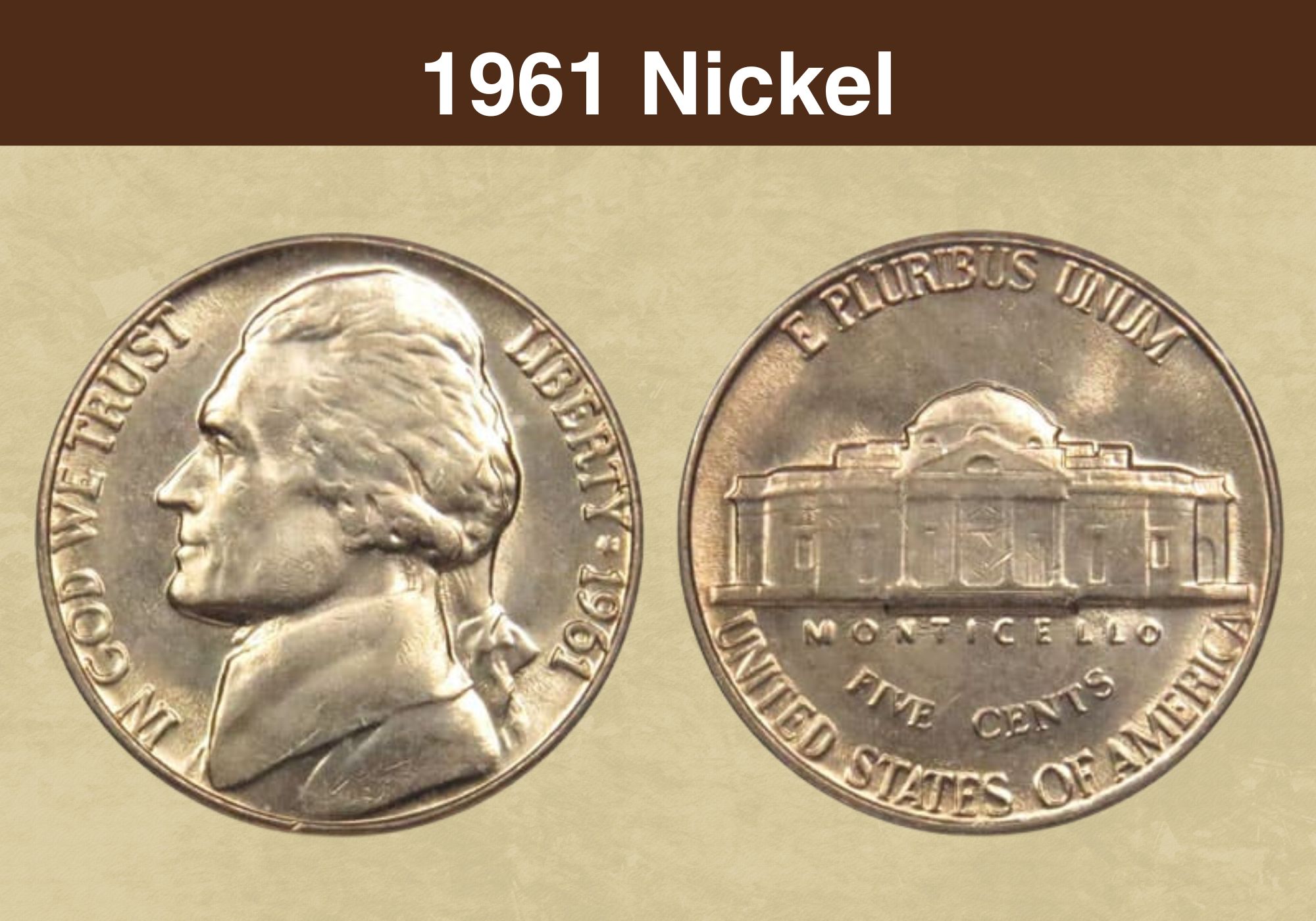 Jefferson nickels have an exciting history of over eighty years, making them fascinating to collectors. Since the beginning of their production in 1938, these coins have retained most of their original design elements.
Predictably, collectors are primarily interested in issues from an earlier period, but others can also be collectible. The 1961 nickel value depends on several factors. In addition to whether a particular specimen is from circulation or in the mint state, its availability on the coin market is also relevant.
1961 nickel value Chart

Condition
1961 No Mint Mark nickel
1961 D nickel
Mint state 60
$0.28
$0.28
Mint state 65
$23
$28
Proof 65
$3.38
/
History of the 1961 Nickels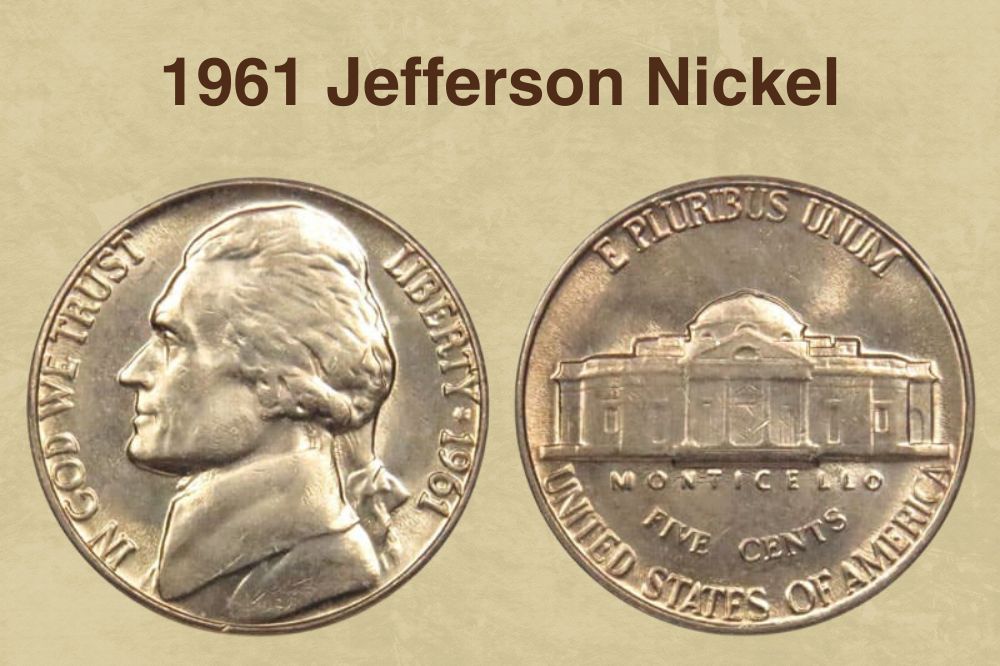 By the 19th century, there was an aversion to the possibility of real people portraits on American coins. However, that changed with the Lincoln penny appearance at the beginning of the 20th century.
President Roosevelt took office in March 1933 and initially devoted all of his attention to America's recovery from the effects of the Great Depression. Then, he decided to modernize American coinage.
He greatly admired Thomas Jefferson and wanted to pay tribute to him. By 1937, the administration decided his portrait to appear on the five-cent coin obverse starting in 1938.
At the beginning of 1938, the US Mint announced a competition for a conceptual solution for a new nickel design. The conditions included an obverse with Jefferson's image, while the reverse implied his Monticello house.
The administration sent letters to leading American sculptors. The prize fund was at $1,000. Among the invited participants was Felix Schlag, a German emigrant who only recently became an American citizen.
1961 Jefferson nickel Types

Location
Year
Minted
Philadelphia
1961 No Mint Mark nickel
73,640,100
Philadelphia
1961 proof nickel
3,028,144
Denver
1961 D nickel
229,342,760
Total
/
306,011,004
Among the 400 submitted works, Schlag's design won. Although officials had no objections to the obverse look, they didn't like the sketch for the reverse. They instructed Schlag to change the side view of Monticello and use standard Roman-style letters instead of the version he used on the models.
As a result, re-designed coins remained unchanged for eighty years. Interestingly, the nickel design (accidentally or intentionally) didn't include the designer's initials. Only from 1966 can you see the letters FS under Jefferson's bust on the obverse.
Also read: Top 10 Most Valuable Nickels Worth Money
Features of the 1961 Nickel
Most American coins have experienced changes in their appearance over the years. The 1961 Jefferson nickels look almost identical to the original design minted in 1938.
The obverse of the 1961 Jefferson nickel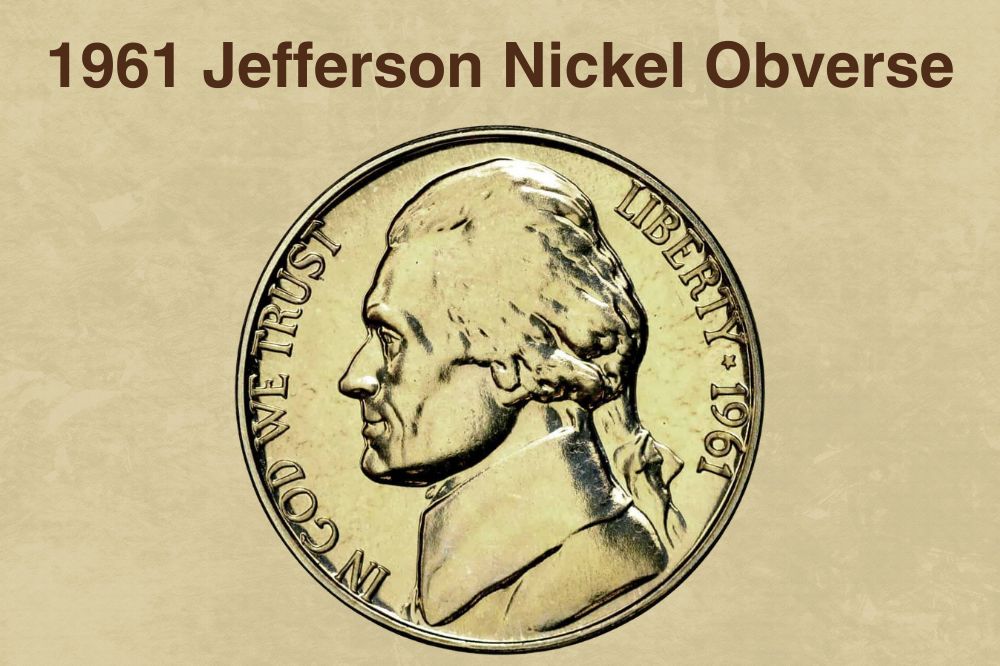 The third American President's portrait that occupies the central coin part characterizes the obverse of these nickels. The bust shows Jefferson in a high-collared coat, which was a specific way of dressing at the time.
The saying, IN GOD WE TRUST, is in front of Jefferson on the left rim. Then, you can see the word LIBERTY and the minting year on the right rim behind Jefferson's head. Between is a star that separates them in some way.
The reverse of the 1961 Jefferson nickel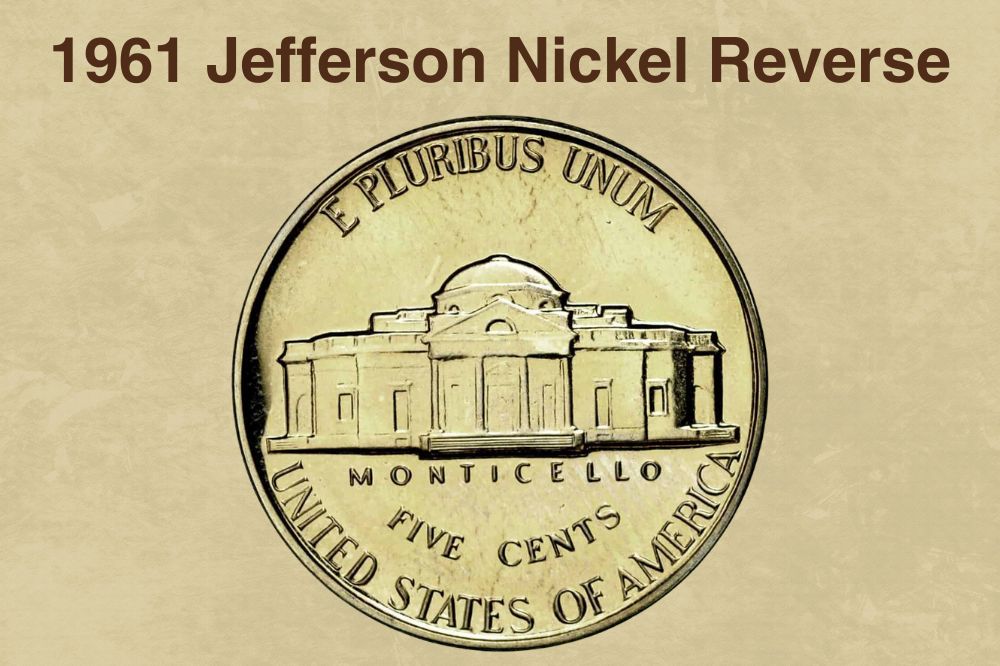 The monumental building of Monticello is on the nickel reverse. This imposing building in the state of Virginia was Jefferson's home. The word MONTICELLO is located directly under the stairs at its entrance.
The E PLURIBUS UNUM is near the upper rim, just above Monticello. On the lower rim, you can find the inscription – UNITED STATES OF AMERICA, while the denomination FIVE CENTS is between it and the word MONTICELLO.
1961 Jefferson nickel Details

Face value
5 cents ($0.05)
Shape
Round
Coin weight
0.17637 ounces (5 g)
Coin thickness
0.07677 inches (1.95 mm)
Coin diameter
0.83504 inches (21.21 mm)
Edge
Plain
Compound
75% copper and 25% nickel
Other features of the 1961 Jefferson nickel
The 1961 Jefferson nickel is a round, plain-edged coin comprising 75% copper and nickel. It is a typical specimen of this coinage type with a thickness of 0.07677 inches (1.95 mm) and a weight of 0.17637 ounces (5 g). Even with a diameter of 0.83504 inches (21.21 mm), it is indistinguishable from other nickels.
Also read: Top 17 Most Valuable Buffalo Nickel Worth Money
1961 Nickel Value Guides
Collectors usually collect coin sets that combine dates and mints. In 1961, the US Mint minted two types of regular Jefferson nickels and proofs. The total mintage of this nickel was 306,011,000 that year. These pieces' abundant presence in today's circulation causes their relatively low value.
1961 No Mint Mark nickel Value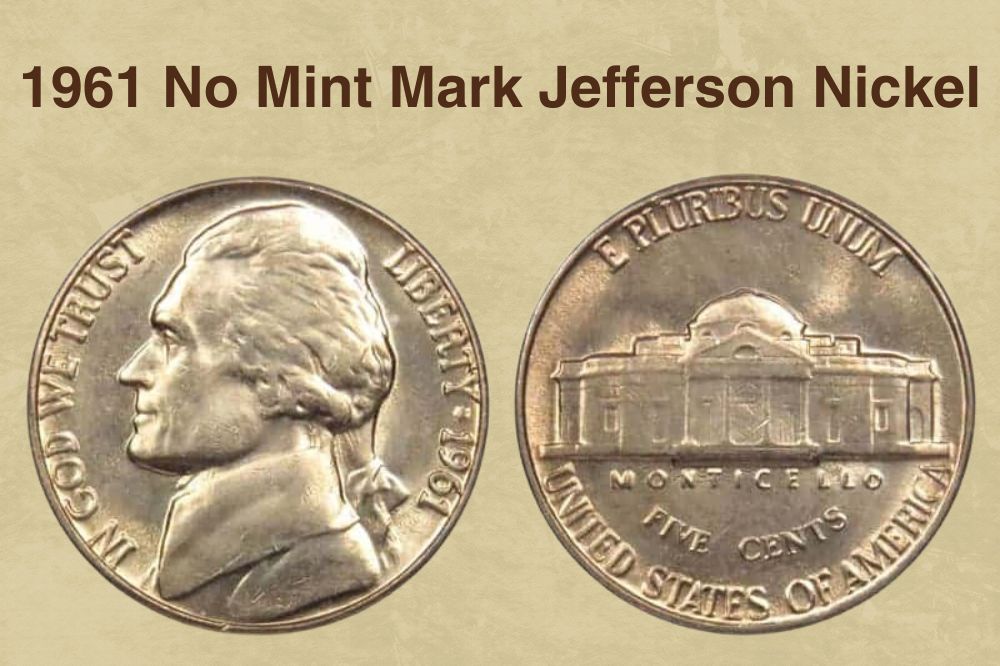 Nickels minted in Philadelphia didn't have the mint mark, so this is a sure way for collectors to distinguish them from other nickel types. This mint produced 73,640,100 coins in 1961.
The condition significantly affects their value, and you can buy one circulated piece starting from $0.05. Even coins in the mint state up to MS 64 grade don't exceed the one-dollar value. However, the price almost skyrockets for coins with higher ratings, so you need to pay about:
$6 for MS 65 nickel
$30 for MS 66 nickel
$1,300 for MS 67 nickel
The Full Steps nickels have a remarkably different value. Therefore, you should set aside high sums to get one, like:
MS 64 – $1,300 to $1,500
MS 65 – $3,000 to $3,600
MS 66 – $9,000 to $11,000
1961 proof nickel Value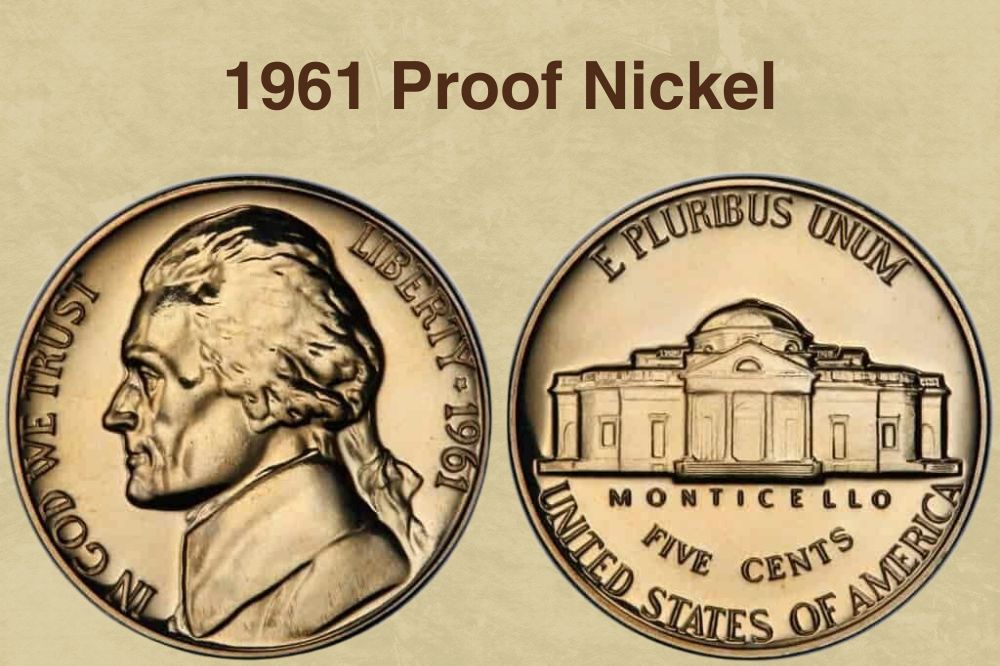 In addition to regular nickels, the Philadelphia mint minted 3,028,144 proof coins this year. These specimens also came without the mint mark but had a brighter surface, greater precision of details, and better visual qualities.
Remember that proof nickel minting is a more expensive process because it requires more complex minting dies. That makes these coins valuable collector's items, particularly when they never spent a minute in circulation.
Due to their high mintage, the price you can get for one coin is not significantly high. Specimens rated PR 60 to PR 65 have a price range from $0.25 to $1. Those graded PR 66 cost $4, while PR 67- and PR 68-rated specimens are $10 and $16. The most expensive proof nickel from that year is graded PR 69, costing $55.
With the cameo effect, there is a noticeable tonal difference between the flat and raised parts of the coins, which have a slightly lighter shade. Therefore, these nickels have a higher value. The specimen in PR 65 grade has the lowest price of $2, while all the others cost more than $10:
PR 66-rated nickels cost $15
PR 67-rated nickels cost $25
PR 68-rated nickels cost $40
PR 69-rated nickels cost $125
The 1961 Jefferson nickels with a deep cameo effect are rarer than other proof coins and are thus more valuable on the coin market. Their value depends on their grade, so you should count on:
PR 66-graded coins are worth $60
PR 67-graded coins are worth $175
PR 68-graded coins are worth $300
You need to set aside the highest sum of money for the 1961 PR 69 DCAM nickels. Their estimated value is a remarkable $2,800.
1961 D nickel Value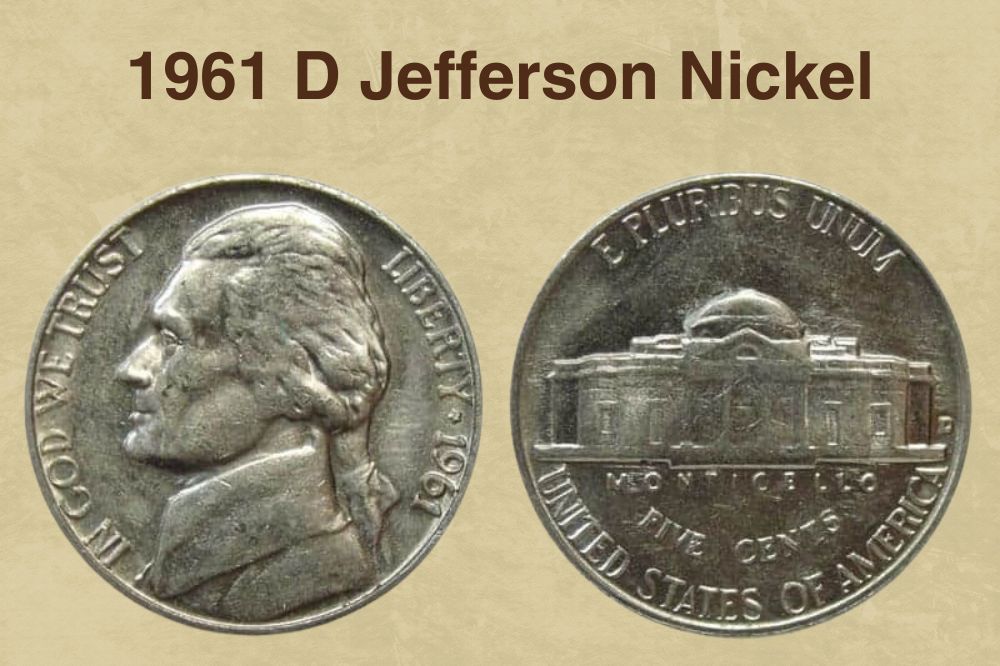 More than two-thirds of the total mintage of 1961 Jefferson nickels bears the Denver mint mark. On 229,342,760 coins, you can see the letter D on the reverse, to the right of Monticello.
According to such an abundant amount of these nickels, their value is expectedly low. Circulated coins can cost you as little as $0.05. Even specimens in the mint state with lower grades can't cost you significantly more.
For MS 60- to MS 63-rating pieces, you need about $0.06 to $0.50. Only nickels with MS 64 grade with their price of $2 show a slight increase in value. Those with MS 65 and MS 66 ratings cost slightly more, $13 and $75.
On the other hand, coins graded MS 67 have a significantly higher price tag and can cost you an incredible $3,500. Expectedly, Full Steps specimens are costlier.
To buy a coin in MS 64 grade with this characteristic, you need to set aside $4,800. A piece rated MS 65 is significantly more expensive and can cost you as much as $12,500.
Also read: Top 17 Most Valuable Jefferson Nickels Worth Money
1961 Jefferson Nickel Grading
The coins' value is most affected by their condition. Experts appraise coin value based on their preservation, the appearance of their surface, visible damage, and observed minting errors. According to the most frequently used Seldon's scale, the highest score your specimen can receive is 70, and the lowest is 1.
Rare 1961 Jefferson Nickel Errors List
As much as the US Mint has modernized coinage minting over the years, errors still occur. On the other hand, imperfections often significantly increase these specimens' value despite the low regular pieces' prices.
Wrong planchet
Each coin has a planchet wholly adapted for a particular coinage type. However, the mint sometimes accidentally strikes coins on the wrong planchet. The rule of thumb is that these specimens have a significantly higher value than regular pieces.
For instance, one collector paid $1,175 for the 1961 D nickel mistakenly struck on a 10-centavos planchet at a 2016 auction. You can also find a few coins from this year minted on a one-cent planchet.
Doubled die and tripled die
With doubled die error, two identical images are visible on the coin surface, only slightly shifted. This shift occurs due to an error in the hub process. These specimens' price is low and ranges from $2.5 to $20 on eBay. They are primarily uncertified pieces.
On the other hand, the die sometimes required more than two strikes when the mint worker failed to align the coin hub strictly with the die. In such a case, producing coins with a triple or quadruple die was also possible. The current estimation for the 1961 PR 66 FS nickel with tripled die reverse was $170.
Off-center
Such an error appears when the design is not entirely in the coin center. The result is the crescent-shaped blank part on the coin surface.
Each error specimen's value depends on how much the design lacks. Numismatists express this deficiency in percentages, so the price is higher with the increased blank space as long as the date is visible.
Die cracks
This error appears when cracks occur in the die used to strike coins. As a result, the coin design is incomplete or has a distorted appearance. The 1961 nickel value depends on the error degree, and you can find numerous uncertified pieces on eBay for around $12.
Also read: 14 Most Valuable Nickel Errors Worth Money
FAQ about the Jefferson Nickels Minted in 1961
What makes Jefferson nickels minted in 1961 rare?
The high mintage of these nickels makes them available on today's coin market. You can find most of the circulated pieces at affordable prices, while it is sometimes difficult to find quality coins in the mint state.
Which Jefferson nickels minted in 1961 are worth a lot of money?
The 1961 D MS 65 FS Jefferson nickel won $23,000 in 2004
The 1961 MS 66 FS Jefferson nickel was sold for $10,800 in 2022
The 1961 MS 67 Jefferson nickel was sold for $6,325 in 2008
The 1961 PR 69 DCAM Jefferson nickel was sold for $3,408 in 2021
The 1961 D MS 67 Jefferson nickel was sold for $3,290 in 2015
The 1961 PR 67 Jefferson nickel was sold for $1,380 in 2022
The 1961 PR 68 CAM Jefferson nickel was sold for $300 in 2019
How much do the Jefferson nickels minted in 1961 cost?
Most circulated Jefferson nickels from 1961 have no significant value, and their price rarely exceeds $0.05. The value of specimens in the mint state primarily depends on their condition. You can buy one for $0.06 (MS 60 graded piece) or set aside $1,300 for a coin with an MS 67 rank.
What is the costliest sold Jefferson nickel?
As the production of Jefferson nickels began in 1938, it is logical that specimens from an earlier period are fascinating to collectors. The result is that these coins' prices are significant, particularly those with Full Steps.
Accordingly, the most expensive is the 1954 S coin with Full Steps in MS 67 grade. One collector paid a whopping $35,250 for one such piece at an auction in 2020.
Interestingly, other nickels' value at auctions is pretty uniform. Thus, the coin minted in Denver in 1938 (MS 68 FS) and the one from 1969 (MS 65 FS) were sold for the same amount of $33,600 in 2022 and 2021. The most expensive error coin is the 1949 D/S MS 67 nickel, with a price of $32,900 reached in 2014.