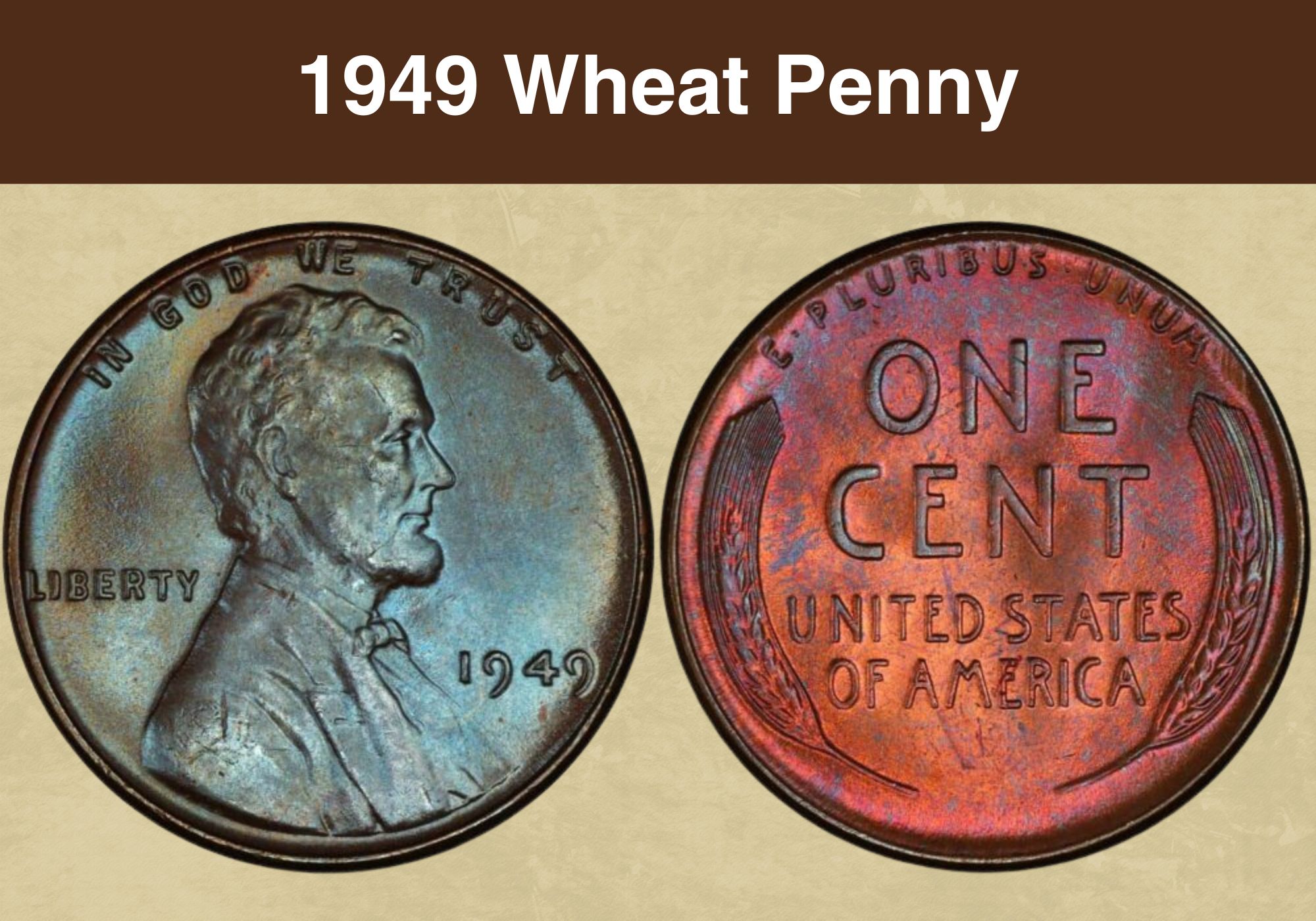 The penny minted in 1949 is one of the series known as Lincoln Wheat pennies. First produced in 1909, they're still going strong today. And while their face value is the lowest of any US denomination, some pennies can be worth much more than that.
We're going to explore the 1949 penny value and the factors that influence it. We'll find out just how much best-in-class examples can be worth. And we'll look at some interesting Mint errors too.
So if you're ready to learn more about the 1949 penny, let's get started!
1949 Wheat Penny Value Chart*

Type
MS60
MS63
MS65
MS67
1949 (P) No Mint Mark Penny Value
$2
$6
$24
$2,250
1949 D Penny Value
$2
$10
$25
$1,350
1949 S Penny Value –
$2
$6
$20
$235
*Values given are for coins graded red.
History of the 1949 Wheat Penny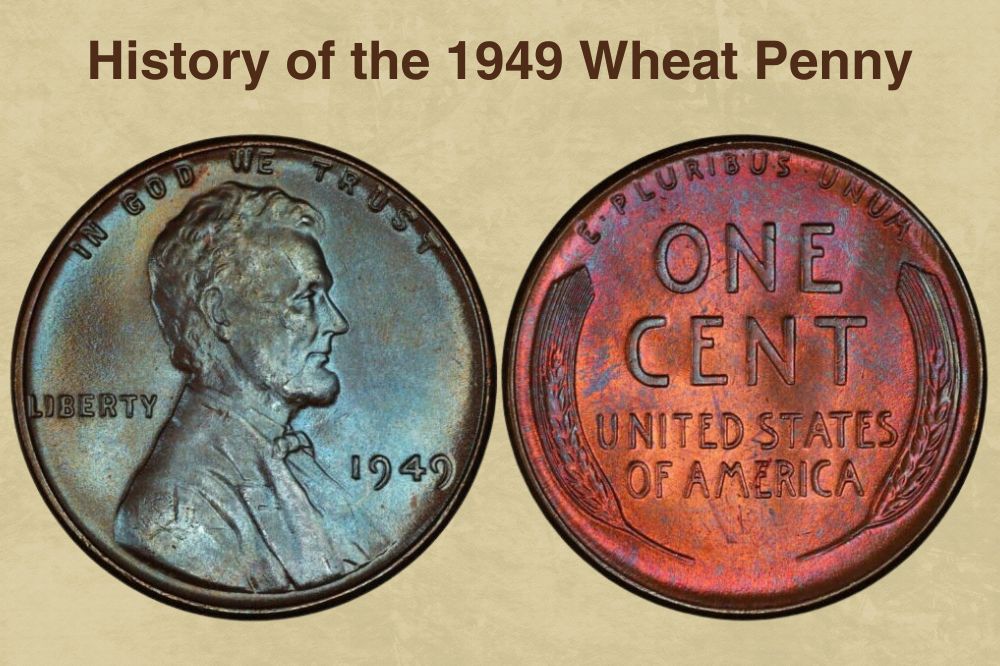 The very first Lincoln pennies were issued in 1909. They marked an important moment in the history of US numismatics: it was the first time a real person had been depicted on a coin.
In the past, such an idea was considered unseemly, linked to the idea of monarchy. But 1909 marked the centenary of Abraham Lincoln's birth, and public sentiment swung firmly behind honoring him on the nation's coinage.
The new coins were immediately popular, with people queuing around the block to acquire them. They were soon being sold on the secondary market, fetching up to a quarter per coin. Eventually, demand settled, although 1909 pennies still changed hands for five times their face value.
The vending machine industry, however, were less positive about the new coins. They were too thick to fit the machines' slots. But the Chief Engraver of the Mint, Charles E. Barber, refused to adjust the dimensions, so in the end it was the vending machines that had to be modified.
1936 saw the first proof Lincoln pennies struck for collectors. These were produced at the Philadelphia Mint, and were struck in several subsequent mintages.
There were no proofs in 1949, however. The Mint facilities at Philadelphia, Denver and San Francisco all produced business strike pennies.
The coins that year were made of bronze – an alloy of copper, tin, and zinc. It was the standard composition for the Lincoln penny, but some wartime pennies were made of steel instead.
That was because the Second World War placed huge pressure on supplies of copper and tin. 1942 saw the law changed to authorize making pennies from steel with a zinc coating instead. The steel pennies were discontinued in 1943, and today they're highly collectible.
Also read: 12 Most Valuable Lincoln Penny Worth Money
Features of the 1949 Wheat Penny
The Obverse of the 1949 Penny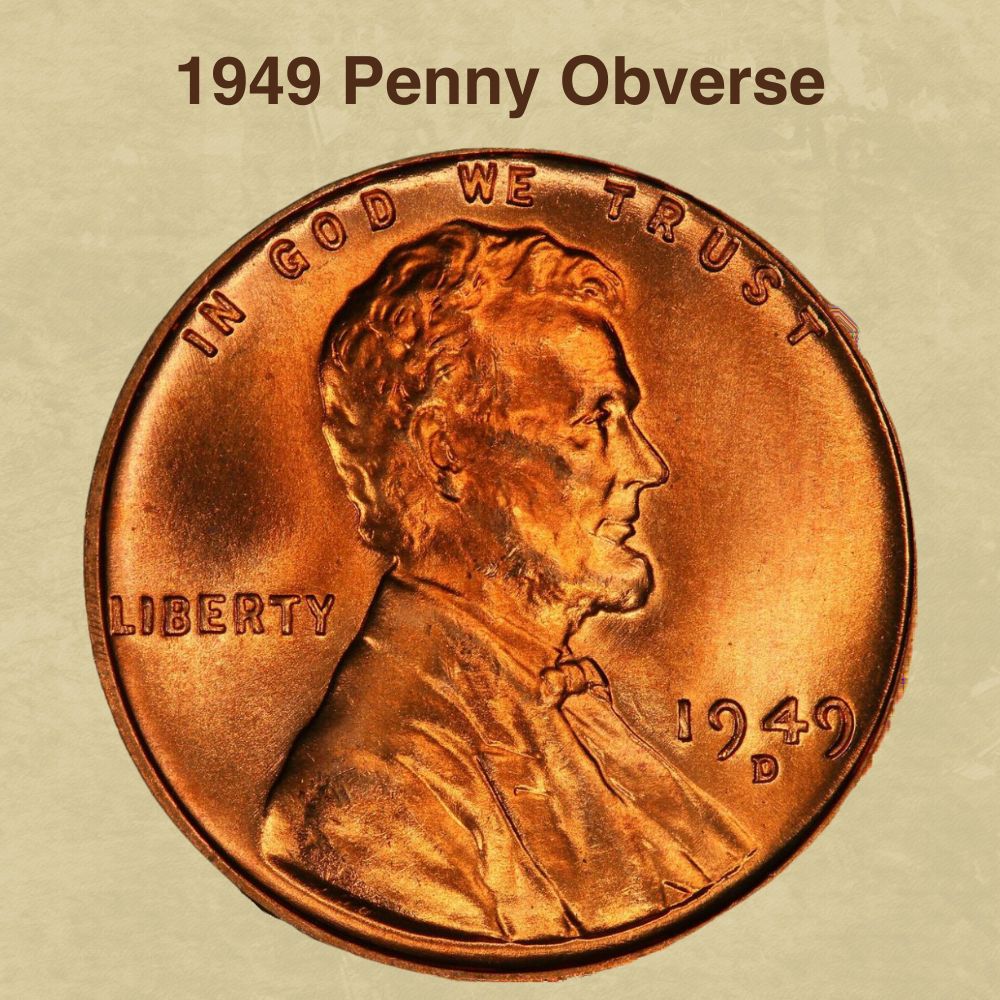 The obverse, or "heads" side, of the 1949 penny will look very familiar to any citizen of the USA. It bears the same portrait of President Abraham Lincoln that still appears on the modern cent. And it's the longest running design of any US coin.
The image was the work of an artist named Victor David Brenner. Originally from a part of Russia that is now Lithuania, Brenner came from a family of metalworkers. He emigrated to the USA in 1890, later traveling to Paris to continue his artistic studies.
His portrait shows Lincoln in profile, facing to the right as the coin is viewed. Brenner later said that he had imagined Lincoln as he would have looked if reading to a child. This, he felt, would show him at his liveliest.
Some minor changes were made to the obverse dies in 1916 to prolong their life. The Mint's Chief Engraver, Charles Barber, removed some wrinkles from Lincoln's cheek and coat.
Above the portrait, the motto "IN GOD WE TRUST" arches parallel to the upper coin edge. The word "LIBERTY" appears to Lincoln's left, while the date is further down on the right.
If the coin has a mint mark, it will appear below the date. 1949 pennies may have a "D" for Denver or an "S" for San Francisco. But if the coin was struck in Philadelphia, there'll be no mint mark at all.
The Reverse of the 1949 Penny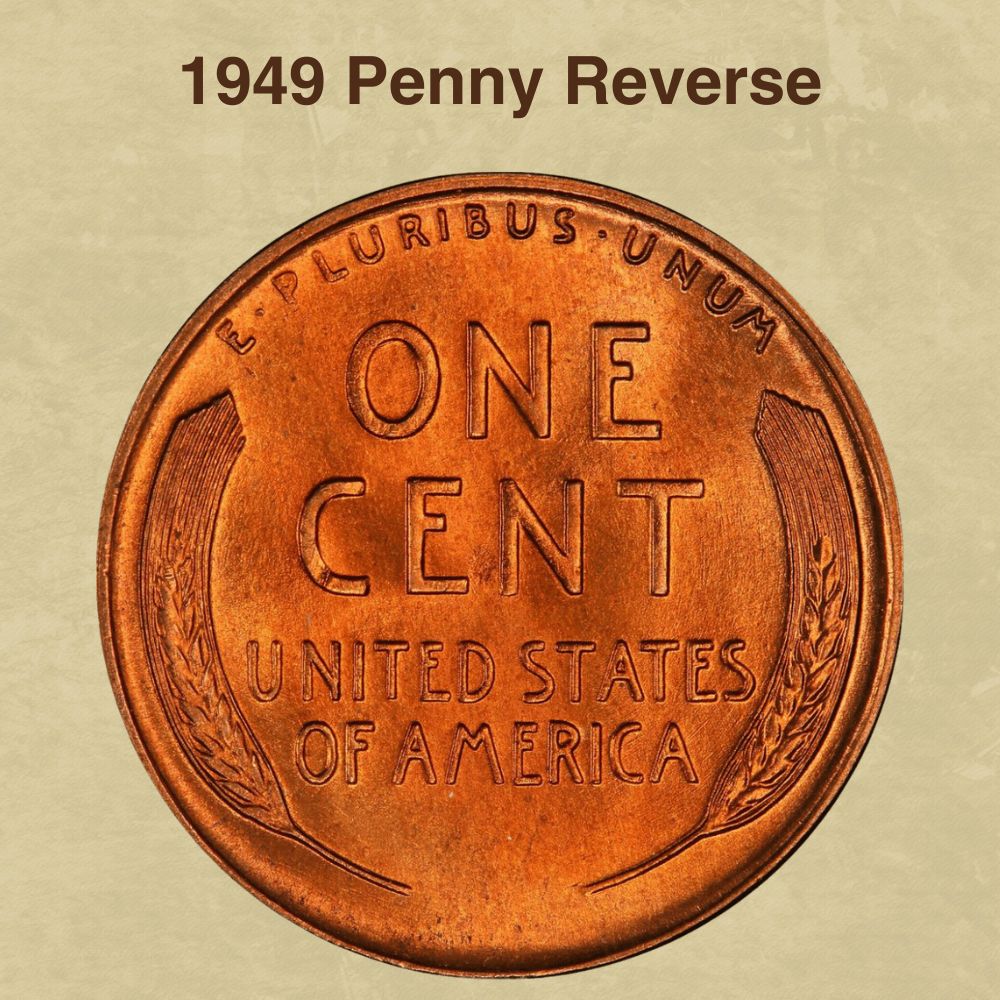 The reverse, or "tails" side, of the 1949 penny bears the same design as the very first Lincoln pennies. It shows two ears of durum wheat curving up the sides of the coin. And it's those that give these coins their second nickname, Wheat pennies.
Like the obverse, the design was the work of Victor David Brenner. But it wasn't his first attempt. That had been an image of a tree branch. Mint officials, however, spotted a similarity with French coins of the same period, and sent him back to the drawing board.
He was instructed to produce a simple design – and the two stylized wheat stalks were the result.
They frame the denomination, which is inscribed boldly in the middle of the coin. Below it, in smaller lettering, is the country name. And at the top, curving parallel to the edge of the coin, is the Latin motto "E PLURIBUS UNUM".
The very first Lincoln cents had Brenner's initials on the reverse. But their size and prominence led to criticism that they constituted advertising. Production was halted and the dies amended to remove the initials.
They were not reinstated until 1918, when they were moved to their current position on the obverse. You'll find them tucked away inconspicuously at the bottom of Lincoln's shoulder.
Other Features of the 1949 Penny
The Wheat penny struck in 1949 has the same composition as most of the series – 95 per cent copper, and 5 per cent tin and zinc.
That high copper content has important implications for the color of individual coins. If they've seen minimal handling or exposure to the air – only possible for uncirculated coins – they'll be the rich red of new copper. But as they're exposed to oxygen, the color will gradually darken to brown.
Generally speaking, collectors will be prepared to pay more for red coins than brown ones that are otherwise in the same condition. But in order to be classified as red, coins have to meet a specific criterion.
They must be red over at least 95 per cent of their total surface area (i.e. the total over both sides). If they're brown over the same proportion of their surface area, they're classified as brown. And if they're somewhere in between, they count as red and brown.
This YouTube video from CoinOpp looks at how to grade Lincoln pennies, including identifying their color.
Also read: 13 Most Valuable Wheat Penny Worth Money
1949 Wheat Penny Value Guides
1949 No Mint Mark Wheat Penny Value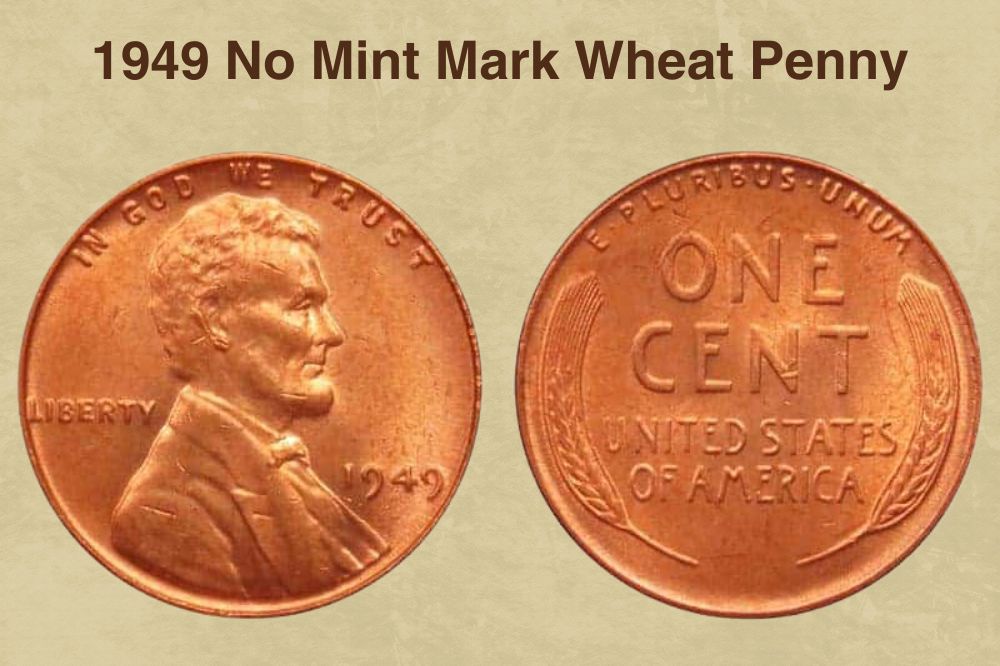 More Lincoln pennies were struck in Philadelphia in 1949 than in any other Mint facility. Almost 218 million were produced. And they can be identified by the absence of a mint mark beneath the date.
Because there are so many of them, coins in circulated condition usually won't be worth more than a few cents. And brown coins are generally worth only a few dollars, even in the finest condition.
Coins are graded on a scale from 1 to 70. 1 indicates a coin in poor condition, with just enough detail visible to identify its year and denomination. A coin graded 70, on the other hand, is flawless. And grades from 60 and above indicate a coin that's never been circulated, known as "mint state".
Red and brown coins in higher mint state grades can be worth more. In 2012, a red and brown coin graded MS65 sold for $440. That one, however, had particularly attractive toning. A more standard example at the same grade sold for just $19 in 2007.
In lower mint state grades, red pennies are also worth just a couple of dollars. But values tip into double figures ($17) at MS64. And "gems", coins graded MS65 and above, are rarer and more valuable.
The independent coin graders, the PCGS, value a red 1949 no mint mark penny at $24. That jumps to $125 at MS66, and $2,250 at MS67.
The finest known examples are five red pennies graded MS67+. And those are valued at $9,000 apiece.
1949 D Wheat Penny Value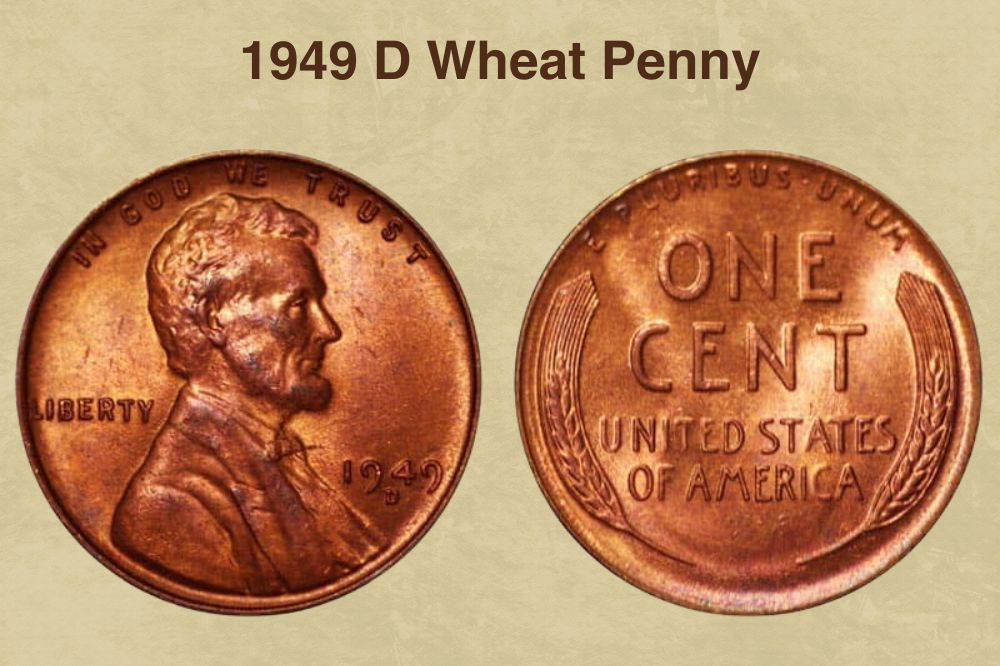 The Denver Mint facility was also busy making pennies in 1949, striking over 153 million of them. So in circulated condition, they're not rare, and will usually be worth only a few cents.
Brown coins, even in high grades, are not generally very collectible. A coin graded MS65 BN by the PCGS has been on offer on an online auction platform since 2017. The starting bid is $80, but it has yet to attract any interest.
There's similarly little public sales information on red and brown 1949 Denver pennies. For red coins, values range from $2 at MS60 to $25 at MS65, and $80 at MS66.
Move up half a point, and the value more than doubles to $165. And it leaps to four figures ($1,350) at MS67, with only 65 coins certified by the PCGS at that level.
The finest known examples are graded half a point higher, at MS67+. The PCGS has certified three of those, and values them at $7,000 each.
1949 S Wheat Penny Value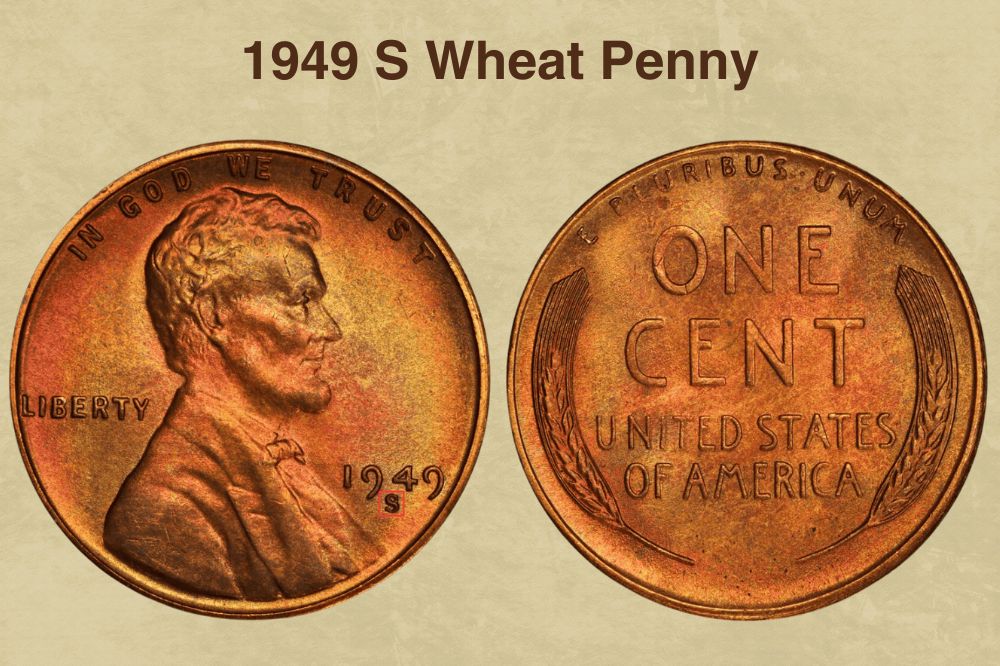 Fewer pennies were struck at the San Francisco Mint facility in 1949 than at the other two locations. Around 64 million came out of the coin presses there, and they can be identified by the "S" mint mark below the date.
As with the other 1949 mint marks, brown pennies don't usually fetch high prices. In 2014, a single bidder was prepared to pay $60 for an example graded AU58 (the letters stand for "about uncirculated"). But in 2006, a brown coin graded MS64 sold for $16.
There's similarly sparse sales history for mint state red and brown coins. Examples sold around 2010 indicate a value of $10 for coins graded MS64, and $12-14 at MS65.
The PCGS values 1949-S red pennies at $2 at MS60, $20 at MS65, and $235 at MS67.
As with the other Mint facilities, quality tops out at MS67+, but examples at this level are more plentiful with the "S" mint mark. The PCGS has so far certified 44 red pennies at this grade, and values them at $1,300 each.
Also read: 17 Most Valuable Indian Head Penny Worth Money
Rare 1949 Penny Errors List
1949 S Penny, Double Die Obverse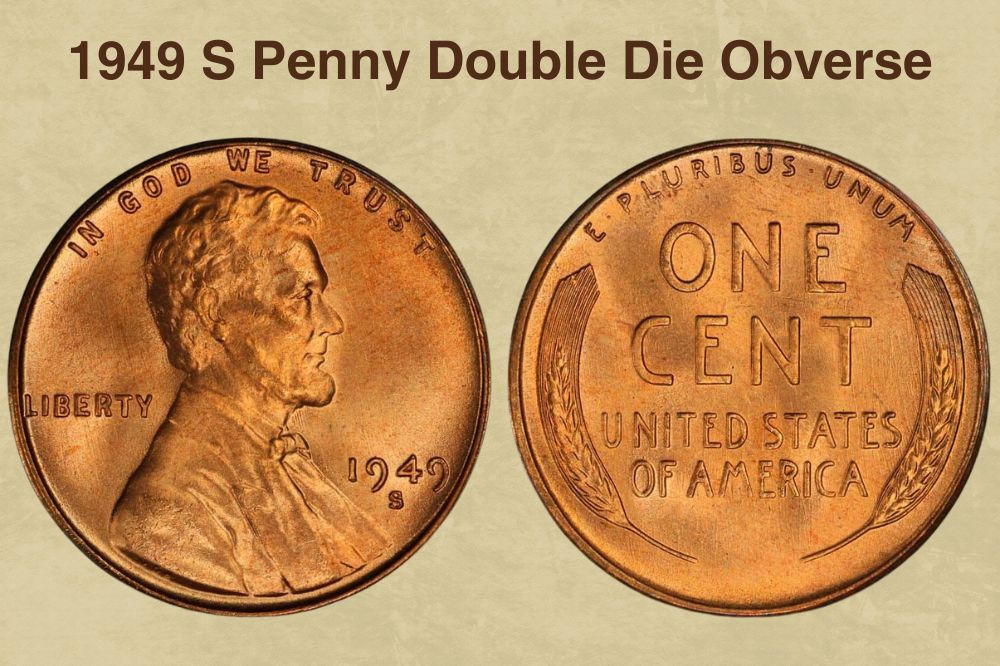 Double die errors relate to a problem during the manufacture of the die used to strike the coins. If there's movement during the process of transferring the design from the hub, doubling will occur on part of the design. That's then duplicated on the coins struck by the die.
This happened with one of the obverse dies used to strike pennies in San Francisco in 1949. The doubling is clearest on the digits "1" and "4" in the date. But you'll need a microscope or loupe to see it clearly.
The value depends on the condition of the coin. The PCGS values a red 1949-S penny with this error at $75 at MS63, and $200 at MS65.
The finest red double die obverse penny to have been certified to date is graded MS67+ and valued at $1,500. That's $200 more than a penny at the same grade without the error.
1949 D/D, Re-punched Mint Mark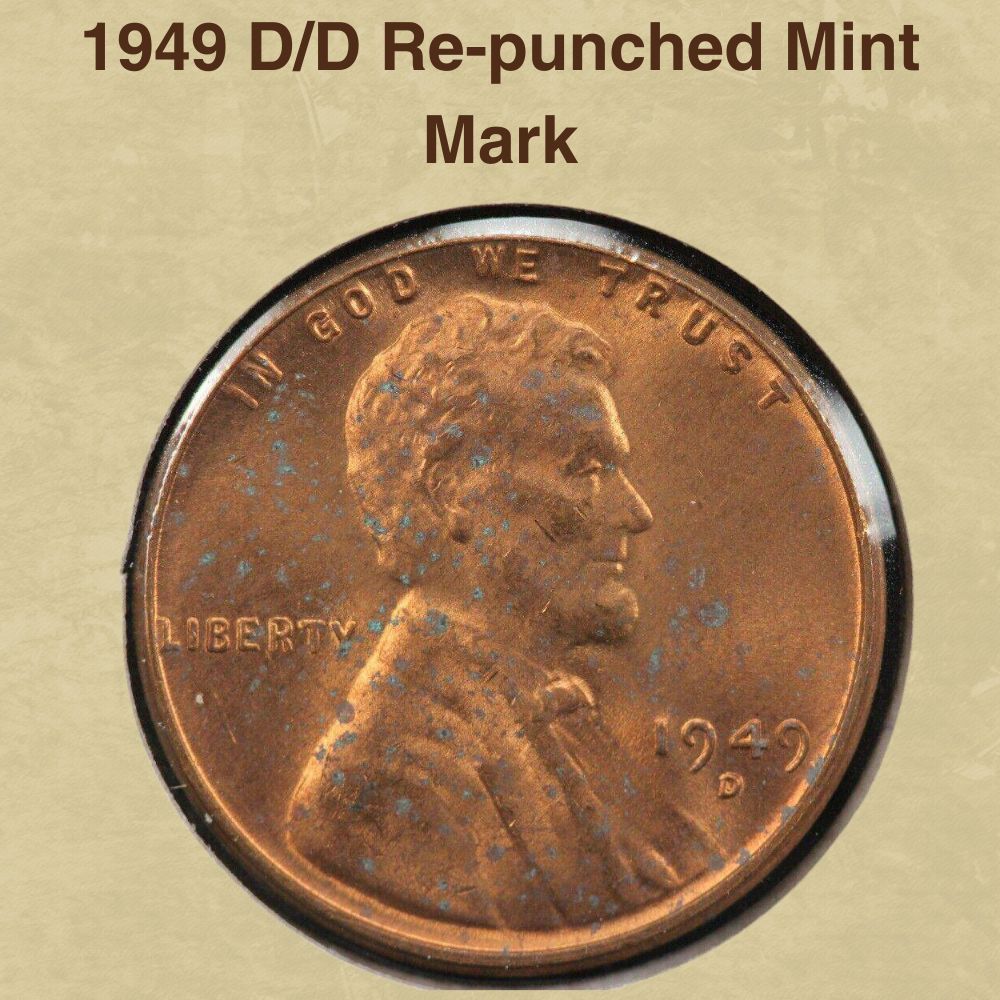 Some of the pennies struck in 1949 in Denver had the "D" mint mark re-punched. This is another error it's difficult to spot with the naked eye. You'll probably need a microscope or loupe to view it properly.
Again, condition is key to value. A coin with this error graded MS65 red by the PCGS sold at auction for over $400.
This YouTube video from Couch Collectibles walks you through a range of different errors amongst 1949 pennies.
Also read: 11 Most Valuable Wheat Penny Errors
FAQs
How much is a 1949 penny worth?
Most 1949 pennies are brown, or red and brown, coins in circulated condition. Those will usually be worth less than ten cents, unless they have an interesting Mint error.
In uncirculated condition, values are higher. At MS60, the lowest grade for uncirculated coins, a red 1949 penny from any of the Mint facilities is worth a couple of dollars. Values are lower for red and brown coins, and lower again for brown ones.
But the very finest examples are worth a lot more. Pennies were struck in Philadelphia, Denver and San Francisco in 1949. And in every case, the finest examples to have been certified to date are graded MS67+.
The value of a Philadelphia 1949 penny at that grade is $9,000. For a Denver penny, it's $7,000. And for a San Francisco penny, it's $1,300.
How many 1949 pennies were made?
Pennies were produced in huge quantities in 1949. The Philadelphia Mint facility struck almost 218 million, the Denver facility over 153 million, and San Francisco over 64 million.
That gives a grand total of 435.2 million pennies produced in 1949.