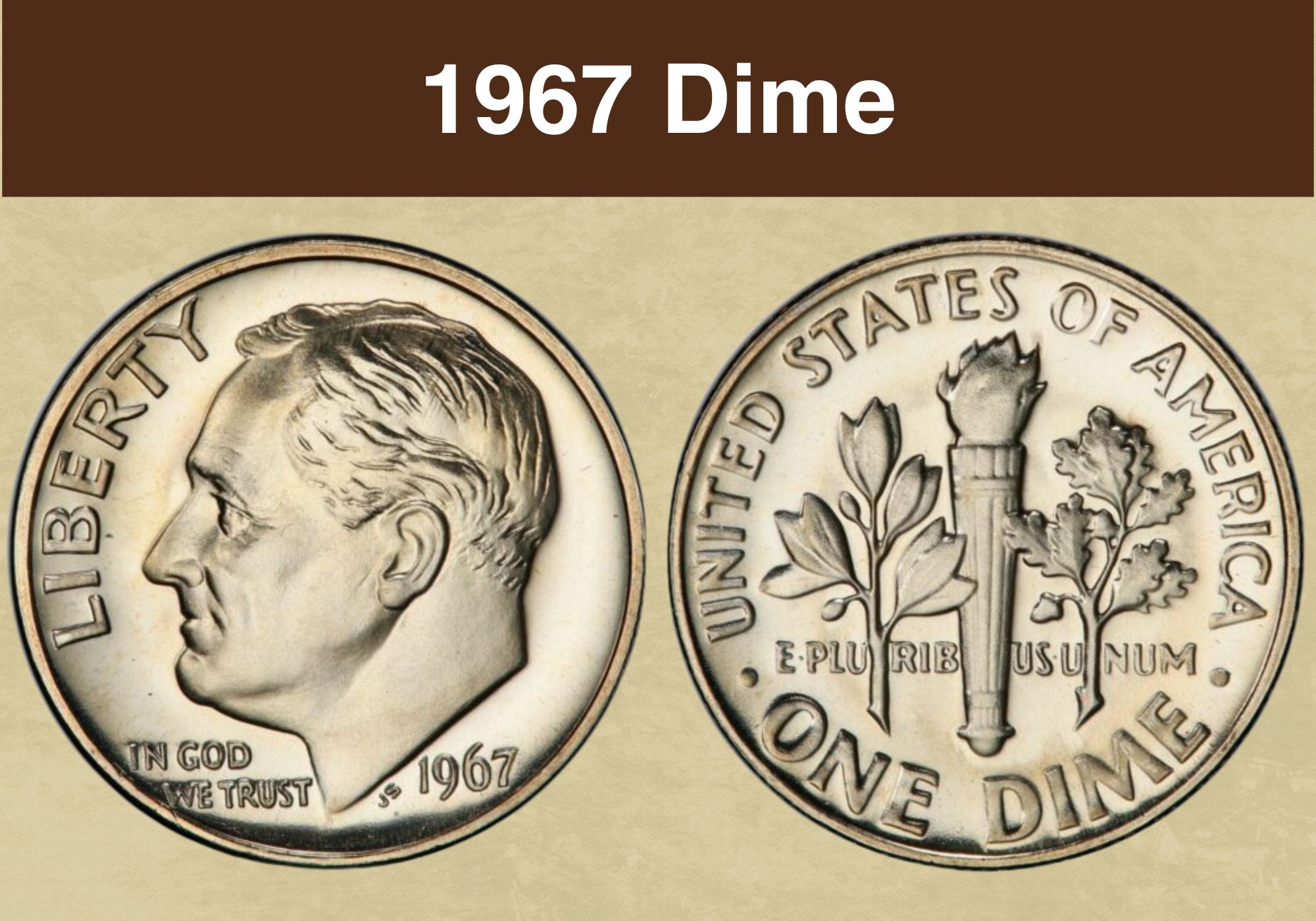 The US Mint has minted billions of Roosevelt dimes from 1946 to these days, and you can find them with different compositions, mint marks, and conditions. The 1967 dime value varies, depending on many factors.
While some ordinary worn-out coins are inexpensive, scarce pieces in first-class condition or rare errors can be highly valuable. Unfortunately, these coins are not respected enough, but some collectors are always willing to complete a series significant for American coinage history.
1967 dime value

Condition
1967 dime
MS 65
$2.33
History of the 1967 Dime
The first Roosevelt dimes were released into circulation in 1946 to honor the 32nd American President. The US Mint had a challenging task to find a respectful replacement for highly popular Mercury dimes.
1967 dime

Location
Year
Minted
Philadelphia
1967 No Mint mark dime
2,244,007,320
Philadelphia
1967 SMS special strike dime
1,863,344
Total
/
2,245,870,664
Interestingly, the original John R. Sinnock design has remained almost unchanged for decades, except for the copper alloy that replaced silver. Unlike pieces struck from 1946 to 1964 that contained 90% silver, the 1967 Roosevelt dimes were cupronickel coins made of 91.67% copper.
The reason was high silver prices and a severe coin shortage in the early 1960s because of hoarding. Besides, there was a growing number of collectors interested in adding beautiful dimes to their collections.
The US Mint solved the problem by stopping silver coin mintage and introducing cheaper copper in dime composition. Another change was the exclusion of proof sets and the production of quality but cheaper Special Mint Sets intended for collectors.
Also read: Top 17 Most Valuable Roosevelt Dimes Worth Money
Features of the 1967 Dime
Engraver John R. Sinnock created both the Roosevelt dime obverse and reverse, making them elegant. These specimens, including those minted in 1967, symbolize all American values in the best possible way.
The 1967 dime (obverse)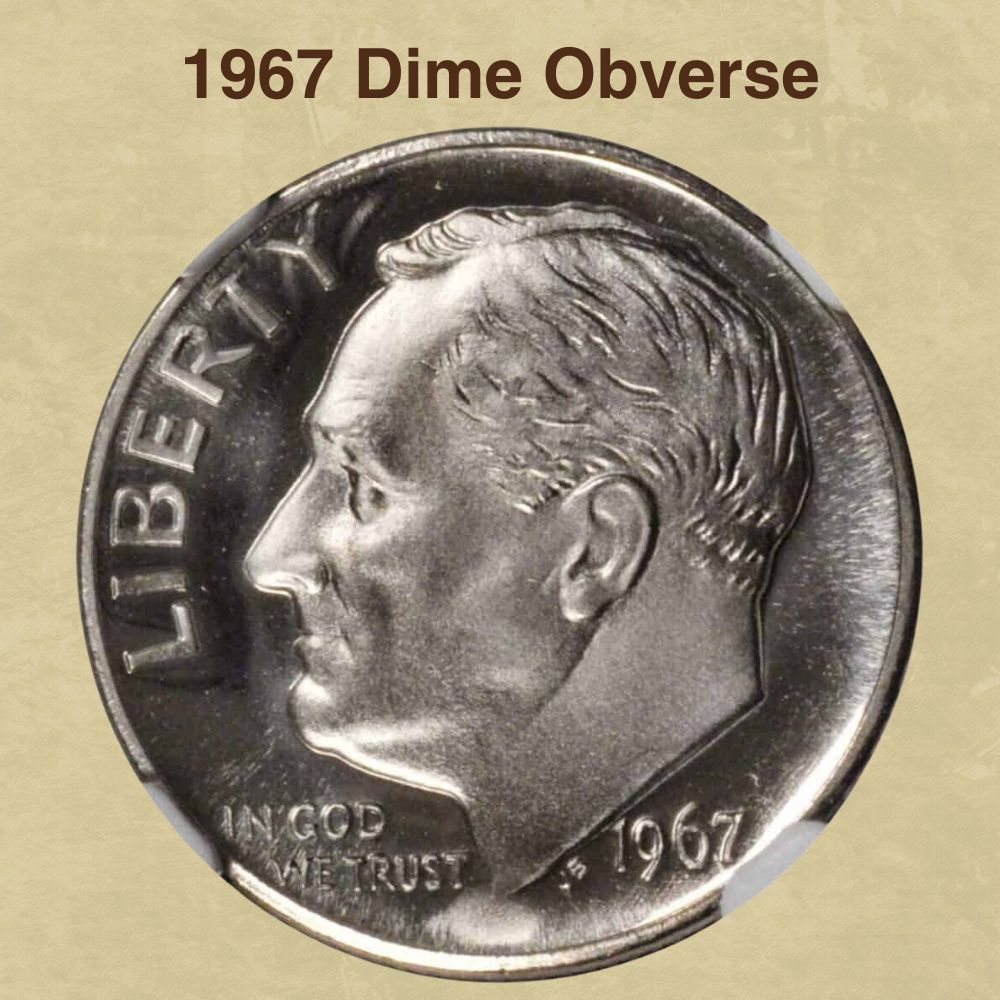 You can see the 32nd President of the US (1933 to 1945) on this dime obverse. His portrait is faced left. The lower coin part is reserved for inscriptions except for the word LIBERTY which is struck in front of Roosevelt's portrait.
You can recognize IN GOD WE TRUST organized in two rows on the left, while the right side is for the minting year and JS, the designer's initials. Since all coins minted this year came from Philadelphia during the time when this mint didn't strike the mint mark, there is not a corresponding letter below the truncation.
The 1967 dime (reverse)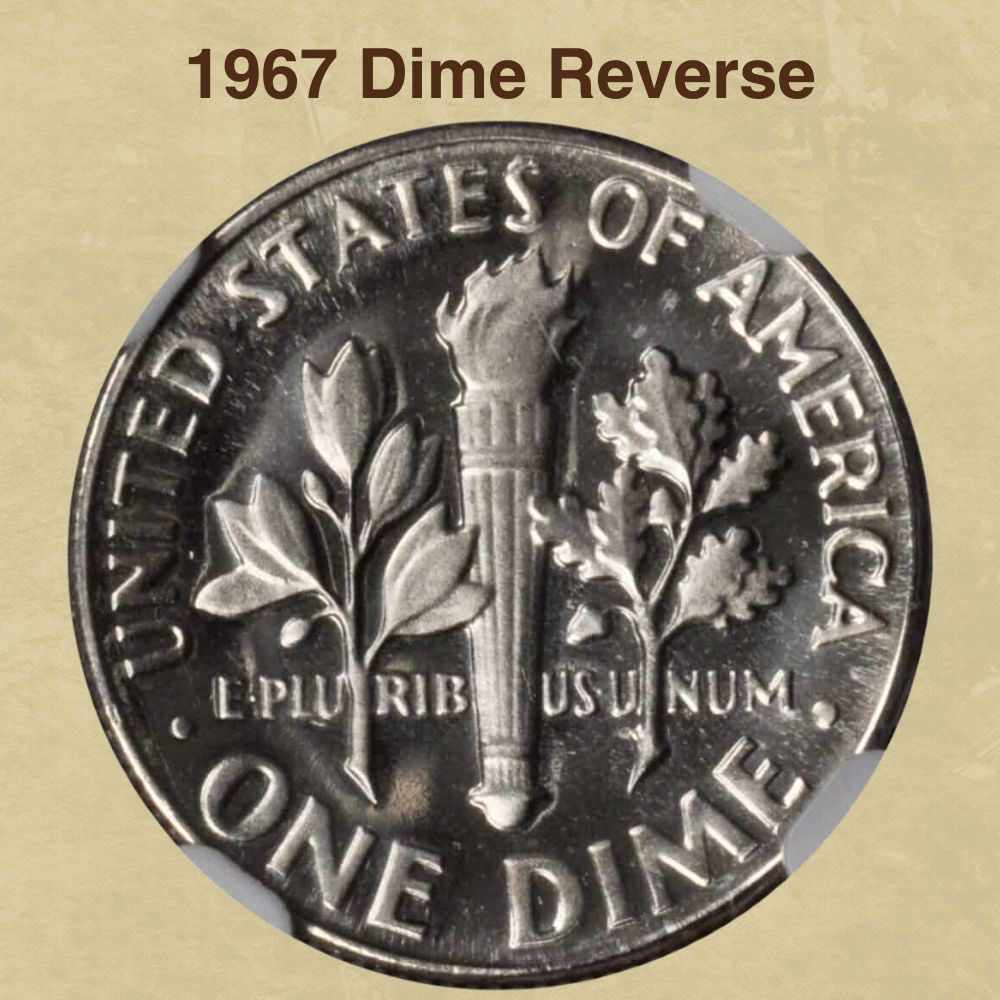 The dime reverse is full of symbols relevant to the new nation. You can see a torch in the center with the • UNITED STATES OF AMERICA • ONE DIME placed around.
The E • PLU RIB US • U NUM is a required motto by the law, and its place is on the lower coin part in this case. It is atypically placed, so the torch, olive branch, and oak branch break it into several segments.
1967 dime

Face value
Ten cents (10 cents)
Compound
These cupronickel coins contain 91.67% copper in total, including a pure copper core and a layer of this metal over it with nickel as an addition
Coin weight
2.268 g (0.080 ounces)
Edge
Reeded (118 reeds)
Coin diameter
17.91 mm (0.70511 inches)
Shape
Round
Coin thickness
1.35 mm (0.05315 inches)
The 1967 dime (other features)
The 1967 Roosevelt dimes are 10-cent cupronickel coins that contain 91.67% copper in total, with nickel as an addition. Their core is made of pure copper coated with a layer of this metal (75%) and nickel (25%).
Dimes have 118 reeds on the edge and are thick 1.35 mm (0.05315 inches). Their diameter is 17.91 mm (0.70511 inches), and they always weigh 2.268 g (0.080 ounces).
1967 Dime Value Guides
In 1967, only mint in Philadelphia struck Roosevelt dimes. Most of the 2,245,870,664 coins were from regular strikes, including perfectly minted specimens with Full Bands. On the other hand, less than two million pieces were intended for collectors as a part of a Special Mint Set.
1967 No Mint mark dime Value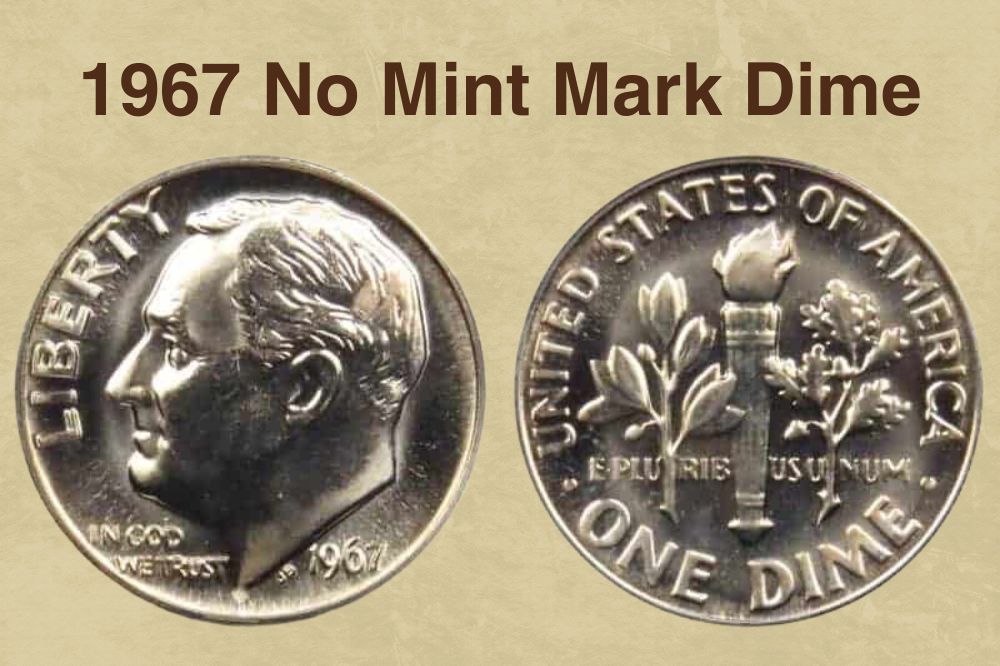 As mentioned, the Philadelphia mint was the only one to produce Roosevelt dimes in 1967. All these 2,244,007,320 coins were without the mint mark, but the minting quality varied throughout the year.
Since dimes with this date are slightly older than 55 years, you can consider them modern. Most collectors expect them to be affordable and barely collectible, and most avoid looking for circulated or even uncirculated pieces of lower quality.
Most dimes are worth their face value while better-ranking ones reach $0.15 to $0.50. Even almost perfect coins are reasonably priced for most collectors, including novices. You can buy them for:
$1 if you choose a dime in MS 65 grade
$3 if you choose a dime in MS 66 grade
$12 if you choose a dime in MS 67 grade
Despite this set's minting year, you have to make an effort to find the dime with the MS 68 grade. Therefore, these coins are more costly, with an average price of $250. Better-graded ones are expectedly more valuable, so you can see that the 1967 MS 69 Roosevelt dime sold at $500 in 2023 on eBay.
1967 No Mint mark dime with Full Bands Value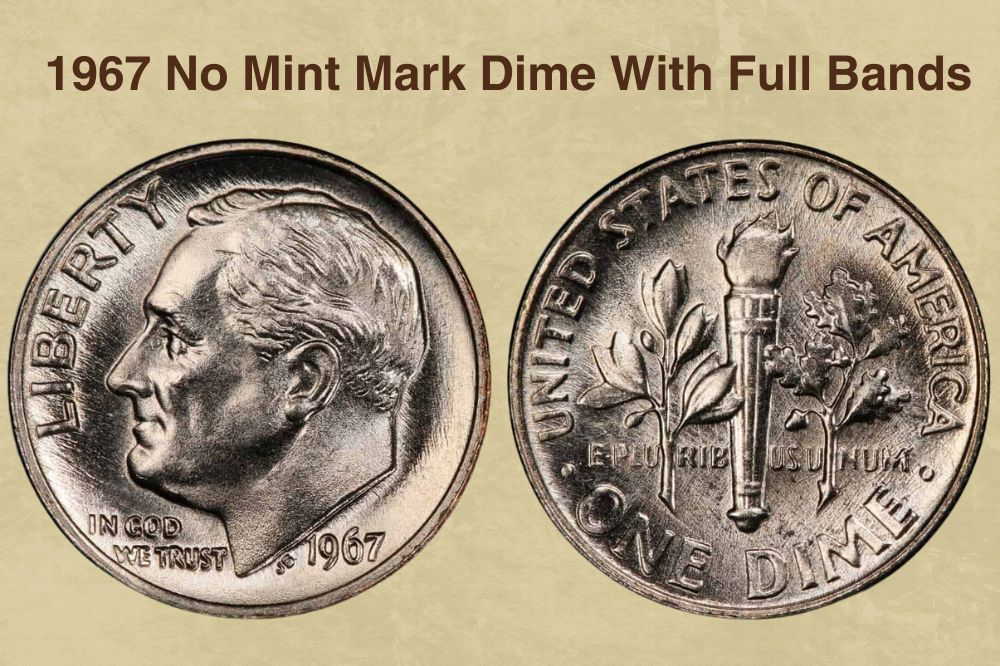 No one can say how many dimes from regular strikes came with Full Bands, but coins with this sought-after feature are favorite among collectors. They are the same as other pieces in the set but with better-struck and recognizable transverse lines on the torch struck on the reverse.
As expected, these dimes are of better quality and often reach better prices than standard ones. Depending on conditions, dimes with Full Bands minted in Philadelphia in 1967 typically cost:
$24 for those in MS 66 grade
$150 for those in MS 67 grade
Thanks to a limited number of beautiful and perfectly-preserved MS 68 dimes, they are particularly appreciated among collectors. You can expect them to reach at least $1,200 at auctions.
On the other hand, you shouldn't be surprised when checking auction record prices, which are often higher. For instance, one high-ranking coin in MS 67 grade was paid $1,440 on April 26, 2020.
1967 SMS dime Value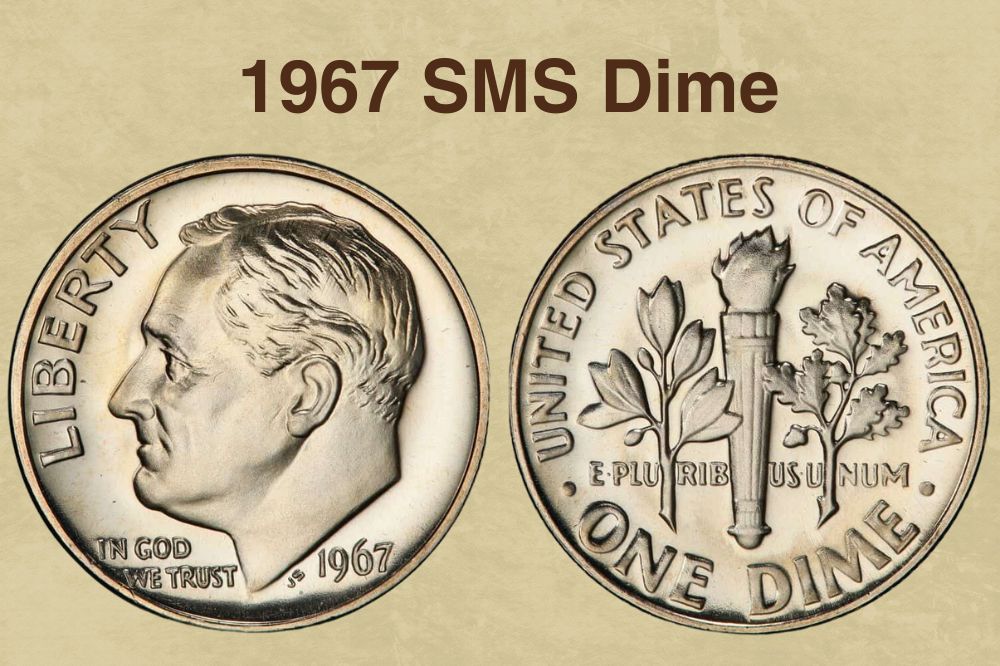 Besides coins from regular strikes, the Philadelphia mint released 1967 special strike Roosevelt dimes. They were intended for collectors as a part of the Special Mint Set.
Despite their perfect condition, these contemporary coins rarely reach too high prices. Therefore, you can find almost flawless pieces for a few dollars. For example, you can buy:
The MS 63-ranked dime for $2
The MS 64-ranked dime for $2
The MS 65-ranked dime for $3
The MS 66-ranked dime for $4
The MS 67-ranked dime for $5
The MS 68-ranked dime for $15
Only almost perfect specimens with the MS 69 grade are more expensive and cost approximately $200. However, one such coin from the set was paid $339 at an auction in 2005.
Besides these lovely pieces, you can find those looking even more perfect. Specimens with cameo contrast are always collectible and typically cost:
MS 63 CAM dimes – $3
MS 64 CAM dimes – $4
MS 65 CAM dimes – $5
MS 66 CAM dimes – $10
MS 67 CAM dimes – $15
MS 68 CAM dime – $75
You can be surprised after discovering how much money you can get for a CAM dime in the highest grade. Most rare coins with MS 69 ranking are worth about $850, but the auction record is even higher.
One collector bought one 1967 SP 69 CAM dime for $2,300 in 2010. On the other hand, serious collectors always want to add one of DCAM coins to their collections, increasing their prices.
Therefore, be prepared to pay $160 to $1,500 for perfectly-preserved dimes. On the other hand, those with the MS 69 grade quickly reach $4,500 at auctions. Interestingly, the most pricey specimen with this characteristic was a piece in MS 67 rank. It reached an astonishing $9,988 at Heritage Auctions on January 8, 2014.
Also read: Top 17 Most Valuable Mercury Dimes Worth Money
1967 Dime Grading
Grading circulated Roosevelt dimes is simple since these low-grade coins are inexpensive. Most dealers never include them in their offers, and you can buy only specimens in the mint state. Most high-grade uncirculated dimes are in impeccable condition with more or fewer signs of wear, affecting their final price.
Rare 1967 Dime Error List
Roosevelt dimes are known for rare and highly sought-after errors that can be surprisingly expensive. The most common and collectible 1967 dime error coins include:
Doubled die obverse
DDO is a relatively common error among dimes, and you can find a few such pieces minted in 1967. Their price is typically tens of dollars, but one collector bought one in AU condition for $600 in 2019.
Die adjustment strike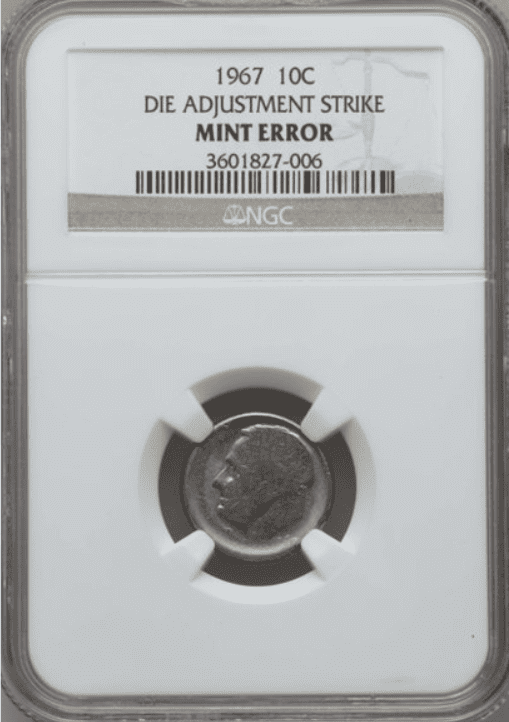 Recalibrated machinery used for dime minting needed occasional adjustments. The result was a few junk coins (die adjustment strike dimes) with this error type released during the 1960s by mistake. You can expect to find one of these pieces for $100 to $150.
Missing obverse clad layer
Only several 1967 clad dimes came without an outer silverish-colored layer, making them look like a penny. Since these errors are relatively common, their price range is from $60 to $150.
Struck 50% off-center
When a planchet ends up off-center during minting, you can expect a piece with a partial design. The most valuable are those with 50% to 55% off-center and a visible minting date that are worth $30 to $100.
Clipped planchet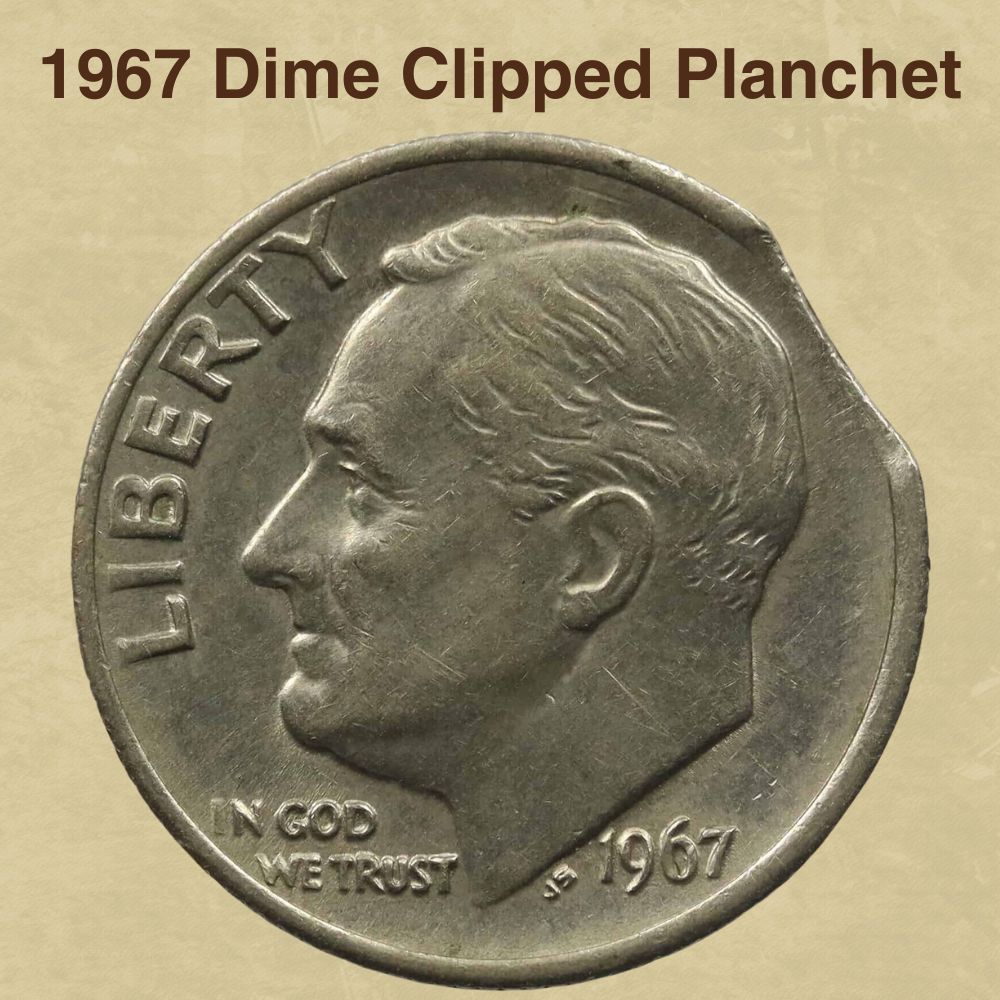 The 1967 dimes with an elliptical-shaped missing part can cost about $35 to $40 when in the mint state. This imperfection resulted from an incorrectly fed planchet into the striking hub, causing the cut coin edge.
Blank planchet
If you find the 1967 blank-planchet dimes without a design, you can be sure it is a minting-related error. It costs a few dollars because it is not collectible due to a lack of aesthetic appeal.
Broad strike
The improperly positioned or broken die collar leads to too broadly struck planchet rim. Such a dime is wider than regular pieces with distorted, stretched-like images and letterings. Broad strike dimes typically cost $5 to $10.
Also read: 13 Most Valuable Dime Errors Worth Money
FAQ about the 1967 Dime
Are there rare 1967 dimes?
The 1967 Roosevelt dimes are common coins, and only a few of the best-ranking pieces can be expensive. However, even those are relatively easily available as most other modern coins.
Which 1967 dimes were paid more than usual?
One collector paid $9,988 for the 1967 SP 68 dime (DCAM SMS) on January 8, 2014 (Heritage Auctions)
One collector paid $2,300 for the 1967 SP 69 dime (CAM SMS) on March 24, 2010 (Heritage Auctions)
One collector paid $1,440 for the 1967 MS 68 dime (FB) on April 26, 2020 (Heritage Auctions)
One collector paid $600 for the 1967 AU 53 dime (DDO) on May 29, 2019 (Stack's Bowers)
One collector paid $500 for the 1967 MS 69 dime on June 6, 2023 (eBay)
One collector paid $339 for the 1967 SP 69 dime (SMS) on November 2, 2005 (Heritage Auctions)
What is the expected price of the 1967 No Mint mark dimes?
Most dimes minted this year in the mint in Philadelphia are worth their face value, but more collectible coins can cost $0.15 to $12, depending on grade. Only the best specimens with MS 68 ranking can reach higher sums, approximately $250.
Which dimes are the most pricey?
The 1975 PR 68 No S clad dime is the most costly in the series. One dedicated collector attended an auction in 2019 and set aside an impressive $456,000 to add this rare piece to their collection.
Other expensive dimes were less costly, but their auction prices were also high for this coin type. The list starts with the following:
1968 PR 68 No S PR clad dime – $48,875 (September 13, 2006)
1951 PR 68 silver dime – $23,500 (January 08, 2014)
1956 PR 69 silver dime (DCAM) – $19,975 (October 03, 2016)
1950 PR 68 silver dime – $18,800 (March 21, 2014)
1999 D MS 65 clad dime – $14,375 (January 1, 2009)
1949 MS 68 silver dime (FB) – $13,200 (August 22, 2018)
1946 MS 69 silver dime – $12,650 (November 18, 2004)
1966 SP 67 clad dime (SMS) – $12,499.99 (February 8, 2021)