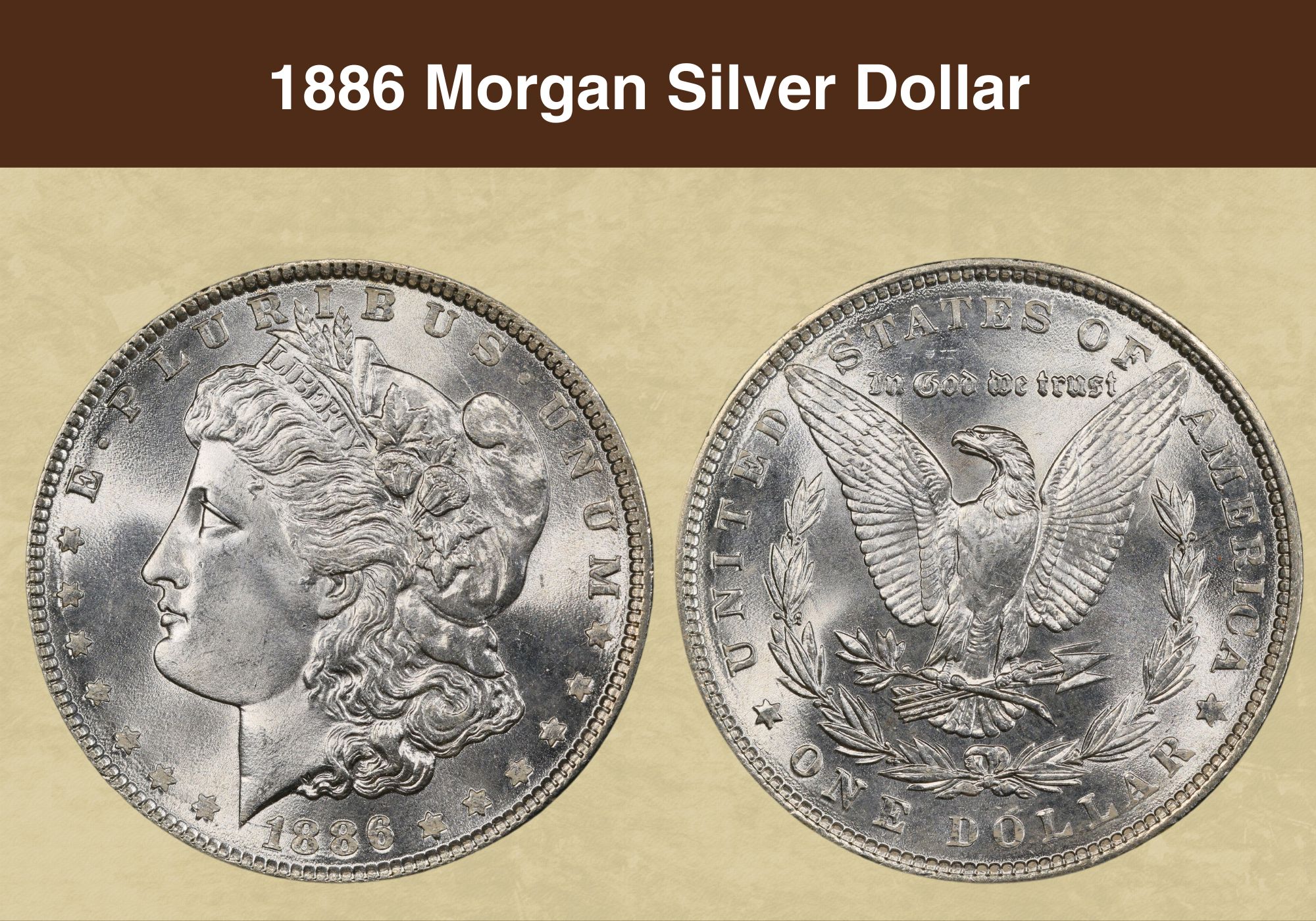 The first American dollar coins appeared in 1794. You can find those containing gold, silver, and other base metals, but they have one thing in common. Americans didn't like one-dollar coins. Finally, the US Mint gave up on them on December 11, 2011, and only paper banknotes stayed in circulation, the way it was always supposed to be.
Morgan silver dollars became a reality in 1878, and their minting continued until 1904, plus in 1921. Unlike previous dollar coins, they were beautiful. That is the reason for their collectability and high prices nowadays. Therefore, you can expect the 1886 silver dollar value to be significant. Let's see.
1886 Morgan Silver Dollar value Chart

Condition
1886 No Mint Mark silver Dollar
1886 O silver Dollar
1886 S silver Dollar
Good
$42
$43
$83
Very good
$47
$47
$93
Fine
$54
$54
$103
Very fine
$56
$60
$122
Extra fine
$60
$76
$151
AU
$64
$159
$200
Mint state 60
$76
$1,357
$527
Mint state 65
$255
$175,417
$2,194
Proof 63
$4,369
/
/
History of the 1886 Morgan Silver Dollar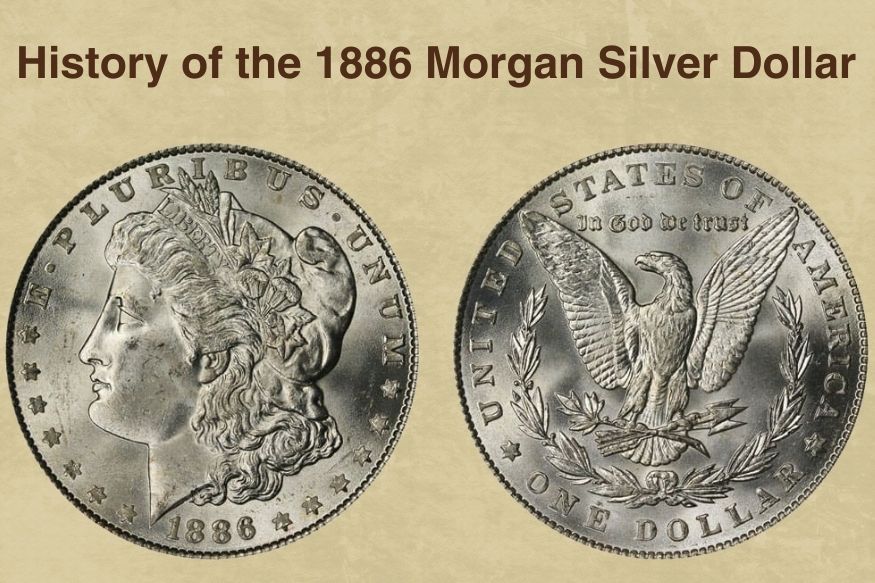 The Morgan dollar mintage started in 1878. In 1904, the US Mint stopped their production, but these coins were issued one more time in 1921. The next attempt was in 2021 when coins for collectors were released to commemorate a century after their last appearance.
1886 Morgan Silver Dollar Types

Location
Year
Minted
Philadelphia
1886 No Mint Mark silver coin
19,963,000
Philadelphia
1886 proof silver coin
886
New Orleans
1886 O silver coin
10,710,000
San Francisco
1886 S silver coin
750,000
Total
/
31,423,886
These lovely coins were the first silver American coinage minted after the Coinage Act of 1873 forbade silver coining. It was a reason for ceasing the Seated Liberty dollar minting. The new silver dollar was a guarantee for the mining industry to get a secure market for mined silver.
Also read: 12 Most Valuable One-Dollar Coin Worth Money
Features of the 1886 Morgan Silver Dollar
George T. Morgan created one of the most beautiful American coins minted from the 18th century until today. These pieces appeared in 1878, placing those minted in 1886 in the middle of the series.
The obverse of the 1886 Morgan Silver Dollar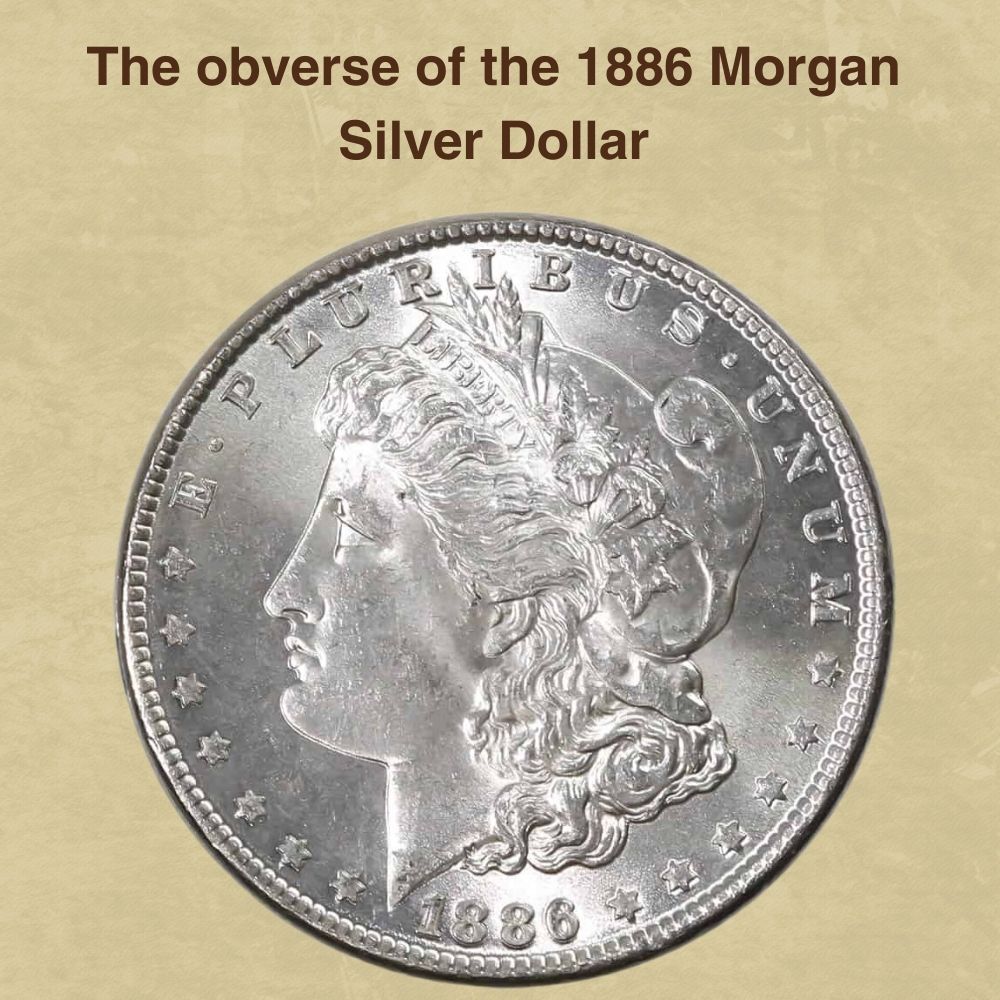 All Morgan silver dollars are beautiful, so those minted in 1886 are not an exception. The obverse includes Lady Liberty with a crown of flowers and wheat completed with the word LIBERTY. Designer Morgan surrounded the central composition with the Latin motto, 13 stars, and the date.
The reverse of the 1886 Morgan Silver Dollar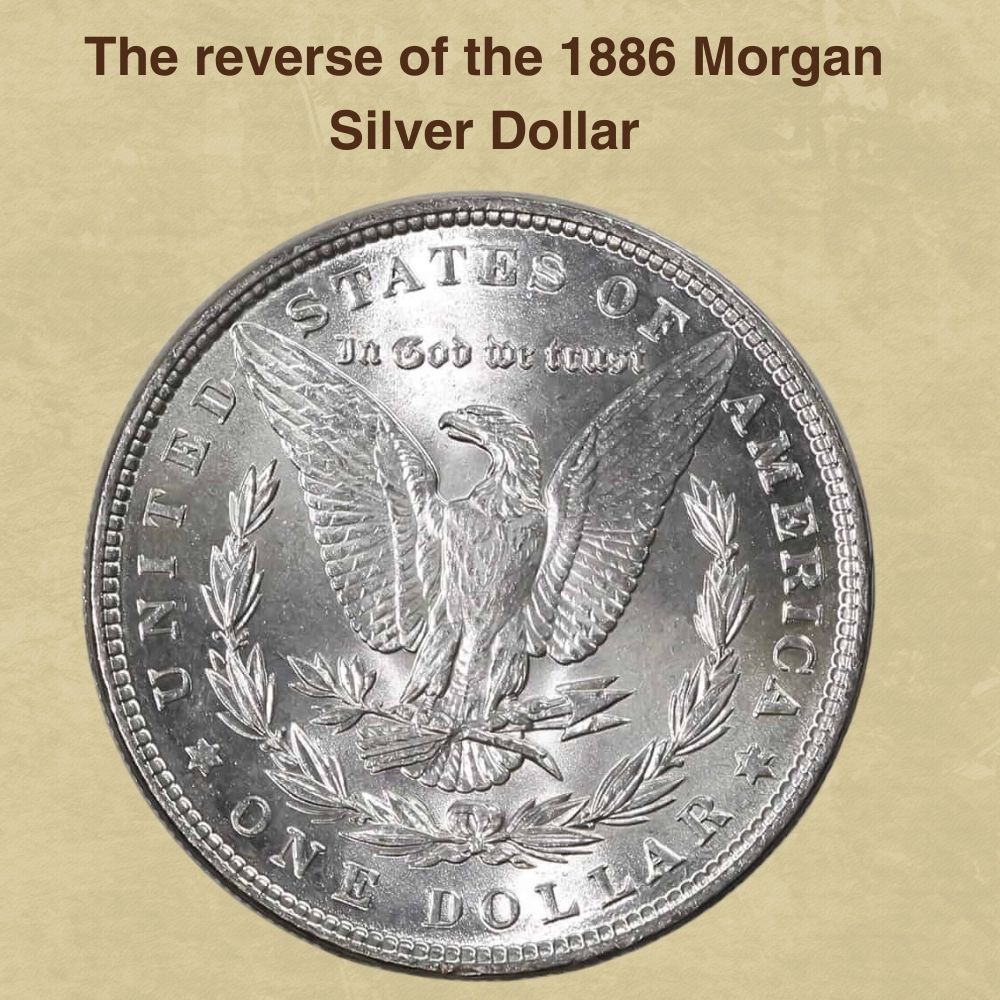 The complex reverse includes the country name and denomination surrounding a centrally positioned eagle. There is also a motto IN GOD WE TRUST, olive branches, and arrows, symbolizing the crucial American values.
1886 Morgan Silver Dollar Details

Face value
One dollar ($1)
Shape
Round
Compound
90% silver and 10% copper
Silver weight
0.77344 troy ounces (24.5 g)
Coin weight
0.8594 troy ounces (26.73 g)
Coin diameter
1.5 inches (38.1 mm)
Coin thickness
0.09449 inches (2.4 mm)
Edge
Reeded
Other features of the 1886 Morgan Silver Dollar
Like other Morgan dollars, those minted in 1886 contain 90% silver and have a diameter of 1.5 inches (38.1 mm). Their thickness is 0.09449 inches (2.4 mm), and you can recognize their reeded edge. The coins weigh 0.8594 troy ounces (26.73 g), including 0.77344 troy ounces (24.5 g) of pure silver, and the rest is copper.
Also read: 14 Most Valuable Coins In Circulation
1886 Morgan Silver Dollar Value Guides
Besides the mint from Philadelphia that produced regular coins and proofs, the other two had a lower mintage of Morgan silver dollars from regular strikes. The total mintage from this year was 31,423,886, and many have survived until these days.
1886 No Mint Mark Morgan Silver Dollar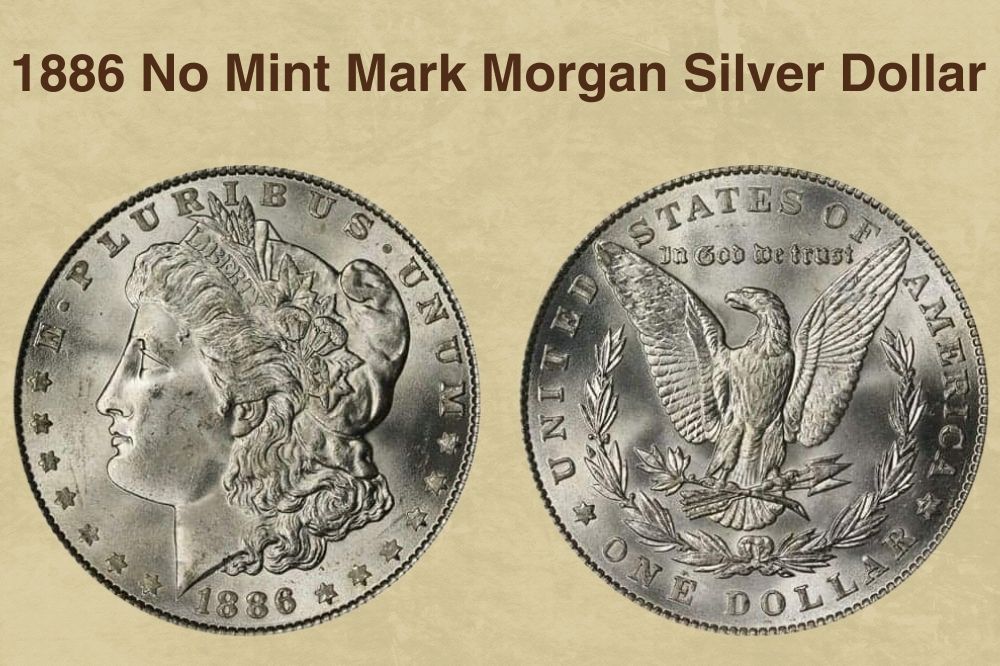 The mintage of 19,963,000 silver Morgan dollars made the Philadelphia mint the one with the highest produced number of coins from regular strikes in 1886. Survived pieces in circulated condition typically cost $30 to $61, while those from MS 60 to MS 66 are available at a price ranging from $53 to $385.
More expensive MS 67-ranked coins are worth $1,100 to $1,265, but those in MS 68 grade are real gems. Their average prices are $10,500 to $13,000, while the most expensive piece fetched twice the price at auction, $27,025.
Some collectors prefer proof-like Morgan coins and are prepared to set aside $50 to $1,080 for one on average. However, serious collectors look for the best-graded pieces (MS 67) with an estimated price of $3,500 to $6,000. One admirer went the furthest by paying $15,000 for the 1886 MS 67+ PL dollar in 2021.
The 1886 DMPL silver dollars in the mint state cost $135 to $3,120, while the most expensive pieces in MS 67 quickly reach $8,500 to $10,000 at the market. The best-paid silver dollar with this quality minted this year was sold at $18,800 in 2014.
1886 proof Morgan Silver Dollar Value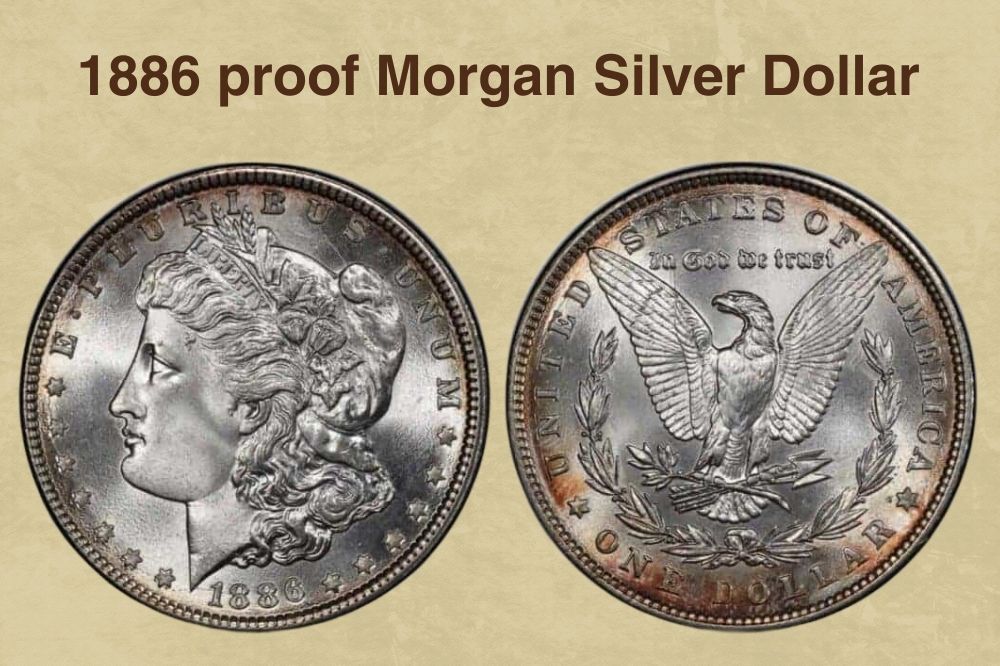 Besides regular silver dollars, the Philadelphia mint released 886 proofs in 1886. Their price range is approximately $1,000 to $1,500 (PR 50 to PR 58) these days, while the best-ranked coins cost:
PR 60-ranked – $2,150 to $2,580
PR 61-ranked – $2,350 to $2,820
PR 62-ranked – $2,600 to $3,000
PR 63-ranked – $2,975 to $3,300
PR 64-ranked – $3,550 to $4,260
PR 65-ranked – $4,800 to $5,500
PR 66-ranked – $6,100 to $7,500
PR 67-ranked – $9,600 to $11,520
You can be surprised by the estimated price of $30,000 to $36,000 for the PR 68-graded coin. However, the priciest proof in the series is the 1886 PR 67+ silver dollar with an auction record of $18,000.
Proofs with CAM quality have a price range from $2,400 to $18,000. Even though those in the PR 68 rank are assessed at $36,000 to $43,200, the current auction record from 2019 is $34,800.
Experts estimated the beautiful 1886 PR 67 DCAM silver dollars' value at $40,000 to $65,000. However, the record price for such one coin won in 2012 is even higher, $66,000.
1886 O Morgan Silver Dollar Value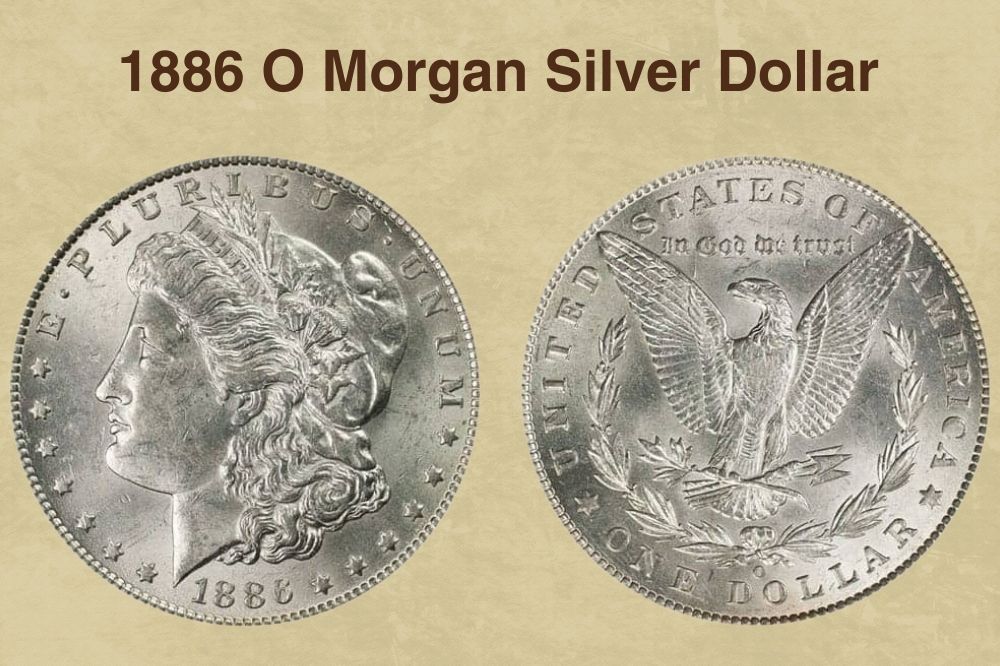 All survived of 10,710,000 silver dollars minted in New Orleans are valuable collectibles nowadays. Even though you can find circulated pieces minted in 1886 for $30 to $480, those in the mint state cost $1,200 to $10,500.
However, the biggest surprise is extremely scarce MS 65-graded Morgans with an estimated price range from $150,000 to $250,000. The auction record of $235,000 from 2015 proves that the experts know what they are talking about.
Proof-like 1886 dollars from this mint have a wide price range from $2,600 for MS 60-ranked specimens to MS 63-graded ones estimated at $15,600.
The best-quality 1886 PL Morgans known by now is the one in MS 64 grade. Interestingly, their estimated price range is from $22,000 to $26,400, while the most expensive piece was paid exactly that much in 2019, $26,400.
Be prepared that the 1886 O DMPL silver dollars are expensive, so paying $2,800 to $78,000 for one is necessary, depending on its quality and appearance. The estimation for the MS 67-graded Morgan from this mint is $780,000 to $936,000, and the auction record from 2020 of $780,000 confirmed this.
1886 S Morgan Silver Dollar Value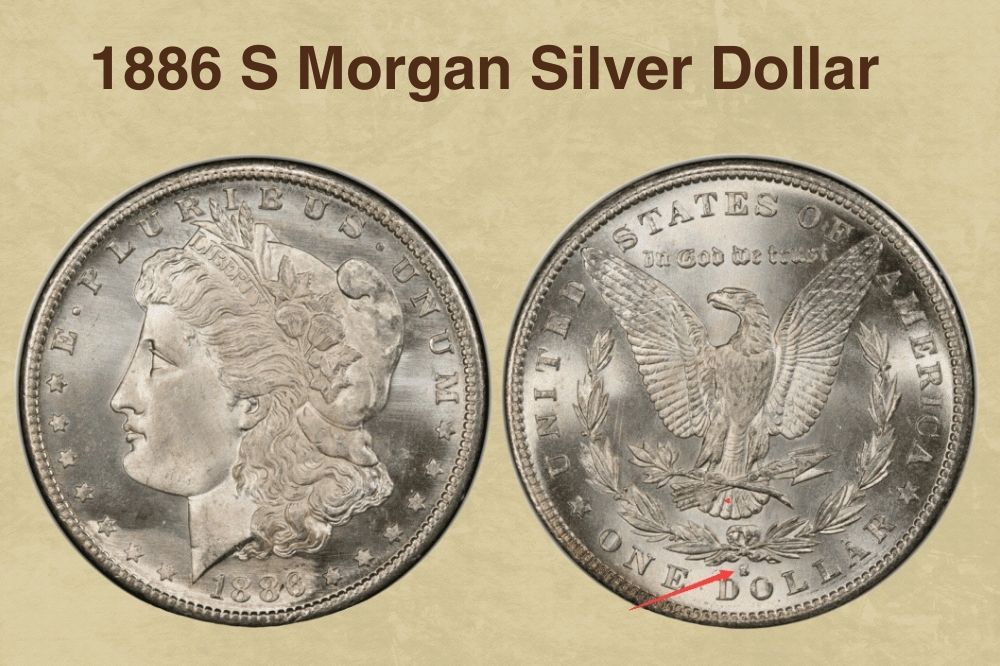 The San Francisco mint had the lowest mintage of only 750,000 silver Morgan dollars in 1886. Numerous circulated coins are available nowadays for a relatively modest price for one such old coin ($30 to $360).
Pieces in the MS 60 to MS 66 rank cost $400 to $6,500, while the costliest specimens with the S mint mark are MS 67-graded ones with an estimated price of $45,000 to $60,000. The 1886 S MS 67 silver dollar is even pricier after it sold at $66,000 in 2020.
The 1886 S PL Morgan value is assessed to $200 to $5,000, depending on grade, while the most collectible coins in MS 66 ranking can reach $11,000 to $13,200 at auctions. Moreover, one such specimen won a record price of $16,100 in 2008.
Finally, the 1886 S DMPL silver dollars have a price range of:
MS 61 – $900 to $1,080
MS 62 – $1,350 to $1,620
MS 63 – $2,450 to $2,940
MS 64 – $6,750 to $8,100
Despite the estimated value of $25,000 to $32,000, the auction record for one 1886 DMPL Morgan in MS 65 grade is $23,400.
Also read: Top 10 Most Valuable Morgan Silver Dollar Worth Money
1886 Morgan Silver Dollar Grading
The condition is always crucial for almost a century and half-old coins, so you should be careful when estimating the 1886 Morgan dollars. Only professionals can determine slight variations between MS 63- and MS 67-graded coins. Be aware that the price difference can reach tens of thousands of dollars.
Rare 1886 Morgan Silver Dollar Errors List
The 1886 Morgan set includes a few specific and costly errors. Since collectors like these imperfect pieces, their price can be high, but you need to be aware of each piece's condition. Only the highest-ranked coins can bring the highest sums.
3+2 clashed reverse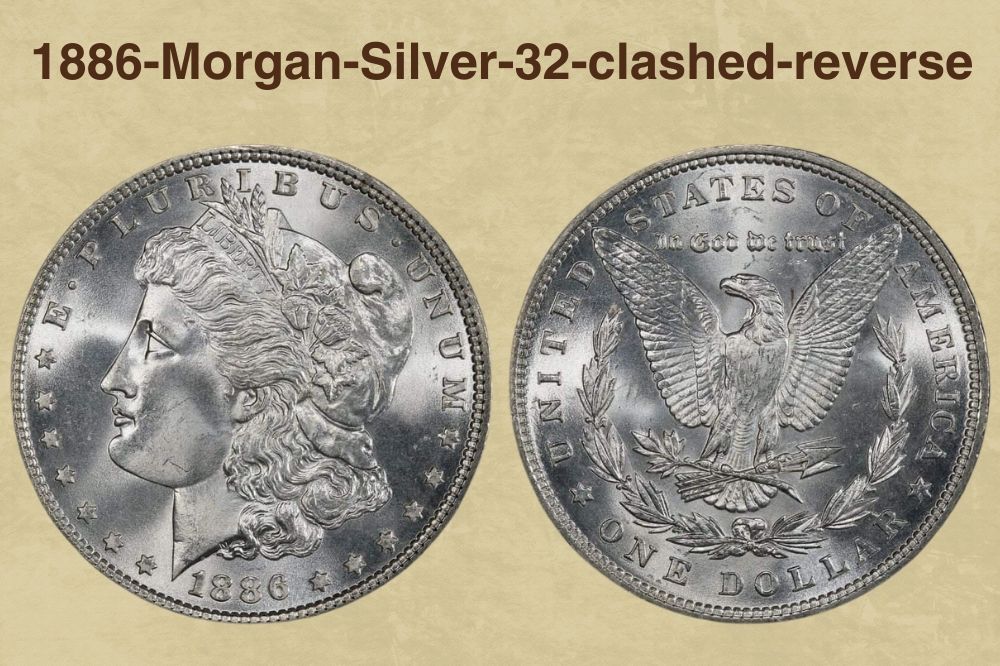 The 3+2 clashed reverse error appeared among silver dollars minted in Philadelphia. The result of the non-parallel dies for striking the coin obverse and reverse are silver dollars with increased value. The AU-graded coins typically cost $80, while you need to pay over $1,100 for those in MS 65 rank.
Doubled die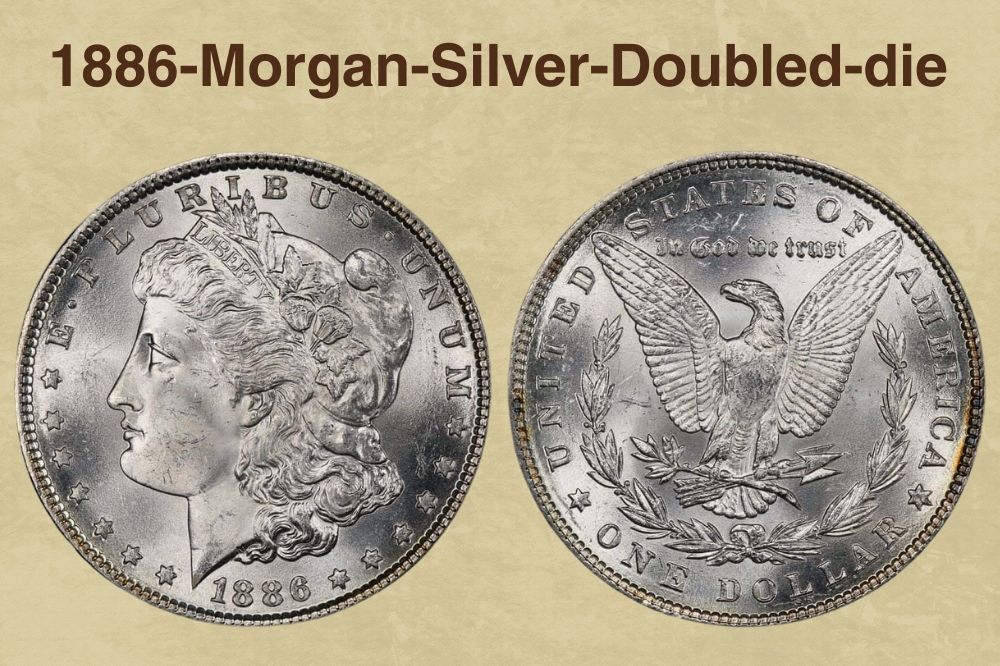 You can recognize two doubled die error coin types minted in Philadelphia in 1886. Those with doubled arrows on the reverse cost $940, while pieces with the doubled date are worth $400 to $4,000, depending on their grade.
Clashed die reverse
The dies sometimes come together during minting, leaving an imprint between the eagle and the wreath on the next coin. Such specimens cost about $80 to $260.
Line in M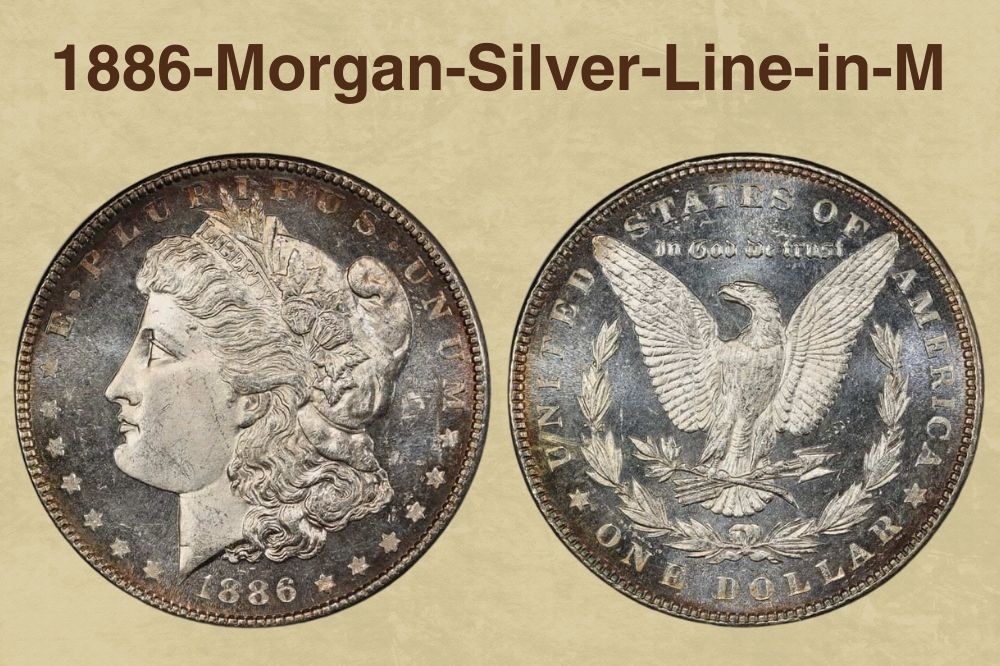 These 1886 silver dollars are worth $65 to $350. You can recognize them after a line stretching along Lady Liberty's neck.
Coin struck six times
Rare 1886 silver dollars were struck six times during minting, although there was no particular reason for this error. However, collectors like such imperfections and the costliest piece won an auction record of almost $4,000.
Partial collar strike
When a collar fails to confine the entire planchet, the result is beveled or/and smooth Morgan dollars. Their price range is from $250 to $300.
Die cap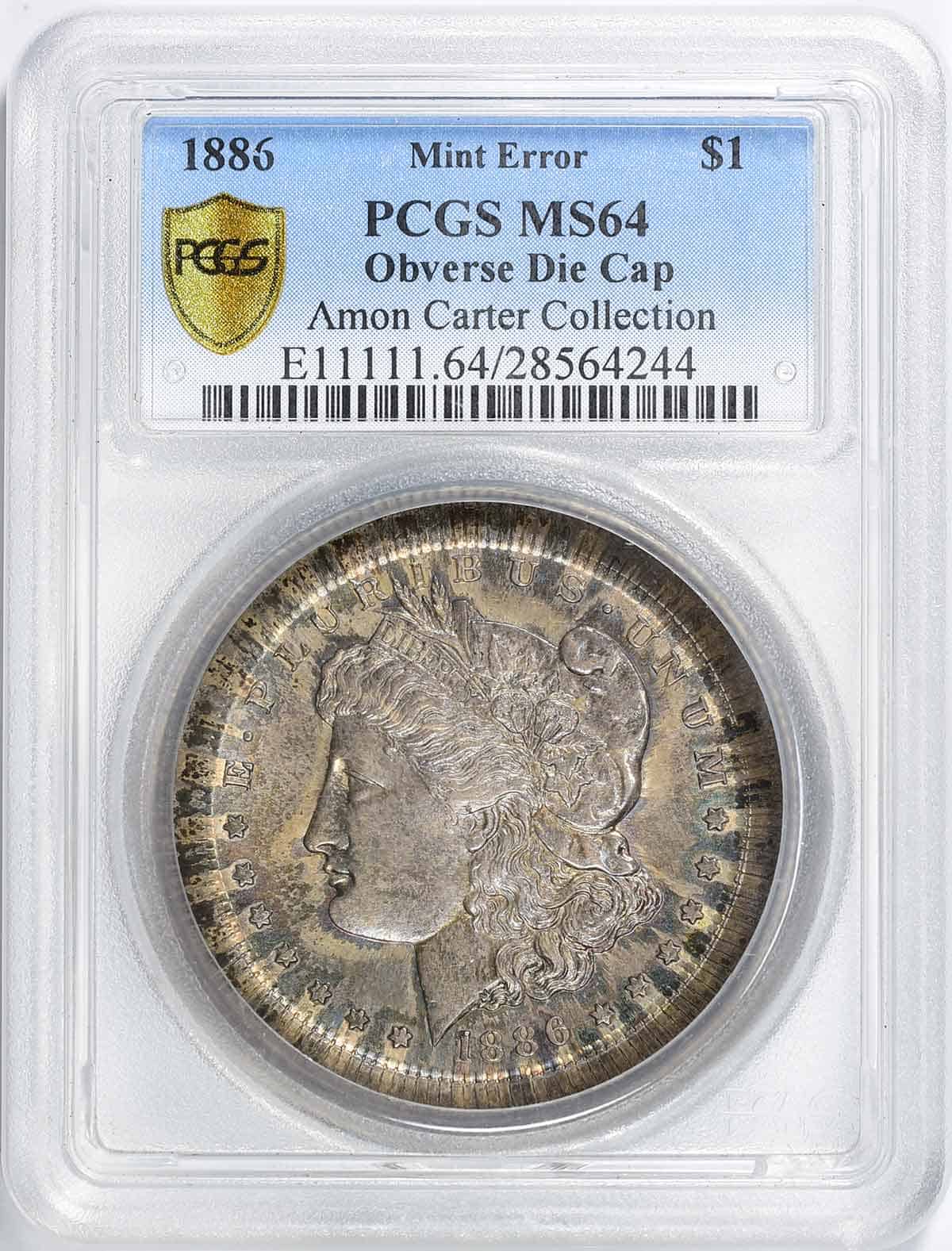 When a silver dollar sticks to the upper die, its design ends up on the following piece in the line. Since this error is unbelievably rare, you shouldn't be surprised by the prices of several thousands of dollars reached at auctions.
FAQ about the 1886 Morgan Dollar
What makes 1886 Morgan silver coins rare?
Most 1886 silver dollars are not particularly rare in circulated and even up to MS 63/MS 64 condition despite these coins being almost 140 years old. However, the highest-ranked Morgans with the O mint mark are scarce, and only collectors with an unlimited budget can afford them.
Which 1886 Morgan silver coins are worth a lot?
1886 O MS 67 silver dollar (DMPL quality) – $780,000 (2020)
1886 O MS 65+ silver dollar – $235,000 (2015)
1886 S MS 67 silver dollar – $66,000 (2020)
1886 PR 67 silver dollar (DCAM quality) – $66,000 (2021)
1886 PR 68 silver dollar (CAM quality) – $34,800 (2019)
1886 MS 68 silver dollar – $27,025 (2015)
1886 O MS 64 silver dollar (PL quality) – $26,400 (2019)
1886 S MS 65 silver dollar (DMPL quality) – $23,400 (2021)
1886 MS 66+ silver dollar (DMPL quality) – $18,800 (2014)
1886 PR 67+ silver dollar – $18,000 (2021)
1886 S MS 66 silver dollar (PL quality) – $16,100 (2008)
1886 MS 67+ silver dollar (PL quality) – $15,000 (2021)
How much are the 1886 Morgan silver coins (No Mint mark) worth?
Circulated 1886 dollars from Philadelphia cost $30 to $61, while most coins in the mint mark are available for $53 to $1,265. Only MS 68-graded coins are out of this price range, and you need to set aside $10,500 to $13,000 to get one.
What are the most expensive silver Morgan coins?
The highest prices reached the following regular coins:
1889 CC MS 68-ranked Morgan dollar – $881,250
1886 O MS 67-ranked Morgan dollar (DMPL quality) – $780,000
1884 S MS 68-ranked Morgan dollar – $750,000
Even though proofs never reached such high prices at auctions, the top-quality coins were expensive, including:
1893 CC PR 66-ranked Morgan dollar – $323,125
1883 O PR 67-ranked Morgan dollar – $270,250
1895 PR 67+-ranked Morgan dollar (DCAM quality) – $269,500