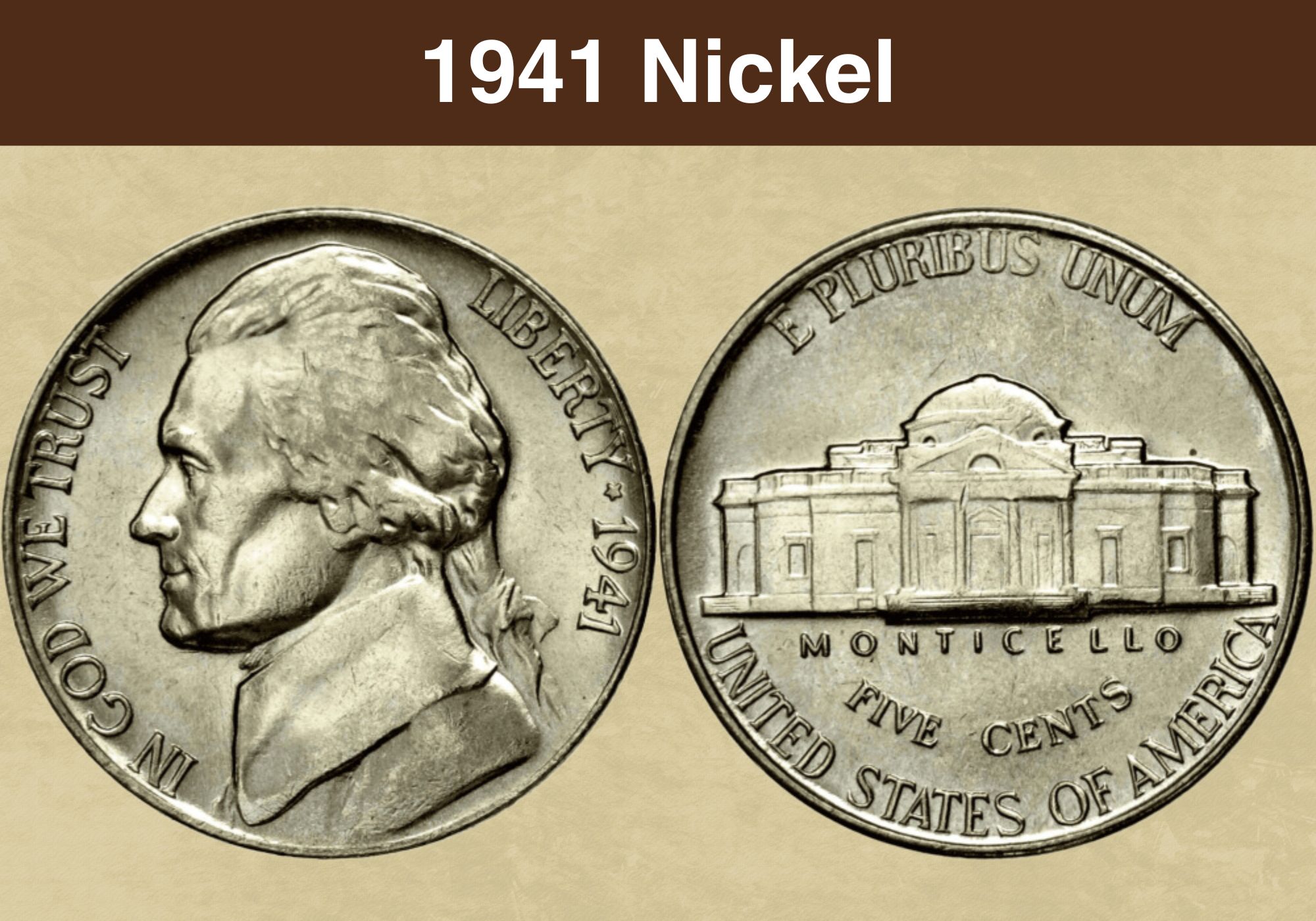 In 1938, the US Mint replaced the Buffalo nickel with the new five-cent Jefferson nickel. Felix Schlag designed this copper-nickel coin that lasted until 2004, but the early series has never been popular among collectors.
Besides several specific exceptions paid thousands of dollars, the 1941 nickel value is modest, making this piece an excellent option for novices. Besides, many collectors appreciate this coin as a significant part of American history.
1941 nickel value Chart

Condition
1941 No Min mark nickel
1941 S nickel
1941 D nickel
Good
$0.11
$0.17
$0.17
Very good
$0.17
$0.34
$0.34
Fine
$0.23
$0.63
$0.63
Very fine
$0.23
$1.16
$1.16
Extra fine
$0.57
$2.33
$2.33
AU
$0.81
$2.88
$2.88
MS 60
$0.98
$5.84
$5.84
MS 65
$14
$14
$14
PR 63
$85
/
/
History of the 1941 Jefferson Nickel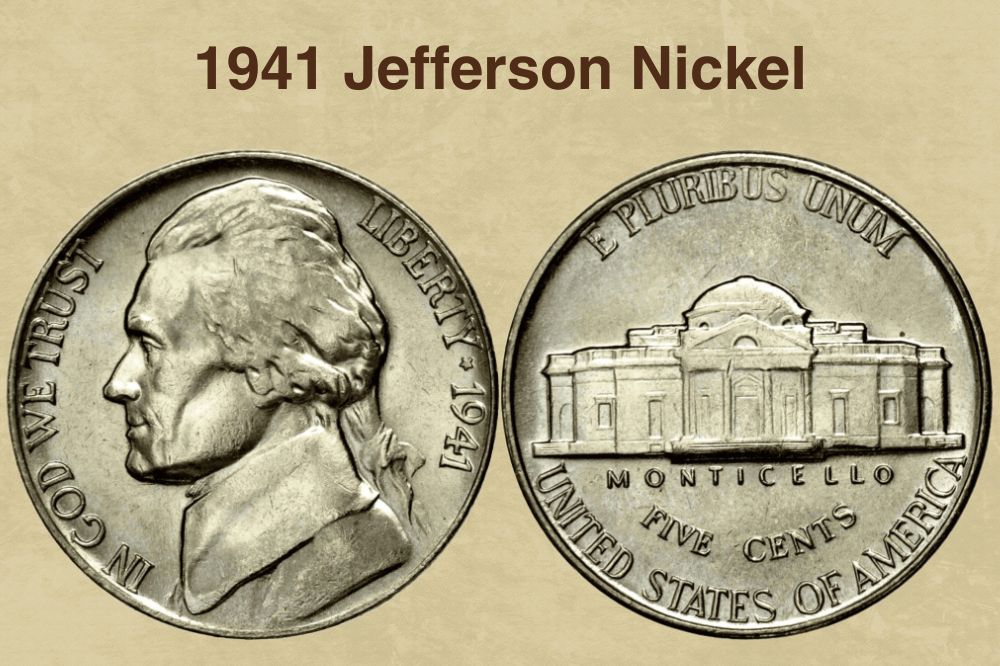 Interestingly, nickels were not the first five-cent American coins. Before they appeared, the newly established US Mint (April 2, 1792) started minting silver half dimes (equal to five-cent coins) in 1792, and they were in use until 1873.
After American Civil War, Americans got two-cent and three-cent coins made of non-precious metal. Additionally, Congress also authorized new coins of five cents made of similar material. The first was Shield nickels minted from 1866 to 1883 and followed by:
V nickels (Liberty Head nickels) minted from 1883 to 1913
Native American Head nickels (Buffalo nickels) minted from 1913 to 1938
1941 Jefferson nickel Types

Location
Year
Minted
Philadelphia
1941 No Mint mark nickel
203,265,000
Philadelphia
1941 proof nickel
18,720
San Francisco
1941 S nickel
43,445,000
Denver
1941 D nickel
53,432,000
Total
/
300,160,720
In 1938, the US Mint introduced the design dedicated to Thomas Jefferson, the third American President and the Declaration of Independence's principal author. This new coin design still exists, but nickels got an alternative composition in a period from mid-1942 to 1945 because of the lack of nickel during WWII.
You can also find special Jefferson nickel designs minted in 2004 and 2005. They aimed to honor the Lewis and Clark Expedition bicentennial. After these two years, the US Mint returned to the old reverse but changed Felix Schlag's obverse design.
Since that year, Americans got the redesigned nickel with the same President but a different image on the obverse. Jamie Franki decided to depict Jefferson from the front instead of the old version when his profile was turned left.
Believe it or not, American nickel coins celebrated their 130th anniversary in 2016. Unfortunately, the modern nickel purchasing power continues to drop because of inflation, and its production costs more than 7 cents now. The only way for this coin to stay in use is by minting cost reduction, probably by introducing cheaper metals.
Also read: Top 10 Most Valuable Nickels Worth Money
Features of the 1941 Jefferson Nickel
Felix Schlag did an excellent job with his idea to turn Jefferson's face left. This design appeared in 1938 and lasted until 2006, when the US Mint started producing these coins with the President's image facing forward.
The obverse of the 1941 Jefferson nickel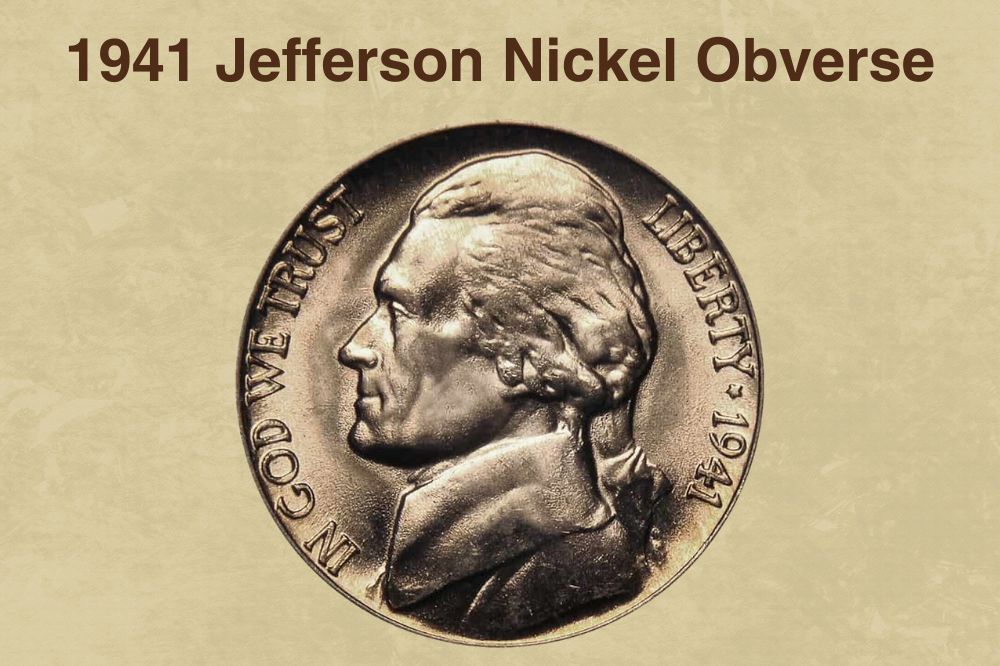 Schlag created a nickel with the portrait of the third American President on the obverse. The motto, IN GOD WE TRUST, on the left coin side and LIBERTY * 1941 behind Jefferson's back, surround a simple, elegant central design.
The reverse of the 1941 Jefferson nickel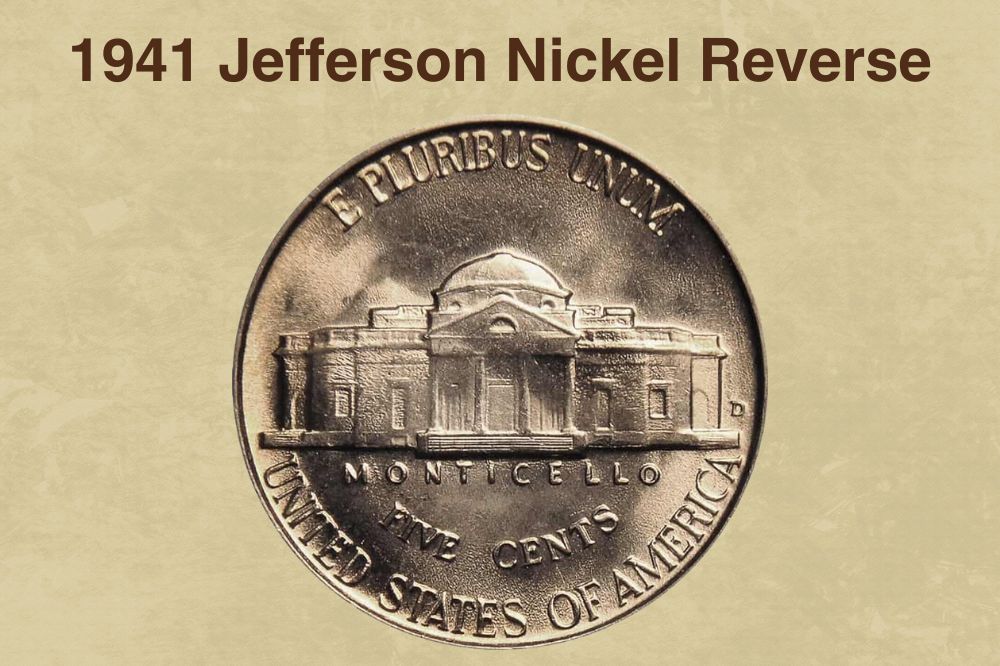 This coin reverse is a bit complicated with the centrally positioned President's historical home Monticello. You can recognize inscriptions arranged in four lines. The one, E PLURIBUS UNUM, is struck above the house, while the other three are below it, including:
The Virginia historic home name – MONTICELLO
The denomination in half circle – FIVE CENTS
The name of the country – UNITED STATES OF AMERICA
Besides, nickels minted in San Francisco and Denver have the mint mark engraved on the house's right side.
1941 Jefferson nickel Details

Face value
$0.05 (five-cent coin)
Compound
Copper and nickel alloy in a 75%: 25% ratio
Coin thickness
0.077 inches (1.95 mm)
Coin diameter
0.835 inches (21.2 mm)
Coin weight
0.176 ounces (5 g)
Edge
Plain
Shape
Round
Other features of the 1941 Jefferson nickel
The 1941 Jefferson nickel is a five-cent coin with a plain edge made of copper-nickel alloy. This 0.176 ounces (5 g) heavy round piece has a diameter of 0.835 inches (21.2 mm). Its standard thickness is 0.077 inches (1.95 mm).
Also read: Top 17 Most Valuable Buffalo Nickel Worth Money
1941 Jefferson Nickel Value Guides
Jefferson nickels were minted in three mints in 1941. The total mintage was 300,160,720, including proofs and circulated coins from the regular strikes.
Some pieces are referred to as Full Steps because you can recognize clearly struck 5 to 6 steps in front of the house. They are more collectible than standard coins with blurred or unclear lines.
1941 No Mint Mark nickel value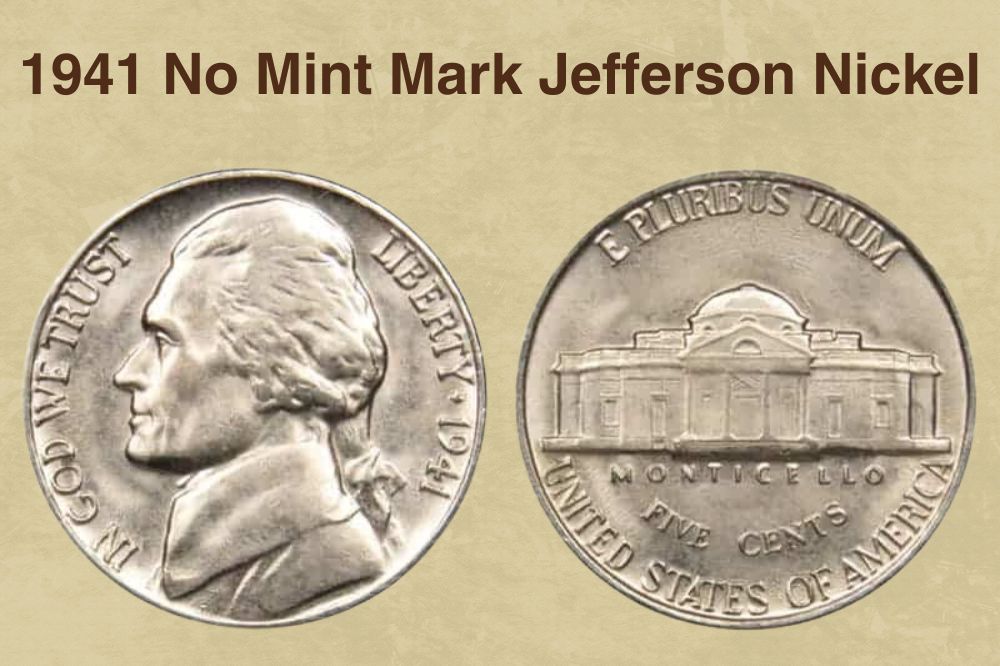 The Philadelphia mint produced two nickel types in 1941, including 203,265,000 coins from regular strikes. Their value is pretty modest nowadays, and a coin from circulation rarely costs over one dollar. For instance, you can get $0.45 for extra fine nickels or $0.65 to $1 for AU ones.
Depending on quality, the 1941 Jefferson nickels in the mint state are typically worth:
MS 60 nickel – $1.50
MS 61 nickel – $1.75
MS 62 nickel – $2
MS 63 nickel – $3
MS 64 nickel – $5
MS 65 nickel – $9
MS 66 nickel – $12
MS 67 nickel – $55
However, those grading MS 68 can reach the price of $900. Even pieces with Full Steps on the Monticello are relatively affordable, and you can buy one for $10 to $270. The estimated price of FS nickels in MS 68 grade is $2,000.
However, you can often come across a surprise at auctions. For instance, one 1941 nickel in MS 67 grade was sold for $5,175 in 2006 at Superior Galleries.
1941 proof nickel value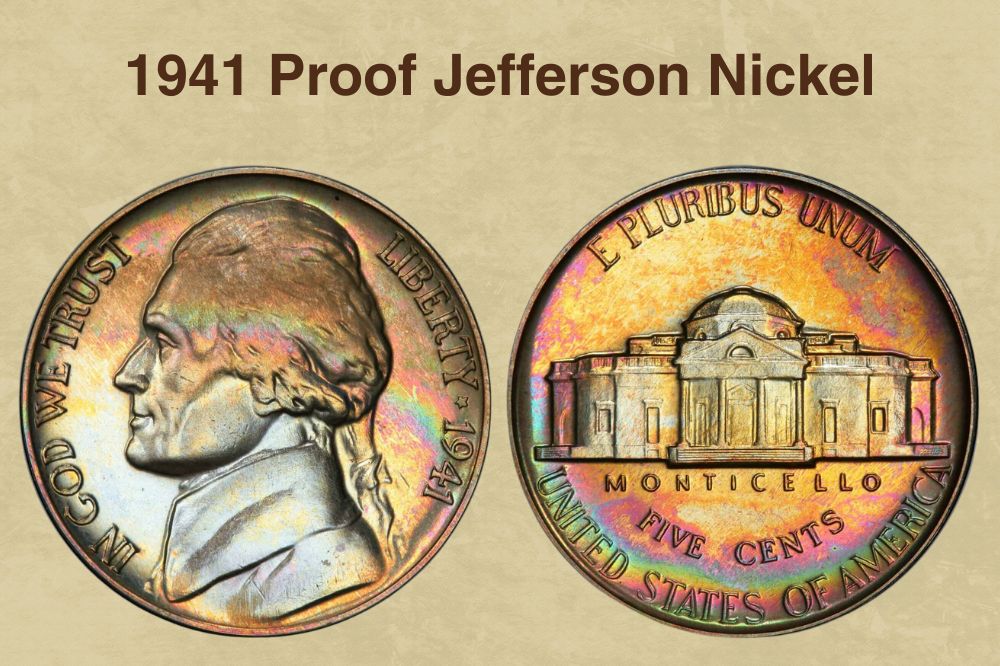 Most preserved proof nickels from Philadelphia of 18,720 minted are highly collectible. You should set aside a different amount of money per piece, depending on its grade, like:
$18 for PR 60 nickel
$20 for PR 61 nickel
$24 to $30 for PR 62 nickel
$28 to $35 for PR 63 nickel
$36 to $65 for PR 64 nickel
$48 to $70 for PR 65 nickel
$80 to $110 for PR 66 nickel
$220 to $250 for PR 67 nickel
The most appreciated coins are those with PR 68 ranking. They often reach unbelievably high prices for this coin type, $7,200 to $8,100. The 1941 PR 68 Jefferson nickel won an impressive $18,800 at an auction in 2013, making this coin the most pricey in the set.
1941 D nickel value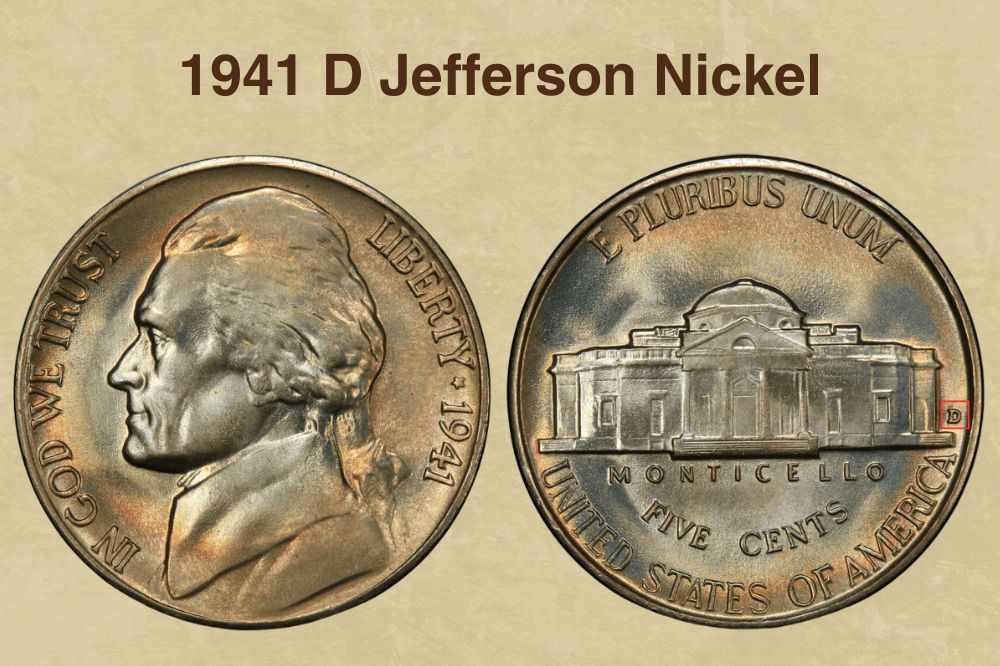 Compared to Philadelphia, the mint in Denver achieved a modest production of nickels in 1941. The total mintage was 53,432,000 coins with the D mint mark on the reverse.
Their price on the current coin market is $1.25 to $40, primarily depending on their condition. Only Full Steps pieces can be more pricey, with an expected value of:
$8 for the MS 64 graded nickels
$15 for the MS 65 graded nickels
$30 for the MS 66 graded nickels
$115 for the MS 67 graded nickels
Be prepared for surprises regarding FS nickels in MS 68 grade. These coins can quickly reach $5,000 at auctions, but one was sold at Stack's Bowers for $11,400 in 2018.
1941 S nickel value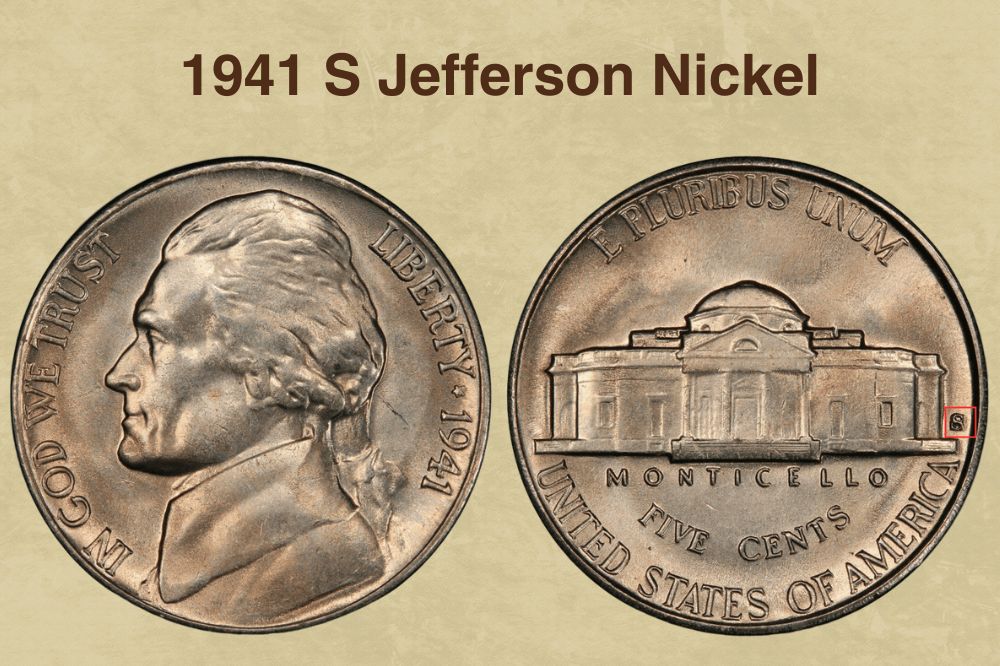 The mint in San Francisco had the lowest 1941 S nickel mintage, with only 43,445,000 produced coins. Despite this, their price is relatively low, and you can purchase most pieces for $1.50 to $30.
The 1941 FS Jefferson nickels are more expensive, and they typically cost:
Coins in MS 64 grade – $28
Coins in MS 65 grade – $50
Coins in MS 66 grade – $135
As expected, nickels in MS 67 grade are the most expensive and can reach about $2,000 at auctions. The most costly such a coin sold by now is the 1941 S MS 67 FS Jefferson nickel. One collector purchased it for $8,913 in 2006.
Also read: Top 17 Most Valuable Jefferson Nickels Worth Money
1941 Jefferson Nickel Grading
The 1941 Jefferson nickel grading is based on their condition and the mint mark. Besides, proofs and coins with Full Steps are additionally valuable because their beauty and preservation levels make them the most collectible in the set.
Rare 1941 Jefferson Nickel Error List
Error nickels are relatively rare and almost always more collectible and valuable than regular pieces. Therefore, you should pay attention to four standard imperfections appearing among 1941 Jefferson nickels.
Doubled die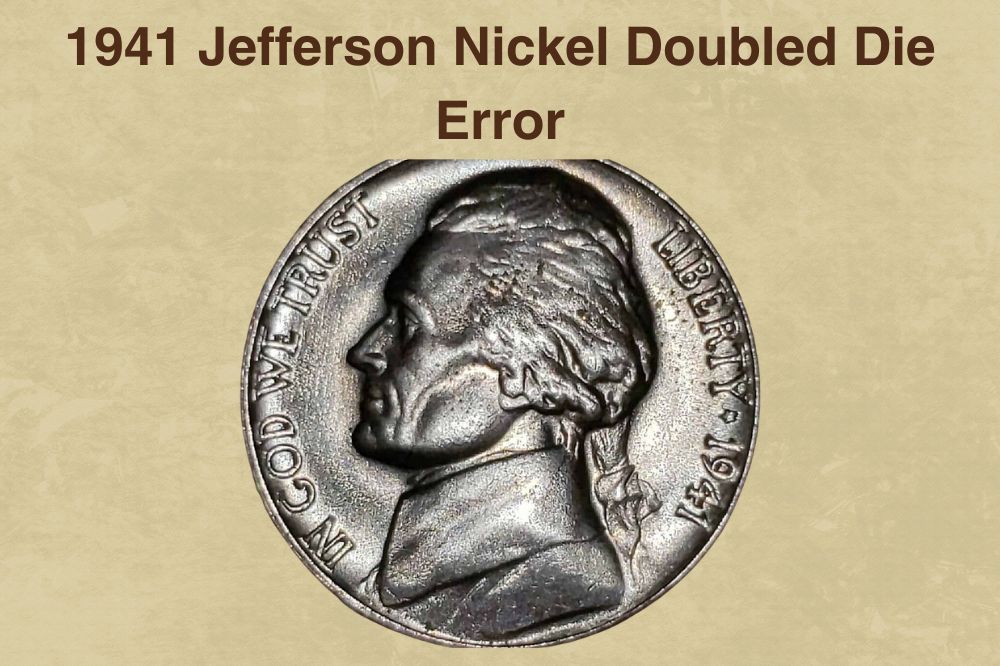 Doubled dies are among the most popular coin errors, and you can find a few among 1941 nickels. However, they are neither particularly rare nor major among coins minted this year, so you shouldn't expect significant money when encountering such a piece.
Re-punched mint mark
Since the mint marks were punched by hand in those times, you can find the 1941 nickels with weird double, triple, and even quadruple imperfections. For instance, some pieces come with an upside-down, sideways, or too-faint initial punch. Most of these coins are worth $3 to $5, with a few exceptions with drastic errors. They can cost $20 to $25.
Off-center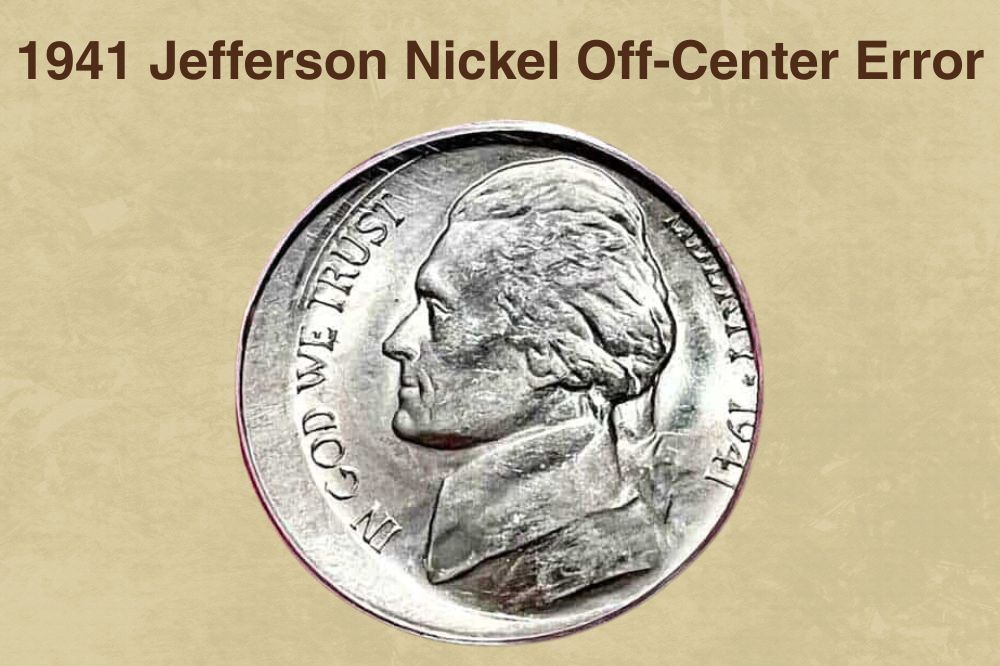 Collectors differently value off-center errors, depending on the percentage of missing design. Therefore, you can count on $8 to $15 when finding the 1941 nickel with 5% to 10% off-center. However, the price jumps to $75 to $100 for pieces with 50% missing design but a visible date.
Die cracks
The dies that struck designs onto planchets often cracked after years of use. These cracks left raised lines or bumps on coin surfaces, making them collectible nowadays. Their price ranges from $1 to $150, depending on the die crack' size and location.
Also read: 14 Most Valuable Nickel Errors Worth Money
FAQ about the 1941 Jefferson Nickel Value
What makes a 1941 Jefferson nickel rare?
Jefferson nickels are common coins nowadays, but those with Full Steps on the reverse can be rare and valuable in high grades. Besides, nickels with off-center or die cracks errors can sometimes be expensive.
Which 1941 Jefferson nickel is worth a lot of money?
At Heritage Auctions in 2013, the 1941 PR 68 Jefferson nickel was sold for $18,800
At Stack's Bowers in 2018, the 1941 D MS 68 FS Jefferson nickel was sold for $11,400
At Heritage Auctions in 2006, the 1941 S MS 67 FS Jefferson nickel was sold for $8,913
At Superior Galleries in 2006, the 1941 MS 67 FS Jefferson nickel was sold for $5,175
At Heritage Auctions in 2002, the 1941 MS 68 Jefferson nickel was sold for $2,875
On eBay in 2022, the 1941 S MS 67 Jefferson nickel was sold for $1,900
At Bowers & Merena in 2010, the 1941 S/S MS 65 Large S, RPM Jefferson nickel was sold for $1,840
At Heritage Auctions in 2016, the 1941 D/D MS 65+ RPM Jefferson nickel was sold for $1,116
At Heritage Auctions in 2016, the 1941 S MS 66+ Inverted MM Jefferson nickel was sold for $705
At Heritage Auctions in 2008, the 1941 D MS 67 Jefferson nickel was sold for $575
On eBay in 2018, the 1941 S MS 66 FS Large S Jefferson nickel was sold for $550
At Heritage Auctions in 2016, the 1941 S MS66FS Inverted MM Jefferson nickel was sold for $541
On eBay in 2018, the 1941 S MS 66 Large S FS-501 Jefferson nickel was sold for $350
How much to pay for the 1941 No mint mark Jefferson nickel?
The 1941 nickels without the mint mark are common and typically inexpensive coins. You can get about $1.50 to $55 for an average piece, but the highest-graded ones can reach $900. Only specimens with Full Steps are more valuable and collectible, and collectors are prepared to pay up to $2,000 per one.
What is the most pricey Jefferson nickel?
The most expensive Jefferson nickels, including famous errors, are:
1954 S MS 67 FS nickel sold in 2020 for $35,250
1969 D MS 65 FS nickel sold in 2021 for $33,600
1938 D MS 68+ FS nickel sold in 2022 for $33,600
1964 SMS SP 68 FS nickel sold in 2016 for $32,900
1949 MS 67 D/S nickel sold in 2014 for $32,900
1942 MS 64 D/D D/Horizontal D nickel sold in 2006 for $32,200