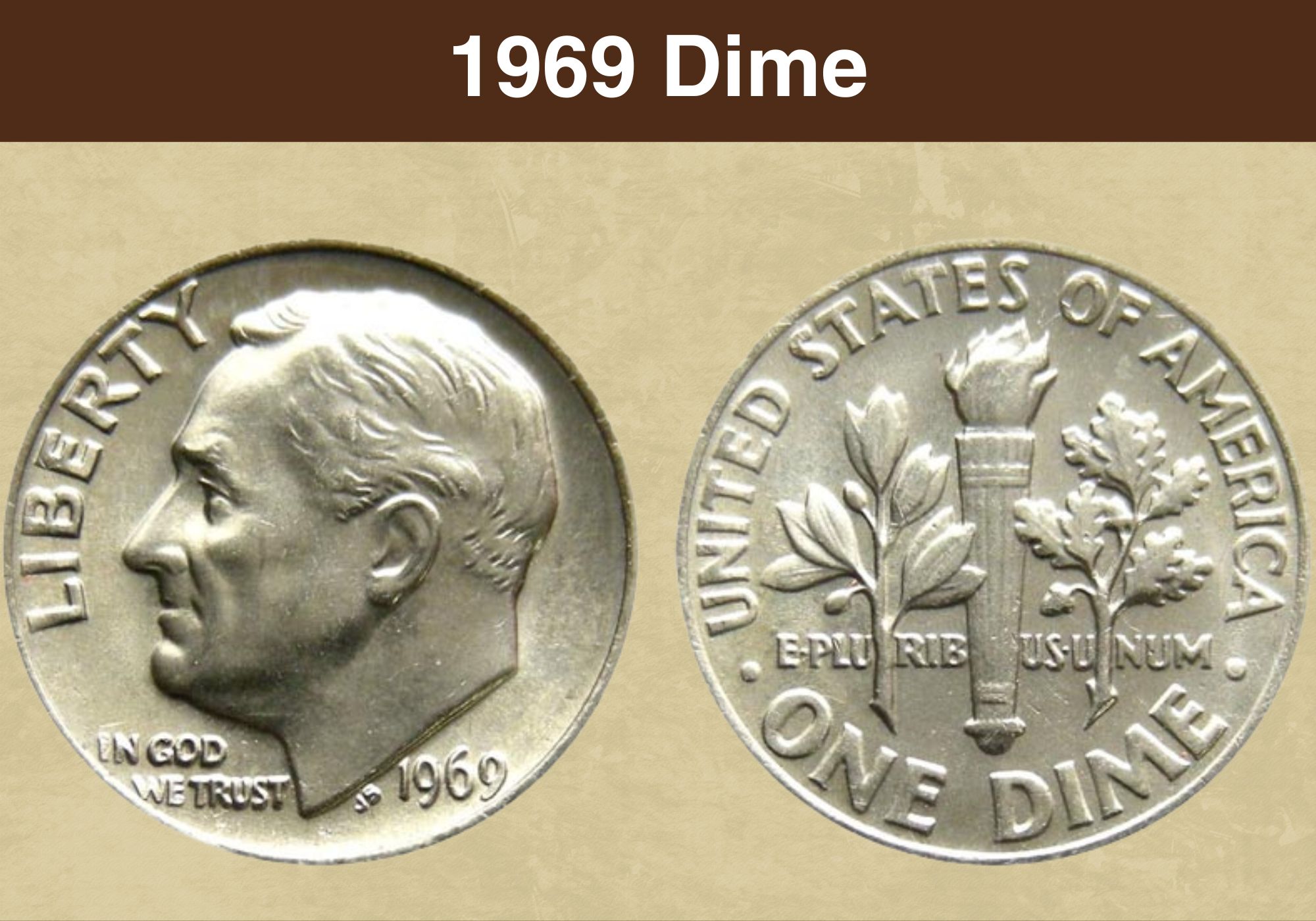 1969 is a remarkable year for various reasons. Today, we giggle at the pun, but while some know it for New Orleans love-ins, others remember it for the moon landing, the start of the Nixon and Yasser Arafat years, the Santa Barbara oil spill, the first Boeing 747 Flight, and the height of the Civil Rights movement. For our purposes, we'll focus on the 1969 Dime Value.
1969 Dime Value Chart

Coin
MS 64
MS 65
MS 66
MS 67
MS 68
PR/PF 69 DCAM
1969 No Mint Mark Dime
$12
$26
$70
$275
–
–
1969 No Mint Mark Dime Full Bands
$110
$350
$1,000
$2,600
–
–
1969-D Dime
$6
$7
$12
$32
$700
–
1969-D Dime Full Bands
$24
$55
$200
$625
–
–
1969-S Proof Dime
–
–
–
–
–
$135
History of the 1969 Dime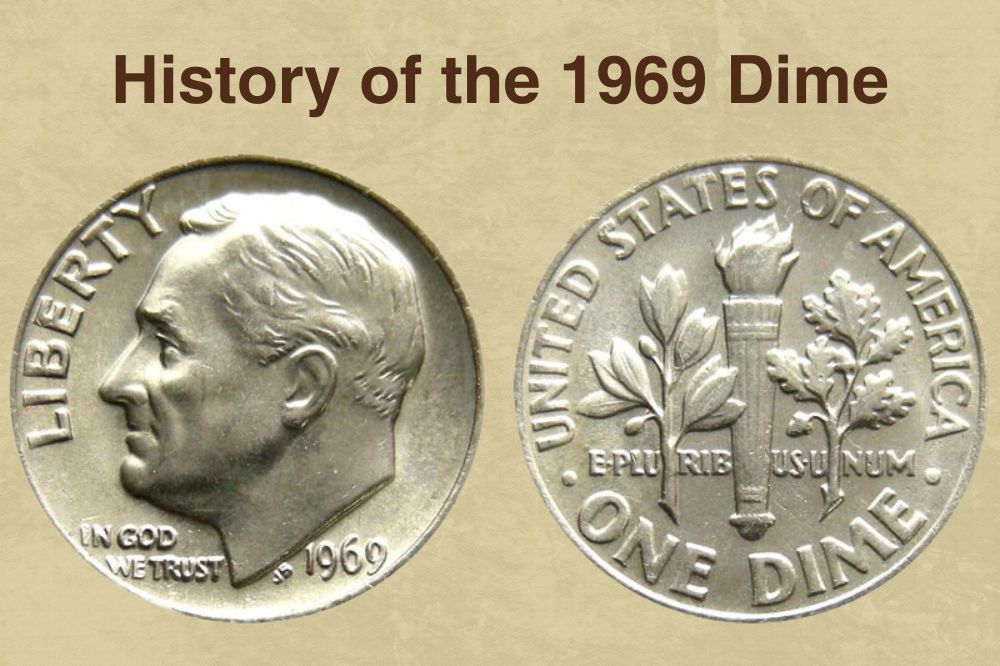 Based on its physical dimensions, the Dime is the smallest circulating coin. It's even smaller than a penny! And that seems really strange, considering a Dime is ten times the value of a Penny. But there's method to this madness. You see, in the old days, a coin had to be worth its melt value. Meaning the coin denomination had to be equal to the value of molten metal.
So, for example, a penny is worth 1c so it has to have copper that's worth 1c when you melt it down. And since copper is cheaper than silver, 10c worth of silver weighs less than 1c worth of copper. Today, Dimes have no silver and Pennies have very little copper, but the size of the coins is legally set in stone so ultra-modern Dimes are still smaller than 21st Century Pennies.
Another interesting thing about Dimes is how the face value is expressed. On the back of the coin aka the reverse or tails side, 1c and 5c are written in cents while 25c and 50c are written in dollars. The two latter coins are described as a Quarter Dollar and Half Dollar respectively. So what happened to the Dime? Dime (disme/dîme) means 'tithe' or 'tenth' in Old French.
The Reason for Reeds on Coins
A Dime is 10c, which is 1/10 of a dollar. That was probably too long to fit on such a tiny coin so here we are. And since it was originally a silver coin, it had reeds along its edge (that's the thin side of the coin). The reeds were a protective measure since people would often shave a coin to reduce its precious metal volume and make it slightly less valuable to its recipients.
Think of it this way – by scraping a few micrograms off a silver coin, it's now worth eight or nine cents instead of ten. A lot of people were cheated that way. And reeds were useful since you could inspect them to see if anyone had shaved it. But that was before 1965 when most coins – including Dimes – changed from 90% Silver to 91.67% Copper and 8.33% Nickel.
Nickel was selected because its shine resembles silver so the coins retained their traditional appearance. And silver had to be taken out because it got too expensive in the 1960s, making the melt value higher than the face value and prompting citizens to hoard coins. The 1969 Dime was minted within the first decade of this big change so it interests collectors a lot.
FDR and the March of Dimes
The 1969 Dime was a Roosevelt Dime. This series was introduced to commemorate the death of Franklin Delano Roosevelt, better known as FDR. He was a popular president for various reasons, and he was an unusual one too. For most of his presidency, Roosevelt ruled in a wheelchair. But he was so effective that he served four terms, longer than any other POTUS!
They chose the Dime as his resting place because he created an organization called the National Foundation for Infantile Paralysis to battle childhood polio. This cause was important to him because it was polio that put him in that wheelchair. And in 1938, in the week leading up to his birthday, he invited Americans to donate one dime to this charity.
A radio host dubbed this initiative the March of Dimes, which eventually became the official name of the organization. And when FDR died in April 1945, a campaign started to launch a Roosevelt Dime by 30th January 1946. Had he lived, it would have been his 64th birthday, and it was appropriate since it was also the anniversary of the annual March of Dimes fundraiser.
Top 17 Most Valuable Roosevelt Dimes Worth Money
Features of the 1969 Dime
We've mentioned a coin reverse and edge, but the front or heads side of a coin is technically referred to as its obverse and the raised border is its collar or rim. The blank disc that makes a coin is called a planchet. The words on a coin are legends or mottos and the images on a coin are called devices. The backdrop of a coin is called its field. Now let's describe this one.
The Obverse of the 1969 Dime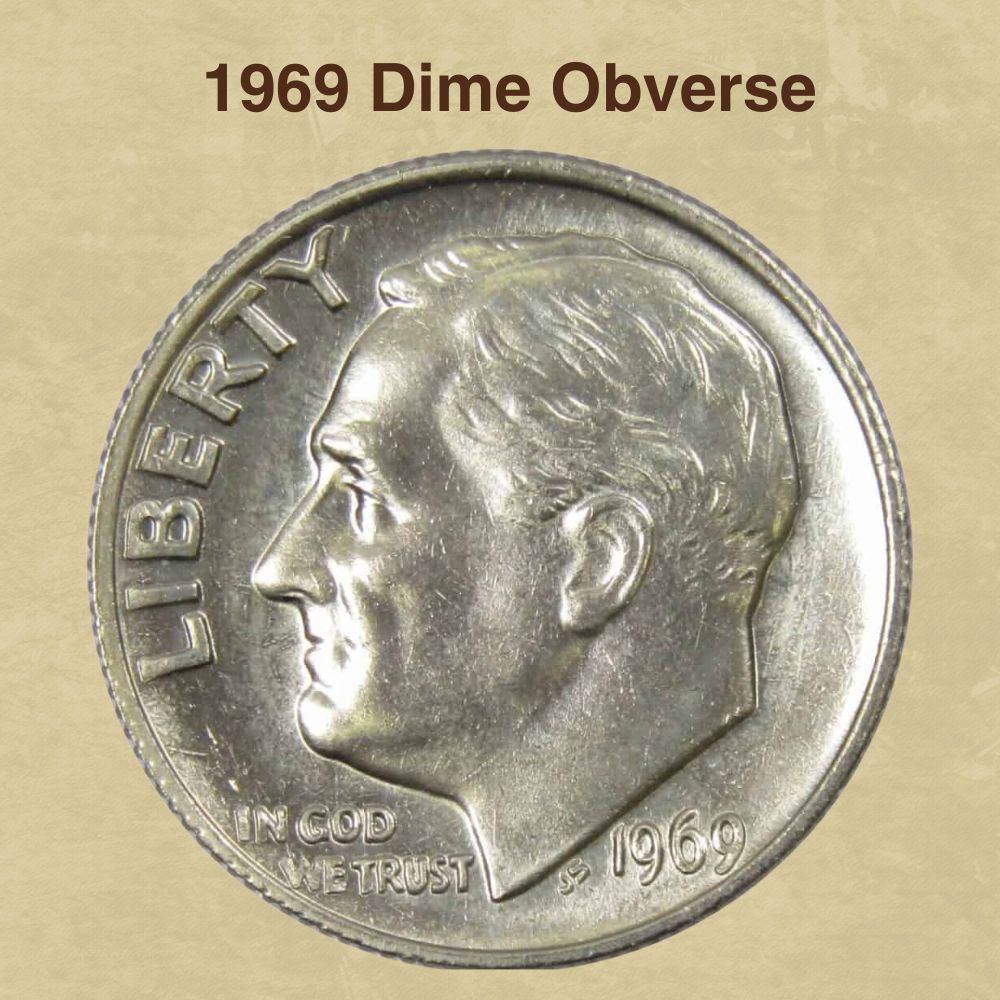 It shows FDR, the 32nd US President. He's facing left, with the legend Liberty in front of his face. The motto In God We Trust is under his chin. Below his neck, JS is engraved to identify the coin designer, John Sinnock. These initials are followed by the mint date and mint mark. For reference, John Sinnock was the Chief Mint Engraver, though his assistant helped him.
The Reverse of the 1969 Dime
It has three national symbols arranged from left to right – an olive sprig, a freedom torch, and an oak sprig. The motto E Pluribus Unum cuts across the three icons. The top of the coin reads United States of America while the bottom reads One Dime. These two phrases are separated by a dot on either side. They also frame the motto E Pluribus Unum in the middle.
Other Features of the 1969 Dime
When John Sinnock was making the Roosevelt Dime, he was really sick, so the Assistant Mint Engraver Gilroy Roberts did most of the work. He isn't credited though. The coin itself is 17.91mm in diameter, 1.35mm thick, and has 118 reeds on its edge. In 1969, the Dime had a copper core under a cupronickel coat of 75% Copper and 25% Nickel. It weighed 2.268g.
1969 Dime Value Guides
When it first leaves the mint, a coin is only worth its face value. In this case, that's 10 cents. But several factors can make the coin a lot more valuable, including the exact mint branch it walked out of. In 1969, the US Mint made dimes in Philadelphia, Denver, and San Francisco. Let's look at each batch of coins to see how its point of origin affects its eventual resale price.
1969 No Mint Mark Dime Value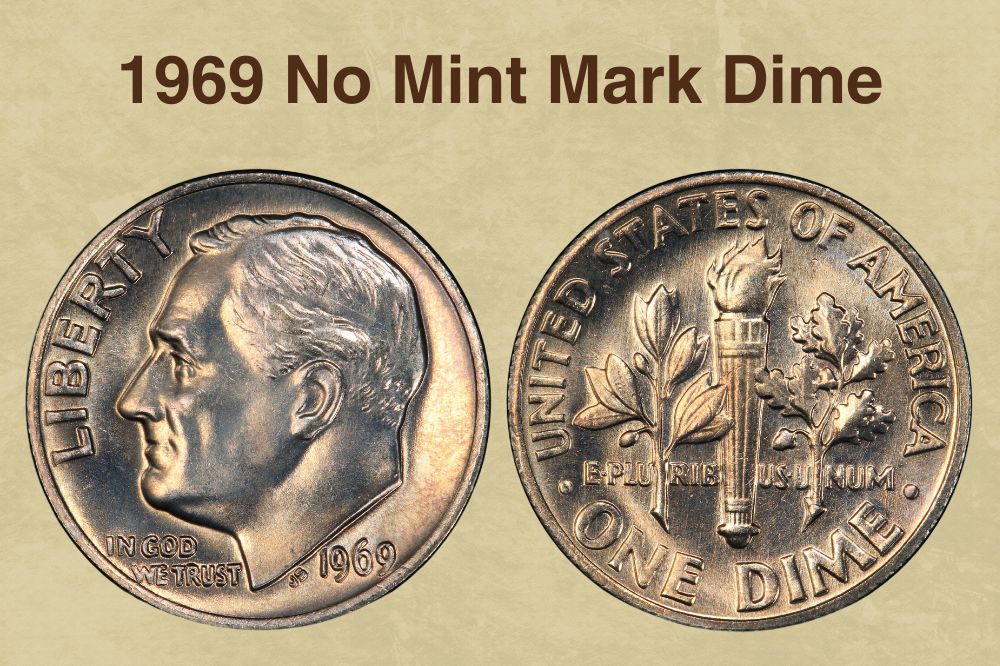 The Philadelphia Mint made 145,790,000 Dimes without mint marks in 1969. An MS 67 sold for $1,495 in August 2021, but PCGS has seen 13 of them so their value in September 2023 is down to $275. Meanwhile, an MS 66 FB was $176 in 2014 but since only 6 coins are known, its value shot up to $1,000 in September 2023 while the two known MS 67 FBs are $2,600.
1969-D Dime Value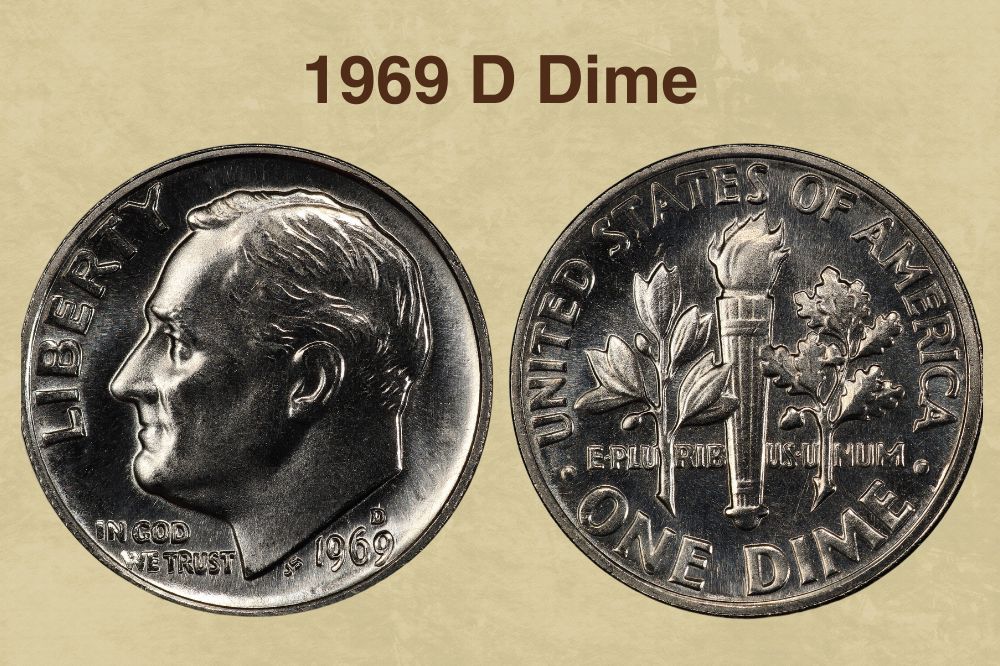 The Denver Mint made 563,323,870 Dimes in 1969, all with the D Mint Mark. An MS 64 sold for $253 in 2006 but over 100 have shown up so they're only worth $6 in September 2023. But the highest known grade is MS 68 and with only five submissions, they're worth $700 in 2023. As for MS 67 FB, one sold for $999 in a 2018 eBay sale. With 7 known, it's worth $625.
1969-S Dime Value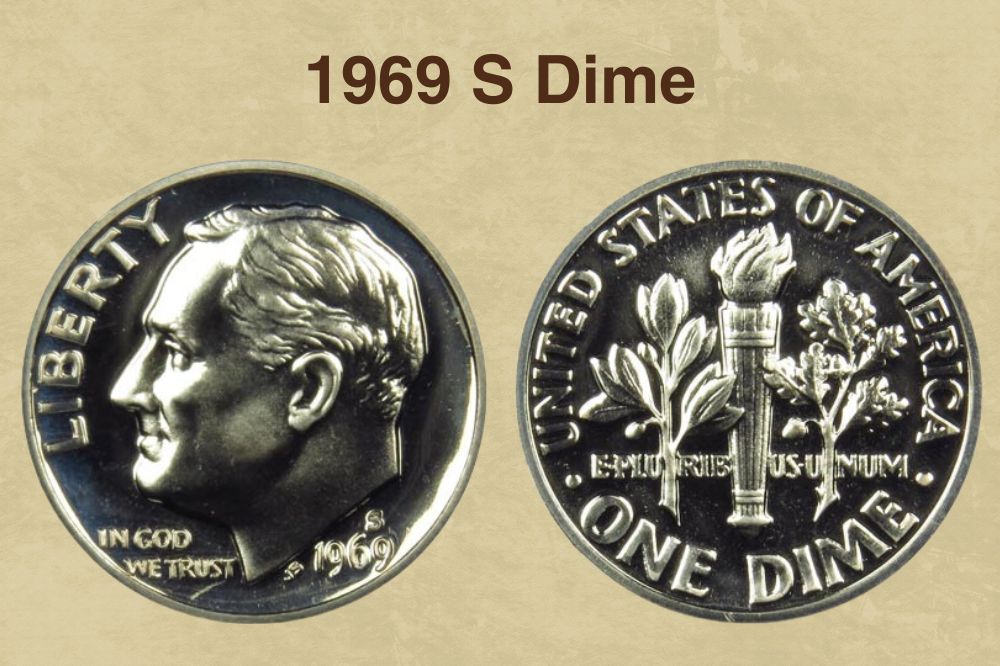 In 1969, Proof Dimes were mirror-like. That meant the blanks were burnished with stainless steel balls to produce that watery effect and mirror-level reflectivity. As for the proof dies, their fields were scrubbed with horsehair for extra shine and their devices were pickled in acid to frost them. But this textured effect would reduce slightly every time the die struck.
This meant the first 50 to 100 coins had a dramatic visual contrast between the frosted device and the mirror-like field, so they were graded, Deep Cameo or Ultra Cameo. After that came the 100 or so Cameo coins while the rest were ordinary proof coins. For reference, modern coins are laser frosted so almost all of them are DCAM since the lasers never fade.
In 1969, the San Francisco Mint made 2,934,631 Dimes with the S Mint Mark. But they're pretty common so they're not worth a lot. On eBay, a PR 67 was $104 in May 2017 while a PR 67 CAM was $82 in September 2016. But a PR 69 DCAM was $206 in 2009 and since PCGS has received almost 250 coins in this grade, they're barely worth $135 in September 2023.
Top 17 Most Valuable Mercury Dimes Worth Money
1969 Dime Grading Guides
All coins are graded on the Sheldon Scale from 1 to 70. But with Roosevelt Dimes, there's an additional category. PCGS calls it FB for Full Bands while NGC calls it FT for Full Torch. It described the clarity of the lines or straps on the Freedom Torch, and if you can count them all clearly, the coin becomes a lot more valuable. You can confirm this by having it graded.
Rare 1969 Dime Errors List
Mint mistakes can make a coin a lot more valuable, and while mint workers carefully inspect coins to prevent flawed ones from exiting the mint, a lot of them still do. And experts are on the lookout for any they can find within 30 days of a coin's initial launch. These are called FS or First Strike errors, and can get quite expensive! Let's explore some FS 1969 Dime Errors.
1969 Dime Reverse of '68 – FS-901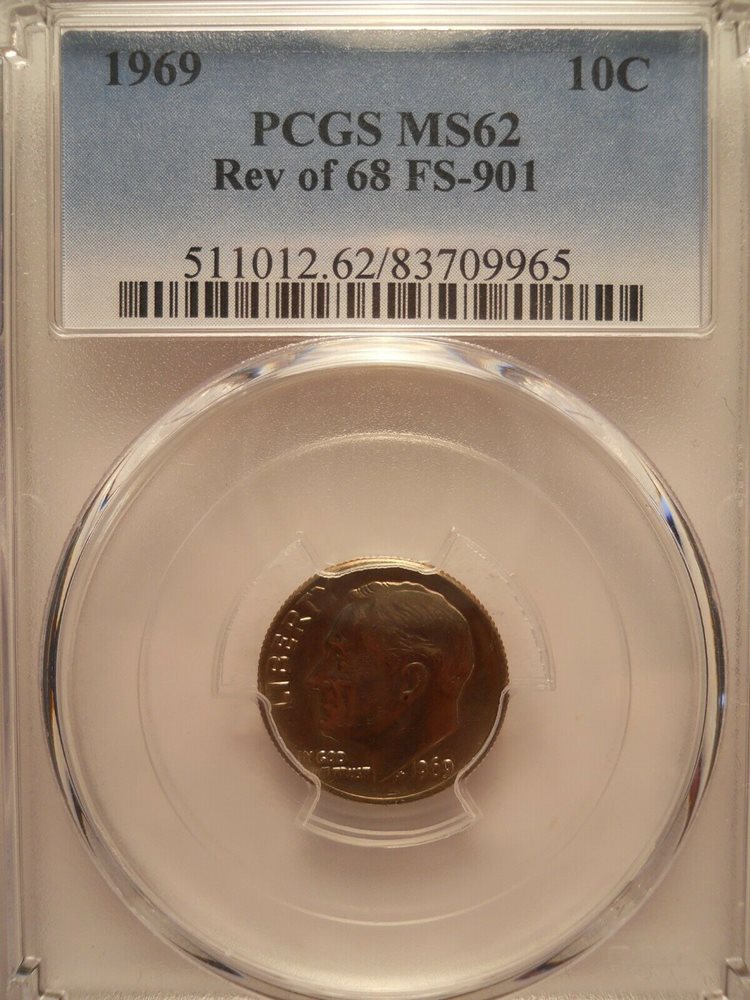 Every year, new coin dies are made, and they sometimes have slight variations. On this coin, a 1969 obverse die was paired with a 1968 reverse die to make a coin. It's not an especially pricy error. On 17th May 2019, an eBay vendor sold an MS 64 for $340. PCGS has received eleven of these coins for grading, so it estimates their value as $325 in September 2023.
1969-D/D Dime RPM – FS-501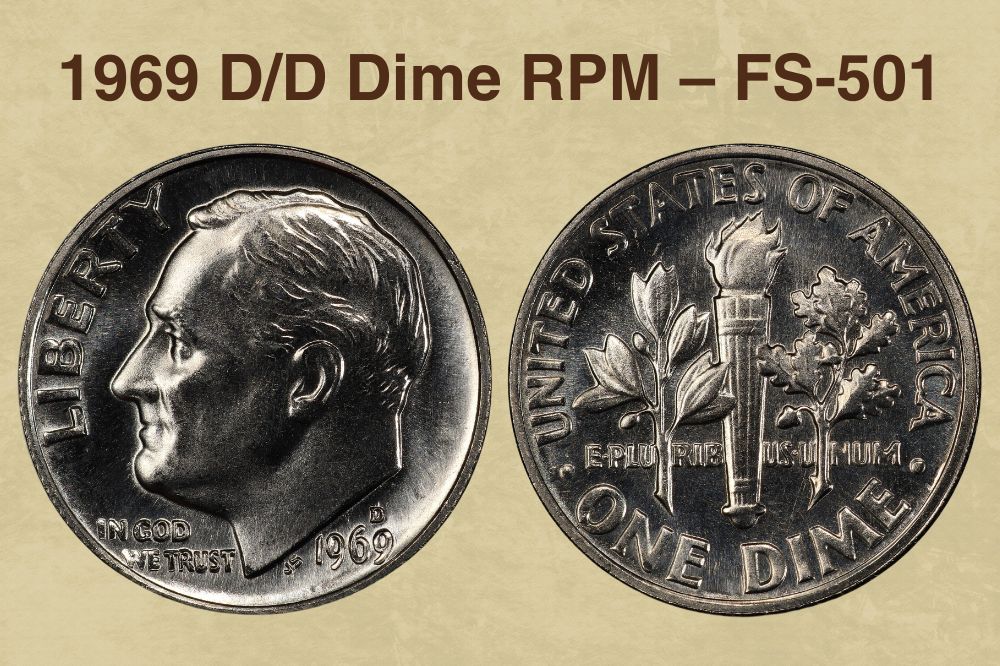 RPM means re-punched mint mark. On older coins, the mint mark was manually added to the die as the last detail. Sometimes, the second or third placement hit the wrong spot and you'd see the earlier mint marks peeking out from below. RPMs are written as D/D or D over D. In 2019, an MS 67 was $300 and an MS 64 FB was $400. Both sales happened on eBay.
1969-D Dime Missing Clad Layer Reverse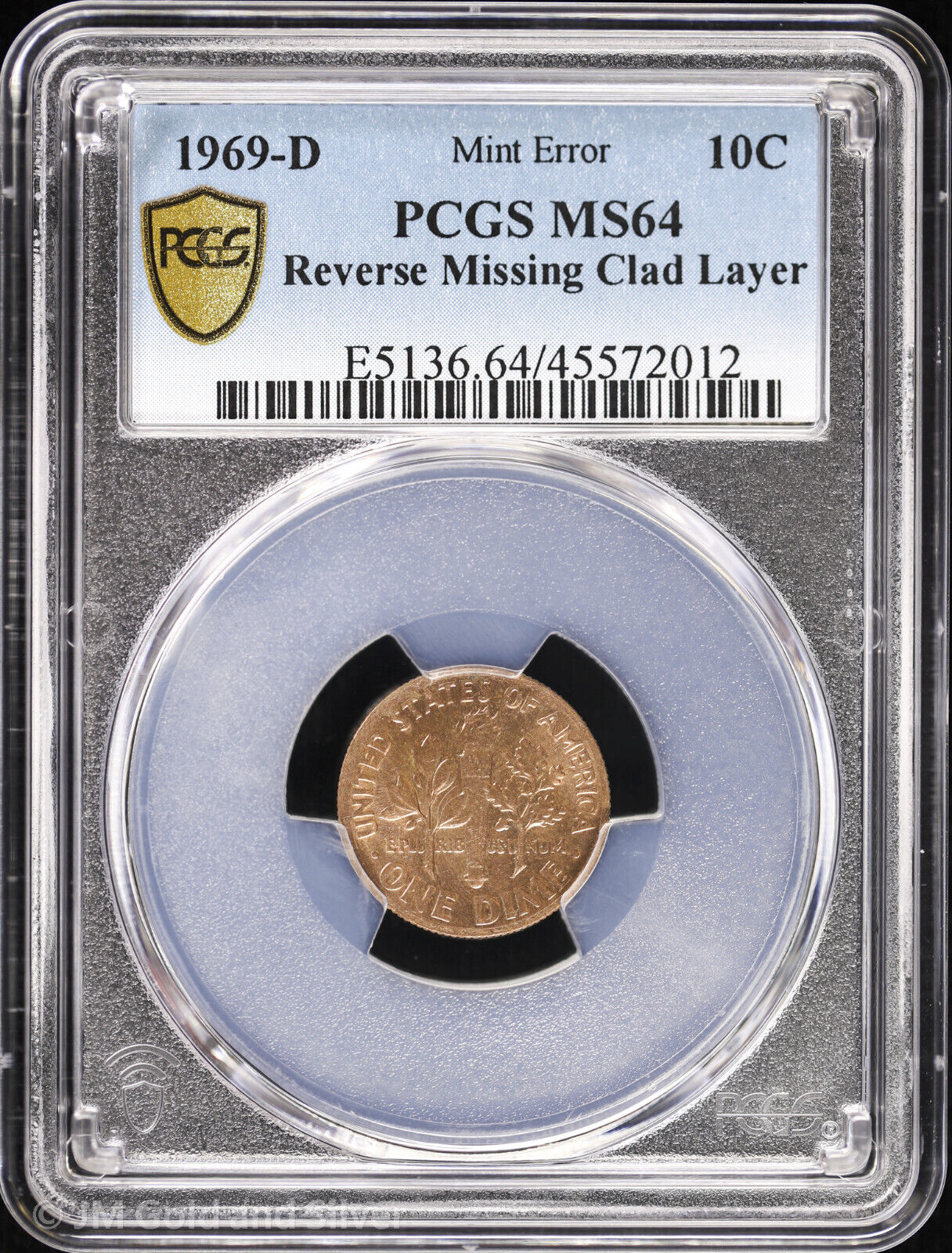 As we said before, the innards of the 1969 Dime are pure copper while the top coat is a mix of nickel and copper. On this coin, the outer layer came off the back, creating a two-toned coin. It looks normal on the obverse but the tails side is more like a penny. It's lighter too – 1.9g instead of 2.6g thanks to the missing metal. In MS 61 it was $75 and a 1.86g MS 62 was $85.
1969-D Dime Missing Clad Layer Obverse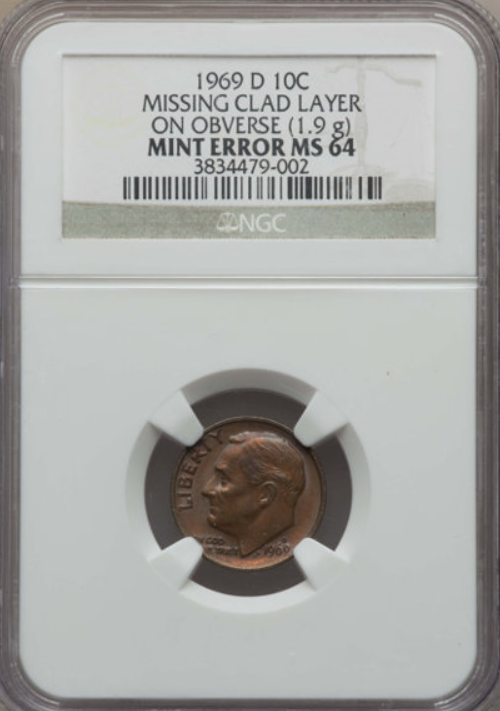 In a way, this error is the opposite of the previous one. The earlier coin had its reverse clad layer missing. On this one, it's the obverse layer that's missing. Both coins weigh 1.9g to account for the missing cupronickel alloy. The clad layer might get forced off by the pressure of the die if the planchet sheet didn't fuse properly. Graded MS 62, this coin sold for $50.
1969-D Dime Off-Center Obverse Clad Layer Only
The coin above had its obverse layer missing, and this is quite possibly what the missing piece looked like! It's a double-headed mirror-image coin because it only has the outer front cupronickel cladding without the inner copper core or the reverse of the coin. Also, the heads design landed slightly to the side so it's misaligned. In MS 65, this mistake sold for $430.
1969-D Dime Double Struck 90% Off-Center
The mint strikes hundreds of coins per minute so they're constantly moving in and out of the press. But in case of any lag time, a completed coin might get re-struck as it leaves its spot between the dies. This additional strike might cause overlapping images or damage the shape of the die. Here, the misalignment aka off-center error was 90% and in AU 53, it was $100.
Also read: 13 Most Valuable Dime Errors Worth Money
1969 Dime FAQ
Is There Silver in the 1969 Dime?
No, there isn't. All traces of silver were removed from the dime starting in 1965 due to rising prices and the resulting coin shortages. The 1969 Dime is 91.67% Copper and 8.33% Nickel. However, from 1992 onwards, some Proof Dimes were minted in 90% Silver for collectors.