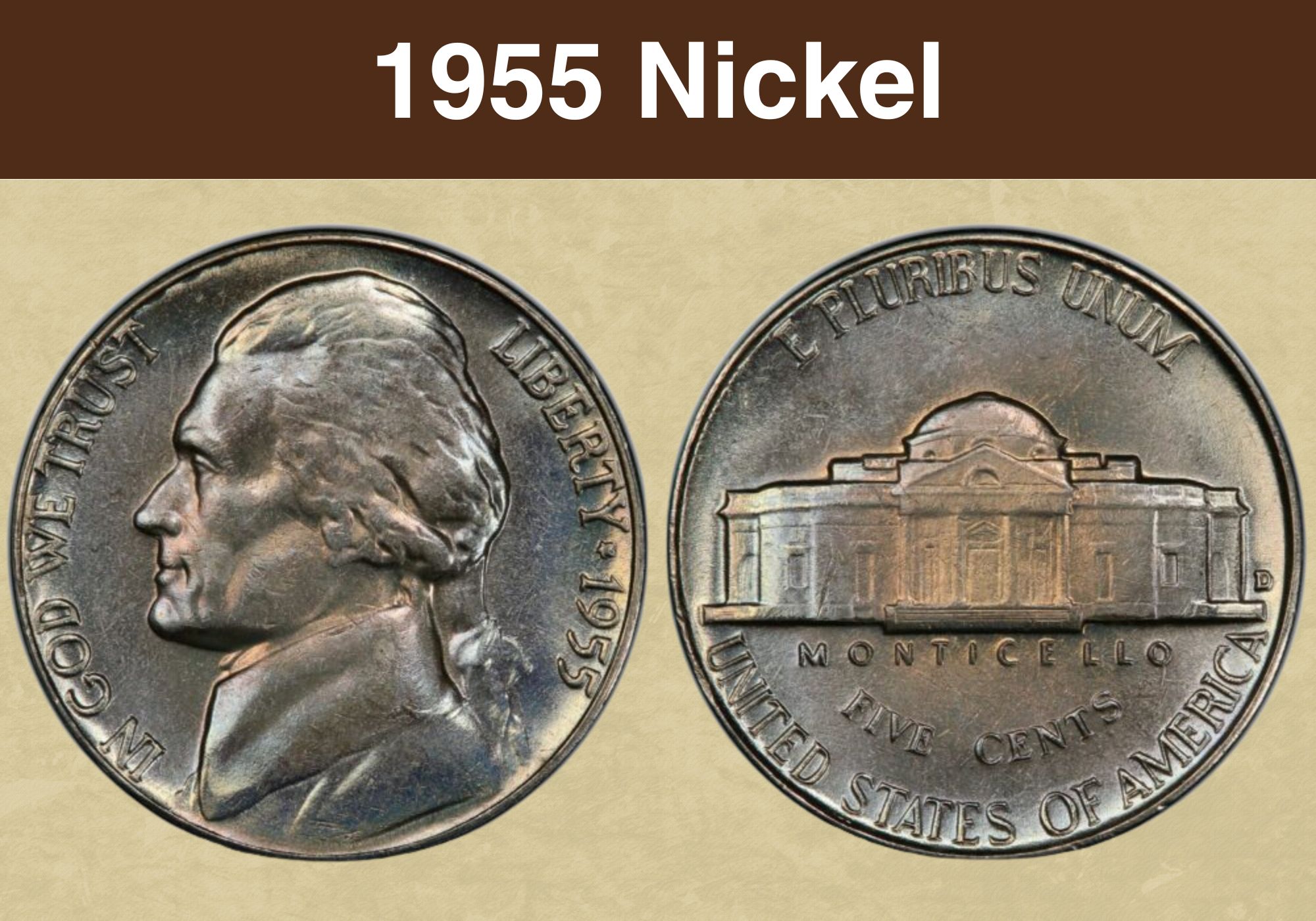 The Jefferson nickel series is among the most famous American coinage you can still find in circulation. The first pieces appeared in 1938 after the US Mint ended the complicated-to-strike Buffalo nickel series.
The 1955 nickel value depends on several factors. Expectedly, the most expensive and collectible are the highest-ranked pieces, particularly those with Full Steps. However, their prices can vary based on demand and market fluctuations.
1955 nickel value Chart

Condition
1955 no mint mark nickel
1955 D nickel
1955 D nickel D over S
MS 60
$1.16
$85
$40
MS 65
$23
$17
$233
PR 65
$21
/
/
History of the 1955 Jefferson Nickel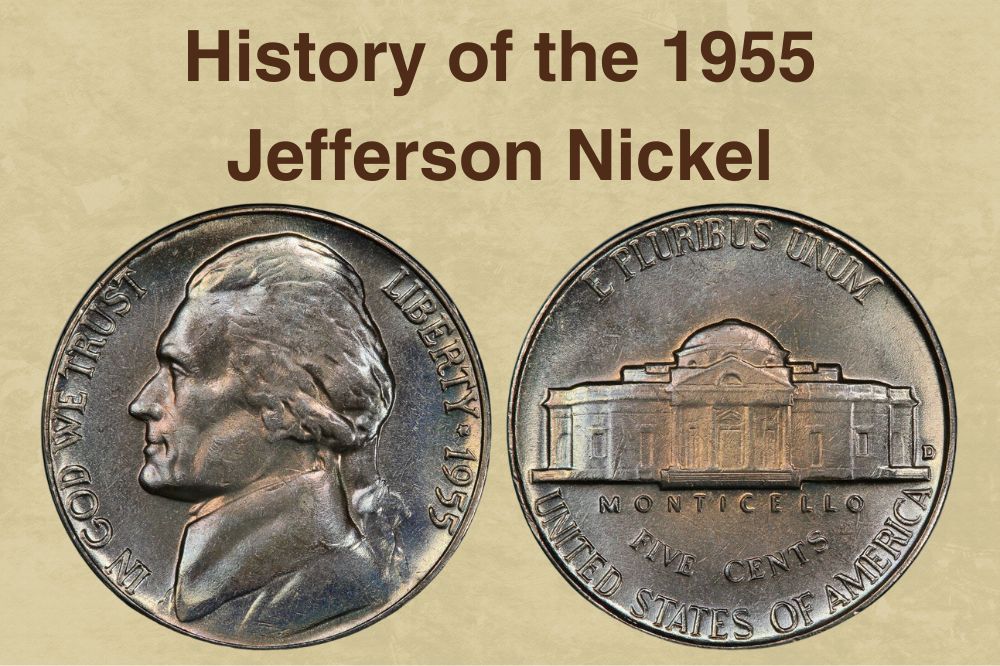 The history of American nickels started with the so-called Shield nickel, which appeared in circulation in 1866. The Jefferson nickel minting began in 1938 after the US Mint issued V nickels for three decades and Buffalo nickels for 25 years.
1955 Jefferson nickel Types

Location
Year
Minted
Philadelphia
1955 nickel
7.888.000
Philadelphia
1955 nickel proof
378,200
Denver
1955 D nickel
74,464,100
Total
/
82,730,300
Jefferson nickels are the last in the series and have existed for 85 years in everyday use. The designer Felix Schlag was a talented German immigrant who got $1,000 for his design after winning the official competition. His work was actual until 2005.
These coins have historical significance as the third American coinage in a row with a genuine person instead of a symbolic figure depicted on the obverse. Nowadays, most coins from this series are affordable, making them attractive for numismatists on a budget.
Also read: Top 10 Most Valuable Nickels Worth Money
Features of the 1955 Jefferson Nickel
The Jefferson nickels were a successful Felix Schlag's design used by the US Mint from 1938 to 2004. Coins minted in 1955 came from only two mints, unlike most coins minted in previous years that were produced in three mints.
The obverse of the 1955 Jefferson nickel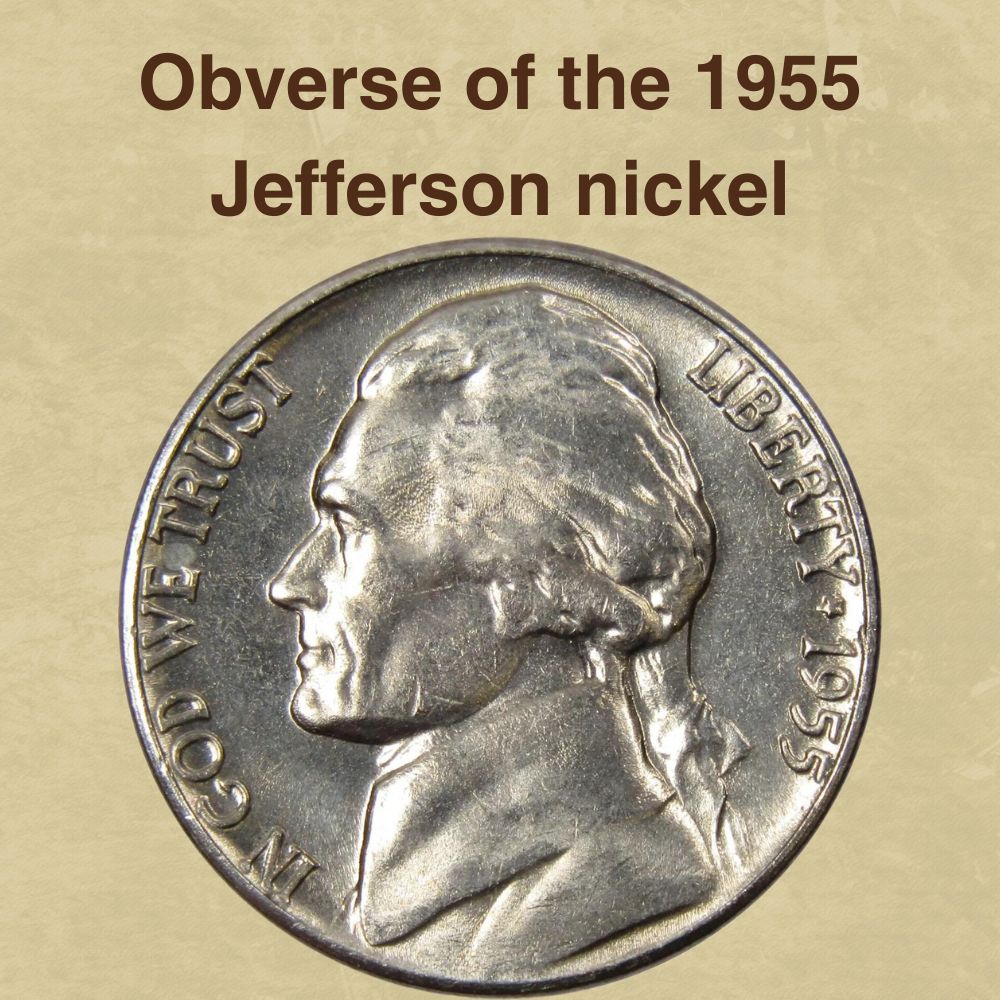 The nickel obverse is reserved for President Thomas Jefferson's profile. Behind his back are LIBERTY and the date separated by the star, while the inscription IN GOD WE TRUST is struck in front of his eyes.
The reverse of the 1955 Jefferson nickel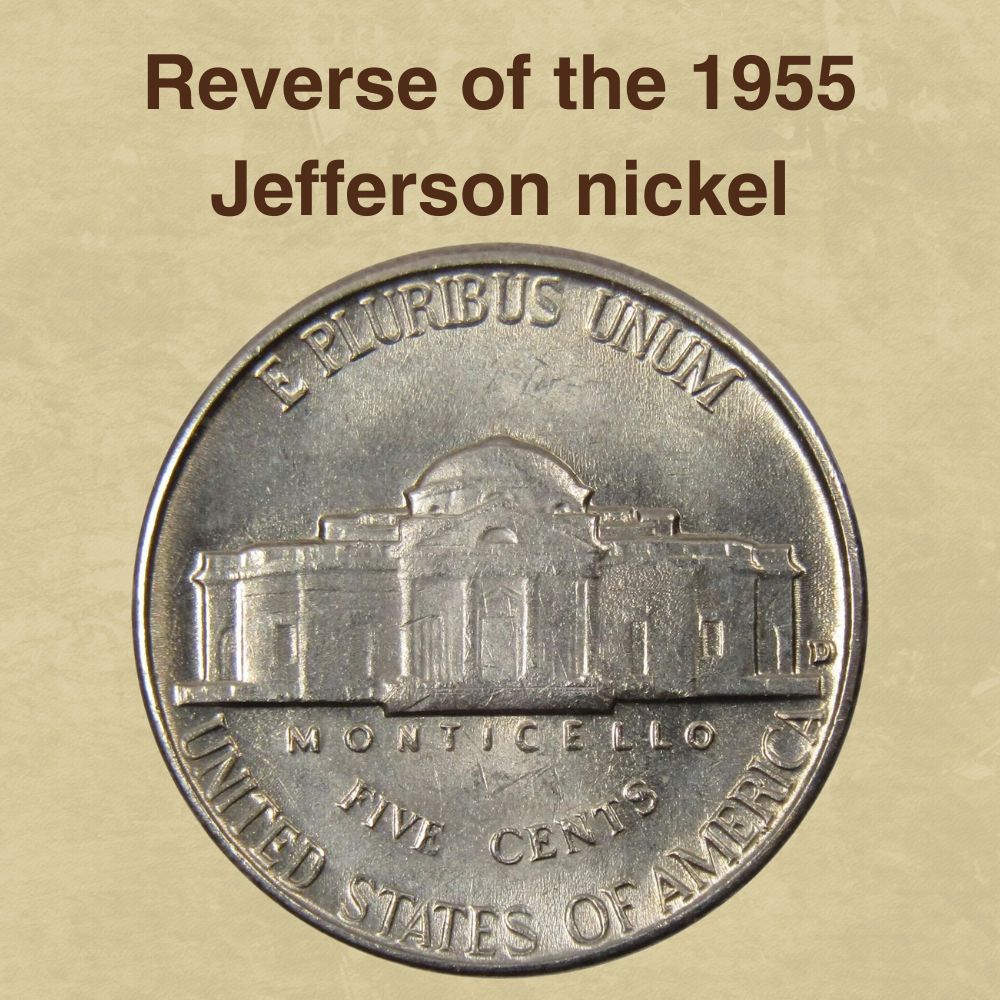 The President's home, Monticello, occupies the reverse center, while inscriptions are placed above and below it. You can read the Latin motto along the top, while the lower coin half is filled with the mansion's name, FIVE CENTS, and UNITED STATES OF AMERICA.
1955 Jefferson nickel Details

Face value
Five cents ($0.05)
Shape
Round
Compound
Cupronickel in 3/4: 1/4 copper and nickel ratio
Coin thickness
0.07677 inches (1.95 mm)
Coin diameter
0.83504 inches (21.2 mm)
Coin weight
0.17637 ounces (5 g)
Edge
Plain
Other features of the 1955 Jefferson nickel
Like all other copper-clad nickels, those minted in 1955 weigh 0.17637 ounces (5 g) and have a diameter of 0.83504 inches (21.2 mm). These five cents are 0.07677 inches (1.95 mm) thick and have a plain edge.
Also read: Top 17 Most Valuable Buffalo Nickel Worth Money
1955 Jefferson Nickel Value Guides
The 1955 Jefferson nickel mintage of 82,730,300 coins is pretty standard for this series. Two mints issued coins with Thomas Jefferson on the obverse, with the fact that the Philadelphia mint produced both regular coins and proofs.
1955 No Mint Mark nickel Value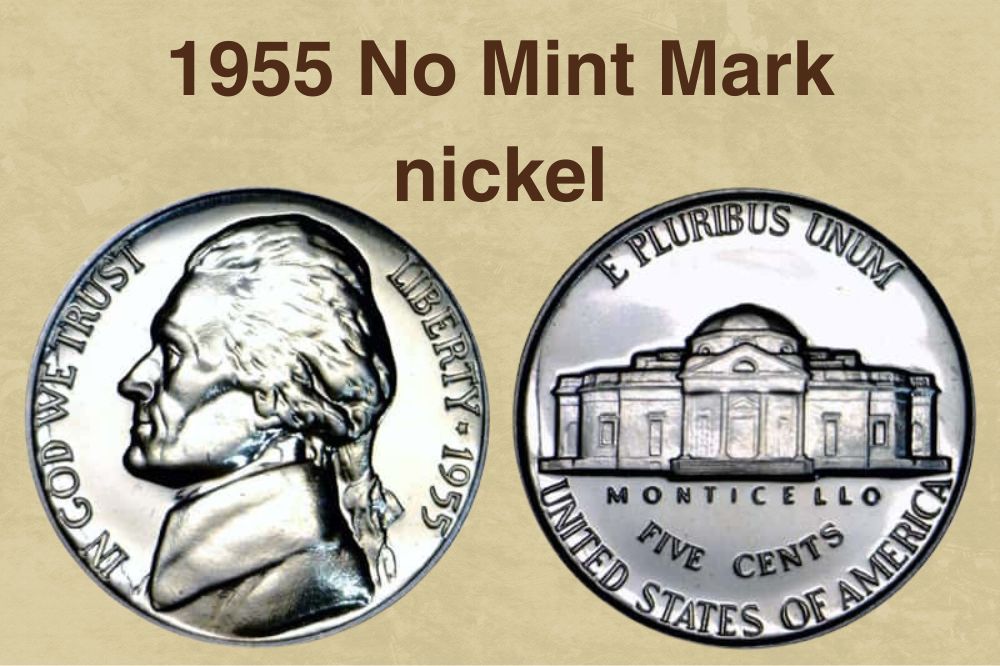 The Philadelphia mint produced 1955 nickels in a high mintage of 7.888.000 pieces. You can recognize regular coins and those with the Full Step feature, affecting their prices.
The 1955 Jefferson nickels with four or fewer steps in front of the mansion cost about $0.07 to $14, while those in the highest MS 66 grade can reach $45. Interestingly, the auction record went to the 1955 AU 55 coin offered at Heritage Auctions. One collector bought it for $1,035 in 2010.
Quarters with five or six steps on the reverse are considered pieces with Full Steps. They typically cost more since they look like the initially created design without changes caused by the minting limitations.
Estimated prices for 1955 FS Jefferson nickels depend only on their condition. Therefore, you can get one after setting aside approximately:
$175 for the MS 64-graded coin
$380 for the MS 65-graded coin
$1,200 for the MS 66-graded coin
Despite a high estimated price of $5,000 for the Full Steps nickels ranked MS 67, the auction record exceeded all expectations. One owner sold their specimen for $12,650 in 2007.
1955 proof Jefferson nickel Value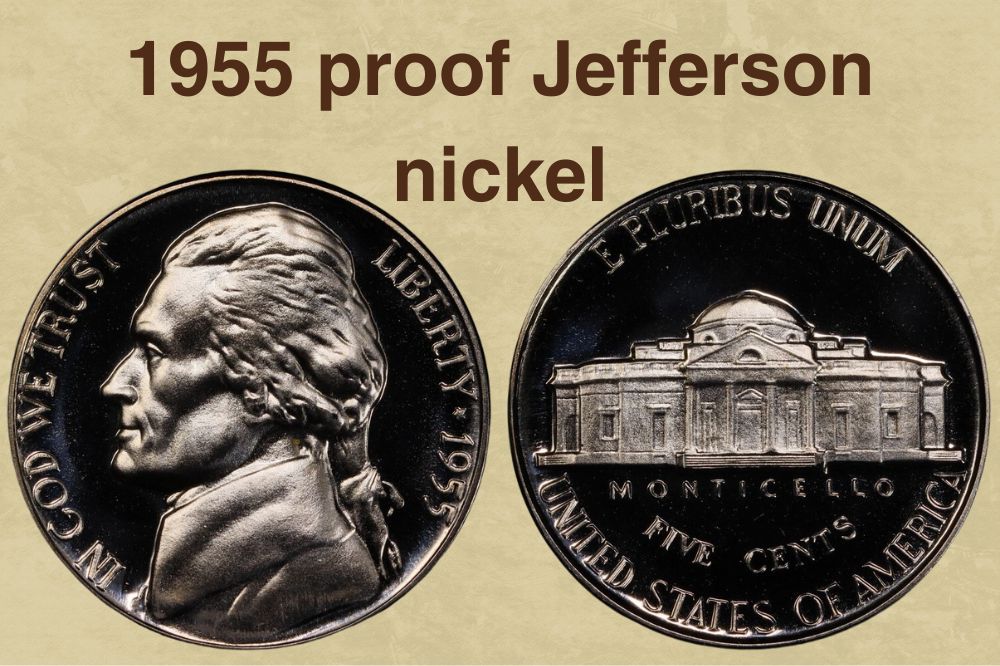 Even though proofs are the best-preserved coins in every set and typically cost the most, this is not the case with any of the 378,200 specimens minted in Philadelphia in 1955. These nickels with beautiful luster and superb characteristics are assessed at $2 (PR 60) to $90 (PR 69).
Only rare coins from this set are more valuable. One collector bought the 1955 PR 69 CAM nickel for $950 in 2022, while another set aside $1,100 to get a coin of the same quality in 2020.
The best-paid proof produced this year is one coin with deep cameo contrast. Its auction record of $4,025 from 2004 is still actual.
1955 D nickel Value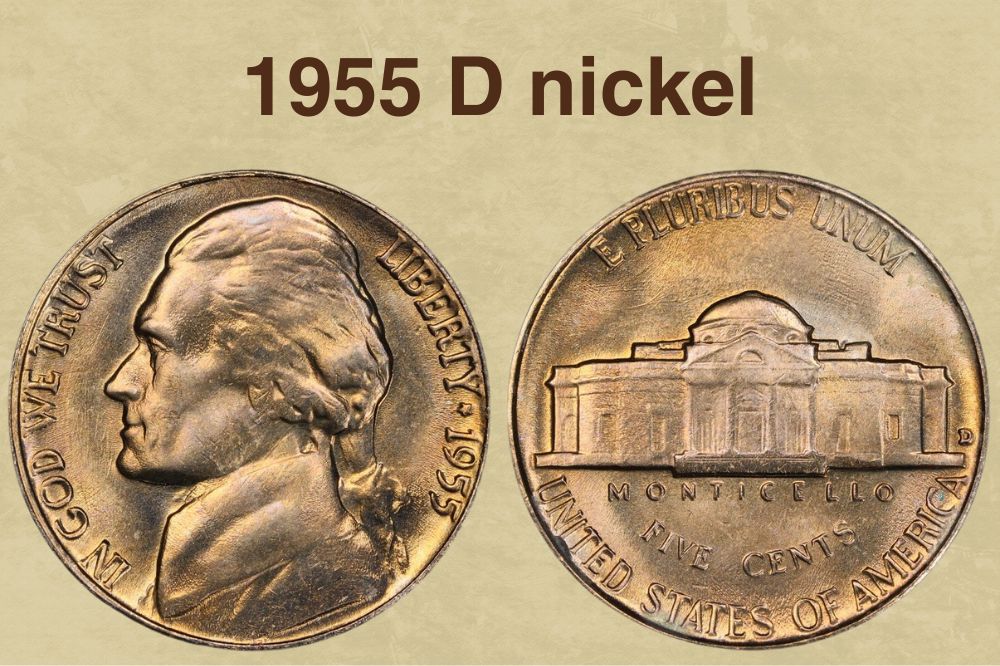 Precisely 74,464,100 nickels came from the mint in Denver in 1955. Their assessed price range depends on the number of steps in front of the Monticello mansion. For instance, it is necessary to count on $0.07 to $0.15 when buying a circulated coin.
Those in the mint state cost more but have typically reasonable prices. All pieces from MS 60 to MS 65 grades cost up to $10, and only those ranked MS 66 grades are estimated at $75. Still, one coin from this set in MS 66+ ranking sold at $920 on eBay in 2022.
The 1955 D FS nickels are more valuable than poorly struck pieces, and you can expect to pay for one about:
MS 63-graded coin costs about $325
MS 64-graded coin costs about $450
MS 65-graded coin costs about $2.000
MS 66-graded coin costs about $6,500
The auction record for the best-graded nickel (MS 66) with Full Steps from 2019 is $9,694.
Also read: Top 17 Most Valuable Jefferson Nickels Worth Money
1955 Jefferson Nickel Grading
Coin grading is easier now than in the past, thanks to a unique method of evaluation based on the Sheldon scale.
Everyone can grade the 1955 Jefferson nickels by following established criteria, but most collectors prefer professionally assessed and certified coins. That is particularly true for highly ranked nickels that can be expensive.
Rare 1955 Jefferson Nickel Errors List
The 1955 nickel set is well-known for a few famous minting errors. Even though all are collectible nowadays, a few are particularly sought-after, particularly when error coins are of a high grade. In most cases, collectors appreciate their unique appearance and rarity.
D over S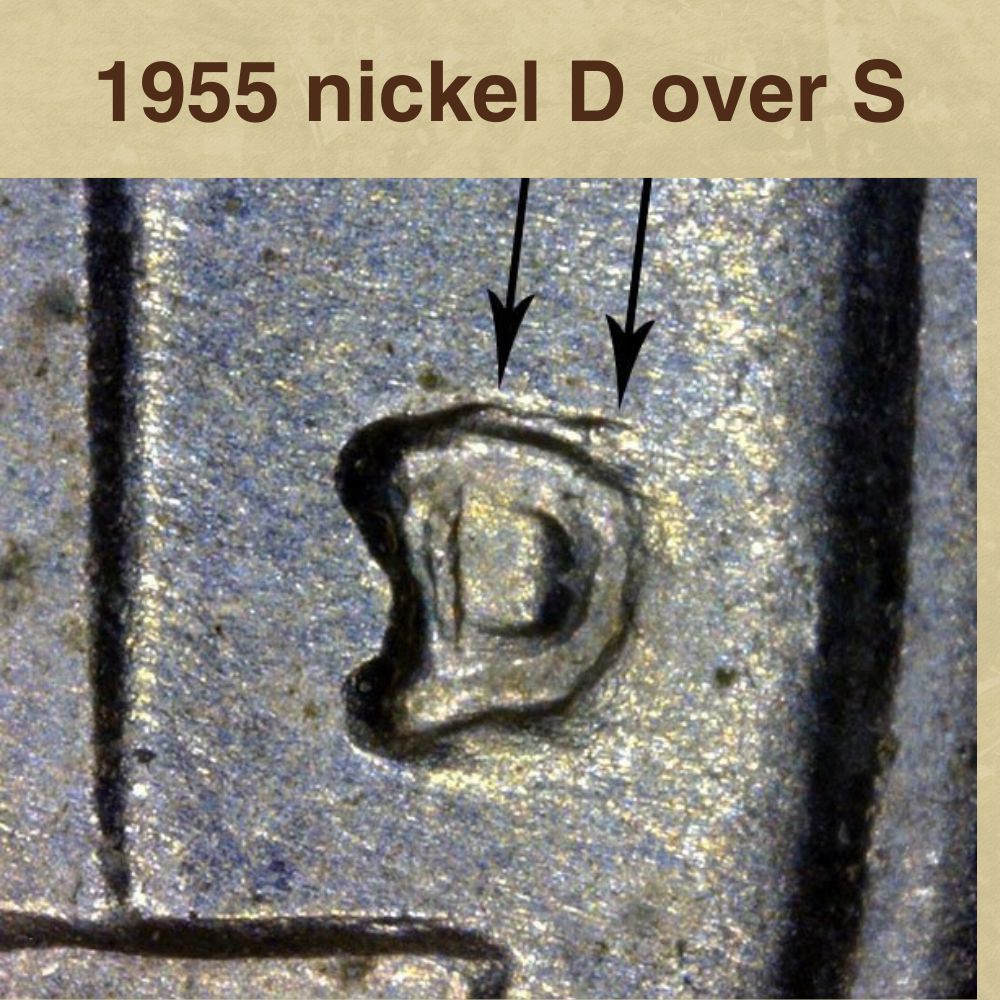 This mint mark variety is typical for 1955 nickels produced in Denver. You can recognize the letter S under the D struck over it. Such coins have a tiny upper part of the S visible above the D mark upper edge.
This error appeared after the San Francisco mint canceled nickel minting, and the one in Denver took over and reused unused reverse dies. Since it was impossible to entirely erase the existing mint mark, the solution was to punch the D over the S directly.
It is a rare example of an intentional error, but such coins are excellent collectibles. These nickels are interesting for numismatists even in circulated conditions when their value ranges from $10.50 to $26.
Pieces in the mint state typically cost $40 to $175, but nickels with this imperfection in MS 66 grade are estimated at $700. However, one 1955 D/S MS 66 nickel sold at $3,738 in 2008, setting a record at Heritage Auctions for this coin type.
Double struck (No Mint mark nickel proof)
Some proof nickels from Philadelphia came with a double-struck error after being hit twice on one side. Their lettering and images show a fascinating doubling effect, making the affecting side slightly out of focus and blurred. You can buy such a coin for about $55 to $60.
Triple struck (No Mint mark nickel proof)
This exciting error appeared on 1955 nickels after their reverse side was triple-struck. You can notice triple lettering on top of each other, but probably only under a coin microscope.
Even though such pieces are assessed at $50, one such CAM nickel error in PR 67 grade sold at $153 at Heritage Auctions in 2016. The 1955 PR 68 tripled die reverse nickel error was even more expensive. One collector purchased it on eBay for $400 in 2021.
Off-center
This error type is pretty common among 1955 nickels. Their value depends on the design percentage remaining off-center, but such a coin is worth only when the date is intact.
Most nickels come with inexpensive 5% off-center error, while the most appreciated among collectors are pieces with 50% design off-center. However, most coins minted this year come with 10% to 20% missing design, and you can buy one for $10 to $50.
Doubled die
When the die with a doubling on the surface strikes the nickel, the result is a coin with a partially or totally doubled design impression. Collectors like these imperfect coins and are prepared to pay $20 and $50 for pieces with doubling in President's eye (obverse) and/or MONTICELLO and denomination (reverse).
Struck-through
These nickels resulted from the foreign object struck between the die and planchet during minting, leaving its outline on the affected coin's side. The usual items include grease, piece of cloth, metal shavings, or even staples.
Remember that such a coin is always more appealing and costlier when the nature and origin of the struck object are known. In most cases, you can expect to pay about $100 for this imperfect 1955 nickel.
Also read: 14 Most Valuable Nickel Errors Worth Money
FAQ about the 1955 Jefferson Nickel
What makes a 1955 Jefferson nickel rare?
The 1955 nickels' rarity depends on the mint they were produced, their grade and the Full Steps quality. Therefore, you can expect the highest-ranked FS coins to be relatively rare, particularly those minted in Philadelphia. However, they are never scarce, like some pieces minted in earlier years.
Which Jefferson nickels from the 1955 set are the most expensive?
The 1955 MS 66 Jefferson nickel/Full Steps offered at Bowers & Merena sold at $12,650 in 2007
The 1955 D MS 66 Jefferson nickel/Full Steps offered at Legend Rare Coin Auctions sold at $9,694 in 2019
The 1955 PR 69 Jefferson nickel with deep cameo contrast offered at Heritage Auctions sold at $4,025 in 2004
The 1955 D/S MS 66 Jefferson nickel with D over S error offered at Heritage Auctions sold at $3,738 in 2008
The 1955 PR 69 Jefferson nickel offered on eBay sold at $1,100 in 2020
The 1955 AU 55 Jefferson Nickel offered at Heritage Auctions sold at $1,035 in 2010
The 1955 PR 69 Jefferson nickel with cameo contrast offered on eBay sold at $950 in 2022
The 1955 D MS 66+ Jefferson nickel offered on eBay sold at $920 in 2022
The 1955 PR 68 Jefferson nickel with tripled die reverse error offered on eBay sold at $400 in 2021
The 1955 PR 67 Jefferson nickel with cameo contrast and tripled die reverse error offered at Heritage Auctions sold at $153 in 2016
How much is the No Mint mark 1955 Jefferson nickel worth?
Most 1955 nickels minted in the mint in Philadelphia are affordable nowadays. You can find circulated pieces for a modest $0.07 to $0.25, while even those in uncirculated condition are often worth under $2.
Only better-graded specimens cost $8 to $45, while those with Full Steps are the most precious. Their prices range from $175 to $5,000, according to their appearance and preservation.
What Jefferson nickels are the priciest in the series?
Undoubtedly, the most expensive Jefferson nickel is the one minted in 1954 in San Francisco. One collector paid $35,250 in 2020 for this MS 67-graded coin with Full Steps.
Two coins from Denver with Full Steps share the same high value. The MS 65-graded nickel from 1969 and the one ranked MS 68+ from 1938 were sold at $33,600 at auctions organized in 2021 and 2022.
Besides, two nickels reached $32,900 at auctions, making them the costliest in their categories. Those are the 1964 SP 68 FS SMS nickel from Philadelphia and the 1949 D/S error nickel in MS 67 grade.