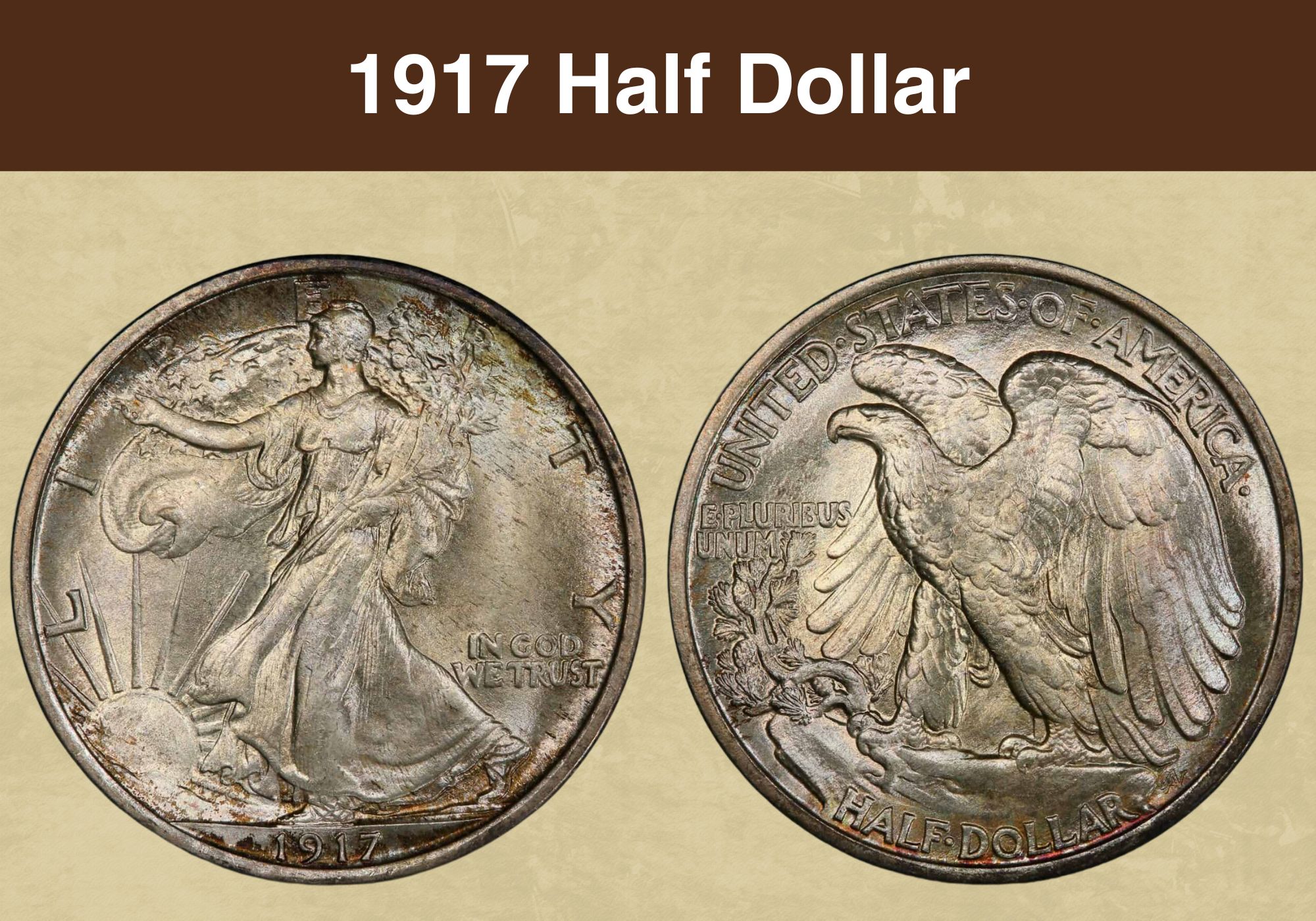 The Walking Liberty half dollar is probably one of the most attractive coins to ever circulate in the United States. Its timely and patriotic design—as well as its high silver content—makes it a fan-favorite among coin collectors even in the modern era.
But there's one Walking Liberty half dollar issue that collectors clamor to get—the 1917 issue of the coin. This key date is interesting because while it was struck in just three Mints, it has five different varieties. This is because of a sudden change in mint mark positioning in the middle of the year.
Are you interested in learning about the 1917 half dollar value today? Stick around as we discuss the value of all five types of 1917 half dollars.
1917 Half Dollar Value Chart

Mint Mark
Fine
AU58 About Uncirculated
MS63 Select Uncirculated
MS65 Gem Uncirculated
MS67 Superb Gem Uncirculated
1917 No Mint Mark Half Dollar Value
$40
$150
$375
$1,200
$25,000
1917 "D" Obverse Half Dollar Value
$130
$875
$1,600
$8,500
–
1917 "D" Reverse Half Dollar Value
$100
$1,050
$2,100
$11,750
$55,000
1917 "S" Obverse Half Dollar Value
$275
$3,100
$5,500
$25,000
$175,000
1917 "S" Reverse Half Dollar Value
$65
$735
$1,950
$12,000
$54,500
1917 No Mint Mark Half Dollar Value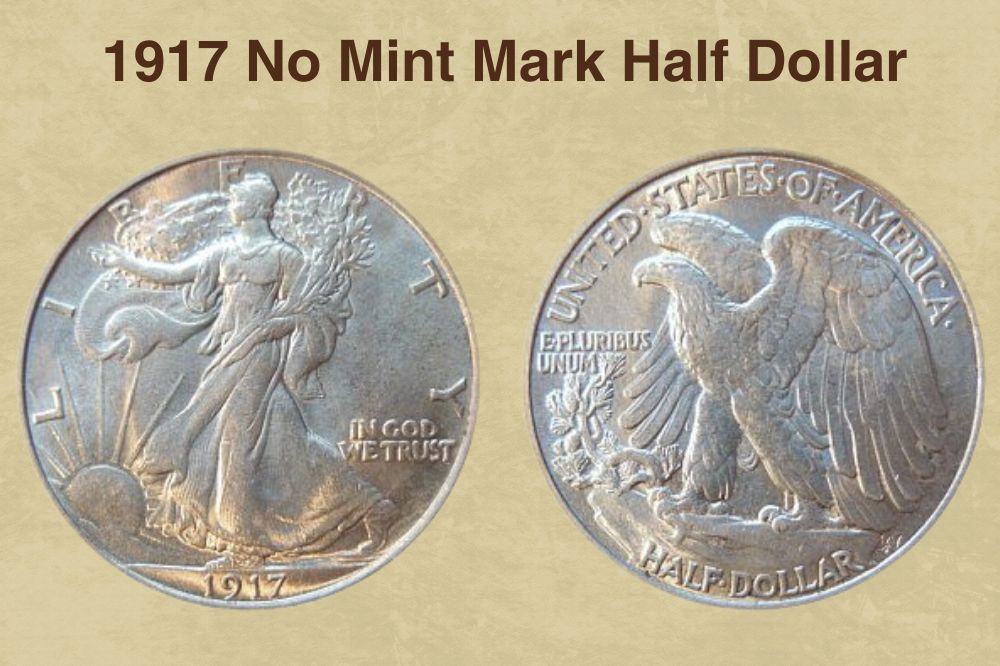 The Walking Liberty coin was designed by German-born Adolph A. Weinman. His design depicting a stunning Lady Liberty and a strong American eagle remains to be mesmerizing even today.
On the coin's obverse, you'll see the full-length silhouette of Lady Liberty who is walking toward a rising sun. In her arms, she carries branches of oak and laurel, which symbolize peace and military cunning.
Above her, the word "Liberty" is spaced out at the coin's upper rim, while the mintage date is written on the bottom. On the right hand of the coin are the words "In God We Trust."
The reverse shows a regal, powerful-looking American eagle with its wings spread out as it is perched on a mountainside cliff. Out of the mountain rock, you'll see a pine sapling starting to sprout and grow.
Around the reverse are the words "United States of America" at the top, and "Half Dollar" at the bottom. To the left of the eagle, just above the pine sapling, is the Latin motto "E pluribus unum." You'll also see the designer's initials, "AW," on the right side of the mountain cliff.
When the coin first came out in 1916, the "D" and "S" mint marks could be found on the obverse, underneath the words "In God We Trust." Mint marks on the first few 1917 coins had the same placement until it was ordered to be moved to the reverse of the coin in the middle of the year.
So, in mid-1917, the mint marks were moved below the pine sapling. The mint marks were placed in that position until the end of the Walking Liberty series in 1947.
In Philadelphia, almost 12.3 million half dollars were struck in 1917. America declared war on Germany in April 1917, thereby officially entering World War I. This prompted a higher demand for coins in the United States, leading to a relatively high mintage in the Main Mint.
The 1917 (P) half dollars—which had no mint marks—were well-struck and of high quality. They're plentiful in low and mid-range mint-state conditions, but it gets quite difficult to find gems higher than MS66.
Even in circulated conditions, these coins are quite valuable today. In fine condition, a 1917 (P) half dollar would cost $40, and an AU58 about-uncirculated coin is valued at $150.
In MS63, one of the most common grades you will find this coin in, the value sits at $375. Two grades up at MS65, and you can expect the coin to sell at $1,200. A near-perfect coin at a fine grade of MS67 could cost $25,000. Only eight coins of this grade exist.
The Philadelphia Mint also produced a few proof coins for VIP collectors. It is said that only three proof coins were made for this issue and were never released for public sale or auction.
1917 D Obverse Half Dollar Value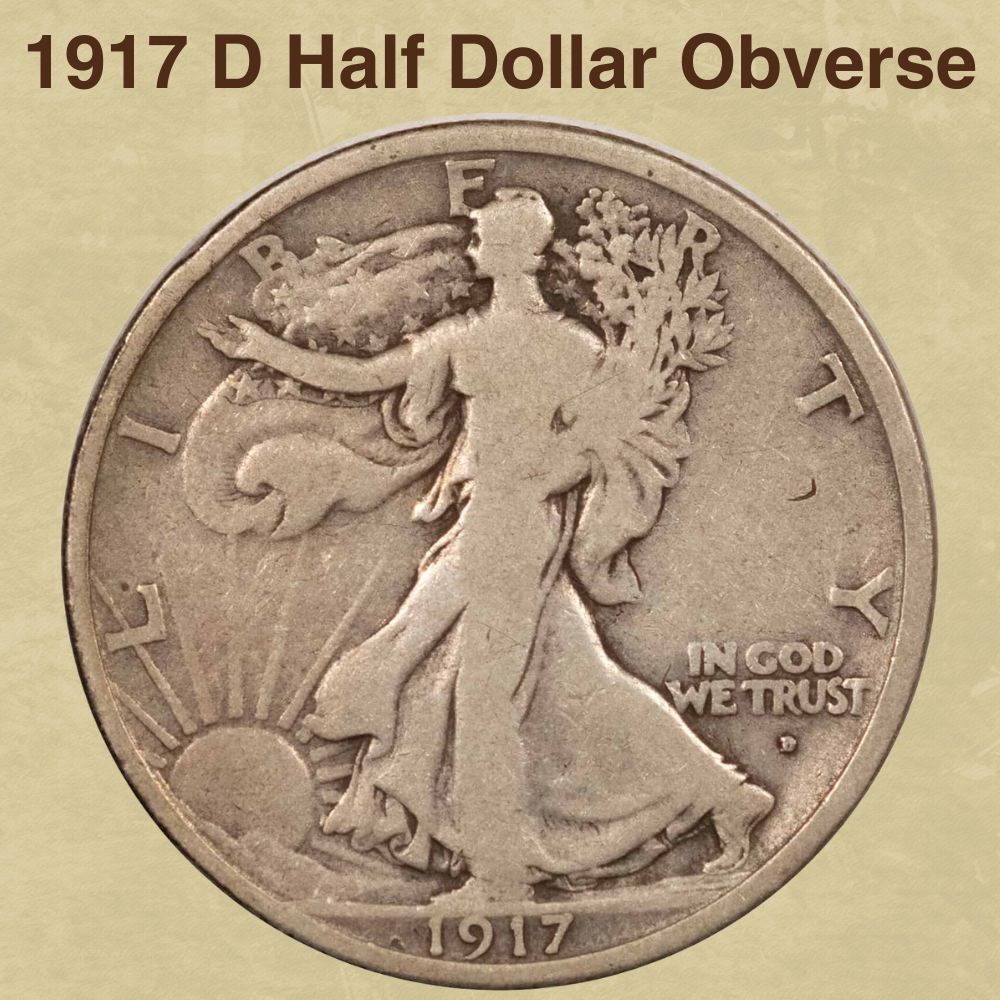 The 1917 D half dollars can be classified into two types—D obverse and D reverse. The D Obverse was produced first with the same mint mark placement as the 1916 series. It was put on the obverse, under the phrase "In God We Trust."
Just a month and a half into the year, Mint Director F.H. von Engelken ordered for the placement to be changed, and the obverse placement made the mint mark look like a prominent die defect. So, in April, the mint mark was officially moved to the reverse, under the pine sapling.
Of the two types of 1917 D half dollars, the D obverse variety had a lower mintage of 765,400. However, it's more common in mint-state grades than the D reverse, likely due to hoarding when the 1917 half dollars first came out.
In fine condition, you can expect a 1917 D Obverse half dollar to be priced at $130. If it's extremely fine, the price shoots up to $325. And in about-uncirculated grades, the value sits anywhere between $445 at AU50 and $875 at AU58.
In mint-state, uncirculated grades, the 1917 D obverse half dollars are most common in MS62, MS63, and MS64, which are valued at around $1,100, $1,600, and $2,600, respectively.
There is no record of an MS67 1917 D obverse half dollar in existence. The finest coin of this issue is an MS66, which is worth $30,000 today. Only four of these coins exist in such a high grade.
1917 D Reverse Half Dollar Value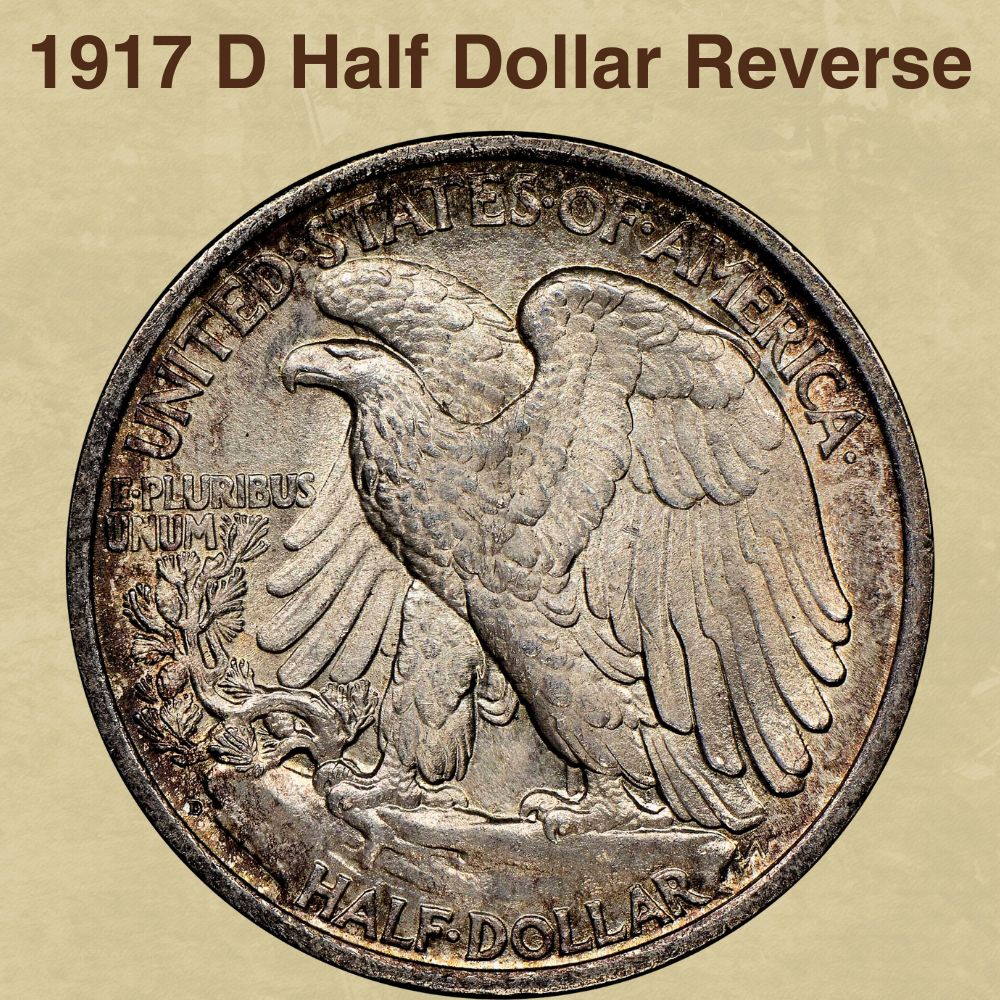 After the order to move the mint marks' placement in mid-1917, the 1917 D reverse was born. A total of 1.94 million Denver-minted coins were made after the change was ordered.
And although this is more than double the number struck with the old mint mark placement, it's still surprisingly scarcer and more valuable today. This is probably because people hoarded more of the D obverse variety, making mint-state survivors of the D reverse more difficult to find.
The difference in the values of the two 1917 D half dollar varieties is most apparent in uncirculated coins. A 1917 D reverse half dollar in MS63, for example, is worth $2,100 compared to the D obverse's $1,600 value.
In grade MS65, the 1917 D reverse half dollar hits a five-figure value of $11,750.
Just a handful of gems exist for this issue. Three pieces are graded MS66, which put them at a value of $35,000. And only one 1917 D reverse half dollar has ever been bestowed an MS67 grade, giving it a value of $55,000 today.
1917 S Obverse Half Dollar Value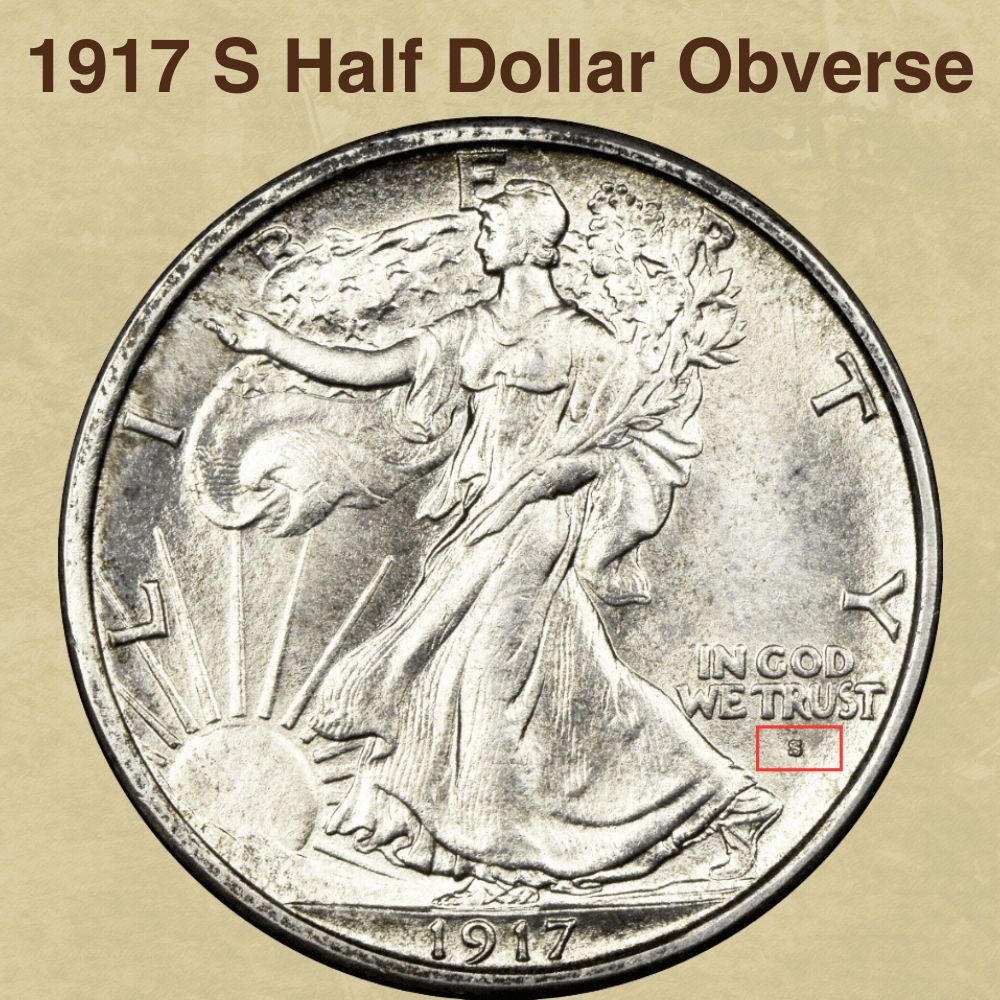 Just like in Denver, the San Francisco half dollars of 1917 are also divided into S obverse and S reverse, following the order to change the placement of the mint mark early in the year.
Less than one million 1917 S obverse half dollars were minted—five times less than the number of S reverse coins. So, it's no surprise that the S Obverse variety is the scarcer and more valuable one today.
The high value tied to the 1917 S obverse half dollar is apparent even in circulated conditions. Even in poor or average condition, this coin can be sold for $35 today. A 1917 S obverse half dollar in fine condition is worth around $275, and about-uncirculated coins are worth $1,600 to $3,100.
These coins are incredibly difficult to find in mint-state conditions. It's most common in grade MS64, of which only a little over a hundred pieces exist. These coins are valued at $7,500 in that grade. One grade up at MS65 puts the value of the S obverse half dollar at $25,000.
1917 S obverse half dollar gems in MS66 and MS67 are the rarest and most expensive. Today, an MS66 S obverse coin will cost $42,500, and an MS67 can be sold for an astounding $175,000.
1917 S Reverse Half Dollar Value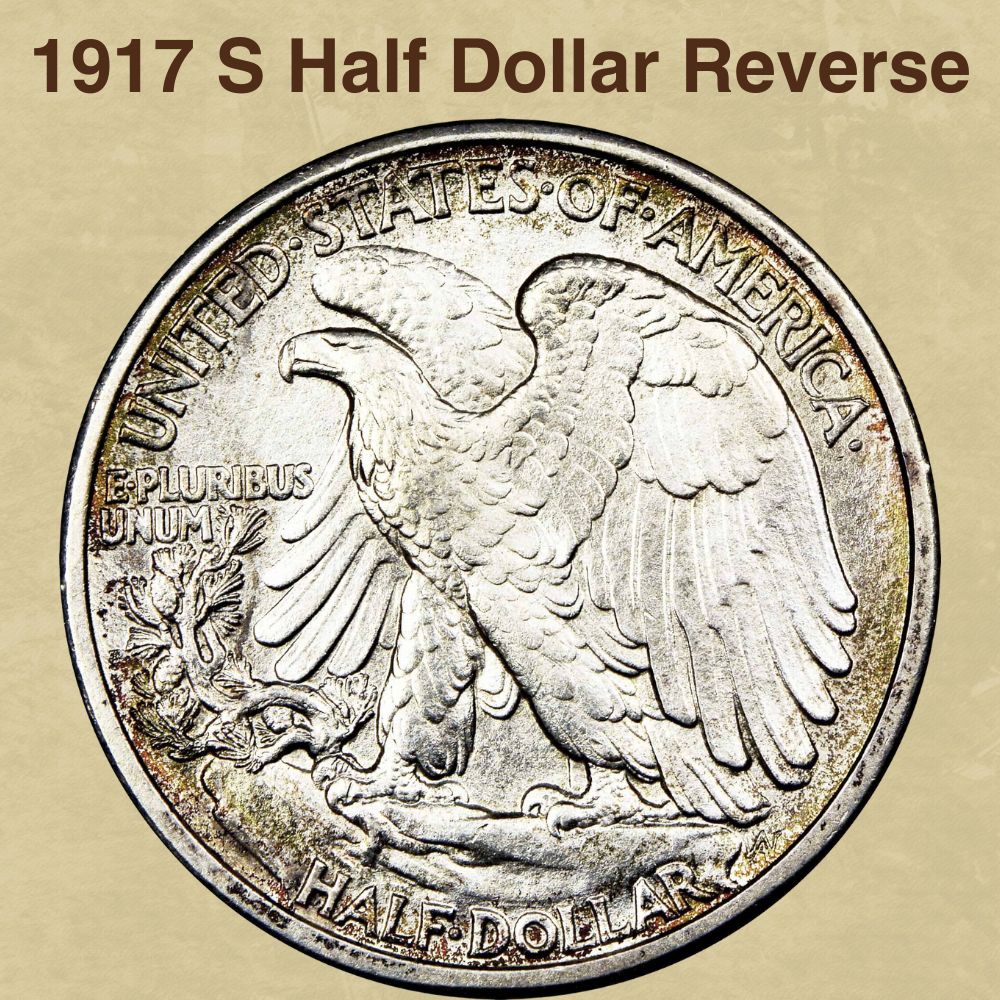 Finally, we have the 1917 S reverse half dollars, of which over 5.5 million were made. Aside from it being way more plentiful than the S Obverse, it also had a weaker strike on the coins. These two factors make the S reverse coins less valuable than their S obverse sisters.
That said, 1917 S reverse half dollars are still immensely valuable today compared to their face value over a century ago. In circulated conditions, you can get these coins for at least $20. In fine condition, it can be sold for $65, and in extremely fine condition, it's valued at $190.
About-uncirculated 1917 S reverse half dollars can be valued between $285 (for AU50) and $725 (for AU58).
In uncirculated conditions, these coins are most common between grades MS62 and MS64. These lower to middle mint-state grades put the coins at a value of anywhere between $1,400 and $2,850.
There are 25 known 1917 S reverse half dollar gems that have been designated a grade of MS65. Each of them is now worth $20,000. But that's far cry from an MS67 S reverse coin, which sits at a value of a whopping $54,500. Only two of these near-perfect coins exist today.
Also read: 12 Most Valuable One-Dollar Coin Worth Money
1917 Half Dollar Grading
The best way to determine the value of your 1917 half dollar is by checking its highest points for luster and boldness. Put your coin under direct light and see how your coin looks.
If the letters and numbers are readable but look worn and weak, you likely have a circulated coin. More detailed elements of the design, like Liberty's skirt or the eagle's wings, might look flat and smooth instead of razor-sharp and bold.
If you have an uncirculated coin, you should notice immense shine coming off the coin when it's placed under a light. The design elements are all legible and have bold, distinct lines. Eye appeal should be fantastic as well. There might be a few contact marks, but nothing too prominent.
Need extra help assessing your 1917 half dollar's condition? Check out this helpful guide on how to grade your Walking Liberty halves by the PCGS:
Also read: 14 Most Valuable Coins In Circulation
Rare 1917 Half Dollar Error List
Although not considered a mint error, the 1917 run of the Walking Liberty half dollars came across the issue of striking the mint marks on the wrong side of the coin, resulting in different varieties.
Mint errors were quite rare in the 1917 Walking Liberty half dollars, as with any mintage year of the series. This is because they didn't use to make billions of coins each year, so there was more opportunity to weed out the bad eggs before releasing the coins to the public.
However, there is one known error that has been seen on a couple of 1917 half dollars—awkwardly placed delamination errors.
1917 Half Dollar Delamination Errors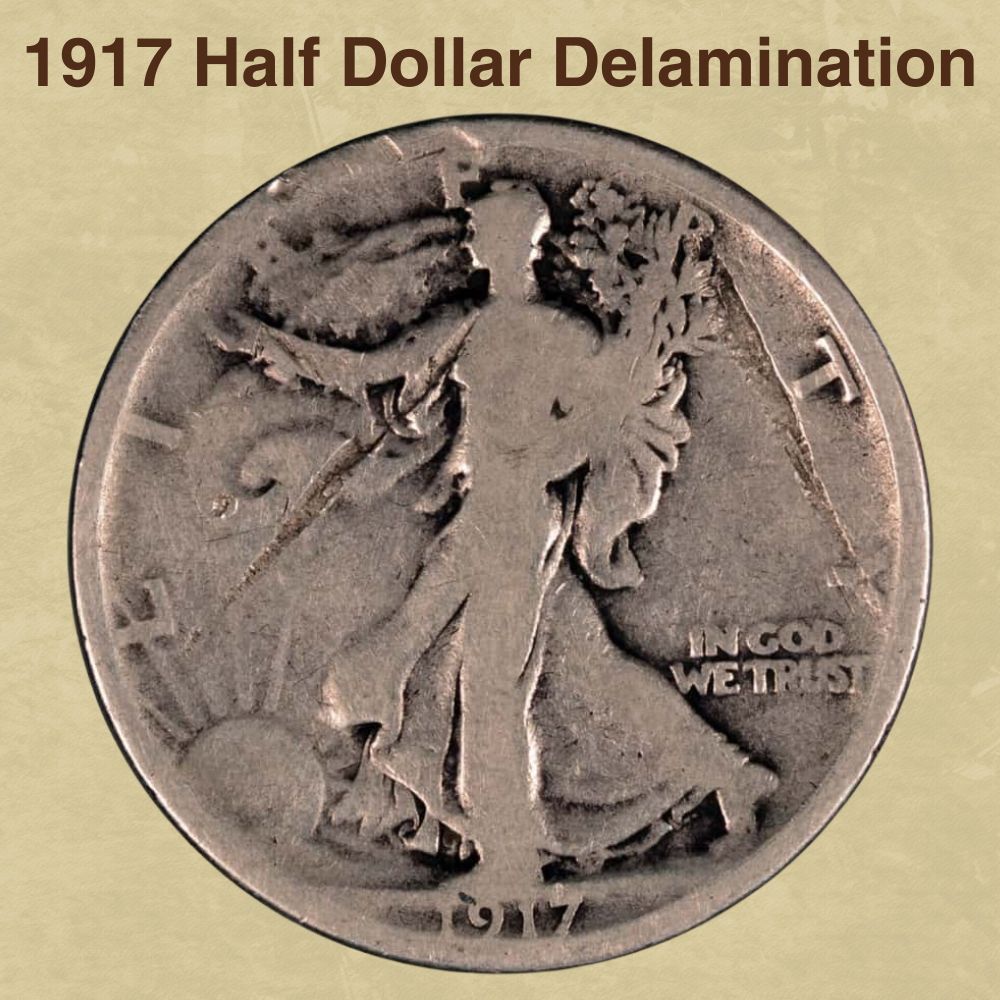 Delamination happens on a coin when the laminated layers of the planchet start to split and tear apart, creating lines that look like slashes on the coin.
This error could be due to several reasons, including a defective adhesive that couldn't hold the layers together, or having contaminants in the allow before the planchets were even cut into shape. As a result, the metal separates, creating broken lines on the coin.
Delamination can be seen in some 1917 Walking Liberty half dollars. In one of the cases, the planchet's metals did not completely bond together, so they started separating into lines on the obverse.
Also read: Top 10 Most Valuable Morgan Silver Dollar Worth Money
1917 Half Dollar FAQs
Where is the mint mark on a 1917 half dollar?
The mint marks on the 1917 half dollars were originally placed on the obverse of the coin, right below the words "In God We Trust." A few months into production, it was ordered to be moved to the reverse, below the growing sapling sprouting from the mountain crag.
Depending on which variety you have, you'll see the "D" or "S" mark of your coin in either of these two places. If you have a coin that was minted in Philadelphia, you won't find any mint marks.
How much silver is in a half dollar from 1917?
Like all of the silver coins created during its time, the 1917 Walking Liberty half dollars were made of 90% silver and 10% copper.
What year half dollars are real silver?
All Walking Liberty dollars, which were minted from 1916 to 1947, were made with 90% silver. So were the Franklin half dollars, minted 1948 to 1963. The Kennedy half dollar was only made of 90% silver in 1964, its first run. In 1965, the composition was replaced with cupronickel-clad copper.