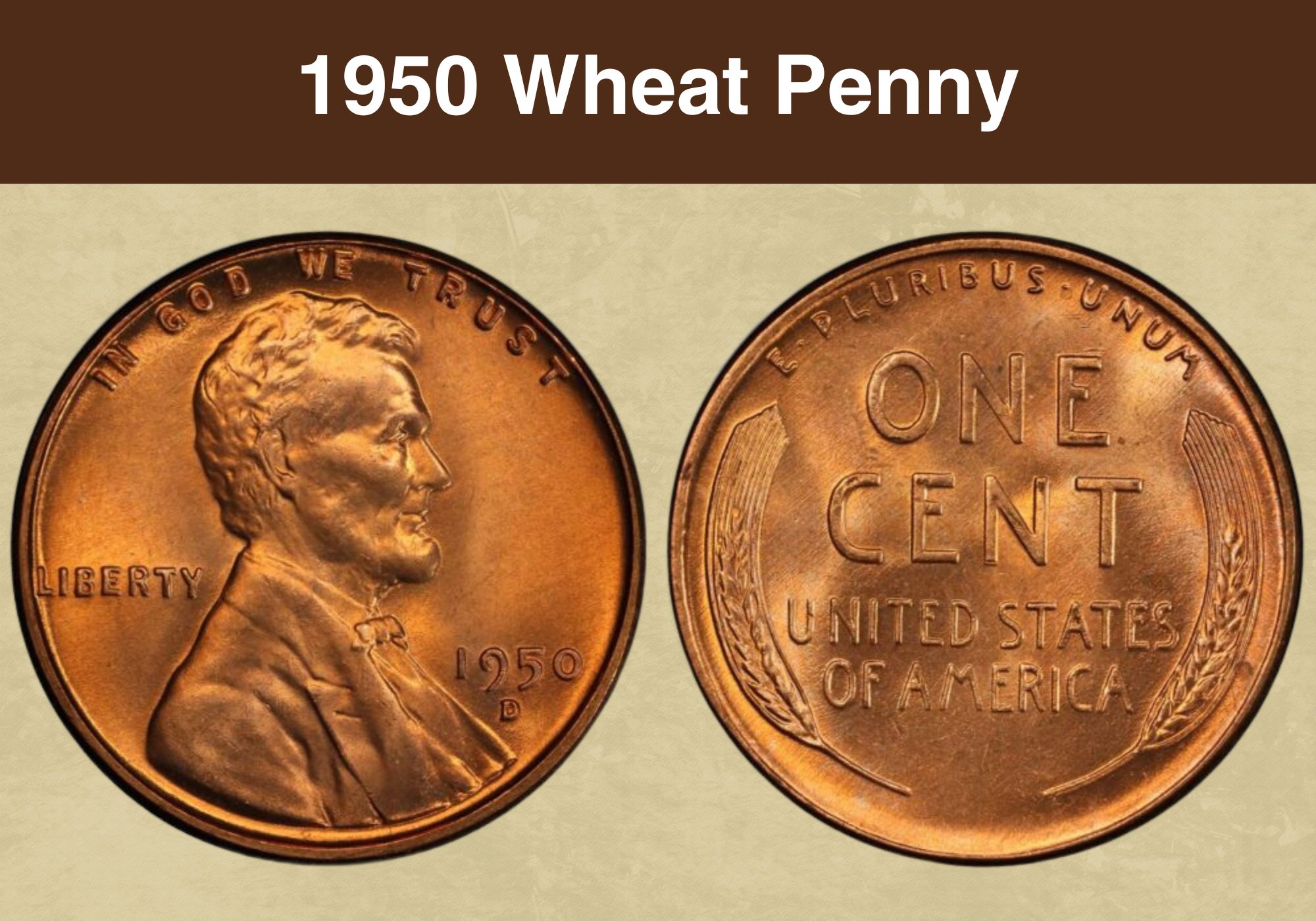 Lincoln Wheat pennies are coins with a long lifespan of over 110 years. With such a long history, it is expected to find numerous variations in their appearance. Predictably, older versions of this coin are more attractive to collectors than modern specimens.
To successfully determine the 1950 Wheat penny value, you need to be familiar with their typical qualities. The coin price will be most affected by their preservation, traces of wear, and possible damage. Additionally, the mint mark is valuable to collectors.
1950 Wheat penny value Chart

Condition
1950 no mint mark penny
1950 D penny
1950 S penny
Fine
$0.06
$0.06
$0.08
Very fine
$0.11
$0.11
$0.17
Extra fine
$0.23
$0.23
$0.28
AU
$0.40
$0.40
$0.40
MS 60
$0.98
$0.69
$0.98
MS 63
$2.33
$2.33
$2.33
PR 63
$81
/
/
History of the 1950 Wheat Penny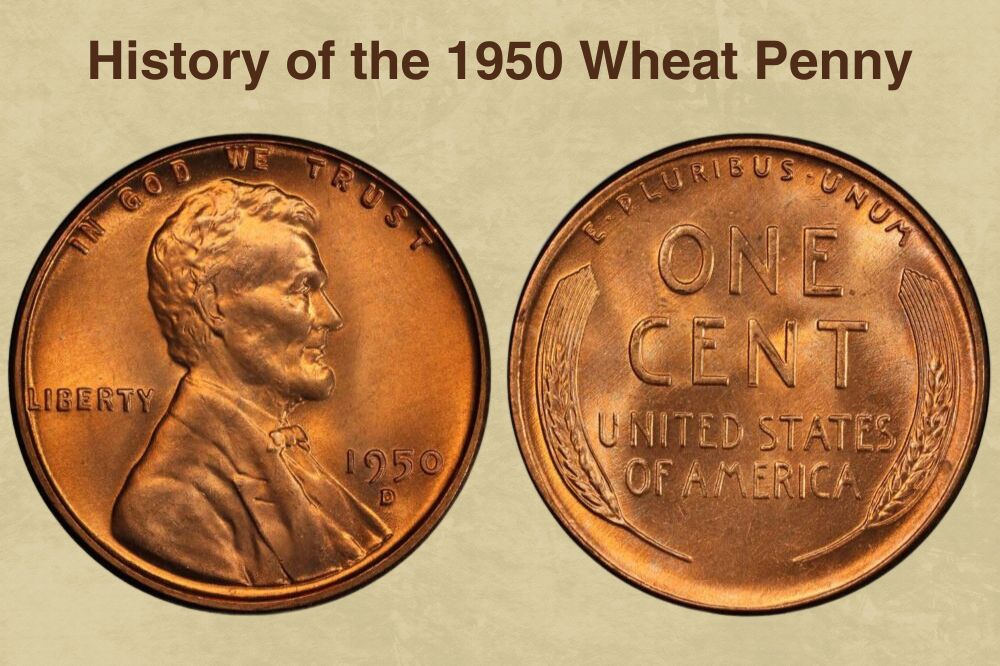 The Wheat pennies are among the most important coins in American history. Their production began in 1909 and has continued until today. Depending on the date, you can recognize the few reverse looks, but the Lincoln image has remained on the obverse over time.
This coin is known as the first to have the likeness of a genuine person on it. Before that, the US Mint respected Washington's attitude against putting the faces of real people on coins because it was a common practice of the ruling monarchies in Europe.
With the newly gained independence from the United Kingdom, America wanted to distance itself as much as possible from those customs. President Roosevelt changed this practice during his campaign to raise the artistic quality of American coins.
1950 Wheat penny Types

Location
Year
Minted
Philadelphia
1950 no mint mark penny
272,635,000
Philadelphia
1950 penny (proof)
51,386
Denver
1950 D penny
334,950,000
San Francisco
1950 S penny
118,505,000
Total
/
726,141,386
Since the commemoration of the 100th anniversary of Lincoln's birth was approaching, Roosevelt decided to have the famous President's image on the one-cent coin. The Lithuanian emigrant Victor David Brenner was chosen to design the new cent.
Also read: 12 Most Valuable Lincoln Penny Worth Money
Features of the 1950 Wheat Penny
Most of the coins changed their appearance and composition over time. The Wheat penny is no exception, but one peculiarity was always present. President Lincoln's profile stayed unchanged on the obverse.
The obverse of the 1950 penny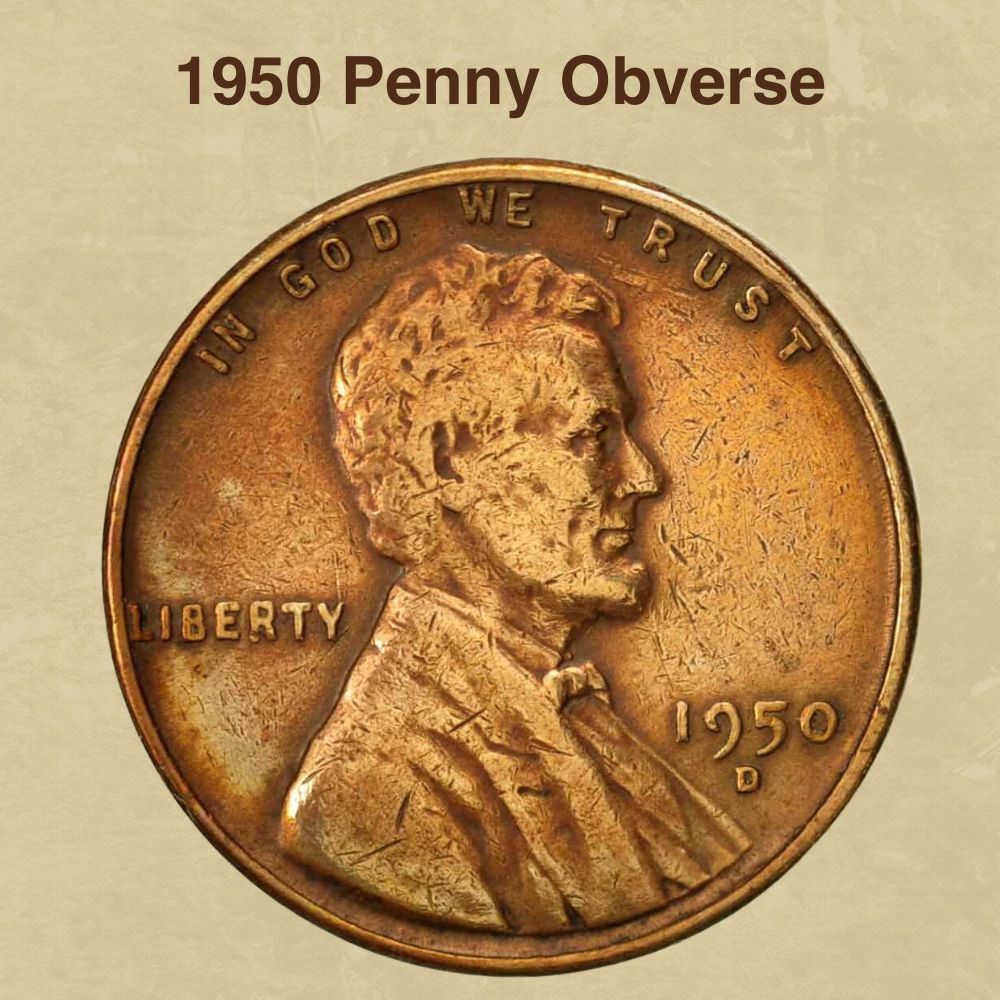 The design you can see on the penny obverse has not changed since 1909. It features a dominant bust of Abraham Lincoln facing right. The motto IN GOD WE TRUST extends along the upper edge above his profile.
On the coin's left side is the word LIBERTY, while in the lower part is the minting year. You can also find the mint mark when the coin is from the Denver or San Francisco mint below the minting year.
The reverse of the 1950 penny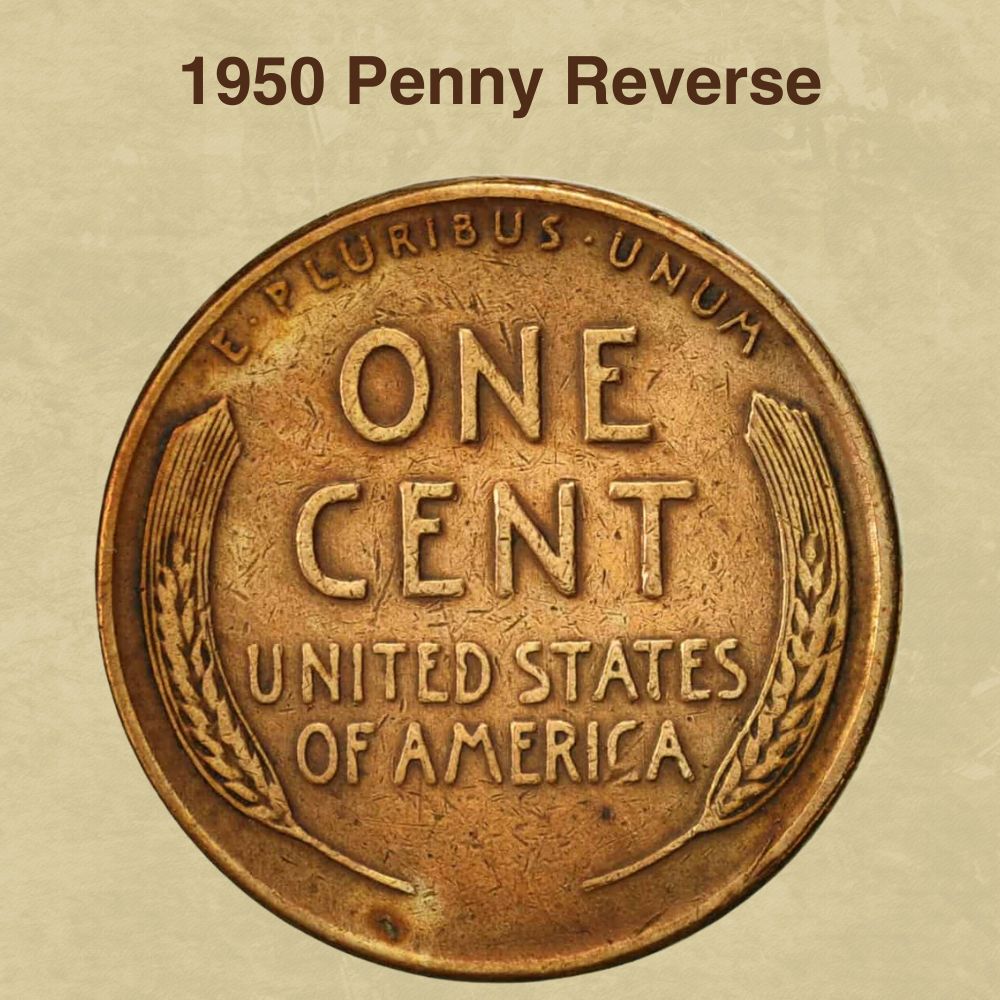 The reverse appearance of this coin shows the origin of the name Wheat penny. The design exhibits two stalks of wheat running down the coin sides. Along the upper rim, you can read the saying E PLURIBUS UNUM.
In the center are two inscriptions. The upper one indicates the denomination ONE CENT, while you can read the UNITED STATES OF AMERICA under it.
1950 Wheat penny Details

Face value
One cent ($0.01)
Coin weight
0.11 ounces (3.11 g)
Shape
Round
Compound
95% copper alloy
Coin diameter
0.75 inches (19.05 mm)
Edge
Plain
Coin thickness
0.06 inches (1.52 mm)
Other features of the 1950 penny
The 1950 penny contains 95% copper alloy with zinc and tin. A thickness of 0.06 inches (1.52 mm) is standard for these pennies. Parameters such as the weight of 0.11 ounces (3.11 g) and the diameter of 0.75 inches (19.05 mm) don't differ from other coins from the series.
Also read: 13 Most Valuable Wheat Penny Worth Money
1950 Wheat Penny Value Guides
The US Mint struck a mintage of 726,141,386 Wheat pennies in 1950. You can find four varieties from three mints released into circulation this year.
1950 No Mint Mark Wheat penny Value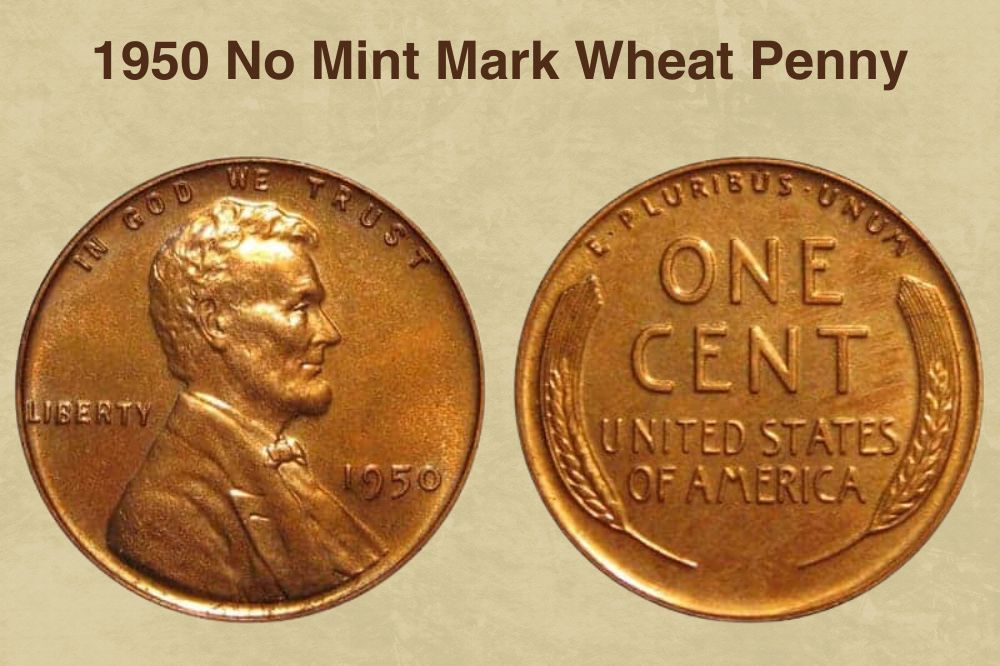 Due to the high mintage of 272,635,000 pennies struck in Philadelphia, their value is relatively low nowadays. Besides, these coins without the mint marks are readily available on the market.
The price of circulated brown pieces is $0.03 to $0.07. You can even find those in the mint state (up to MS 64) for less than one dollar.
Pennies graded MS 65 cost $2.50 to $2.80, while MS 66-rating ones are worth $8 to $9.60. Those in MS 67 grade have a slightly higher price, and you can buy one for $35 to $45.
The red-brown pennies are slightly more expensive, and those graded MS 63 to MS 66 are available for $0.35 to $15. However, it is necessary to set aside $45 to $55 for pieces in a high MS 67 grade.
As always, red pennies cost the most. The price of coins graded MS 63 to MS 66 is $2 to $84. On the other hand, those ranking MS 67 are worth $800 to $960. The most expensive 1950 Philadelphia penny is in MS 67+ grade since one collector paid $10,575 for it at an auction in 2020.
1950 Wheat penny (proof) Value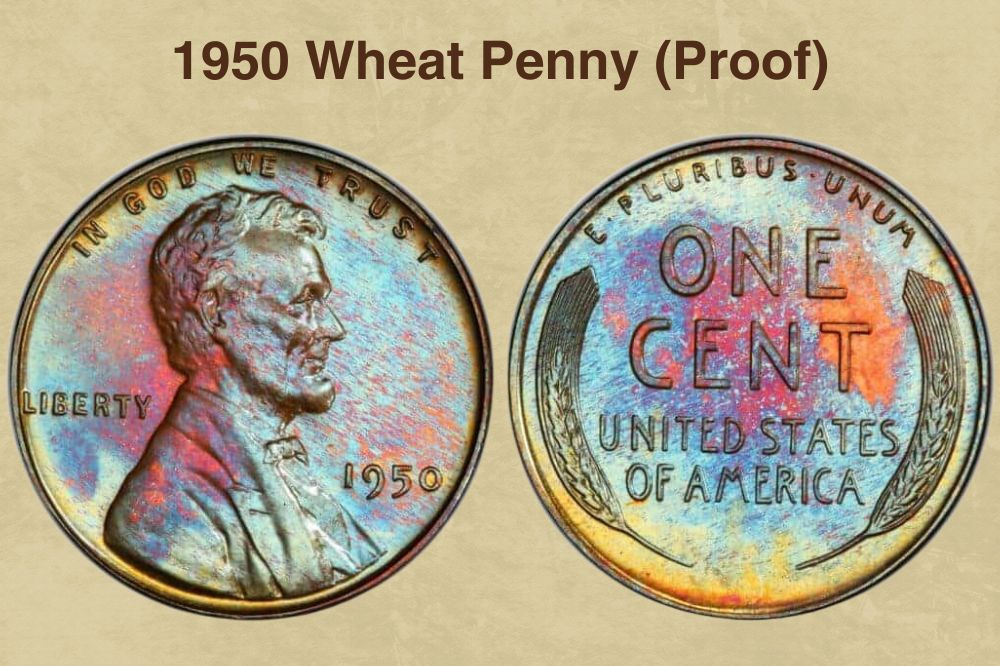 The Philadelphia mint struck 51,386 proofs that year. Their value is significantly different from regular coins. Brown pennies graded PR 60 to PR 66 cost $23 to $60, while you need to spend $200 to $230 for the one with PR 67 rating.
Expectedly, red-brown proofs cost a bit more. Specimens graded PR 60 to PR 66 cost $28 to $66, while those with PR 67 ranking reach $225 to $260.
Red 1950 pennies are the most valuable, especially pieces with the CAM and DCAM contrast. Those rated up to PR 66 are worth $32 to $75, while you need to spend $260 to purchase PR 67-graded cents.
The most expensive in the series is the PR 68-graded coin, with a price of $1,100 to $1,265. The 1950 RD CAM pennies' prices depend on their quality and are:
$65 to $78 for PR 64-graded coin
$110 to $132 for PR 65-graded coin
$275 to $325 for PR 66-graded coin
$800 to $920 for PR 67-graded coin
$3,500 to $4,025 for PR 68-graded coin
As expected, the most expensive proofs from 1950 are red DCAM Wheat pennies. Their prices are:
PR 64 – $160 to $190
PR 65 – $500 to $600
PR 66 – $960 to $1,100
PR 67 – $4,200 to $4,830
PR 68 – $17,500 to $20,125
The most expensive sold proof from 1950 is a red DCAM specimen graded PR 68. One collector paid an incredible $19,975 for that piece at an auction in 2017.
1950 D Wheat penny Value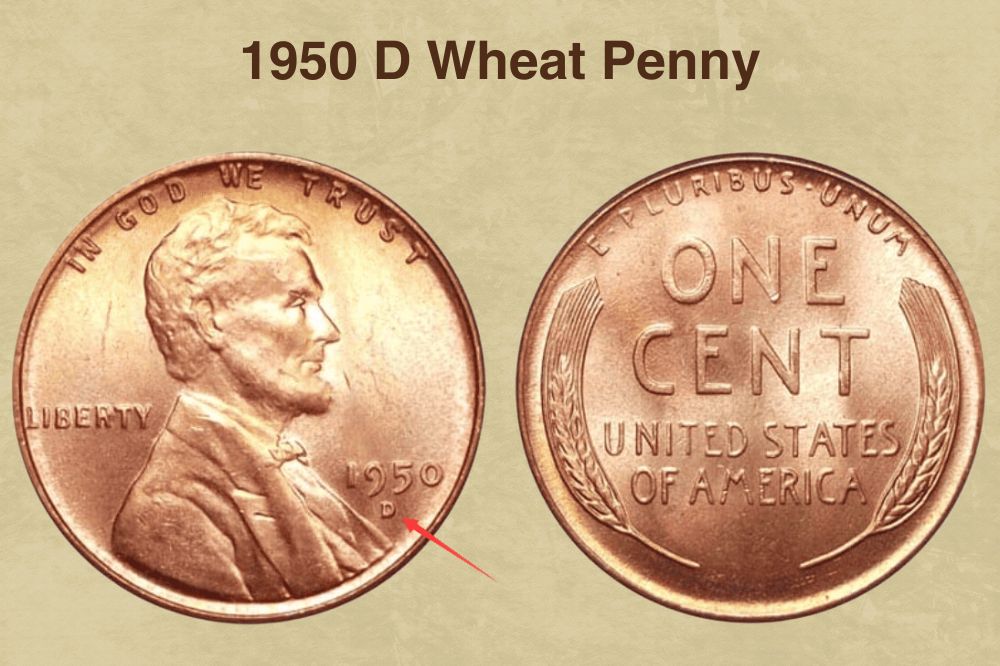 The Denver mint struck the largest mintage of 334,950,000 pennies in 1950. Such a high circulation influenced their value, making them affordable.
For instance, you can buy brown coins from circulation for only $0.02 to $0.07, while the value of uncirculated pieces is typically $0.10 to $9.6. Only those with MS 67 grade cost around $35 to $45.
The price you need to pay for red-brown coins from Denver is slightly higher, $0.35 to $15. The highest-graded (MS 67) ones cost $45 to $55.
You need approximately $2 to $40 to purchase the red 1950 D Wheat pennies. On the other hand, the costliest pieces are those graded MS 67, worth about $700.
1950 S Wheat penny Value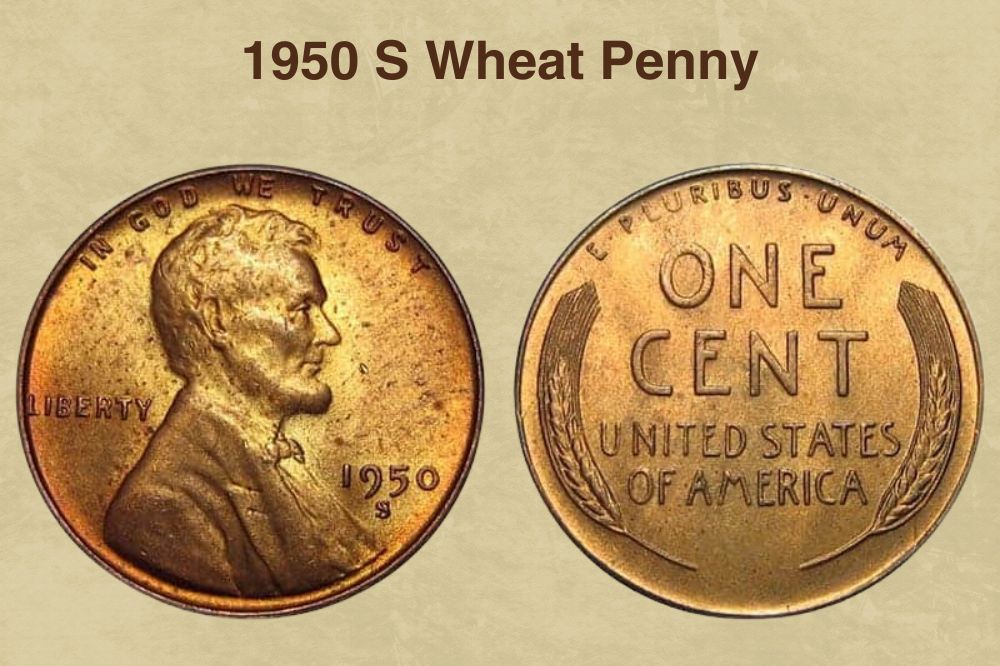 The San Francisco mint had the lowest mintage of the 1950 pennies. Only 118,505,000 coins bear the mint mark S, but the low mintage doesn't significantly increase their value nowadays.
Brown coins from circulation are worth $0.03 to $0.24, while you can buy pieces in the mint state for $0.25 to $12. Beyond doubt, the most expensive specimens are those in MS 67 grade, with prices from $37 to $47.
The red-brown cents have a higher value. Depending on the grade (MS 63 to MS 66), you can buy one for $0.65 and $17. Only pieces ranked MS 67 are more valuable and are worth $47 to $57.
You should set aside $0.85 to $30 for red specimens in MS 63 to MS 66 grades, while those rated MS 67 typically reach $260 to $350. One 1950 S MS 68 red penny holds the auction record of $10,800 from 2021.
Also read: 17 Most Valuable Indian Head Penny Worth Money
1950 Wheat Penny Grading
To define the coin's condition and value, you need to evaluate it and determine its ranking. It is advisable to leave this process to certified professionals, particularly when suspecting that the coin you have is potentially expensive. They check each piece's qualities, signs of wear, and potential breaks or cracks.
Rare 1950 Wheat Penny Errors List
Errors during minting are frequent today, appearing even more often in the earlier period. Most irregularities are visible at first glance, and collectors consider these imperfect pennies collectible.
BIE
The BIE mint error is associated exclusively with Lincoln cents, and the cause of this phenomenon is a die break. It is visible in the word LIBERTY between the letters B and E. This longitudinal raised mark looks like the letter I, increasing these coins' value to $10.
Broad strike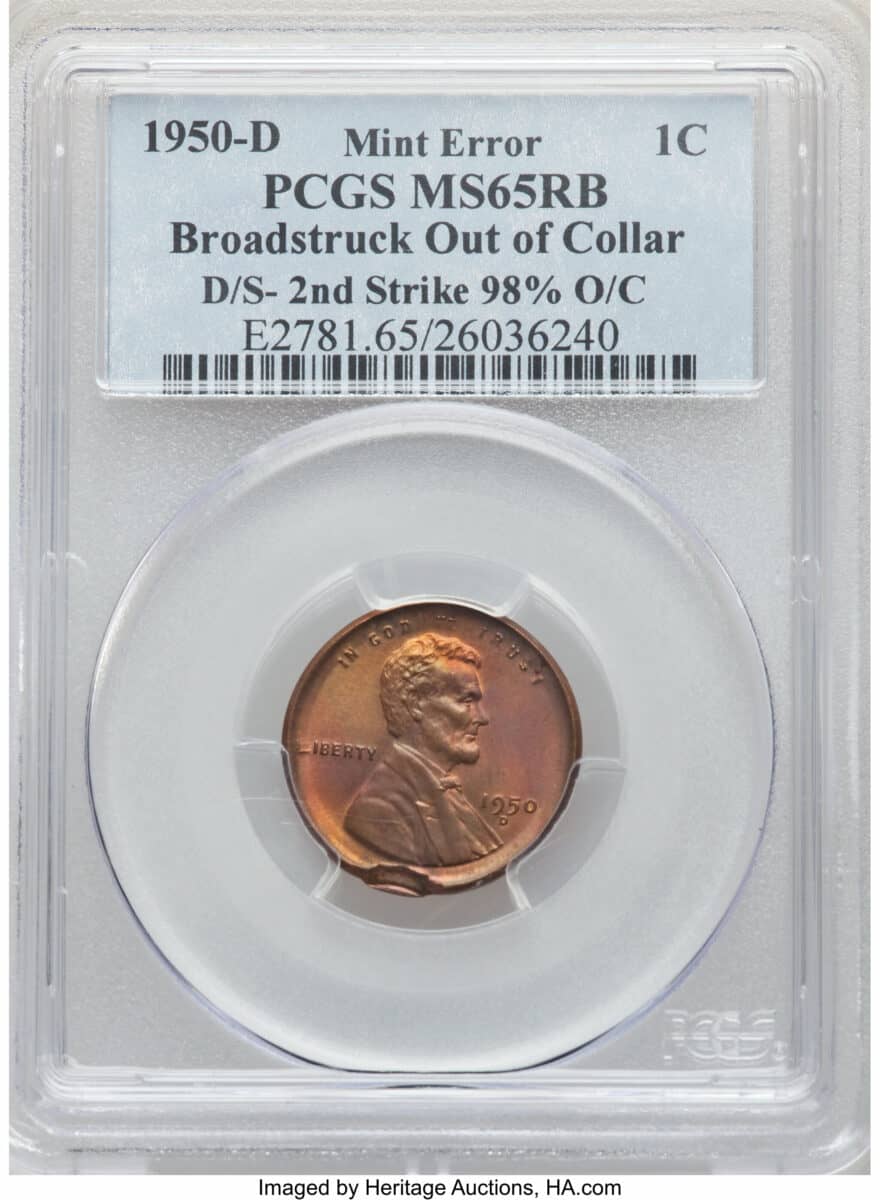 A penny minted in this way occurs when the collar holding the planchet in place breaks during minting. As a result, parts of the design can be missing. You can find these specimens for $5 to $100, depending on coin appearance and error size.
Off-center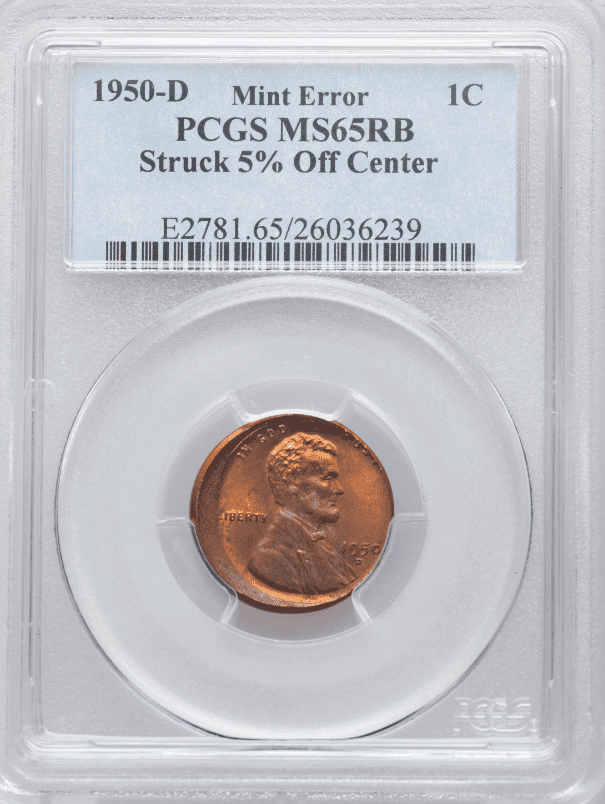 This error indicates that the penny was irregularly hit during minting, causing a crescent-shaped defect instead of the expected design elements. Its current value depends on how many percent of the design is missing.
The closer the defect is to 60%, the higher the value, but the minting date and the mint mark must be visible. The 1950 off-center error penny value is up to $300.
DDO
It is one of the most common and well-known errors among pennies that appears when a die has doublings on the surface for some reason. You can find the 1950 Wheat pennies with this imperfection for $3 to $120.
Re-punched mint mark
This error occurs when the mint mark is mistakenly struck twice. Since such pennies are usual, they come with low prices, ranging from $5 to $16.
Also read: 11 Most Valuable Wheat Penny Errors
FAQ about the 1950 Wheat Penny
What makes a 1950 penny rare?
The total mintage of the 1950 Wheat pennies is over 700,000,000 pieces. For these reasons, they are common coins with relatively insignificant value on the market. However, errors can be scarce and sometimes reach higher values than expected.
Which 1950 pennies are particularly costly nowadays?
The 1950 DCAM RD cent (PR 68) cost $19,975 in 2017
The 1950 D RD cent (MS 67+) cost $15,275 in 2013
The 1950 S RD cent (MS 68) cost $10,800 in 2021
The 1950 RD cent (MS 67+) cost $10,575 in 2020
The 1950 CAM RD cent (PR 68) cost $6,600 in 2018
The 1950 RD cent (PR 60) cost $4,888 in 2005
The 1950 S BN cent (MS NGC Genuine) cost $3,280 in 2020
The 1950 BN cent (MS 60) cost $1,380 in 2007
The 1950 RB cent (PR 65) cost $978 in 2003
The 1950 RB cent (MS 63) cost $489 in 2011
The 1950 D BN cent (XF 45) cost $432 in 2007
The 1950 S RD RPM cent (MS 65) cost $165 in 2012
The 1950 S/S RD cent (MS 66) cost $145 in 2022
The 1950 D RB cent (MS 67) cost $117 in 2012
The 1950 S RB cent (MS 66) cost $100 in 2020
The 1950 S/S Cleaned BN cent cost $29 in 2021
How much is the 1950 penny from Philadelphia worth?
Circulated 1950 cents minted in Philadelphia have no significant value, and you can buy one for about $0.03. However, uncirculated coins are worth up to $60, while red ones cost almost $1,000.
Which Wheat cents are the costliest in the series?
The most valuable Wheat penny ever sold at an auction is the brown 1943 D MS 64 coin, with a price of as much as $840,750 (2021). The priciest penny from San Francisco is the 1943 brown coin graded MS 63. Its record price from 2020 is $504,000.
The most expensive penny from Philadelphia is a brown piece graded MS 62 from 1943. Its auction price was $372,000 in 2021. Finally, the 1958 Doubled Die red penny graded MS 64 was the most valuable error. One collector paid $336,000 for it at Stack's Bowers in 2018.