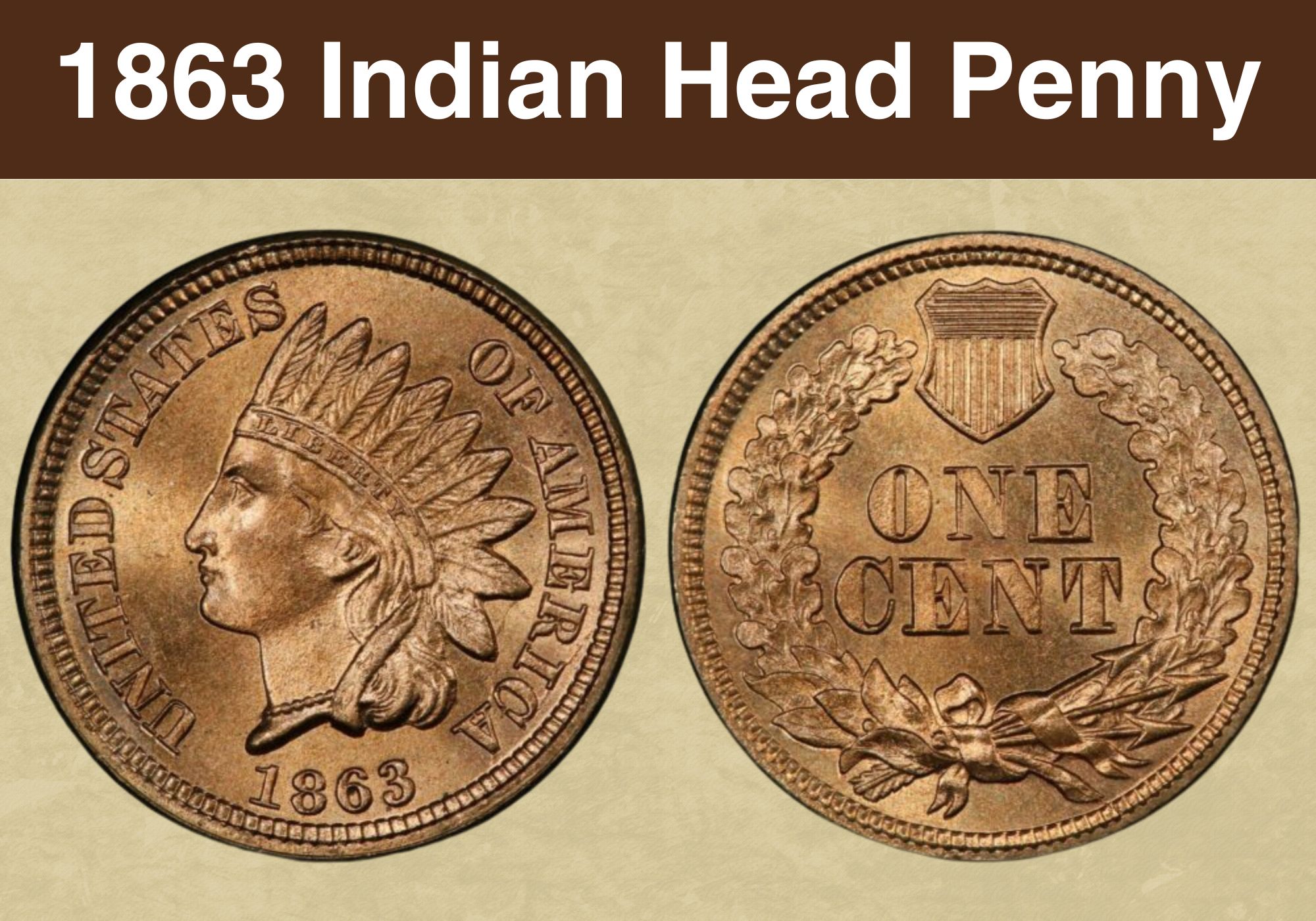 The 1863 Indian Head penny value can be significant since they are the most sought-after pieces minted during the Civil War era. Paradoxically, the number of survived coins is high, but only a low amount is in excellent condition.
Besides, special alloy with lower copper percentage puts these pieces in a group of unique, heavier coinage issued from 1859 to 1864. According to a legend, soldiers wore necklaces made of these coins as lucky charms, adding romance to their history.
1863 Indian Head Penny Value Chart

Condition
1863 No Mint mark penny
Good
$14
Very good
$21
Fine
$28
Very fine
$40
Extra fine
$64
AU
$96
MS 60
$166
MS 63
$308
PR 63
$1,161
History of the 1863 Indian Cent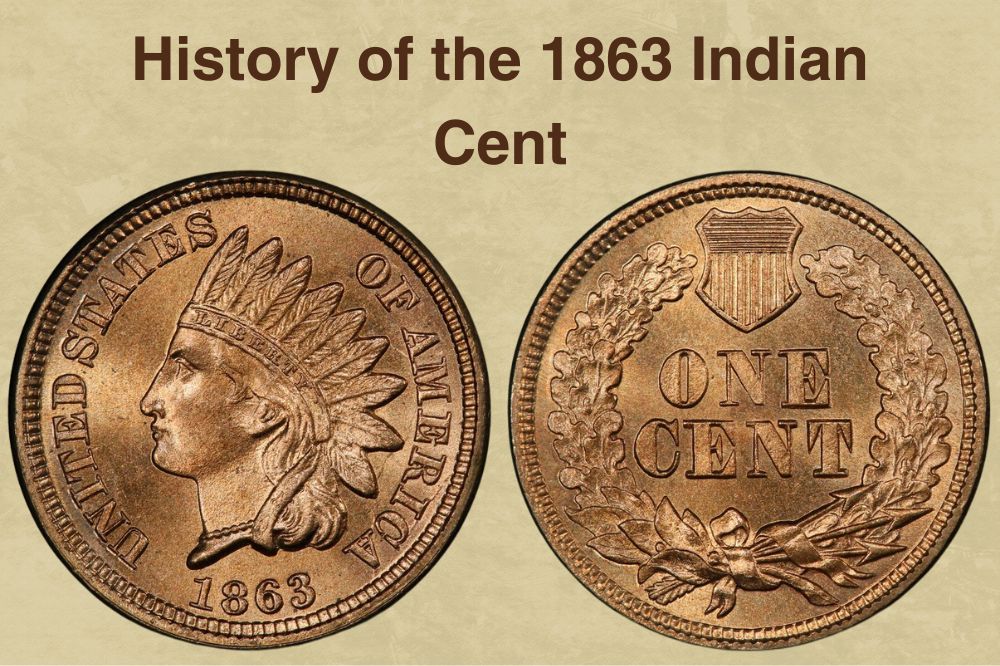 The first Indian cents appeared in 1859 instead of the Flying Eagle cents, struck for two years, during 1857 and 1858. Their minting lasted until the US Mint officials replaced them with a new Lincoln cents' design in 1909.
It was the last penny with an imaginary image on the obverse before the real person, the 16th President of the United States, appeared there to stay. Despite the controversy surrounding the Lady Liberty portrait, these pieces reinforced the small-sized cents popularity.
The first coin version from 1859 had a laurel wreath and came without a shield on the reverse. After a few initial changes, the design stayed almost the same for 50 years.
However, pennies' weight was reduced in 1864, while a new composition included a higher percentage of copper. That made pieces struck in 1863 the last in the series produced in the original way.
1863 Indian Head Penny Types

Location
Year
Minted
Philadelphia
1863 No Mint mark penny
49,840,000
Philadelphia
1863 No Mint mark penny proof
460 to 1,000
Total
/
up to 49,841,000
Features of the 1863 Indian Head Penny
James B. Longacre based the girl with an Indian headdress depicted on the Indian Head cent obverse on the statue of Crouching Venus. Only the mint in Philadelphia produced regular coins and proofs from 1859 to 1909, but the one in San Francisco joined in the last two years.
Also read: 12 Most Valuable Lincoln Penny Worth Money
The obverse of the 1863 Indian Head Penny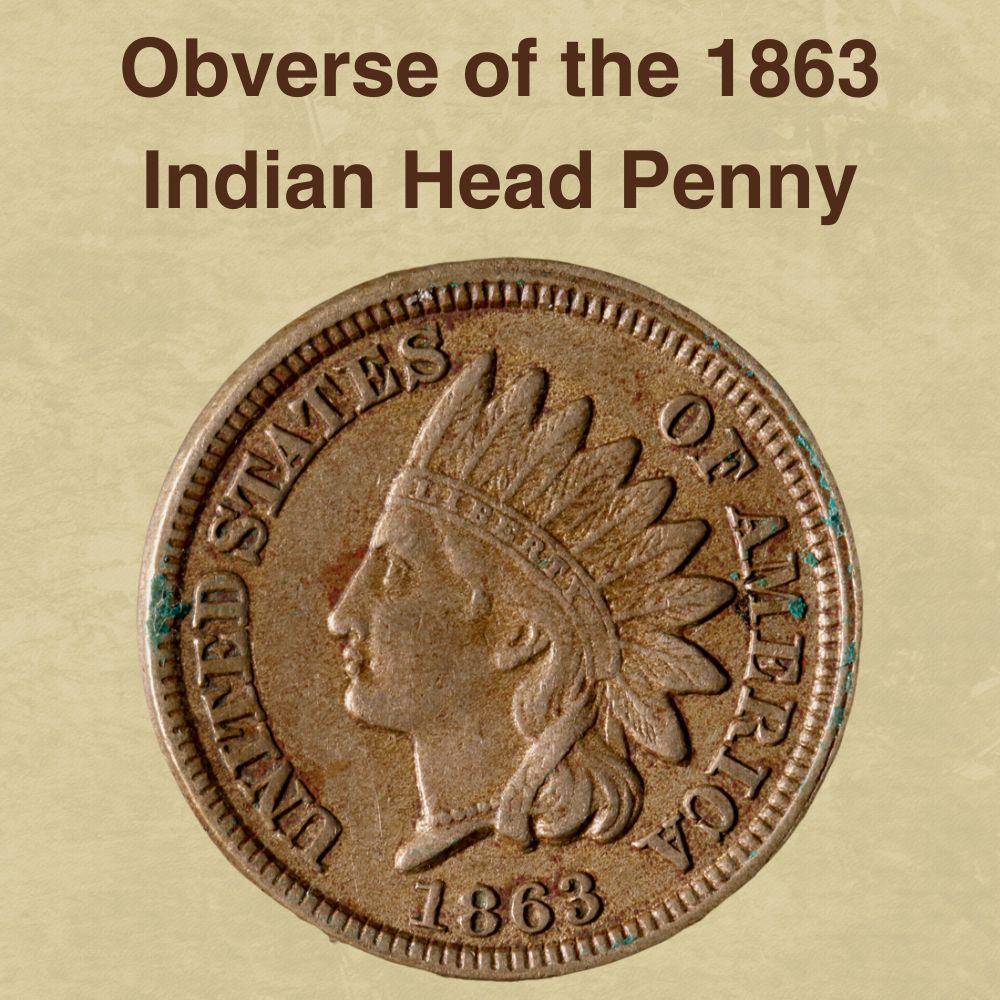 The 1863 Indian cent obverse includes Lady Liberty with flowing hair, who wears a pearl necklace and an Indian headdress. The simple design also shows when the particular coin was minted (1863) and the country (the US) which coinage it belongs to.
Rumors suggested that a Caucasian woman portrait was based on Longacre's daughter. The particularly controversial thing was that this female had a traditional male Indian headdress on her head that warriors wore only after earning the tribal's respect.
Besides that, the coinage appeared after Native Americans were forced to leave their ancestors' land. Many believed such a coin showed disrespect and tactlessness towards their suffering and the apparent injustice that befell them.
The reverse of the 1863 Indian Head Penny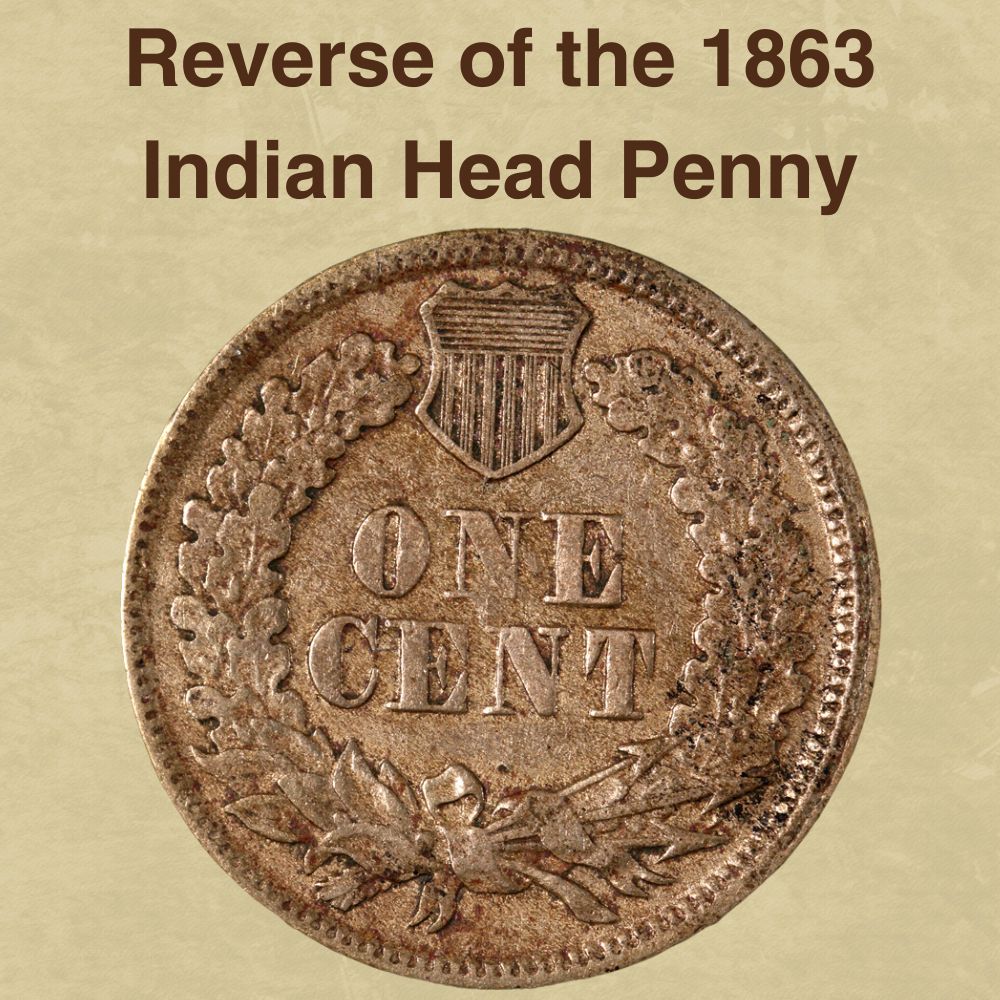 Longacre created the stylish original reverse with a laurel wreath, but it was replaced with a more acceptable solution in 1860. Therefore, the 1863 Indian Head cent includes an oak wreath with top parts surrounding a heraldic shield.
Arrows wrapped at the bottom symbolize war efforts, while the new wreath is a symbol of authority. The denomination (ONE CENT) has a central position inside the wreath. Since all coins were minted in Philadelphia this year, no letter is under the bow.
1863 Indian Head Penny Details

Face value
One cent ($0.01)
Compound
Copper (88%) with nickel (12%)
Coin diameter
19.05 mm (0.75 inches)
Coin weight
4.67 g (0.16473 ounces)
Coin thickness
1.55 mm (0.061 inches)
Edge
Plain
Shape
Round
Other features of the 1863 Indian Head Penny
The 1863 Indian cents are unique coins from the Civil War era that were made of an atypical copper-nickel alloy in an 88%: 12% ratio. These one-cent coins are heavier than other cents in the series and weigh 4.67 g (0.16473 ounces).
That is significantly more than standard 0.1097 ounces (3.11 g). All these coins have a plain edge, round shape, and a diameter of 19.05 mm (0.75 inches). Each specimen is 1.55 mm (0.061 inches) thick.
Also read: 13 Most Valuable Wheat Penny Worth Money
1863 Indian Head Penny Value Guides
Expectedly, only one mint issued 1863 Indian Head cents. Determining the precise mintage is impossible because different sources disagree about the proof production. So, the total number is between 49,840,460 and 49,841,000 coins.
Most coins were from regular strikes, while only a low number was intended for numismatists. They were lovely pieces with an elegant design and higher weight than most other cents in the series, making them desirable among genuine admirers.
1863 No Mint Mark Indian Head Penny Value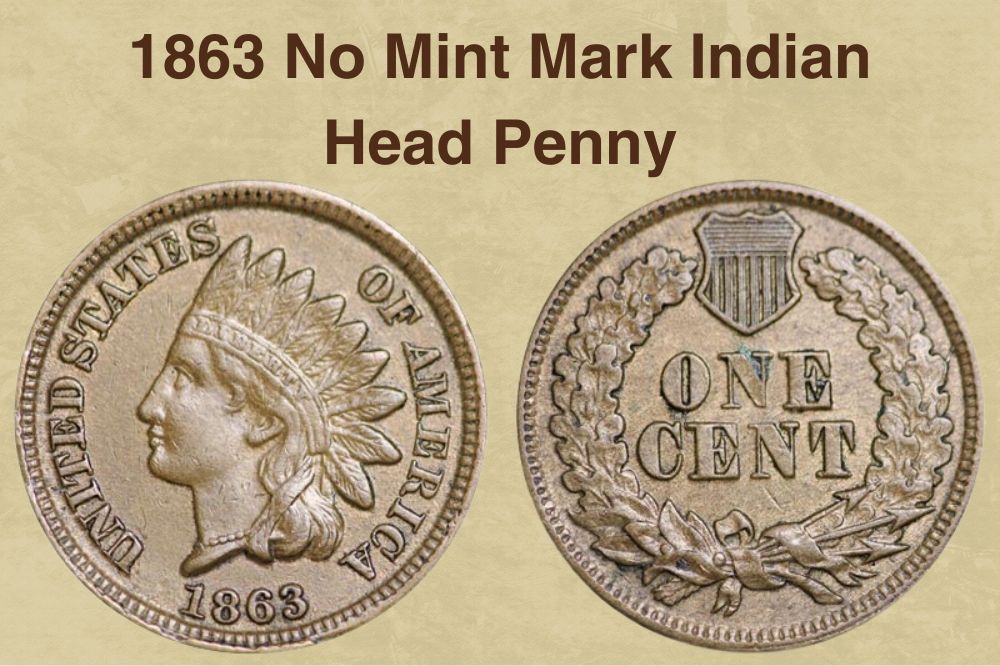 This year, the Philadelphia mint produced the highest number of regular pennies in the entire series. Precisely 49,840,000 coins were released into circulation, and many have survived until now.
You can get at least $8.50 for the one-cent coin in GOOD grade, while better-looking pieces cost $9.50 to $60. On the other hand, those in About Uncirculated condition are estimated at pretty high $70 to $143.50 per piece.
The 1863 Indian Head cents that still exist in the mint state come at different prices, and you can buy one for:
$135 to $168.50 (pennies with MS 60 rating)
$150 to $187.50 (pennies with MS 61 rating)
$215 to $268.75 (pennies with MS 62 rating)
$325 to $406.25 (pennies with MS 63 rating)
$480 to $600 (pennies with MS 64 rating)
$780 to $936 (pennies with MS 65 rating)
You should pay particular attention to highly-preserved specimens. Their existence shows the significance of professional grading since one small, insignificant penny can reach an unbelievably high price when saved in MS 66 grade. You can expect to get $1,860 to $2,400 for one such piece.
An even better situation is with the 1863 Indian penny with an MS 67 rating. Their estimated price range is $15,000 to $18,750, but the auction record from 2021 for one of these scarce coins is a fantastic $24,000.
1863 Indian Head Penny Value (proof)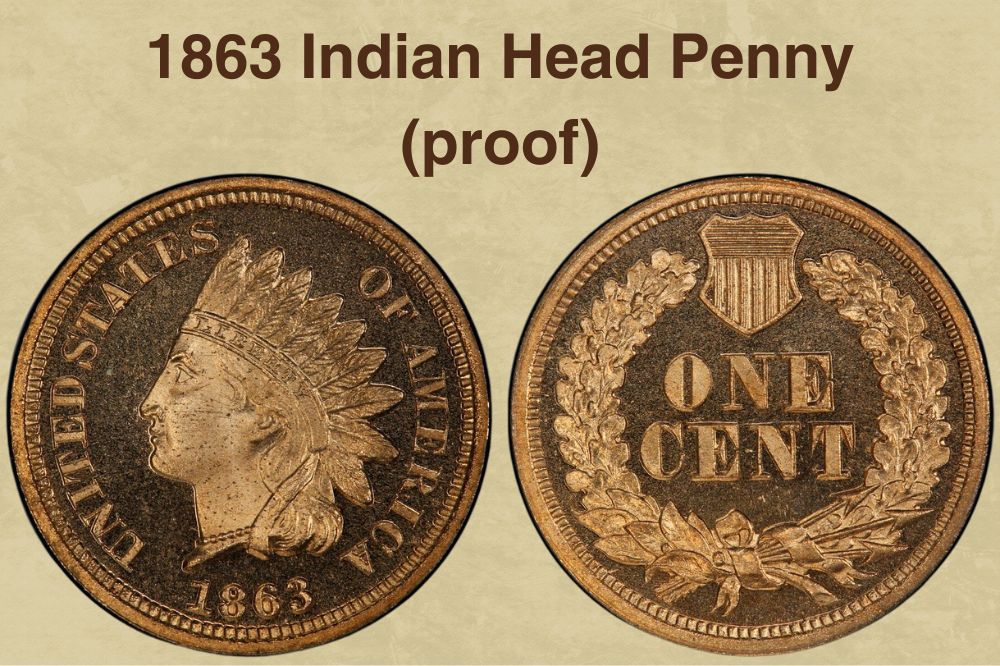 According to different sources, the mint in Philadelphia issued 460 to 1,000 Indian Head cent proofs in 1863. In any case, these coins are scarce nowadays and cost at least $400 in the lowest collectible PR 60 grade. A price range for better-ranked specimens is about:
$475 to $570 for cents graded PR 61
$550 to $660 for cents graded PR 62
$680 to $816 for cents graded PR 63
$1,250 to $1,500 for cents graded PR 64
$1,900 to $2,280 for cents graded PR 65
$4,000 to $4,800 for cents graded PR 66
The rarest and most appreciated PR 67-ranked 1863 Indian cents are assessed at $12,000 to $14,400. One of these coins was bought in 2001 for $12,075.
The 1863 PR 65 Indian cent with DCAM quality won an auction record of $16,800 in 2019. On the other hand, one collector purchased the one with cameo contrast in PR 67 grade for $28,800 at Heritage Auctions held on November 22, 2020.
1863 Indian Head Penny Grading
One thing should be clear. The 1863 Indian cent grading is a job for highly experienced professionals. Be aware that these coins are old, and their condition is probably the most crucial thing to check when estimating the price range.
Every detail is essential, and it is necessary to pay particular attention to key design points, including the headband, feather edges, and Lady Liberty's cheek, neck, and hair. Plus, specific errors can significantly increase these coin's value.
Also read: 17 Most Valuable Indian Head Penny Worth Money
Rare 1863 Indian Head Penny Errors List
The 1863 Indian Head cent set is famous for several highly collectible errors. While some cost only a few hundred dollars, a few such imperfect specimens won significantly higher auction records. Let's take a look.
Die cap error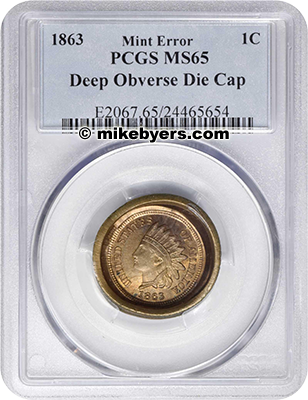 In rare cases, an already-hit penny gets stuck on the die and leaves a faded impression on the following coins in a line. Repeat striking affects its shape, and this attached piece starts looking like a bottle cap after a while.
Since finding such specimens is challenging and their appearance is attractive, collectors are prepared to pay a lot for one.
For instance, one 1863 'Deep Obverse Die Cap' penny in MS 65 grade appeared at Stack's Bowers on August 11, 2020. One collector paid $18,000 to add it to their collection.
Broad strike
Sometimes, the die hit the 1863 Indian cent while the collar was removed or broken. Such coins were thinner than standard 1.55 mm (0.061 inches), and their diameter was broader than 19.05 mm (0.75 inches). They cost differently, depending on their look.
Off-center error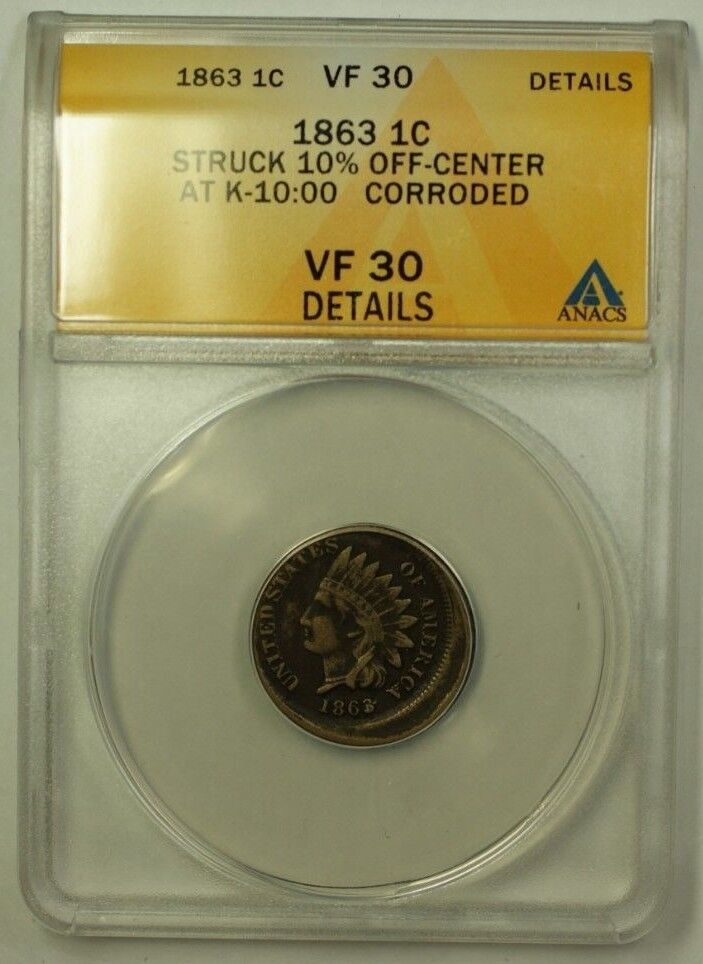 The 1863 Indian Head cents with this error typically have an off-center error of 10% to 15%. Their value is about $300 to $350.
Struck-through error
This unusual error results from a foreign object struck in between the die and blank planchet during minting. These coins' value primarily depends on the affected surface.
Cud error
You can find imperfect pennies minted in 1863 with so-called cud error, looking like a blob on the edge. It results from the tiny die piece breaking away during minting. Most are available for approximately $50.
Doubled die reverse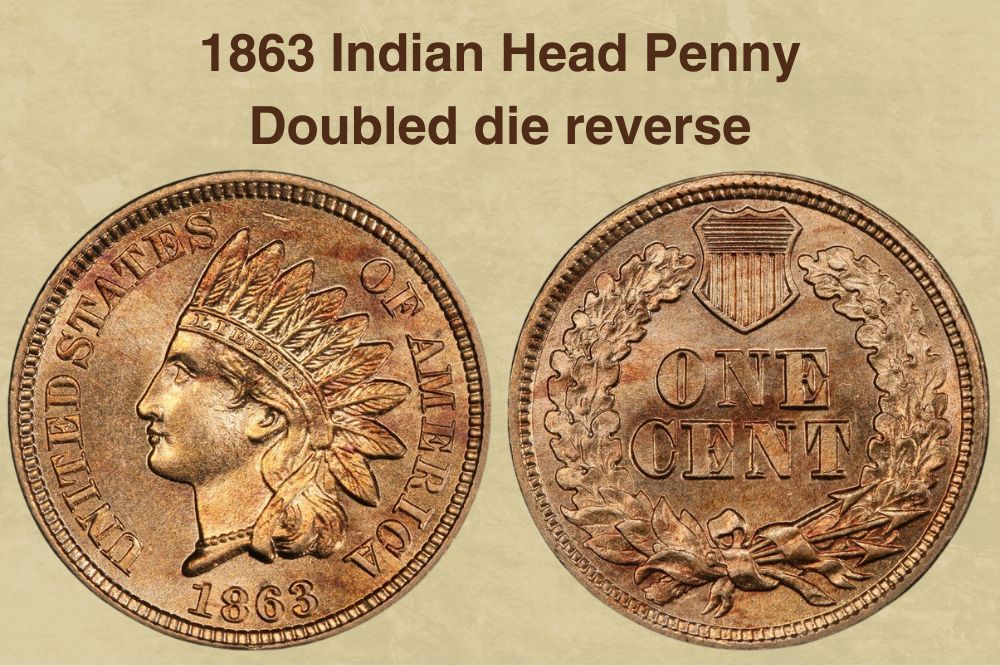 This error is typically insignificant in the 1863 cent series. Therefore, one collector grabbed one error coin in MS 62 grade with a visible doubling on the surface for $1,560 in 2023.
Misplaced date
In rare cases, mint workers failed to re-punch the wrongly positioned date on the 1863 Indian cent. Such a coin with an uncorrected mistake can be worth a lot. In 2016, one numismatist bought the penny minted this year in AU 55 grade with an MPD error for $259.
Re-punched date
Since mint workers punched the date by hand in the 19th century, you can sometimes see the 1863 Indian cents with the re-punched year. One such coin with an MS 61 rating was sold at $168 in 2022.
Also read: 11 Most Valuable Wheat Penny Errors
FAQ about the 1863 Indian Head Penny
What makes 1863 Indian Head Penny rare?
Surprisingly, the 1863 Indian cents are not especially rare nowadays in general, but you should keep in mind the period of their minting. Since they survived 160 years, including a period of the Civil War, the best-preserved specimens are challenging to find.
Which 1863 Indian Head Penny is worth a lot of money?
At Heritage Auctions, held on November 22, 2020, one collector bought the 1863 PR 67 Indian CAM cent for $28,800
At Heritage Auctions, held on April 25, 2021, one collector bought the 1863 MS 67 Indian cent for $24,000
At Stack's Bowers, held on August 20, 2019, one collector bought the 1863 PR 65 Indian DCAM cent for $16,800
At Heritage Auctions, held on January 4, 2001, one collector bought the 1863 PR 67 Indian cent for $12,075
At Stack's Bowers, held on March 29, 2023, one collector bought the 1863 MS 62 Indian cent with DDR error for $1,560
At Heritage Auctions, held on June 7, 2016, one collector bought the 1863 AU 55 Indian cent with MPD error for $259
At Stack's Bowers, held on February 3, 2022, one collector bought the 1863 MS 61 Indian cent with RPD error for $168
How much is the Indian Head Penny worth?
The 1863 Indian cents in circulated condition are surprisingly affordable for 160-year-old coins. Depending on grade, you can buy one for $8.50 to $143.50.
Most pieces in the mint state are estimated at $135 to $935, but the best-preserved ones in MS 66 grade cost $1,860 to $2,400. The most expensive are rare MS 67-rated specimens since their assessed value is $15,000 to $18,750.
What is the priciest Indian Head Penny?
Undoubtedly, the most expensive Indian Head penny is the error coin (L on the ribbon) minted in 1864. This proof ranked PR 65, appeared at Heritage Auctions in 2011, and sold at $161,000.
The next three costliest cents are regular coins issued in the Philadelphia mint, including:
The 1877 MS 66 cent (Indian Head) sold at $149,500 on August 9, 2007
The 1902 MS 68 red cent (Indian Head) sold at $144,000 on June 17, 2022
The 1872 MS 66 cent (Indian Head) sold at $126,500 on August 9, 2007