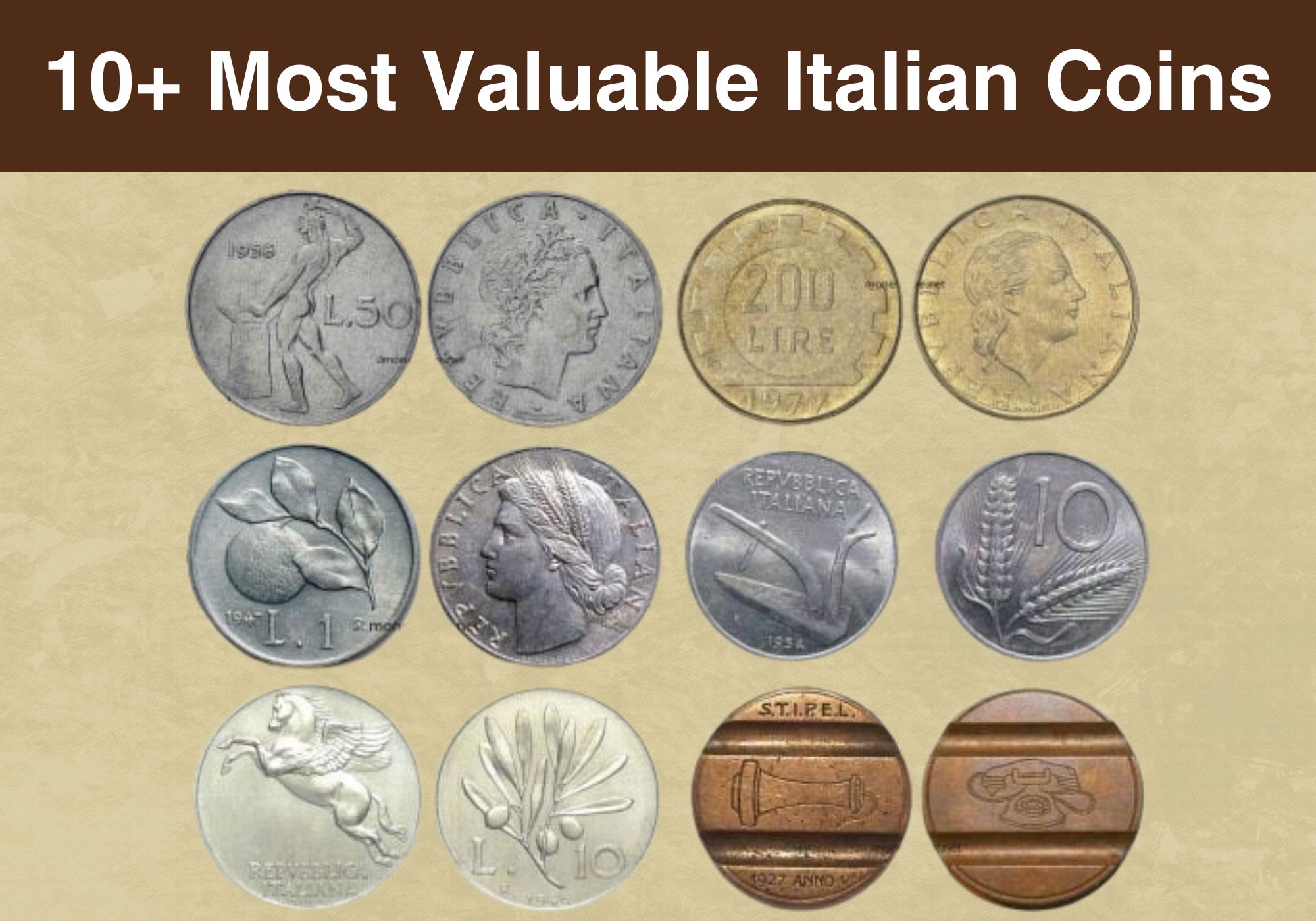 Italy has a varied and interesting history, from being a successful city-state as early as the 8th century to becoming a world power and enduring numerous wars.
Today, the country still plays an important role in the world's geopolitical dynamic, making it a country of interest among coin collectors.
Italian coins are downright beautiful, and some old ones can be worth a fortune, so adding them to your collection might be worth it. If you are lucky enough to own an ancient Italian coin, it might fetch you some good money in the coin market today.
Whether you are looking to sell or buy, knowing which valuable Italian coins to pay attention to is a smart step in the right direction. So, let's get started!
A Brief History of Italian Coins
The first coins used in Italy were struck in the 6th century by colonists who reigned over Sicily and Southern Italy. These early coins were Greek and Roman issues, primarily consisting of lumps of cast iron.
Later, specifically at the start of the 8th century, bronze was the main metal used to strike coins. Rome coinage entailed the silver denarius, bronze asses, silver denarii, brass sestertii, and brass dupondii, among others.
Most of these early coins originating from the Roman entire did not portray the image of a living person. However, Julius Caesar did issue coins portraying his image, but morbidly so, this happened a short while before he was assassinated in 44 BC. It is believed that Caesar's blatant move to put his image on circulating currency is one of the reasons that contributed to his assassination.
But, after Caesar's daring move, Roman emperors began issuing coins with their image featured on the obverse. In 250-275AD, tensions arose about the control of the main mint in Rome. This rebellion slowed production but also proved the importance of having other mints in the various provinces.
The Italian Lira originated from the pound sterling introduced through Emperor Charlemagne's pound system. The Lira or pound was used in most Italian states, and the currency used the pound (£) sign. It is worth noting that the Italians used the sign after the amount, not after, as with the pound sterling.
The first gold coin struck in Italy in Florence was aptly known as a florin. In the same 13th century, Sicily and Venice issued the ducat, which became the standard gold coin for local and international gold transactions.
Shortly after, King Napoleon conquered northern Italy, created a lira currency equivalent to the Franc, and divided it into 20 soldi and 100 centimo denominations. But, the currency was short-lived and was eradicated in 1814 after Napoleon was defeated.
In 1861 following the establishment of a united Italy, the government created lira currency to be used across the kingdom. When Italy joined the Latin Monetary Union in 1865, the Lira was pegged on the Belgian, French, and Swiss francs and the Greek drachma. Under the union, the members could interchange their coins in day-to-day transactions.
By 1861, Italy struck centesimi bronze coins in denominations of 1,2,5 and 10, while 50 centesimi alongside 1,2 and 5 lire was struck in silver. The 10 and 20 lire pieces were struck in gold.
The First World War brought massive inflation, leading to changes in the composition and size of Italian coins. For example, the 5 and 10 lire were changed to acquire the same composition and size as the 1 and 2 lire pieces. A
fter Italy was defeated in the War, the governments stopped producing coins and only resumed production in 1946. By then, the Lira was completely devalued, paving the way for introducing new coins and denominations.
Italy joined the European Union in 1999 and adopted the Euro as its official currency like other countries in the Eurozone.
Let's now explore the most valuable Italian coins.
Most Valuable Italian Coins Worth Money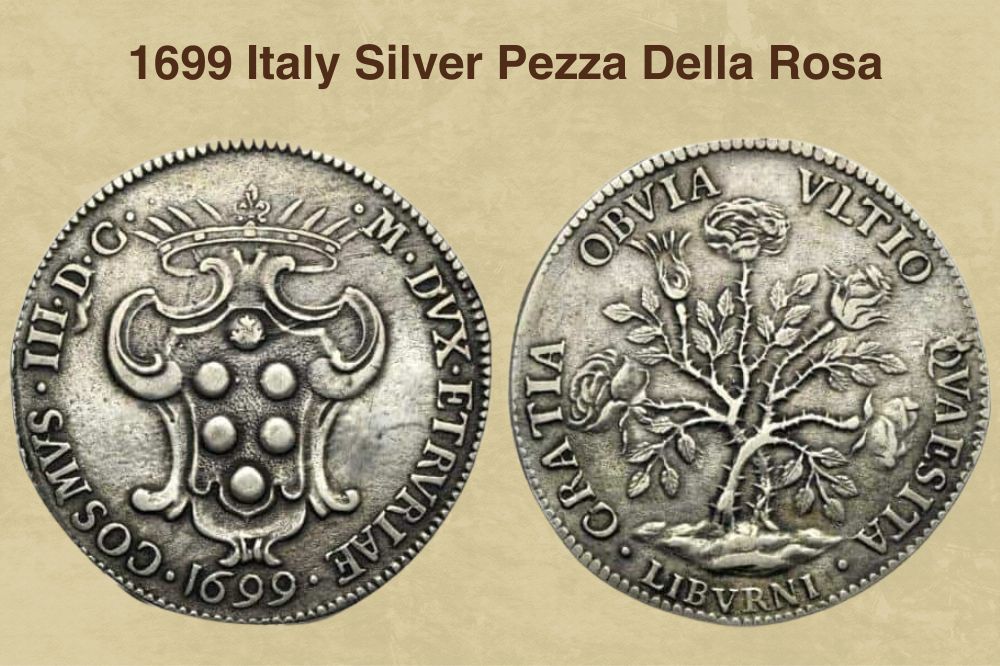 This silver coin struck in 1699, is among the oldest and most valuable. It was minted in Florence for Livorno, an Italian city-state specifically created for Cosimo II de Medici, the Grand Duke of Tuscany.
On the obverse, the coin features the Medici family coat of arms. On the reverse, you will notice an intricate image of a rose bush.
According to the Professional Coin Grading Service, less than a dozen examples of the 1699 Silver Pezza della Rosa coin exist, with most of them graded 'Extremely Fine.' The most expensive example was auctioned in 2021 for an impressive $4,600.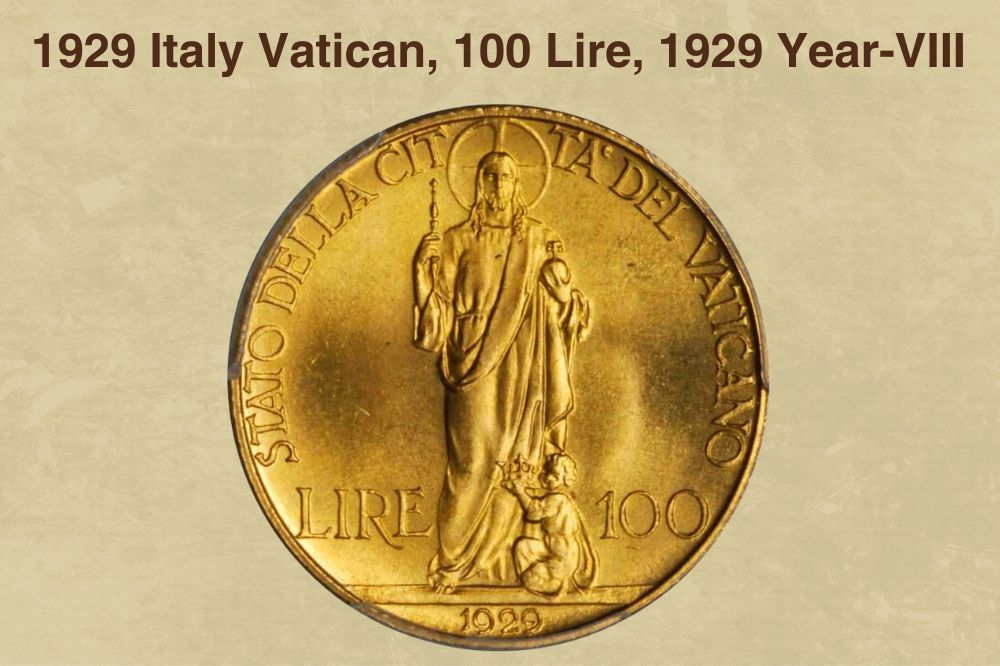 This 100-lire coin was minted in 1929 in the Vatican City State. It features the right-facing portrait of Pope Pius XI and boasts a lovely gold patina, indicating that it is among the few examples not released into circulation that year.
The PCGS grades this coin as a Mint State (MS) 66, which is on the higher end of the coin grading spectrum, so the coin is considered gem quality.
This is a rare coin with only five known examples, with the finest graded MS67. When the MS66 coin came up for auction, it was sold for a good $800, twice the pre-sale estimates.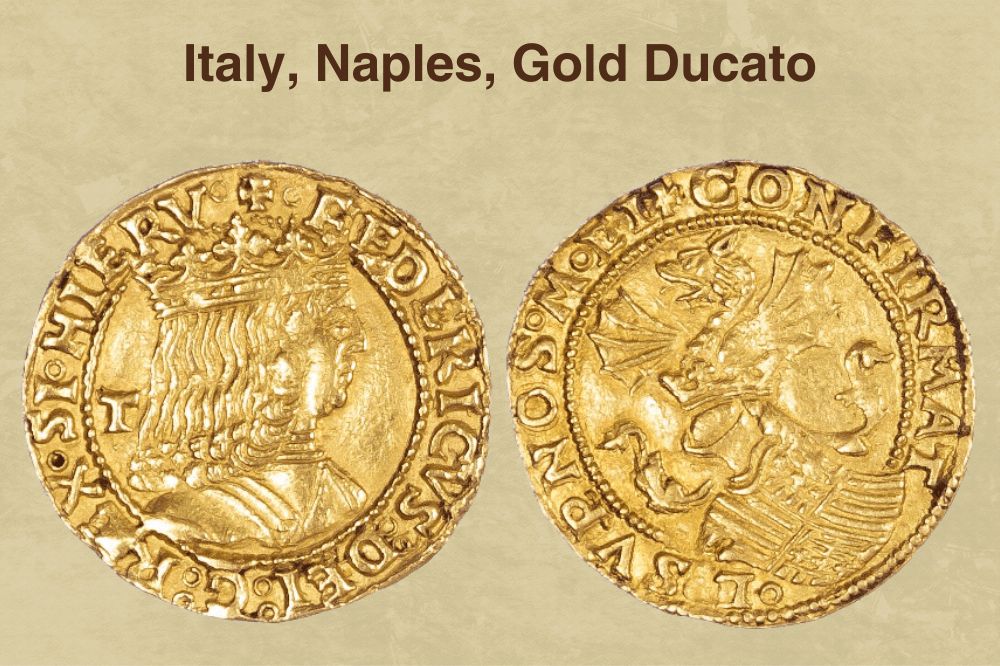 This old coin was struck in Naples by the then ruler, Federico IV, who ruled between 1496 to 1501.
On the obverse, you will notice the portrait of Federico with his crown. There is also a mint mark T on the reverse, showing that the engraver, Gian Carlo Tramontano, struck this early coin.
On the reverse, you will find an intricate design of the Aragom family coat of arms with an eye-catching image of a dragon.
Ducats were a major currency denomination used in 13th to 19th century Europe and were struck from approximately 3.5 grams of gold.
Being a very old coin, examples are extremely scarce, with the finest pieces being the most valuable. The most expensive 1497-1501 Gold Ducato coin fetched an estimated $12,700 in a 2018 auction.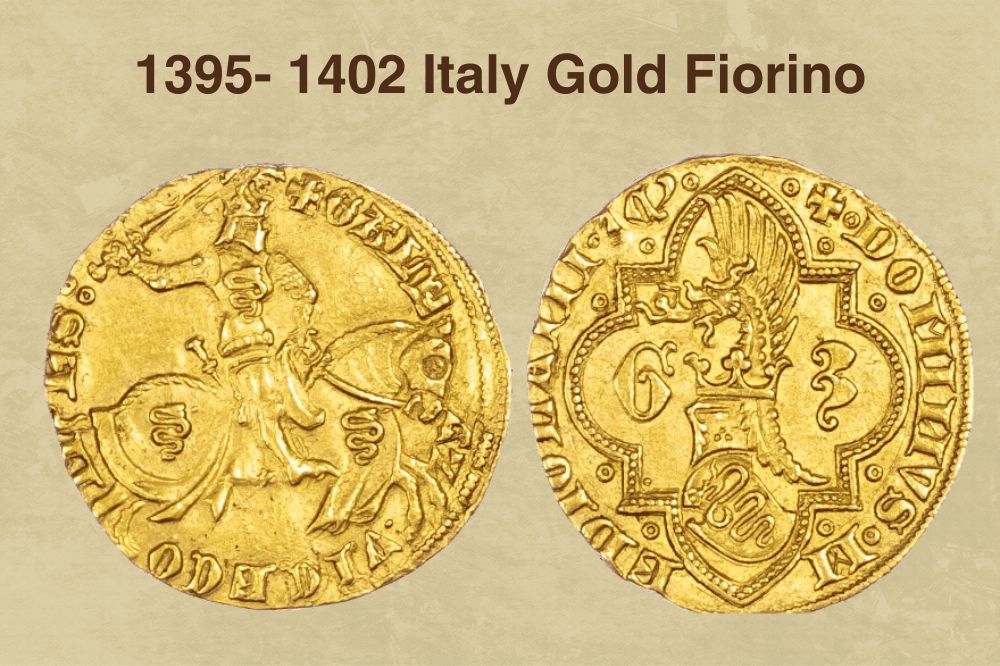 This old but stunning Fiorino coin is believed to be dated between 1395 and 1402. It was struck from gold and weighed about 3.6 grams.
This Fiorino coin features the image of Milan's first duke, Gian Galeazzo Visconto. Visconti is shown riding a horse, perched on the stirrup with one of his arms raised in the air. Gian Galeazzo ruled between 1395 to 1402 after disposing and eventually killing his uncle.
On the other side of the coin, you will see the dramatic image of a large serpent and a dragon crest with a helmet.
When this came to auction, it was graded as "Extremely Fine" and sold for $12,700.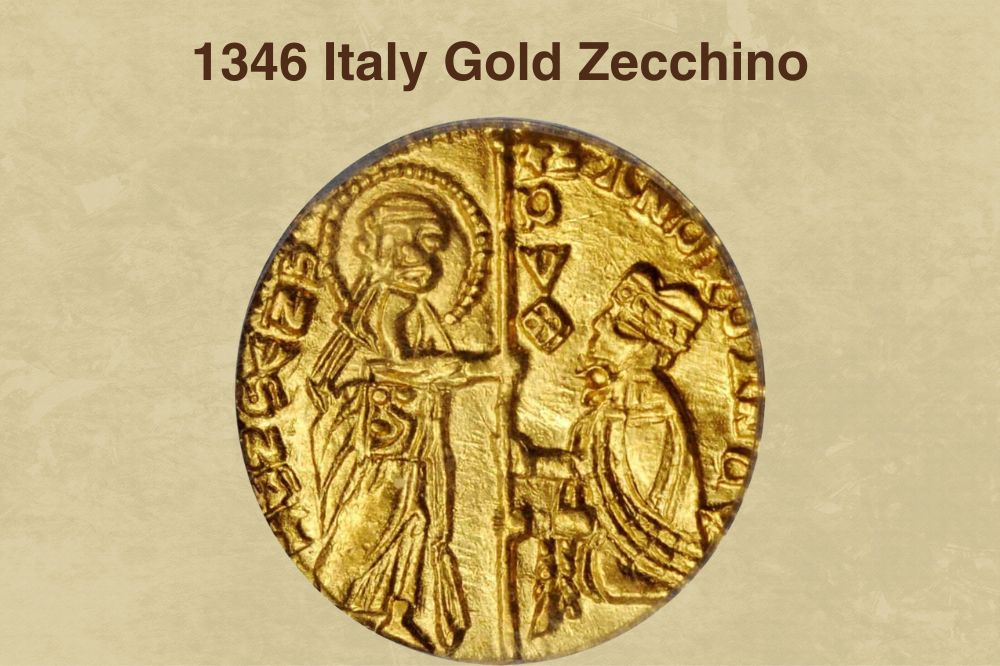 This gold Zecchino coin was struck in 1346 for the Ducky of Achaia before it was absorbed into the united Italian kingdom.
On one side, you will notice St. Mark adorned with a halo while presenting a banner to a Doge. On the reverse, you will see an image of Christ with his hand raised.
In 2010, a small stash of 1346 gold Zecchinos was discovered, making these coins less rare in the numismatic market. An example with a variant came up for auction in 2018; it was graded MS61 and sold for $1,350.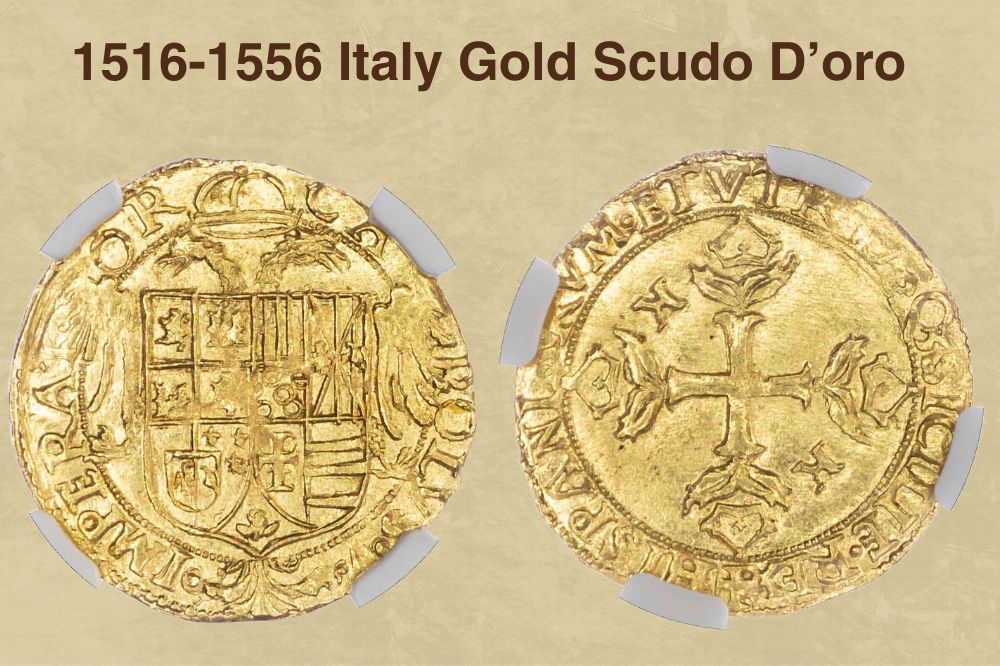 Until the 19th century, Italian coins were made in silver, so when a piece appears in gold, you know it is quite special. This is the case with this gold scudo struck in Naples more than 400 years ago.
Graded MS64 by the Numismatic Guaranty Company, this coin is the best-known example. On the obverse, it features Emperor Charles V's crowned coat of arms, while the reverse shows an intricately designed cross with each end bearing a crown.
This Italian Gold Scudo D'oro has an estimated value of $4,600.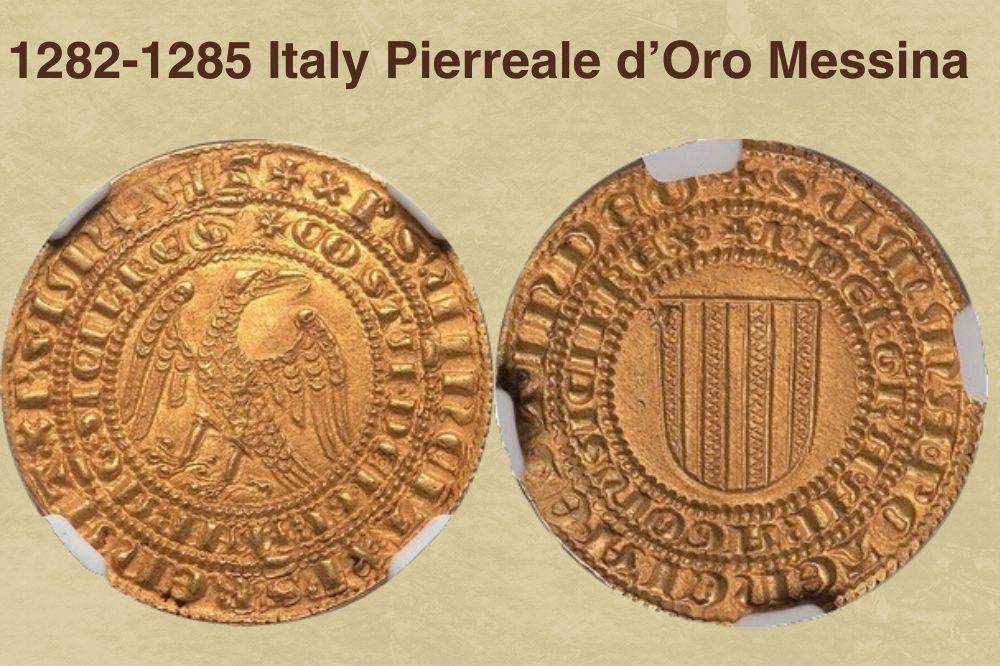 This coin is over 1000 years old, making it one of the oldest and most valuable Italian coins.
Most of the coins from this era are damaged and unrecognizable, but one particular example was discovered with its full details intact, with only a few scratches on the surface.
The Pierreale d'Oro Messina coin was struck between 1282 and 1285 by the reigning rulers of Sicily, Pierto and Costanza.
On the obverse, the coin features the image of an eagle ensconced by two lines of inscriptions. The reverse, on the other hand, features the coat of arms of the Aragon family and a shield.
This coin is made of gold instead of the silver typically used to make coins in this era, increasing its desirability as a collectible currency. When it came up for auction in 2019, this coin fetched $8,400.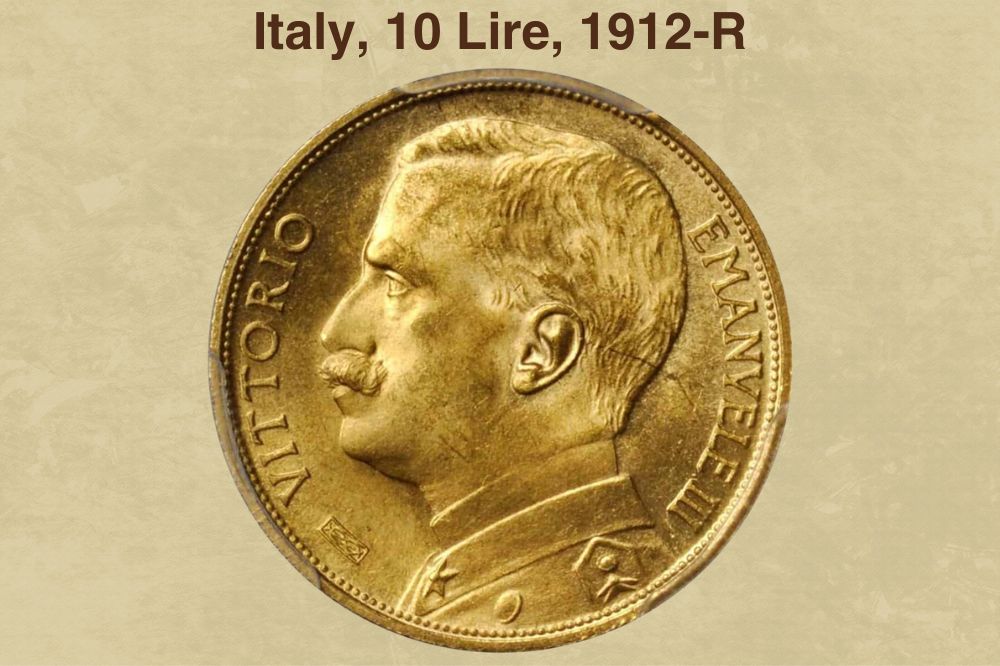 This 10 Lire coin was struck in 1912 and featured the portrait of King Victor Emmanuel III, the reigning king, for close to 46 years.
Although this is not a very old coin, you wouldn't consider it modern either. This particular example was graded MS65, which is equivalent to gem quality. As you might have guessed, there are only a few examples of 1912 10 Lire coins; in fact, only three pieces are known to exist today, with the finest being an MS66 example.
This MS65 specimen was brought up for auction in 2017 and commanded a premium of $8,800, which is quite impressive for such a relatively old coin.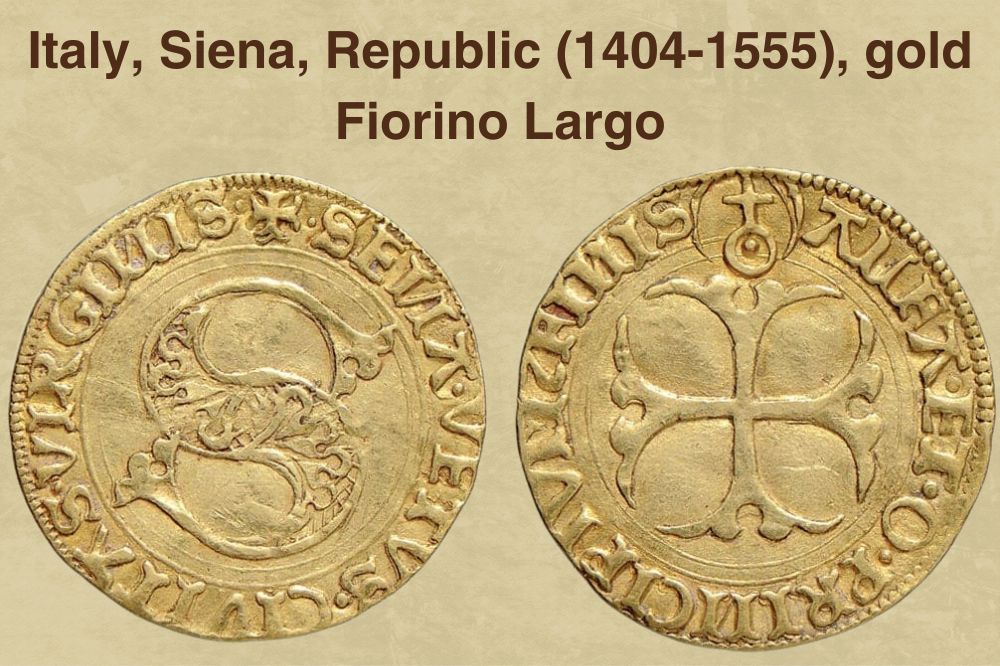 Fiorino largo coins are smaller than a ducat or a florin. This example was struck in the city-state of Siena and was made using pure gold. You will notice an S mint mark on one side, showing the coin's origins (Sienna).
This coin is believed to have been struck between 1404 and 1555; the precise date is unknown as the coin does not feature the portrait of a king or emperor.
The coin was graded "good/very fine" because of the partially worn-out patina and details. The gold metal, however, increases this coin's value, which sold for $2,300 at a 2018 auction.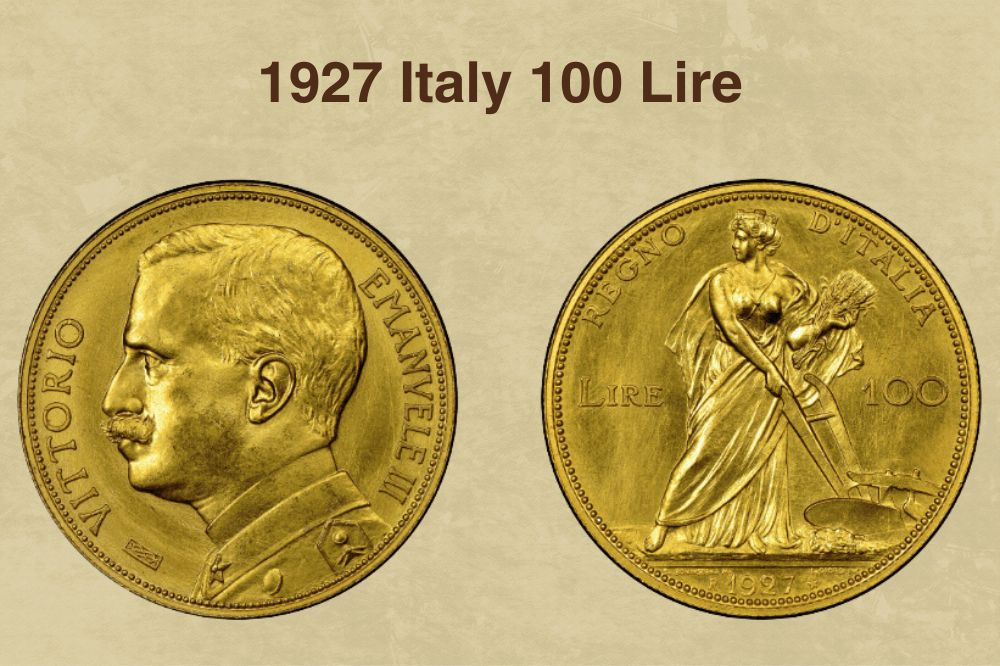 This 100-lire coin was struck in Rome and featured the image of King Victor Emmanuel. This is a gem quality example, having been graded MS66 by the PCGS, which makes it extremely rare.
Only 30 pieces of these coins were struck that year, adding to their rarity and drawing much interest from collectors. Most recently, two examples have been sold separately— one sold in 2014 in Geneva fetched an eye-watering price of $372,200, while another auctioned in 2017 brought in an equally impressive $160,000.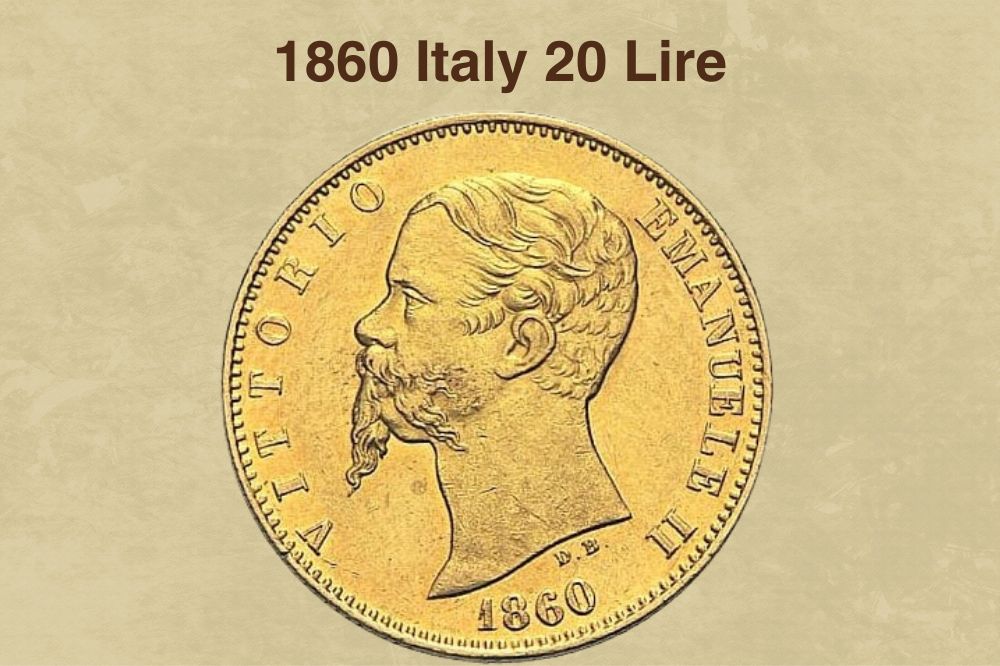 This is another gem quality lire struck in 1860 in Bologna for the Emilia region right before the formation of the united kingdom of Italy in 1861.
Only a few of these coins were struck as the country was on the verge of a transition that involved the unification of all the city-states in the Italian peninsula. About 160 pieces of these 20 lire were struck that year, with this one graded MS65 being the finest example known today.
This 1860 20 lire sold for a whopping $175,000 at a Geneva, Switzerland auction.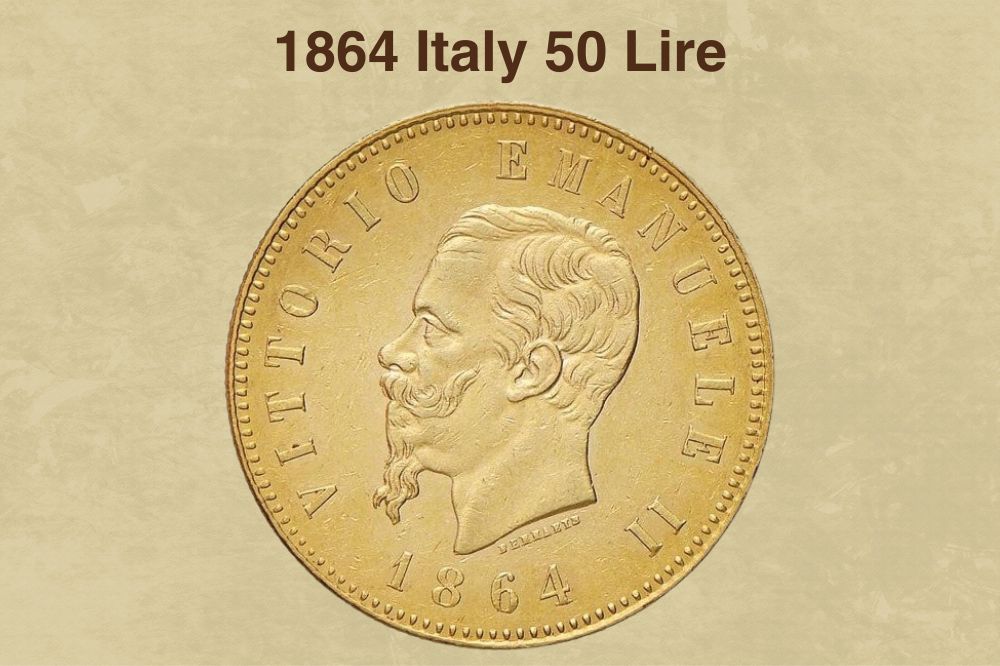 This is another coin bearing the portrait of King Victor Emmanuel, who ruled over Sardinia and later became Italy's king after the reunification.
This coin bears a noticeable mint mark T, indicating that it was struck at the mint facility in Turin. Fewer than 100 of these old coins were struck that year, making these pieces extremely scarce.
So far, two examples have come up for auction. One graded AU58 fetched an enviable $210,600whwile the other one graded AU53 was auctioned for $178,800. It would be safe to assume that any other examples of the 1864 50 lire that might come up in future might be worth more than $200,000, depending on the coin's condition.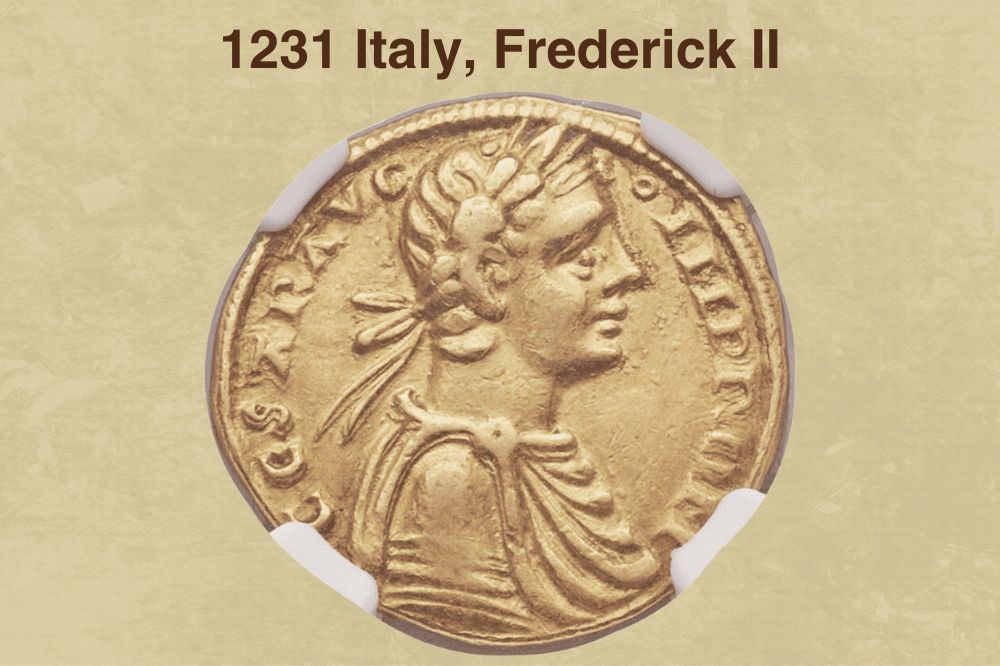 This coin is over 1000 years old and was struck during the reign of Frederick II, a fierce and influential Middle Ages ruler.
Frederick's portrait features on one side of the coin. Here, he spots a laurel wreath on his head and a toga common among Roman emperors. On the reverse, you will find an eagle's image.
Only a few examples of these coins are known to exist. Most discovered over the years bear noticeable signs of wear, but a few like these are in good condition for their age. This particular example was auctioned for an impressive $17,600 in 2016.
Summary
Italian coins are extremely beautiful, are a great conversation starter, and are an excellent addition to your collection. While many of the older coins are quite pricey, some are affordable when they come up for auction. It's best to watch older coins in good condition; these typically fetch a premium resale value.