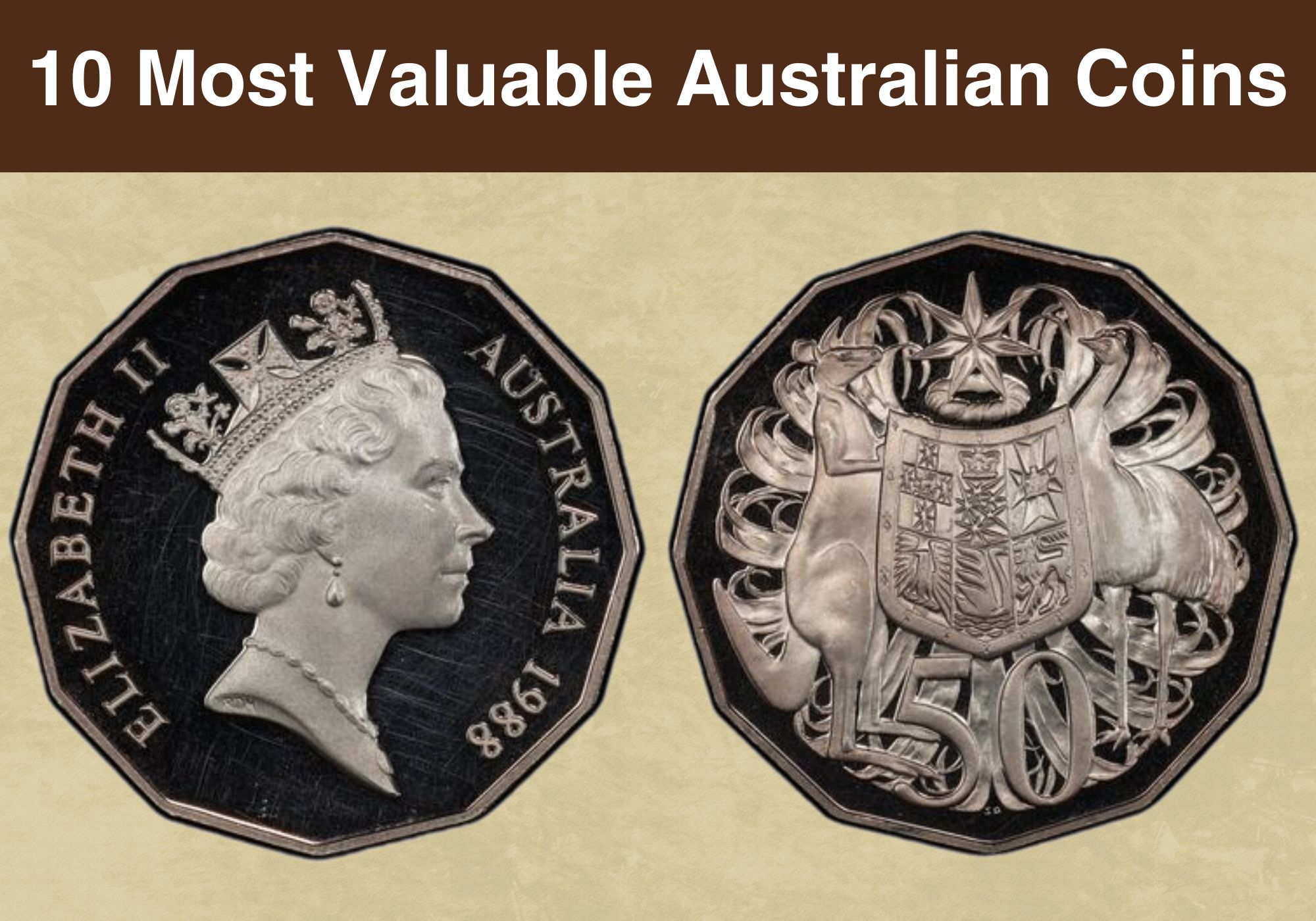 Are you interested in collecting Australian coins? You may be pleased to know that there are many valuable and highly sought-after coins from Down Under.
The upside to collecting rare Aussie coins is that you do not have to look for the most ancient pieces. There are numerous examples of modern yet valuable Australian coins.
Of course, like other coins, the value of a given Australian coin will depend on its condition, grade and historical significance.
In this article, we take the fuss out of figuring out what is the most valuable Australian coin. Below is a well-researched list of Australian coins worth money that you should keep an eye out for.
Let's get started!
A Brief History of Australian Coins
When British colonists established their first colony of New South Wales in 1788, they did not see any need for coins or formal currency. Unsurprisingly, the locals turned to barter trade to obtain the needed goods and services. Hard liquor, such as rum, was a primary mode of exchange and commerce in these early societies.
Over the years, as visitors, soldiers, and settlers trickled into Sidney Town, they brought with them crude coins from all over the world, including Spanish reals, rupees, pagodas, and mohurs from the British East India Company, johannas from Portugal, as well ducats from Holland.
There was no agreement on the value of these foreign coins, and this prompted Governor Gidley King to issue a Currency Proclamation in 1800 to establish a standard value for each coin based on the British pence, shilling and pound.
The first official coin of New South Wales was known as the cartwheel. It was struck in Birmingham in 1797 and exported to New South Wales in 1800 to address the growing demand for small change.
The cartwheel coins were not enough to fulfill the colony's demand for coins. Under Governor Macquarie, about 40,000 Spanish dollars were imported and redesigned by creating a hole in the middle of what would be five shilling coins and counter-stamping what would be the colony's 15 pence.
The first gold coin in Australia was introduced in 1852, also in response to the currency shortages plaguing the colonies. It was struck using Australian gold and bore a uniquely Australian design. But this coin was technically outlawed since it was created without Britain's approval.
Three years later, in 1855, the British Royal Mint opened a minting facility in Sidney where the first coins bearing the word "Australia" were struck. The success of the Sidney Mint led to the opening of other facilities in Perth and Melbourne.
The Commonwealth of Australia was established in 1901, and the independent Government now had full authority to introduce its own distinctively Australian coins. The 1909 Coinage Act paved the way for uniquely Australian coins, with the shilling, florin, threepence and sixpence issued by 1910. In 1911, the Australian Government issued the country's first half penny and penny.
Now, let's dive in and look at the most valuable Australian coins today.
Most Valuable Australian Coins Worth Money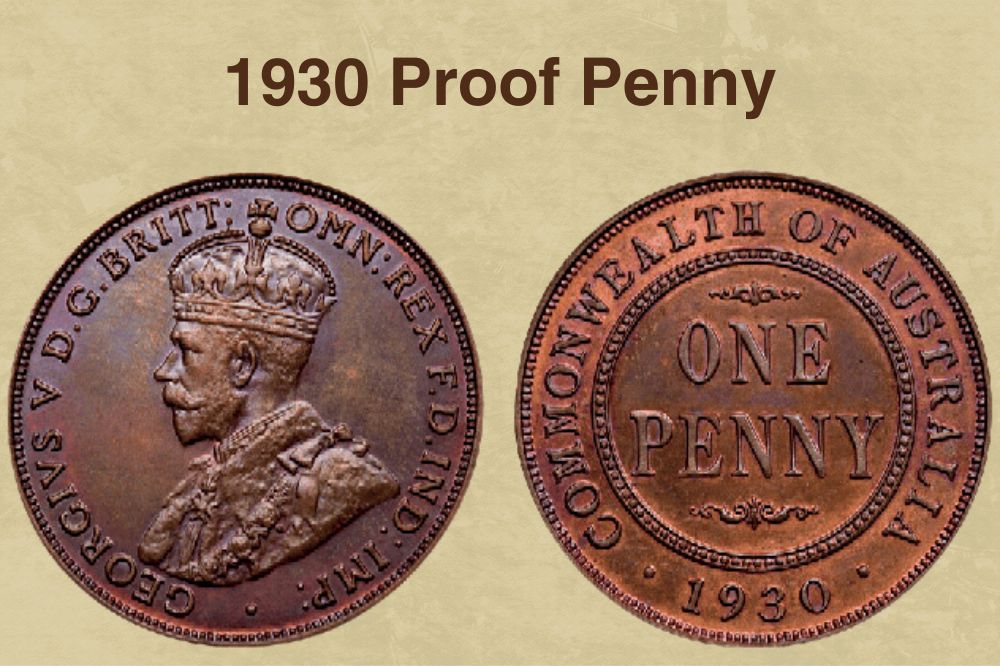 The 1930 Proof Penny is popularly known as the King of Coins in Australia's numismatic circles. The coin is believed to have been accidentally struck in 1930 at the peak of a biting economic Depression.
According to the Melbourne Mint, where the coins were struck, there had been no official request by the Treasury to mint pennies in 1930; the Depression had obliterated the need for these low-value coins.
Industry experts estimate that about 1,500 1930 pennies were minted and released into circulation. According to the Melbourne Mint, the only official record is that of six proof pennies struck in 1930, and obviously, these were not meant for circulation.
Due to the low mintage and rarity and the mystery shrouding this coin, collectors have always been hot about the 1930 penny and have consistently been willing to pay a fortune for these coins.
Even in low-grade circulated condition, 1930 pennies can be worth hundreds of thousands of dollars. The most expensive example, graded Very Fine, sold for a whopping $42,500 at a 2018 auction, while one of the proofs fetched $1.5 million in 2019, making it the most valuable Australian coin.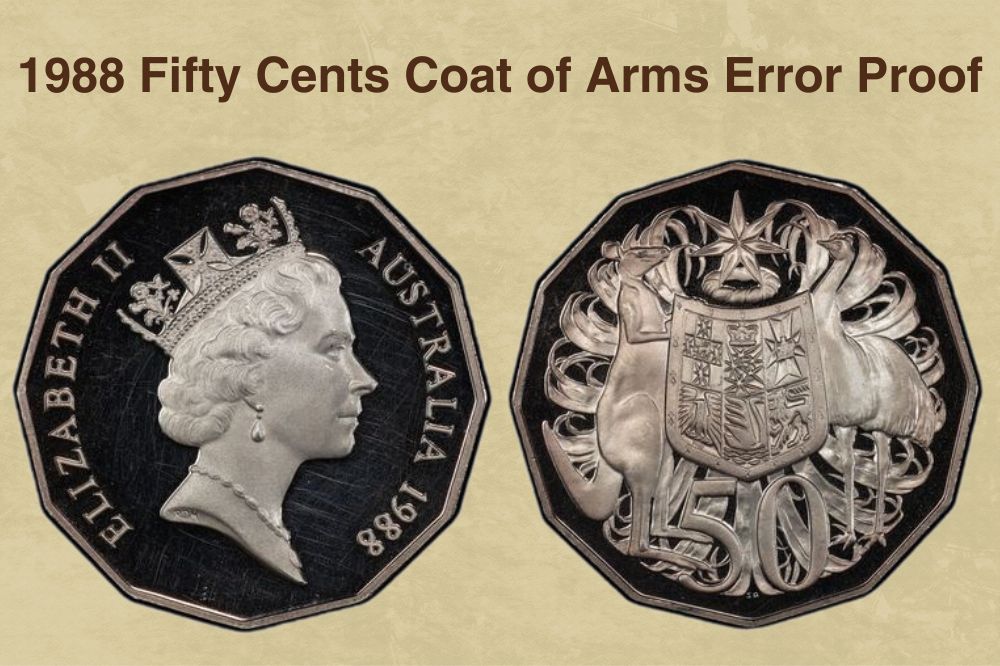 The 1988 fifty-cent-proof silver Coat of Arms is a rare decimal currency. That year, the Treasury requested that the Mints strike a 50c coin to commemorate the 200th anniversary of the British Settlement.
The commemorative 50c coin, meant to be issued for one year only, replaced the standard 50c that featured a Coat of Arms. Essentially, no 50c Coat of Arms coins should have been struck in 1988.
But, an accidental mismatch between obverse and reverse dies resulted in a few commemorative coins being minted with a coat of arms on the reverse.
There are only two known examples of this error coin, making it extremely rare. One example, graded MS62, fetched $14,750.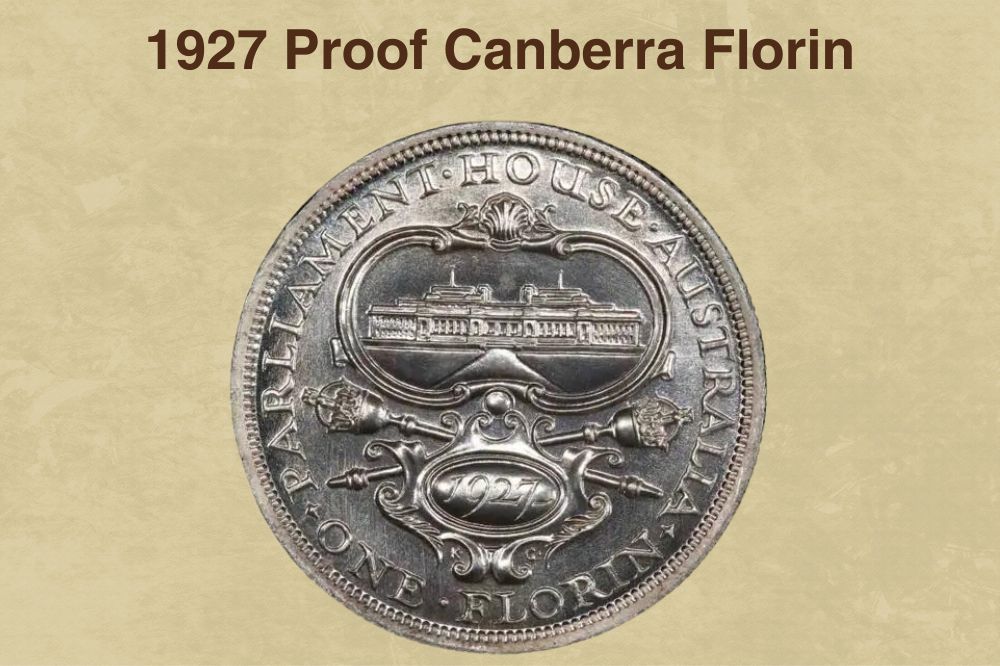 The Canberra Florin struck in 1927 was the country's first commemorative coin, issued for one year only. The coin was issued to celebrate the launch of the country's new national Parliament, and only 400 were availed to collectors.
Once sold, some of these coins were dispersed abroad, damaged or lost. Examples of 1927 Canberra Florins in pristine condition are extremely rare; most of the known existing pieces are significantly worn out.
One extremely rare example was graded PR66 by the Professional Coin Grading Service (PCGS). This coin boasts a flawless luster, brilliant patina, and well-detailed design; such pieces come up for auction once or twice a year. This PCGS-graded 1927 Proof Canberra Florin sold for $27,500.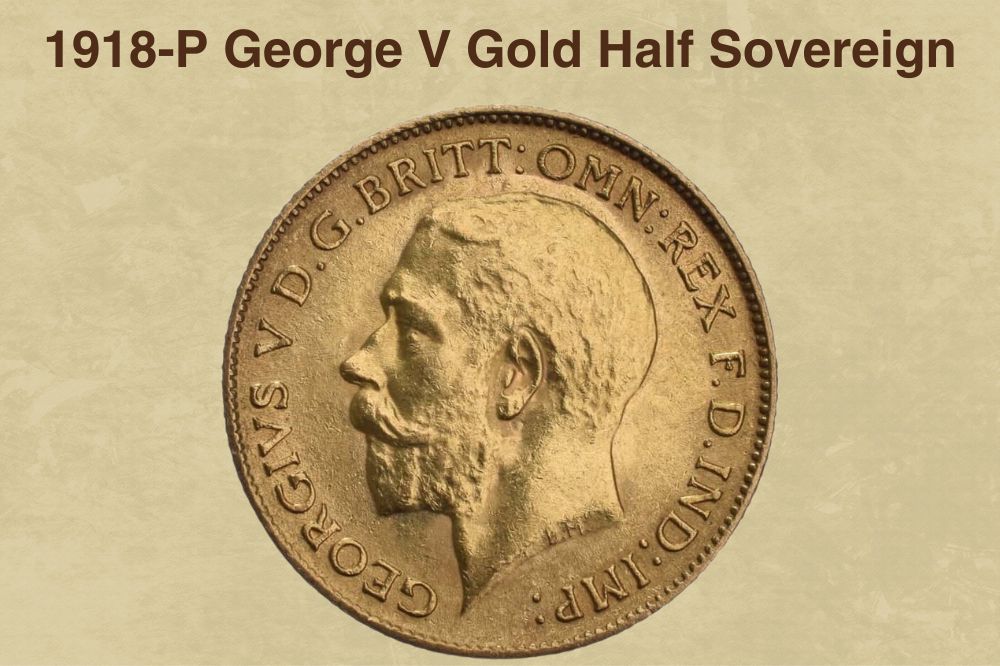 The 1918 gold half sovereign struck at the Perth Mint is the rarest in the country's Half Sovereign Series of 1855-1918. According to numismatic experts, about 200-300 of these half-sovereign pieces were struck in 1918.
Official records at the Perth Mint indicate that there was no official request by the Treasury to mint half-sovereign gold coins in 1918, buts somehow, a few hundred were minted and released into circulation.
The low mintage and subsequent rarity of these coins make them extremely valuable. In mint state, 1919 half sovereigns can be worth a small fortune.
One such example, graded MS64, equivalent to gem quality or choice uncirculated, fetched $20,000 at an auction in 2018.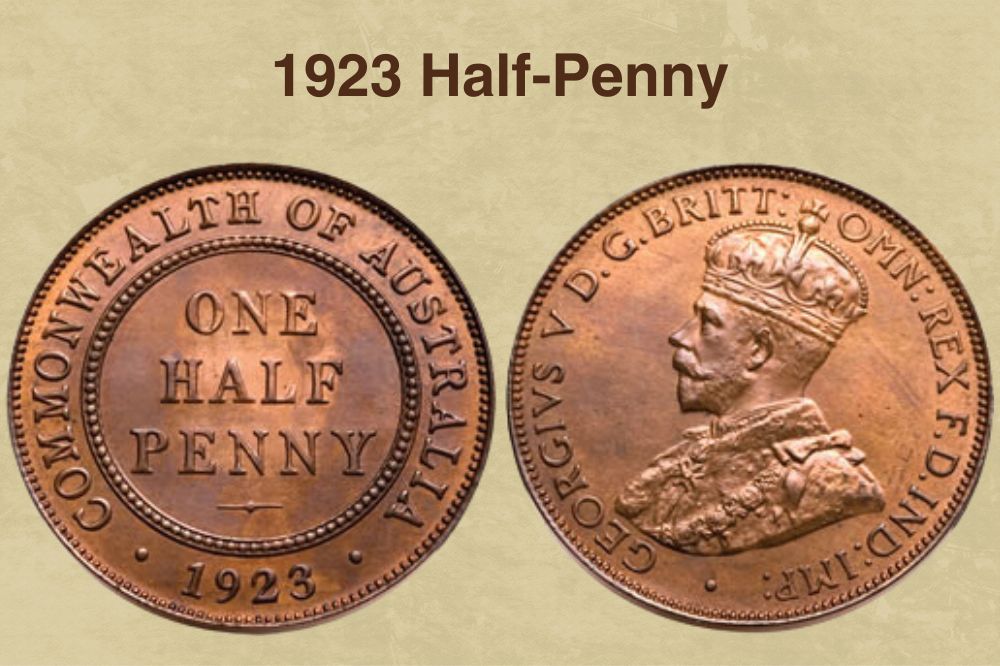 The Australian Half-Penny Series ran from 1911 to 1964. The year 1923 is considered one of the rarest among the series, with only about 15,000 half pennies struck and released into circulation.
Finding a 1923 half penny in premium condition is extremely difficult; most examples are worn and heavily circulated. So, consider yourself extremely lucky if you stumble upon a shiny 1923 half-penny!
One example, graded Very Fine, is among the few better-than-seen pieces and was snapped up in 2016 for $9,600.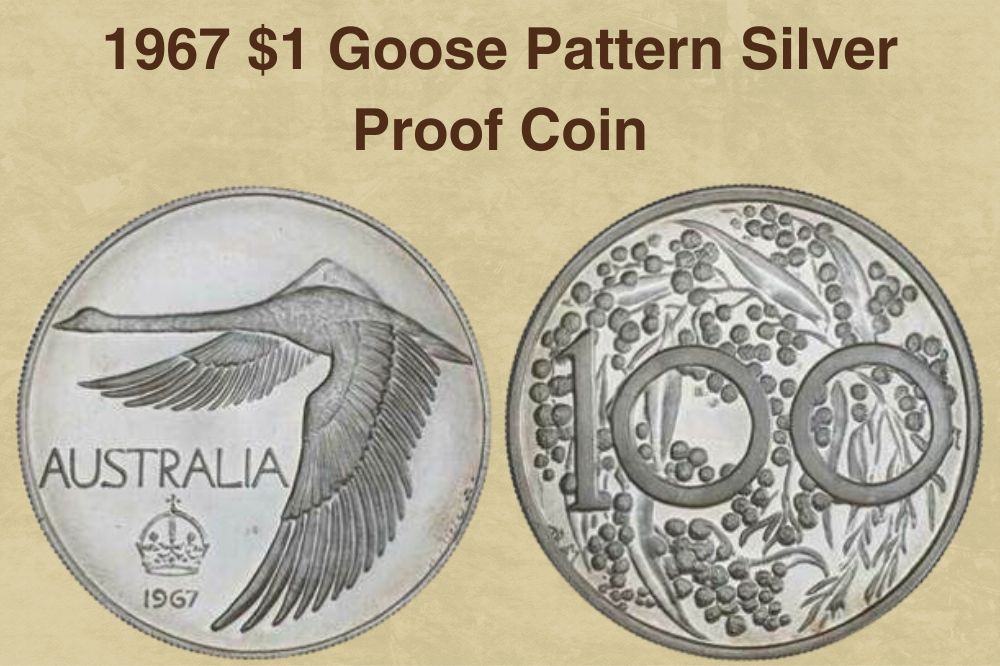 The 1967 $1 Goose dollar is not an official Australian coin but is among the most popular and highly sought-after coins in the country's numismatic circles.
The Australian Government had planned to introduce decimal currency in 1966. But, it was a surprise that the new currency series would not include a one-dollar coin. In response, the Australian Coin Review magazine launched a competition, calling on people to design a prospective one-dollar coin.
The winning design by Andor Meszaros featured an elegant swan with the words Australia 1967 on the obverse. On the reverse is a depiction of Australian wattle with the number 100 cents prominently printed.
The magazine submitted this coin to the Australian Government, but the Treasury rejected it. Despite this, the competition organizers privately printed about 1500 uncirculated specimens with a milled edge, 750 plain edge silver proof coins, and 10 gold pieces with a plain edge. Two gold pieces are believed to have been lost in the 1983 Ash Wednesday fires.
Due to their rarity and historical significance, 1967 $1 Goose coins attract a premium. A gold piece sold for $29,000 in 2017 at a Nobles Sale. Meanwhile, a silver-proof coin, less rare than the gold examples, was auctioned for $5,000.
The 1852 Adelaide pound is Australia's first gold coin, making it very popular among collectors. Today, only about 250 examples or less are known to exist; this rarity adds to the coin's attractiveness as a high-value collectible.
When evaluating an Adelaide pound, pay attention to its visual appeal. You want to go with coins without visible dents. It is also best to avoid pieces with a soft design and smooth edges, as this would clearly be a worn coin. Selecting a good quality Adelaide coin will make it easier to liquidate your coin and get good value for money should you choose to.
From broken dies to the use of gold (which is a softer material than silver) to normal wear and tear, Adelaide pounds are prone to many grading problems. This is why it is important to only settle with coins with a superior eye appeal, as these are more valuable.
A worthwhile Adelaide coin will have strong edges that frame the rest of the coin. Also, the phrase "ASSAY OFFICE" should be strong and visible instead of soft. On the same note, the high points can be slightly worn off, but the fields should be undamaged and brilliant.
A rare example of an 1852 Type II Adelaide coin graded About Uncirculated fetched an impressive $39,500 at auction in April 2020.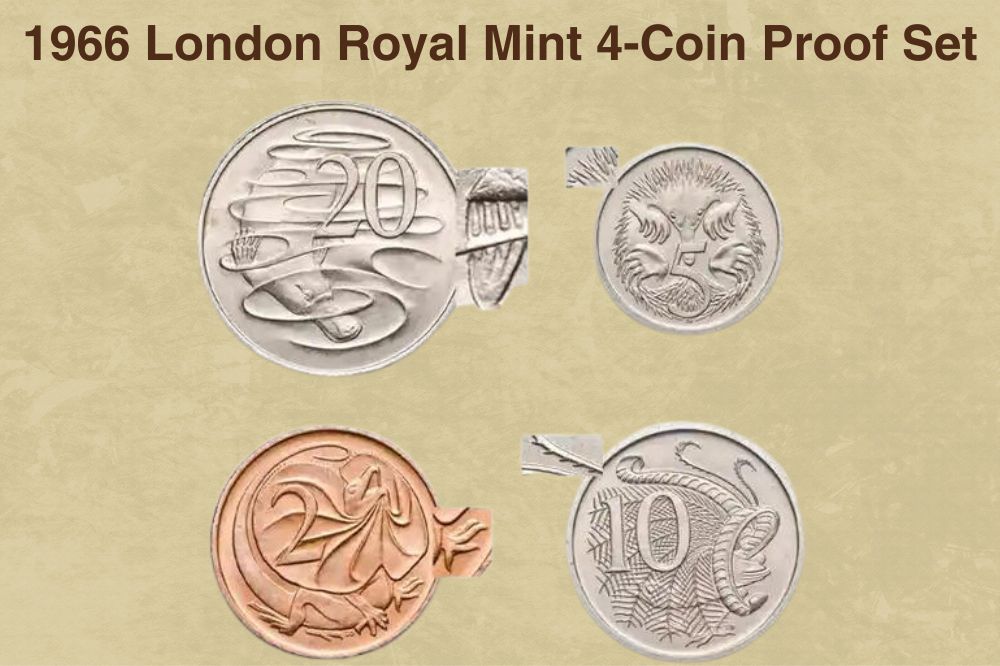 In preparation for the changeover from pre-decimal to decimal currency in 1966, the Australian Government minted millions of coins at the Perth, Melbourne, and Royal Mint in London.
While the other three mints struck circulation coins, the Royal Australian Mint struck proof coins of the six new Australian decimal denominations to create a proof set for collectors.
As usual, the Royal Mint in London struck similar proof coins as the Royal Australian Mint. These pieces would serve as Proof of Record examples, kind of like a backup.
The London Royal Mint struck the Australian 5, 10 and 20c archival pieces. A mint mark was placed on the London-struck proofs to distinguish them from Australian-struck ones.
Interestingly, although the Australian Royal Mint had not struck a 2c, the London Royal Mint struck a 2c proof coin, probably accidentally, and included it in the Proof set.
Therefore, the 4-coin collection Royal Mint London Proof Set consists of a 5,10,20, and (accidental) 2c coin, making it a historical oddity and rarity. This Proof set makes up some of the most valuable Australian coins, selling for an eye-watering $49,950.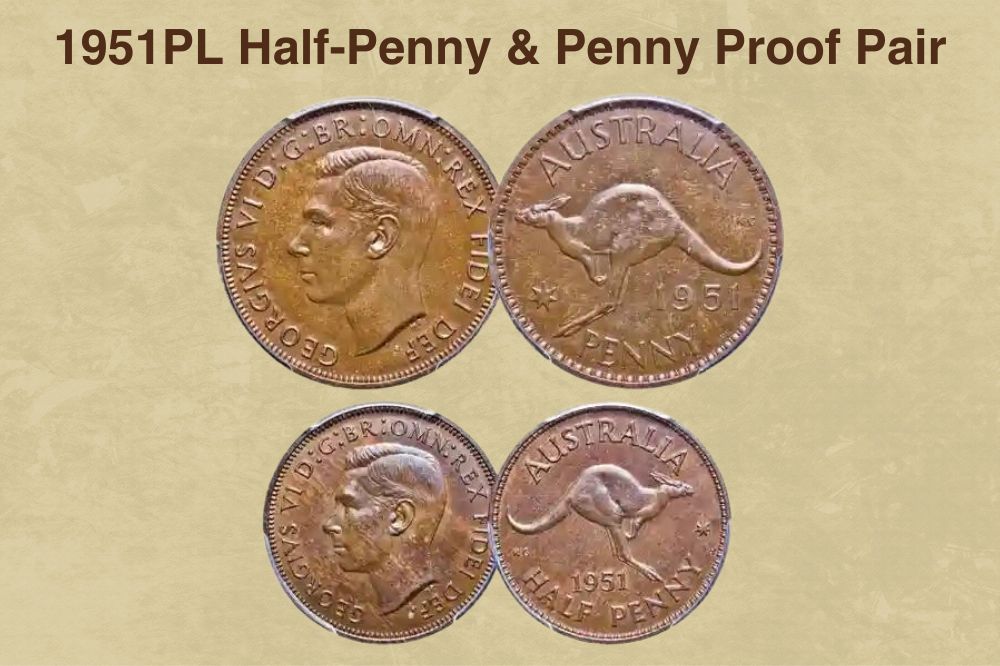 In 1951, Australia asked for Britain's help minting coins to meet the demand. The Royal Mint London responded, placing the mint mark PL on pennies and half pennies struck for circulation in America. The letters PL stand for Pecunia Londonii (Money of London), a phrase used by Romans in pre-historic Britain.
As per tradition, the London Mint also struck a few proof examples of the 1951PL pennies and half pennies. These proof coins are extremely rare, with at most 20 believed to exist, and they seldom come up for auction.
One exceptional pair of brown colour 1951PL proof penny and half a penny that showed up for sale in 2018 was graded MS65 gem quality and sold for $25,000.
The Perth Mint struck its first Gold Sovereign in 1899, making this a key historical date in Australian numismatic circles.
In addition, only 691,000 sovereigns were minted that year at the Perth Mint, and most were released into circulation, making uncirculated examples extremely rare.
One example graded MS62 by the Numismatic Guaranty Company was sold for an impressive $3,500 at a 2016 auction.
Summary
Australian coinage is not as ancient as Japanese, Chinese or Italian. This means you can find wildly valuable coins without going so far back in time; several examples of valuable Australian coins are worth hundreds or thousands of dollars. That said, paying attention to the coins' condition and learning about their historical significance can help you make smart investment decisions.